Nepal is the abode of Buddhism, with most of its population practising this religion of peace, non-violence, meditation and contemplation. Nestled in the Himalayas, the geographical location also favours this atmosphere of solitude and quiet thinking. Kathmandu, the national capital, is no exception. The
Boudhanath Stupa
in Kathmandu is surrounded by many monasteries, each distinct in its teachings and practises. If you want to unwind, think, relax and view life from a different perspective, a monastery is the best place to do so. Smiling, peaceful monks, idyllic locales, charming weather, simplistic food and the divine aura are sure to do you good. Check out our list of top monasteries in Kathmandu, and rejuvenate yourself today!
This beautiful monastery was the home of the astrologer to the Nepali king. Located atop the Kopan hill, it houses a beautiful Bodhi tree and is of the Gelug tradition of Tibetan Mahayana Buddhism. Guided by the Lama Zopa Rinpoche, more than 350 monks, teachers, lamas and workers live here. Founded by Lama Thubten Yeshe, this serene monastery strives to impart the message of love and peace through its many charitable ventures, courses and hospitality. Affiliated with the Foundation for the Preservation of the Mahayana Tradition (FPMT), there are courses offered on meditation, Buddhist philosophy and psychology, mind training, karma, death, Tibetan medicine and Thangka painting which are sure to open your mind and heart, transforming your soul. The monastery also contains a beautiful garden and a library.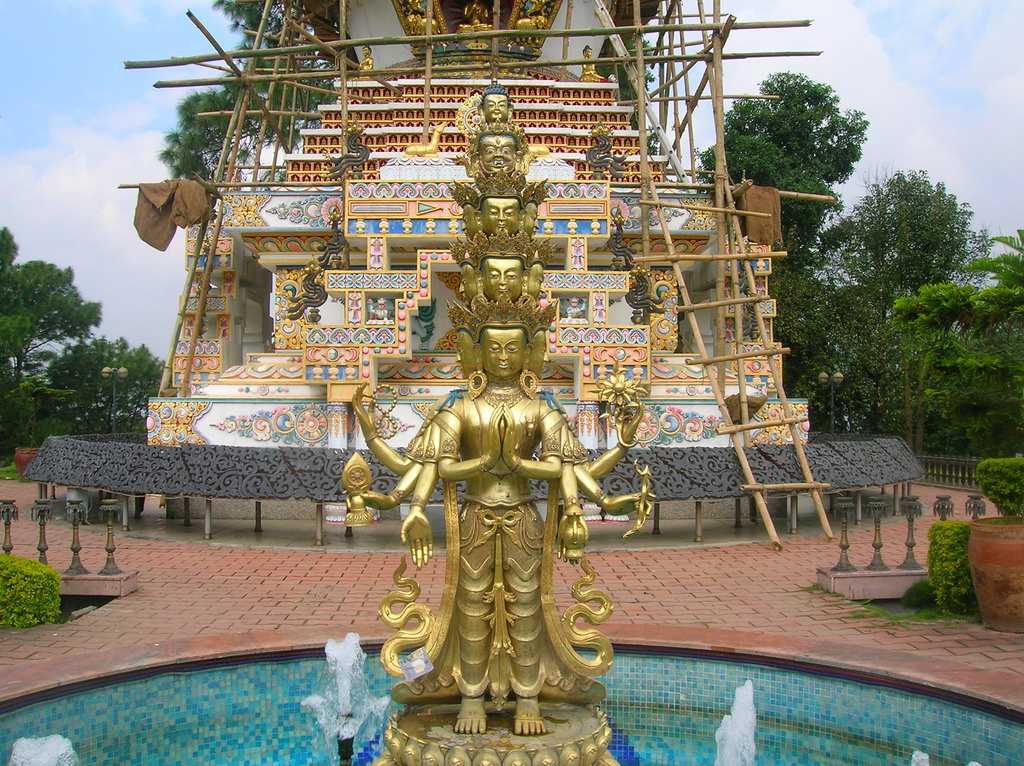 Location
The monastery is located 7 kilometres away from Kathmandu airport, to the north of Boudhanath. It is located atop Kopan Hill, overlooking the Kathmandu valley.
How to reach
You can hire a taxi to the monastery. Buses also ply to the monastery on a daily basis. If you are feeling up to it, you can also trek the whole way and enjoy the scenic beauty.
Timings
Day visit: 9:00 AM - 5:00 PM
Daily Dharma Talk: 10:30 AM (on weekdays)

You can also stay at the monastery for days or even weeks, attending their courses on Buddhism. Day visits are not allowed between November 11 and December 20 every year, and Dharma talks will also not be held during that time.
Cost
Cost for staying at the monastery ranges from USD 7 to USD 20 per night.
2. Tharlam Monastery
A monastery of the Sakya sect of Buddhists, Tharlam was founded in 1981 by the lama Dezhung Rinpoche III, Kunga Tenpay Nyima. The guest house that is equipped with Wi-Fi is one of the added attractions to the weary traveller, but we recommend taking in the sights and sounds of the lively monastery more than getting immersed in your gadgets!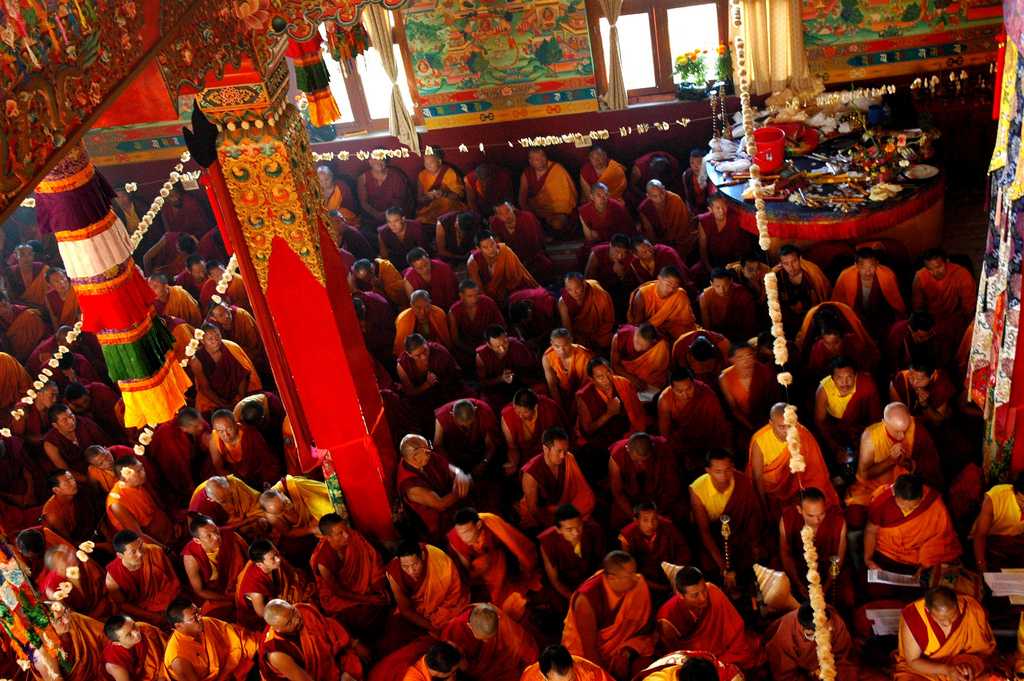 Location
The monastery is located right next to the Boudhanath Stupa, near Kathmandu.
How to reach
You can take a bus from Kathmandu airport to Boudhanath. The monastery is just a two-minute walk away from the Stupa.
Timings
Day visit: 9:00 AM - 5:00 PM
Cost
You can stay at the Tharlam Guest House next to the monastery, for prices ranging above USD 10.
3. Pranidhi Purna Mahavihara Monastery
A Theravada Buddhist centre, this monastery hosts many courses and retreats for tourists coming here from far and wide. The enthralling monastery holds cultural significance because its founder Pragyananda became the first Sangha Mahanayaka (Patriarch) of Nepal. These monks are the first to sport yellow robes in Nepal, since the 14th century!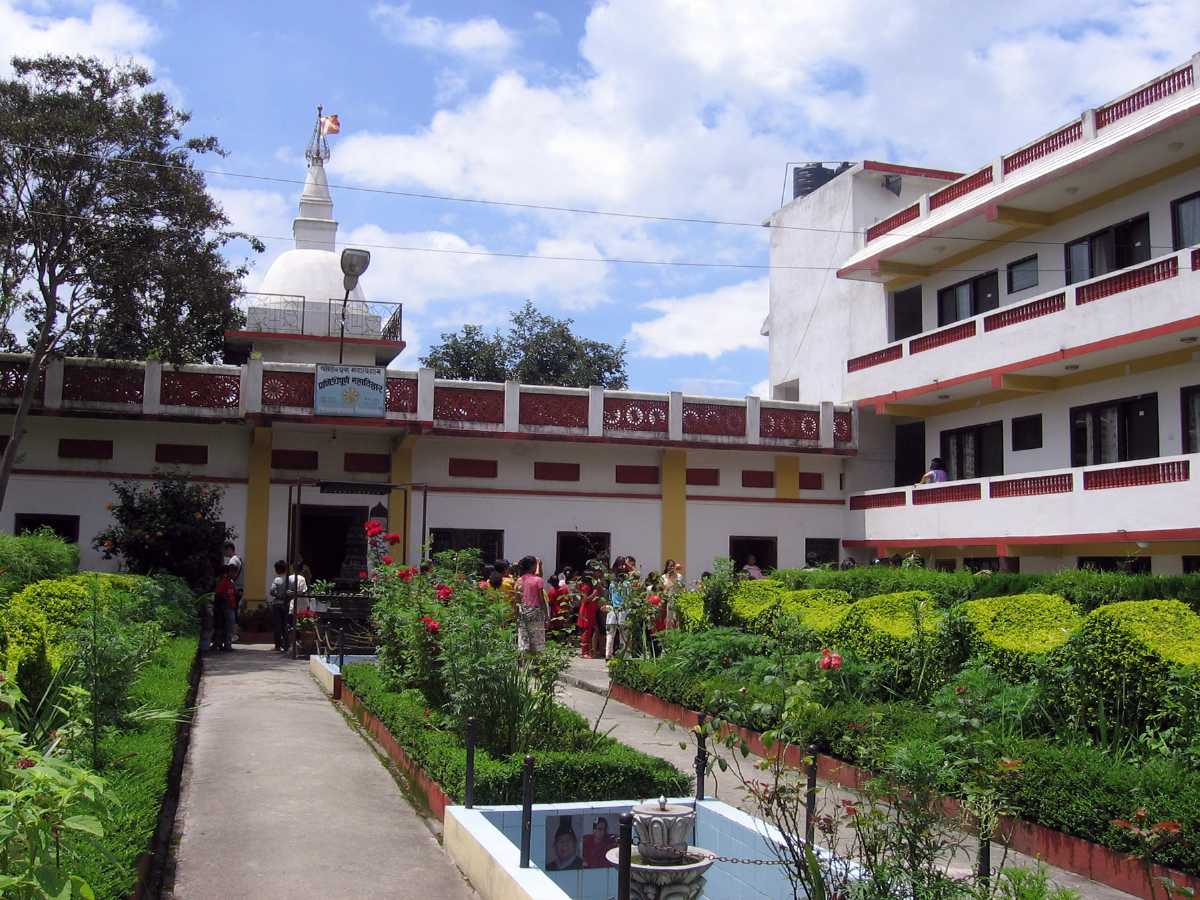 Location
This is located about 8 kilometres from Kathmandu, at a place called Balambu which is to the west of Kathmandu.
How to reach
You can trek to the monastery, or hire a taxi to reach faster
Timings
Day visit: 9:00 AM - 5:00 PM
Cost
The monastery can be entered free of cost.
4. Shechen Tennyi Dargyeling Monastery
A part of the Nyingma monasteries, Shechen Tennyi Dargyeling was founded by Dilgo Khyentse Rinpoche in Nepal after it was destroyed in Tibet in the 1950s. Although some parts of the monastery were destroyed in the devastating 2015 earthquake, restoration work is ongoing. Shechen houses over 150 statues, and one of the largest Tibetan libraries, apart from being home to more than 500 monks and students. Courses on philosophy and the art of living are conducted, along with music, dance and painting. The serene valley, beautiful structure and refreshing air are known to have a magical effect on visitors.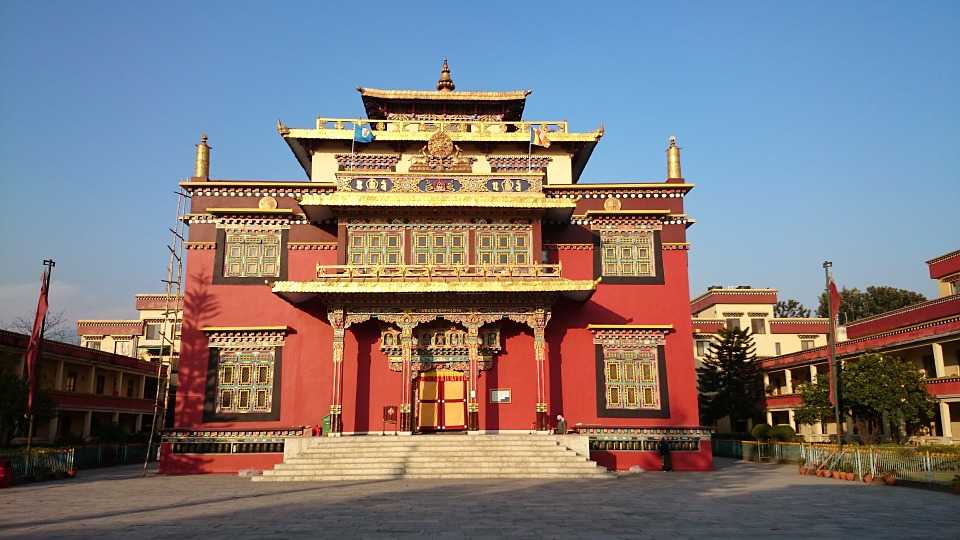 Location
The monastery is located to the north-east of Boudhanath, about 10 kilometres from the airport.
How to reach
You can take a bus or even trek to Shechen monastery. The path is beautiful and peaceful.
Timings
Day visit: 9:00 AM - 5:00 PM
Cost
Visitors can stay at the Shechen Guest House, for as low as USD 10 a night.
5. Rigon Tashi Choeling
This monastery is especially popular for its Lingdro dance - an ancient Buddhist dance ritual which is said to purify the body and the mind. Rigon Tashi Choeling houses a huge statue of Buddha Shakyamuni, which is undergoing renovation at the moment. The whole monastery is full of statues and manifestations, made of medicinal clay and brightly painted. Make sure you stay for the dance and other eclectic rituals!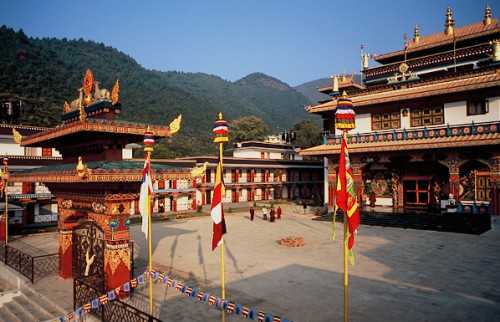 Location
This is located about 20 kilometres south of Kathmandu, near Pharping.
How to reach
Visitors can hire a taxi to reach the monastery in one hour from Kathmandu.
Timings
Daily visit: 9:00 AM - 5:00 PM
Cost
It is free to enter the monastery.
Setu Gumba is a captivating little monastery located in Kathmandu that contains beautiful murals and frescoes that speak volumes of Buddhist culture. This is also known as the White Monastery, because of its white façade. You can have a bird's eye view of the Kathmandu valley from here, and the sunrise and sunset views from bewitching. The monastery houses statues made of sacred, medicinal clay. and the flag display and chants here are mesmerising.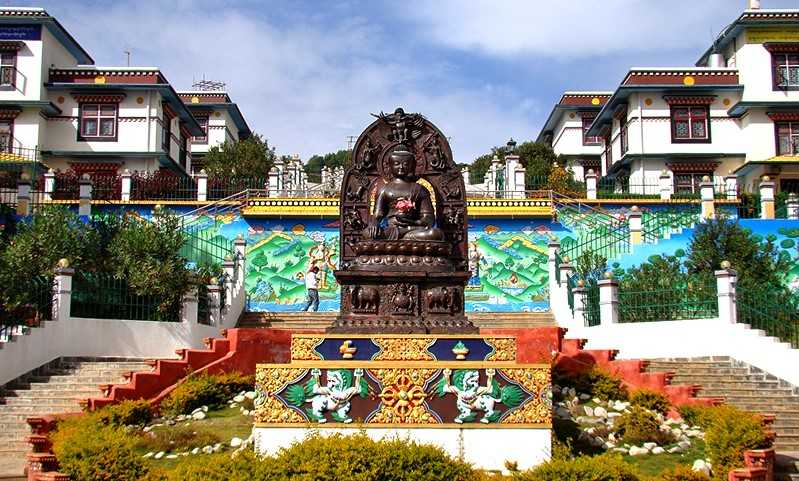 Location
It is located near Swayambhunath Stupa, 5 kilometres from Kathmandu. It is on the south-west of Kathmandu, on Druk Amitabha Hill.
How to reach
You can trek up the hill, or hire a jeep or shuttle service to reach Seto Gumba.
Timings
Day visit: 9:00 AM - 5:00 PM
Visitors are allowed only on Saturday
Cost
Entry fee: NPR 40
Things to keep in mind while visiting Buddhist Monasteries
It is important that you wear the right type of clothes - long or short sleeved shirts covering the upper body and shoulders, pants or knee-length shorts, and dresses are okay. Blouses and sweatpants are also allowed

Avoid sheer, see-through clothes, skin-tight shirts and T-shirts with inappropriate messages


Women are not allowed to wear cold-shoulder tops, mini skirts or tights


Monasteries are meant to be havens of solitude and reflection. Avoid using electronic gadgets in the area, or use them to a minimum extent


Most monasteries serve only vegetarian food


Silence is appreciated at monasteries. Avoid gossip and meaningless discussions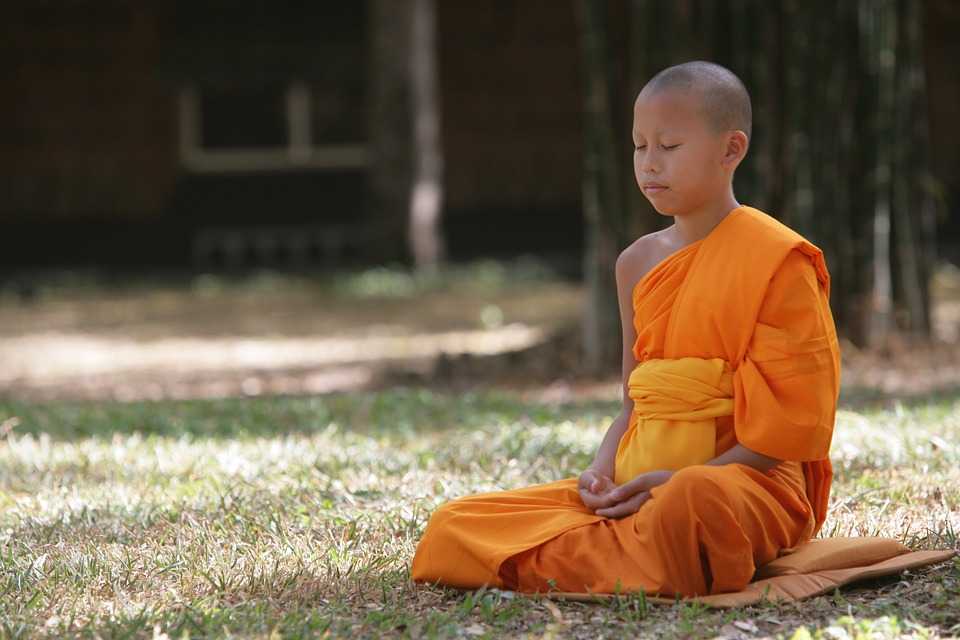 Visiting a monastery is truly a life-changing experience as it can help put a lot of things in perspective. While it offers a variety of experiences for passing tourists, it is best if you can take a couple of days to stay there and experience the change. Have you been to one of these monasteries before? Which is your favourite location? Comment below, and let us know!