Kathmandu is one of the most picturesque places on the planet. Apart from tradition, this place has taken giant steps to conserve the environment. Home to multiple UNESCO world heritage sites, Nepal is one of the main tourist attractions on the continent. Economical, majestic, and sublime. These three words describe this small but beautiful country perfectly. However, with more travelling comes more fatigue. Hence, if you are wishing to hang out with your friends and family, here are the best bars in Kathmandu you could look out for. 
1. Irish Pub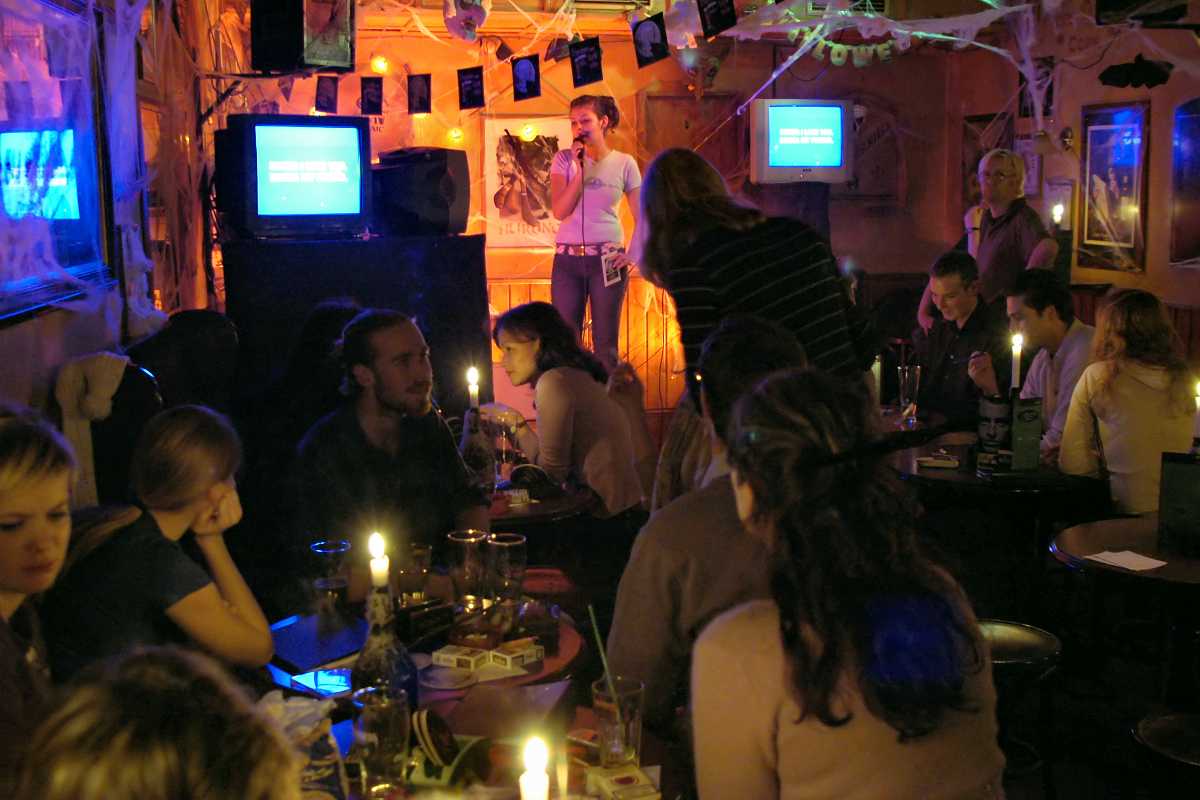 If you are a big football fan, and you celebrate whenever the magicians showcase their skills on then the Irish Pub is best suited for you. Most of the football fans gather here to witness the beautiful game. This pub is located at Lazimpat. The dim lights with decent drinks provide the perfect combination to enjoy and relax. This is one of the most popular pubs in the town to host private parties, so if you are in Kathmandu and you wish to enjoy a glass of beer along with watching football, then this the place you should never miss out.
Address: Ananda Bhawan, Lazimpat Rd
Timings: 3 PM to 11 PM
Price for two: NPR 2397 to NPR 3197 
2. Mezze

This bar in Kathmandu is present at the heart of the city. If you wish to eat a new range of pizzas and mingle with the top class of the Kathmandu socialite, then this is your destined place. Mezze offers wood fried pizzas and serves a wide variety of cocktails. A perfect nightlife experience is what you can expect from this pub. It also presents a perfect scene of the Narayanhiti Palace, the former place of the Nepali kings. A perfect combination of relaxation and view of the heritage. Well, make sure to visit Mezze whenever you visit Kathmandu.
 Address:  Mercantile Plaza, Durbar Marg
Timings: 11 AM to 10 PM
Price for two: NPR 2397 to NPR 3197
3. Rum Doodle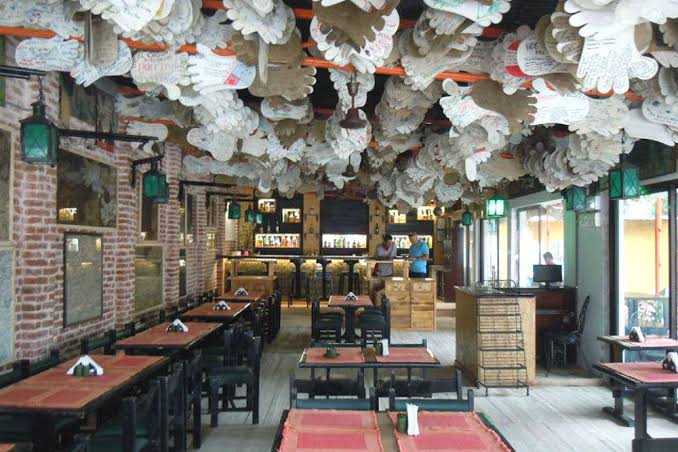 If the stories of Everest campaigners fascinate you, then Rum Doodle will surely provide you the best moments of your trip. The most unique part of this pub is the footprint paper cutouts covering the spaces. As you will observe, the footprints include the stories of every Mt. Everest summiteer who have visited Rum Doodle before you. This place is the hub for the mountaineers and it consists of the signatures of the legendary Edmund Hillary. It is customary for most of the Everest summiteers to stop by Rum Doodle for a beer and leave their mark. It is one of the most iconic bars in the city. 
Address:
Bhupi Sherchan Marg, Kathmandu 44605, Nepal
Timings:
10 AM to 10 PM
Price for two:
 NPR 369 to NPR 1119
4. Sam's Bar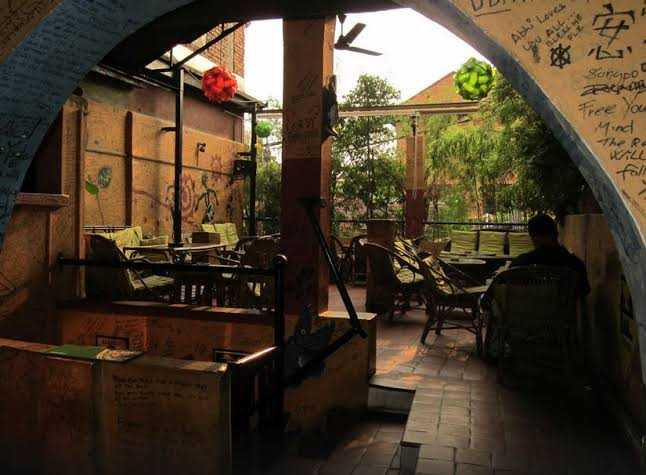 The oldest bar in Kathmandu, Sam's Bar strictly serves drinks and it does not offer any sort of food except the salted popcorn. This bar is located at the upper levels of an old building. This place is unique because of its environment and the chills one can experience here. This bar is one of the best things about the nightlife in Thamel and Kathmandu. The unique decors and beers attract many customers, mostly tourists. If you are planning to hang out with your friends and acquaintances, don't miss out on the opportunity to visit this bar.
Address: Chaksibari Marg
Timings: 4 PM to 12 AM
Price for two: NPR 1278 
5. Liquid Happiness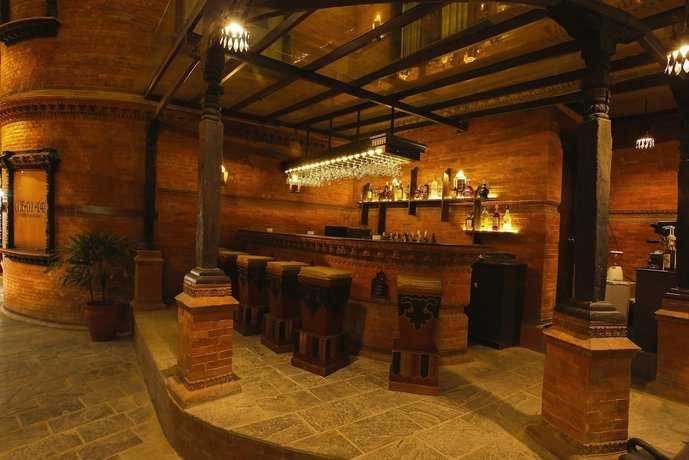 As the name suggests, this bar is one of the most popular bars in the city of Kathmandu (as it puts a smile on its customer's face). In spite of being the newest member in the list of bars in the city, Liquid Happiness is already making giant strides. The wide range of Tiebto-Newar themed bar stools along with top-class beers attract many customers. One can expect the unique Nepal hospitality in this bar. This bar is an extension Dalaila, the boutique hotel. The acoustic band that performs here on Tuesday nights is one of the main features of this bar.
Address: Chasibari Marg
Timings: This place is an extension of Dalaila, hence it is mostly open throughout the night
Price for two: The cost of booking in Dalaila costs around NPR 6394 
6. Jatra Cafe & Bar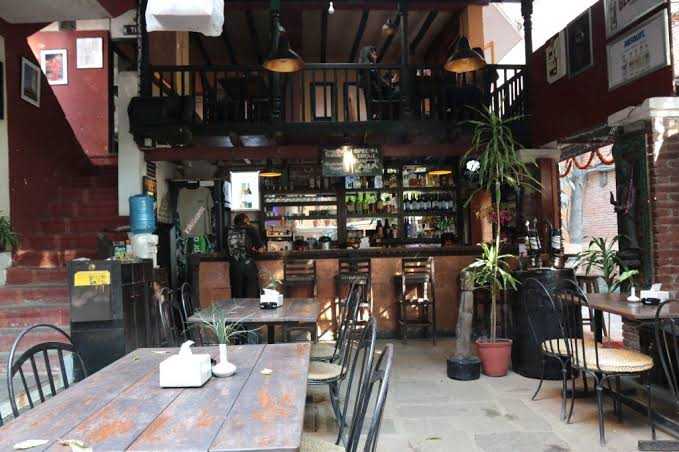 The Jatra bar provides the best opportunity to chill and relax. You can enjoy your cocktail and listen to the live performances of Brazilian and Indian music. This bar in Kathmandu provides a wide range of wines and beers to choose from. The audience is a mixture of localities and tourists. Hence, this bar is one of the finest places to hang out with the local people. 
Address: J.P Road
Timings: 10 AM to 10 PM
Price for two: NPR 227 to NPR 695
7. Purple Haze Rock Bar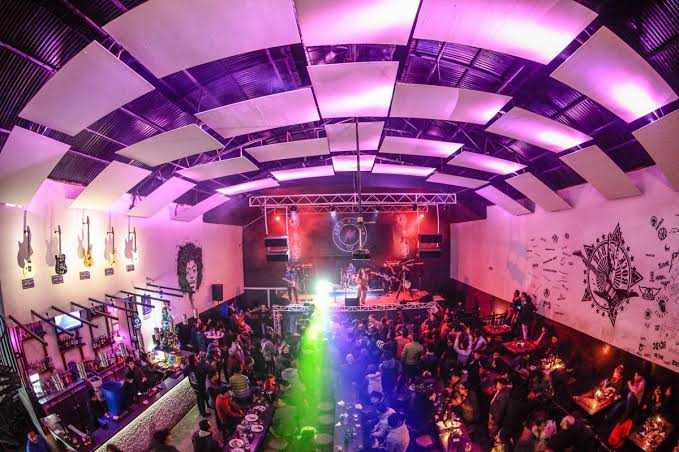 Purple Haze is the place to be for rock music and drinks. Although it is a little on the costlier end, the atmosphere is crazy and infectious. Local bands perform here quite often and there might be entry fees on weekends for which you will be offered complimentary drinks. The place is very lively in the later hours of the night and can get heavily crowded on weekends.
Location: Paryatan Marg, Kathmandu
Timings: 5 PM - 12 AM (May extend on holidays)
Price: NPR 2500 for two (approx.)
8. Shisha Lounge and Bar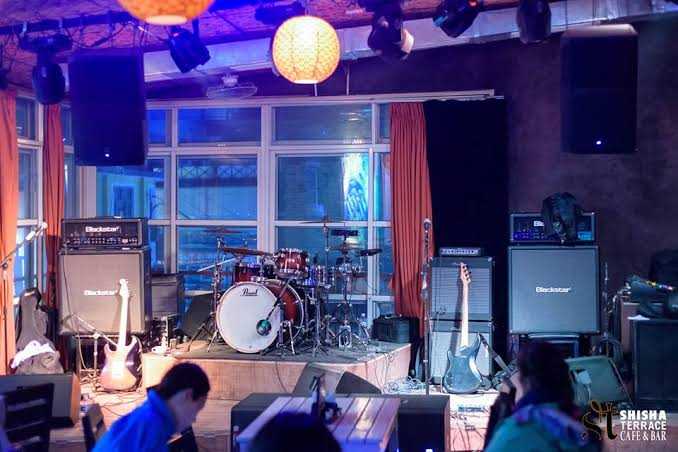 Tucked in the streets of Thamel, this bar in Kathmandu specializes in a variety of flavoured hookah. They have live music with bands performing at night and serve different cuisines of food. However, if you're dropping by at this place, it is for the shisha and the drinks.

Location: Chaksibari Marg, Thamel, Kathmandu
Timings: 12 PM-1 AM
Price: NPR 1800 for two (approx.)
9. Buddha Bar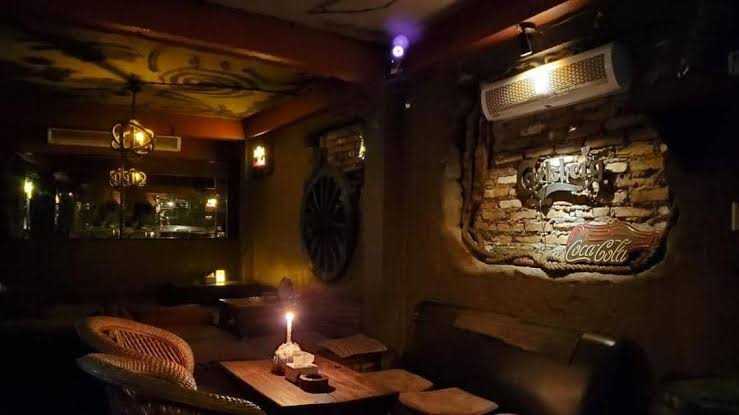 Set up with the zeitgeist feel of modern Kathmandu, Buddha bar takes you back to the retro days with its setting. If you're up for a bit of everything while having a few drinks, you could very well spend a few bucks without burning a hole in your pocket. For the kind of food they offer, the pricing is very reasonable and there are ample options on the menu. They also have their own merchandise, which you can purchase at the bar itself.
Location: Narsingh chowk marg, Thamel, Kathmandu

Timings: 2 PM - 12 AM (Might differ on holidays)

Price: NPR 1800 for two (approx.)
10. Reggae Bar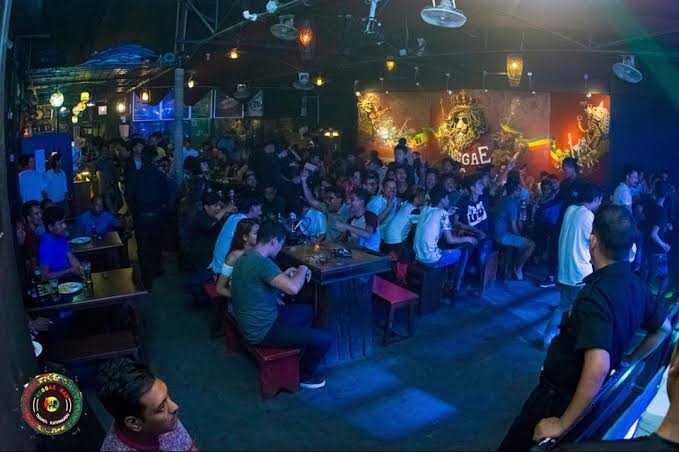 With spectacular modern wall paintings, this bar in Kathmandu is a banger of a place. They have a huge stage in the bar, where you could break free and dance or you could just sit back and listen to the band perform on the stage, whilst enjoying drinks with your friends.
Location: Chaksibari Marg, Thamel, Kathmandu

Timings: 4.30 PM - 12 AM (Might differ on holidays)

Price: NPR 2000 for two (approx.)
The bars in Kathmandu are the backbones of Kathmandu's nightlife. Providing the best experience and dishes, these pubs are an inseparable part of every traveller's wish list. Make sure to visit these places to relax and enjoy the uniqueness of Kathmandu.