Often thought to be only a fusion of Indian and Tibetan food,
Nepal
ese food has a unique taste and history. And for the best Nepalese food, what better place than the capital valley -
Kathmandu
. Kathmandu has a culture of a fantastic variety of cuisines, be it Nepalese, Indian, Russian, Italian, Tibetan and whatnot. You won't miss your homeland's food while in Kathmandu, but the essence of every country lies in its long history of food.
So if you have an adventurous palette, dive right into Nepal's elaborate gastronomical experience and don't miss these delectable Nepalese dishes.
Street food
1. Momos - Every Indian's Favorite Street Food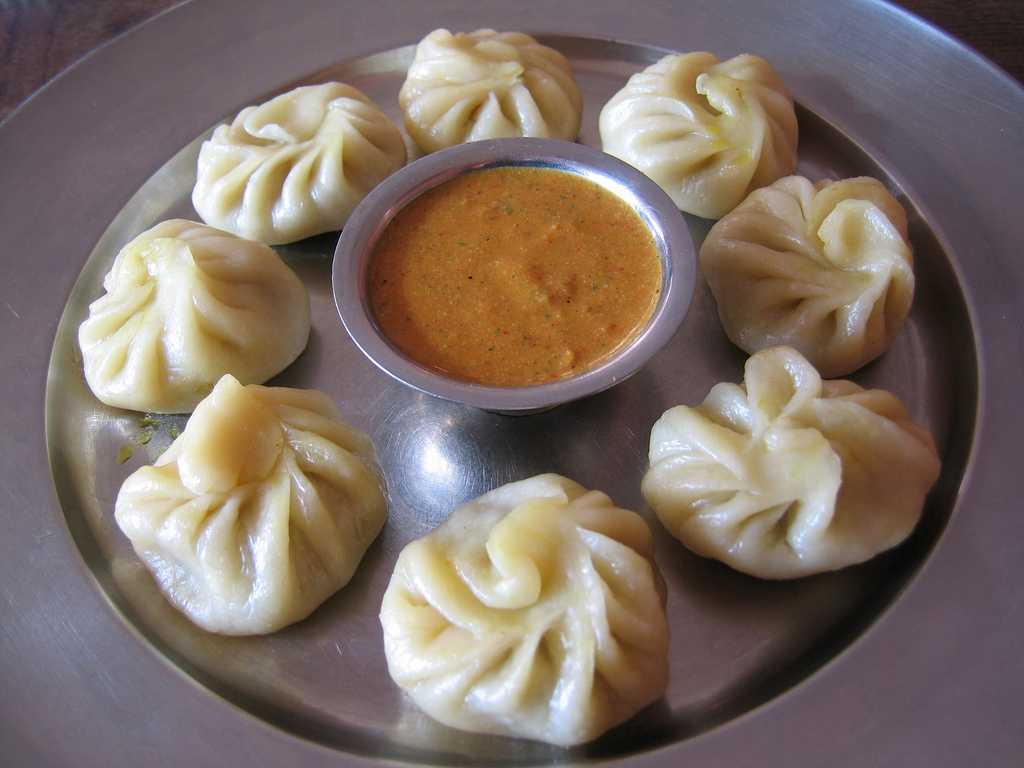 Momos are an omnipresent delicacy in Nepal. While its origins are Tibetan, it has been integrated into the Nepali gastronomical journey thoroughly. They come in different shapes and sizes, but primarily you'll find leaf-shaped or round momos being sold in street-shops and individual carts. Momos are meat/vegetable filled dough-balls, that are either steamed or fried, or even "kothey" - half-steamed, half-fried. A spicy, tangy tomato chutney accompanies them in most places, but depending on where you eat, these condiments may change their form and taste. These days you may even find more adventurous flavoured filings, from cheese to mashed potato. 
Cost:
10 momos (at smaller stalls) - NPR 60
At fancy restaurants - NPR 200 to NPR 250
Where to eat: Shandaar Momo, Basantpur Durbar Square
2. Chatamari - Pancake Seasoned with Spices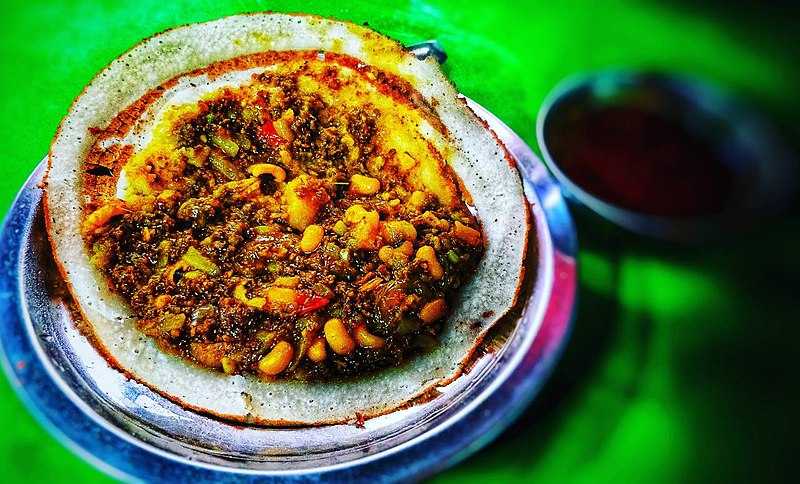 This dish is the traditional food of the Newari people of Nepal. Chatamari travelled from the homes and traditional festivals of the Newari people, indigenous to Nepal, to now its streets and restaurants. It is essentially a pancake, made of rice flour, and topped with a spicy, tasty filling, usually made non-vegetarian with meat or eggs. One can even opt for a vegetarian Chatamari, or also a sweet, dessert Chatamari, filled with ricotta cheese and sugar. 
Chatamari is often called the Nepali Pizza or Nepali Taco (it is folded and served), but it is unlike a pizza or a taco in its exploding taste. 
Cost: NPR 200 (depends on the kind of filling you opt for)
Where to eat: Jhigu Bhoe Chhen, Amrit Marg, Kathmandu
3. Choila - Grilled Water Buffalo Meat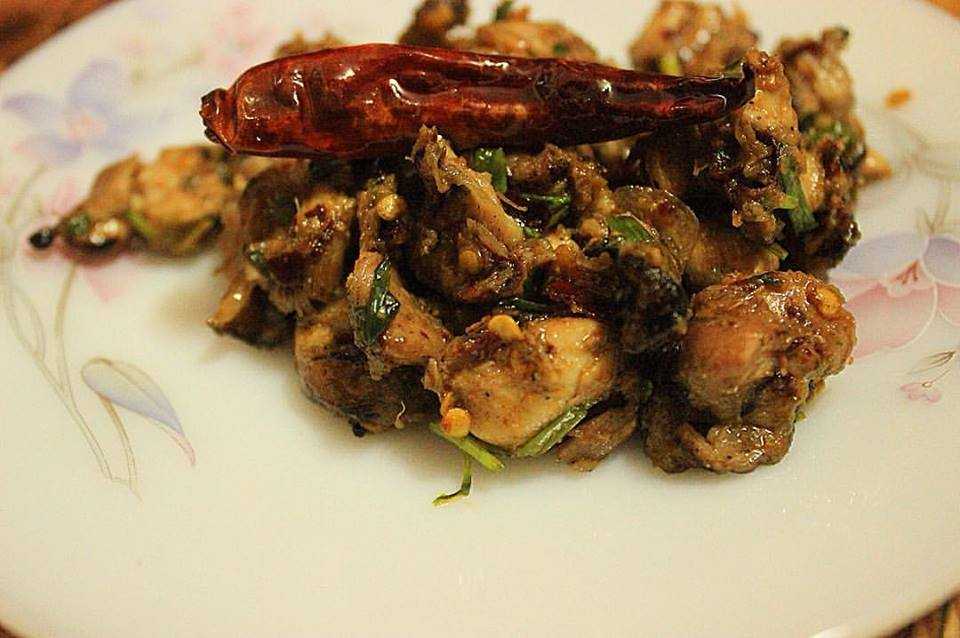 Another Newari delicacy, Choila is a spiced, grilled meat dish, traditionally prepared with water buffalo meat. One can also find other versions made with duck, chicken or mutton. It's packed with heat and spice, so be sure you can take it before you gorge into it. This spicy, mouth- and the eye-watering dish is typically served with Chiura or flaked rice, that complements the soft, chewy meat well with its crunch. It is also accompanied by the traditional Newari homemade liquor- Aila.
Choila has become a staple street dish in all of Nepal, brought there from traditional Newari homes and festivals. 
Cost: NPR 200 to NPR 400 (depending on the ordered kind of preparation)
Where to eat: Himali Kitchen, Paryatan Marg, Kathmandu
4. Maas Ko Baara, or Wo - Newari Pancake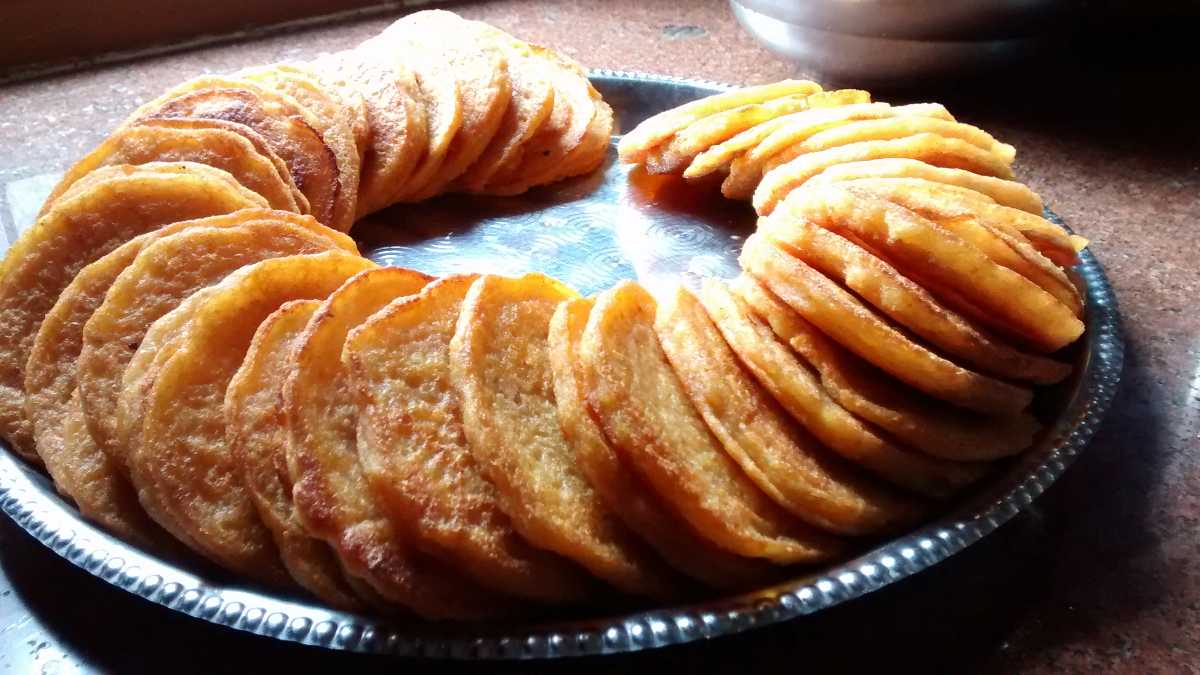 Sizzling on a hot Tawa, or griddle, one can find this conventional Newari "pancake" attracting many people to its smell and taste. Pre-soaked Black and green lentils (urad dal) are pasted along with added spices and flavours. This ground paste is patted into round discs or patties that are fried in mustard oil, to make the Baara. Once cooked, you may see some breaking an egg over the pancake, or adding meat to the batter, to make non-vegetarian versions of the baara. These patties are more of street food, so you may not find them as readily in restaurants or hotels. Nevertheless, they are so popular that any hole-in-the-wall stall in the streets of Nepal will serve you these delicious lentil discs for lunch or even as a snack.
Cost: NPR 150-200.
Where to eat: any hole-in-the-wall stall in Old Freak Street (Jhoche)
5. Sekuwa - A Classic Kebab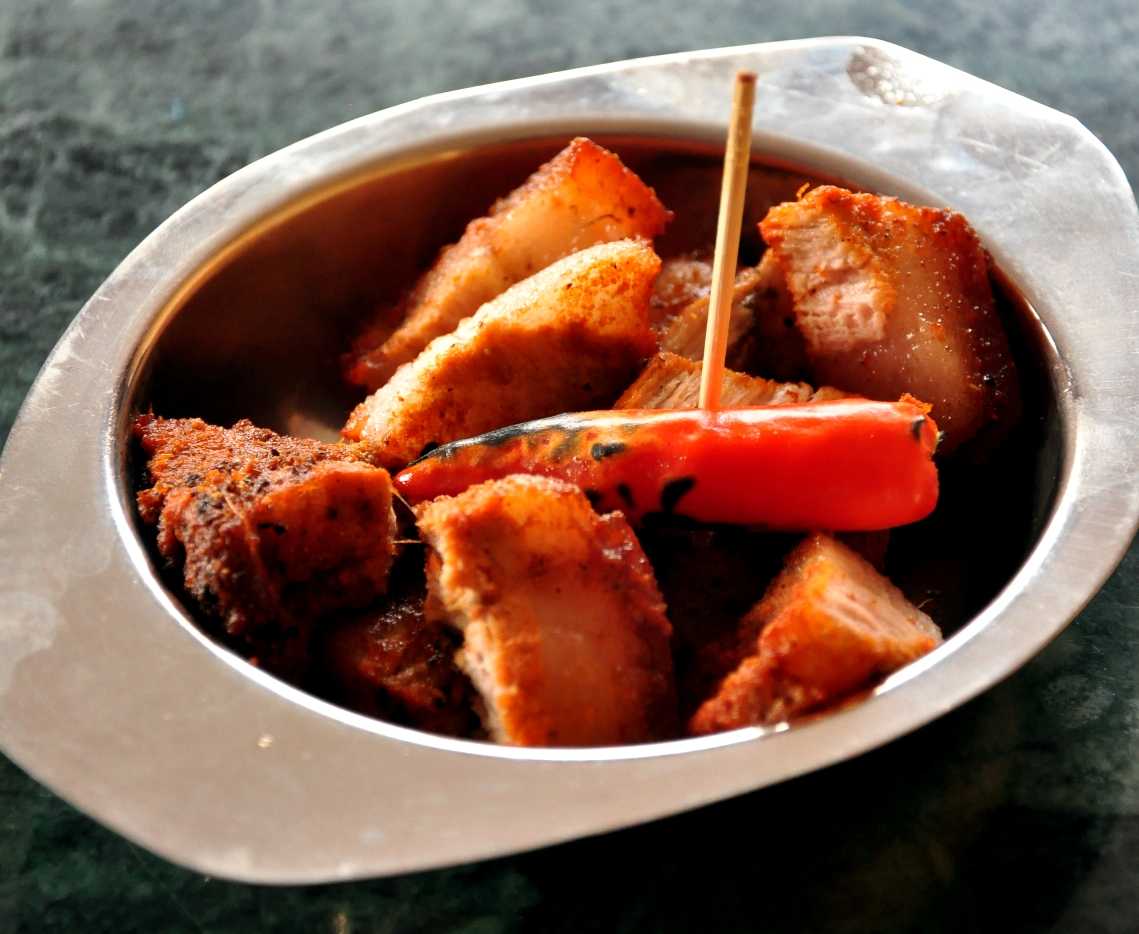 Now this one is a lip-smacker. Sekuwa is like a kebab, but for many, it's even better than a kebab. It is a staple for the Limbu people of Nepal but has found its way to the streets of the Himalayan nation. Sekuwa is made out of any meat, be it pork, lamb, goat or chicken (or a mixture). The raw meat is lathered with traditional herbs and spices, and grilled over a natural wood fire. The smell of the smoking, charred meat fills up streets, attracting crowds in large numbers. However, sekuwa is not readily available everywhere in Nepal, and one may have to do thorough research about its availability before venturing out to try it. 
Cost: NPR 300-500 (depending on the meat)
Where to eat: Bajeko Sekuwa, Kamalpokhari, Kathmandu
6. Thukpa - The Tibetan Comfort Food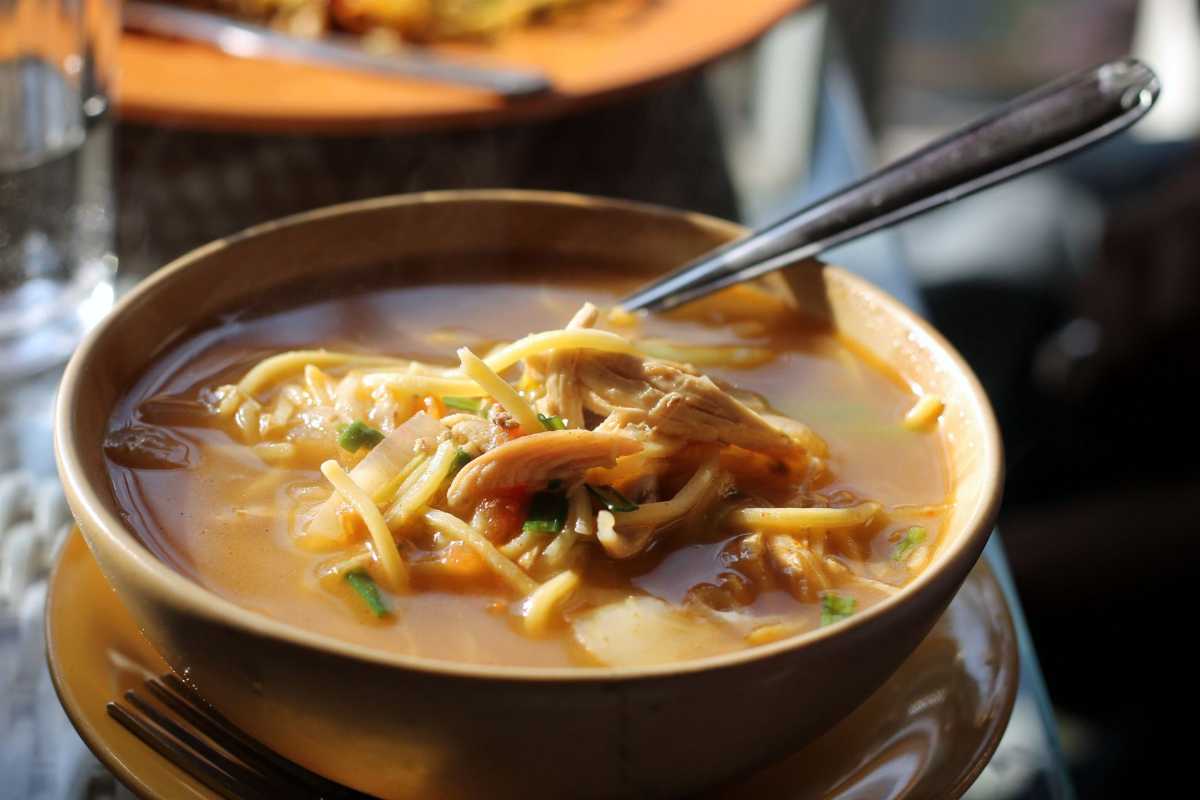 Known to most as a typical Tibetan comfort food, the thukpa assumed its Nepali identity as it crossed the border. Considered a very dear, comfort food, Thukpa is consumed as a whole meal sometimes. Filled with thick broth, thukpa consists of hand-pulled boiled noodles, vegetables and meat - usually buff, but options for other kinds of meat are also widely popular. Its Nepali-ness comes from the spices is contains - mainly garam masala and chilli. The thukpa is also served vegetarian in most places, so veg-lovers, you're not missing out on this warm, toasty, spicy goodie!
Cost: NPR 300 (depending on the kind of meat) 
Where to get it: Yangling Tibetan Restaurant, Kaldhara Marg, Kathmandu
7. Aloo Chop - Potato Fritters and Chutney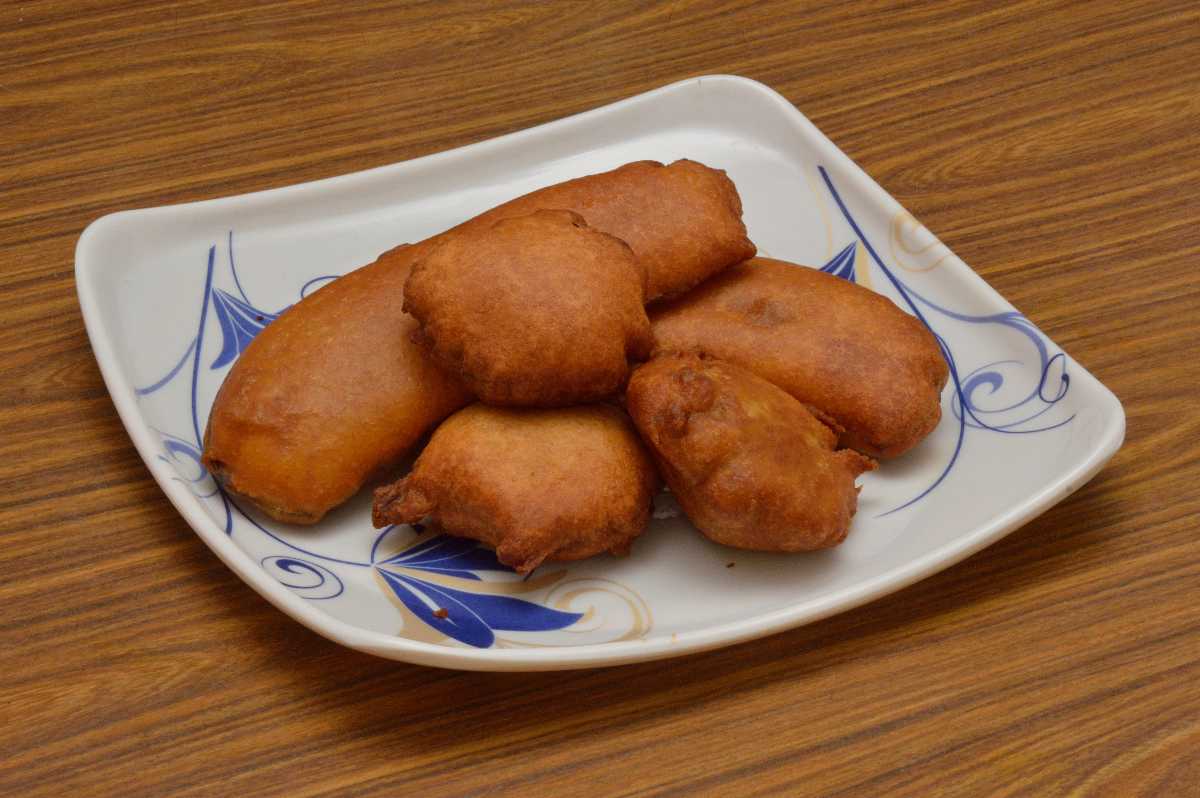 This is such a convenient, on-the-go kind of street grub that you'll find people gorging on it while shopping or sightseeing. Aloo chops are potato and meat-filled fried fritters served either with some chutney or the other, or some spiced vegetables. Because it's easy on the pockets, you'll find college students enjoying Aloo chops purchased from food stalls and making merry. 
Cost: NPR 10 to NPR 20  
Where to eat: Tukche Thakali Kitchen, Garidhara, Kathmandu
Nepali Mains and Thalis
8. Dal Bhat - A Nepali Thali
It is often said that brilliance lies in simplicity. Nothing exemplifies this better than the Nepali Dal-Bhat thali, that is in its essence a simple concept, but is a food adventure when experienced. The Dal-Bhat is an Indian takeaway, and consists of thick lentil soup, usually black lentils or beans, along with puffy, soft rice. The thali, which is a steel tray, is designed with many little compartments for soups and veggies. The dish is typically composed of dal (lentil soup), bhat (rice) and tarkari (spiced dry/gravy vegetables). The thali is accompanied by a selection of chutney and pickles, giving the dal-bhat-tarkari combination an epic kick of spice and salt. 
Dal-Bhat is widespread and so dear to Nepalis that it is often considered the country's "national food". It is also a relatively cheaper dish, on a mountainous Nepali trek, there are chances you would be served this dish twice a day. 
Cost: NPR 600 to NPR 700
Where to eat: DalBhat Nepali Kitchen, Lazimpat Road, Kathmandu 
9. Tingmo and Aloo Phingsha - Some Bread and Soup for the Soul 
A Tibetan import, Tingmo and Aloo Phingsha are for the colder days, to feel warm and toasty in the Nepali winters. Tingmo is a steamed, fluffy, porous bread, eaten with thick broths and soups. Its sponge-like quality allows it to soak up all the yummy soup that a spoon might leave out, thus enhancing its taste. It is often shaped like a flower. Tingmo is usually served with Aloo Phingsha, which is a thick noodle soup, complete with fresh veggies and meat. It is often served with a side of rice.  This dish is Nepali comfort food, so make sure you have enough space in your stomach to gorge on this delicious treat.
Cost: NPR 300
Where to eat: Tibetan Kitchen, Boudhanath Stupa, Kathmandu
Desserts
10. Sel Roti - Deep Fried Doughnut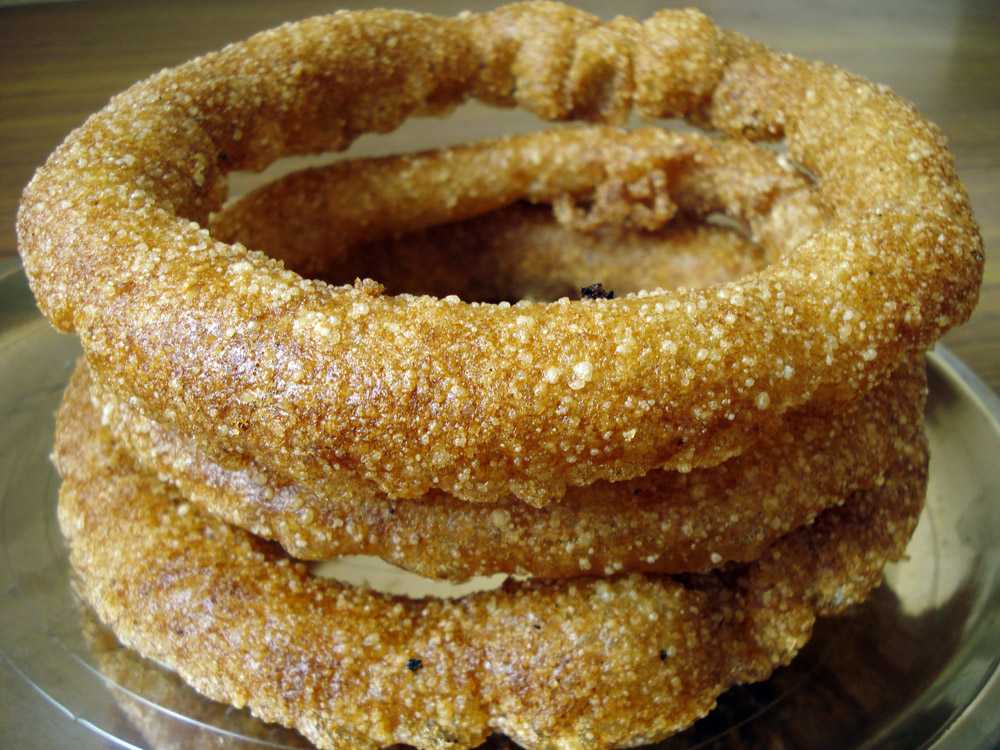 A doughnut of sorts, Sel Roti, is a deep-fried delight. It is made of sweetened rice flour and is deep-fried till reddish-brown. Its bread-like consistency gives it a crunchy but fluffy texture. Sel Roti has become the sweet of the streets and is available in almost all major food hubs. It is often eaten as a quick breakfast bite so that you might find these frying up in a large kadhai early in the morning. It is usually eaten on the Hindu festivals of Tihar and Dashain. 
Cost: NPR 20
Where to eat: Bakeries along Guna Kamadev Marg
11. Juju Dhau - Curd Custard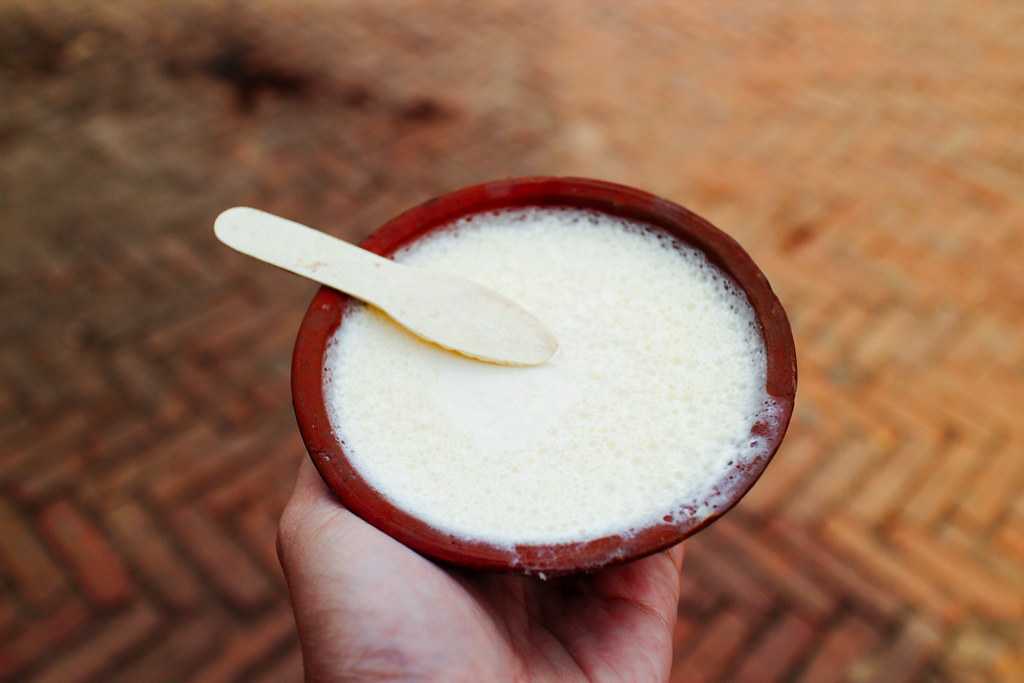 Literally translated to "King of Curds", you will find posters stating the same all over Kathmandu. Juju dhau is a custardy curd, very thick and creamy and rich inconsistency, and sweet. It is a traditional Newari friendly and is made and served in earthen clay pots. To the Newars, the juju that represents purity and is a staple to many traditional ceremonies and festivals. Be sure to try this custardy-rich curd!
Cost: NPR 200
Where to buy: Bhaktapur King Curd Shop, Old Freak Street, Kathmandu
12. Lakhamari - Crunchy Bread with Sugar Syrup for Your Sweet Tooth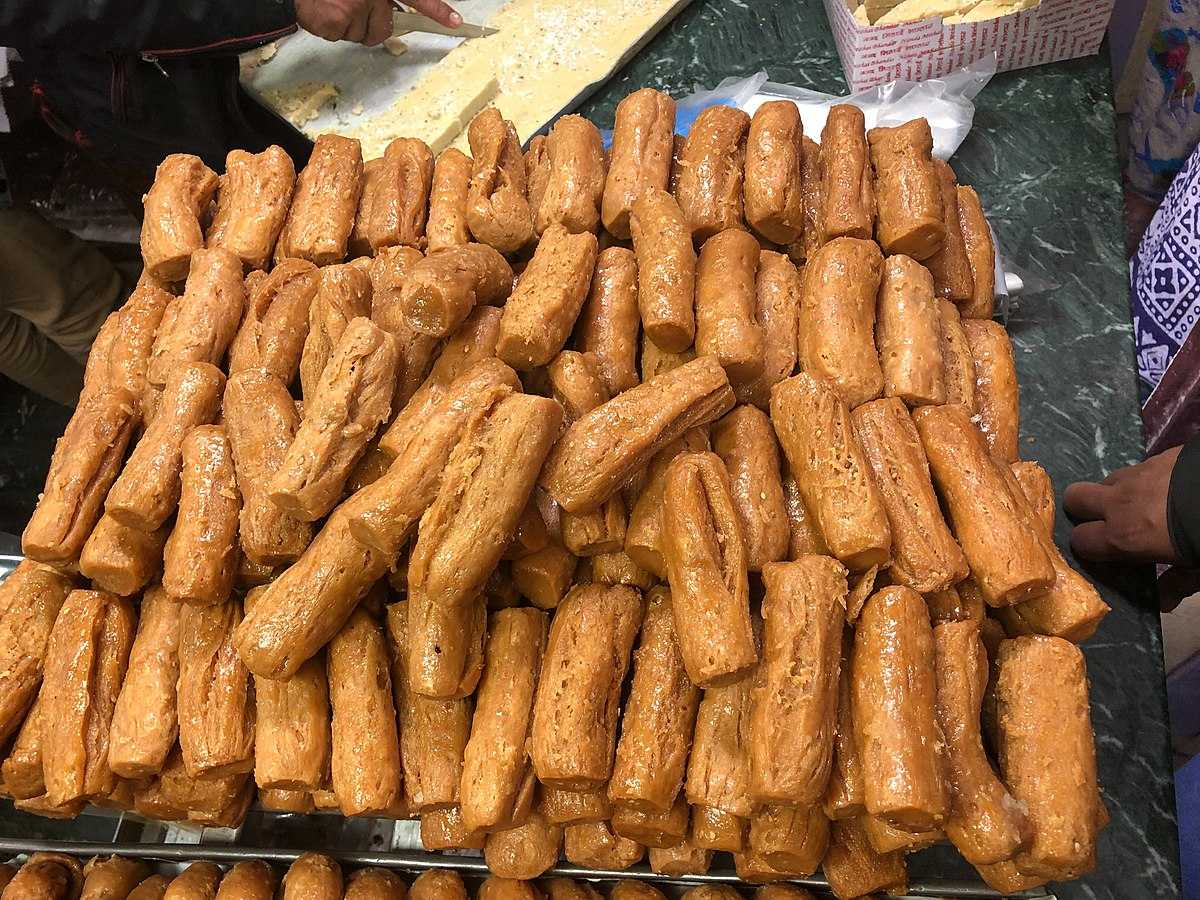 This one is just pure indulgence. For anybody with the sweetest tooth, Lakhamari will fulfil all your sugar cravings. Initially prepared for Newari weddings and ceremonies, Lakhamari is popular among all the people of Nepal. Made with black lentil flour, butter and sugar primarily, this soft, crunchy bread is fried in oil. It is then brushed with sugar syrup to enhance the sweetness. It comes in various sizes - the largest, round, intricately designed ones are gifted in weddings, and the smaller, brick-like ones are made for regular consumption. Because of the way it is made, Lakhamari can be stored for many days at a go. It is a must-have when in Kathmandu!
Cost: 500 gms - NPR 350
Where to buy: Kasthamandap Mithai Bhandar, Kathmandu
13. Yomari - Fish-shaped Sweet Bun filled with Chocolate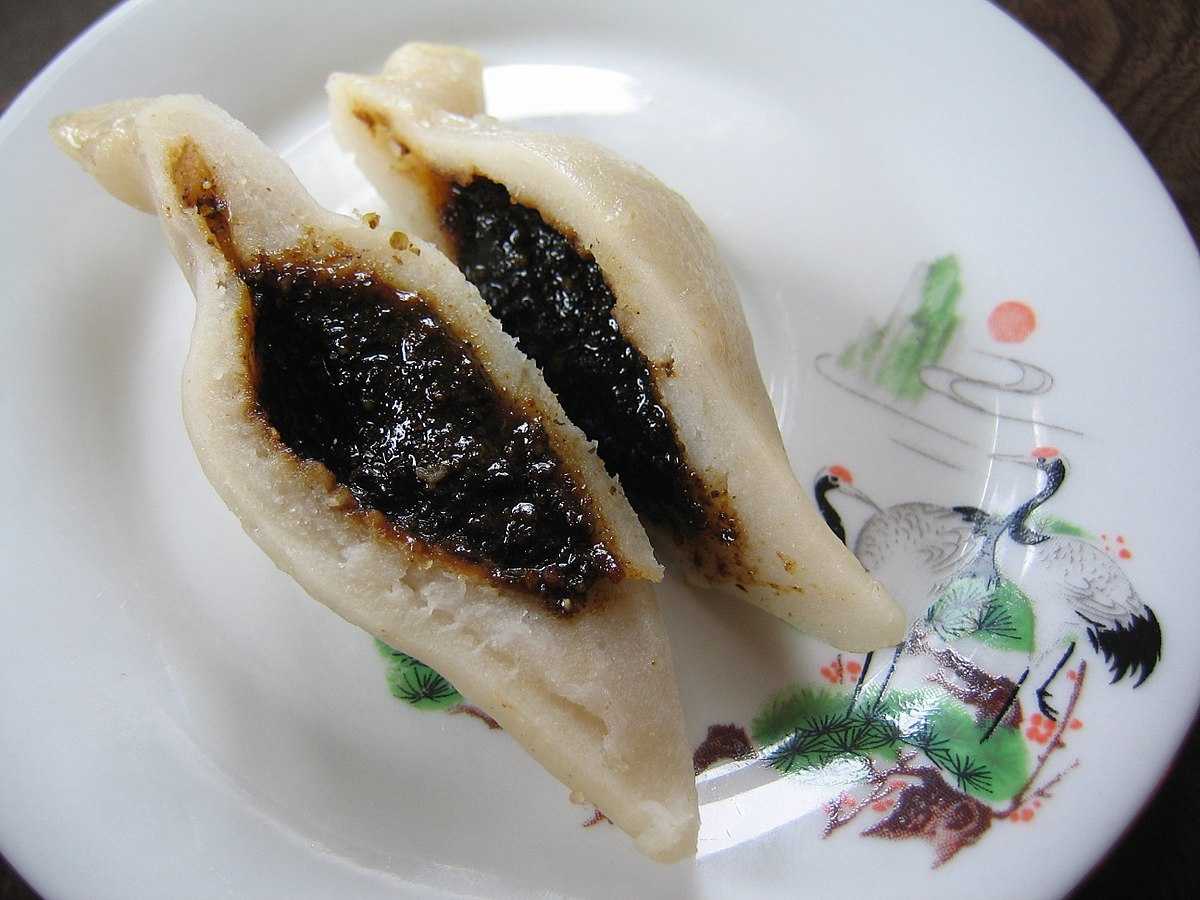 This sweet treat was initially made as an offering to Gods for a good harvest, on the festival of Yomari Punhi, the largest Newari celebration. What was once a celebratory dish is now so popular all over Nepal that it can be found all year round, in most places in Kathmandu. This sweet bun is made out of rice flour, steamed and filled with a gooey paste made of sesame seeds, coconut and molasses. This traditional harvest sweet has found itself into the 21st century, with unique spins on the dish like being filled with chocolate. These cute fish-shaped buns are often served with a sweet dip.   
Cost: NPR 200 
Where to get it: Go to any Newari Khajaghar in Kathmandu for yummy Newari food, especially Yomari.
Drinks
Non-Alcoholic Beverages
14. Lassi - You know what this is!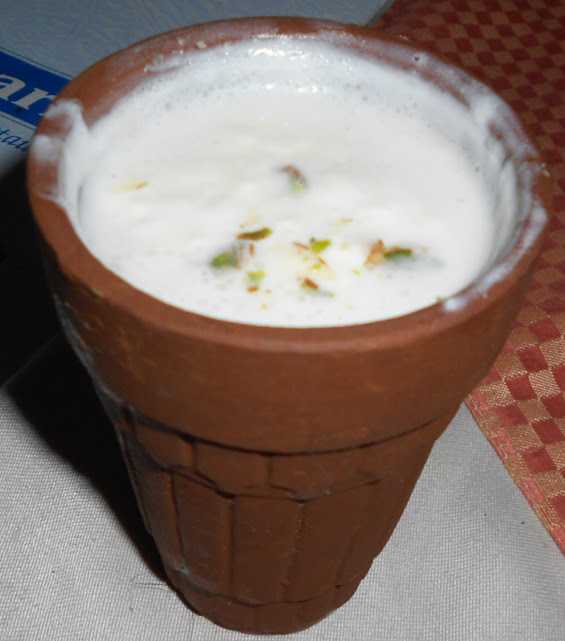 Lassi is a sweet, thick drink made from yoghurt. The thick curd is mixed with water and sugar and served chilled. However, this simple lassi has many flavours now, like mango or rose, or toppings, from shaved coconut to dry fruits to a thick layer of cream. Make sure that the water used to make this sweet drink is fresh and clean, and ask for a cold glass to refresh yourself.
Cost:
Small glass - NPR 30
Big glass - NPR 60
Where to buy: Janakpur Dahi Lassi Bhandar, Chandraman Singh Marg, nearby Indra Chowk.
15. Butter Tea or Suja - A Himalayan Delight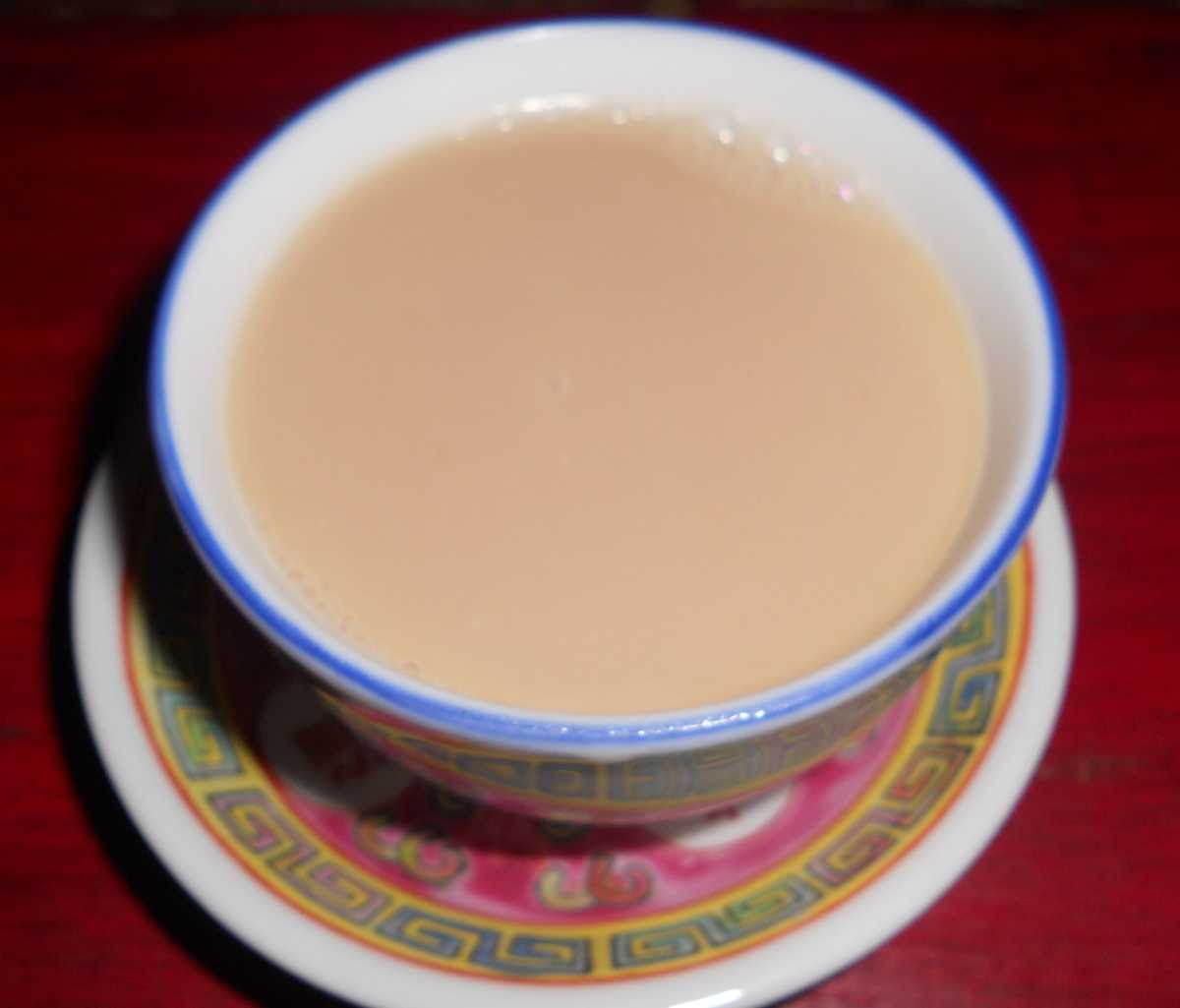 Suja, or Butter Tea, is a typical Himalayan delight. This tea is made by brewing tea leaves, along with yak butter and salt. The tea is a Tibetan import and can be found in areas where the inhabitants are Tibetans or Sherpas, which makes it availability limited to some places in Kathmandu.
Alcoholic beverages
16. Raksi - A Doppelganger of Tequila
Raksi made from rice or millet is the most inexpensive and accessible alcoholic drinks in Nepal. Often consumed during specific festivals and celebrations, Raksi is similar to tequila. However, one must be warned: this is also one of the most counterfeited alcohols. Be sure of the brand and place of purchase. 
17. Jaand - Nepali Beer
Jaand is often referred to as Nepali beer. Although it is not as strong as raksi, it is reasonable to dilute it in water before drinking. 
Nepali cuisine is as diverse and colourful as its people and geography. From street food to desserts, to home-made alcohol, Kathmandu offers a delightful selection for any and every palette. Be sure to try these popular dishes at least once, when visiting Nepal!