The regal Narayanhiti Palace is spread across a whopping 3794 square metres and is categorised into three sections, namely, the private wing, the guest wing, and the state wing. Built with the Late Victorian style of architecture, the interior of the Narayanhiti palace is home to 52 rooms which are collectively called Sadan, and are named after the districts of the country. The southern entrance to the palatial complex is located at the junction of the Durbarmarg and Prithvi Path roads.

Reception Hall
Referred to as the Kaski Sadan after the Kaski district, the Reception Hall of the Narayanhiti Palace is adorned with two life-sized stuffed Royal Bengal Tigers which appear to be in their charging postures. The wall beside the staircase holds life-size portraits of the monarchs, each of them painted by Amar Chitrakar. It is in this very hall that the oath ceremony of the heads of the constitution and the Prime Ministers was performed. Housed behind the beautiful Gaurishankar Gate, the Kaski Sadan is where the Shah Monarchs addressed the politicians in official matters.

Where the Royals Reigned
The Throne Room of the Narayanhiti Palace referred to as the Gorkha Baithak, is the core of the entire palatial complex. This magnificent room is built upon the Hindu temple style of architecture, which includes a colossal 48 feet chandelier hung from a 60 feet high ceiling which resembles a Pagoda and is held by four pillars, each representative of the Naga. The room is ornate with gaudy idols of the Hindu gods Ashta Bhairava and Ashta Matrikas. It is beneath this ceiling where the rulers announced their Royal Proclamations. Situated to the right of the Throne Room is the Dolpa Sadan, which was solely used for the guests of the royal family who were not invited but were allowed to view the proceedings of the Throne Room via a one-way mirror.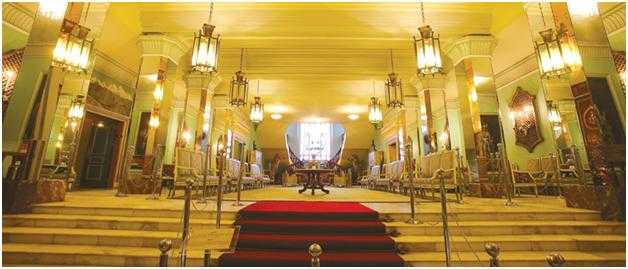 Not to miss out in the interiors of this palace are the modest yet classy royal bedrooms, the enthralling banquet halls, and the plethora of stuffed heads of tigers, gharials, and rhinoceroses lined along the walls of the rooms. Just as impressive is the diamond-studded crown, and a quick peek into the lifestyle of the royals by having a glimpse of their wardrobes. However, the scene that takes the cake is the morbid location where the prince killed his family. On some of the walls, bullet holes still show themselves to visitors, and the entire scene is a gory reminder of the gruesome massacre of 2001.
The Narayanhiti Palace Museum is one of the most captivating heritage buildings in the country of Nepal. Standing majestically in Kathmandu, the palace has not lost its grandeur to this day. Hundreds of curious people throng this place daily to know more about the Nepal Massacre of 2001, and to take a look at the regal lifestyle from behind the curtains of mediocrity.