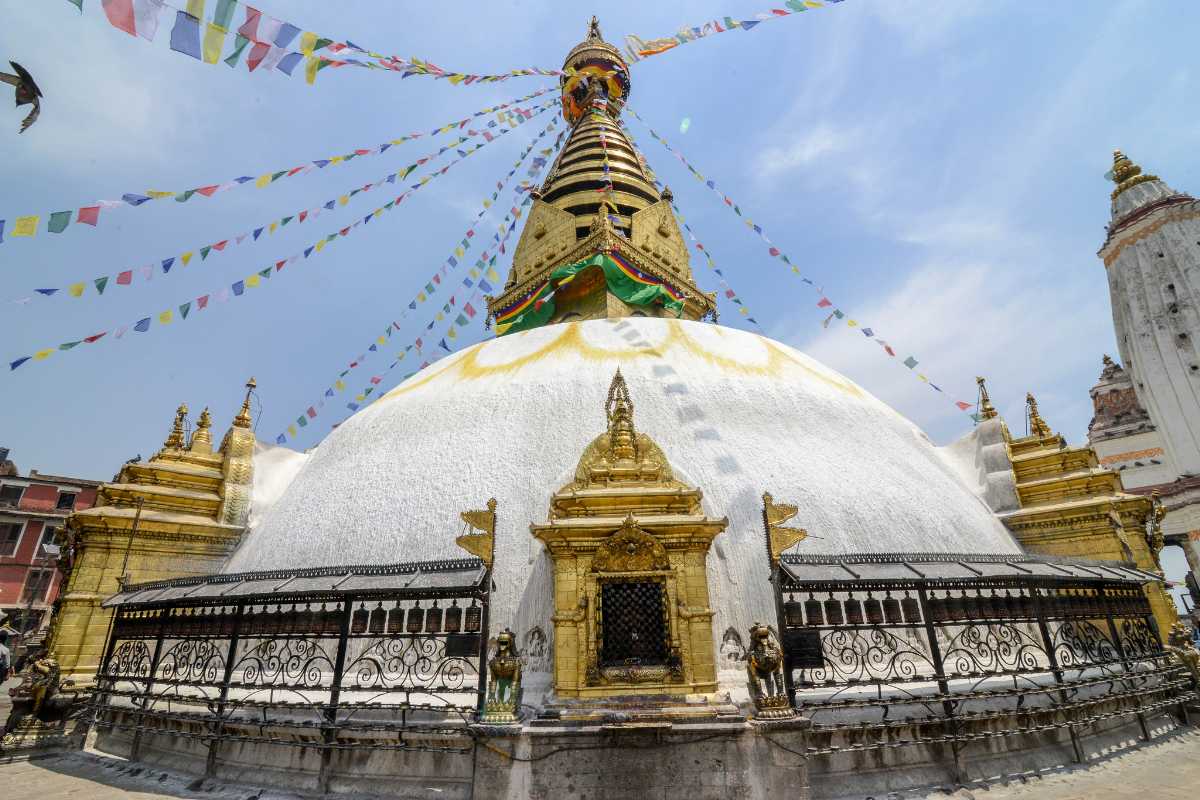 The spectacular Swayambhunath Temple has a structure which is a storehouse of symbols. The first features that allure the visitors are the statues of the two lions which stand as guards at the entrance of the temple. The stupa comprises of a large, hemispherical dome at the base, which represents the entire world. Statues of the Buddha adorn the bottom of this dome, and prayer wheels, engraved with the chant "Om Mani Padme Hum", surround the base.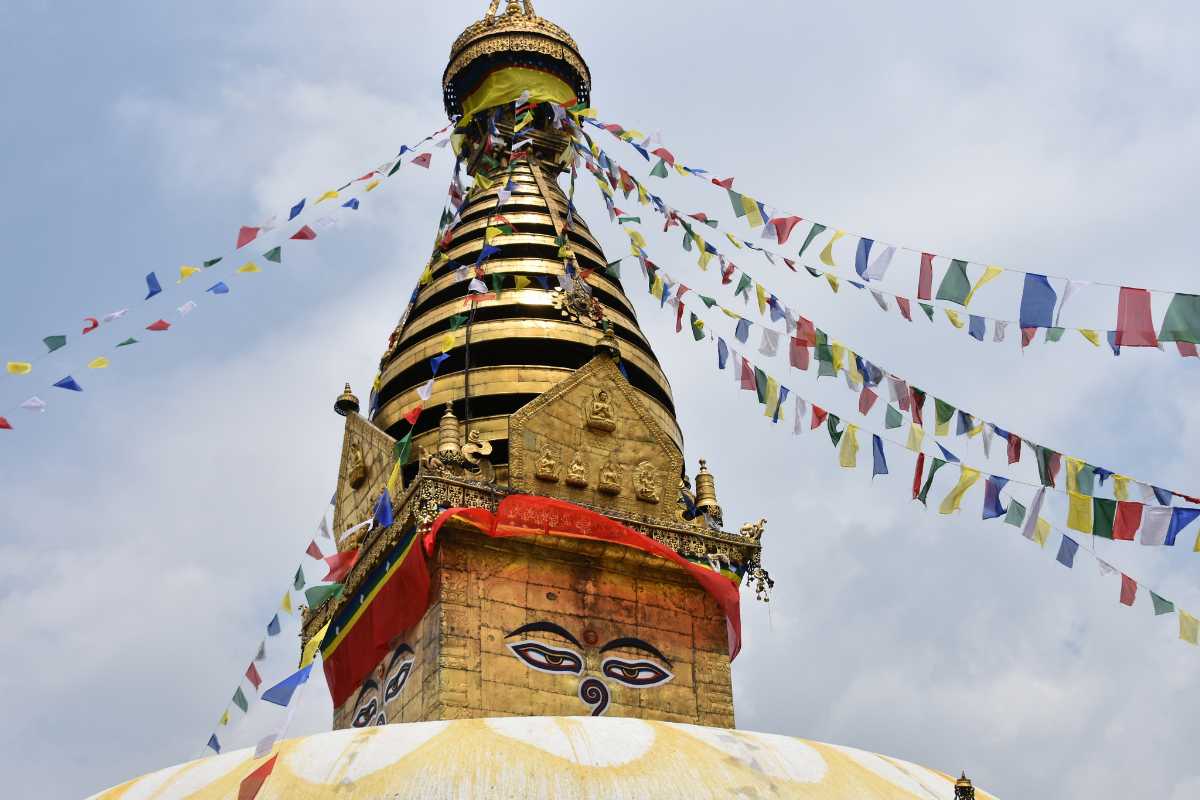 At the top of the stairs inside is a vast, iconic lightning bolt, called the "Vajra", which is planted on top of a smooth copper base, It represents the "dharmadhatu" and is in the form of a mandala. Above it is situated a cubical structure with the eyes of the Lord Buddha painted in all four directions. These eyes symbolise compassion and wisdom. Above each pair of eyes is the third eye of the Buddha, which is said to emit cosmic rays when he preaches, thus acting as a messenger to the celestial beings and inviting the ones who are interested in descending to the earth and listening to him. Although it cannot summon the creatures belonging to the lower realms, the third eye relieves their pain and suffering when the Buddha preaches. Drawn like a nose in between the two eyes, is a curly symbol which is similar to a question mark in its appearance. This figure is the Nepali symbol of the numero uno, which is symbolic of the unity of all things on this earth and also signifies the sole way to achieve moksha through the teachings of the Buddha.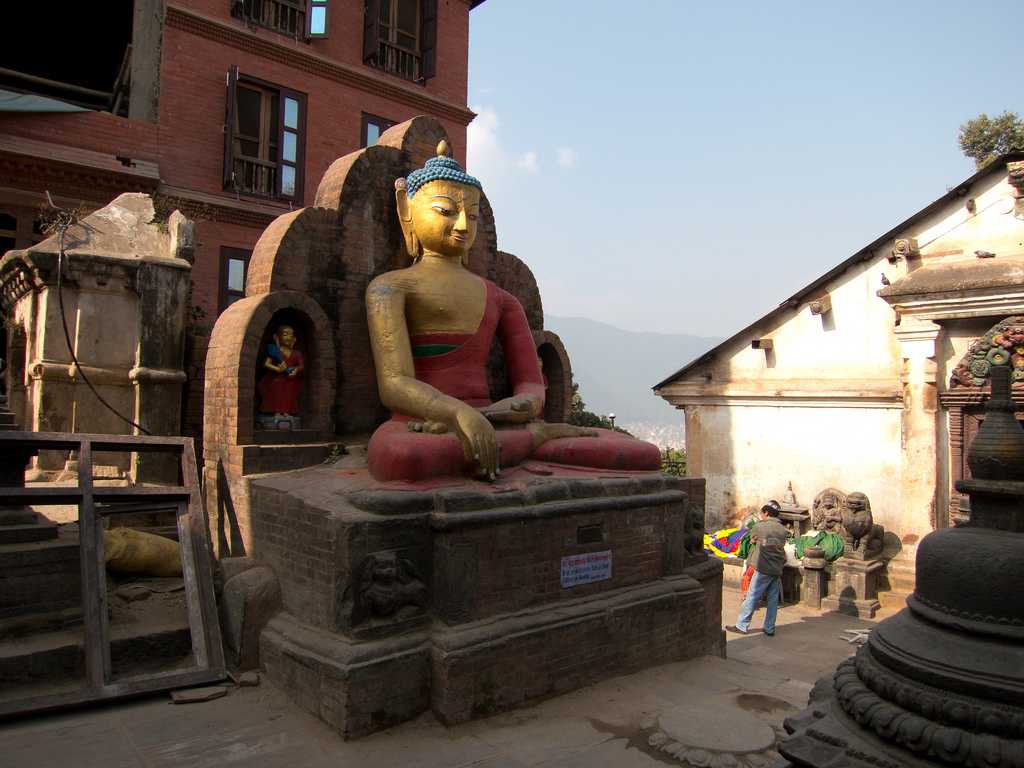 On all four sides are engraved the figures of the five Buddhas, known as the Pancha Buddhas, which represents the Buddha in Tantrayana in a metaphorical manner. The Pancha Buddhas engraved on the four sides of the cubical structure are - Vairochana, who is the master of the temple and occupies its core, Ratna Sambhava, who symbolises the cosmic element of sensation and sits facing the south, Amoghsiddhi, who faces north and is representative of the cosmic element of confirmation, Akshobhya, who sits facing the east and signifies consciousness, and Amitabha, representing the cosmic element of name while facing the west.

The pentagonal Toran, with figurines carved in them, are present on top of each of the four sides. Proceeding upwards from the Toran are thirteen tiers. Each tier is representative of each stage of nirvana. It signifies the thirteen steps of spiritual realisation that every sentient being has to go through to achieve enlightenment. The small space above the tiers, called Gajur, enhances the beauty of the stupa. Finally, the fluttering prayer flags believed to carry the prayers of the devotees to heaven, wrap up the beauty of the structure magnificently.