Inspired by the quaint Portuguese culture, Panjim is not only the capital city of Goa but also the shopping hub of the state. Here you can find several flea markets and high end boutiques to fit your taste and budget. There are a number of street side stalls and also mega malls to bring out the shopaholic in you. Given below is an elaborate list of shopping places in Panim where you can head off to shop your heart out. From apparel to footwear, home decor and souvenirs, you can find everything here. Have a look at the list!
1. Municipal Market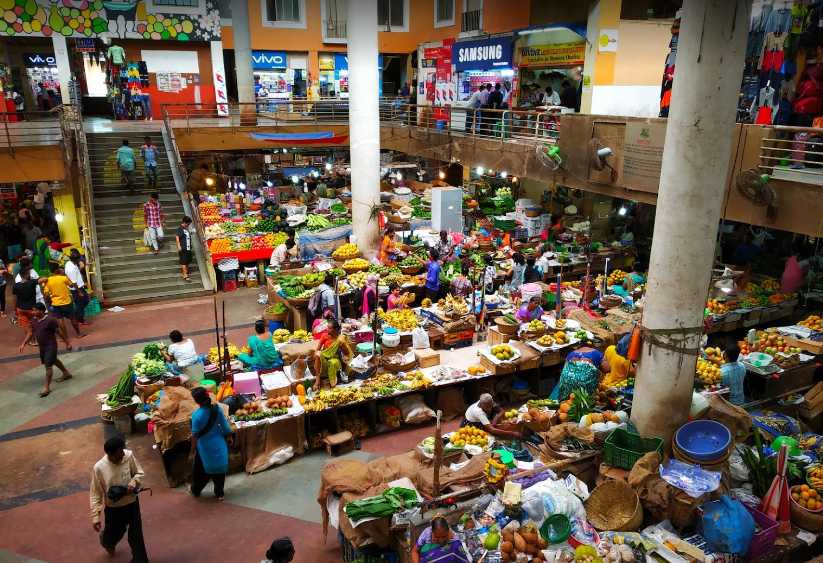 Municipal Market is an elaborate local market where you can find everyday goods, groceries and other lifestyle related products. The huge area has section allotted as per the items and there are tiny stalls and shops made which have on display their selling products. Apart from the common fruits, vegetables, oils, dried fruits, local spices, Municipal Market also has rare fruits and vegetables that are easily not available in common places. In addition to that, there are also a few apparel, fashion and handicrafts stalls where you can pick up clothes and other souvenirs.
Address: Rua Heliodoro Salgado, New Municipal Market, Panaji, Goa
Timings: 7:30 AM - 8:00 PM
2. Khadi India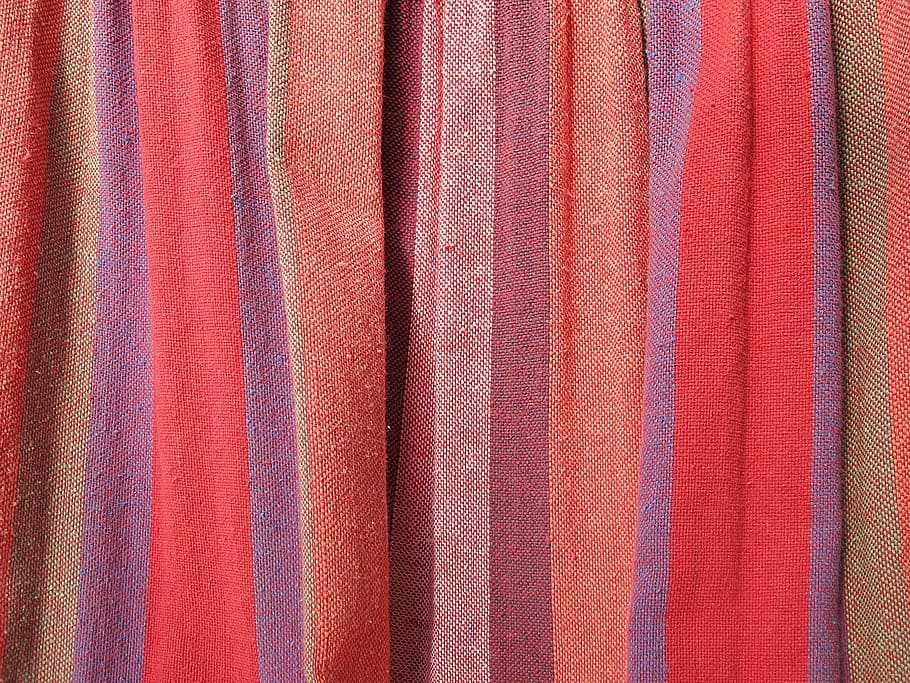 Khadi India is the sole outlet of Khadi & Village Industries Commission of the Government of Goa, and is one of the best places to shop khadi clothes from. Featuring a variety of clothes and apparels hand woven out of khadi, the place especially loved by international tourists owing to its authentic nature of collection of goods. Among the most popular items on sale are kurtas, sarees, shirts, other dress material and more. In addition to that, you can also find oils, soaps, spices and other dailycare things as well. What's more? There is also a section dedicated to accessories, souvenirs, shell statues and wood products etc. 
Address: Municipality Building, Atmaram Borkar Road, Altinho, Panaji, Goa
Timings: 9:00 AM - 7:00 PM, Closed on Saturday
3. Singbal's Book House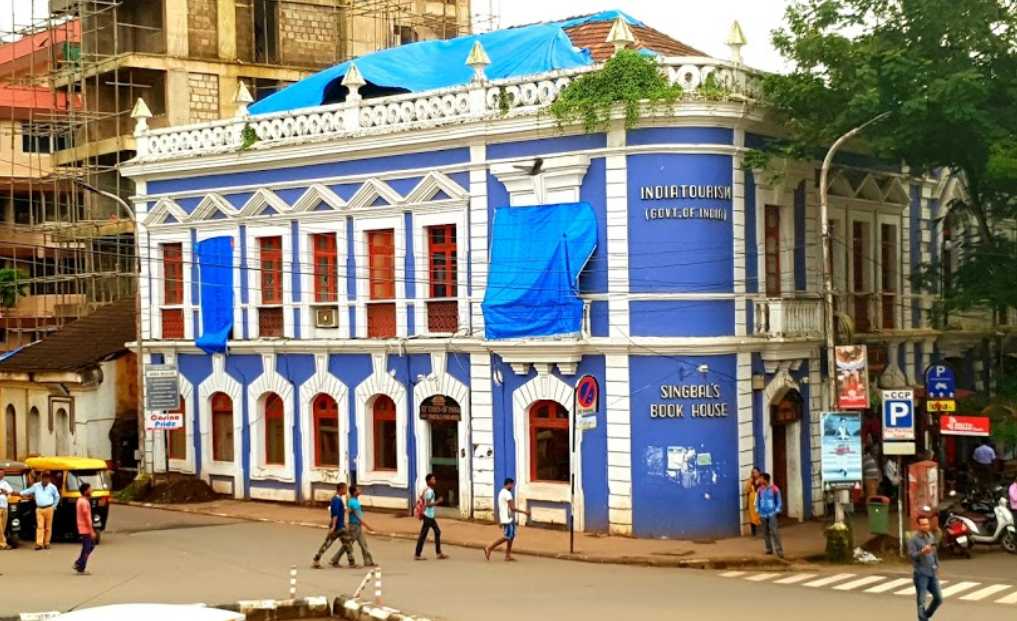 Singbal's Book House is a popular landmark in Panjim that is just situated around the corner from Panjim's Main Church. Boasting of a selection of magazines and books, the place is a haven for avid readers and bibliophiles. There are shelves and shelves of books, enough for anyone to spend a lifetime here. Here you can also find a lot of international magazines and newspapers. There is a brilliant collection of archived magazines and papers as well. The highlight is the Goan section where there are hundreds of books on Goa and travel. At all times of the day, you can find visitors here browsing and shopping the incredible books.
Address: Praça da Igreja, Church Square, Altinho, Panaji, Goa
Timings: 10:30 AM - 8:00 PM, Closed on Sunday
5. Caculo Mall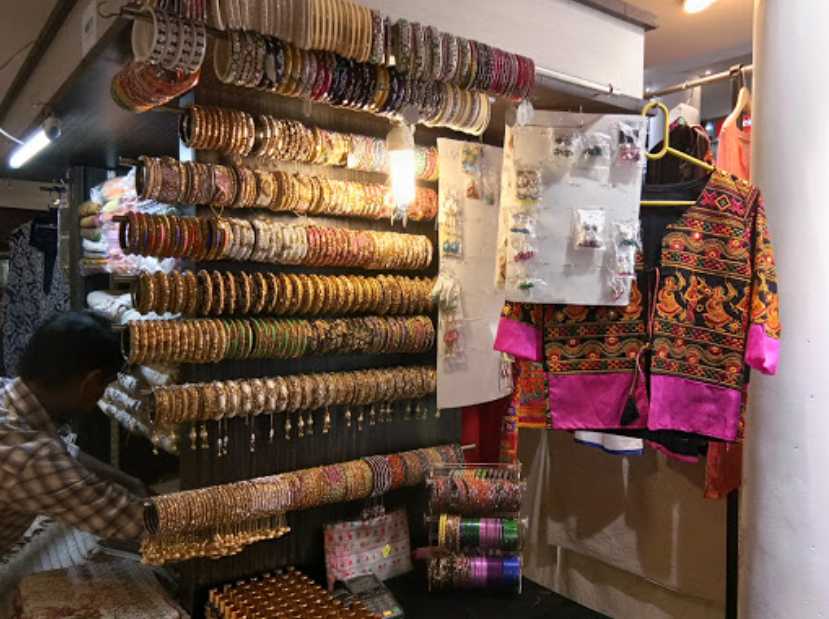 Caculo Mall is another commercial centre in Panjim where you can find all sorts of things from domestic and international brands. Boasting of thousands of varieties of clothes, footwear, dailycare, home decor and electric appliances etc., the 3- tier mall also has a food zone that serves delicious food from several eateries and food chains. In addition to that, there is a play area to keep your kids occupied while you are out there shopping your heart out. Besides, there is also an arcade for adults where you can head off to enjoy bowling and other fun games after a hectic day out shopping. 
Address: 16 Shanta, St Inez Rd, Panaji, Goa
Timings: 10:00 AM - 10:00 PM
6. Velha Goa Galeria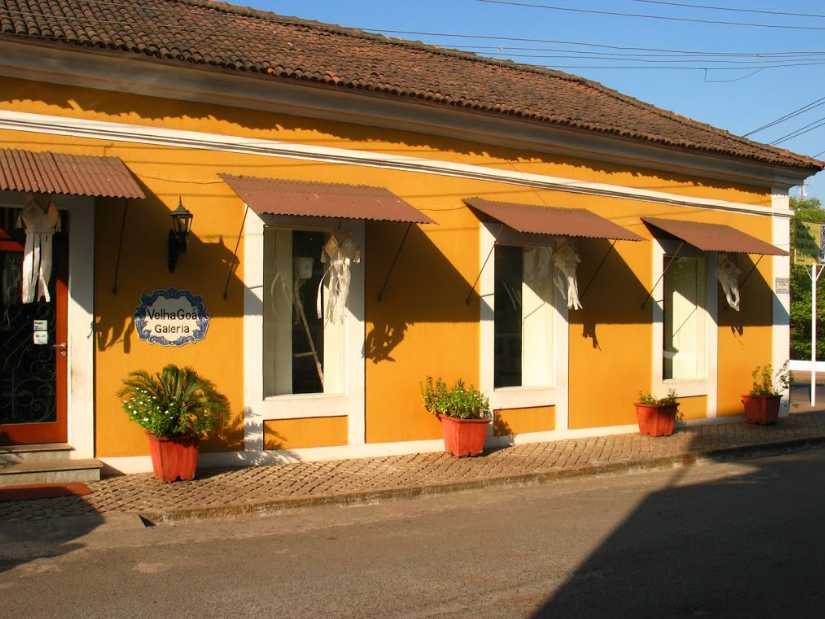 Velha Goa Galeria is the most popular and unique souvenir shop located next to Panjim Inn in Panjim, Goa. Boasting of several products, knick knacks and accessories that the tourists can take back home, the shop is mostly known for its unique and gorgeous glazed tiles called 'Azueljos'. These tiles are painted and have beautiful figures and art scapes drawn on it. Other than that, there are also several paintings, ceramic items, decorative utensils, and lots of other interesting stuff that you can look at. It is considered the best place to shop at, if you are looking for presents to take back home.
Address: Rua de Ourém, Fontainhas (quarter), Altinho, Panaji, Goa
Timings: 9:30 AM - 1:00 PM and 3:00 PM - 7:00 PM
7. Marcou Artifacts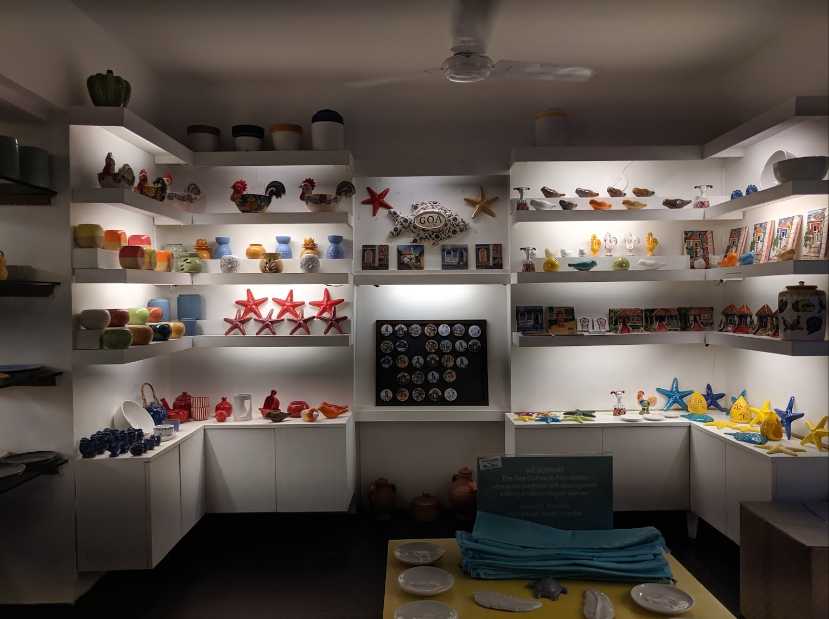 Situated in the Fontainhas of Panjim, the quintessential Portuguese style cafe is best known for its vibrant vibes and its amazing collection of gift items and products. Known to be one of the best places to shop at in Panjim for souvenirs, Marcou Artifacts is a picturesque shop which sells amazing decorative products and artefacts. Here you can find glazed tiles, paintings, engraved ceramic products, and other Portuguese and Goan style products. There are keychains, fridge magnets and other products that you can pick from here to carry back home for your kith and kin. The catch is that the products are pretty reasonably priced so you can purchase items without burning a hole in your pocket.
Address: Casa Rocha, Rua 31 de Janeiro, Near Viva Panjim Restaurant, Fontainhas, Altinho, Panaji, Goa
Timings: 9:30 AM - 8:00 PM
7. Barefoot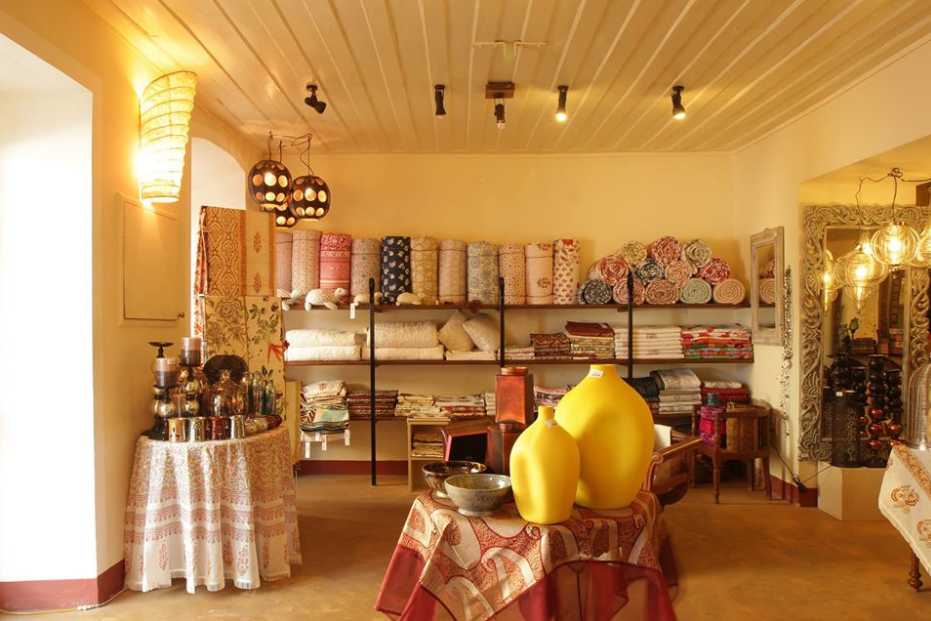 Barefoot is a sophisticated and elegant high end brand that specializes in selling home decor products and other items of everyday house utility. Among the items being sold here are soft duvets, organic cotton blankets, gorgeous bedsheets, beautiful flower vases, toys for kids, block printed cushion covers, magnificent lamps and more. In addition to that, the store has been set stylishly and in such a fashion that it is considered one of the most aesthetically appealing stores in Goa. It also has lighting and mirror fixtures. In short, it has everything you require to decorate your house, and, in chic style.
Address: Rua 31 De Janeiro, Altinho, Panjim, Goa
Timings: 10:00 AM - 8:00 PM, Closed on Sunday
8. Sosa's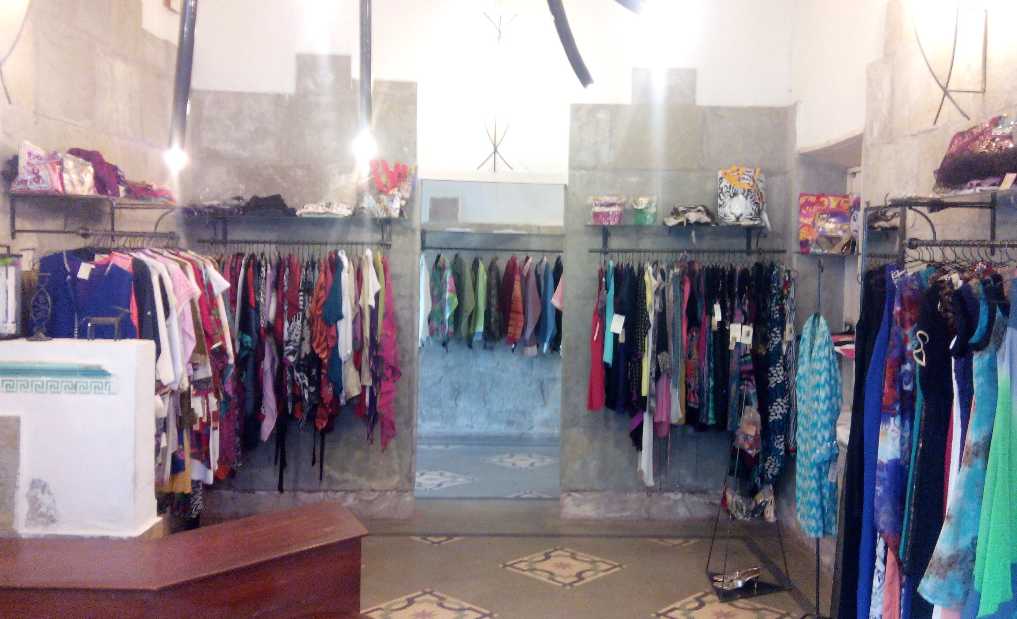 Sosa's is one of the most popular and stylish fashion boutique stores in Panjim that is flanked by River Mandovi. The chic shop has been elegantly done with vibrant colours and generous lighting. Some of the big brand designers whose products are displayed here include Aki Narula, Rahul Mishra, Gaurav Gupta, and Savio Jon etc. Based inside an old Goan style house, the brands marketed here include Horn Ok Please, Hidden Harmony and Free Falling and more. Here you can find cotton and silk dresses - sarees and suits, casuals, vacation wear, formal dinner wear, handbags and more.
Address: E-245, Rua de Ourém, Opp Foot Bridge, Altinho, Panaji, Goa
Timings: 10:30 AM - 7:00 PM, Closed on Sunday
9. Orchid Boutique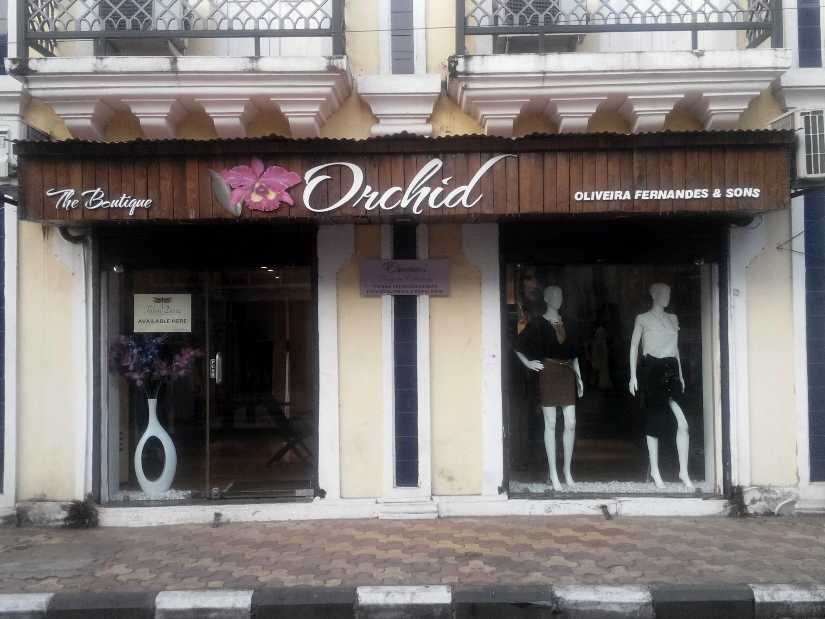 Orchid Boutique is a very popular boutique in Panjim, Goa that boasts of fashion dresses, footwear and accessories. Considered to be a haven for the party goers, the dresses and outfits here are not very highly priced so it is always crowded by the compulsive shoppers. They display items in sections and every once in a while they change their pattern to accommodate newer and better styles and a new and different variety of clothes.
Address: MG Road, Near Main Post Office, Patto Colony, Panaji, Goa
Timings: 10:00 AM - 7:30 PM, Closed on Sunday
10. Sacha's Shop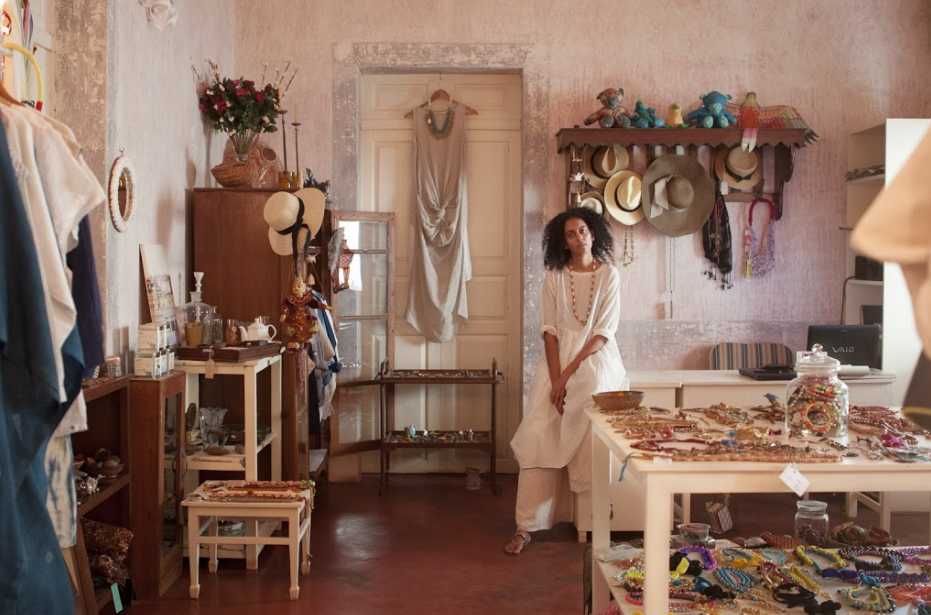 Sacha's Shop has been housed in a cosy Goan house and is a typical Goan style boutique that boasts of a diverse collection of clothes, footwear and accessories. The clothes sold here are mostly very breezy, floral and resort wear. The two room boutique has been colour coordinated and presents a very aesthetic appeal. Besides clothes, they also have jewellery, accessories, paintings, wall hangings and more. They also have designer collection from Savio Jon, Eka, Naushad Ali, Anavila and Paromita Banerjee etc.
Address: Swami Vivekananda Rd, Panaji, Goa
Timings: Monday to Saturday - 10:00 AM - 9:00 PM, Sunday - 12:00 PM - 8:00 PM
11. SYNE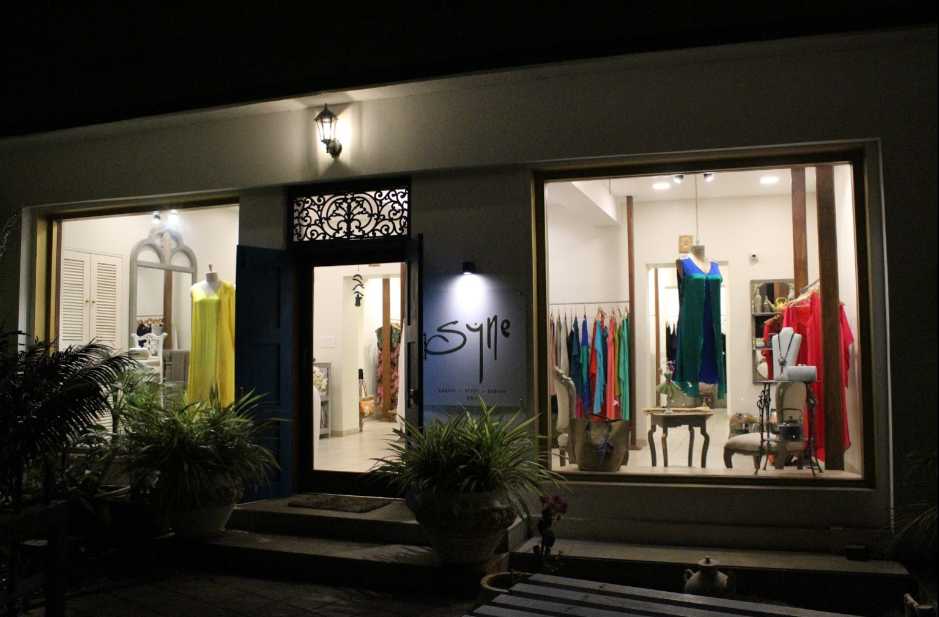 Situated inside the Latin Quarter of Fontainhas, SYNE is a quaint vintage store that is known for selling ancient and vintage goods and products. Hoarders usually come here to pick up quality stuff. Besides that, the store also has designer wear and accessories in diverse variety and designs. In addition to that, you can also get custom made outfits here. What's more? All the products and goods sold here are priced reasonably that attracts all the more customers.
Address: Rua de Ourém, Fontainhas (quarter), Patto Centre, Panaji, Goa
Timings: 10:30 AM - 8:00 PM, Closed on Sunday
12. Cotton Village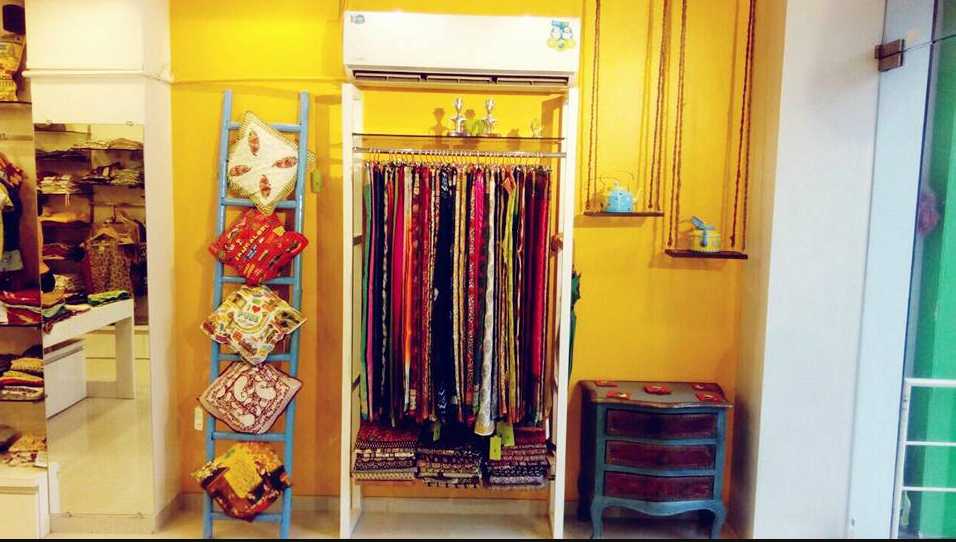 Cotton Village is a popular local brand store in Panjim Goa that is known for its pretty cotton outfits and signature dresses. Run by a Pune based couple Aalok and Swati, the store has everything from cute dresses, tops, kurtas, footwear, fabric, junk jewelleries and floral printed fabrics etc. There are also chunky ethnic scarves, stoles, trays and more.
Address: Inside The White Balcao, Panjim, Goa
So here are the most popular shopping option in Panjim where you can head off to, to satiate your shopping cravings. Pick up clothes, souvenirs, knick- knacks and more. And have a good time while you are at it. Happy Shopping!