Goa is a mix of Indian and Portuguese which is portrayed through its architecture, Goan food, and the people's sense of style and shopping in Goa is the best way to take a bit of Goa home with you. So here your ultimate guide to shopping in Goa, everything from faux jewellery to locally made wines.
Here are our favourite markets for shopping in Goa:
1. Anjuna Flea Market

Anjuna Flea Market is another weekly market of Goa. You can find a wide range of goods from faux jewellery, local handicraft, footwear, wall hangings, spices, and hammocks. Legend has it that this market was established by a group of hippies back in the 60s as a means to barter and survive. You can get things here at very inexpensive prices as everything is negotiable if you are good at it. This is a great market to buy souvenirs from.
Address: Anjuna, North Goa
Timings: Every Wednesday, 8 AM to 4 PM
What to Buy: Souvenirs like handicrafts, jewellery, clothing
2. Panjim Market

Panjim Market is the perfect blend of old and new as the two are juxtaposed through malls and street-side stalls. You can spend hours here, as it is considered the largest market in Goa. There are many things to buy like nuts, wine, local spices, handicrafts, and once tired, you can gorge on some local food as there are a wide variety of eateries close by.
Address: Panjim city, Panaji
What to Buy: Local Wine
3. Saturday Night Bazaar at Arpora

The night bazaar at Arpora is also known as Ingo's Night Bazaar and is a wonderful night market. The market is divided into three sections, each selling a certain category of items. You can find here vendors selling fruits, vegetables, jewelry, home decor items, spices, wines, as well as locally designed clothes and bags. It is a paradise for foodies as there are eateries with a variety of cuisines to choose from.
Address: Arpora, Goa
Timings: Every Saturday, 6 PM onwards
What to Buy: Locally designed clothes and accessories
4. Mapusa Market

Mapusa Market is a very popular market for shopping in Goa among locals. It is a weekly market that takes place outside The Mapusa Municipal Market, North Goa. This market comes to life every Friday with vendors selling fruits, vegetables, clothes, and locals hassling over prices. Many vendors from Bardez and Tiswadi put up stalls of local produce and sell it directly to people and small entrepreneurs.
Address: Mapusa, near Mapusa Municipal Market, North Goa
Timings: Every Friday, 8 AM to 6 PM
What to Buy: spices, pottery, home-made Goan 'Chourico' sausages
5. Calangute Market Square

Located in North Goa, Calangute Market Square is another street market that is frequented by tourists. Here, one can find everything from beachwear to delicious prawns and beer. There are beachside shacks where visitors can purchase trinkets made of seashells. One can also find Kashmiri and Tibetan stalls selling gemstones, handicrafts, and trinkets. This the ideal market to buy souvenirs from.
Address: Calangute Beach, Calangute
Timings: Every Saturday, 6:30 AM to 12 PM
What to Buy: Kashmiri and Tibetan artefacts
6. Mackie's Night Bazaar

Mackie's Night Bazaar is a night market that takes place along the banks of River Baga. It takes place between November and April. It offers a unique experience of live music, great food, and trendy shopping outlets all together under the night sky. You can shop for antiques, faux jewellery, souvenirs and handicrafts while gorging on food from one of the stalls. It is located at one of the best places where the nightlife of Goa can be enjoyed.
Address: Arpora- Baga Road
Timings: Every Saturday, 6 PM to 1 AM
What to Buy: Faux jewellery, souvenirs
7. Baga Market

Baga Market is a very popular flea market and is visited by many tourists. Located on Baga Beach, it has rows and rows of shacks selling trinkets, jewellery, cafes selling freshly brewed coffee, pork delicacies, and tarot card readers. The main attraction of this market is the beachside saloons.
Address: Baga Beach, North Goa
Timings: Every Saturday, 6 PM onwards
What to Buy: Trinkets, jewellery at very cheap prices
8. Le Souk

Le Souk by the Amarya Group is considered to be Goa's first luxury market selling high-end and fashionable clothing. It is an open-air bazaar that sells clothes made by Indian as well as international designers displayed in huge tents. Here you can splurge on some designers clothes and snack on some crepes. Some shops worth checking out are Jonas G, The Shop, and Shades of India for unique designs made from quality textiles.
Address: Ashwem Beach
Timings: 10 AM to 8 PM
Timings: Designer Clothes and Accessories
9. Mall De Goa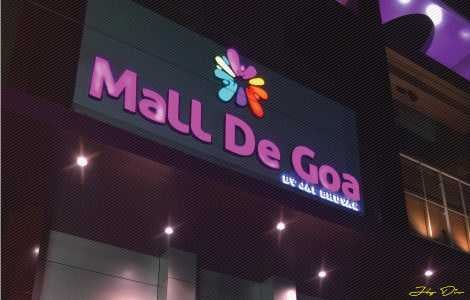 Established in 2016, Mall De Goa is Goa's largest shopping mall. It is owned by the Jai Bhuvan Group and is easily accessible by road.
You can shop here until you drop at their 82 retail stores to choose from while also eating from their great food court.
Address: NH17 Highway, Porvorim
Timings: 11 AM onwards
Highlights: A variety of branded retail stores
10. Calculo Mall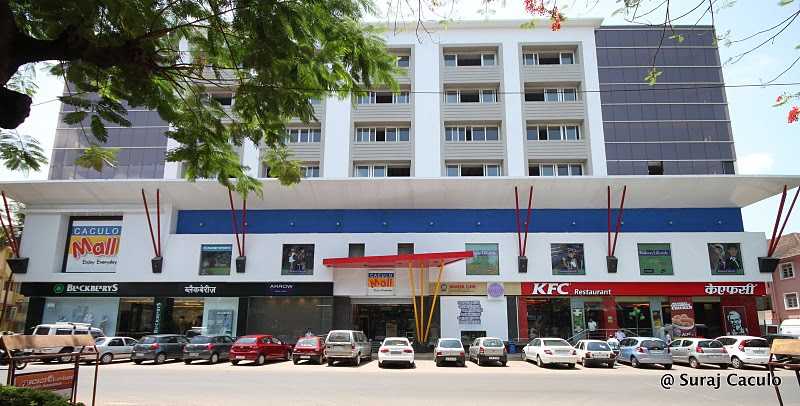 Calculo Mall is the first shopping mall of Goa, located in the state's capital. There are a wide variety of outlets of Indian brands, a bowling alley, and various cuisines to choose from to satiate your hunger.
Address: 16 Shanta, St Inez, Panjim
Timings: 11 AM onwards
Highlights: Bowling Alley
The next time you visit Goa, visit any of the shopping hubs mentioned above to collect a souvenir. Let us know which of these spots to go shopping in Goa is your favourite!