Shopping helps you unwind, relax, and indulge and these are the three things that resonate with only one place in India - Goa. If you think that Goa only offers sunny beaches, cold beers, and 'Dil Chahta Hai' moments, then you should probably double check, because here is a list of all the shopping malls in Goa. So now, you can sit back, unwind, and go for that much needed guilt-free vacation shopping in Goa!
1. Mall De Goa
Mall De Goa is the most famous mall in Goa. It is a three-storey mall, with more than 80 retail outlets of famous clothing brands, a food court, and a multiplex. Mall De Goa stretches over an area of 1,80,000 square feet. It has a two-level basement parking facility for both two-wheelers and four-wheelers and can accommodate up to 300 cars and 350 two-wheelers. The INOX multiplex can host about 1000 people and has four screens, so you can go on and enjoy your weekend by watching a blockbuster movie. And to satiate one's hunger pangs, one can find a wide variety of cuisines in the food court section- ranging from desserts in Dunkin Donuts to fine dining restaurants like Sanjeev Kapoor's restaurant chain 'The Yellow Chilli'.
Address: NH 17, Damian De Goa Complex,National Highway 17, near Goa Board, Povorim 
Time: 10:00 AM - 10:30 PM
Attractions: Top brand outlets like Nike, Louis Philippe, Tommy Hilfiger and a 400 - seater food court.
2. Caculo Mall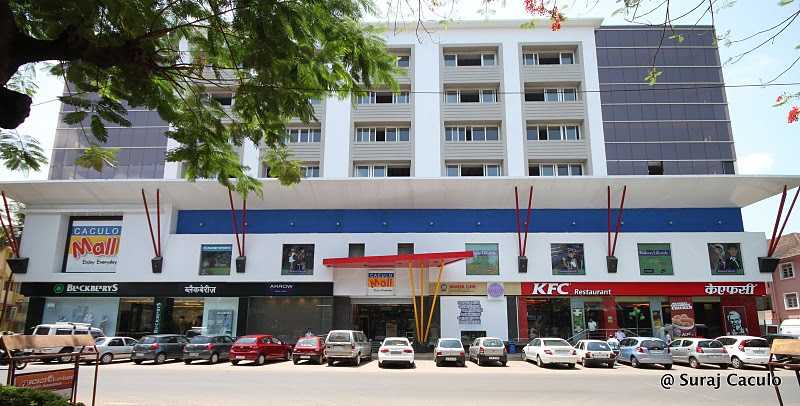 Caculo Mall is the first high-end mall in Goa. It is a four-storey mall, and each level has its attractions. Levels I and II consist of retail outlets of top clothing brands like Levi's, Van Heusen, Arrow, and so on, a Westside store, and a Magson supercentre. Level III consists of a furniture store (Benz Home Furnishing), a bookstore (Broadway Bookstore), Archies - the gift shop chain, and the food court. But the main attractions are at level IV. This level has the famous gaming section - Timezone which offers a bowling alley, bumper cars, console games, and a lot more. Besides the gaming section, this level also has a Haunted House and a 7D Movie theatre. So you can get your dose of adrenaline, and have an out of the world experience - all at the same place! Apart from the retail outlets and gaming zone, the Caculo mall also has two Banquet halls - 'Citrus Banquets' and 'Kix Lounge' - available to host parties and business meetings. They also offer food and beverage catering services. A mall that provides a variety of options to enjoy and indulge in, is a must-visit!
Address: 16 Shanta, St. Inez Road, Panaji, Goa 
Time: 10:00 AM - 9:00 PM
Attractions: 'Happy Kids' (toy store), 'Mainland China' (restaurant chain), and 'Timezone' (gaming section).
3. 1930 Vasco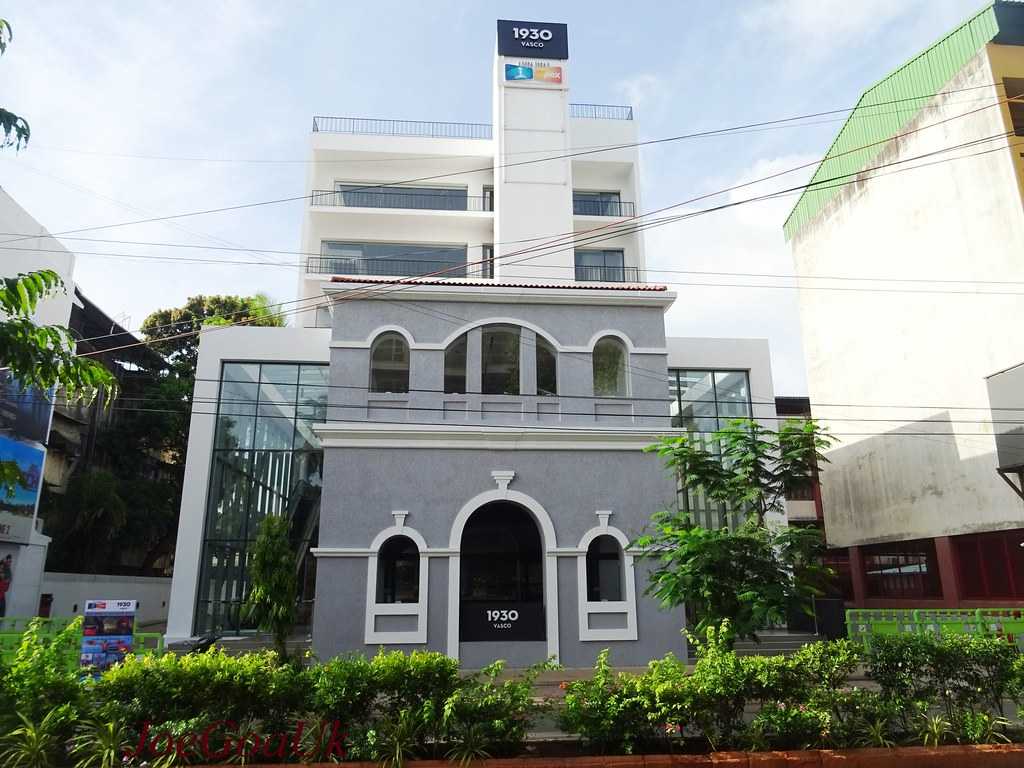 1930 Vasco is a five-storey complex, complete with a mini-plex, retail outlets, a cafeteria, and a terrace pool. The mall is famous for its mini-plex. It has two screens, one with fully motorized reclining seats, and the other with push back chairs. The mini-plex has a contemporary and vibrant design, complete with a café to ensure a luxurious movie-watching experience. The upper floor has retail outlets of top clothing, shoes, and accessories brands. 1930 Vasco is one of the high-end malls in Goa that has a terrace pool with a stunning view and is also available for private parties and events. When shopping tires you out, you can always check out the cafeteria at the ground floor, and treat yourself to some good food! 1930 Vasco is also the first-ever mall in Goa to have introduced the Automated/Stack parking system - where cars are parked on multiple levels, vertically.
Address: Swatantra Path, Opposite The HQ, Vaddem, New Vaddem, Vasco de Gama 
Time: 10:30 AM - 9:00 PM
Attractions: Terrace pool and K Sera Sera Miniplex.
4. Big G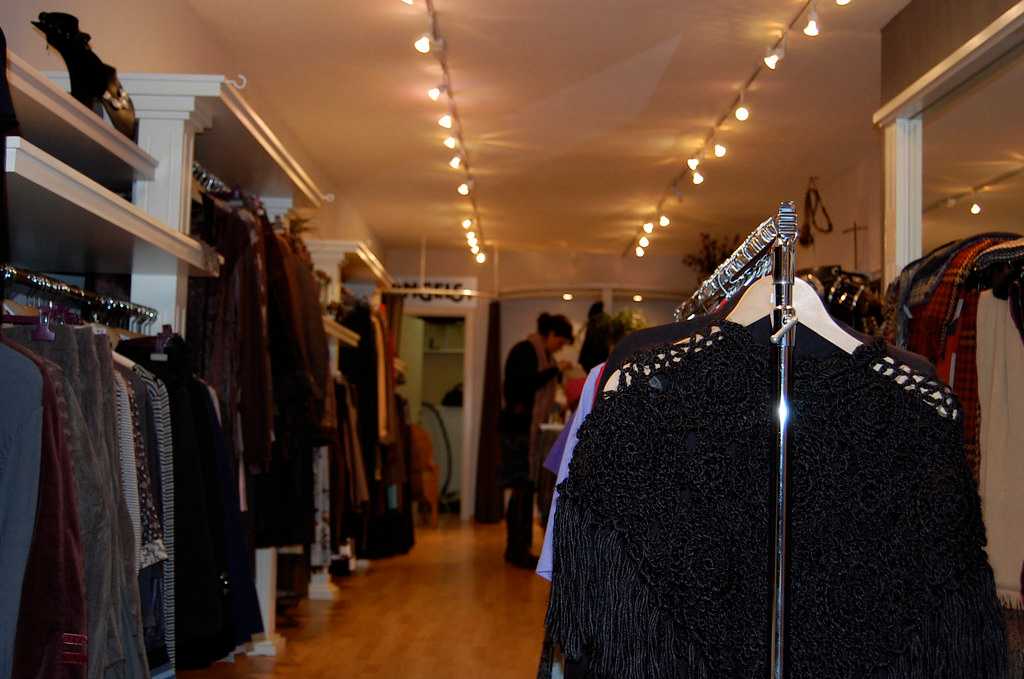 Big G is the only mall in the town of Margao. It is more like a departmental store, that provides its customers with clothes, accessories, home decor, etc. So if you're a traveller, needing clothes at the last moment, or just in need of some groceries, you should check out Big G. This mall in Goa has many different levels, each level dedicated to a different item. So if you need accessories, you can shop for them at the ground level, and if you need men's apparel, you can go to the second level. Therefore, your shopping remains organised and you don't have to scour through the entire mall for a necklace. There is a supermarket that will cover your need for groceries. The mall also has a food court where you can have a snack before resuming shopping.
Address: Isidorio Baptista Road, Pagifond, Margao, Goa 
Time: 10:30 AM - 10:00 PM
Attractions: Different levels dedicated to different items
Apart from these four malls in Goa, you can also check out the Calangute Mall, and the Calangute Beach market. There are lots of street markets in Goa as well, so you can go street shopping too! Read more about
Shopping in Goa
.
Malls in Goa are now an upcoming trend in one of the top holiday spots in India, especially among the young generation. After movies like 'Dil Chahta Hai', and 'Dear Zindagi', Goa has also become a symbol of friendship, recovery, and bonding. When a destination transforms from being merely a place to relax to something that symbolises togetherness, healing, and friendship, you know that it is worth a visit. So why are you waiting? Unwind, shop, and experience a new culture while you fall in love with life.
"If I have free time, I want to go to the beach, walk around a shopping mall, go grocery shopping. Live a little bit of life."- James Wan