GOA! Part of the Hippie Trail of the world, Goa is on every travellers' list for the sense of peace and euphoria that it offers. The ultimate party lovers paradise, the haven where parties only start but end only when you walk out - where on one side you can find peace and tranquillity, and on the other, all the noise and fun.
Goa has bee synonymous with the hippie culture since times immemorial. Several expats or hippies have known to inhabit the place even before the early 1970s. They have a huge influence on the culture of the beach city. They hold several parties, have markets where they send eccentric stuff and have their own performing arts festivals and full moon parties. All in all, the whole scene is brimming with energy, fascination and euphoric energy.
History of Hippies in Goa
The history of the hippies can be traced back to the early 1970s when the migrants in India started moving to freer lands and pastures to attain salvation and freddom of the mind and body. And Goa had the least influence of the traditional customs and culture of India, hence it became an easy option for them. The Goans were open to all cultures and all people, and the government paid little heed as the migrant influx increased the country tourism.
It was then the '
Goa Trance
' form of music was developed, evolved and made popular by the hippes. They inhabited areas around Anjuna and Arambol mostly and that's when the rave parties started. The hippies are non-conformists by traits (As they call themselves) and they do not want to be tied down by law or religion. The culture is practised even now in some parts of Goa and you can surely be a part.

Music wafts with the ocean breeze and takes centre-stage in the celebrations that define and make Goa. If you want to enjoy Goa for all it is, this guide for hippies in Goa will take you around in the best way possible and allow you to explore Goa's exuberant hippie culture the best way possible. Enjoy Goa like the Goa Stories - Always glimmering with clubs, rave parties and dance clubs illuminating the night sky with endless euphoria.
1. Arambol - A Hippie's Paradise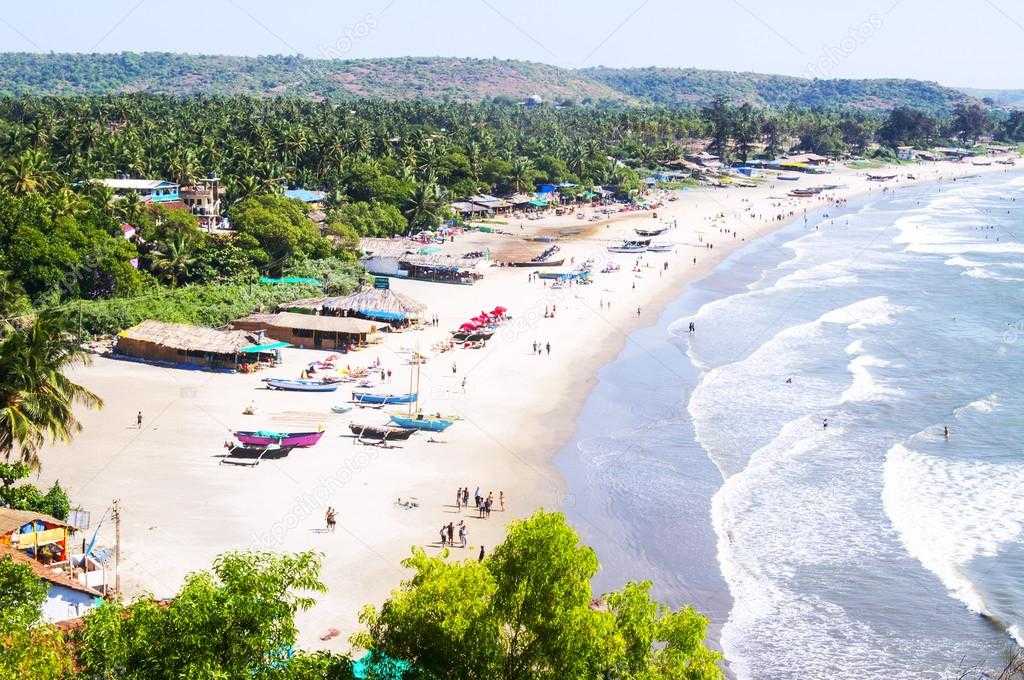 Arambol beach is considered one of the most beautiful beaches in Goa. It houses several hidden gems, and we're not talking beach shacks. Arambol has graduated to a Hippie's favourite, and not without reason. Further down the main beach, lies the sweet lake, the jungle valley, and hot springs with therapeutic minerals (perfect for a mud bath). Arambol is a must visit for the hippies in Goa.
Cafes in Arambol:
Arambol has a couple of both famous and some relatively lesser known cafes, all of which serve excellent food. Our pick from Arambol is, The La Muellas Cafe, which is located in a giant treehouse! Yes, you read that right.
Drum Circles in Arambol:
Music comes inherently after a whiff of the "fresh air" that is in abundance in Goa. Hippies and locals sit together at the beach and involve themselves in some serious drumming and dancing. The hippie scene in Goa sees several people who are crazy about music, and a lot of them come together at Arambol to enjoy this passion together.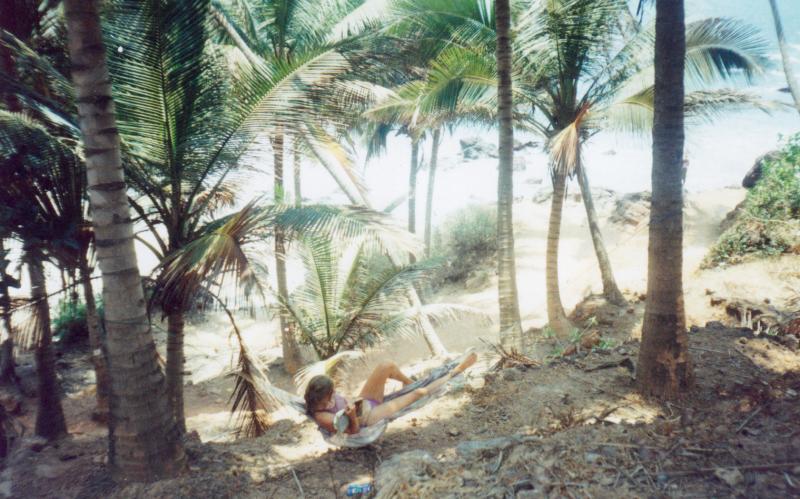 Hot Water Springs and Mud Baths at Arambol, Goa:
A mud bath at the stream above the sweet water lake at Arambol, is said to be good for your skin. You can follow it up with a dip in the fresh, warm water of the sweet Lake, which is fed by natural hot water springs, and step out with glowing, youthful skin!
Relax on Hammocks at Arambol:
Your next hammock holiday isn't so hard to find, now. Step into Arambol Hammocks, and get it arranged!
Visit the Arambol Hippie Market:
Just on the shoreline you can find the Arambol Hippie Market where several expats or hippies sit in a staright line selling their stuff or services.

2. Local Food of Goa
Goa being the free soul's favourite haunt, is also one of the most food-rich states in the country. From delicious seafood to even better dessert and fried food options, Goa is one of those places where you can treat your tummy to a multitude of delicious food. The excellent
Beach Shack Guide to Goa
has you covered!
Our choicest Picks for Food lovers - Curlies, Anjuna Brittos, Baga La Plage and shacks on Ashwem beach are a must try for the hippies in Goa.
Local Specialties of Goa You Must Try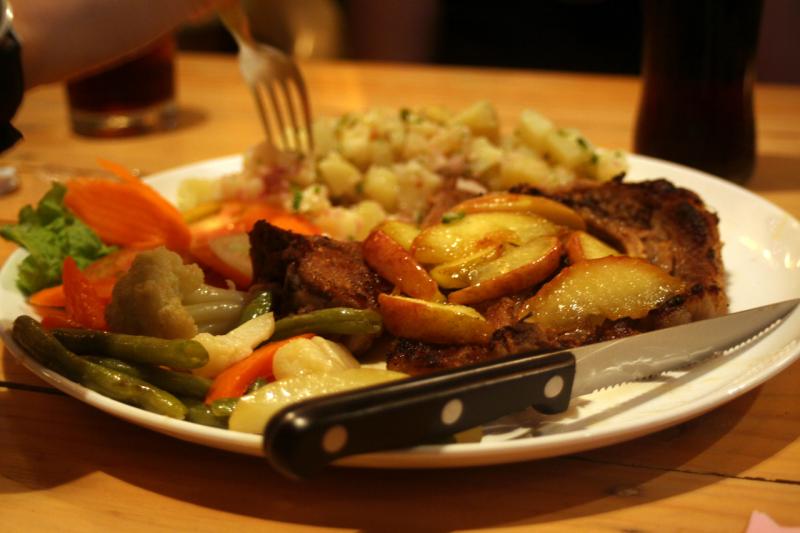 - Squids:
They say beaches and seafood are synonymous. And they also say hippies are adventurous. That rhymed! Squids are pretty awesome in Goa, and if you're brave enough, eat some of those things! They're a must-eat here.
- Shark
: Yes! You read that right. The fishermen here are pretty brave, so there is no reason you shouldn't be! I hear Shark meat is a delicacy here, and they make it well, so eat your fill! And, keep an open mind!
- Feni
: Goa's very own home-brewed local alcohol, made out of coconut sap or cashews, is a delight. Just, not too easy to stomach. While Goan locals and Freshness enthusiasts would tell you that the feni is pretty aromatic, many others would scoff at that suggestion! But its definitely something to try.
- Kokum:
Tangy and fresh, kokum is that great fruit, the juice of which added whether to alcohol or drunk straight from the bottle early in the morning, is always great! Take some back home, and add it to curries for that extra zing.
- Sorpotel:
Meat (pork, beef or chicken) slow cooked to perfection, tossed around in a gravy of creamy sauces and vinegar, this Goa speciality isn't for the missing if you enjoy your meats!
3. Stay in Goa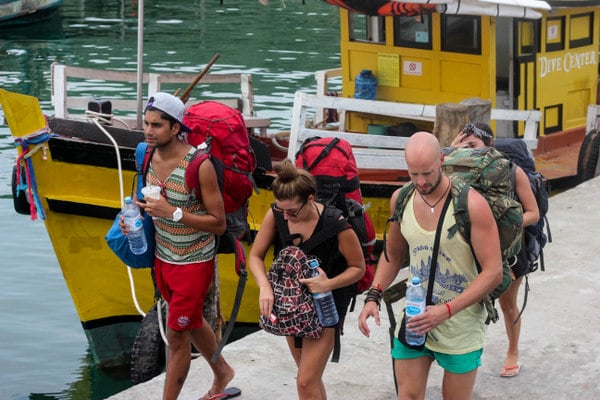 If you are one who likes all things bohemian and doesn't care about what the world sees in you, and instead have an urge for discovering what all is possible in this realm; Goa calls out to you my friend. There are tons of hostel stays here in Goa, where you'll find many fellow backpackers and unusual places to crash for a day or two. Apart from being highly affordable and very unique, you also make lots of friends, who you'll share your intense penchant for travel with. A hostel is always a good idea if you're a hippie in Goa.
a) Zostel Goa
A chain of backpackers hostels throughout India, this one is proving to be a runaway success among travel frenzied youths and backpackers. Affordably priced as well, Zostel offers a varied experience to hippie travellers.
Address: House No.3/15, Dr Alfonso Road, Tivai Vaddo, near the spice rack, Calangute, Goa 403516


Phone

:

077268 64942
b) Jungle by TheHostelCrowd
Address: 486, Vagator Beach Rd, Vagator, Goa 403509


Phone:

0832 651 8606
c) Backpacker Panda
Address:

1116 Anna Vaddo, Ximer, Candolim, Goa

Phone:

075065 27420
4. Nightlife in Goa
There are some excellent nightclubs, bars, shacks, casinos, etc., to keep you busy. And, if you're bent to ditch the nightclubs and party on the beach, then there are shacks, clubs and other open-air venues that will take the wildness outside.
a) UV Bar in Goa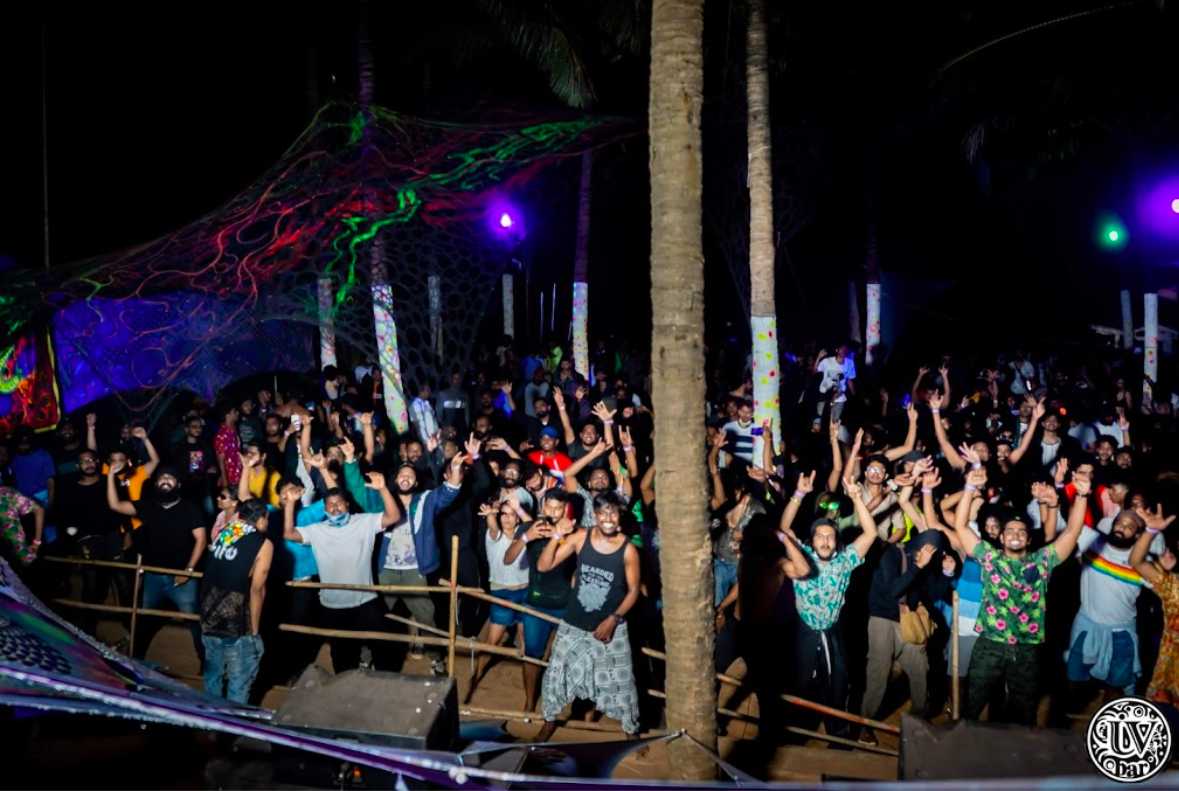 Located at the heart of Anjuna, UV Bar is one of the most loved party places in Goa. The DJs play excellent trance music, and the finger food and cocktail options here are to die for!
b) Cape Town Café

Cafe Cape Town is one of the most frequented resto bars in Goa's busy Tito's Lane. The large crowd which gathers near this bustling cafe in Saunta Vaddo makes the cafe pretty visible! The bar is fantastic, and the club plays excellent music. The food here is pretty great too!
c) Casino Royale in Goa

For a different night out experience in Goa, there's Casino Royale, which is one of the best casinos in Goa. Berthed on the river Mandovi and overlooking the capital city of Panjim, try your luck at this breathtaking, floating hotel.
5. Music Festivals in Goa
Nothing makes the hippies in Goa happy like a buzzing rave or a music festival. With rave parties and club DJs typical throughout the state, Goa hosts some of the biggest festivals in the country. Catering to the fans of Electronic Dance Music (EDM), these festivals have been a host to the most prominent electronic artists from all over the world.
a) Sunburn Festival in Goa

The Sunburn Festival started only a few years ago, is one of those parties which sees thousands of attendees flock to Goa to attend this plush music festival. Many famous artists like Gareth Emery, Axwell, and Above and Beyond have previously performed in Goa's Sunburn.
Where: Club Paradise, LPK, Sync, Cape Town Café and Club Cubana.
b) Supersonic Festival in Goa

The VH1 Supersonic Festival will be coming to the shores of Goa this January. The festival was initiated by Nikhil Chinapa, who was also one of the co-founders of Sunburn Festival in India. The music festival, which will be five days long, is said to specialise in EDM and House music.
6. Parties at the Beaches of Goa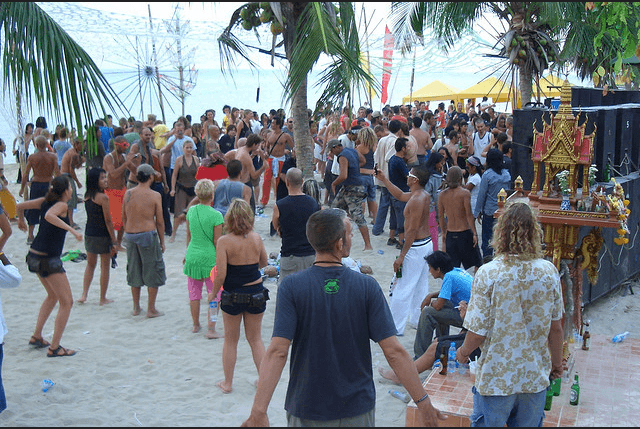 There are endless options when it comes to food and music, but to jot down the best ones; for an original and heavenly abode, the free-spirited tend to gather around on beaches and prefer having a private gala time with drinks and music.
Where: Curlies, one of the most notorious beach meeting joints in South Anjuna. Hill Top, Reggae, Rock N' Roll & Disco bands are playing and performing at Vagator, Bardez.
7. Shopping for Accessories and Souvenirs in Goa
Being one of the most frequented tourist places in India, Goa is pretty much a shoppers' paradise. You can shop for tees with Bob Marley or Hare Rama all over them. Don't be surprised if you spot a few "I Heart Goa" souvenirs and tees as well. The accessories are to die for. If you want a seashell necklace to go with your oh-so-colourful sarong or beach shirt, you will find it here! Do you want to know where the hippies in Goa get their colourful clothes from? It's from these very markets in Goa!
a) The Anjuna flea market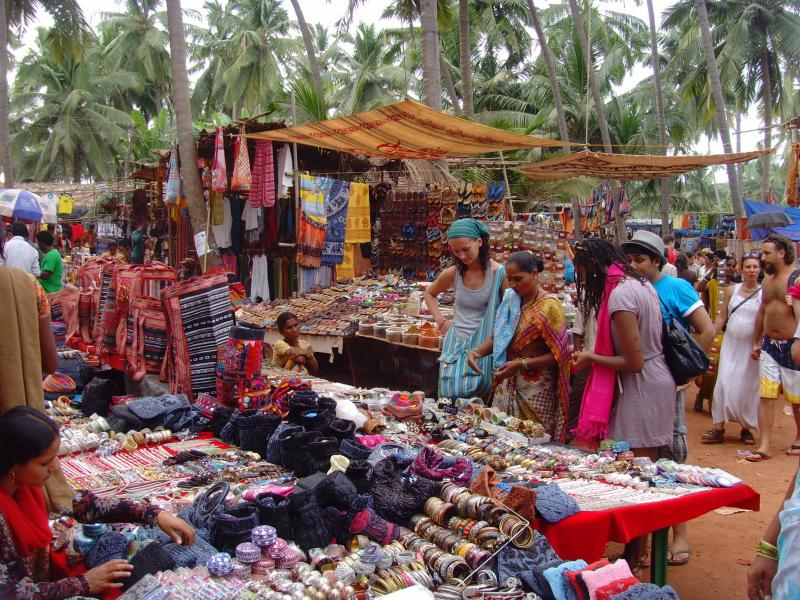 A haven for hippies as it houses colourful and vibrant jewellery, clothes and handicrafts, it takes place every Wednesday at the Anjuna Beach. If you learn to haggle, you can take away amazing things back to your home.
b) The Saturday Night Bazar at Goa
This place has goods ranging from clothes to food. Located at Arpora, you can bag herbs, spices, jewellery, handicrafts and an endless array of items indigenous to India.
c) Arpora Night Market
The night market at Arpora is a spread of shopping options for both tourist and hippies in Goa. The idea of the flea market was conceived fascinatingly. Expats and hippies came and traded whatever belongings they had - clothes, jewellery or musical instruments, with each other, the basic idea being that of a barter system. You can buy spices, artwork, souvenirs as well as clothes at this psychedelic market.
8. Soul Music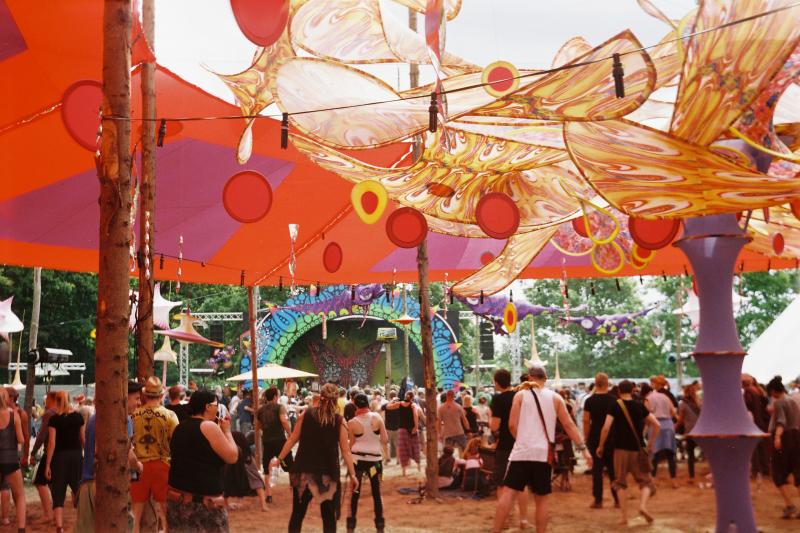 Goa has a serene atmosphere for a lovely laid back holiday, housing festivals and meets which are perfect for social gatherings and events. Freedom, peace and happiness; where hippies can indulge in mind-altering activities.
Where: Beaches of Arambol and Vagator
9. Activities in and around Goa
There are other things to witness and relish in the beauty of this beautiful state, like the nature trail which runs across the coastline. There are numerous boating and hiking groups which you can join along with your stay. There are also Yoga clubs, meditation clubs and music clubs, which you can enter to make your time here as self-rejuvenating as it is enjoyable.
a) India Bike Week
If you are one of the adrenaline junkies who love their horsepower on two wheels, India
Bike
Week is the place to be. Held in January every year, India Bike Week witnesses bikers across India undertaking the pilgrimage to be a part of the festive occasion, which is almost a Mecca for bikers in India. The hippies in Goa also participate in the adrenaline fest that the India Bike Week is.
b) Water Sports in Goa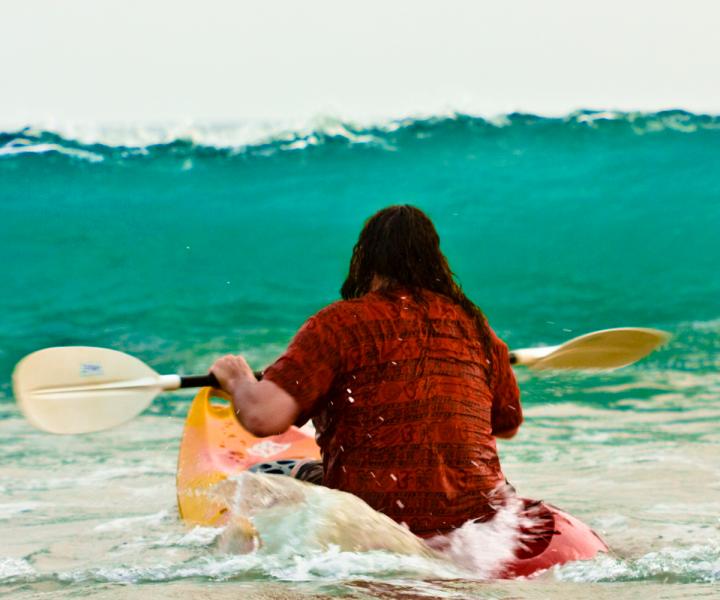 For a state that is perched at one of the most beautiful coastlines of India, it is only expected that water sports here will be a runaway hit. You can do parasailing, kayaking, banana boat rides, water scooter, and the like at the beautiful emerald waters of Goa, and be completely mesmerised.
Where: Palolem, Anjuna, Vagator, Calangute, Baga
Top Tip: Please DO NOT swim or do water sports with liquor or other intoxicants in your system. Recklessness could prove fatal. You can enjoy innumerable activities. With the city, primarily catering to tourists, all kinds of adventure sports are readily available. You can also undertake paragliding, trekking, hiking trails, ATV biking, etc. As they say, for the strong of heart, Goa never disappoints!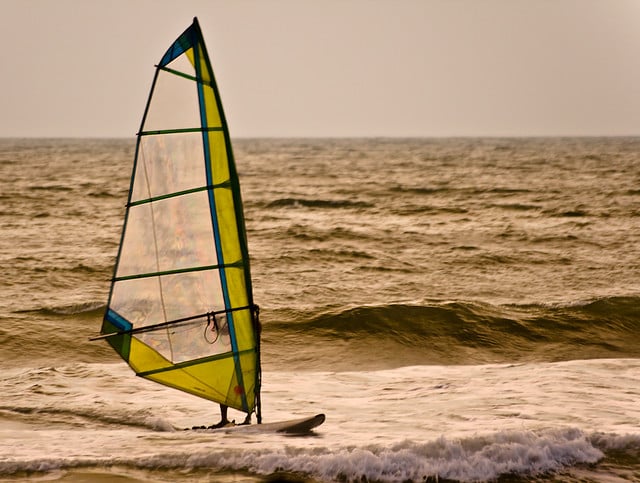 When it comes down to actual numbers, Goa isn't very expensive. You can practically roam around on the beach for free (the rides will cost you, obviously); you can visit those churches and enjoy the sunset. So, pack your bags and book your ticket to this fantastic place full of life and places where you can devour your desires. And have you ever seen sad hippies in Goa? With a city that is the epitome of 'chill' in India, it is rare to NOT be happy in Goa. Enjoy your trip, for you never know when it might turn out to be a one-way abode!