Imagine embarking on a trip to
Goa
with your loved one. A walk on what was once a Portuguese colony are touted to make your day. Sip a sangria with your partner as you soak the summer heat sitting on the ocean shores. It might sound like a far-fetched, expensive dream but you couldn't be farther from the truth – Goa has something for everyone.
Here are things you should do on your romantic honeymoon in Goa!
1. Walk hand-in-hand amidst the Portuguese colonies

The Portuguese widely influence the Goan architecture. Wood detailing on the doors and windows, the beautiful gardens and beaches are what Goan scenery is all about. They are bound to make your walk cosy and share a moment with your loved one. Grab some flip flops, sunglasses, a cold beer and head out! It is a moment to cherish and will ring in your memory for a lifetime.
2. Visit the Goan Churches

Churches in Goa date back as early as the 16th century. The most famous church, Basilica of Bom Jesus, is a UNESCO World Heritage site. With domes, neo-gothic structure, ornaments and spirals every church is an architectural marvel. A moment of silence and blessings here serves as an excellent beginning to a lovely marriage.
Some churches to visit: Basilica of Bom Jesus (Known for the remains of St. Francis of Assisi), Immaculate Conception Church, St. Antony's Church, St. Andrew's church, Mae De Deus Church
3. Enjoy beach time with your partner in crime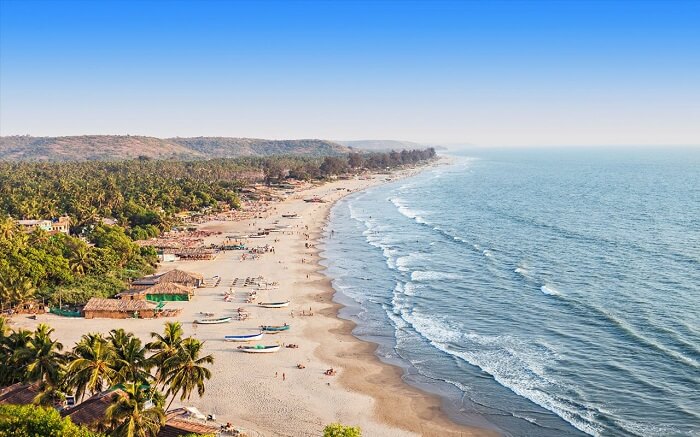 Ever watched the movies and wondered if your summer vacay will turn out this great? Well, Goa's got you and this time with your partner by your side. Goa is known for the beautiful beaches that provide nothing short of a fantastic day. They have all your needs covered – in terms of food, locals are there cooking sumptuous fish, crabs and prawns. A cold beer on a hammock will do the deed. To add to the joy, you love birds could stay at a stunning beach shack so you can ditch spending on luxury hotels to enjoy an unfettered ocean view.
Famous beaches in Goa: Calangute, Baga, Anjuna, Palolem, Candolim, Morjim, Vagator

Curlies beach shack, Anjuna
Address: Near Flea Market, St Michael Vaddo, Anjuna, Goa 403509
Phone: 095524 7172

Shining Star Beach Shack
Address: Baga Beach, Baga, Calangute, Bardez, Goa 403516
Phone: 098224 81560
4. Get wet at Dudhsagar

Dreaming of Niagras and Yosemite, Dudhsagar is here for a profound experience. Situated 60kms from Goa this four-tiered waterfall has white waters surrounded by forests. Perched on the Western Ghats, the monsoon lets the raged water trickle down from 1017 feet, which is an absolute sight to see. January – May is the best time to be here, and there are natural pools around it if you're up for a swim!
How to get there: Several private operators offer special trips to the Waterfalls and the tours operated by GTDC (Goa Tourism Development Corp.) also have Dudhsagar Waterfalls as one of the tours stops.
5. Explore the nightlife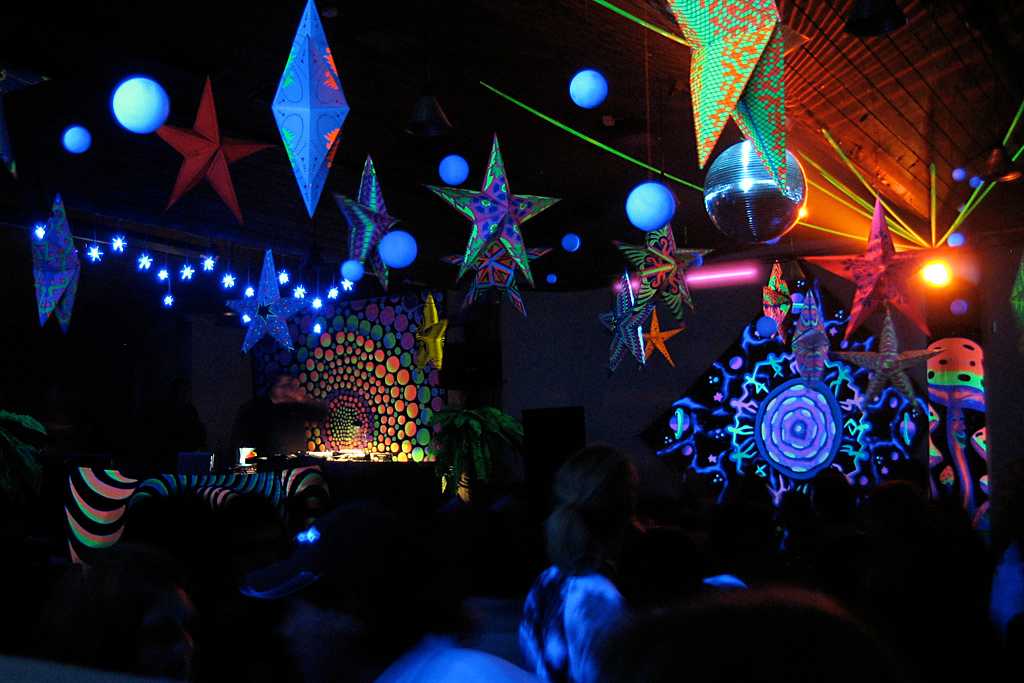 After attending a gazillion parties with your friends, imagine partying with your beloved. How good must the ambience be to set the mood for you both? Goa takes care of it - A combination of live banging music, exotic cocktails and fine liquor, great food and an unbeatable view of the beach.
Party at the best!
Club Cabana
Address: Calangute - Arpora Road, Arpora, Goa 403507
Phone: 098235 39000

LPK Waterfront Club
Address: Opposite Bank of India, Verem - Nerul Rd, Nerul, Goa 403114
Hours: 9:30 PM – 3:30 AM
Phone: 084484 41088

Cafe Mambos
Address: Titos Lane, Baga Beach, Goa, 403516
Hours: 6:00 PM – 4:00 AM
Phone: 098227 65002
6. Goan Food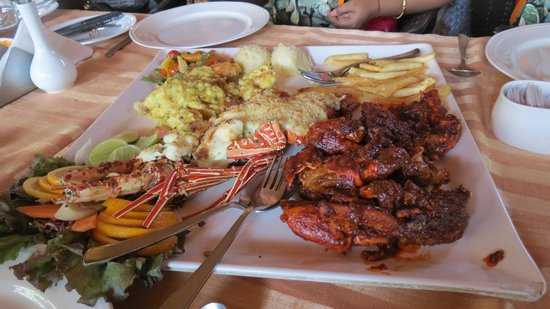 Beach shacks are just an example of how good the food is. Wait till you experience their truest delicacies – a melange of Konkan, Portuguese and Arabic influences! Coconut, vinegar, chilli, cashew nut, guava, pineapple, tomato and potato all adorn their dishes and prove to be flavourful and warm to the palette.
Must-try: Pork vindaloo, prawn kishmur, prawn curry rice, bebinca (a layered dessert made with eggs and coconut milk)
Local restaurants for authenticity:
Mum's Kitchen: House No. 854, Ground Floor, Martin's Building, DB Marg, Near Times Of India Office, Miramar, Goa 403001
Phone: +91-9822175559, +91-9822175556

Viva Panjim: First Floor, Wagle Vission Building, 18th June Road, Near National Theatre, Panaji, Goa 403001
Phone: +91-832-6644796

Souza Lobo: Calangute Beach, Bardez, Goa, 403516. Phone: +91-832-2281234, +91-832-2276463

Bhatti Village: Bhatti Waddo, Nerul, The Sol Hotel, Bardez, Goa 403114
Phone: +91-9822184103
Above all visit the Goan bakeries! They have so much to offer to the world of favourite local pieces of bread include Uned (small, round and crispy breakfast rolls), Pao (round buns) and Pui (flat, pancake-like rolls).
Must visit: The oldest bakery in Goa - Confeitaria31 De Janeiro
Address: Corte De Oilerio, 18th June Road, Panaji, Goa 403001
Phone: +91-832-2225791
7. Water sports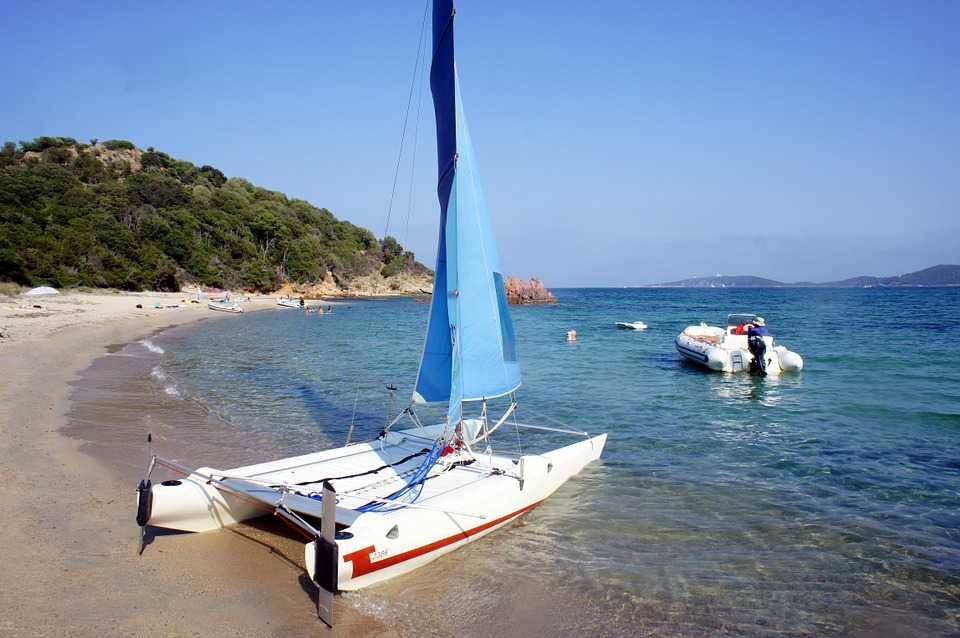 Adventure is at its peak on this coast. Grab your love and head out to the shore! It's always fun to learn and experiment with your bae and even better if it's water sports.
Windsurfing at the Dona Paula bay near Panjim·
Parasailing to get a bird's eye view of the coast·
The Baga beach has a beautiful shoreline with colourful fauna and flora – Scuba diving
Catamaran sailing courses and activities at Palolem beach·
Snorkelling – INR 1500 for 1 hr·
Rafting at Valpoi river
8. Luxury hotels and resorts

Where you spend your nights on a honeymoon leaves an etching mark. Whether it is a luxury hotel, a high-end resort or a shack by the beach, Goa has pocket-friendly options for you to choose. A bottle of Champagne for the night, soft pillows and a cosy bed, luscious bath, fragrant lavenders in the room... let the honeymoon bells ring!
Luxury Hotels in Goa: Doubletree by Hilton, Goa Marriott resort and spa, Baywatch resort, Santana Resort, Sugarplum Macedo Palms
9. Spa Day!!

A relaxing day at the spa is a good enough couples retreat. Warm essential oils trickling down your back, face masks for nourishment and a skilled masseuse who knows her way around the human body. Turn around, and ta-da there's your Cherie lying beside you! There's all this and much more love from the Goan spas
Aroma day spa
Address: Near Cafe Town, Close to Domino's Pizza, Calangute - Baga Road, Titos Ln, Saunta Waddo, Baga, Goa 403516
Hours: 11:00 AM – 11:00 PM
Phone: 098221 63285

Zaara spa
Address: Resort Rio, Tambudki, Arpora, Goa 403516
Phone: 088888 48106

Transport Options in Goa
Gone are the days where you depend on someone to travel to a new city. Begin by renting a car or a bike, and with google maps, there's nothing to beat the new love cart in town. From SUV's to Fancy cars, RE Thunderbird and the Himalayan – you can have it all. Here are some rentals for you:
Joey's Goa car rentals
Address: Office No.6, D B Road, Panaji Park, Near Ferry Wharf, Panaji, Goa 403001
Phone number: 098221 02829

Car rental Goa
Address: Vailankanni Auto Hires, 107, Gera Imperium I, Patto Center, Panaji, Goa 403001
Phone: 0832 248 9568

Reliable Rides Self Drive Car Rentals in Goa
Address: H.No -167 Opposite house of Loyds, Saipem, Candolim, Goa 403515
Phone: 099210 5876

Bike Rentals in Goa
Address: Fort Aguada Rd, Behind De Alturas Resorts, Candolim, Goa 403515
Phone: 095117 86847
What destinations should the love cart hit?
Why run to another country, when Goa is there to cover all your needs! With the right combination of things to do, your honeymoon in Goa can be unforgettable.
Say to yourself then – Honeymoon? Goa!!