Singapore
is considered a socially conservative country and has recently seen rising support for the LGBTQ+ community. Many places are rainbow-friendly and some that specially reserved to celebrate love, no matter the colour.

So, if you're heading to Singapore and want to experience the joy of pride, we've come up with some favourite gay bars in Singapore.
1. Tantric Bar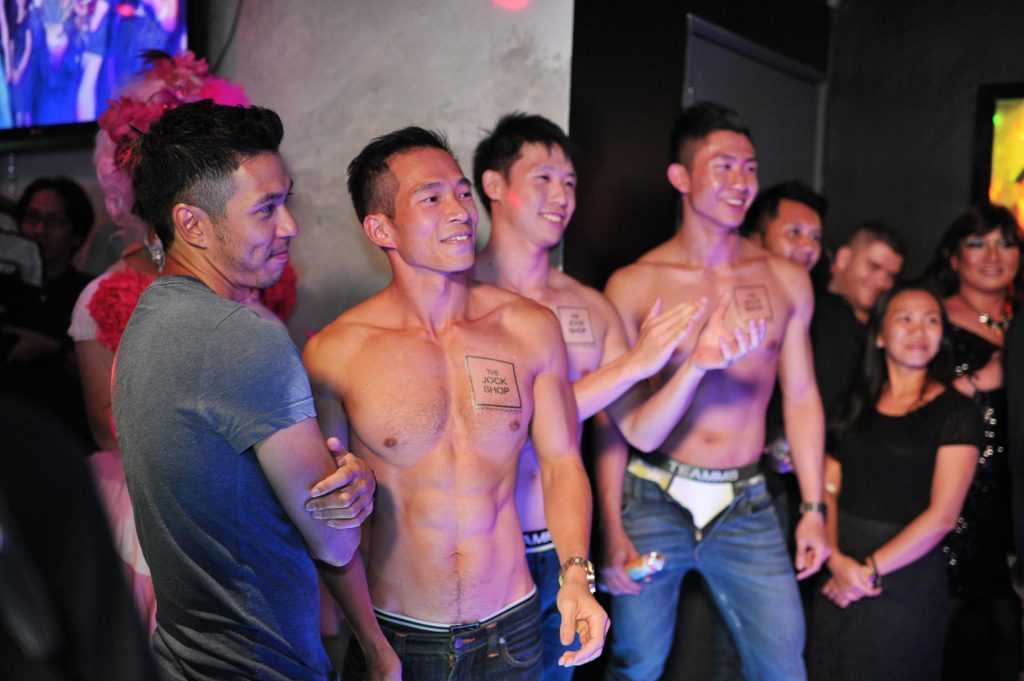 Stretched across Neil Road, the most famous lane housing popular gay bars in Singapore, Tantric bar is a three-storeyed structure with both indoor and outdoor spaces. It is one of the longest-standing dance gay bars and has been around since the 1990s. It comprises of a bar, restaurant, dance bar and a lounge. Weekends are mostly crowded with upbeat music and a dance floor to groove on.
Timings: 8:00 PM to 3:00 AM
Address: 78 Neil Rd, Singapore

2. May Wong's Café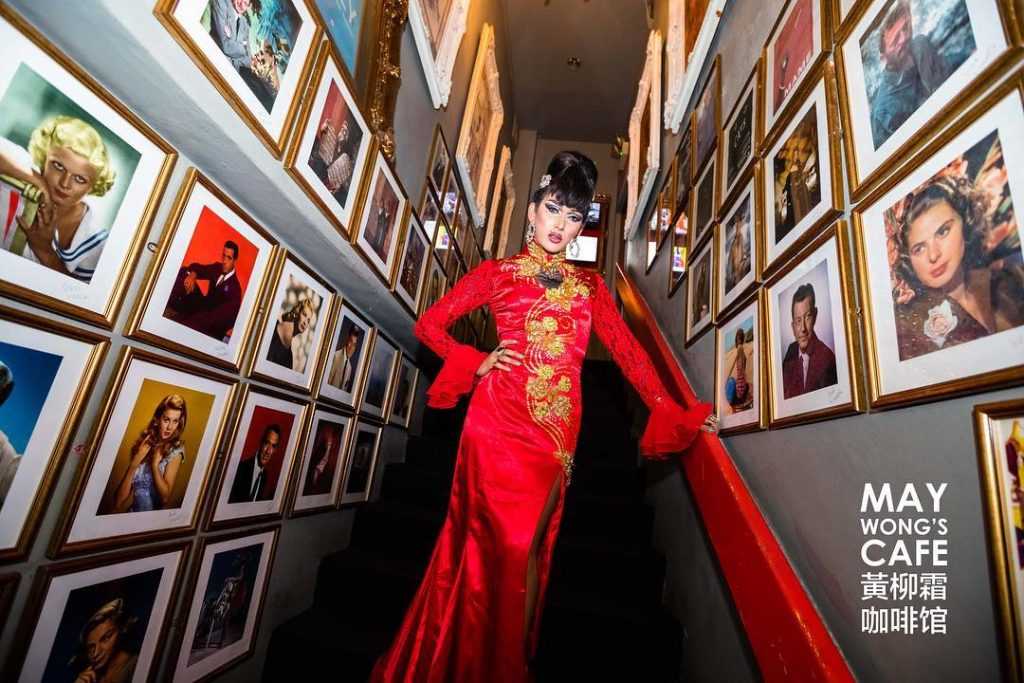 One of the most popular gay bars in Singapore, May Wong Cafe is inspired by late Hollywood actress Anna May Wong, hence the name of the place. It is a part of Tantric bar building and is on the first floor. May Wong has a vibrant vibe and serves delicious food and drinks. It has everything from a pool table to dart machines to keep you entertained. The menu is a mix of local cocktails to beat the heat and exotic recipes to keep you full. Light music accompanies multiple video screenings.
Timings: 8:00 PM to 3:00 AM
Address: 78A Neil Road, Singapore

3. Backstage Bar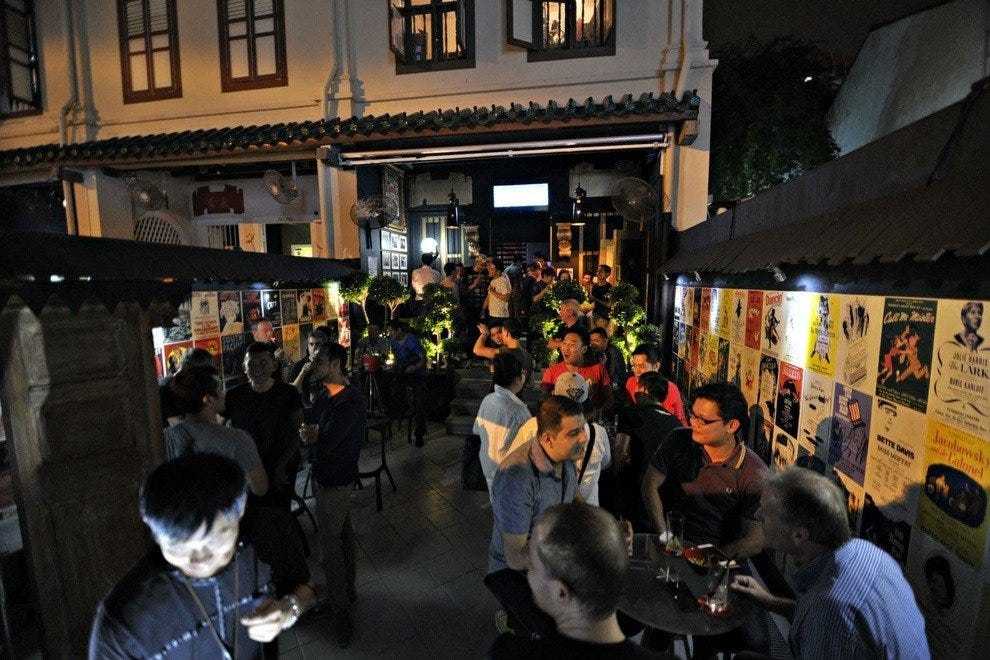 An old place for glamour and music, the Backstage bar offers a mixed vibe of nightlife and culture. It has cosy and comfortable seating with a variety of drinks and dishes on your plate. Some of the cocktails are inspired by favourite television shows like Golden Girl Cheesecake!
Timings: 8:00 PM to 3:00 AM

Happy Hours

- Until 9:00 PM where you get unlimited drinks at reasonable price.
Address: 80 Neil Road, Singapore
4. Out Bar Singapore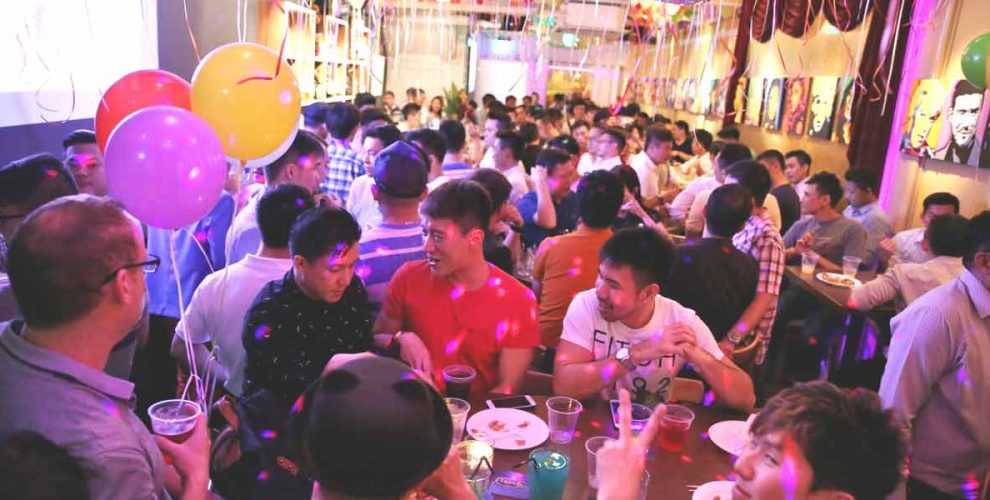 A sight of retro hits, Out Bar, will instantly make you feel at home. There are portraits of favourite gay icons like Madonna and Mariah Carey. The crowd is a mix of older couples with some youngsters who enjoy retro themes. Disco enthusiasts will love this place as it often gets groovy with the retro disco hits.
Timings: Closed on Sundays
6:00 PM to 12:00 AM
Address: 43 Neil Rd, Singapore
5. Lluvia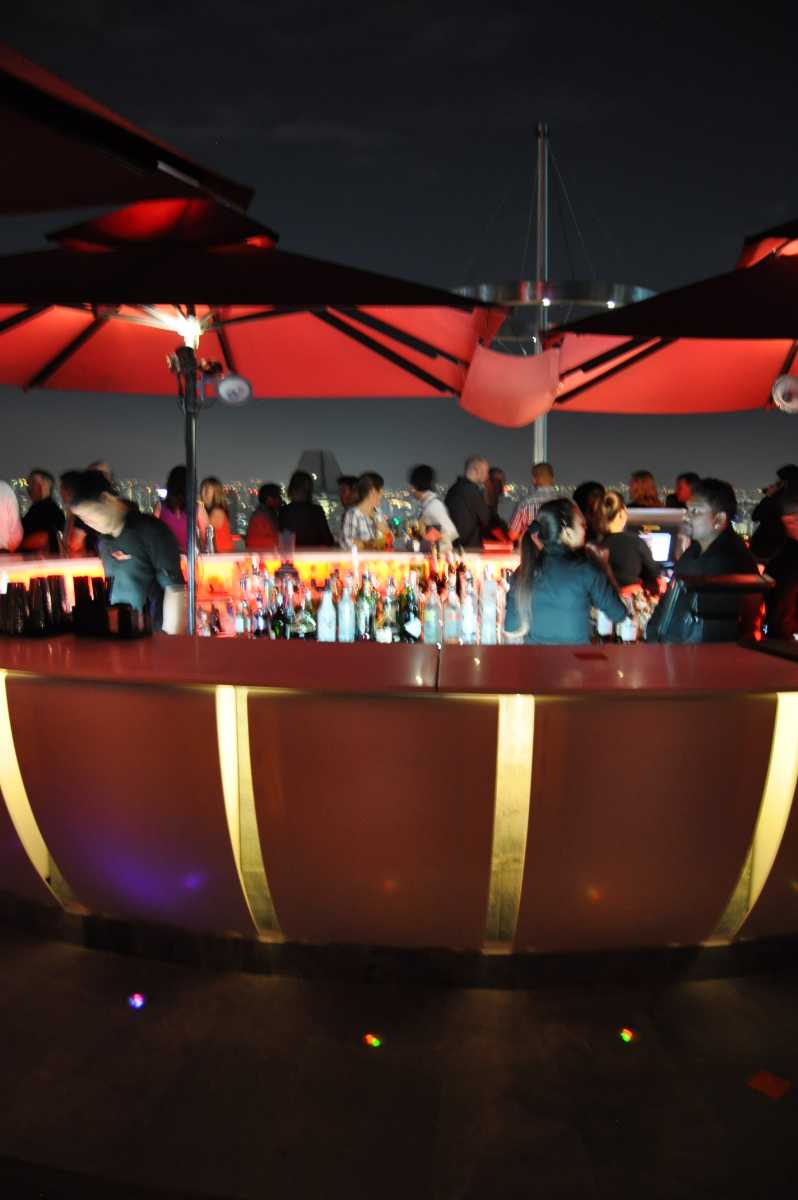 Lluvia bar is popularly known for its karaoke system that sets the vibe just right for a lively night. Apart from fancy food and drinks, this gay bar in Singapore also serves lunch meals for the working crowd. If you want to enjoy drunk men singing obscure songs, then Lluvia is the right place for you!
Timings: 8:00 PM to 2:00 AM
Address: 145 Telok Ayer Street, Singapore

6. Dorothy's Bar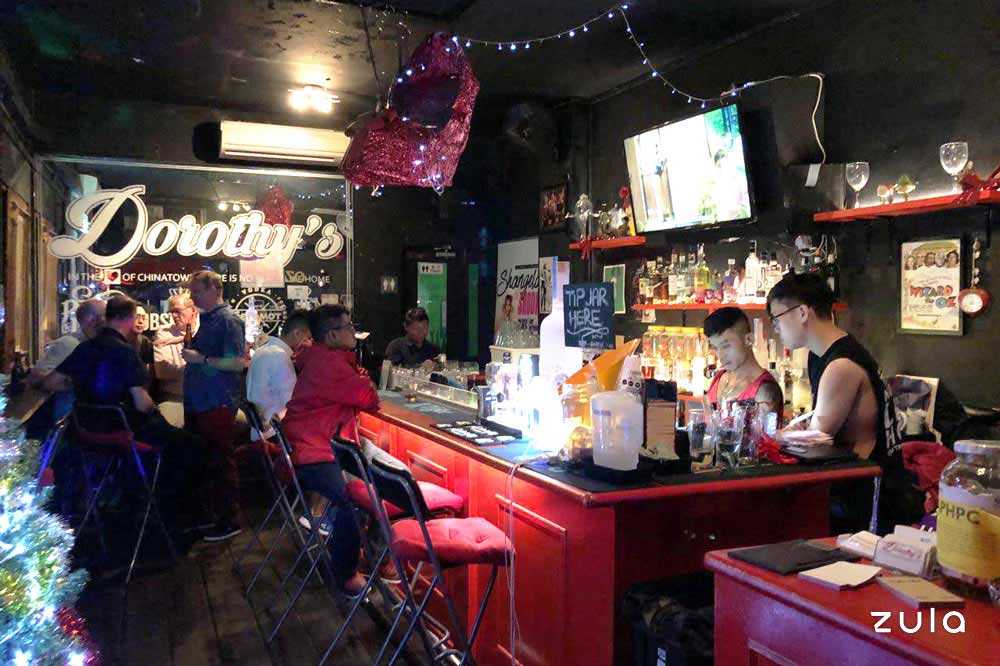 Dorothy's bar, situated in the heart of the famous China Town area of Singapore, is considered to be the oldest gay bar in Singapore. There's a new deal every day of the week, and you get to drink some of the exotic spirits at low prices. On Saturdays, the happy hour is from 12 midnight to 2:00 AM. The bar staff is friendly and attractive, and there is a balcony with a view of ever-bustling Chinatown street.
Timings: 6:00 PM to 1:00 AM
Address: 13A Trengganu St, Singapore

7. Flavours Bar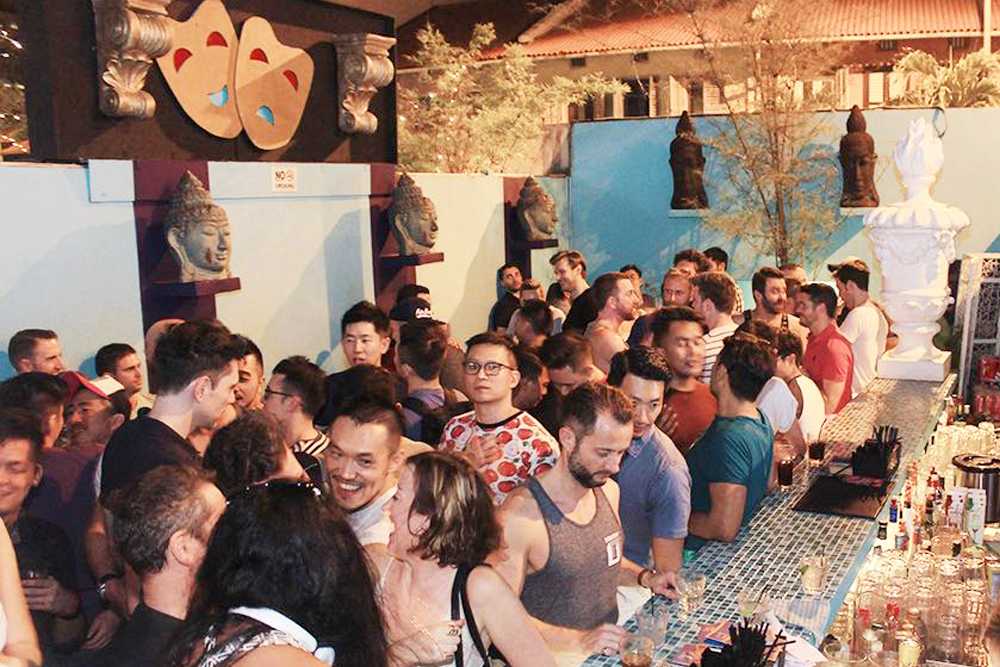 As the name suggests, the Flavours Bar is a place for exploring different flavours of spirits and alcohol. The innovative mix of flavours will excite your taste buds, and the ambience will lighten your mood. So, if you are the one who loves to experiment with your food and drinks, then you might want to visit this place soon! On Saturdays, the bar is open until 4:00 AM.
Timings: 8:00 AM to 3:00 AM
Address: 80A, Neil Road, Singapore

8. Ebar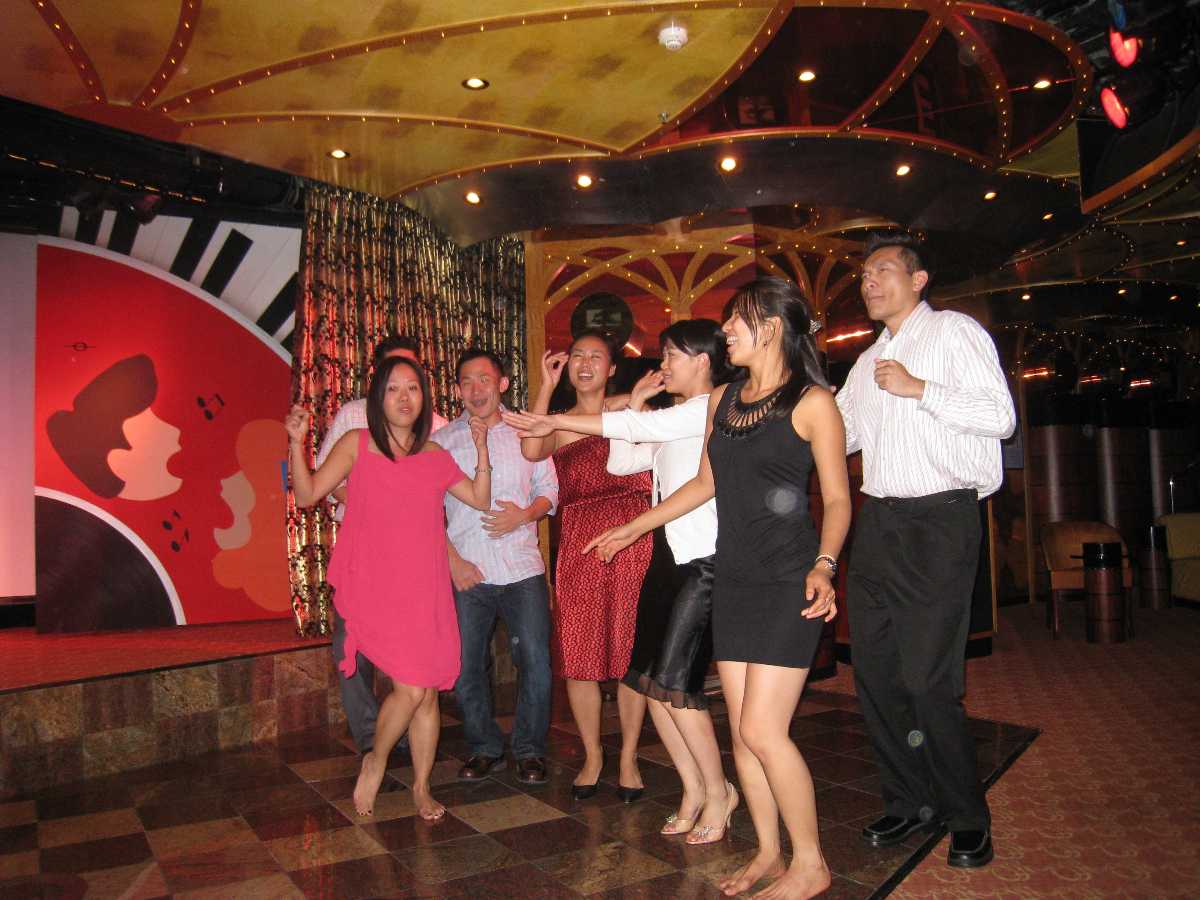 Do you want to get drunk and sing out loud? Then head to Ebar. It has an in-house karaoke system just like Lluvia, and you can enjoy some fine dining along with local songs. It is just opposite to the peppy Tantric Bar. If it's your birthday, then this is the best place to head! All birthday boys and girls get a free shot; make sure to carry your ID proof.
Timings: Closed on Sundays
8:30 PM to 1:00 AM
Address: 57 Neil Road, Singapore

9. Taboo Bar and Café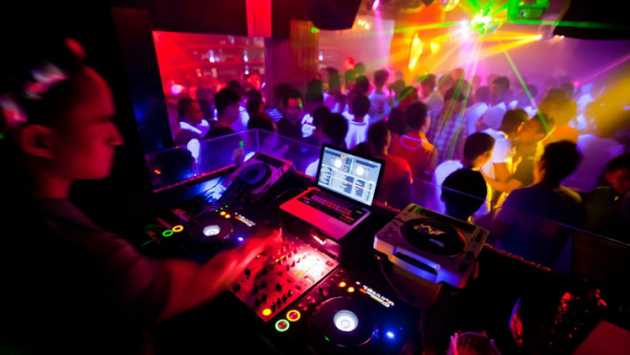 If you like grooving to blasting music and are always in a party mood, Taboo Bar might be the right place for you. One of the favourite gay bars in Singapore, Taboo covers the whole ground floor as dancing space, and the upper two floors are for talking and eating with your mates. There's a liquid buffet for SGD 38 on Saturdays, so there won't be any dull moment when you're there. The real vibes are experienced after midnight when the place gets crowded with everyone in a mood to party! There is always something or the going on like Flirty Fridays, HandBag Nite and much more to keep people entertained.
Timings: Closed on Sunday and Monday
10:00 PM to 3:00 AM
Entry: SGD 28 (includes a complimentary drink)
Address: 65-67 Neil Road, Singapore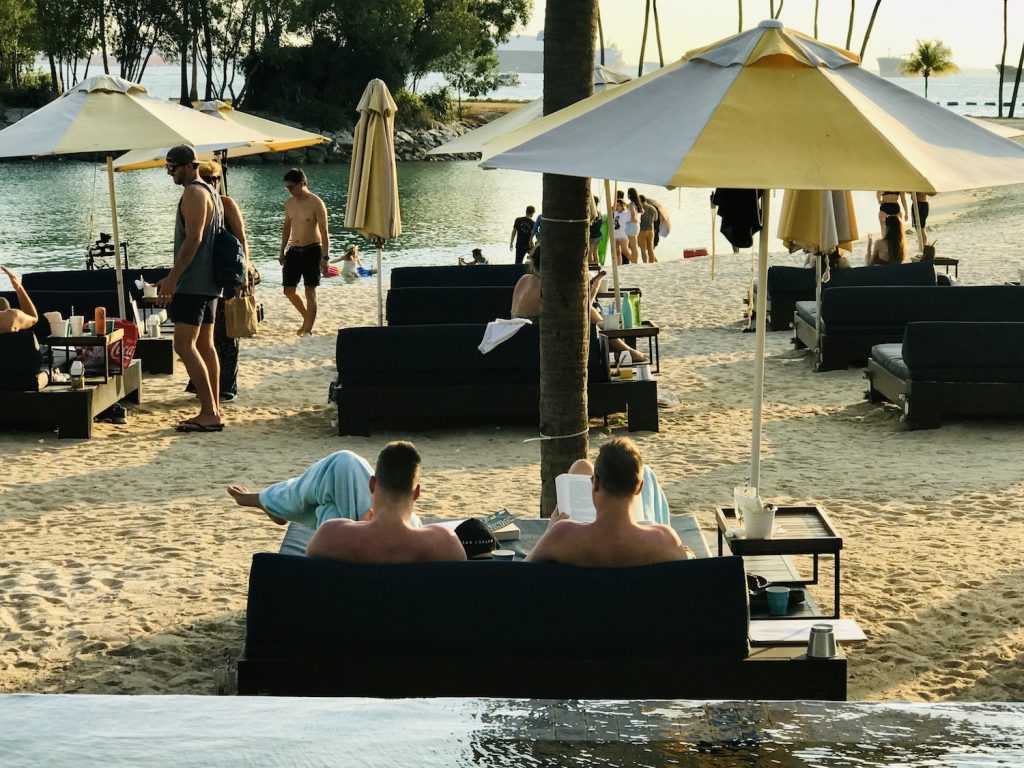 Tanjong Club is the most happening place in town for one thing- beach parties! Although there is no private gay bar at Tanjong Club, it is LGBTQ+ friendly, and you'll find many gay couples enjoying their retreat at the beach. It has a very diverse crowd and the perfect all-in-one beach bar. There are moonlit beach parties and live DJs to unleash your party animal!
Timings:
Weekdays: 11:00 AM to 10:00 PM
Weekends: 9:00 AM to 10:00 PM
Entry: Charges applicable according to table reservation
Address: 120 Tanjong Beach Walk, Singapore


11. DYMK
DYMK which stands for 'Does Your Mother Know?' is located right next to OUT bar in a cosy two-storey converted shophouse. The clever abbreviation gives away the idea of a hush-hush vibe. The place remains crowded mostly but it has a perfect setting to have a relaxed brunch or a cocktail night out with friends. They have fun names for the house specials like Mommie's temper, Mother Knows and Mother Doesn't Know. The decor with comfortable couches, original artwork, wooden settees in a warmly lit glow provides a homely vibe. The 80s retro hits help in keeping the dancefloor busy. There are themed nights and promos on drinks quite often.
Timings:
Sunday to Thursday: 6:00 PM to 12:00 AM
Friday: 7:00 PM to 1:00 AM
Saturday: 8:00 PM to 2:00 AM
Address: 41 Neil Road, Singapore

12. SuperNrml
SuperNrml is an LGBTQIA+ friendly bar, serving signature and classic cocktails along with food from the Populus Cafe, which is a popular name in the department of Asian fusion cuisines as well as locally roasted coffee. They share monthly promotions on Instagram and hold monthly lucky draws and events targeting young crowd. This gay bar in Singapore is apt for large groups of friends. The entry to the bar is through the sign of a neon rabbit, like in the Matrix movie. Dimly lit, the bar has dark green walls and geometric artworks, with very little decoration. The in-house signature drink called SuperNrml is their bestseller.
Timings:
Wednesday to Sunday: 5:00 PM to 12:00 AM
Closed on Mondays and Tuesdays
Address: 146A Neil Road, Singapore 088875
13. Epiphyte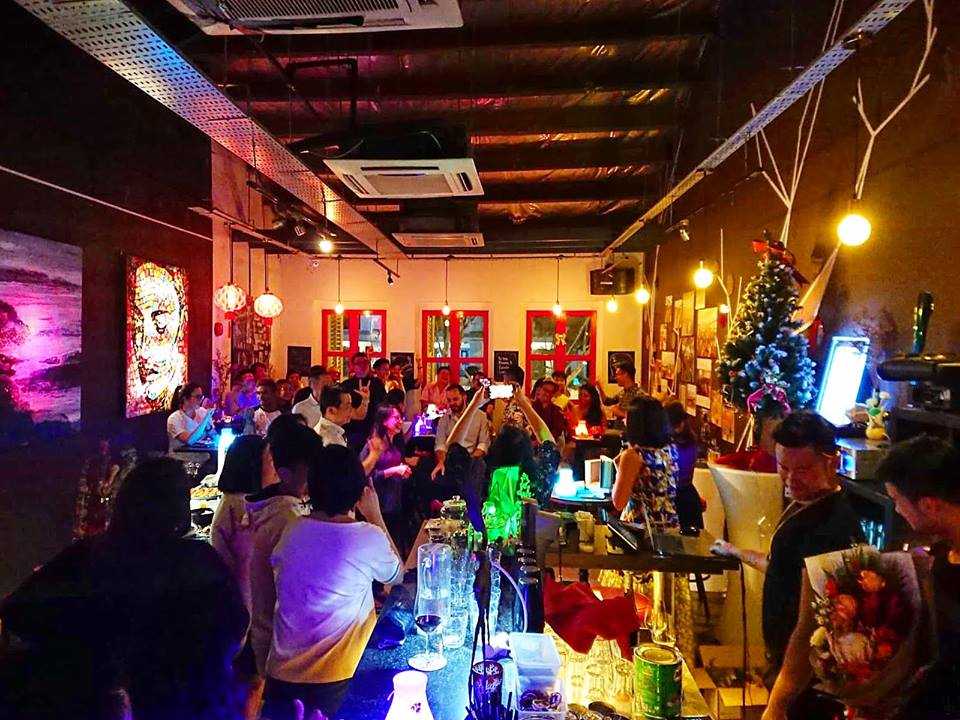 A garden-themed cafe; this pretty gay bar in Singapore has the right kind of aesthetic for a fun night with friends. There are plants on almost every table, and it is very well known for desserts like terrarium made from pistachio sponge and peach sauce and twilight, which is a galaxy cake.
Timings: Closed on Sunday and Monday
Weekdays: 8:00 PM to 12:00 AM
Weekends: 6:30 PM to 2:00 AM
Address: 47 Neil Road, Singapore
Prepare yourself for some amazing festive vibes at the Singaporean pride celebrations and some fantastic food and music all across the city, because love is love.

~This article is written by Apoorva Jain and CR Anjali~