Upbeat, dramatic and incessant, there's nothing more alive than the nightlife in
Thailand
. In fact, there's never a dull moment at any time of the day! As the breathtaking islands and beaches mesmerize you in the day, the nights are all about letting your hair (and pockets) loose in the bustling markets, bars and cultural shows. Thailand is celebrated for its inclusive and enthralling nightlife, catering to the taste of every wandering tourist. While it may not be the most family-friendly, you can always check in with our list to never go wrong with planning a night out.
Even as every city of Thailand is famous for its nocturnal escapades, we have highlighted some of the hottest, vibrant and truly unmissable sights so that you can soak in the very best of the cities.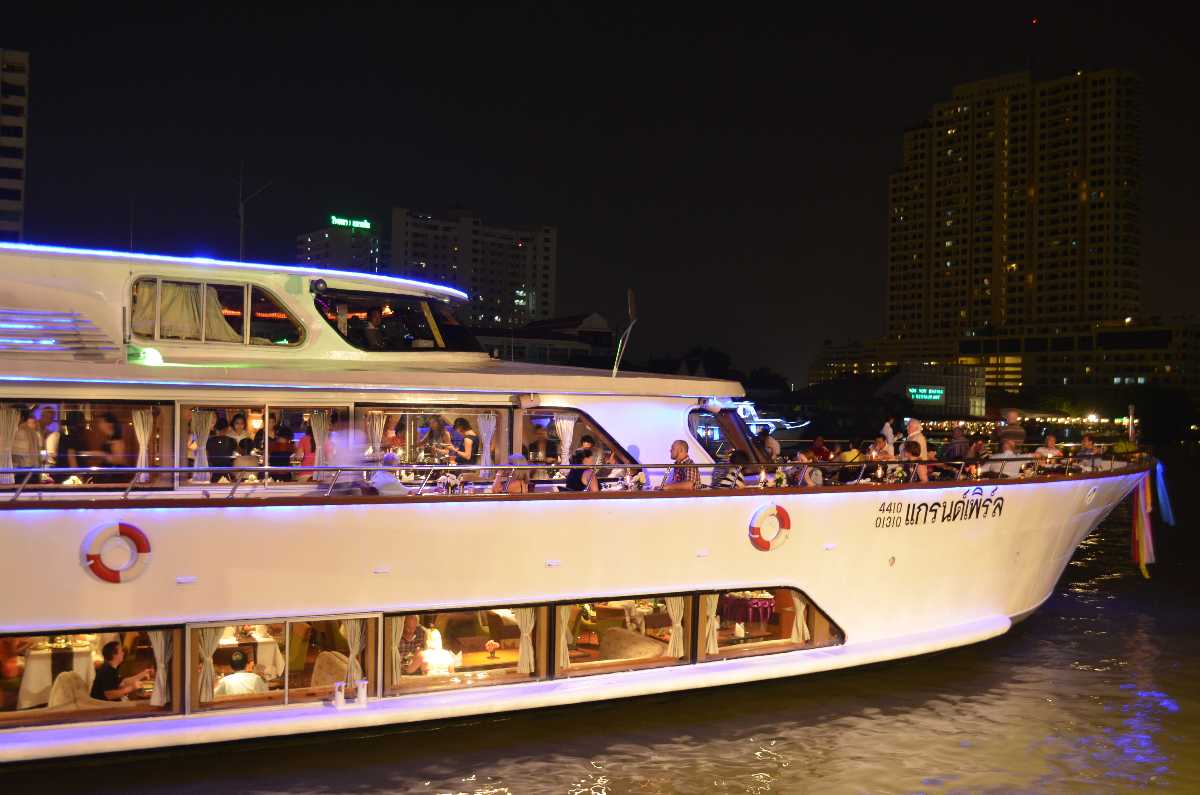 There is nothing more surreal than a lavish spread of dinner enhanced by soul-rousing music overlooking the lit-up city. The Chao Phraya River Cruise is an extravagant cruise with two hours of uninterrupted delight offering a panoramic view of historic sites like the Royal
Grand Palace
,
Wat Phrae Kaew
(Temple of the Emerald Buddha),
Wat Arun
(Temple of Dawn) amongst many others.
The cruises offer a scrumptious buffet, convenient pickup and drop off points, on deck entertainment and overall, an experience at par to none. It is family-friendly, so you can consider this as the perfect flourish to your Bangkok trip.
Location: Chao Phraya River: easy to locate. (Can be accessed through ICONSIAM, Asiatique and River City Pier)
Timings: Check-in starts at 7:00 PM, Cruise timings: 7:30 PM - 9:30 PM
(Indian Buffet available)
2. Rooftop Bars in Bangkok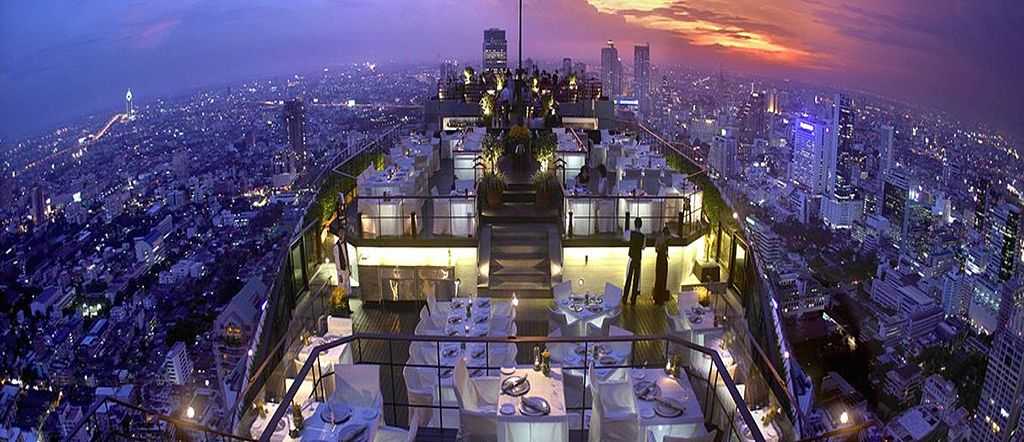 Bangkok offers an array of captivating rooftop bars, where you can lay back and enjoy the choicest of food and drinks while admiring the skyline of the city. Among the most renowned are the Octave Rooftop Bar, Sky Bar, Above Eleven and Speakeasy Rooftop Bar. Because these would some of the more premiere ports to experience the nightlife in Thailand, look up the dress code specified for bars, they are often stringent and prefer dressy attire.
Cost for two: Approx THB 2000-5000 = USD 70-90 = INR 5,500 (Differs upon different locations)
Location: Sky Bar: 63rd Floor State Tower, 1055 Silom Road, Bangrak; Octave Rooftop Bar: 57 Sukhumvit Road
Timings: 7:00 PM - 2:00 AM daily
3. Live Jazz Shows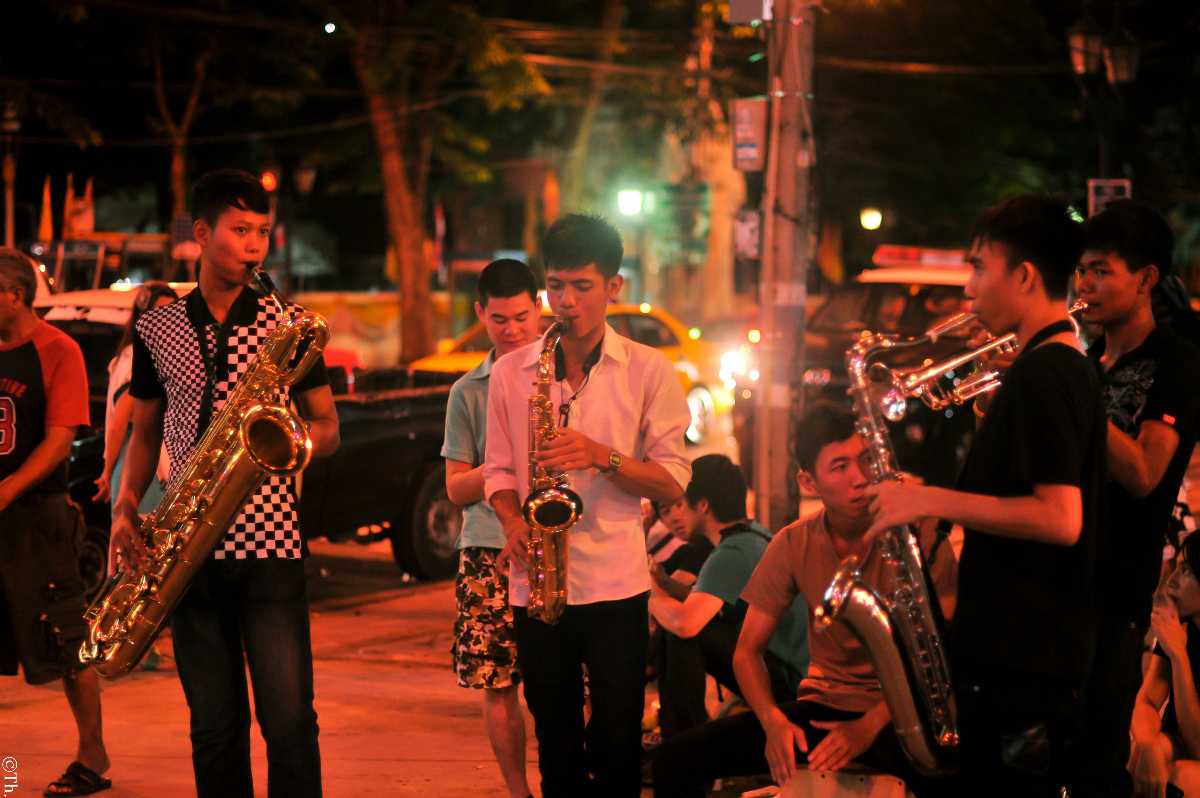 Blessed with an intensively explosive jazz and hard rock music scene, you are sure to find the best shows lined up for the night. Both high-end and local clubs offer a treat to your ears and taste buds, with delicacies and cheap beer enhancing the environment with sheer entertainment and dance. Some of the best experiences are at the Bamboo Bar, Iron Fairies and Co, Saxophone Pub amongst many others.
Cost for two: Cocktails: USD 26 = THB 830 = INR 1800
Locations: Bang Rak, Sukhumvit Soi, Thanon Phaya Thai
Timings: Shops open at 5:00 PM, Music shows begin from 8:00 PM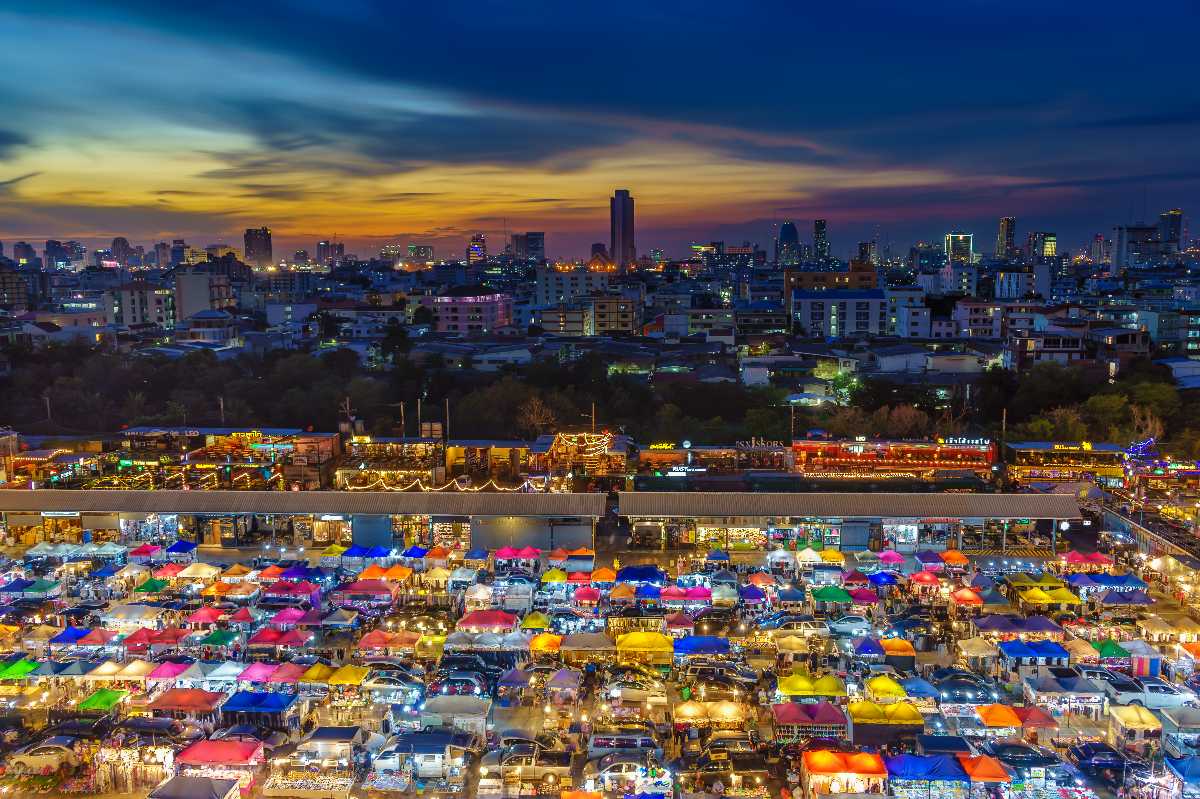 Bangkok boasts of an extensive evening market running until the late hours of the night. There is a plethora of items on sale, massage centres, street food and bars for you to splurge on. Take a stroll down
Khao San Road
and
Chatuchak Road
for bargain worthy deals and don't miss out on
Chinatown
's end scrumptious meals. What a less conventional way to experience nightlife in Thailand? A late-night market stroll would be ideal!
Cost for two: Varies upon how much you splurge. Usually cheaper.
Locations: Khao San Road, Yaowarat Road, Chatuchak Road
Timings: 8:00 PM-Midnight everyday
5. Night Shows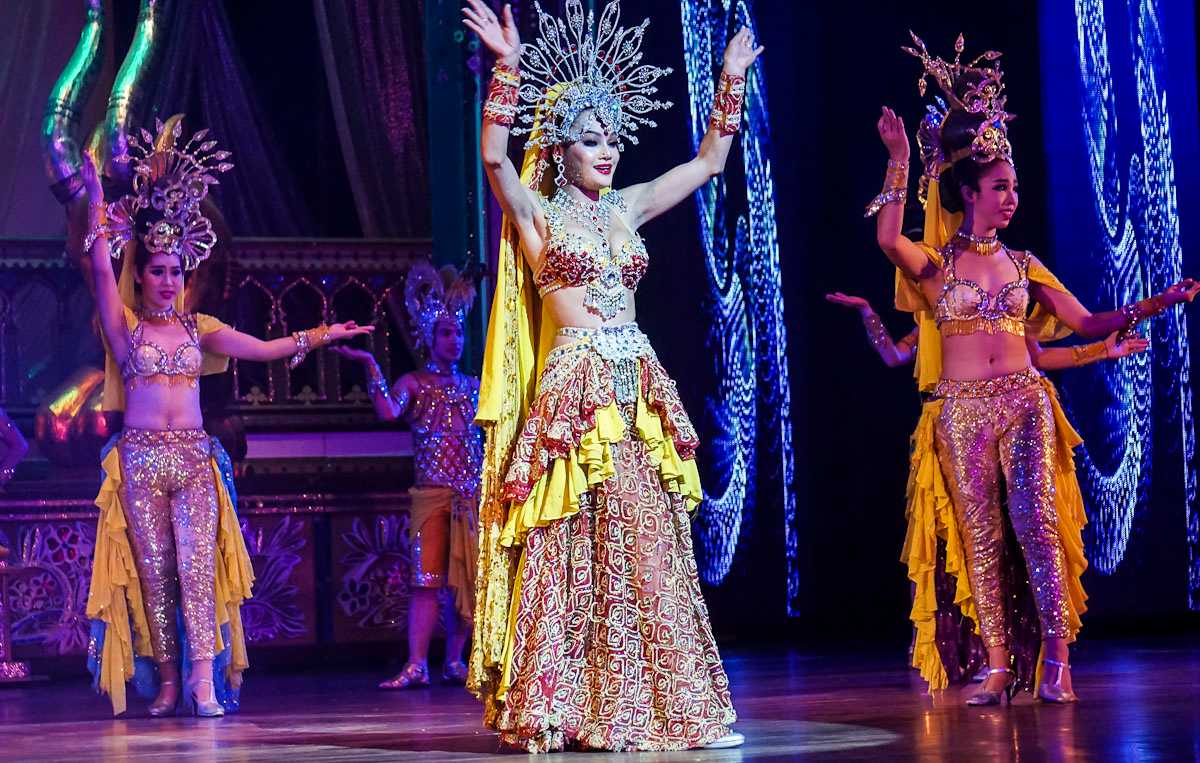 Bangkok nightlife is incomplete without the grandeur of the night shows lighting it up. They offer a myriad range of shows from
Muay Thai boxing
, Ladyboy Cabarets, Siam Niramit shows among others. You can also witness the best traditional puppet shows along with your family. The intense dramatics and over-the-top extravaganza promise to engage you completely for two hours.
Cost for two: Approx USD 40 = THB 1000 = INR 2000
Location: Calypso Cabaret: Bang Kho Laem; Playhouse Cabaret: Yaowarat
Timings: Multiple shows are held each night, starting from 7:30 PM
6. Clubs and Adult-Themed Recreation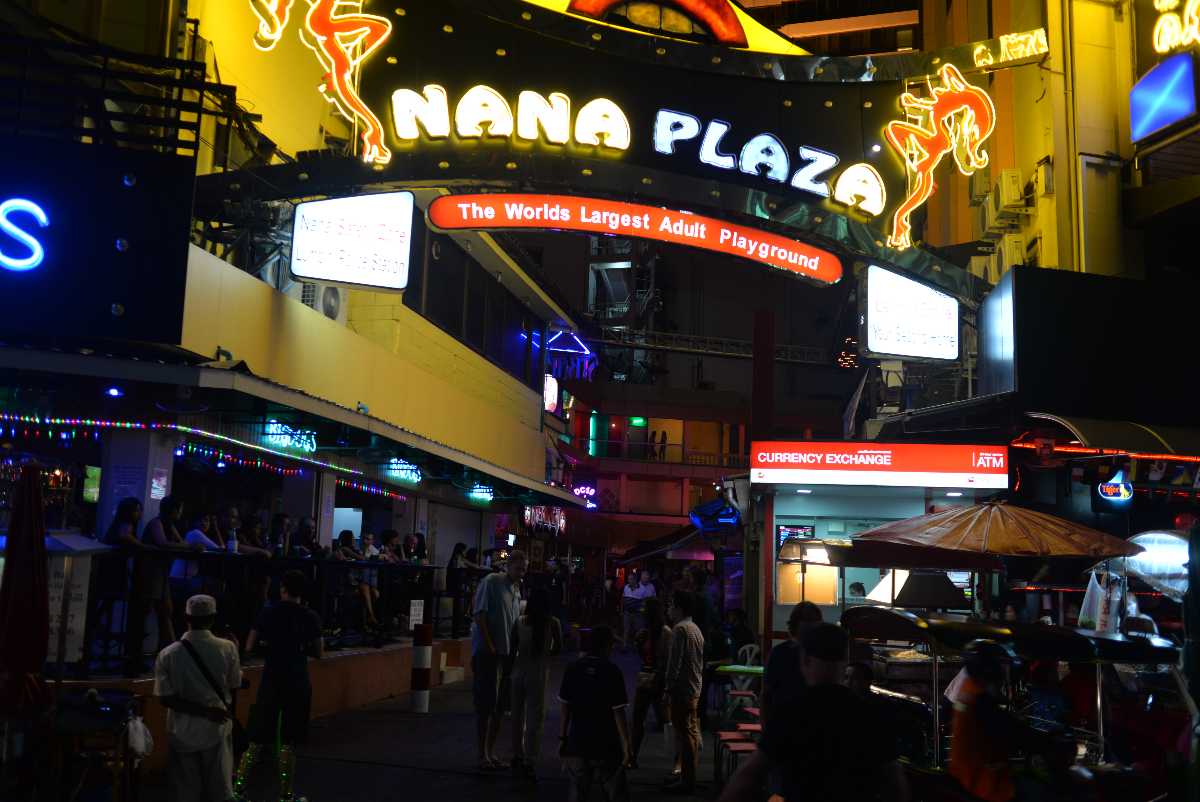 Bangkok
is celebrated for its liberal outlook and inclusive nightlife in Thailand for adult-themed resto-bars. With dignified red-light areas lit up with flashy neon lights and raunchy titles, they offer a range of activities for all sexualities. Be sure to visit the
Patpong night market
,
Nana Plaza
, Soi Cowboy among many others.
Cost for two: USD 65 = THB 2000= INR 4300
Location: Sukhumvit Soi 4, Bang Rak
Timings: 5:00 PM - 1:00 AM
1. Soi Bangla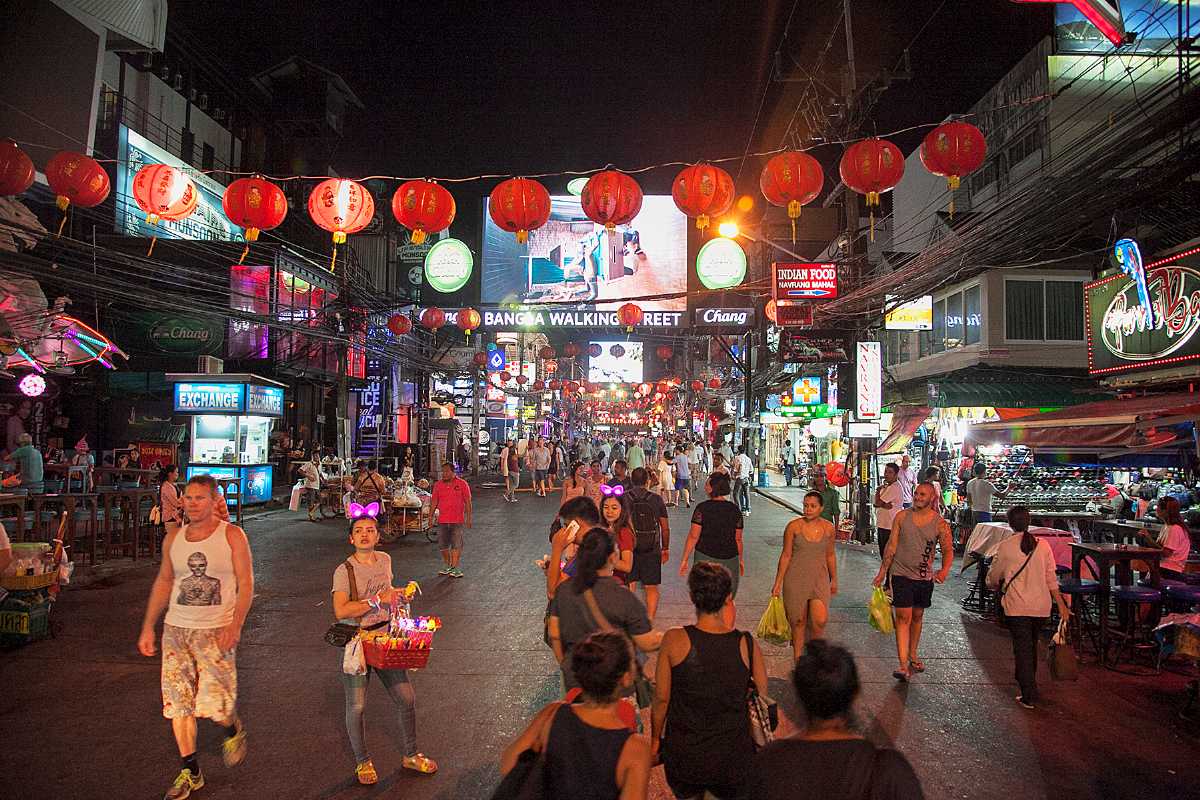 Arguably the most famous of Phuket nightlife destinations, it promises the epitome of fun, frolic and clubbing. The entire road is lined with the flashiest of go-go bars, street performances, ladyboy shows among others. At the end of the road, the beach is lined up with a relaxed vibe with a heady mix of cocktails and people dancing to world-famous DJs. Nightclubs like Seduction, Illuzion, etc are the most favoured.
Location: Bangla Road at Patong, Kathu
Timings: 10:00 PM - 3:00 AM
Simon Cabaret is Phuket's grandest entertainment centre. It is famous for its dramatic music and dance transgender-centred performances. It presents a rousing theatrical experience which MUST be on your list when experiencing the nightlife in Thailand. These shows feature a variety of routines with sparkly headdresses, grandiose backgrounds, intense musical score and a family-friendly experience. You can head out with your family for a night-time treat.
Ticket for two: USD 35 = THB 1200 = INR 2500
Location: Tambon Patong, Chang Wat
Timings: 6:00 PM, 7:45 PM and 9:30 PM shows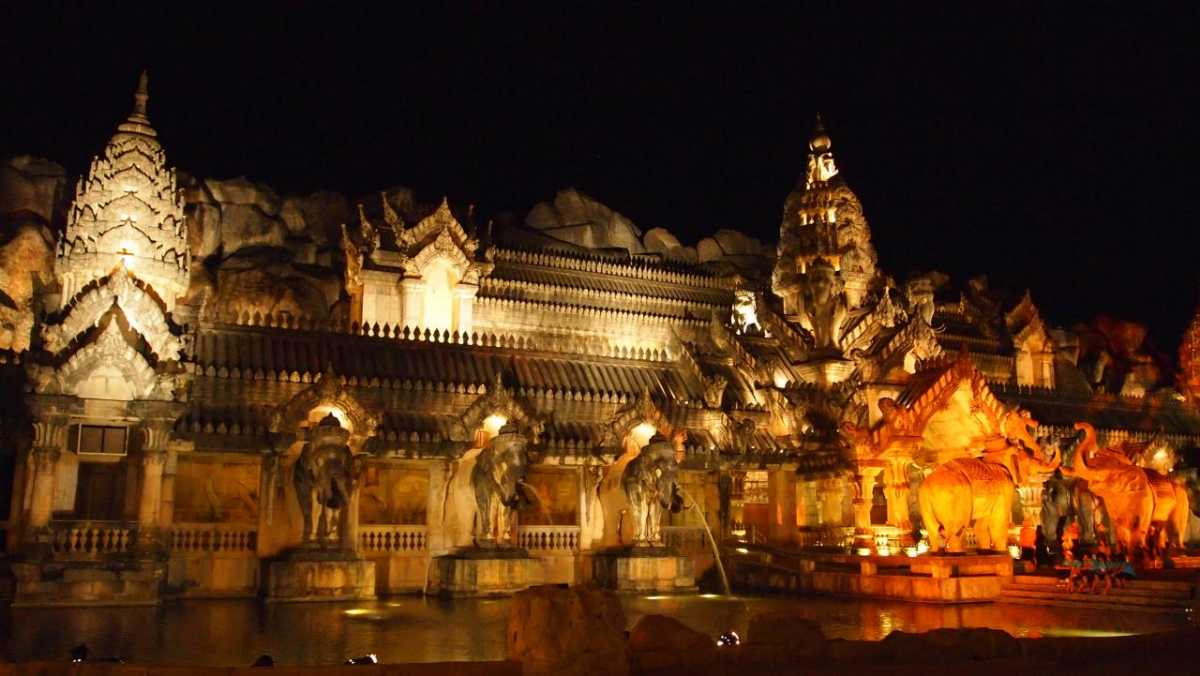 Phuket FantaSea is a legendary theme park in Phuket that showcases the rich cultural heritage of Thailand. It encases a lavish centre surrounded by gardens that showcase ancient traditions with the use of special effects and technology. It includes acrobatics, aerial performances, stunts, animal shows synthesized with high octane melodrama. This Carnival is one of its kind, with an experience that will enthral both children and adults.
Ticket for two: USD 90 = THB 3000 = INR 6000
Location: Kamala, Kathu district
Timings: Shows begin from 9:00 PM, Dinner buffets start from 6:30 PM
4. Other Attractions
- Live Music at Patong Beach (Hard Rock Cafe)
-
Gay Phuket
Beach extravaganza
- Thai Boxing at Patong Beach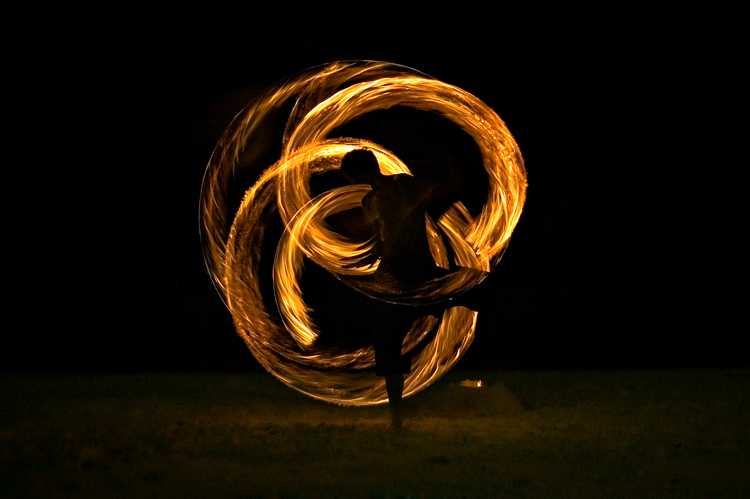 The Phi Phi Islands are, in all actuality, a party island. A truly devoted nightlife scene, Phi Phi has an aura of fun and partying all through the year. In fact, the city awakes when the day snoozes to sunset! Phi Phi is renowned for its buckets of concoctions, the ones that seem pretty harmless on the face but are heady enough to put you passed out right on the curb. There is almost no police supervision, all-night parties at magnificent beach bars packed with DJ's, cabaret shows, fire shows and everything that screams heaven on earth. It's the ultimate movie party come alive.
The most notorious spots are the Ibiza Beach House, Apache Beach bar, Slinky Bar, Reggae Bar amongst others.
Even as the nightlife in Thailand boasts of cabaret shows, each city offers a unique experience and Pattaya is no different. The ladyboy shows at Pattaya are elegant, grand and fashionable.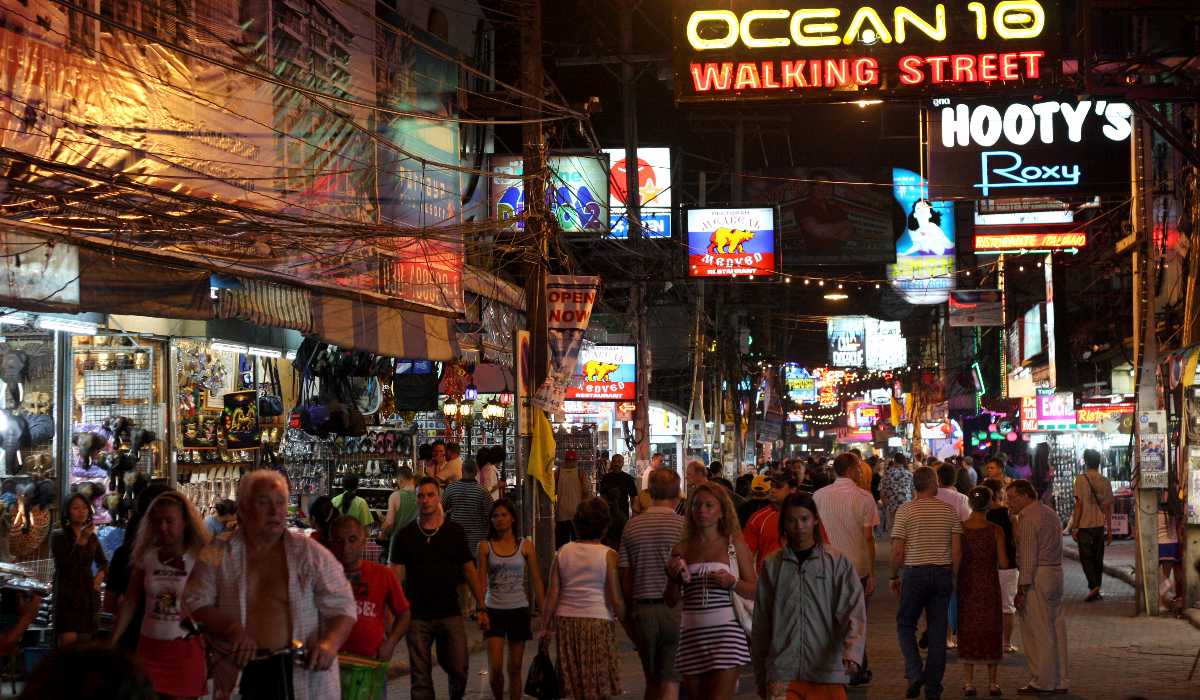 The Pattaya walking street is counted among the best-known destinations in Thailand worldwide. A sensory overload of lights, music and all things fashion, it is a perfect mix of both adult and casual experience ranging from go-go bars and live music acts by street performers. A culinary delight, it offers lip-smacking delicacies specializing in seafood and cheap drinks. Be on the lookout for happy hour offers which can make the experience light on your pocket.
Prominent experiences are those at Marine Disco, Gulliver's, Club Insomnia and Ice Bar.
Cost for two: Drinks range from INR 500- 3000 = USD 10- 50
Location: Southern end of Beach Road, Muang Pattaya
Timings: Starts from 7:00 PM till the wee hours of midnight
2. Bars and Resturants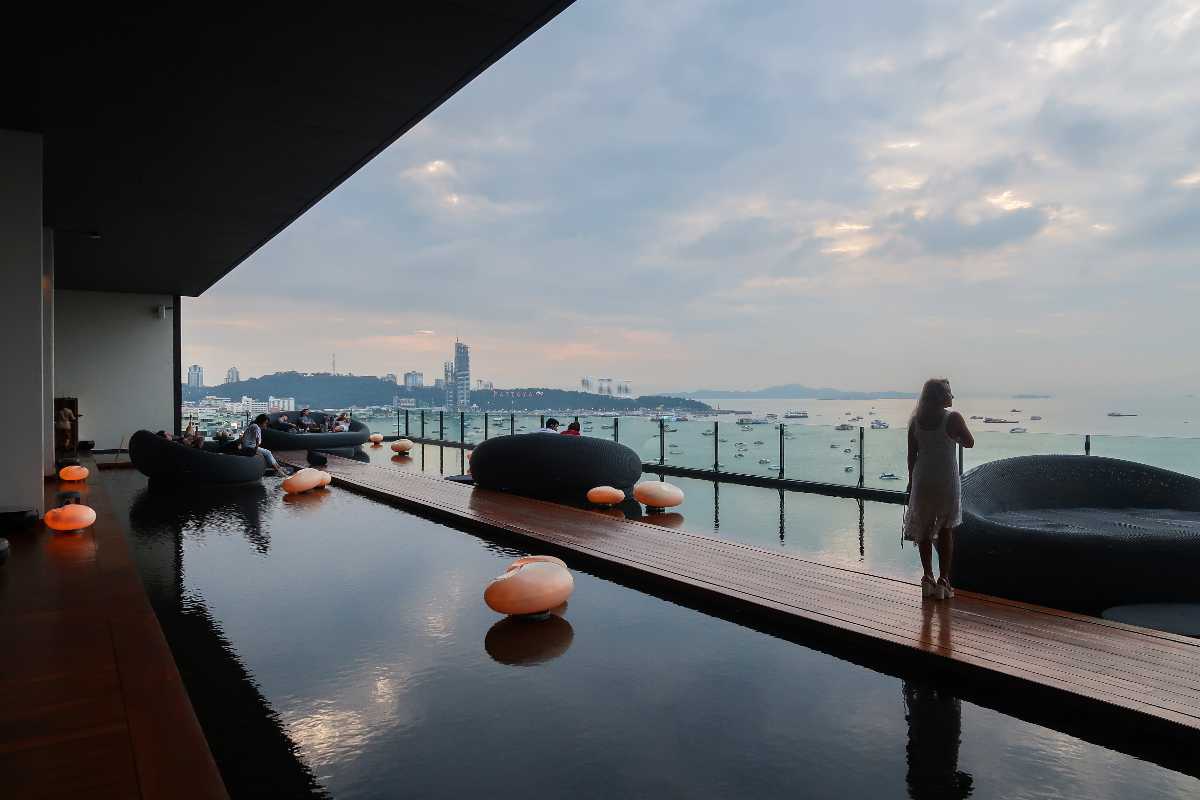 If the Walking street screams with loud, drunken amazement, the Horizon Bar is a silent step away from it. Perfect for a romantic date, with a heady mix of delectable cuisine and sights, it promises a delightful view of the beach and some calm intimate time with soft jazz setting the mood. The Hard Rock Cafe is another favoured destination with a lively music ambience along with The Roof Sky Bar, which is a luxurious step towards an elegant conclusion to your escapades while you enjoy the nightlife in Thailand.
Cost for two: Drinks range from INR 500- 3000 = USD 10- 50
Location: Hilton Pattaya, Moo 9 and Beach Road
Timings: 5:00 PM- 1:00 AM
3. Thepprasit Night Market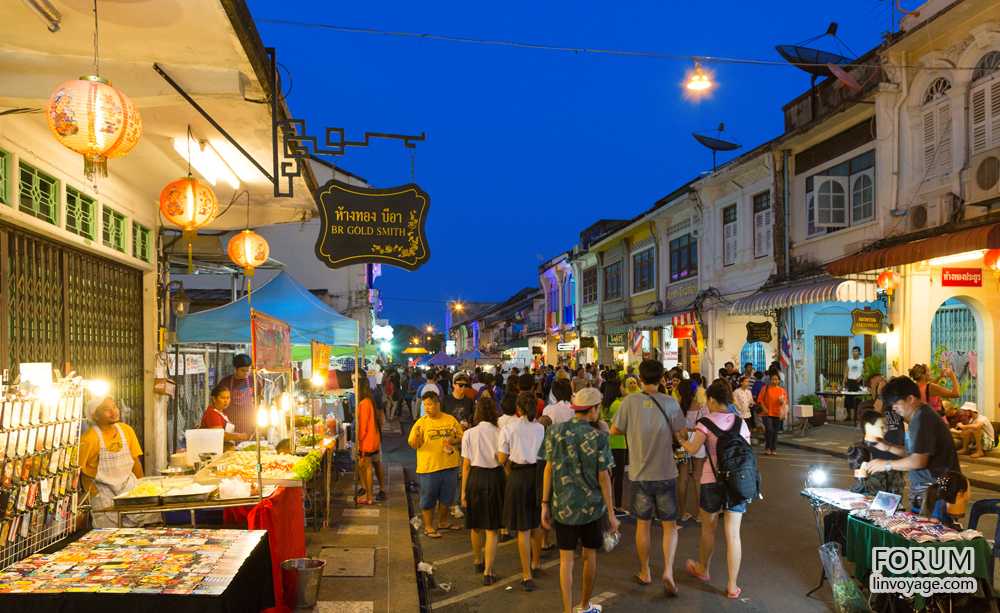 Pattaya's night market
proves to be one of the liveliest, dimly lit market offering great deals on items and Thai cuisine stalls catering to lip-smacking delicacies like Pad Thai noodles, meat amongst others. You can find cheap clothing, accessories and knick-knacks while being in the midst of the loveliest jazz music. A must visit with the family.
Location: Thep Prarist Road, Muang Pattaya
Timings: 5:00 PM - 12:00 A.M
4. Nightclubs in Pattaya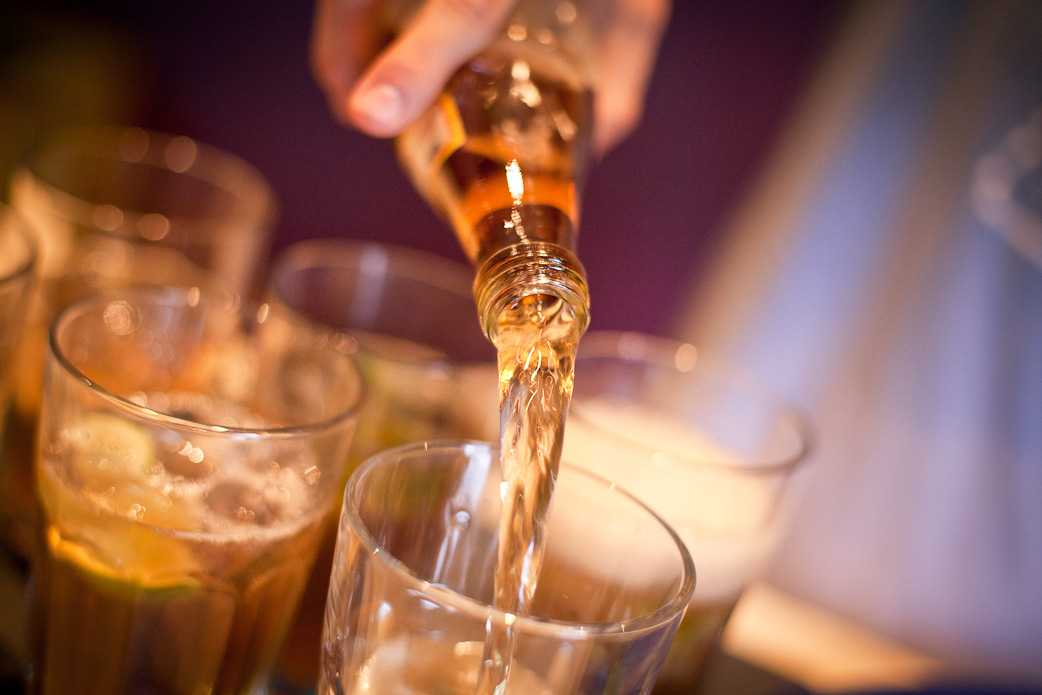 Pattaya nightclubs are the raunchiest, loudest and credited with the best experiences. Some of the best nightclubs are the Club Insomnia, The Pier and Mixx Discotheque Club.
Location: Walking Street, Bang Lamung District
Timings: 8:00 PM - 4:00 AM
5. Soi Road 7
A laid back experience with a pocket- friendly environment, soi road 7 offers a variety of experiences from massage centres, bars, resto-bars, tattoo centres, discos, food carts that line up the beach. It is a hotspot for most tourists with open beer bars that flow throughout the night. Something for a budget-friendly tourist who wants to enjoy the beach and drinks without burning a hole in their pocket.
Cost for 2: INR 500 = USD 8 = THB 230
Location: Closely along Pattaya Beach
Timings: Begins from 7:00 PM - 3:00 A.M
6. SKY Pattaya Rocket Ball Ride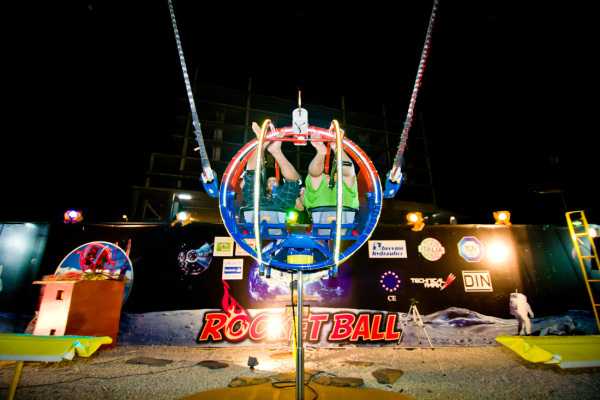 A thrilling ride that promises the loudest of screams as its riders are tossed high up in the air in a caged sphere, rotating amongst its own. A definite ride not for the faint-hearted, it vouches for the perfect adrenaline high.
Location: Walking Street
Cost for two: USD 30 = THB 500 = INR 1100
Timings: 5:00 PM - 3:00 AM
With this, we have exhaustively compiled both family-friendly and party-centric places for you to enjoy the nightlife in Thailand to its max. Ticking each spot off this list would be a feat, for each provides a thrilling, immersive experience! So jet, set and party, Thailand awaits you!