Thailand
is a rapidly developing modern country, with glistening cityscapes and sky-high buildings hinting at its tangible prosperity. But through the busy streets and noisy cities, lie the decaying ruins of Thailand - structures harking back to Thailand's history. Thailand's heritage is replete with historical landmarks from royal kingdoms, ancient settlements, early Buddhism to ruined temples. Artefacts from this time still remain, categorised as protected sites since they form part of Thailand's rich history. Each place has a unique history and plenty of which will transport back to the olden times in Thailand.
Here is the list of 12 glorious ruins of Thailand:
1. Wat Chaiwatthanaram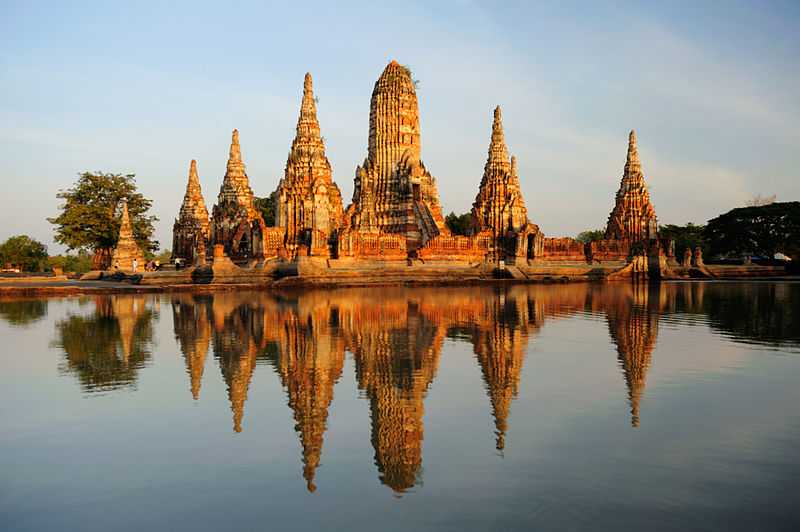 Stepping into this temple, you may find yourself transported to Cambodia's Angkor Wat, since the Khmer architecture of both places is very similar. Wat Chaiwatthanaram, however, actually stands on the banks of the Chao Phraya River in the historic city of Ayutthaya, and was once used by the Royal Family. The temple has a large central shrine, richly carved, which is surrounded by many smaller chedis. Galleries containing majestic images of the Buddha and walls narrating stories from his life decorated the temple grounds. Although most of it has weathered or was plundered during the war with Burma, Wat Chaiwatthanaram is one of the ruins in Thailand that is still magnanimous.

Location: Phra Nakhon Si Ayutthaya
Timings: 8:00 AM - 5:00 PM
Entry Fee: THB 50
How To Reach: There are trains from Bangkok Station, Hua Lamphong to Ayutthaya. This is an inexpensive option and the duration of journey would be around 2 hours. Foreigners should prefer this because the station is not that tough to find. There are other options as well like renting a car or taking a van from the Victory Monument. The van takes approx 1 hour to reach the destination. It is not ideal of you have too much luggage.
2. Wat Chedi Luang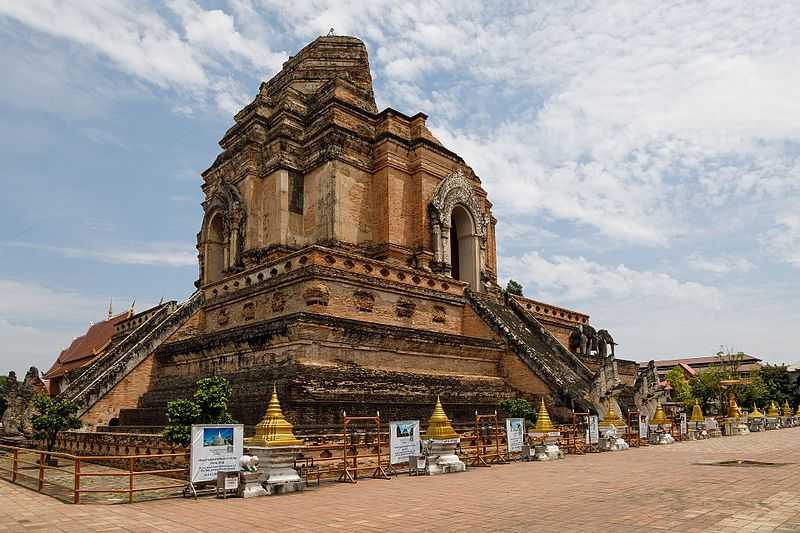 Known as the Temple of the Great Stupa, Wat Chedi Luang is among the most famous temples in Chiang Mai. It is most symbolically identified by its incomplete pagoda, that was brought down from a lofty 85 metres to 60 metres after an earthquake in 1545, and now remains partly destroyed. Nevertheless, it is an enormous structure engraved with mythological motifs and enshrining several Buddha images. A replica of the revered Emerald Buddha of Wat Phra Kaew rests inside the temple, and the compound also houses the sacred city pillar, making it a highly venerated religious site.

Location: Muang District, Chiang Mai
Timings: 6:00 AM - 5:00 PM
Entry Fee: Free entry
How To Reach: You can reach Chiang Mai by air, train pe Road. Chiang Mai International Airport is the main airport in Chiang Mai. Daily trains operate from Bangkok to Chiang Mai at its railway station. Arcade Bus station is where most buses to Chiang Mai arrive. Daily buses operate from Northern bus terminal in Bangkok to Chiang Mai. On reaching Chiang Mai, you can walk through the old Chiang Mai where you can easily spot Wat Chedi Luang.

3. Sukhothai Historical Park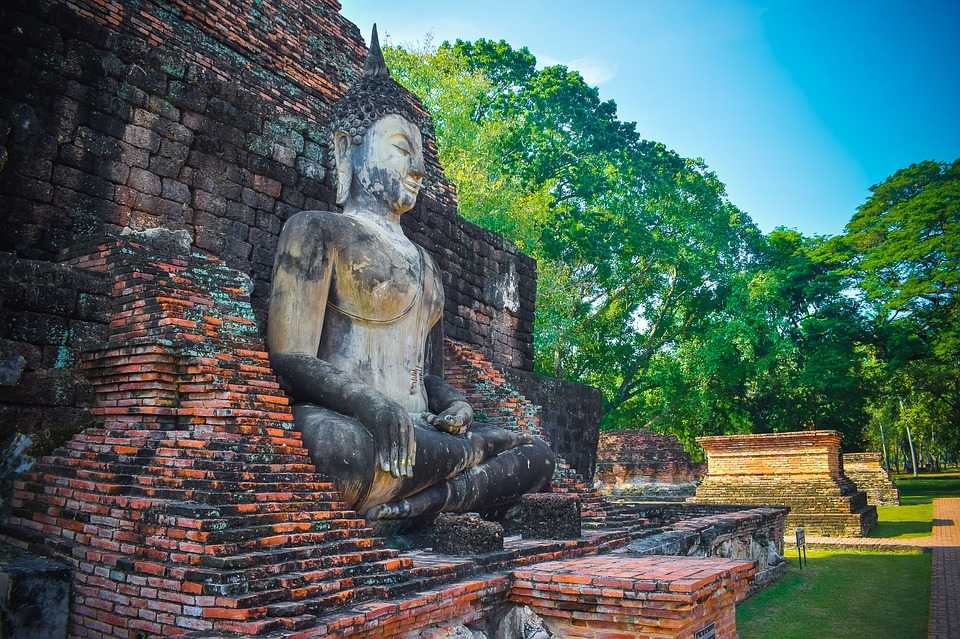 The Sukhothai Historical Park, located in the Sukhothai province, is a historical site containing the marvellous remains of the Sukhothai Kingdom from the 13th century. The architecture of the temples, statues, and town structures reveal significant influence from Khmer and Singhalese traditions. The town, which was once walled, is now adequately preserved, restored and portioned off into different zones, with the surrounding lakes, gardens, and trees amping up its rustic beauty. The Royal Palace, with all its grandeur, is unfortunately a ruined monument now since it was supposedly made of wood. The Ramkhamhaeng National Museum however, contains exhibits upon exhibits of excavated artefacts and antiques that shed ample light on the prosperous past of this royal capital.

Location: Mueang Kao, Mueang Sukhothai District, Sukhothai
Timings:
Sunday - Friday: 6:30 AM - 6:30 PM,
Saturday: 6:30 AM - 9:00 PM,
Northern Zone: 7:30 AM - 5:30 PM,
Western Zone: 8:00 AM - 4:30 PM
Entry Fee: THB 100
How To Reach: There are flights from Bangkok to Sukhothai. Better options are taking trains from either Bangkok or Chiang Mai to Phitsanulok and then bus to Sukhothai, or bus from Bangkok, Chiang Mai, Phitsanulok or Mae Sot. You can find this park in the contemporary city of Sukhothai, just opposite of Ramkhamhaeng National Museum.
4. Wat Umong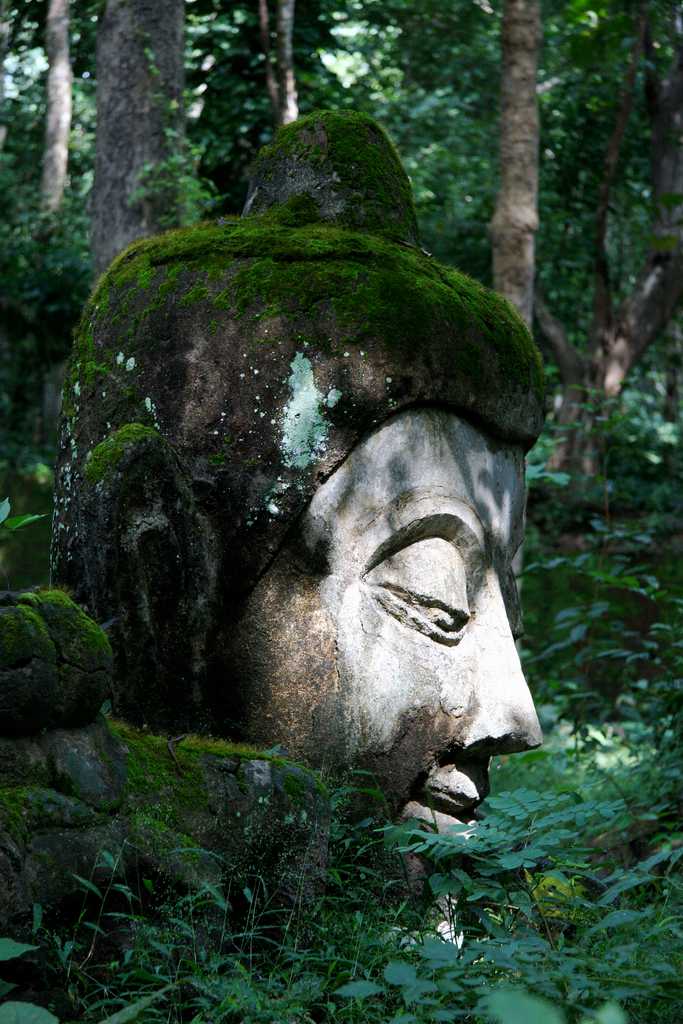 Wat Umong is a concealed, yet renowned Buddhist temple in Chiang Mai. It is also commonly referred to as the "Tunnel Temple", due to its elaborate layout and concealed location within the forests of the Doi Suthep mountains. It is these very conditions that make Wat Umong one of the most peaceful temples in the world, furthering its identity as a fine meditation and Buddhist studies centre. The 13th-century structure was built by the first King of the Lanna Kingdom, to accommodate a revered monk. Several relics and murals have since eroded and ruined, but a large chedi and many scattered Buddha images still remain. The temple hosts monk chats every Sunday from 3:00 PM to 6:00 PM, where visitors can learn more about Buddhist traditions from practising monks.
Location:
Su Thep, Chiang Mai
Timings:
6:00 AM - 5:00 PM
Entry Fee:
Free entry
How To Reach:
Wat Umong is located in the city of Chiang Mai, which can be reached by train, bus, car or flights. On reach Chiang Mai, depending on where you stay, you can hire a tuktuk or bicycle or rent a car to reach Wat Umong.
5. Wat Phra Sri Sanphet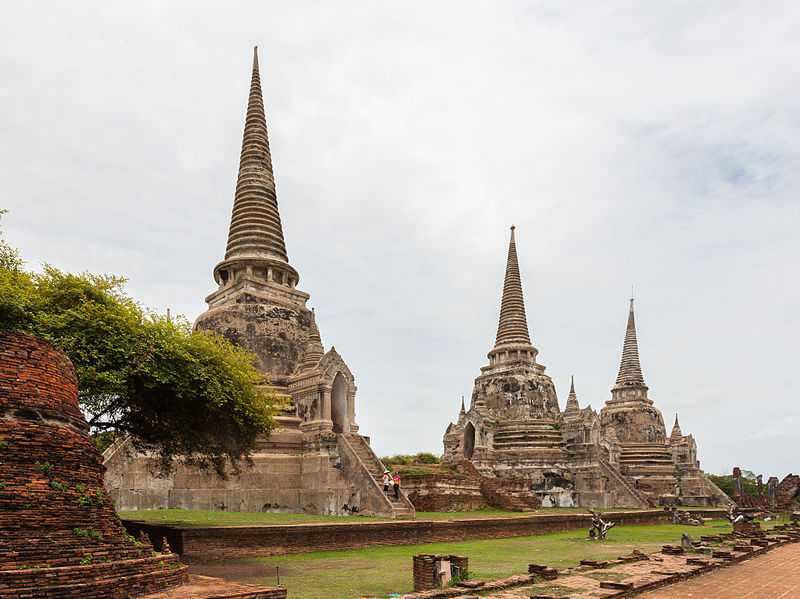 Since Ayutthaya was the Thai kingdom's ancient capital, it is now the historical metropolis of the country with many ancient relics and buildings, Wat Phra Sri Sanphet being one of them. This 14th-century temple was regarded as the holiest religious site in the kingdom, structured with the grandest architecture anyone had ever laid eyes on. It formed part of the Royal Palace complex of King Ramathibodi I and his successors. There are three towering bell-shaped stupas, standing beside mondops of which only the bases remain. The temple one housed a 16 metre tall gilded Buddha image, which was destroyed during the Burmese invasion.
Location:
Phra Nakhon Si Ayutthaya
Timings:
8:00 AM - 6:00 PM
Entry Fee:
THB 50
How To Reach:
You can reach Wat Phra Si Sanphet from Bangkok by renting a car. You can also take a train which take one and half hours. An alternate option is to take the direct bus departing from Khaosan Road and arriving at Ayutthaya. Minivan is the cheapest way to reach Wat Phra Si Sanphet, while quick transfer is the fastest way.
6. Phra Prang Sam Yot Temple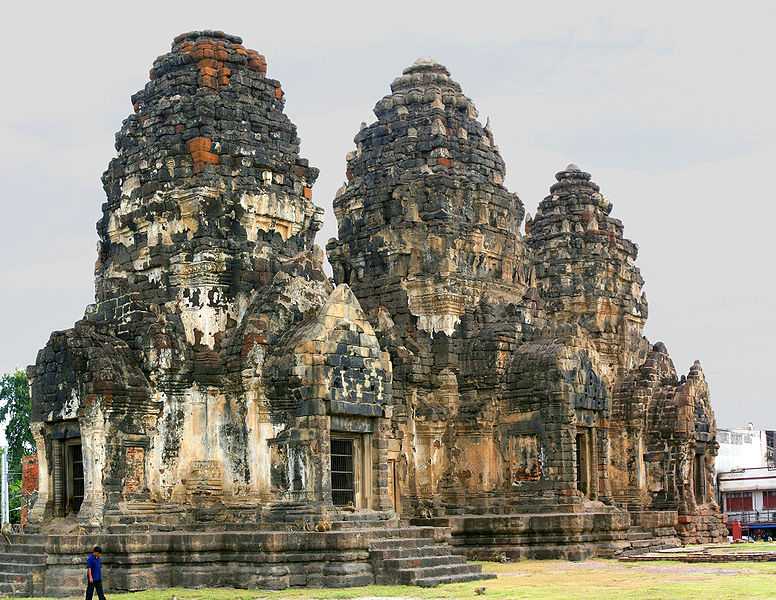 Phra Prang Sam Yot Temple, perhaps the best-known monument in the ancient city of Lop Buri, was built in the 13th century as a religious site for Hindu worship. The name, which literally means "three holy prangs" refers to the three laterite structures built to commemorate the holy trinity of Hinduism. During the 17th century, King Narai converted it into a Buddhist temple and constructed a prayer hall with a Buddha image, now partially eroded. The ruins are commonly known as the Monkey Temple, due to the rampancy of monkeys in and around the temple. Be ready to change hands with them because they are known for making merry with snatched food from the visitors.
Location:
Amphoe Mueang Lop Buri, Chang Wat Lopburi
Timings:
8:30 AM - 5:00 PM
Entry Fee:
THB 50
How To Reach:
You can reach the temple from Bangkok by availing the minibuses from Victory monument to Lopburi. There are trains plying to Lopburi too. You can choose to take bus, train or van from Victory Monument in Bangkok.
7. Phanom Rung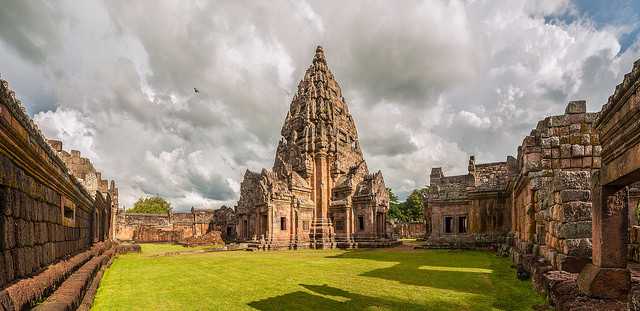 Another impressive feat of the tradition of Khmer architecture, Phanom Rung is primarily a Hindu temple dedicated to Lord Shiva and his abode, Mount Kailash. The structure of the shrine, made out of pink sandstone, is engraved with motifs and symbols from Hindu and Thai traditions, such as Nagas, scenes from the epic Ramayana and the Hindu Trimurti. The layout of the complex and buildings is made to resemble stories from ancient scriptures. Today, the enshrined linga and much of the gallery have disappeared, yet the corroding temple is nothing short of a marvel.
Location:
Chaloem Phra Kiat District, Buri Ram
Timings:
6:00 AM - 6:00 PM
Entry Fee:
THB 100
How To Reach:
Reaching Phanom Rung can be tricky. There are buses from Bangkok to Phanom Rung operated by Transport Company twice daily.
It can be reached either through Nang Rong or Buriram. From Nang Rong, you can rent a motorbike to visit these ruins as per your schedule. Alternatively, you can hire a car. Another option from Nang Rong is to take any west bound bus and tell the driver to drop you to Baan Ta Peek, a small village at a few kilometers distance from Phanom Rung for which there are motorbikes and taxis plying.
8. Kamphaeng Phet Historical Park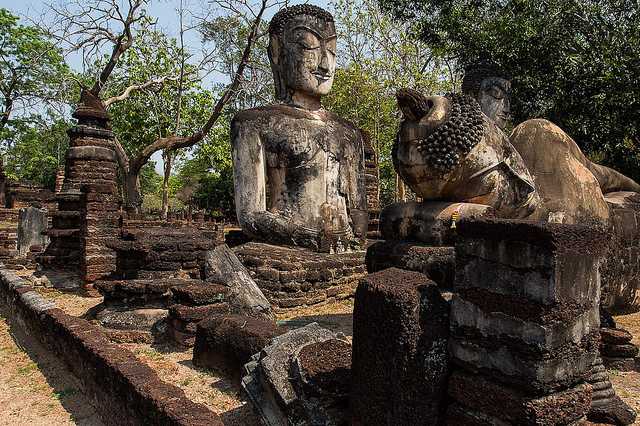 The Kamphaeng Phet Historical Park is the site of relics and ruins of Kamphaeng Phet, an important town in the ancient Sukhothai Kingdom. The walled settlement was well-provided with fortresses and moats, being a prime garrison town during the Burmese war. Today, the Historical Park is a UNESCO World Heritage Site, as the destroyed monuments contribute significantly to the country's illustrious legacy. The Park includes many temples found around the Ping River, some debris of the Royal Palace, and stunning images of Buddha and Lord Shiva from different centuries.
Location:
Nong Pling, Kamphaeng Phet
Timings:
8:00 AM - 6:00 PM
Entry Fee:
THB 100 for each zone
How To Reach:
You can take daily buses from Bangkok Northern bus terminal (Mochit) to Kamphaeng Phet. You can take bus number 94. Alternatively, you can reach Phitsanulok by plane or train and then take bus no 615 or 193, which takes you to Kamphaeng Phet. From Sukhothai, you can take songthaews, but it takes long.
9. Wat Phra Mahathat Woramahawihan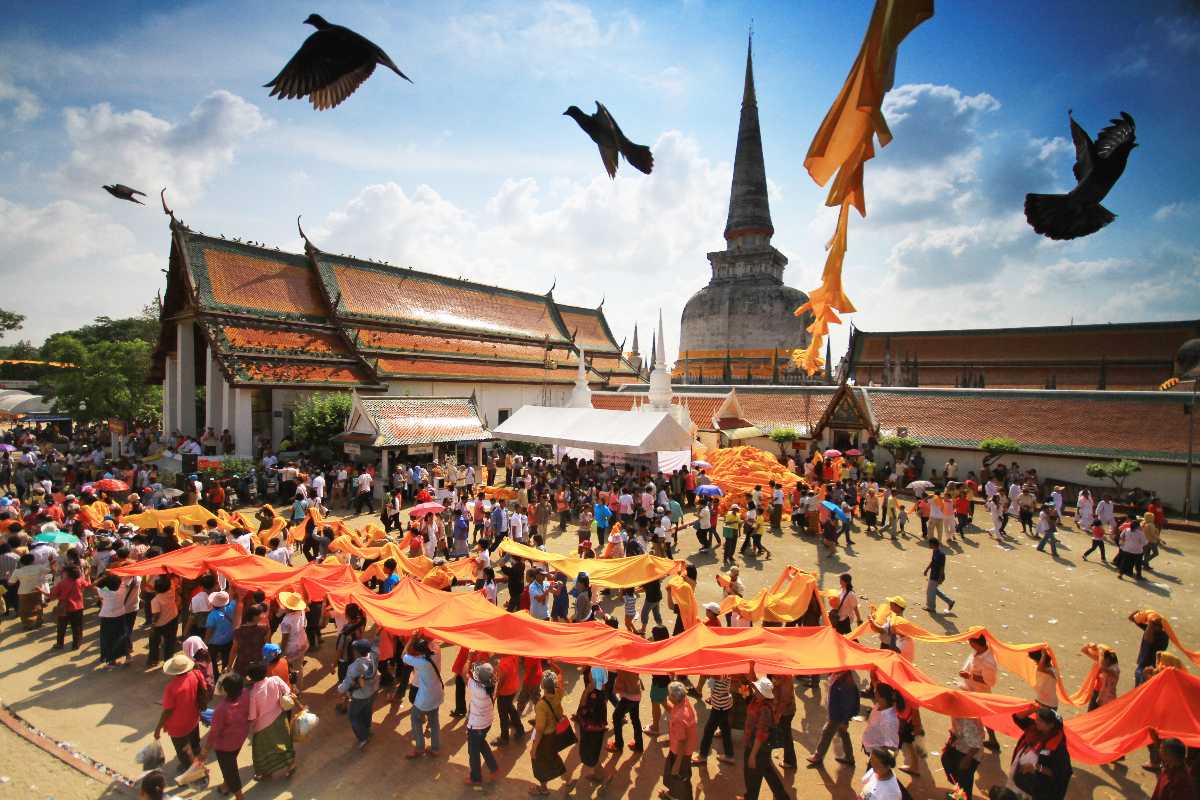 The name of the temple translates to 'Great Noble temple of the Great Relics Chedi. It is one of the earliest temples made in Sri Lankan style, standing in Southern Thailand, dating back to 13th century CE. Being the main temple in Nakhon Si Thammarat province, it is a hub for Buddhist pilgrims. It stands on the main sand bar of Nakhon Si Thammarat on which the ancient and present town was built. A lot of religious practices and rituals were carried out in earlier times in this Stupa. Over the time, it has been refurbished and renovated, but the old charm has not faded, and it still pulls a lot of pilgrims, who continue to donate their valuables here. The temple is believed to be home to a tooth of Gautam Buddha.

Location: Ratchadamnoen Road, Nai Muaeng, Nakhon Si Thammarat
Timing: 8 AM-4:30 PM
Entry Fee: 30 THB and 20 THB for the museum
How To Reach: There are flights, buses, minivans and trains from Bangkok to Nakhon Si Thammarat. The temple is right on the Ratchadamnoen road about 1.5 miles from the city center, and you can get there by Songthaews, which costs just 5 THB.

10. Nakhon Si Thammarat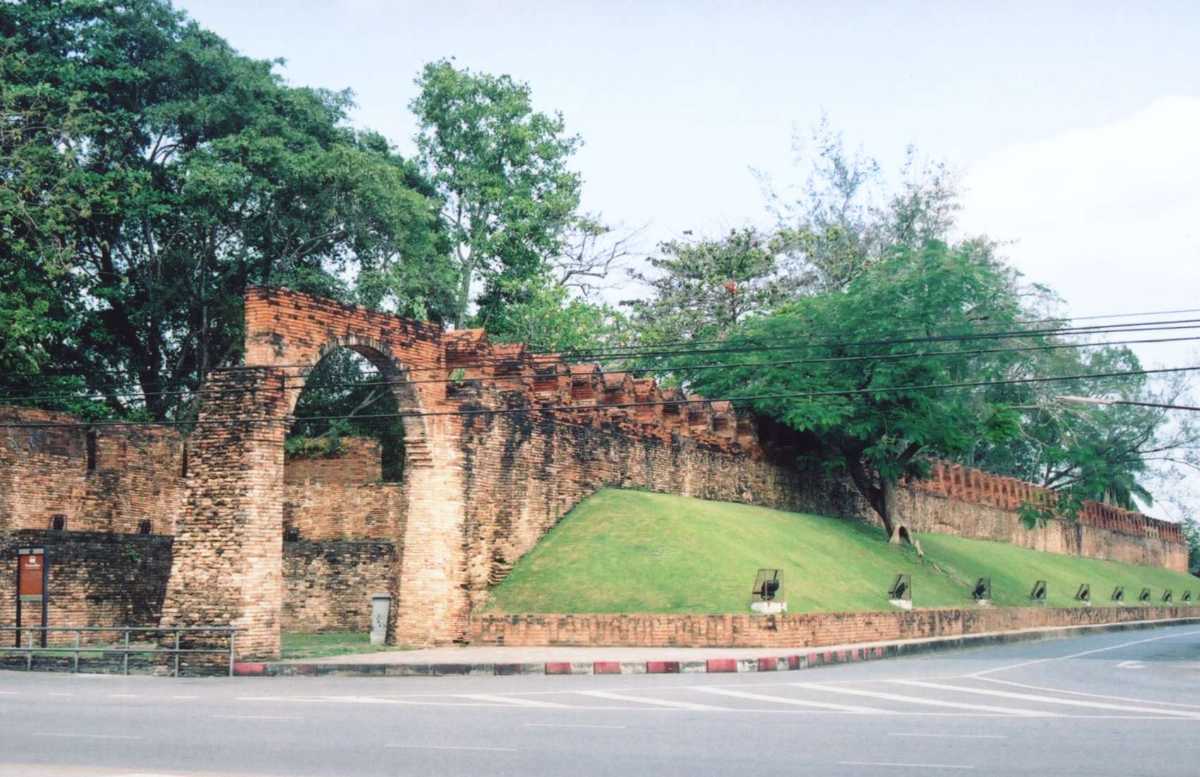 Nakhon Si Thammarat is the second largest province of South Thailand. Apart from picturesque beaches and waterfalls, it is home to buildings and ruins of historical significance. Perfect for history buffs, the historic Red brick old City Walls in Nakhon Si Thammarat can be seen in several sections, close to one another. The city wall is the epitome of endurance and ancientness in the city. While the temple of Wat Phra Mahathat Woramahawihan in Nakhon Si Thammarat remains one of the most popular tourist places, its origins remain shrouded in mystery. Though the city is less developed compared to the Ayutthaya Ruins, one can take a glimpse of Thailand's history through the historical relics and cultural sites at Nakhon Si Thammarat.

Location: Nakhon Si Thammarat, Thailand
Timing: 8 AM - 4:30 PM for temples
Entry Fee: 50 THB (for temple and museum)
How To Reach: There are flights, buses, minivans and trains from Bangkok to Nakhon Si Thammarat.

11. Wat Phra That Phanom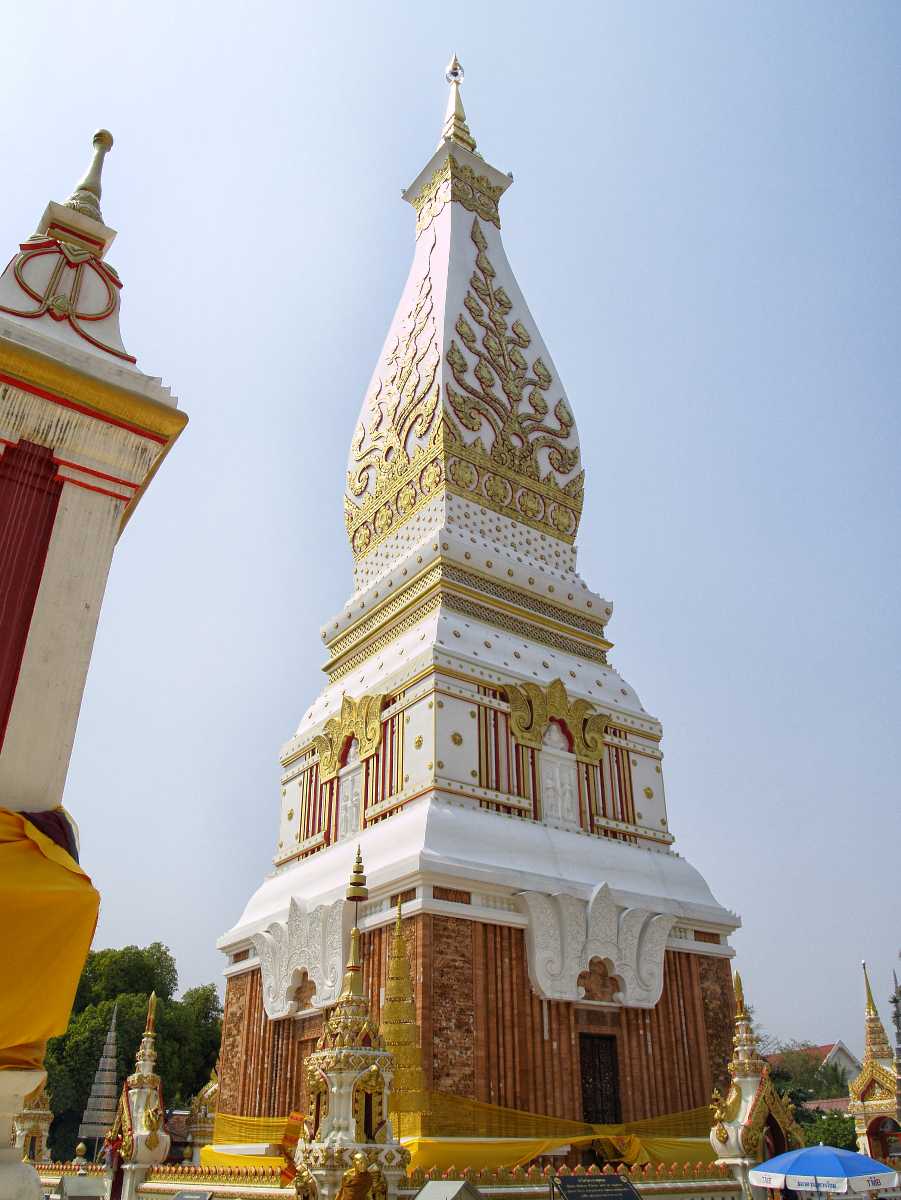 Wat Phra That Phanom is a highly revered temple in the village of That Phanom, near the banks of Mekong River. The most striking feature about the temple is its well-known Chedi, which is 57 meters in height and built-in Laotian style. It is eye-catching and can be seen from afar while approaching the temple. The temple enshrines a breast bone of Buddha, which is revered by the Buddhists. The temple dates back to the 8th century when it was built by five kings of the Sri Gotupura Kingdom, a few years after the death of Buddha. Visit this sacred and essential part of the Buddhist faith in Thailand to take a sneak peek into the history of the life of Buddha.

Location: Off Highway 212, That Phanom Town
Timing: 8 AM to 5 PM
Entry Fee: Free
How To Reach: Take a bus from Bangkok to Wat Phra That Phanom. These buses come from Wat Ratcha Natda Ram and via Bangkok, reach Wat Phra That Phanom in 13 hours 14 mins. There are flights from Bangkok to Nakhon Phanom Airport as well. Also, you can take a car drive to the place.

12. Wat Phra That Doi Suthep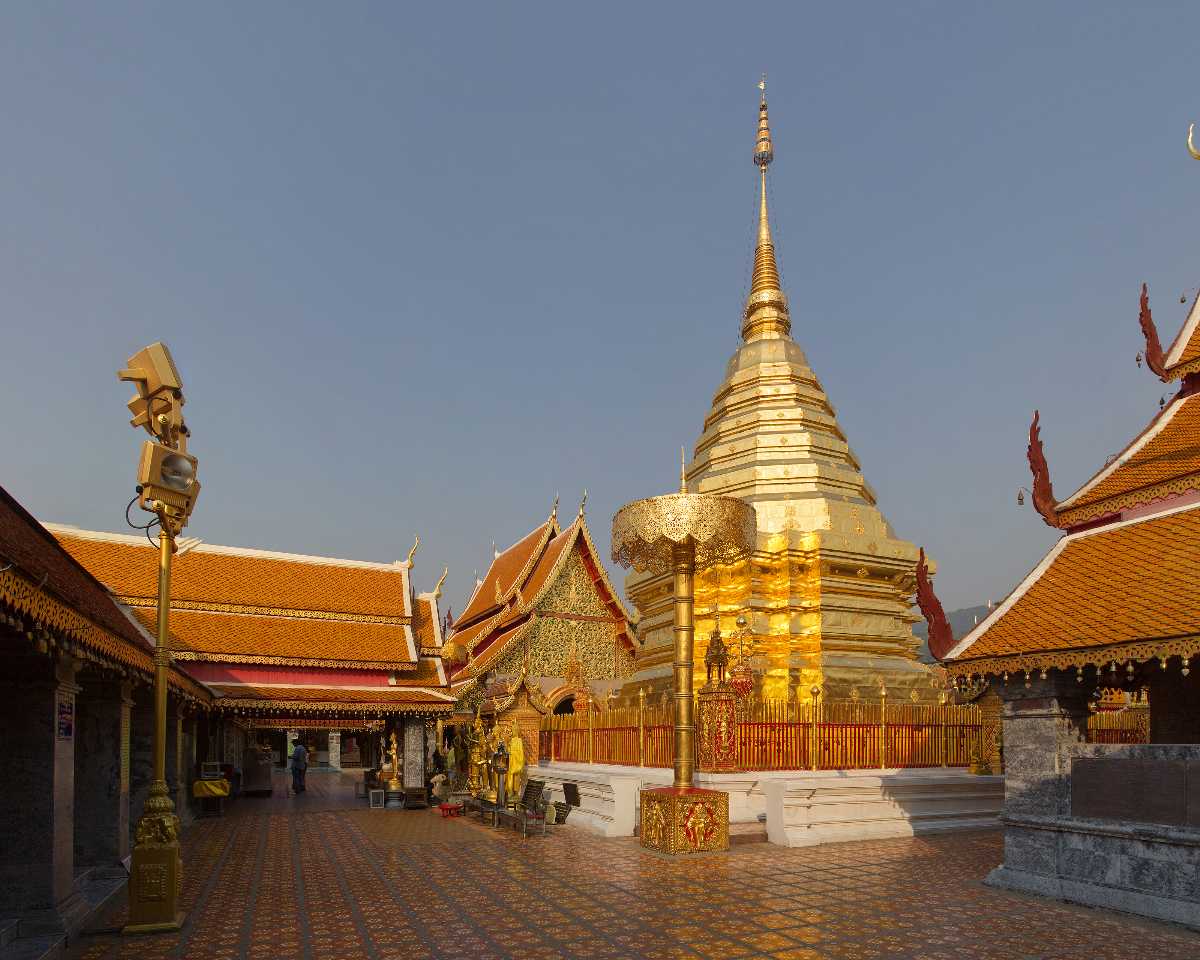 Atop Doi Suthep Mountain on the western outskirts of Chiang Mai, the Way Phra That Doi Suthep temple is one of the most sacred temples in Thailand. The views from the temple and the beauty of the surrounding area are what makes this temple more unique to the tourists. The temple has an intriguing history. The name itself provides an insight into what the temple is. Phra means an honorific image of Buddha and That means a relic. The temple was built back in 1386 and legends say that the temple houses a bone from the Buddha's shoulder. It is believed that a bone was mounted on a white elephant, who had climbed Doi Suthep mountain, trumpeted three times and dropped dead. This unfolding was considered as an omen and hence marked the construction of the shrine. The temple is, therefore, of prime importance to the Buddhist pilgrims.

Location: Th Huay Kaew, Doi Suthep
Timing: 6 AM to 6 PM
Entry Fee: 30 THB
How To Reach: Reach Chiang Mai from Bangkok by either flight, train, car or bus. Then, you can rent a car, motorbike or scooter and go to Wat Phra That Doi Suthep. There are shared taxis and songthaews all over Chiang Mai.

Traveller Tips:
It is considered disrespectful to enter temples wearing short, revealing or indecent clothes. Wear clothes which cover your shoulders, legs or stomach.
Do not hesitate to slip some money into donation boxes wherever you can.
Be courteous and respectful to monks and priests.
Do not make noise inside prayer halls.
Some sites may have a strict no photography policy. Respect it.
Do not vandalise or litter any monuments.
Visiting these cultural sites is a fun way to gather practical knowledge about this grand nation's past. Let your eyes wander freely, over every nook and corner of every beautiful, dying relic, and who knows, you might just discover something entirely new.