Thailand
has an eclectic cuisine, with exquisite dishes that rank high on taste and flavour. And if that wasn't enough, every region in Thailand has its own unique variety of dishes, each more distinct than the other. Northern Thailand, while rich in ancient culture, also boasts of a wide menu of succulent plates involving a plethora of spices, garnishes, meats, vegetables, and curries upon curries, which are not just tastefully thrilling, but also colourful enough to be photogenic. This region of Thailand is a great big party for food lovers who can experiment with as many condiments and combinations they like. These dishes are so glorious, that you will never be able to have enough of them.
1. Sai Oua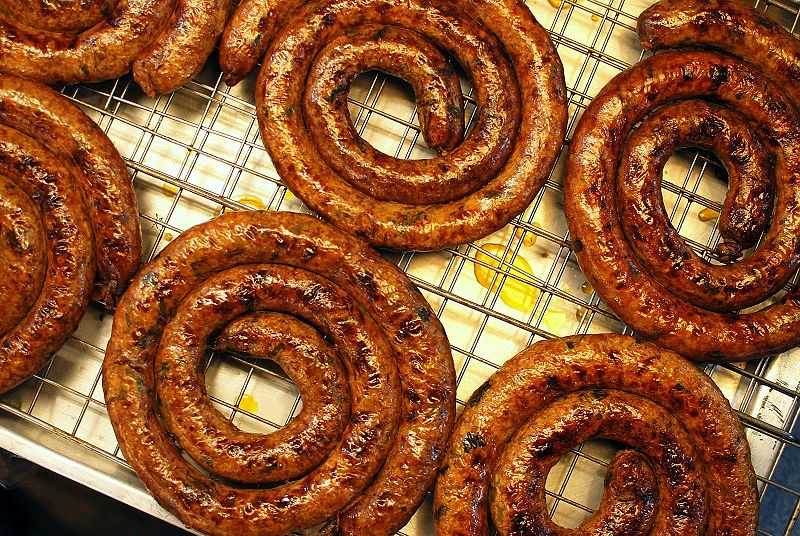 Sai Oua, popular as the Chiang Mai Sausage, are coils of juicy pork sausages that can commonly be found sizzling on roadside grills in every market in Chiang Mai. It is essentially spicy, and packed with tons of flavour from lemongrass, kaffir lime leaves, red chillies, ginger, turmeric and garlic. One bite will transport you to gastronomic heaven, and leave you wanting more. They are eaten as a snack or starter dish, best enjoyed with a serving of Khao Niao (sticky rice) and a chilli dip. And if you become addicted to it, you can also take some home at just THB 300 a kilo.
2. Khao Soi

Khao Soi is the most popular staple dish in Northern Thailand. It is a noodle curry dish, with very tame flavours that your taste buds will enjoy. It has a creamy, coconut curry base, topped with soft as well as crispy egg noodles, pickled cabbage, shallots, lime and ground chilies. Khao Soi comes in several pork, chicken, beef and vegetarian variations, however pork is the most popular choice among locals. One portion usually serves an ample quantity for one person's meal. The dish is so popular that it is found in everywhere in the north, for as low as THB 50 in street food markets.
3. Miang Kham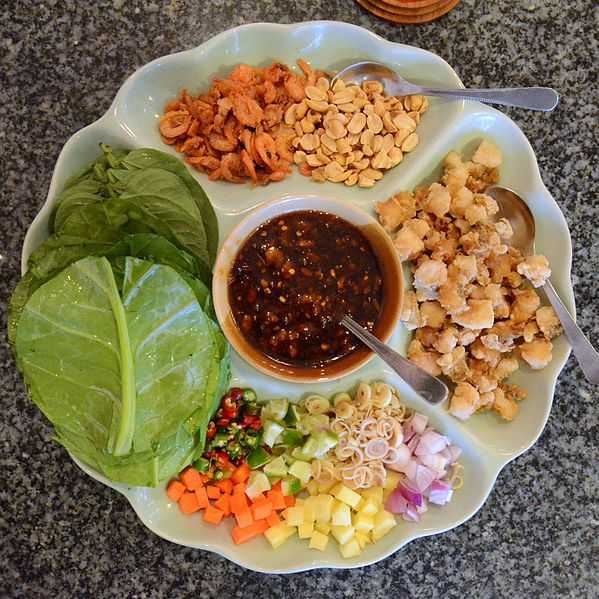 Miang Kham is one of those unusual dishes that you can only enjoy while in North Thailand. It consists of leaf-wrapped delights bursting with local flavours and special spices, perfect for introducing yourself to the food culture of the region. In a do-it-yourself setting, a plate full of Cha Plu leaves, condiments like peanuts, ginger, chillies, lime, shallot onions, coconut and other piquant seasonings are presented to you to experiment with whichever spicy, sweet, sour, tangy combinations appeal to you. They are also conveniently sold in pre-wrapped packets in food markets.
4. Naem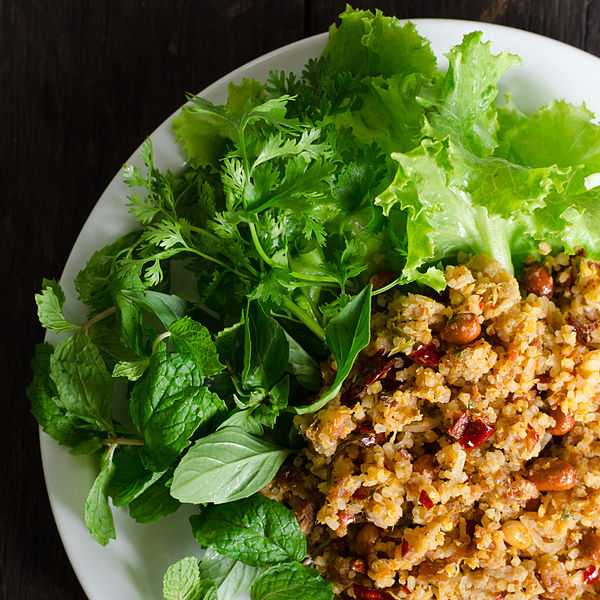 Naem is a form of fermented pork sausage popular in the northern areas. The taste has a unique, sour tang from the two-day fermentation process it goes through. It is consumed in many different forms, most commonly as a minced variation. One of the most famous dishes made using this meat is Naem Khluk, a salad prepared with veggie greens and minced Naem. It can also be served as a side dish mixed with spices, shallot, ginger, peppers and spring onions. Skewered Naem pork is also a common street food found in
Bangkok
.
5. Khanom Jeen Nam Ngiao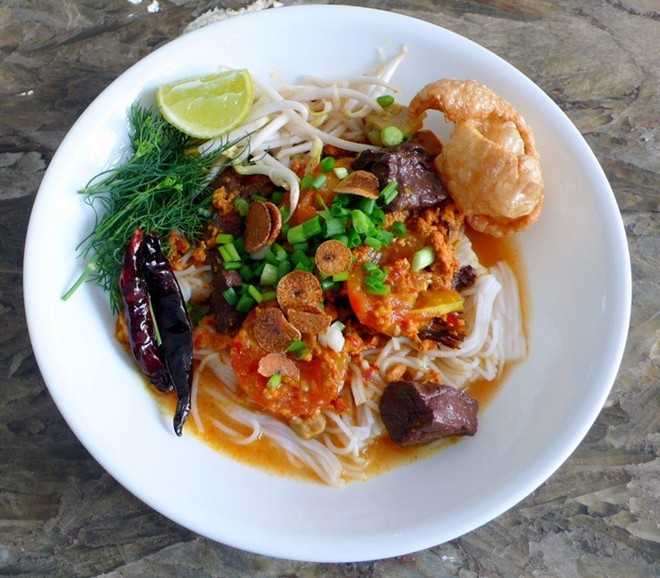 Khanom Jeen Nam Ngiao is a delectable specialty of Northern Thailand. It brings together rice noodles and a spicy tomato curry in a noodle soup curry with an exquisite taste. It is a very wholesome dish, and usually a single bowl serving is more than enough for one individual. Although the dish may seem a little intimidating at first, with ingredients consisting of pork skin, chunks of pig blood, and minced meat balls, it is a much sought-after delicacy. The broth is garnished with lime, beans and pickled cabbage, which gives an exciting twist to the dish.
6. Larb Muang Moo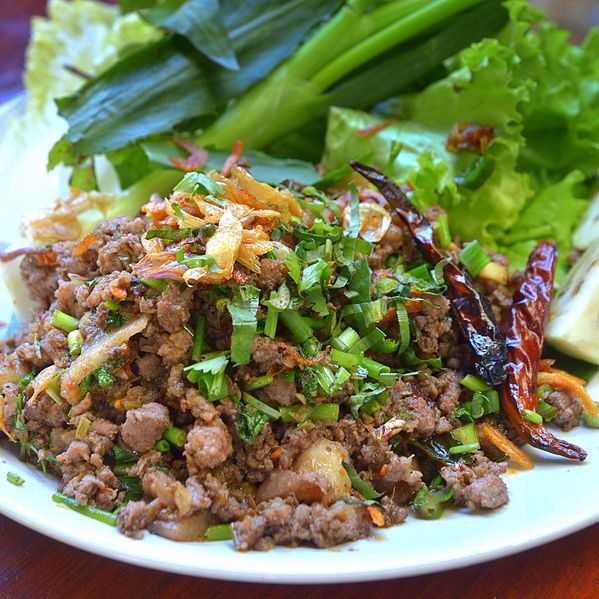 Larb Muang Moo, or simply Laap, is a spicy meat salad, most popular in the northeastern regions of Thailand. It originates from
Laos
, where it is the national dish, but is now eaten in many Southeast Asian countries. In Thailand, the salad comes with choices of meats like chicken, pork, duck, beef. It is dressed with a lot of savoury flavours of mint, fish sauces, herbs, palm sugar, dried chillies and lime. It can be enjoyed with anything from rice noodles, sticky rice, to raw vegetables. There are so many variations to Larb that you can try a new one everyday, and never get bored.
7. Kaeng Khanun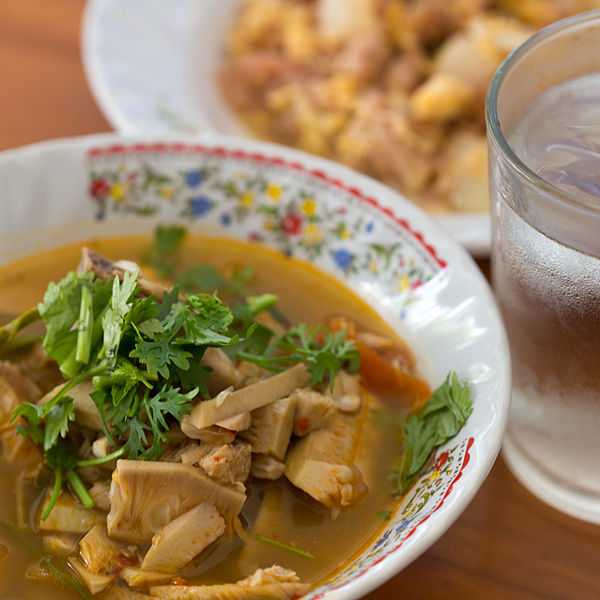 One of the few exclusively vegetarian dishes in Northern Thailand, Kaeng Khanun is a soup curry made with pieces of unripe jackfruit. The dish looks like a farm-fresh bowl of veggie goodness, with sizeable amounts of green jackfruit, cherry tomatoes, betel leaves, dried chillies, and herbs creating a colourful curry. Although it is not considered an extraordinary dish locally, it is quite similar to Tom Yum soup which makes it a must-try for foreign tourists. Meat lovers can also request for pieces of pork in their soup.
8. Kaeng Hang Lei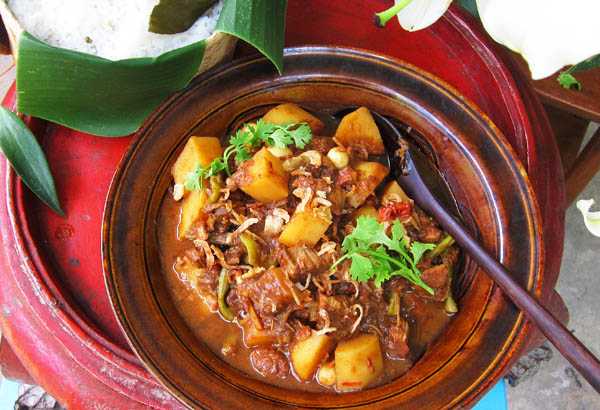 Originally Burmese, Kaeng Hang Lei is a delicious pork curry, mild in taste, but nevertheless very flavourful. It consists of tenderly stewed chunks of pork belly, infused with a fresh tomato puree curry, garnished with a variety of spices like ginger, garlic and tamarind. The taste of tomato in the dish packs a fruity punch, perfect for people with low capacity for spicy food. It can be combined with a serving of Khao Niao to give the meal a truly traditional feel, because that's how the locals do it. It is a favourite at daily markets and Thai festivals up north.
9. Sai Krok Isan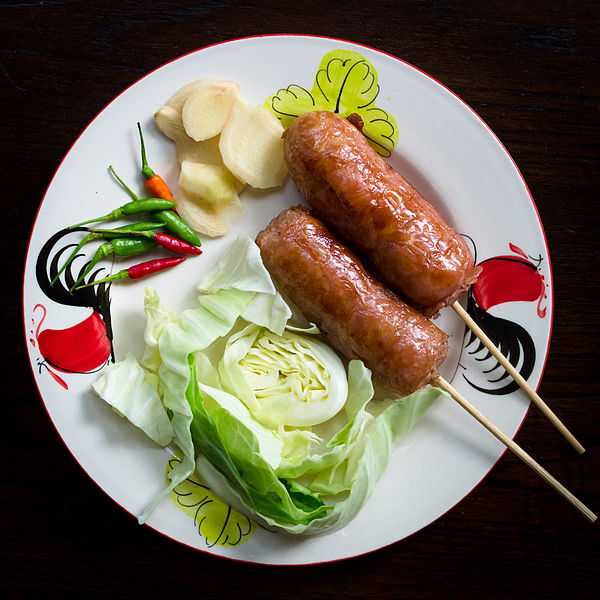 Sai Krok Isan is yet another type of pork sausage originating in Northeast Thailand, but popular all over the country. It is a fermented dish, prepared with a combination of pork rinds and rice, which is shaped into sausages or meatballs. While it's quite fatty, it has a wonderful burst of tangy flavour that makes it hard to resist. It is a staple street food snack, and can even be found on sidewalks in Bangkok. It is combined with chilli sauces, raw spiced cabbage, and sliced ginger to create a complete meal.
BONUS:
These food items are generally eaten as side dishes or accompaniments to main meals. They are essential to almost all Thai dishes, and are unmissable if you are visiting Thailand.
Nam Prik Ong & Nam Prik Noom (Chilli Dips)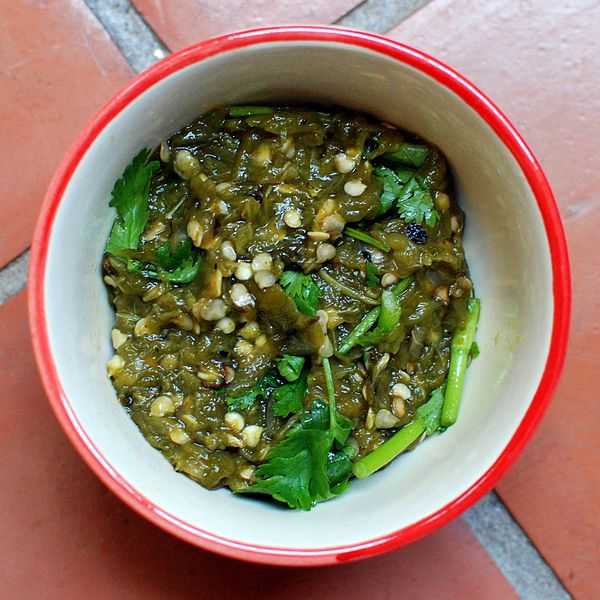 Nam Prik Ong is an essential part of an elaborate meal in North Thailand. It is a flavourful dip, consisiting of a blend of red chilli, bird's eye chilli, tomato and ground pork to give you a fiery experience. Sometimes, additions of beans and shrimp are also made to enhance the dip's taste.
Nam Prik Noom on the other hand is a chilli dip made from toasted green chillis, onions and garlic. The consistency is not saucy, but rather thick which gives it an extra edge. These dips may appear dangerous, but serve as fine companions to all meals, by bringing out their taste even better.
Khao Niao (Sticky Rice)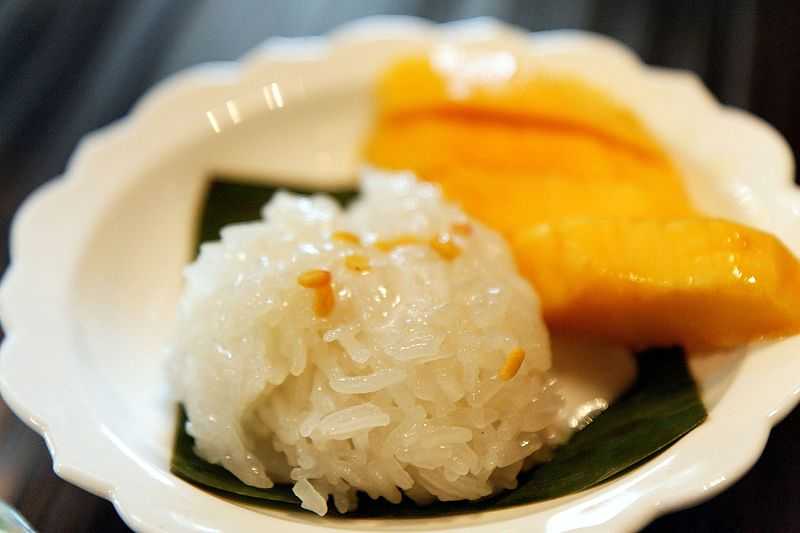 Khao Niao is undisputably among the most consumed foods across Thailand. Locals believe that no meal is truly complete without a serving of khao niao. It is a type of sticky rice, made from glutinous rice grains, which is essentially similar in taste to regular rice, except that it has a gluey texture. Apart from being a food item, khao niao also has ample cultural significance, with locals and farmers celebrating its harvest season and praying to the Gods. As a meal, it can be paired with absolutely anything, but some people even enjoy eating sticky rice all by itself. It is mostly consumed with curries, dips, or noodle soups. Many popular desserts also make use of sticky rice, such as Khao Niao Sangkhaya (sticky rice with custard) and Khao Niao Mamuang (mango with sticky rice).
You may never have heard of or seen these foods before, but they form a huge part of Thai cuisine, and by extension Thai traditions. Indulging in a foreign country's cuisine is a great way to know about the country and its people, and experience their true essence. So if you are in Thailand, do make it a point to travel to the north and try each of these new dishes. You will not regret it.