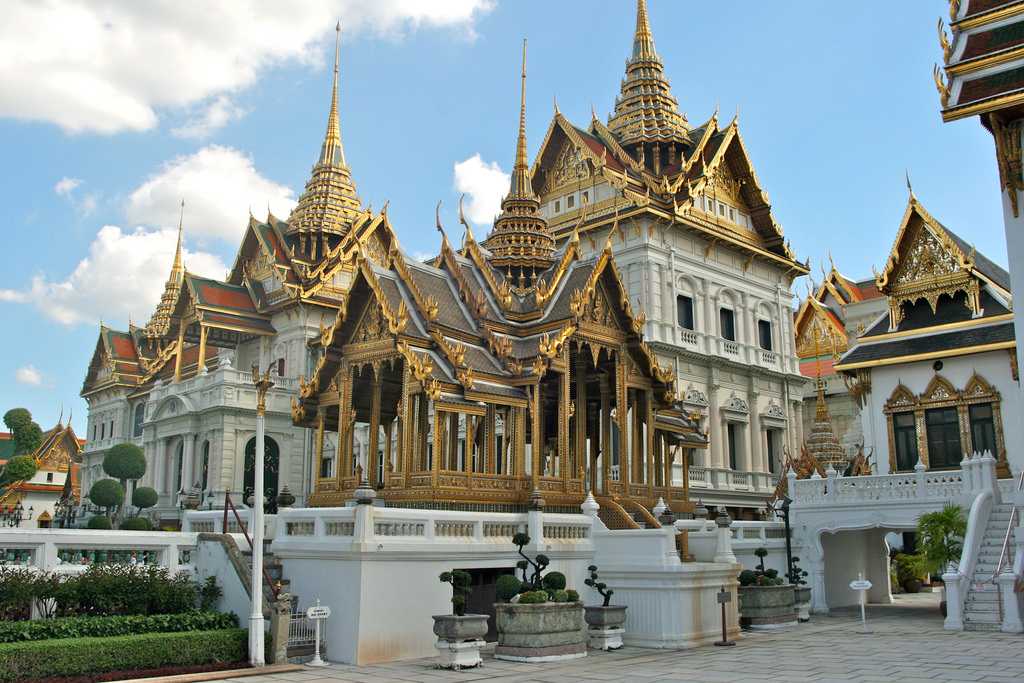 The Grand Palace is an architectural beauty reflecting the grand history and culture of Thailand, resting peacefully at the banks of the Chao Phraya River.
Brief Guide Through the Palace
As you enter the Palace through the main entrance, on your left will appear a vast conglomerate of perfectly aligned buildings adorned with crimson sloping roofs and golden spires. The large bell-shaped stupa with a tall pointed spire represents the Buddha and his path to enlightenment.
Zones of the Palace
The Grand Palace consists of 4 major zones: the Temple of the Emerald Buddha, the Outer Court, the Inner Court and the Middle Court.
Thung Phra Men

There's a large field, Thung Phra Men at the north of the Palace which was used as an open space for royal ceremonies and as a parade ground.
A City Within A City
The high, whitewashed walls, massive forts and guard posts of the palace bear significant similarity to the walls of Bangkok, thus granting it the name 'a city within a city'.
Chakri Maha Prasat

Another prominent building within the Grand Palace and also one of the largest is the Chakri Maha Prasat meaning the throne hall which seats the throne of the king. The Throne Hall was established in the reign of King Chulalongkorn (King Rama V).
A Thai - Western Blend
The throne was designed with an eccentric blend of Thai and western culture, which also depicted the change in Thai society and the influence of the west. The western design illustrated modernisation of the Thai community, whereas the traditional Thai design displayed the power of the Thai king, the Thai belief, and the rich Thai culture. The exterior of the Chakri Maha Prasat is a blend of Thai and Italian renaissance indicating the deeply rooted trades in the olden days. The Grand Palace is an architectural wonder which will astonish anyone with its beauty.