The Story of Phi Ta Khon Festival, or more commonly known as the Ghost Festival of
Thailand
dates back to a long time ago. It is said Prince Vessantara (Buddha in his past life) went on a long journey. It was a journey so long that most of his followers believed he was dead. Surprisingly, one day, he returned, alive and in good health. His followers rejoiced, and the celebrations that followed were so strident that it resulted in the awakening of the dead.
Since then, the celebrations have continued. After much evolution, the festival of Phi Ta Khon has become one of the most fun celebrations to be part of in Thailand, the land of smiles, and a more significant part of Bun Pawet, a Buddhist merit-making festival.
What is Phi Ta Khon Festival (the Ghost Festival)?
In this three day festival, townspeople dress up in ghost masks - which is also the actual translation of the festival name - and make merry by participating in parties and parades on the Dan Sai district in the Loei province. This is also a time when people's creativity comes into play. The colourful and vibrant masks are a sight for sore eyes, and can even get pretty scary at times. Skillfully handcrafted from dried sticky husks, these masks are generally white and have long noses.
Where is Phi Ta Khon Festival Celebrated?
The festival is celebrated in the agriculturally driven Dan Sai district. It is situated in the Loei Province of northeastern Thailand. This tradition is unique to Dan Sai in Thailand but inculcates elements from other festivals such as the 'Rocket Festival' from Isan. 
Phi Ta Khon Festival Dates 2019
The festival will take place from 5th July 2019 - 7th July 2019. Although the dates change every year, one can easily get to know about it because the buzz about it is created months before the event take place. Most of the action takes place on the first starting day of the festival when the locals make an effort to wake the dead spirits up. People dancing on the streets in beautiful, yet creepy costumes, participating in fun-filled games and walking in parades is a common sight on the first day.
How Is Phi Ta Khon Festival Celebrated?
What was once a children's festival - kind of like Halloween - has gradually turned out to be an elaborate festival for the artists. The primary attention of every festival-goer would fall on the great monstrous mask, with terrifying teeth and evil eyes. Legend says that it is meant bad luck to keep your mask after the festival gets over, but as times have changed, people now sell their masks and make good money out of it. The masks catch the eye of tourists, and thus, the prices can go as high as thousands of Bahts. And it's not easy to make the costume. Hours and hours of hard work is required to make a costume which when patched together should not restrict the dancers' movement and also attract the locals and tourists at the same time.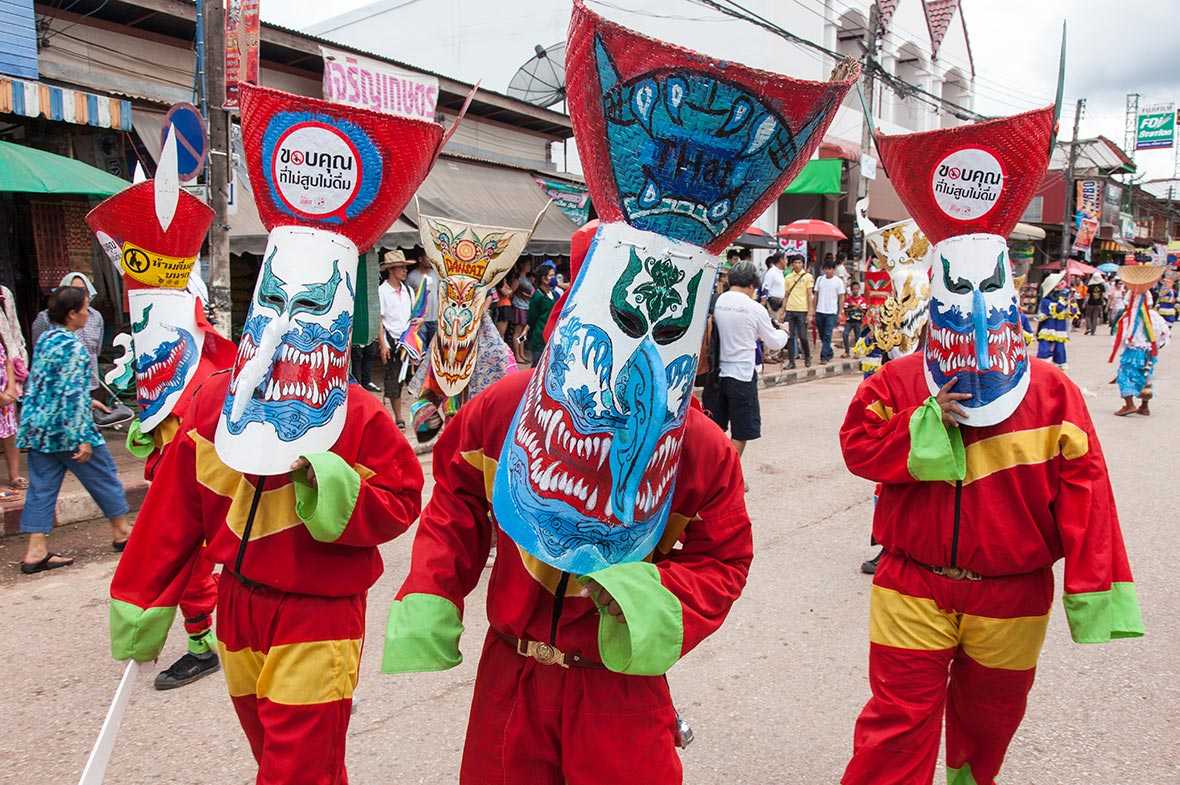 An exciting aspect of this festival is the sexual undertone that lies in every costume that's showcased during the 3-day festival. It's not hard to notice that most of the costumes have a gigantic phallus. Dancing and parading around the town, people love to boast this eerie feature of their costume, especially to women. There's creativity in crafting the phallus too, as each would have a distinct feature. Some are sword-shaped, some look like a cannon, and it won't be a surprise if you come across a group of people playing with it and clicking pictures of it. All these activities are in good taste and mean no harm to either of the genders. It, along with gallons and gallons of alcohol sets a festive mood in the laid-back town otherwise.
You will be happy to know that the local population of Loei is always friendly and welcoming. They will be more than happy to share details of their culture with you and make sure that you are an integral part of their celebrations. They will also be excited to pose for photos so keep that camera ready to catch the excitement as this is a memory you wouldn't want to forget ever.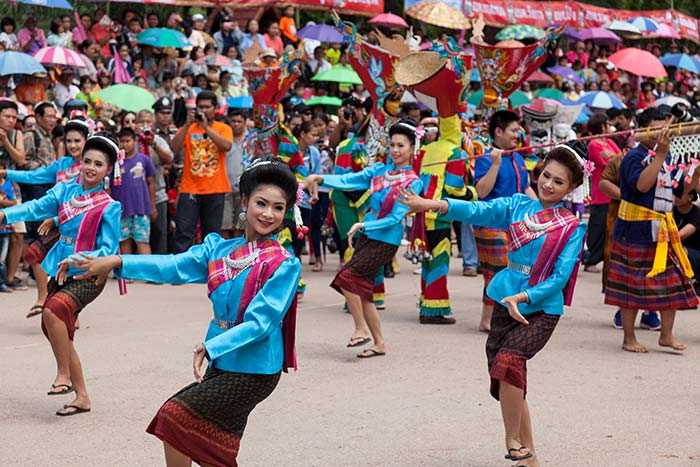 Next day, the villagers; all hungover, attend Buddhist sermons in the nearby temples.
How to Reach Loei Province?
There are multiple ways to get to the Ghost Festival in Dan Sai, Loei Province. You can either take a flight from
Bangkok
(there are generally 4-5 flights every day connecting the two destinations). You can also take a bus which will take about 9 hours from Bangkok which would cost you THB 130 to THB 600.
Phi Ta Khon or the Ghost Festival, without a doubt, will be one of the most enthralling festivals that you will ever come across. So without further ado, plan that long due trip to Thailand and be part of a never-seen-before commemoration. This will also bring about the realization in you that Thailand is much more beyond its beautiful beaches. The country brims in culture and heritage, which comes out in the form of unique festivals, such as this one.