Thailand
can easily be recognised as the land of temples, with a staggering 40,717 Buddhist temples dotting its geography, indicative of the deep religious faiths of the country and its people. A foreigner's itinerary of Thailand should most definitely include one or more temples, and with good reason. There are several temples in Thailand to choose from, each more revered, special and enchanting than the last. This list curates the most beautiful temples in Thailand, temples with such unbelievable splendour that you would only have to see for yourself to believe.
Here are the 10 temples in Thailand for a unique visual and spitural experience.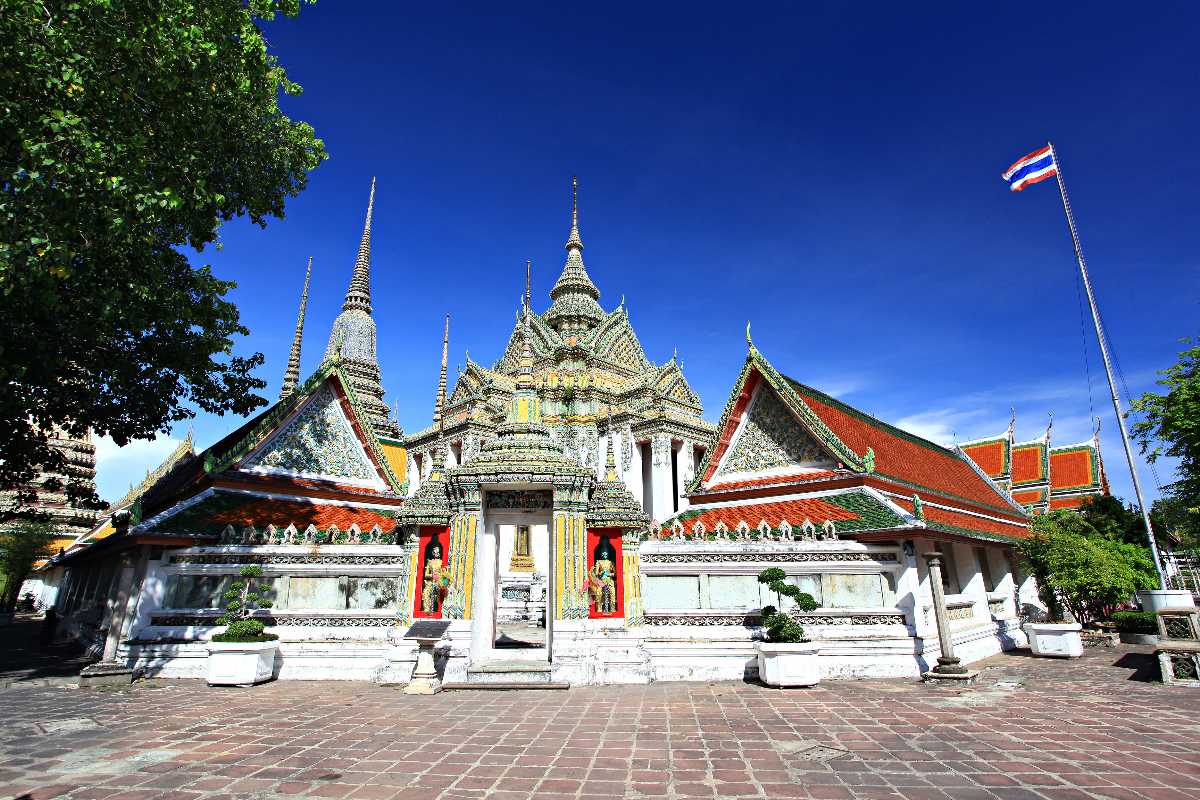 Wat Pho, commonly recognised as the Temple of the Reclining Buddha, is an old Buddhist temple in Bangkok, located in the vicinity of the Grand Palace. One of the few temples in Thailand to be accorded first-class royal status, Wat Pho sees a heavy footfall all through the year due to the highly revered marvel it houses- a gigantic 46 metre long golden reclining Buddha. It was built by King Rama III in the 19th century and symbolises the passing away of Buddha into nirvana. There are 91 stupas, around a 1000 Buddha images and a descendant of the holy Bodhi Tree from Bodhgaya, India. Wat Pho is popular as being the birthplace of Thai medicine and massage, a practice it continues to pursue, offering educational courses pertaining to this area of study.

Location: Phra Nakhon District, Bangkok
Timings: 8:00 AM - 6:30 PM
Entry fee: THB 100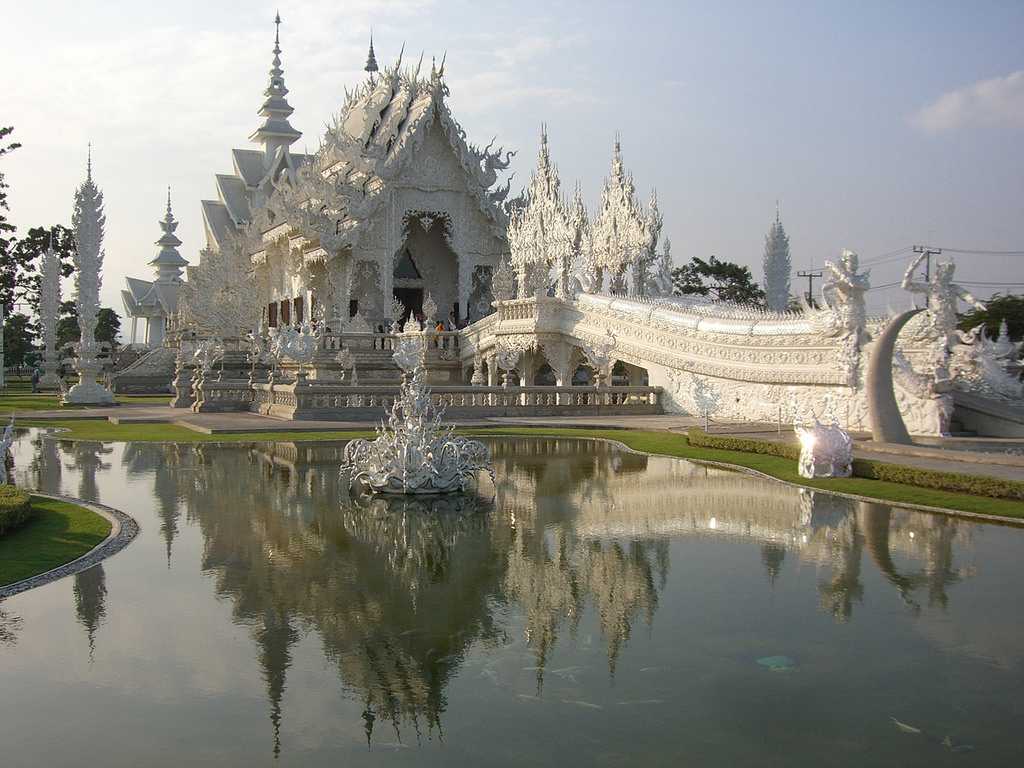 Wat Rong Khun, also known as the "White Temple", is hands down the most attractive out of all the temples in Thailand, perhaps Asia itself. It looks like a sight straight out of the Narnia films, with its white castle-looking temple standing gracefully against a pond and widespread greenery, looking like a surreal visual marvel. Every detail of every structure symbolises Buddha's teachings. Designed by Chalermchai Kositpipat, a famous Thai artist, the temple till date stands incomplete since the ubosot, meditation hall, monk residences, etc. are yet to be built.
Location:
Chiang Rai
Timings:
Temple: 6:30 AM - 6:30 PM,
Museum of Paintings: Monday - Friday: 8:00 AM - 5:30 PM
Entry fee:
THB 50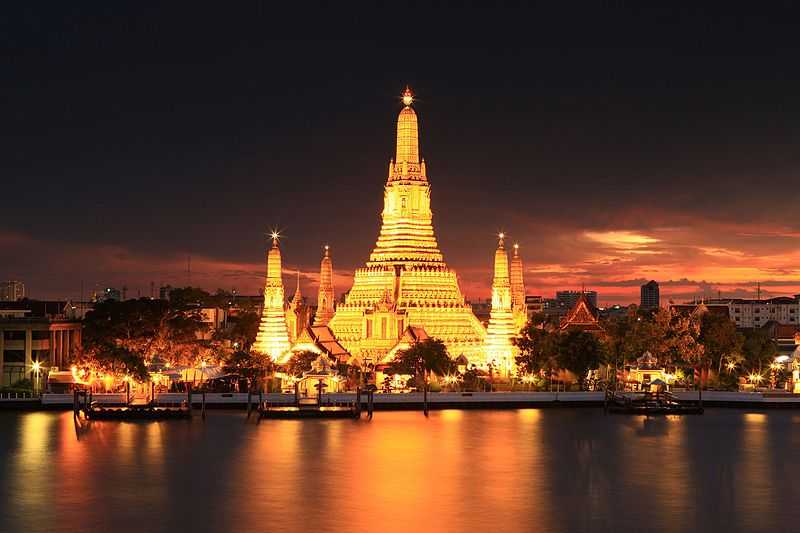 Wat Arun bags the top position for being the most distinguishable out of all the temples in Thailand, as it can be easily identified on postcards and souvenirs from the country. It is one of the six Royal Temples in Thailand, and the most dazzling of them all. It stands on the riverbanks of the
Chao Phraya River
, where its gilded 80-metre prang shoots into the sky, visible from miles away. The complex consists of halls, pavilions and over a hundred Buddha images, all of which denote significant periods from his life. A view of the illumined temple is best enjoyed from a night cruise along the river.
Location:
Opposite Tha Thien Pier, Khet Bangkok Yai
Timings:
8:00 AM - 5:30 PM
Entry fee:
THB 100
4. Loha Prasat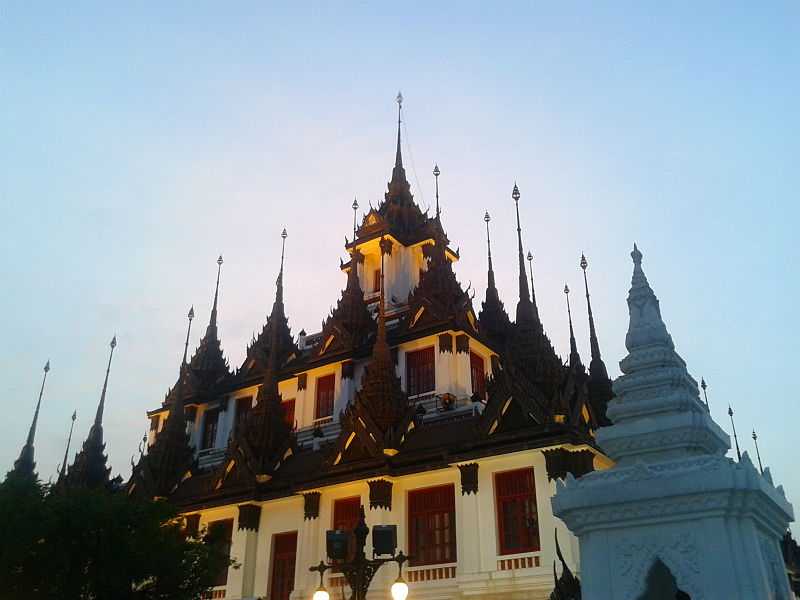 Loha Prasat, literally translating to Metal or Iron Castle, was built in the 19th century by King Rama III. It is one of the most unique temples in Thailand, with 37 black metal spires poking into the sky, each representative of the 37 virtues needed for enlightenment. Inside, the ground floor has meditation cells where monks sit chanting prayers, while stairs lead up to a shrine where the Buddha's relics are preserved, and a walkway which offers an attractive view of the surrounding areas. Well-maintained gardens adorn the Wat compound, and a popular amulet market adorns the temple's back lanes.
Location:
Bowon Niwet, Phra Nakhon, Bangkok
Timings:
8:30 AM - 6:00 PM
Entry fee:
Free entry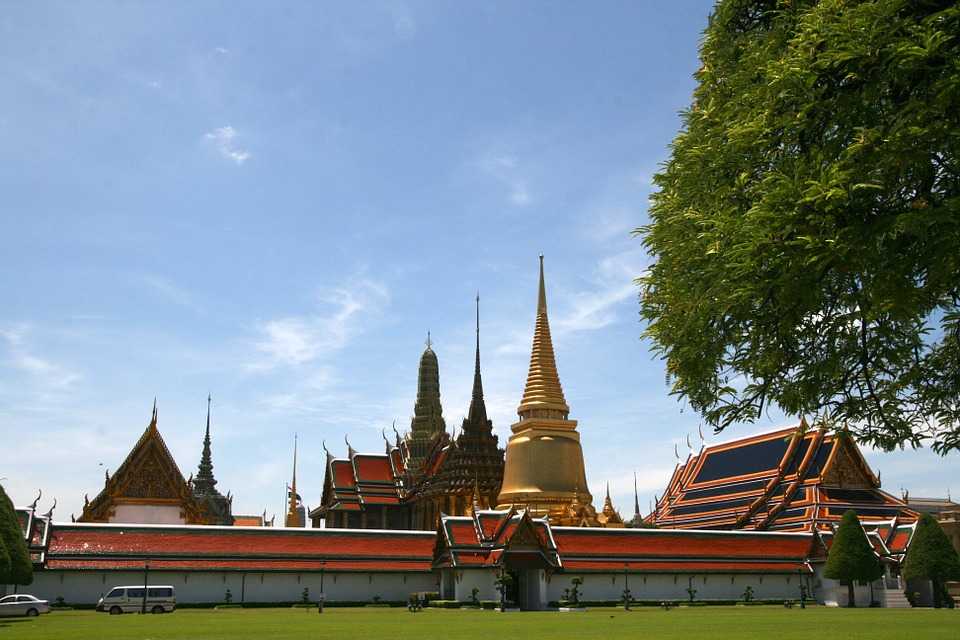 Wat Phra Kaew stands undisputed as the most sacred and most visited amongst all the temples in Thailand. The Temple of the Emerald Buddha, as it is more popularly known, is situated within the grounds of the Grand Palace, and houses the holy emerald statue of the Buddha. The image is carved from a single piece of green jade and heavily attired with precious jewels. The history of the image's origins are disputed, but it is generally agreed that it was built in India sometime during 50 BCE. The image, regarded as the protector of the country, cannot be touched or approached closely by anyone except the King.  
Location:
Phra Nakhon District, Bangkok
Timings:
8:30 AM - 3:30 PM
Entry fee:
THB 500 for combined ticket with The Grand Palace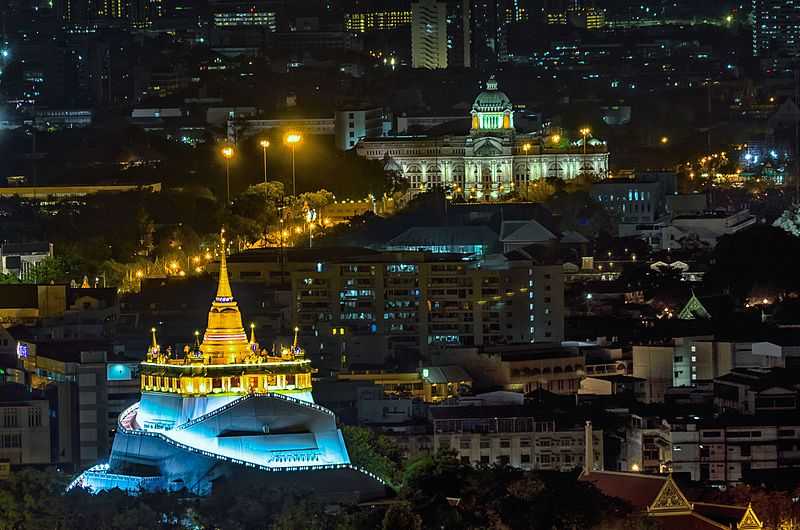 Wat Saket is one of the oldest temples in Thailand dating back to the
Ayutthaya
era. It initially served as the resting place for the cremated, especially during King Rama's II reign when thousands of poor people died in an epidemic and their ashes were laid to rest here. The marvellous golden stupa is built upon a hill, known as the Phu Khao Thong or Golden Mount, while the temple itself stands at the base of the hill. Ironically, most people miss the small temple, and ascend to the hilltop, since the relics of Buddha are enshrined there. If you plan to visit Thailand in November, do attend the
Loy Krathong
ceremonies at Wat Saket, where a procession of candle-bearing locals climb up to Golden Mount at night in a grand ceremony.
Location:
Thanon Ratchadamnoen Klang, Bangkok
Timings:
9:00 AM - 5:00 PM
Entry fee:

For temple: Free entry
For chedi: THB 10
7. Wat Tham Pha Plong
Wat Tham Pha Plong is a small Buddhist temple, concealed in the thick forests of the Chiang Dao mountains. A stairway of 500 steps flanked by majestic Naga sculptures marks the ascent up to the temple. Though the trail is lengthy, it never ceases to be enjoyable since the peaceful sounds of nature keep you occupied throughout. The temple was built as a meditation centre for the monk Luang Poo Sim. It has an architecture that is both rustic and refined at the same time, with the prayer hall being located in a cave-like structure. A monastery is also situated here, where you can find several monks busy in prayer or meditation. A visit to this temple is must on your
Chiang Mai
itinerary, since it includes hiking, nature walks, praying and meditating collectively.  
Location:
Chiang Dao, Chiang Mai 
Timings:
Daylight hours
Entry fee:
No entry fee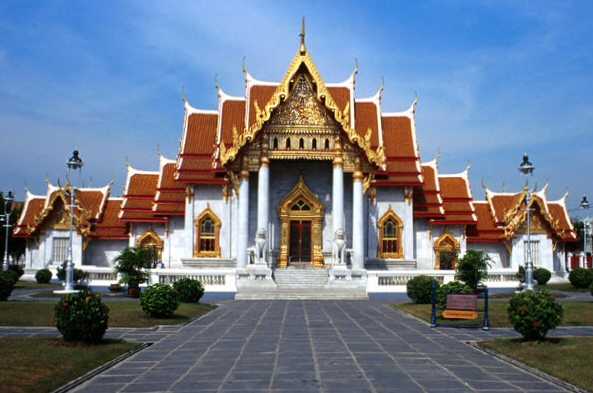 Wat Benchamabophit, or the Marble Temple as it is more commonly known, is one of the few temples in Thailand that is accorded a first-class royal status, and lies in the vicinity of Dusit Palace. The temple, pillars and courtyard are all made of Carrara marble imported from
Italy
, lending an elegant look to the entire structure. The temple is a fine example of traditional Thai architecture, with gold and white engravings, motifs of lions guarding the entrance and multi-tiered roofs. Galleries near the ubosot display 52 images of Buddha, of varied styles and periods.  
Location:
Dusit, Krung Thep Maha Nakhon, Bangkok
Timings:
8:00 AM - 5:30 PM
Entry fee:
THB 20 
9. Wat Phra Singh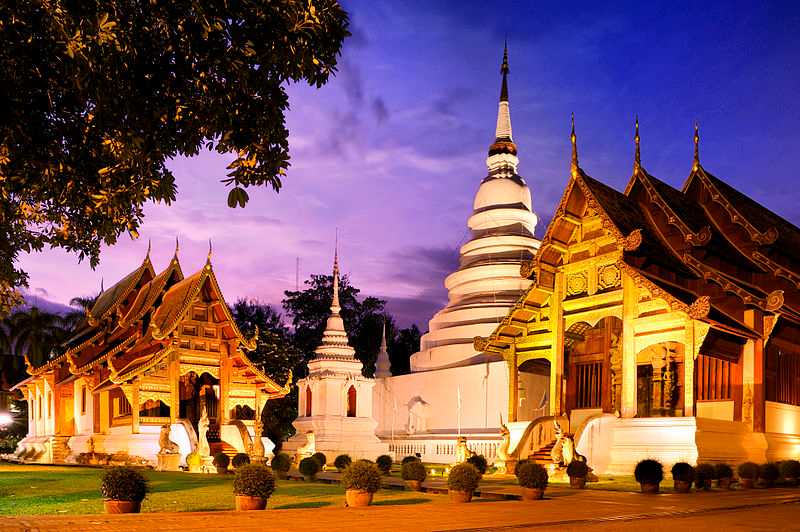 Wat Phra Singh, or alternatively The Monastery of the Lion Buddha, is an old, albeit attractive temple in Old Chiang Mai city. Due to its construction in the 14th century during the era of the Lanna Kingdom, the temple structures flaunt an impressive architecture made in classic Lanna style. The viharn, or the assembly hall, is carved with rich gold and ochre detailing, with mural walls narrating stories from the Buddha's life. Another viharn houses a highly revered large Buddha image, and several smaller ones. The temple grounds also have a scripture library which stores ancient texts, monk residences, and another building containing a golden reclining Buddha.
Location:
Westernmost end of Ratchadamnoen Road, Chiang Mai
Timings:
6:00 AM - 5:00 PM
Entry fee:

For temple: Free entry
For viharn: THB 50
10. Sanctuary of Truth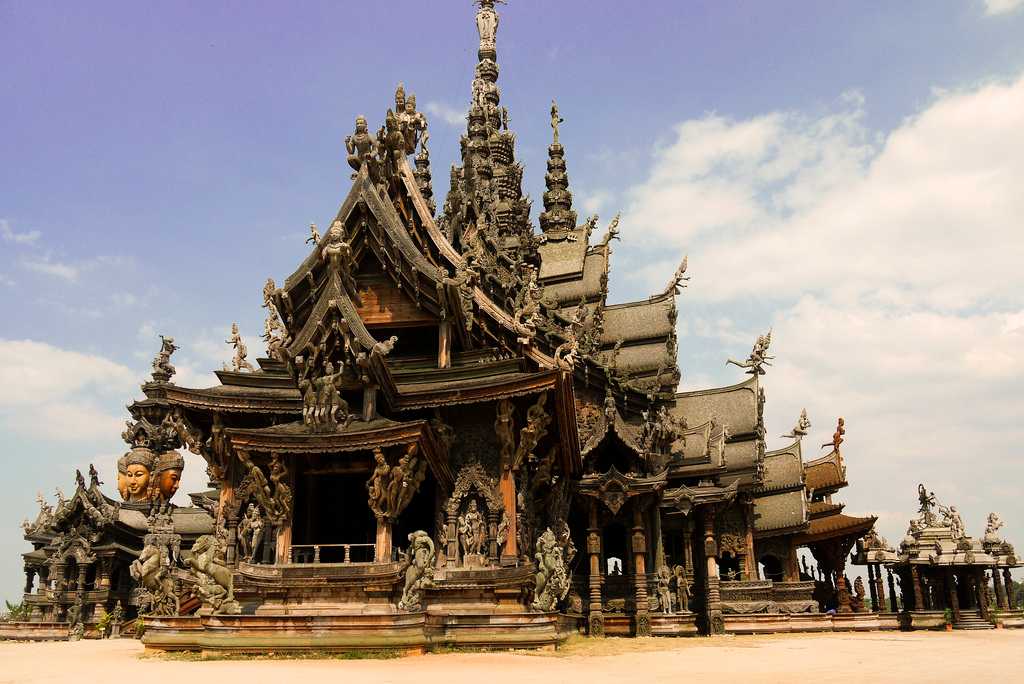 The Sanctuary of Truth is a temple overlooking the sea in North
Pattaya
. It can best be described as an architectural wonder and is a tribute to the skilled dexterity of Thai craftsmanship. A completely wooden structure that is still progressing towards completion, it is minutely carved with multicultural patterns from Thai, Cambodian, Indian and Chinese traditions. It is an unusual temple, devoid of the principal deity image found in all other temples in Thailand, instead depicting many deities from many eastern cultures. It can primarily be considered as a centre commemorating virtues of human beings, the importance of art, philosophy, life, and faith. The Sanctuary of Truth may not qualify as a conventional temple, but is a great place to offer prayers and strengthen your beliefs.
Location:
206/2 Moo5, Pattaya-Naklua Road Soi 12, Pattaya
Timings:
8:00 AM - 5:00 PM
Entry fee:

Adults: THB 450,
Children: THB 225
Traveller Tips:
It is considered disrespectful to enter temples wearing short, revealing or indecent clothes. Wear clothes which cover your shoulders, legs and stomach.
Keep a scarf handy, in case a temple instructs you to cover your head.
Do not hesitate to slip some money into donation boxes wherever you can.
Be courteous and respectful to monks and priests.
Do not make noise inside prayer halls.
Some temples may have strict no photography policies. Respect them.
Do not vandalise or litter any temple grounds.
It is a delightful experience, in any country, to closely get to know their age-old traditions, and thus indulge in their culture. It helps towards creating a more sensitive, accommodating and close-knit world. So visit these temples in Thailand, for they will enrich your faith and then floor you with their beauty.