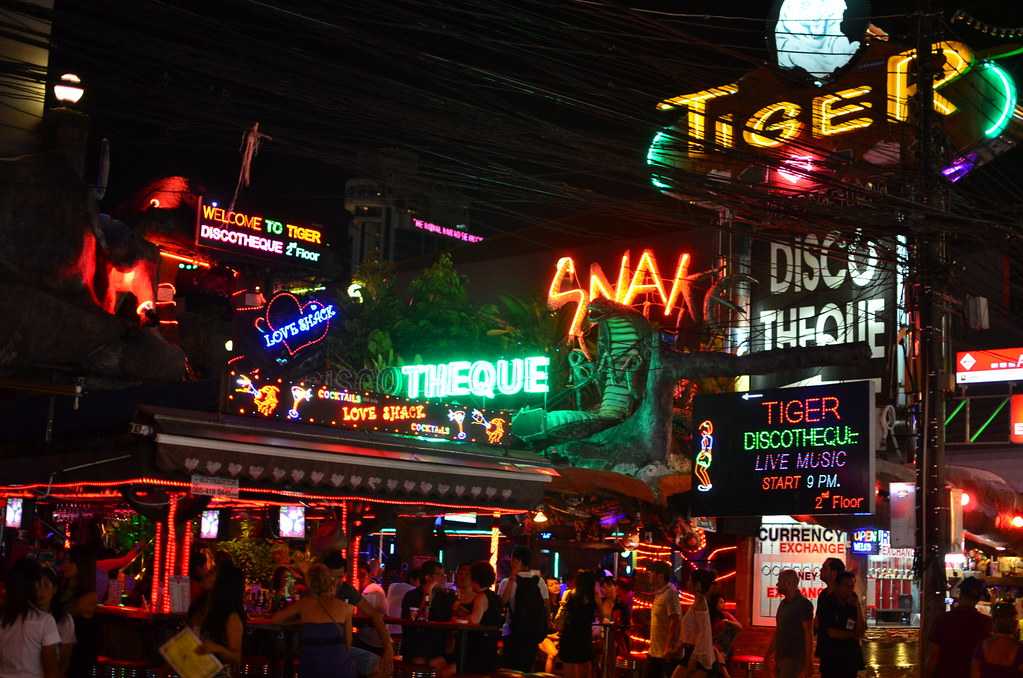 As the sun goes down, Bangla Road comes alive. Many things make nightlife in Bangla Road an outrageous yet fun affair.
First, there are a host of restaurants and bars that have good food and cheap drinks. K & K Restaurant, Yo Vegan Restaurant one of the few restaurants with good vegan and vegetarian options, Swensens, Da, Mario, No. 6 are some of the most popular restaurants on Bangla Road.
Beer Bars
For those who swear by beer as their choice of drink, there are some exclusive Beer Bars on Bangla Road. These have a wide range of beers that any Beer connoisseur will enjoy.
Irish Bars
The Irish Bars here have live performances from local bands and singers and are perfect for those looking for a fun but not too loud evening.
Discotheques
Those who like to party hard can head to the discotheques or Go-Go Bars. These are bars that have Go-Go dancers on platforms or around the bar to keep the customers entertained. Suzy Wong's A-Go-Go is the most famous Go-Go Bar on Bangla Road.
Ladyboy Clubs
There are also some of the hottest nightclubs with bar girls and Ladyboys on Bangla Road. Illuzion and Seduction are the most well known of these.
Cabaret Shows
There are cabaret shows at some of the nightclubs like Tiger Nightclub and Illuzion. These feature both women and Ladyboys and can be fun for those who don't mind some tease.
Ping Pong Shows
The controversial Ping-Pong shows are also found on Bangla Road. Here women play with many items with their private parts to create a dramatic effect. Most of these shows have no fee, but the places that have the show charge pretty steep prices for drinks, and you need to spend on the same to watch the show.
Bar Games
Some of the bars have games. You can play Jenga or Connect Four and indulge the child in you while enjoying a drink at such places. There are crazier games like driving a nail into a block of wood while drunk or hanging on to the bar for more than 2 minutes to win a bottle of whiskey at some of the other pubs and clubs.
Open Air Partying
If you want to party in the open air and enjoying a breathtaking view of Patong, there are some rooftop bars on Bangla Road for you. Climax on Bangla and Exotica Ago-go on Soi Sea Dragon off Bangla Road are some such exciting places.
The street itself is a roaring party in full swing. From its neon lights to overlapping loud music from various clubs, to hawkers, performers and Ladyboys walking around, Bangla Road is a vibrant all night destination.
Street Performances
As you walk down Bangla Road, you will be enthralled by many street performances like magic tricks, fire-spitting, card tricks and even people carrying exotic animals. There are also plenty of dancers who captivate the audience on the road with Hip-hop, samba, salsa, jive and much more. They remind one of the buskers in other famous cities of the world.
Live Music
Apart from bars on Bangla Road that have live music, the most well known of which is New York Live Music Bar, there is also often live music on the street itself. If you are a musician, you can even join them.
VR Machines
A new addition to Bangla Road is the Virtual Reality machines. It can be hilarious to watch a person experience virtual reality for the first time. You can also give it a go if you don't mind some stares.
Bangla Street Food
Bangla Street Food is a part of Bangla Night Market, which is an open-air area with plenty of stalls. From Pad Thai's to grilled meat, to curries and seafood you can get it all here and at dirt-cheap prices. You can also find fresh fruit juices, cheap beer and cocktails to go with your meal, and enjoy it sitting outside under the stars.
Massage Centres
There are also some massage parlours on and around Bangla Road. You can get a cheap massage here.
Best Experience
If you visit Bangla Road on Songkran, the Thai New Year, Bangla Road turns into a free for all water fight zone and can be a fun experience.