Spotting and swimming with whale sharks is an experience of a lifetime. The majestic whale shark is the largest fish in the world. With their size going as long as 15 meters and weight 40 tons, this enormous and beautiful creature attracts divers from all around the globe.
Thailand
is known for bright and colourful coral reefs and a plethora of exotic marine life seen at some of the world's best diving spots that it houses. And it is interesting to know that the whale sharks are exclusively spotted only at few diving spots in Thailand and not at many other places in the world. So here's a complete guide about for your next adventure-filled trip to the Land of Smiles.
About Whale Sharks
For those wondering, a whale shark isn't a whale; it is a shark. It gets confusing with both denominations in the creature's name and the gigantic size. Fret not, as whale shark sounds dangerous by its name but is completely submissive and innocuous. Due to its tranquil nature, it is safe to get very close to this alluring creature and admire what wonders nature packs for everyone. Whale sharks have over 3000 teeth, but it's funny that they don't use it to eat, so they are pretty much useless. Another fascinating fact about whale sharks is that each whale shark has a different dot print on its body, just like different fingerprints in humans. Though not under a threat of extinction, the species are listed under the "vulnerable species" list due to illegal poaching.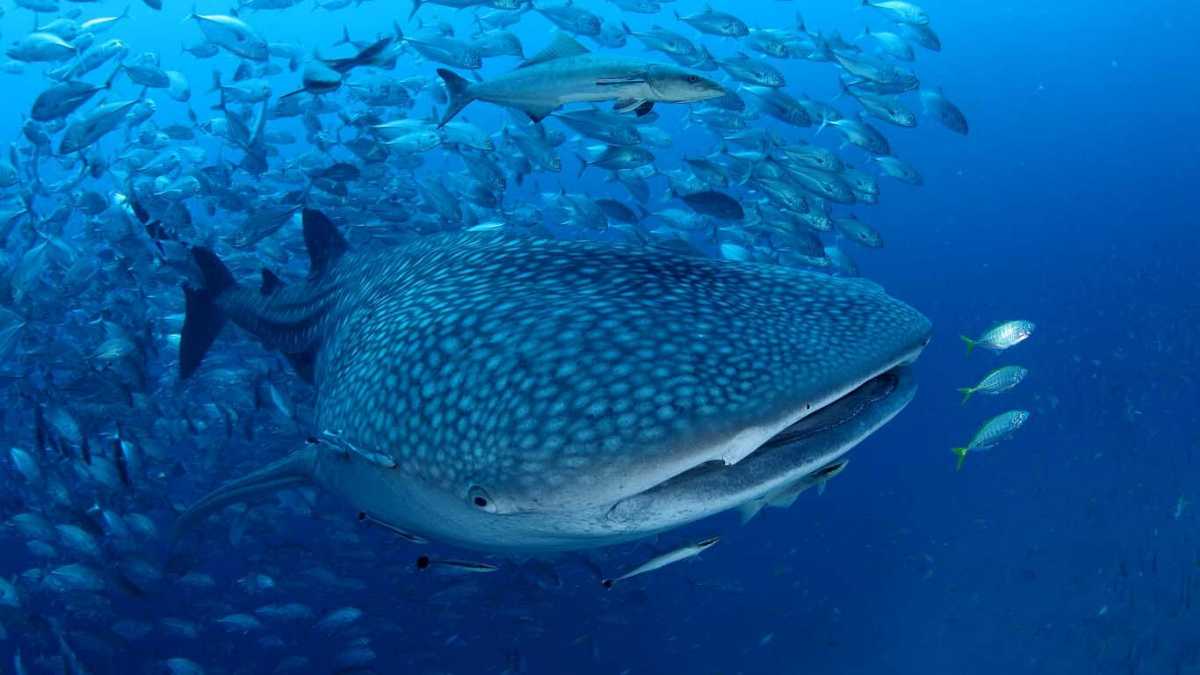 Where To Spot The Whale Sharks In Thailand
If it's your lucky day, whale sharks can be spotted just about anywhere but the most common dive sites where these graceful fishes are seen at
Koh Tao
's Sail Rock, Chumphon Pinnacle, and Southwest Pinnacle at the Gulf of Thailand. Whale sharks are also sometimes spotted in
Phuket
. Koh Tao is widely popular for the diversity of marine life witnessed by divers. In addition to whale sharks, you will also be able to spot the Trevally and Barracuda.
Apart from Koh Tao and Phuket, the Shark Island (located southwest of Koh Tao) and Hin Wong Pinnacle (east side of Koh Tao) are two other popular dive sites to locate whale sharks. Although both these sites are frequented only by professional divers because of the challenges the water current here brings forth. It is advised to not visit these sites if you are a newbie to the diving scene.

The Best Time To Spot Whale Sharks
April is the month when whale shark spottings are the highest amongst divers. And if you're lucky, you might see one in the month of February and March too. Unfortunately, the whale shark spottings have reduced drastically due to ocean pollution and killing of whale sharks by illegal means. During these months, Richelieu Rock at the
Similan Islands
are filled with crowds from all across the globe, only here to get a glance of the largest fish in the world.
Liveaboard tours for whale shark spotting commence in October and run until May. But remember, none of the tours would guarantee you that you'll be able to spot one. Don't worry if you fail to spot a whale shark, there's still a plenty of marine species that you will across. Few of the many are manta rays, sea turtles, and barracudas.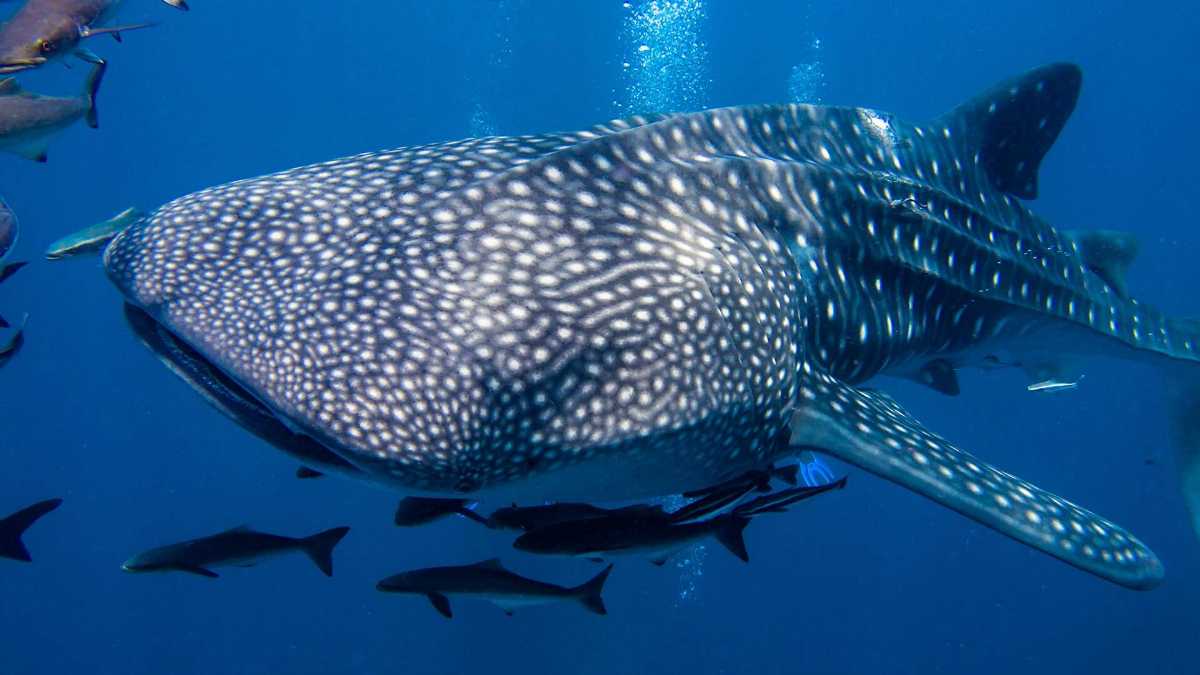 Tips For When You Spot A Whale Shark
Here are some tips for when you spot the gentle giant. First off, consider yourself the luckiest person in the world for it's not every day that one comes across the largest fish in the world. It time you finally tick this off your bucket list. Jokes apart, with spotting the largest fish in the world comes great responsibility. Enjoy the whale shark experience to the fullest but keep in mind a few dos and do nots.
1. Do not touch the whale shark:
However friendly they may seem, touching the whale sharks is a big no. While they might not eat you, their large sized body can cause you grave harm. Maintain a safe distance and enjoy the unimaginable beauty in front of your eyes.
2. Maintain a safe distance:
You must maintain at least a 2-meter distance from the head of a whale shark and a 4-meter distance from its tail. This is considered as a safe distance.
3. Do not use flash while clicking pictures:
Flash photography is strictly prohibited inside waters as it might irritate the whale shark. And you would not want to face an irritated fish the size of 10 adult humans, would you?
4. Do not feed the whale sharks:
A whale shark feeds on feeds on plankton - a type of sea organisms which include krill, copepods, and fish eggs. In addition to this, they also eat squids, fishes, and crabs. Feeding a whale shark yourself is strictly prohibited just like feeding zoo animals.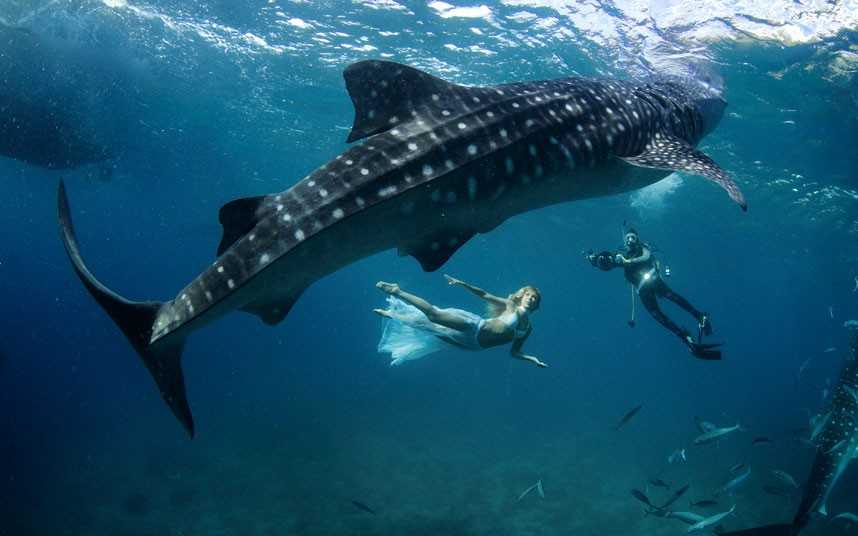 If you are lucky enough to spot the gentle giants, it will be an unforgettable experience. For liveaboard tours and swimming with whale sharks, you can contact local diving shops in Thailand or contact them online.