Kitesurfing, also known as kiteboarding, is a popular form of water sports seen commonly in
Thailand
. Known for the speed and feeling of exhilaration experienced, the sport involves being pulled by a specially designed kite as you ride along the ocean on a modified surfboard. The wind-powered watersport is a favorite among adventure lovers all over the world.
Kitesurfing involves the use of a modified surfboard, as well as a kite having an inflated tube. This inflated part allows it to hold the shape and is used to produce a pull from the wind. The sport is enjoyable and easy to pick up, but it involves a certain amount of training from a qualified kite-surfing school in order to remain safe and also pick up the skill faster.
What Are The Best Kitesurfing Spots in Thailand?
Kitesurfing initially became popular in the island of 
Phuket
 in Thailand, and slowly spread to other parts of the country. Today, one can participate in this watersport on several beaches and islands in Thailand, including 
Koh Pha Ngan
, 
Krabi
, Chumphon, 
Koh Samui
, and 
Koh Chang
.
1. Phuket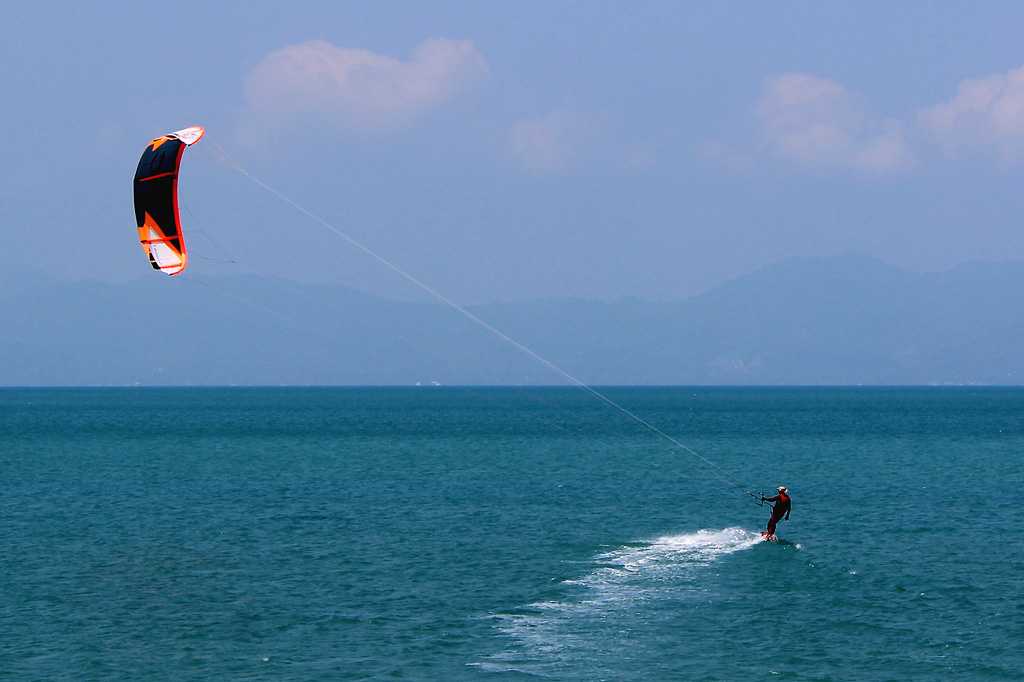 The best months for kitesurfing in Phuket are June-August and December-February. They offer clear skies, calm seas, little rainfall and the wind speed measuring at 12-18 knots, presenting the perfect conditions for kitesurfing. The city of Phuket is an ideal destination for kitesurfing owing to the fact that it has the most extended windy period within Thailand with the strong winds allowing for smooth and exciting rides. Moreover, it has something to offer for both, beginners as well as experienced kitesurfers.
For beginners, the shallow waters and calm winds offered by the southeastern beaches of Phuket make for suitable kitesurfing spots. These include Nai Yang Beach, Rawai Beach, Friendship Beach at Chalong Bay and Layan Bay. For experienced kitesurfers, in addition to the abovementioned spots, there are a variety of locations to choose from such as Hua Thanon, Koh Lon Island, and Nathon.
2. Koh Phangan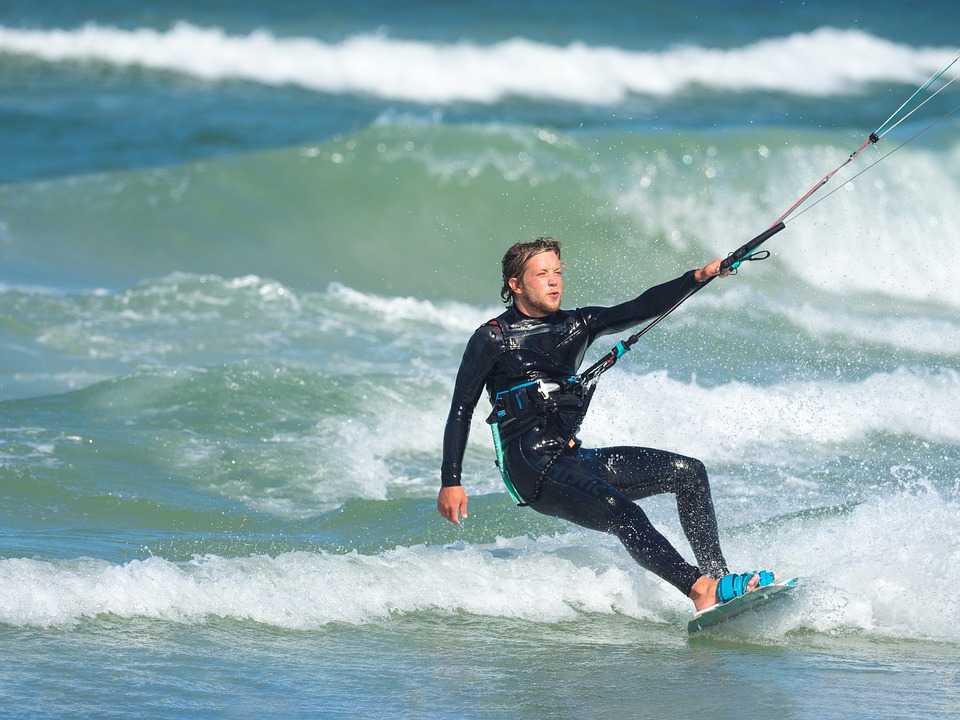 The small island of Koh Phangan in the Gulf of Thailand is a regular kitesurfing spot for some of the greatest in this sport to practice all year round. Depending on the season and wind direction, the island has various kitesurfing spots. The south of the island offers a flat water surface and a warm sea which make for an idyllic setting for kitesurfing.
The wind is relatively regular in this area however its consistency varies throughout the year which can compromise the experience. 
The best months for kitesurfing in Koh Phangnan are July-August and December-March. For beginners, Ban Tai beach offers shallow and sandy bottom water which makes it one of the easiest and safest areas to learn the art of kitesurfing. Other spots include Wok Tum (west-coast) and the Fisherman Village Chaloklum (north-coast).
3. Hua Hin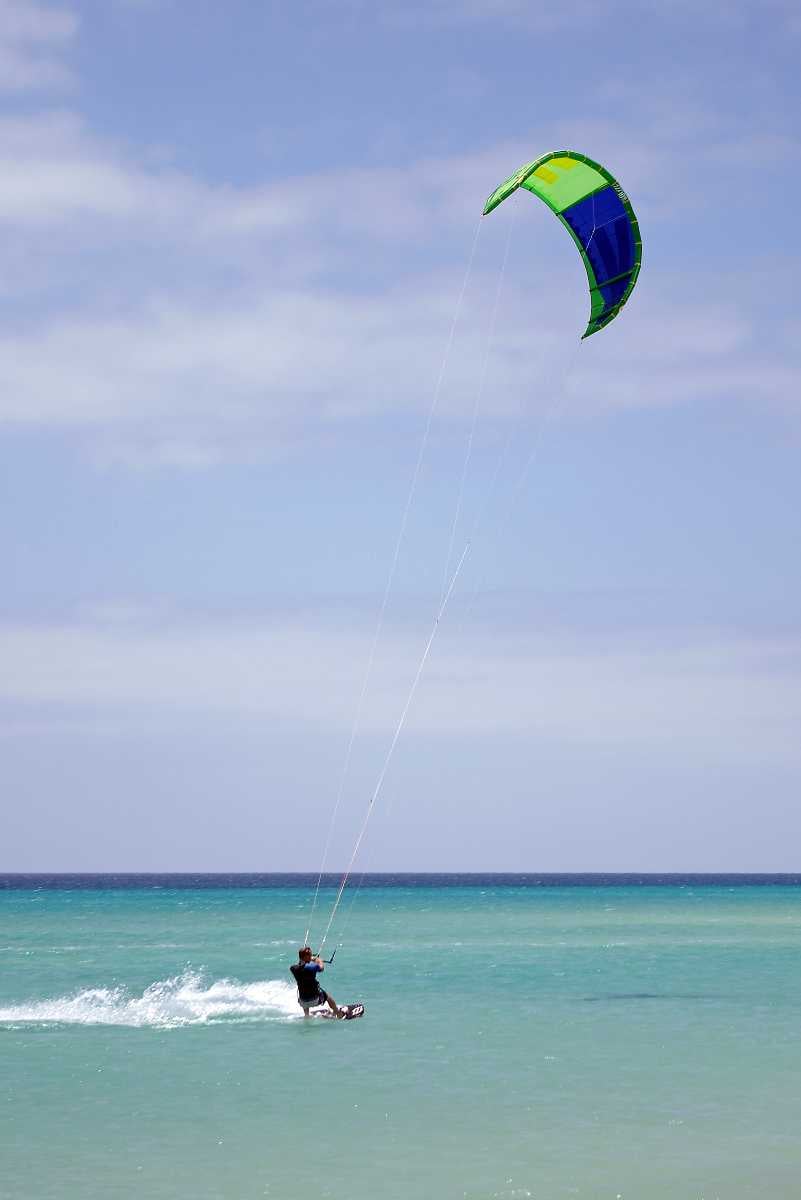 The tropical district of Hua Hin has become a trendy destination for kitesurfing over the past few years. It has a 6km beach with shallow water and wind nearly all year long, making it an ideal destination for all levels of kitesurfers.
The kitesurfing season runs from October-May. However, Hua Hin has prime wind conditions and many people kitesurf all year round.
4. Pak Nam Pran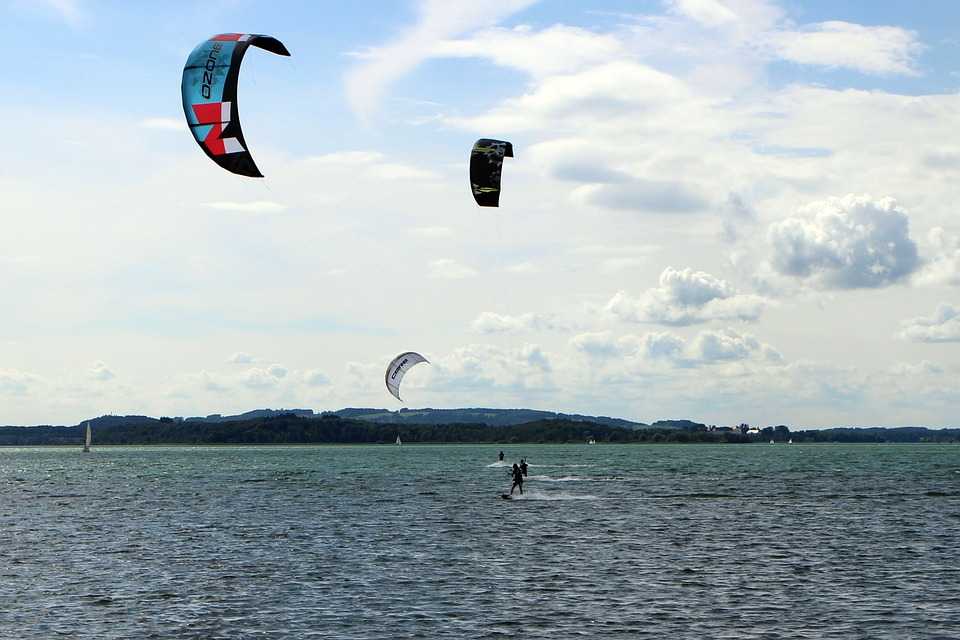 Located half an hour down the coast from Hua Hin, Pak Nam Pran is one of the best kitesurfing spots in Asia. Situated on the edge of a quiet fishing town, the kitesurfing beach of Pak Nam Pran is wide, open and sandy. Not only is it the home of 7 times Asian kitesurfing Champion, Narapichit Pudla, but it also the preferred destination for hosting numerous international kitesurfing competitions.
The best months for kitesurfing in Pak Nam Pran are October-May with ideal conditions offered by flat water lagoons.
5. Chumphon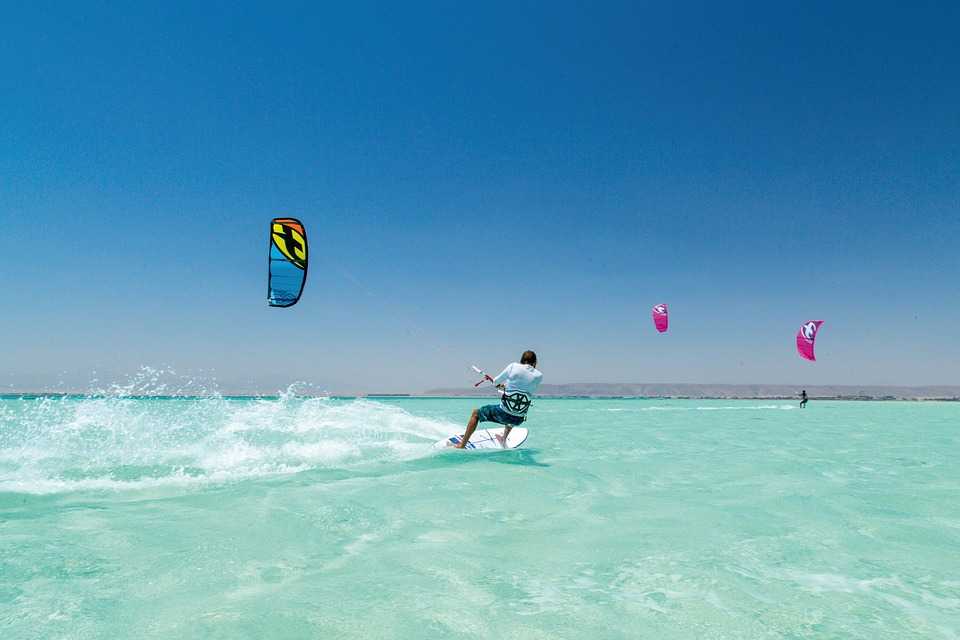 Chumphon is the gateway destination in the southern region of Thailand. Far away from the hustle-bustle of tourists and a bit off the beaten track, Chumphon is an ideal spot if you want to learn how to kitesurf or ride in Thailand.
Thung Wua Lean beach is the central kitesurfing spot which offers a 3km long sandy beach. It gets north-easterly winds from mid-October to mid-January better than any another place in Thailand. While the central bay area gets a wind swell and choppy waters, the lagoon offers perfect conditions for kitesurfing for beginners, with water up to waist for kilometers with a flat section.
6. Rayong
Rayong is a laidback alternative to the flashiness of Pattaya, offering a peaceful escape. It is also the home of one of the world's first ever Olympic kiteboarders, Nichanan Rodthong.
The best months to kitesurf in Rayong are May-September. The region gets wind from the Indian monsoon making Laem Son, a south facing beach, the central kitesurfing spot in Thailand during the summer.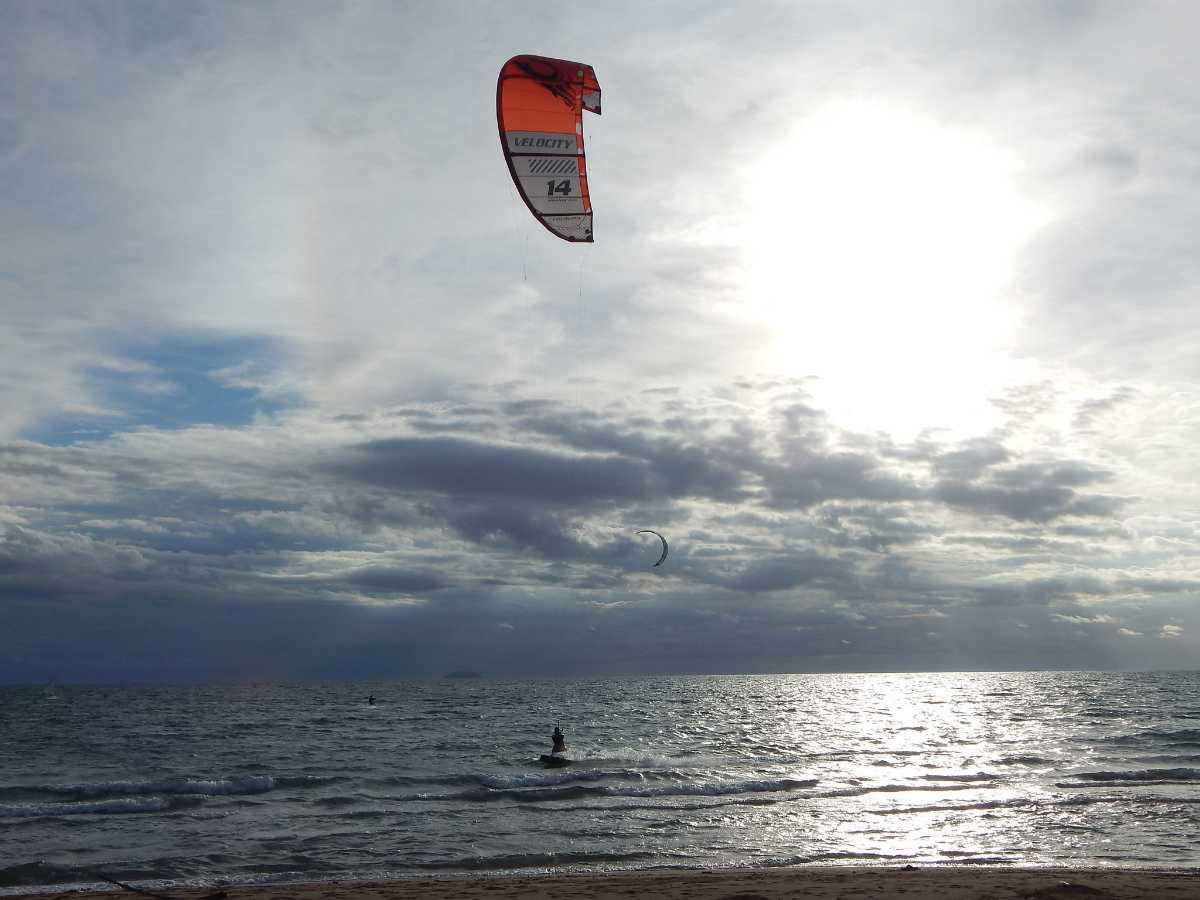 Named after the strong winds that come from the south-west at the beginning of every monsoon season, Pattaya is a notorious party town known for its slippery after-hour activities and beach resorts. However, it receives its fair share of wind during the winter monsoon and spring season which makes it another kitesurfing destination in Thailand.
The best months for kitesurfing in Pattaya are November-June. Favorite spots include Na Jomtien, Sai Thong, and Chol Chan.
Tourists flock to Thailand all through the year. The best time to go kitesurfing varies depending on the season and the location one chooses to visit. Locations such as Koh Phangan and Chalong Bay are suitable for the months from November to March, while places like Hua Hin and Pranburi are great for the months of March through June. Peak surfing conditions arrive just after June, as the monsoon begins.
Why Learn Kitesurfing?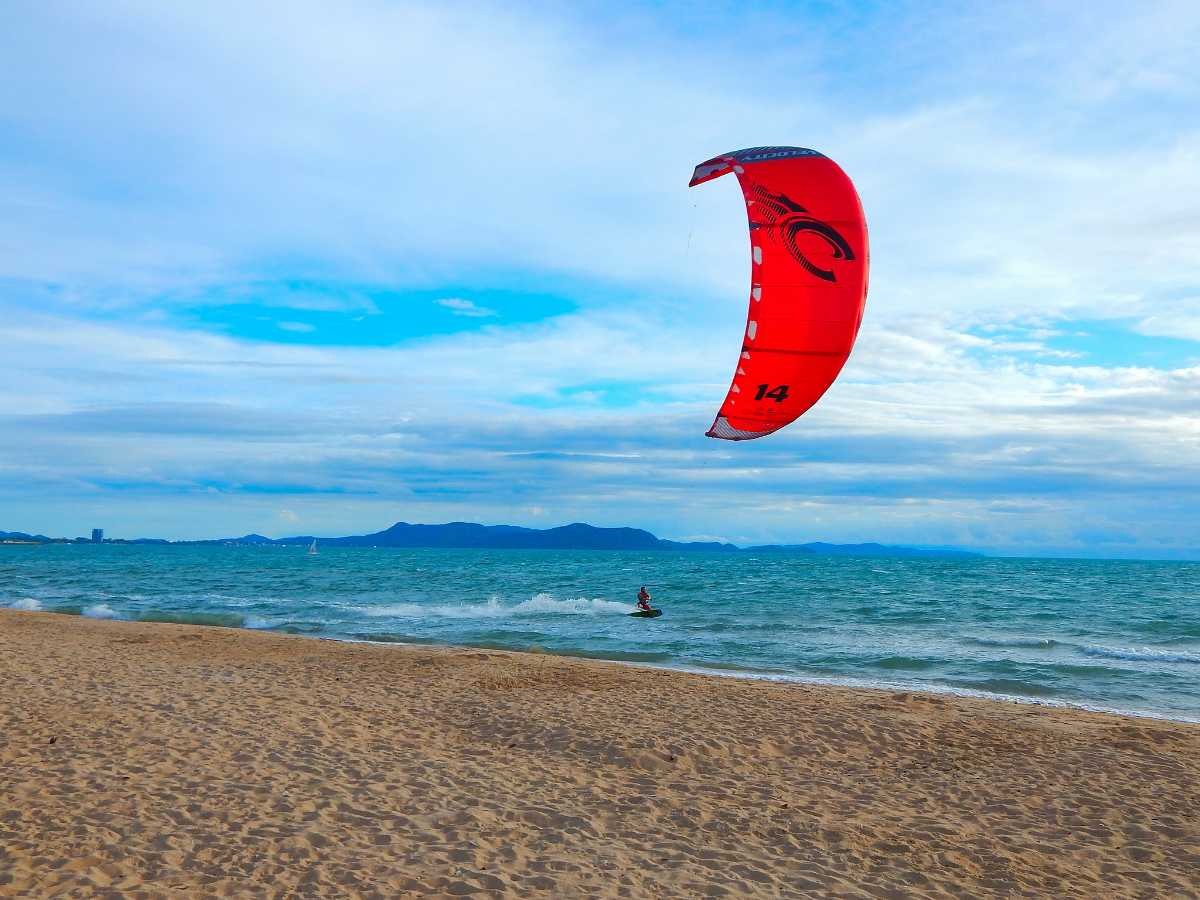 Besides being extremely enjoyable and fun, the water sport of kitesurfing is relatively easy to learn with most courses ranging from 1 to 3 days at the most. Regarding physical benefits, the sport exercises your entire body. While kitesurfing, one uses their legs to control the board and their arms and torso to hold onto the kite and remain balanced.
The activity is relatively cheap once you have invested in the equipment needed for kitesurfing. While riding the waves, one is provided with a harness, which bears the brunt of most of the force involved in this sport. The equipment also has many safety releases, which come in handy during emergency situations.
What Makes Thailand Perfect for Kitesurfing?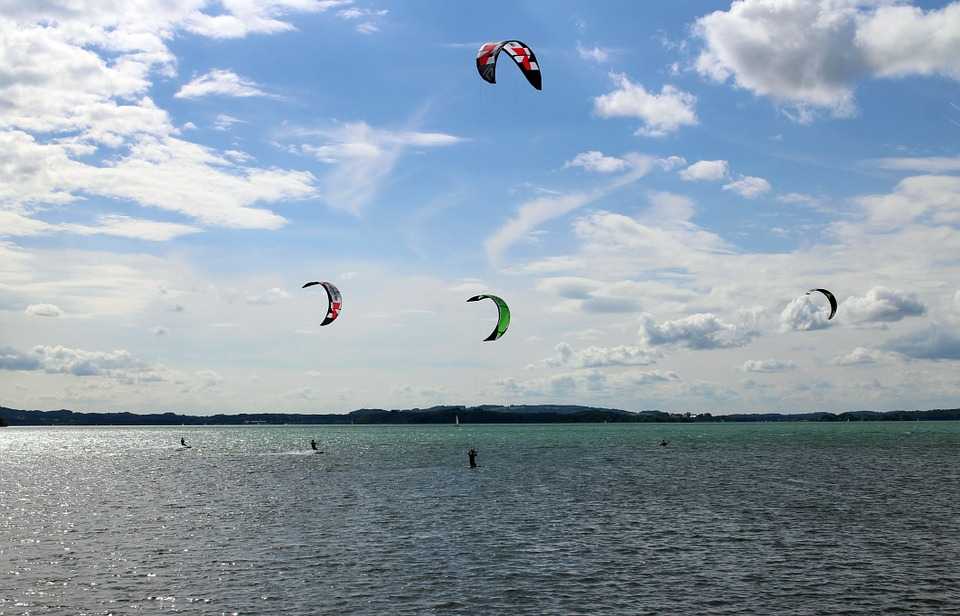 Thailand is among the best locations in the world to learn and practice kite-surfing, with its beautiful beaches, scenic views, welcoming people and a wide variety of kitesurfing schools. The country also experiences favorable wind conditions and relatively low rainfall in a number of locations throughout the year.
Training in Kitesurfing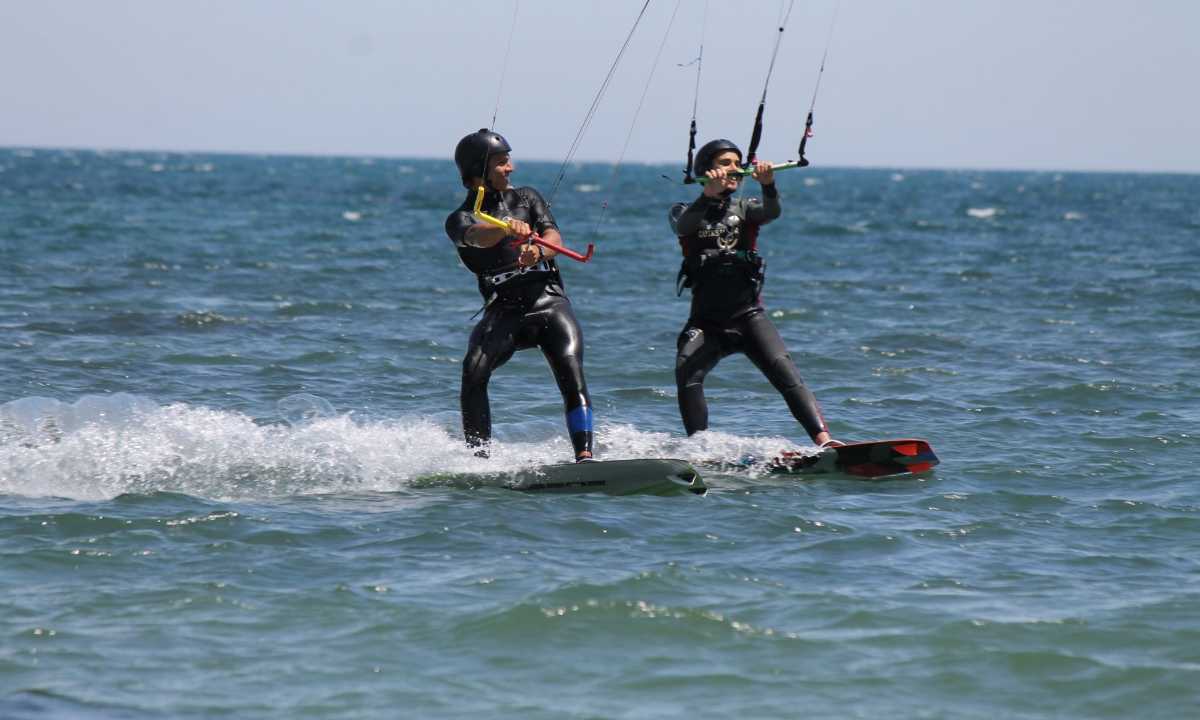 One can take advantage of the number of International Kiteboarding Organisation (IKO) certified kitesurfing schools in Thailand, in districts like Phuket, Pattaya, Hua Hin and Pranburi. Training ensures that beginners receive knowledge and experience from trained professionals to kitesurf safely and responsibly.
Some popular kitesurfing schools include Hua Hin Kitesurfing and North Kiteboarding Club in Hua Hin, Kite Surf Asia, Skyla's Surf and SUP Club and Kite Zone in Phuket and Kiteflip in Koh Phangan and Kiteboarding Asia (KBA), which has various locations all over Thailand. 

The schools offer a range of lessons with the necessary equipment, depending on one's level of training. Most training courses teach two learners at a time, but those who prefer learning one to one can choose a private training course, which is usually offered by trainers. This allows one to work on any particular skill of kitesurfing as they may choose, with the help of a private instructor.

For Beginners: Those new to kitesurfing can take a three-day beginner course, which teaches one necessary theory and gives one enough practice to safely kitesurf independently. This allows hands-on practice for the basics of kitesurfing, such as site assessment, safety,  rescue techniques, body dragging techniques, self-launching techniques, and water re-launching.

There is also a shorter one-day discovery course for those to wish to pick up the basics faster. This course lasts about 2 to 3 hours and allows you to learn about setting up, piloting the kite, safety systems, signaling and self-landing.

For Experienced Kitesurfers: Those experienced kitesurfers who wish to practice or improve their techniques can either opt for the one-day or the three-day intermediate course.

The one day or 'refresher' course goes on for a duration of 2-4 hours and teaches basic safety of kitesurfing, recovering the kitesurf board, positions for water and power stroke, as well as important information about rules, tides, wind, and weather.

The three-day course lasts about 7 to 9 hours and teaches one how to water start, how to control the kite, how to pilot the kite with one and two hands, how one can recover the board and relaunch the kite. It will also teach body dragging, power start and water start theory. 
Approximate Cost
The one-day courses, including the beginner and intermediate ones, cost about THB 4,000 per person. The three-day courses for both the beginner and intermediate levels are priced at approximately THB 11,000 per person. A one-day private lesson costs THB 8,000 per person.
General Tips For Kitesurfing In Thailand
Training is advisable for first-timers, as it helps one learn faster and use the right technique. It also helps to avoid a risk of accidents or injuries while kitesurfing. One can also get professional advice about the right equipment needed for kitesurfing.
It is best not to kitesurf alone.
One must be careful of jellyfish in the ocean, which can be seen sometimes during the year. Dress accordingly to protect yourself.
Take into account the chance of monsoon in your kitesurfing plans, and also learn about weather patterns and keep an eye on it at all times.
Before buying a kitesurfing board, seek the advice of an experienced kitesurfer who can assess your skills well.  
Thailand's spectacular beaches and vast oceans make it a paradise for any water sports lovers. Kitesurfing is a great chance for any adventure-seeker to experience the thrill of the water and wind combined! While it can be rather time-consuming to get the hang of it, don't be disheartened and give up. Kitesurfing requires patience and practice. And don't forget to laugh at yourself and have fun! Like they say, the best surfer out in there is the one having the most fun.