Bangalore is surrounded by so many exciting destinations that it would be a shame not to explore them as the temperature dips! For all those enthusiastic travelers in and around Bangalore looking for weekend destinations closer home; there you go! We have for you – 12 fantastic combinations of places for the perfect shirt trip in winters.
Before we begin, here is a little flowchart to help you decide. Have a great trip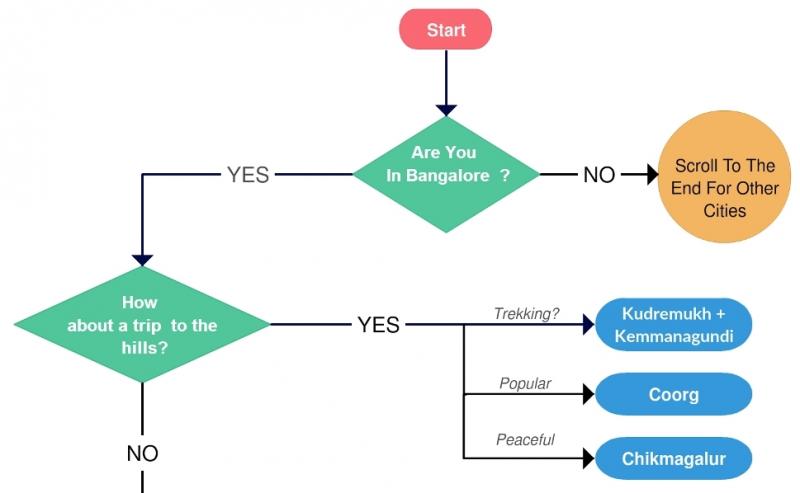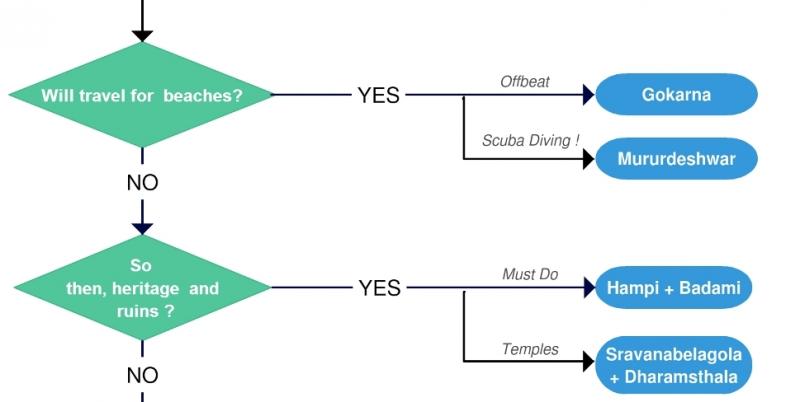 Kudremukh is a hill station situated in the Chikmagalur district of Karnataka and a great winter trip from Bangalore. It is known for the picturesque view of the mountain, a side of which resembles a Horse face and to which it owes its name. Kudremukh also boasts of the beautiful Kadambi Falls and have recently been declared as a Tiger Reserve as part of the Bhadra Tiger Sanctuary.
Kemmangundi is another hill station located in this district consists of the tallest peak in Karnataka called the Mullayanagiri of the Baba Budan Giri Ranges. It is known for camping in the clear spaces of the hills as well as for trekking, hiking and rock climbing and makes for a adventurous weekend getaway from Bangalore.
Coorg is a scenic winter destination in Karnataka with undulated hills, sprawling landscapes and colorful scenery. A holy place called Honnamana Kere is a popular tourist destination complete with lake, cliffs and coffee estates. Mallalli Falls is another place to not miss. Trekking, hiking, boating and fishing are some of the activities that are popular here.
Madikeri is the capital of Coorg and boasts of places like the famous Abbey Falls whose gushing sound can be heard from afar. Madikeri is also known for its place in history which is represented by the ruins of the Madikeri Fort, Raja's Seat, Omkareshwara Temple and the garden of Nisargadhama.
Sravanabelagola is one of the most important holy places of Jainism in India. Located at a distance of about 150km from Bangalore, it houses, shrines, places of worship, ancient structures and relics that are steeped in the history of Jainism in India. Vindhyagiri is a hillock, 470metres above the ground and is made out of a single rock formation. There are approximately 660 steps carved in the rock to reach the top where a Jain Math is situated.
Dharmasthala is another temple town near Bangalore that house shrines of Manjunatha, Shiva , among others. The Dharmasthala Temple has an unusual feature; it is run by the Jain administration, while the religious duties are conducted by Hindu priests.
4. Hampi + Badami: A tryst with History and Culture near Bangalore
Hampi is the capital of the once flourishing empire of Vijaynagiri, now in a state of ruins is one of the most exotic locations in India. Around 6 hours from Bangalore, the entire site takes about 3-4 days to completely explore with numerous fascinating view points, structures and architectural marvels. Evenings when it's too dark to explore can be spent at the Tungabhadra River Dam.
Badami on the other hand was the state capital of the Chalukyas who ruled most of Karnataka and Andhra Pradesh. They built the famous Badami Cave Temples. There are four main shrines located around the Agasythya Tank, a Bhutanatha Temple from the 5th century is also located near the Tank.
If solitude amidst sand, water and open sky is your love, then there is no better place than Gokarna, the little town nestled between some ancient temples is known for it both. Pilgrims flock to this place to visit the places of worship while tourists find their ultimate escape in the one too many beaches of Gokarna. Popular for the world's tallest Shiva statue, 
Murudeshwar derives its name from the same deity. This beach town boasts of diving facilities, the ancient fort of Murudeshwara and the Murudeshwara Temple which is surrounded by the Arabian Sea on three sides. A perfect little hideaway near Bangalore for the coming winters.
Coimbatore is a humble town of Tamil Nadu that prides for having the second tastiest water in the world called 'Siruvani Water'. It has a motley mix of ancient temples, mosques, museums and water theme parks. It makes for a good stop on the way towards Ooty, which is a popular hill station near Bangalore in the Nilgiri mountain range. It is known for its many view points and peaks, elaborate gardens, dams, lakes and waterfalls that would mesmerize you this winter.
7. Kottayam + Kumarakom: Lakes and Backwaters near Bangalore
Kottayam is another beautiful weekend destination near Bangalore, being one of the larger towns of Kerala that has numerous attractions scattered in and around it. Aruvikkuzhi Falls, Vembanad Lake, Thirunakkara Mahadev Temple, St. Mary's Church to name a few. 14km from Kottayam lies the town of Kumarakom which is famous for the backwaters of Kerala, boathouses, lakes, canals and its bird sanctuary. A great place to visit in winter near Bangalore.
8. Shimoga + Agumbe: Traveler's paradise near Bangalore
Shimoga alone prides in having so many attractions that you need a long winter trip to explore all of them. Safaris, dams, sanctuaries, mountains, reservoirs, palace, temples, the Varadhalli hillock, 500 year old Ikkeri Temple and the world famous Jog Falls, can be found in Shimoga.
If you find time amidst exploring Shimoga, visit Agumbe a small town situated a little ahead of Shimoga; known as the 'Cherrapunjee of Karnataka' because it receives the highest rainfall in Southern India. You'll be greeted with gorgeous rain forests and numerous waterfalls amongst which the Barkana Falls is the 10th highest waterfall in the country.
9. Savandurga + Shivagange: For the Rock Climbing Enthusiast Near Bangalore
If the cold is getting to you and you want nothing more than to feel the winter sun upon your shoulders, head to Shivagange and Savandurga and partake in some trekking and rock climbing on the monolithic rock formations here. The experience for adventure lovers here is simply great!
10. Chikmagalur
A picturesque, colorful vacation never did anyone any harm. This winter, treat your senses to the blue hills and valleys of Chikmagalur in Karnataka. Home to the Inam Dattatreya Peetha and the Sharadamba Temple, Chikmagalur will let you explore nature as well as spirituality in a beautiful way.
11. Bandipur National Park: For the lovers of Wildlife Near Bangalore
One of the most underrated wildlife hotspots in India, Bandipur is a great getaway for wildlife lovers. If you are bored of tucking your feet under you this winter, Bandipur is a great place to stretch them – both for you and your camera!
12. Kabini River Cabin: For the laid-back holiday lover near Bangalore
And for the end of the list, we have Kabini River Cabin! It is one of those lovely places where you have every option starting from boating on the lovely river Kavery, to experiencing the rich flora and fauna of the Kabini and Nagarhole WIldlife Sanctuaries, this pretty hamlet has it all. The elephant safari and the Kabini dam are too great to miss.
65 Places to visit near Bangalore
Places near Bangalore for couples
Bike Road Trips from Bangalore
Places near Bangalore for winter
One day sightseeing in Bangalore
Must visit places in South India
Places near Bangalore for summer
Similar Posts That You Might Like