If you are the one who always wants to ditch their apartments and live in a backpack, seeking adventure, this article is just for you. Over the years, River Rafting has taken over the thrill seekers. Hurling from a raft in the blink of an eye and free-floating down rapids is an unimaginable experience you cannot miss in life. While one moment you are gasping for air on the water surface, the other moment the next set of rapid waves pushes you under the water. You feel like you are tumbling around in a washing machine. Catch a glimpse of the shore, and you might see a crocodile lounging in the sun on the river bank. After the activity gets over and the uninhibited adrenaline inside you dies down, you just want to do it all over again.
Many believe that the foothills of Himalayas serve as the perfect playground for the rafters, but that's where they go wrong. Karnataka is an adventure hub. With breathtaking views of the Western Ghats, the escapade is unmatched. The best thing about it is that the adventure surrounds the capital and the major cosmopolitan city, Bangalore. So if you are a Bangalorean or anyone living nearby, you are in for a treat.
Here are the 10 Best Places for Rafting near Bangalore to awaken the adventurer in you:
1. Bheemeshwari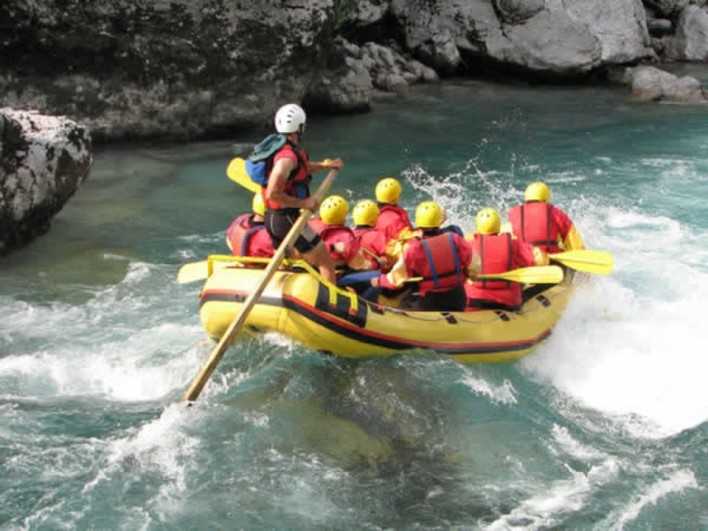 If you've got one day to escape from reality, this is the place to be. The Cauvery River flows gently yet falls steeply along its course. The white river has an unpredictable swift to it which makes it even more stimulating to navigate your way in class 3 rapids. The river stretches for 8kms. If you are amongst those who easily get scared of such activities yet you are not willing to go back home without entering the fierce waters, it's your chance to overcome your fears. You can even get off the raft and take a swim in the pristine waters. The exquisite wildlife just adds to the whole experience
Grade:
Class 3 (moderate)
Distance:
120 km from Bangalore, 2-hour drive.
Best Season to visit:
June to September
Operators:
wandertails.com, thrillophilia.com
2. Dandeli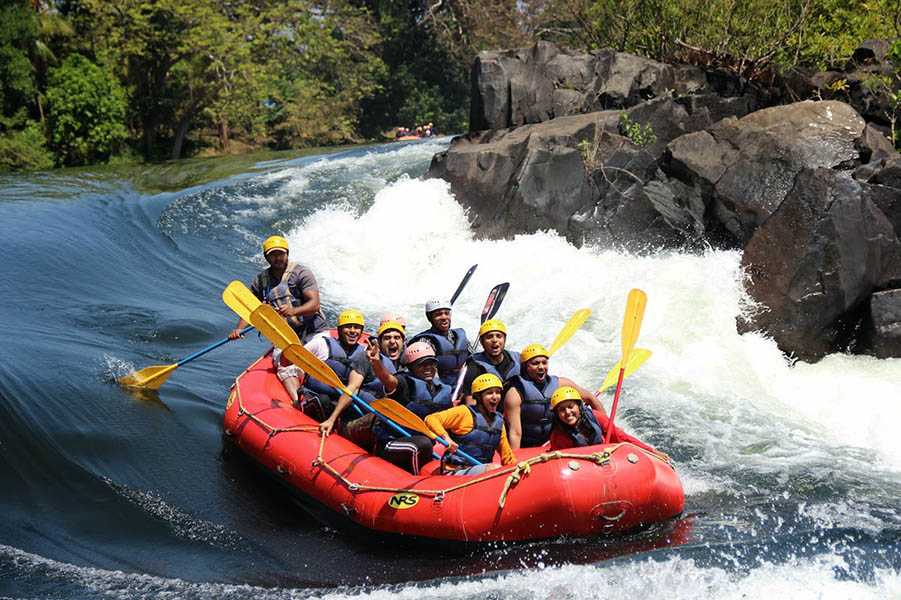 One can't forget to mention Dandeli when it comes to adventure sports. Not so near to Bangalore (only a 2.5km drive from Goa's Dabolim airport though) but the reason why this place has made it to the list is that it is said to be the best place in Karnataka to test your skills and up your rafting game. There are certain unexpected slopes and turns on the river bed which only indicates more kicks. The river is vast and stretches for almost 10 km. Make sure you do a rain check (in a literal manner) before planning a trip here because the waters depend a lot on rain.
Grade:
Class 3 (moderate)
Distance:
462 km from Bangalore, 8-hour drive
Best Season to visit:
October to February
Operator:
riversresortdandeli.com
3. Coorg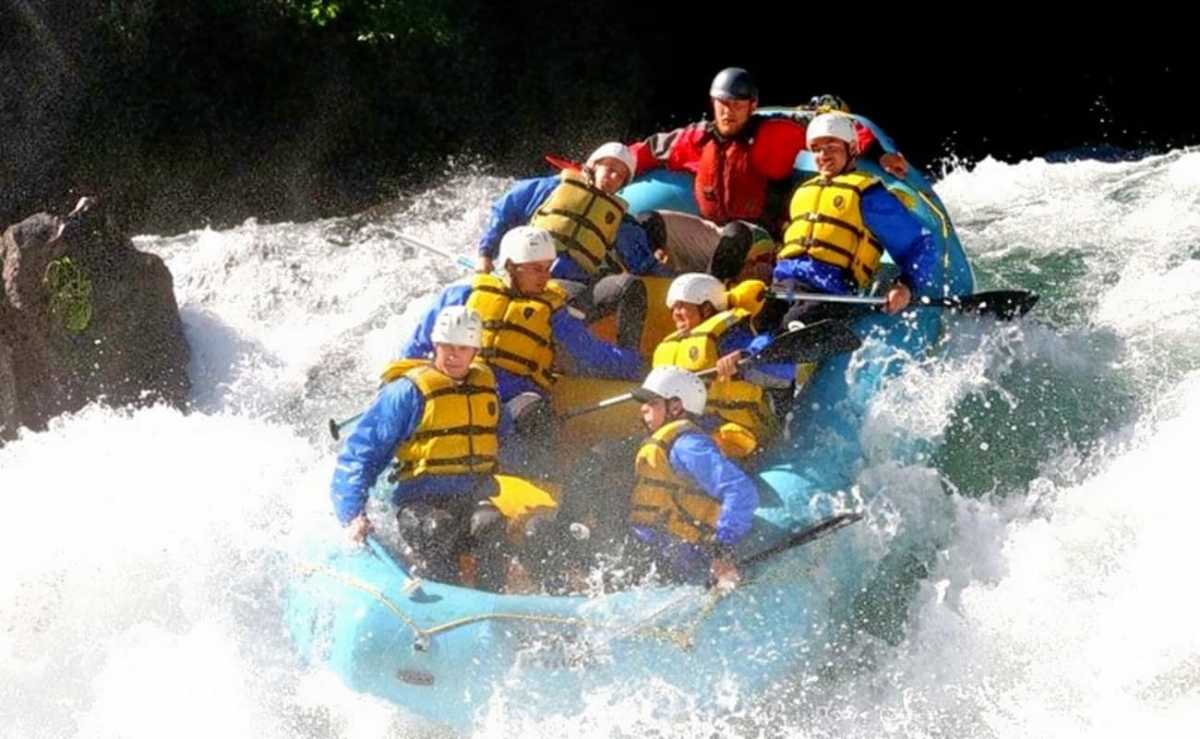 Guess what? Coorg is not only famous for its coffee. The water at Coorg roars incalculable currents resulting in rapids ranging from grade 2 to 4. The dense and lush green forests provide a perfect backdrop. They have also given the rapids creative names - Morning Coffee, Milky Churn, Grasshopper, Wicked Witch, Frame Head and so on. While you are at it, you might want to consider visiting the Brahmagiri Wildlife Sanctuary and witness spectacular flora and fauna it houses (the rafting ends at the entrance of the Sanctuary).
Grade:
Class 2-4 (moderate-challenging)
Distance:
260 km from Bangalore, 3-hour drive
Best Season to visit:
June to September
Operator:
coorgriverrafting.in
4. Kabini

Kabini is known for its wildlife. A herd of elephants is a common sight so keep your cameras on for that perfect Instagram picture. A pristine tributary of the Cauvery River, rafting in Kabini gives you the experience of enthralling rafting with a view of the exotic wildlife. Whether you are an amateur, semi-pro or professional, Kabini is a place for everyone.
Grade: Class 2-3 (easy-moderate)
Distance: 220 km from Bangalore, 4-hour drive
Best Season visit: June to October
Operator: theblueyonder.com
5. Kondaji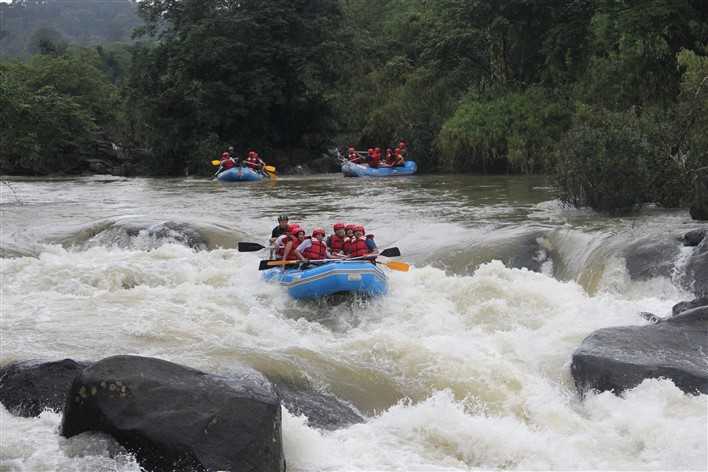 Just a short distance from Davangere, the course at Kondaji is not really for the rapids but for the appealing views. Kondaji is the ideal place for rafters who seek tranquillity and calmness in the waters. Rafting here is more of sightseeing tour of the wildlife it has to offer while you float swiftly down the ghat. While crushing through waters, lookout for the birds on river banks. It is a treat for the eyes.
Grade:
Class 1-2 (easy)
Distance:
260 km, 5-hour drive.
Best Season to visit:
June to September
Operator:
gethnaa.com
6. Chikmagalur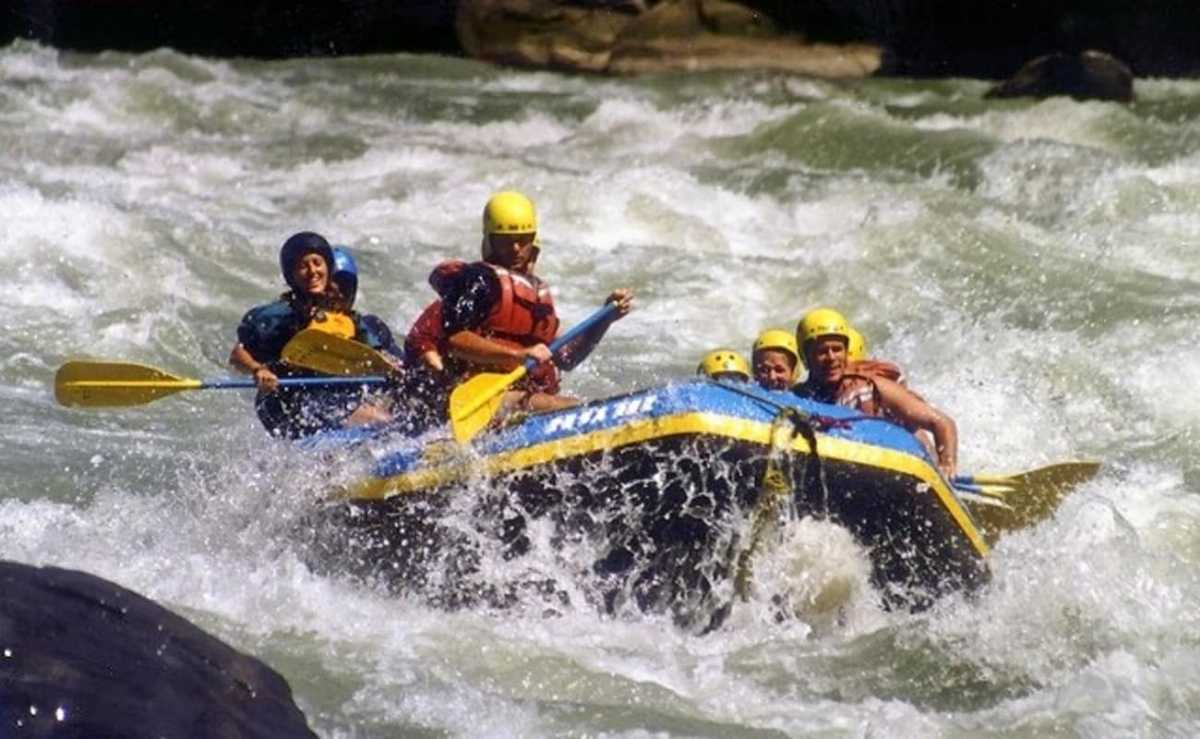 Chikmagalur is a cosy hill station just a 4-hour drive away from Bangalore. The aroma of coffee plantations here enters your head and lingers. The undulating water at Chikmagalur makes up an ideal white water rafting location. River Bhadra gushes rapidly. The sound calls out to the rafters. Rafting here is not crafty and yet exhilarating.
Grade:
Class 3 (moderate)
Distance:
240 km, 4-hour drive
Best Season:
June to October
Operator:
chikmagalurtourism.net
7. Marawanthe, Karwar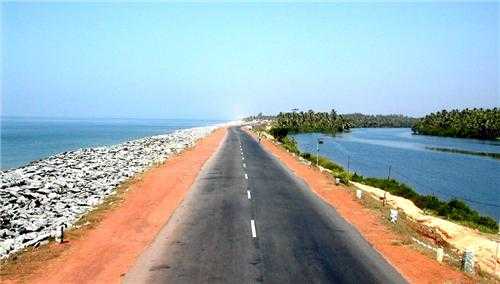 Marawanthe is a pristine beach location with golden sands. It is also listed as one of the best picnic spots outside Mangalore. When it comes to river rafting, Marawanthe is an underdog gaining popularity as I type this (hundreds visit this place every day when they get to know about it). Rafting around the coastline while the sun is bright forms just the perfect picture in my mind.
Grade:
Class 2-3 (easy-moderate)
Distance:
460 km, 8-hour drive
Best Season:
June to August
Operator:
thrillophilia.com
8. Sitanadi, Agumbe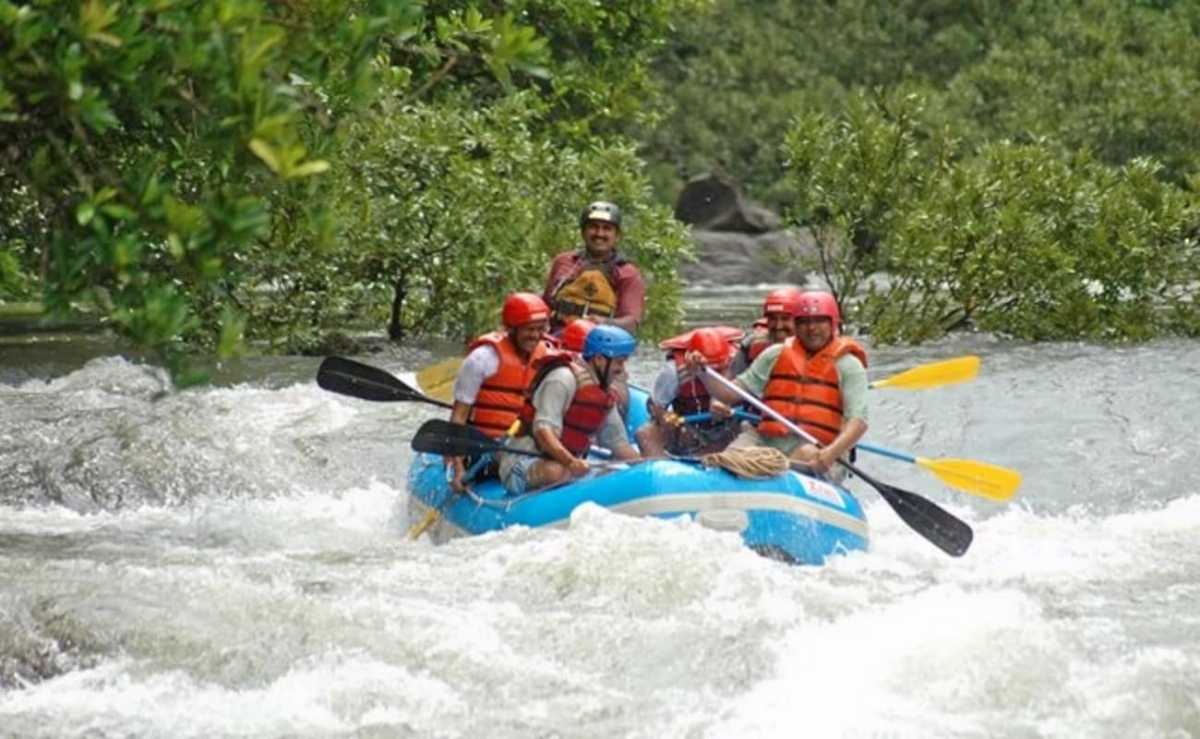 Sitandi is for those the serious rafters looking for challenges. The rapids over here go up to class 4, even class 5. The waters over here are highly unforeseeable. Situated amidst the tropical forests of Western Ghats, river Sita here gets vehement in the monsoons intimidating the bravest (the place is known to record the highest amount of rainfall). If you go on and explore, the area also has breath-taking waterfalls. It is one of the most challenging experience of river rafting near Bangalore.
Grade:
Class 3-4 and even 5 (challenging)
Distance:
350 km, 6-hour drive
Best Season:
June to September
Operator:
adreno.com, thrillophilia.com
9. Sharavati, Honnemardu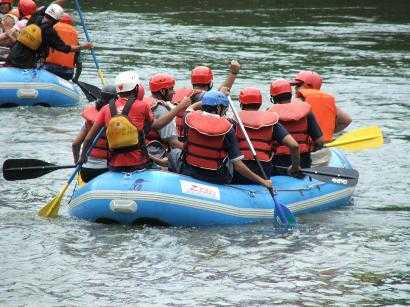 The Sharavati river in Honnemaradu is famous for its Jog Falls and also a haven for adventure sports. Numerous Islands surround the waters, so the place is ideal for a day's camping trip too. Whitewater rafting in the pristine waters of Sharavati is not so challenging. The river flows gently but does have unexpected twists and turns, enough to give you an adrenaline rush. The place is also rich in its superlative flora and fauna. Plan a weekend's trip to Honnemardu to get the most of it.
Grade:
Class 2-3 (easy-moderate)
Distance:
400 km, 7.5-hour drive
Best Season:
June to October
10. Gokarna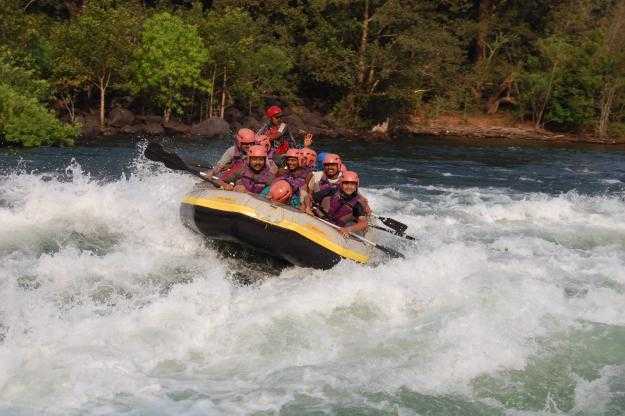 If you are at Gokarna spending a day lying on the beach, how about doing something offbeat and stirring. Head over to Gokarna for an adventurous time. The waters here are unpredictable. The uneven terrain and rock formations just add to the excitement. Plan a long trip if you feel like because this place is only a 2-hour drive away from Dandeli, doubling the amusement.
Grade:
Class 3 (moderate)
Distance:
460 km, 8-hour drive
Best Season:
June to September
Operator:
junglelodges.com
Tips:
1. The rivers are graded on a scale of 1 to 5. 1 being the easiest and 5 being the most difficult. Rafting in class 3 or 4 rapids is the most appropriate and exciting adventure. Only try class 5 if you've prior experience of rafting and you like to live on the edge!
2. Wear light and short clothes as you will be drenched completely. Prefer wearing woolen garments if you are rafting in cold waters
3. Listen to the safety instructions carefully. The instructors are not joking around. The helmet and life jacket should be worn at all times during the session because its the only thing saving you from drowning.
4. Go crazy (within safety limits) and have fun
Monsoon is just around the corner. Don't just sit around and binge on Netflix, get away from the mundane life, escape reality and make the most of your summer. If adventure is your thing, then rafting is the best way to unwind and relax. Beat the heat and also the waves.