Ideal Starting Time:
Start as early as 6 AM from the base to avoid heat. It takes around 2 hours to reach from Bangalore and approximately 2 hours to complete the trek one side.
Difficulty Level:
The trekking route is not challenging; the trek is quite easy and can be carried out by the first time trekkers as well. Since it is located 1226 m above sea level, it has a steep slope for an adventurous trekking experience. The slopes might not provide a good grip, but as you climb higher, you get hold of the terrain.
What to Expect on the Trek:
The yellow markings placed along the trail here guide you safely up to the peak. However, these markings are not there on the Karigudda trail. Moreover, there are quite high chances of lesser acquainted trekkers losing their way on this pathway.
On your way to the top, you can find ruins of Kempe Gowda II's imposing fortress which later was occupied by the legendary ruler, Tipu Sultan.
As an hour would pass, you would reach a podium of granite columns. Crossing the pedestal, you will come across two trails. One of these pathways leads to a dead-end, and the other goes into the forest. On the way, you would come across Lord hanuman's sculpture. Furthermore, the trekking path has rocky caves and four fort walls.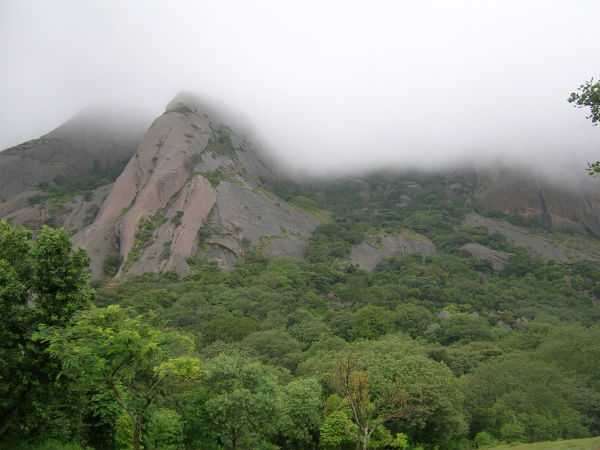 Crossing these areas, you would reach the steepest part of the hill. Here comes the risk, the next twenty minutes are a little crucial. You need to be careful.
On top of the rock, there will be a fort and a Nandi statue. The temples situated at the base of the hill, dedicated to Sri Basaveswara, Sri Narasimhaswamy and Sri Veerabhadraswamy, also attract a large number of devotees.
Please Note:
If you are returning on the same day, It is preferable to cover the downward route before it gets dark.
Permission:
Savandurga also provides the opportunity for rock climbing. At night, you can also have a bonfire and camp on the top. Though, rock climbing needs prior permission from the authorities.