The 'Island of Gods', or
Bali
, in
Indonesia
, is home to the world's last living spiritual cultures, yoga. Originating in south India in c. 3000 B.C, 'yoga' meaning unification in Sanskrit, is a way to harmonise the heart and soul to achieve divine enlightenment. It is believed that Maha Risi Agastya and his descendants migrated to Bali from Varanasi in India, to promote their sacred knowledge and history. Eventually, Bali evolved into an eclectic fusion of Vedic, Tantric, Buddhist and indigenous beliefs, where people have deep reverence in nature as a guide to the spiritual world.
1. The Yoga Barn, Ubud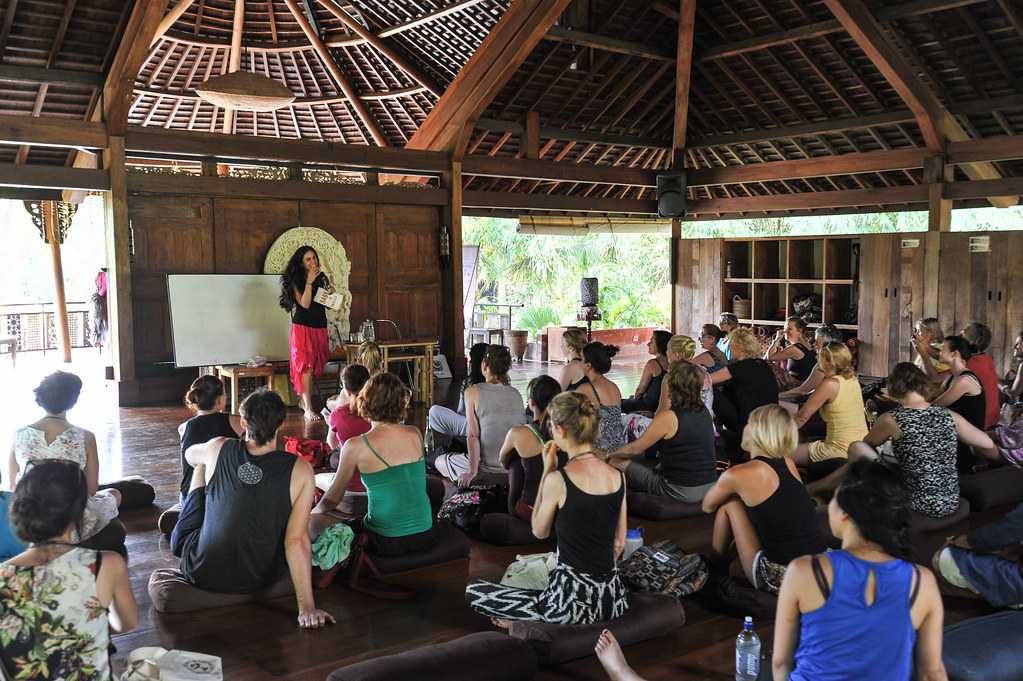 One of the most sought out studios in Bali is the Yoga Barn in Ubud, a holistic healing centre launched in 2007 which would leave you with an indigenous feeling. Classes are conducted in five open-air studios, two of which conduct daily sessions, coupled with an outdoor vegan café, lodging, and teacher training, massage therapy, healing services, etc. The classes accommodate around thirty-five to eighty students each, conducting over 100 classes per week. There are choices of over 15 classes and workshops composing of traditional yoga styles of Classical Hatha, Power, Pranayama, Vinyasa Flow, Iyengar, Kundalini, Restorative, Yin & Anusara as well as Meditation, Sound Healing, Kirtan and Ecstatic Dance. It is quite interesting to note that the community here organises one of the most popular festivals of the region, the Bali Spirit Festival.
Facilities available: Fully furnished studios equipped with yoga mats, bolsters, blankets, blocks and straps. • Changing rooms and shower facilities. • Organic food is catered from its onsite café. • Two garden areas provided for meals or relaxation.  • Separate bungalows for massage treatments.
Opening Hours: 7:00 AM to 9:00 PM
Location: Jl. Hanoman, Pengosekan, Kecamatan Ubud, Kabupaten Gianyar, Bali 80571
Contact: +62 (0)361 970 992
Website: www.theyogabarn.com
Average Cost: IDR 130,000 - IDR 2,600,000
2. Radiantly Alive
The owners of Radiantly Alive pride themselves on calling their studio as their home and aspire to offer to anyone looking for tranquillity in a foreign land. This studio in Ubud grants an 'eco-hip' facility. The choices of yoga come in a variety, for the visitors or learners to choose from, which includes vinyasa, ashtanga, and acro yoga. Other than the regular classes, the studio also presents teacher training, short training, healing and workshops. The training are recognised and accredited by Yoga Alliance, USA. 
Facilities available: 
An on-site café offering healthy bites, fresh fruit juices, premium teas and raw chocolates.
The café even offers meals according to the diet you are required to follow.
Features guests and prominent yoga teachers who choose out-of-the-box method to make your experience better. 
Opening Hours: 7:00 AM to 9:00 PM
Location: Jalan Jembawan No. 3, Padangtegal, Ubud, Gianyar, Bali 80571, Indonesia 
Contact: +62 (0)361 978 055
Website: www.radiantlyalive.com
Average Cost: IDR 140,000 - IDR 4,200,000
3. Samadi Bali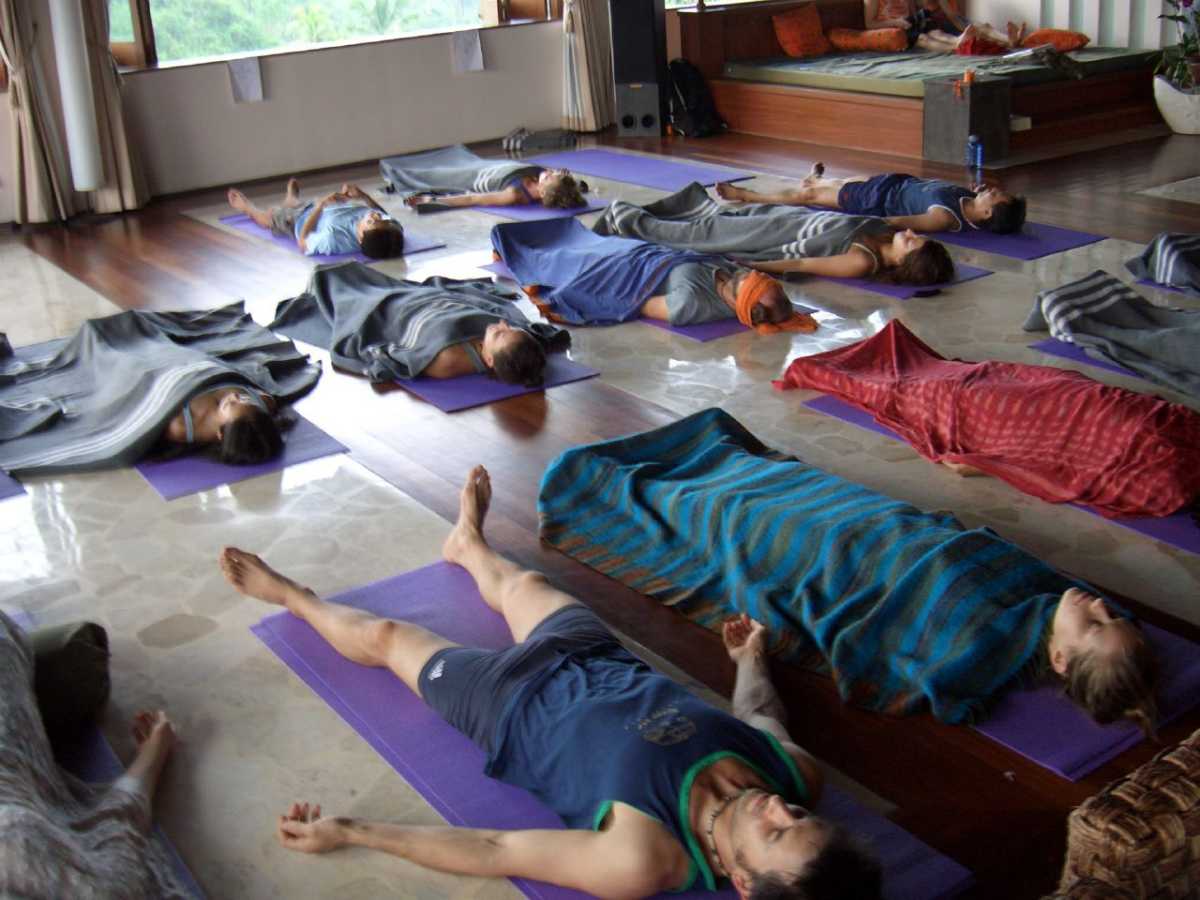 Located in a hippy beach town, in the heart of the surf spot of Canggu, the Samadi Bali hosts holiday as well as retreats, luxury accommodation, and teacher training and organic café with healthy vegetarian food. Instructors from all over the world would be sharing their experiences and wisdom. These mentors would be your 'chakra balancers', craniosacral therapists, or soul food artists to revitalise your taste buds with ayurvedic principles.
Highlight: The specialty of the studio is the Traditional Ashtanga Mysore Yoga.
Facilities Available:
Balinese Massage, Chakra Balancing, Trauma & Stress Release Therapy, Therapeutic Bodywork, Cranial-Sacral Therapy, and Life-Coaching in Bali.
Opening Hours:
Monday - Saturday : 7:00 AM to 9:00 PM
Sunday - 8:00 AM to 9:00 PM
Location: Jalan Padang Linjong, Canggu, Bali, Indonesia
Contact: +62 81238 312505
Website: www.samadibali.com
Average Cost: IDR 140,000 - IDR 2,200,000
4. Power of Now Oasis, Sanur
Located in the beachfront village of Sanur, Power of Now Oasis was established in 2010. The studio also has its own boutique hotel, Kolonial Hotel, a juice bar and a spa treatment room. Power of Now Oasis is a Zen yoga studio with daily meditation classes, wellness and yoga retreats, teacher training, in family-style community. Moreover, it is right on the beach with a remarkable bamboo treehouse. The design and setting create a refreshing and relaxing venue for practising yoga, self-introspection and meditation. The unique 'shala', the Sanskrit word for home or in this case, the yoga studio, has two levels with the meditation and yoga space being in the upper deck.  There are various class types and training choices. The trainers are, in fact, quite helpful regarding choosing classes according to your needs. One needn't book online although the site offers booking facility. 
Facilities Available:
Private Sessions, workshops conducted by visiting guests, library and music studio.
Opening Hours: 7:30 AM to 5:30 PM
Location: Mercure Resort Sanur, Jalan Retro Beach, Sanur Kauh, Denpasar, Kota Denpasar, Bali 80224, Indonesia 
Contact: +62 (0)878 6153 4535
Website: www.powerofnowoasis.com
Average Cost: IDR 120,000 - IDR 2,400,000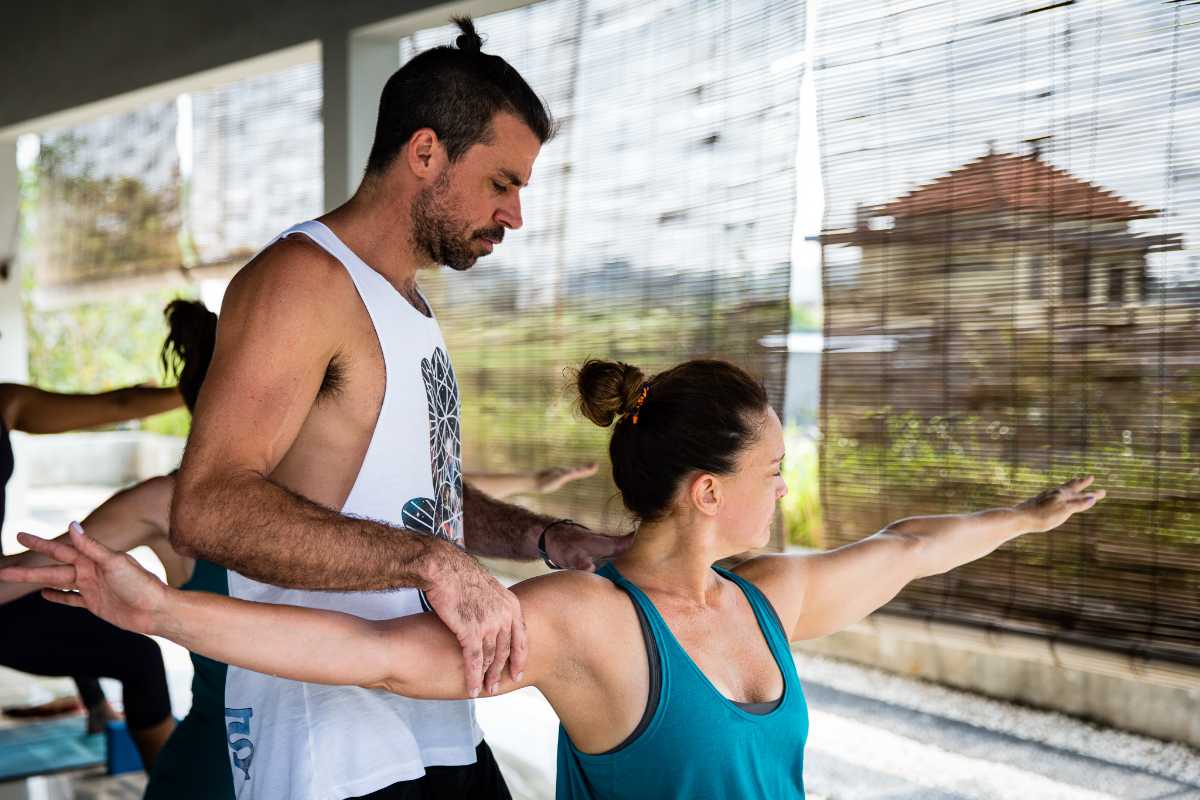 5. The Chillhouse, Canggu
If you are a solo traveller in Bali or a couple and would like to end your trip with the calmness and tranquil that yoga and meditation offers, this is your place. Established in 2005, the Chillhouse is located away from the crowd of tourists, bustling traffic, and the constant buzz of vehicles. This open-air studio offers classes in meditation, Hatha, Vinyasa Flow and Kundalini, holistic treatments, healing etc.
Facilities Available: 
There are various types of rooms to choose from as per your budget and needs.
Accommodation includes breakfast, dinner, 1 yoga class, fitbox, wi-fi etc.
Surfing, mountain bike excursion, etc. are also provided. 
Opening Hours: 8:00 AM to 10:00 PM
Location: JL. Kubu Manyar 22, Br Pipitan, Canggu, 80361 Bali, Indonesia
Contact: +62 812 3958 3056 (same for Whatsapp)
Booking: [email protected]
Website: www.thechillhouse.com
Average Cost: IDR 120,000 – IDR 1, 000,000
6. Intuitive Flow, Ubud
Intuitive Flow is a wonderful retreat set amidst the green valley of Campuhan in Penestanan. Yoga classes including Vinyasa, Prana, Yin and Hatha, other than offering training for yoga instructors as well as yoga retreats and workshops are imparted in a deeply disciplined spiritual environment. 
Facilities Available:
Yoga for beginners: Basic Yoga, Yoga Nidra, meditation classes, Hatha Yoga, Vinyasa Flow, Prana Yoga, Restorative, Yin Yoga etc.
Accommodation available at Bali Dream Resort.
Opening Hours:
Monday to Saturday - 7:00 AM to 7:00 PM
Sunday -7:00 AM to 12:30 PM
Location: Jalan Raya Campuhan, Penestanan Kaja, Ubud, Gianyar, Bali 80571, Indonesia 
Contact: +62 (0)361 977 824
Website: www.intuitiveflow.com
7. Blue Earth Village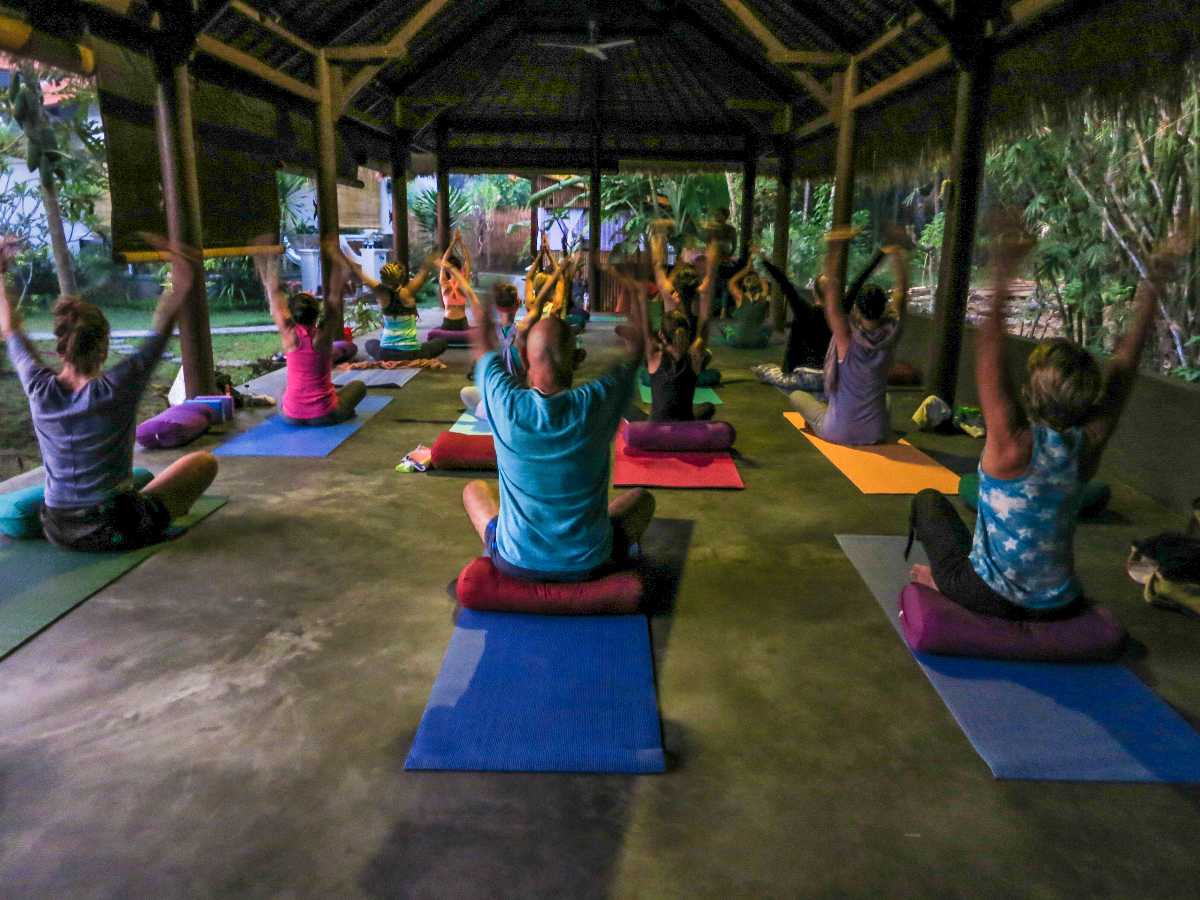 Set amongst the incredible views of Jemeluk Bay and Gunung Agung, the Blue Earth Village is an 'evolving educational and community hub', located in Amed, a tiny fishing village in East Bali. Started by the natives, the international freediving and yoga community and the residents living there, they aim to create a free-spirited space for the mind and body. If you are looking to have the best pizza in the region, as the bright orange sky fades at dusk, this would be the place to choose. The dreamy bamboo shala overlooking the sacred
Mount Agung
and volcanoes in the backdrop offers you the perfect setting to rest your mind and restore your soul with nature.
Opening Hours: 12:00 PM - 10:00 PM
Location: Amed Street, Bunutan, Abang, Karangasem Regency, Bali 80852, Indonesia
Contact: 0821-4554-3699
Website: www.blueearthvillage.com
8. Seminyak Yoga Shala
About five minutes away from
Seminyak Beach
in a sprawling, relatively quiet view, lies the Seminyak Yoga Shala. Many daily yoga classes are conducted in an enclosed room while their retail boutique offers everything you would need to enjoy a perfect session. It is the only studio that offers Mysore Style Ashtanga Yoga in Seminyak. The vegan-vegetarian restaurant offers a wide range of delicacies to cater to your taste buds while seeing to it that you enjoy a healthy meal after your training.  
Facilities Available: Yoga mats, hand towels, retail store, café. 
Address: Jalan Basangkasa No 1200B, Seminyak
Contact: +62 361 730 498   
Website: www.seminyakyogashala.com
Average Cost: IDR 126,000 - IDR 1,540,000
9. Takshu Yoga and Movement Arts
'Taksu' literally means 'the indescribable essence of spirit' in Balinese. Situated in Central Ubud, between Monkey Forest Road and Jalan Hanoman, it blends perfectly with nature to provide a recluse in the centre. Be it a private lesson to help you recover from certain injury or regular weekly classes; the Taksu Yoga has a lot on its schedule such as 'spontaneous flow', 'alignment flow', restorative, Yin and Hatha yoga, etc. The trainers are both Balinese and international. 
Facilities Available: Mats, blocks, straps and blankets.
Opening Hours: Closed on Saturday and Sunday
8:00 AM to 5:30 PM
Location: Jalan Goutama Selatan, Ubud, Gianyar, Bali 80571, Indonesia
Contact: +62 (0)361 971 490
Website: IDR 480,000 - IDR 1,420,000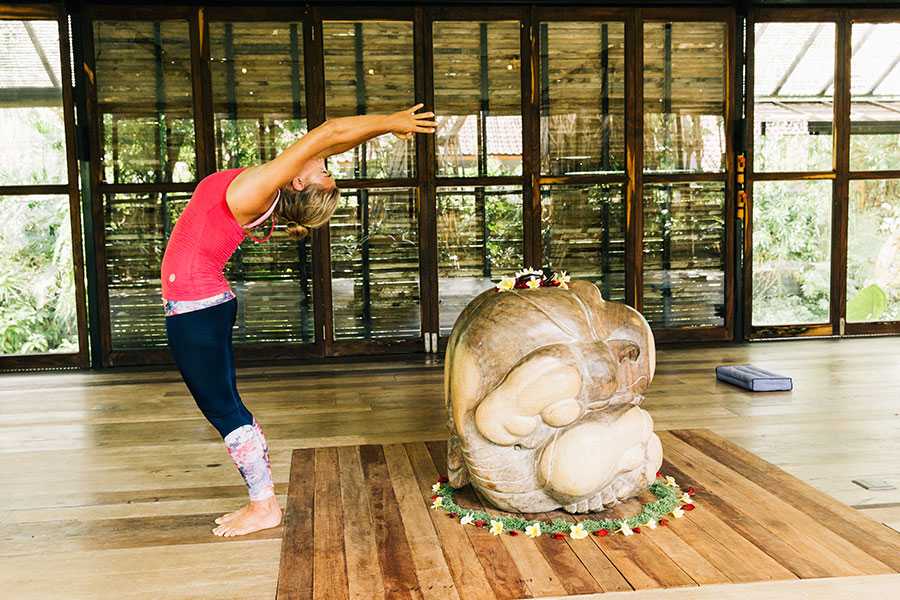 10. Gokul Yoga, Bali
The riverbank sets Gokul Yoga Bali amidst the lush green forest in Ubud, Bali. The school or the yoga studio is run by Mahayogi Gokulachandra Jani Jaatinen and his students and is accredited by Yoga Alliance, USA. It hosts daily classes, retreats, teacher training and workshops. Individual classes are provided for the primary yoga practices, which include asana, pranayama and meditation. They pride themselves on teaching as per the highest standards. In the backdrop of the tranquil environment of the Shanti Toya Ashram, Gokul Yoga aims towards a non-competitive spiritual development which encourages yogis and yoginis of all levels.
Facilities Available: Accommodation at Shanti Toya Ashram, meals, Balinese experience tour, Balinese massage etc. 
Opening Hours:
Weekdays -7:00 AM to 9:30 PM
Weekends - 9:00 AM to 6:00 PM
Location: Shanti Toya Ashram, Tebe Kurung, Br. Umahanyar, Penarungan, Mengwi, Badung- Bali, 80-351 Indonesia
Contact: +62 (0)851 0041 3689
Website: www.gokulyoga.com
11. Jiwa Yoga, Bali
The Jiwa Yoga studio in Bali is positioned close to the central areas of shopping in Seminyak Square. Other tourist-popular neighbours include the beach clubs such as Potato Head, W Hotel and Ku De Ta. The studio has earned its reputation for a perfect setting with white timber floors and walls, floor to ceiling mirror etc. and the warm welcome of the hosts. Exceptionally trained local teachers are replaced with internationally skilled mentors during the holiday season.
Facilities Available: Yogas such as Bikram, Sumits, Yin, Hot Pilates, Ashtanga, Vinyasa. Posture Clinic and Retreat
Opening Hours: 8:00 AM TO 6:00 PM
Location: 78 Jalan Petitenget, Kerobokan Kelod, Bali, Indonesia
Contact: +62 85100 413 689
Website: jiwabali.com
Average Cost: IDR 180,000- IDR 4,500,000 (Including 10% VAT)
Disclaimer: Towels and mats are charged extra.
12. Ubud Yoga House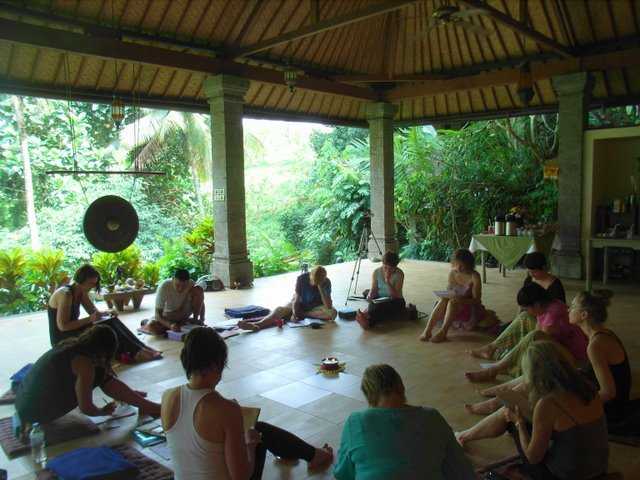 A boutique, outdoor yoga studio, Ubud Yoga House overlooks the rice field nearby and is surrounded by the jungle, creating a lush green and serene environment. The studio offers a wide range of choices of asana which includes Hatha, Ashtanga, Yin, Vinyasa, and Iyengar as while focusing on Ayurvedic medicine, meditation, breath-work, goals and aims of yoga, philosophy and teaching methodology. The Spa treatments, traditional Balinese healing treatment, a traditional fire ceremony and holy spring water visits here, would help you find inner peace and reboot your energy, mind, body and soul.
Facilities Available: 200 hour Yoga Alliance Teacher Training
Opening Hours: 7.30 A.M to 7.30 P.M
Location: Jl. Subak Sokwayah, Ubud, Gianyar, Kabupaten Gianyar, Bali 80571 - Indonesia
Contact: +62 082144181058
Website: ubudyogahouse.com
Average Cost: IDR 150,000 - IDR 1,400,000
13. Yoga Searcher, Bali
The Yoga Searcher in Bali is an eco-lodge located near the beaches Uluwatu and Padang Padang. They preach to be modest and provide a haven for inspired transformation in the personal quest. The whole place consists of eight wooden villas constructed with recycled wood, a symbol of traditional Balinese architecture. They provide a wide choice of asanas including Ayuryoga, Hatha Flow, Tantric Meditation, Restorative yoga, Tantric Hatha Yoga etc.  
Facilities Available: Eco-lodge, Vegetarian Vegan Café, Yoga retreats, Local and Traditional Holistic Spa, Kitchen etc.
Opening Hours: 7:30 AM to 9:00 PM
Location: Jl. Labuan Sait Suluban, Pecatu (Uluwatu) 80364 Bali, Indonesia
Contact: +62 8113809772
Website: www.yogasearcher-bali.com
Average Cost: IDR 120,000 - IDR 900,000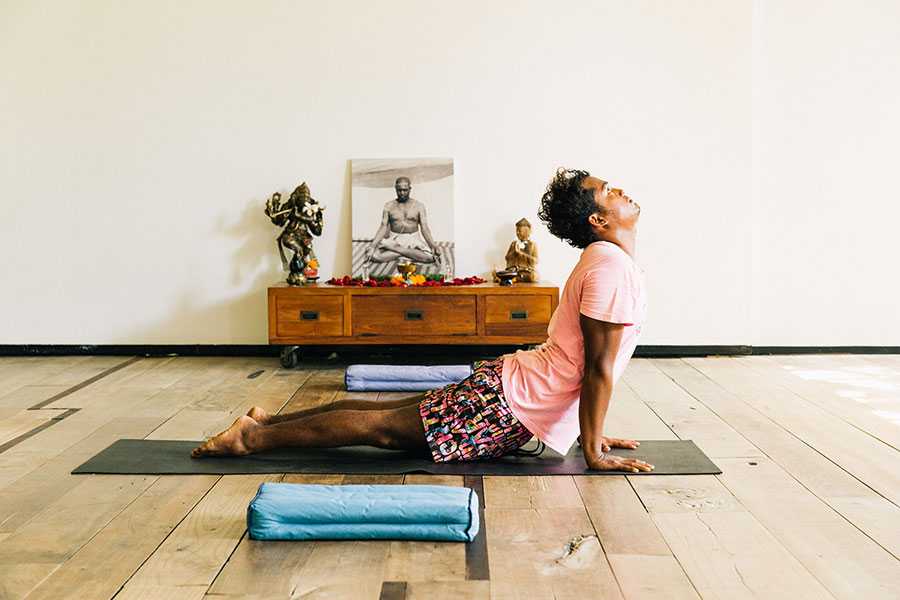 14. Umah Shakti
'Umah' in Balinese means 'home for a family' while 'Shakti' refers to the dynamic energy. The Umah Shakti shala is a family business with well trained and highly experienced teachers who make you feel at home immediately. They aim to provide a forum for self-growth and inner evolvement through knowledge of the physical, mental and spiritual practice.
Facilities Available: Workshops and trainings on asana yoga, breathing practice, meditation, Dharma Chakra and satsaunga, private consultation etc
Opening Hours: 7:00 AM to 7:00 PM
Location: Gg. XI No.14, Sanur Kauh, Kec. Denpasar Sel., Kota Denpasar, Bali 80227, Indonesia
Contact: +62 412 345 678
Website: www.yogaumahshakti.com
Average Cost: IDR 40,000 - IDR 250,000
15. Uluwatu Surf Villas
The Morning Light Yoga Studio at Uluwatu Surf Villas would fulfil your surfing urges and would allow you to rest your body, introspect and meditate along the ocean in your private recluse. It doesn't matter whether you are a beginner or an expert, the place would allow you to take in the sight, sound, and smell of beauty that nature is.
Facilities Available: Surfing, Retreats, Events, Bike Rentals, Massage and Spa
Opening Hours: 7:30 AM to 4:00 PM (90 minutes classes)
Location: Jl. Pantai Suluban, Uluwatu, Pecatu, Kuta Selatan, Pecatu, Kec. Kuta Sel., Kabupaten Badung, Bali 80364, Indonesia
Contact: +62 817-555-421
Website: www.uluwatusurfvillas.com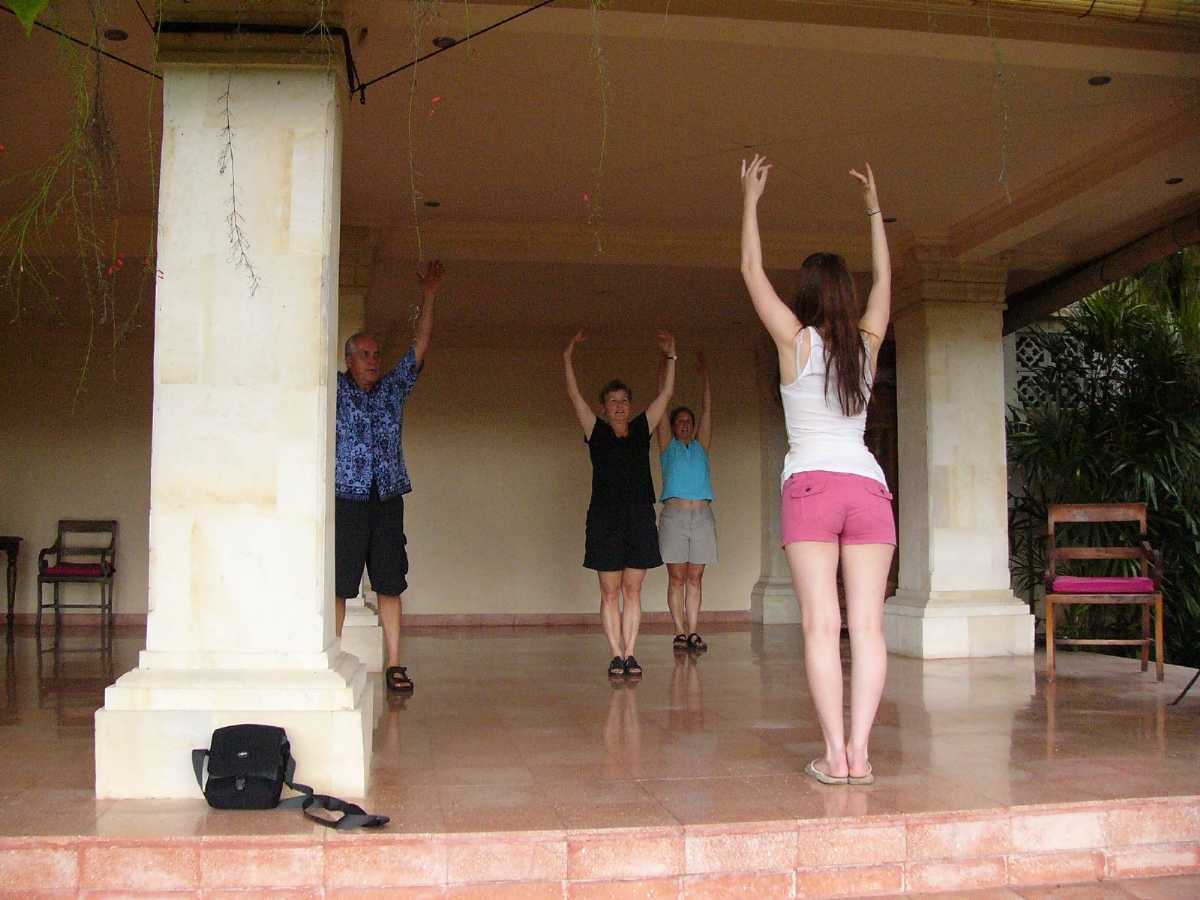 What to Carry
Although most yoga studios provide equipment, you may want to invest in them if you plan on practising yoga for a long time.
Yoga Mat Yoga Block Yoga Strap Yoga Bolster Blanket
Do not forget to wear comfortable clothes.
Tips
If you are a beginner, research about the kind of yoga you would like to learn and practice and choose the yoga studio accordingly. 
A lot of yoga studio also offers activities such as surfing and diving.
You might want to keep those in mind while you make your bookings to make the most out of it. 
Keep track of your diet.
Always keep yourself hydrated.
If you are going for a vacation, its best to indulge in yoga at the end of the trip to rejuvenate yourself and leave your tiredness behind. 
Last but not least, remember that yoga shouldn't be competitive. You are not judged. Yoga is practised to connect the body with the soul. Therefore, forget your corporate nature for a while and bring back the good-humoured kid in you.