"The Best Surfer out There Is the One Having the Most Fun" - Phil Edwards

Surfing in Phuket is a relatively recent development in terms of Thailand's tourism. Mostly centred along the west coast, ex-pats and locals started surfing a long time ago and over the years has managed to attract a lot of tourists as well. There are now many board rental shops and surfing schools which cater to both curious first-timers and hardcore surfers. As the course prices drop, a larger number of people are flocking to Phuket each year to try and ride the waves. Here we will talk about the season for surfing in Phuket, the best places to surf in Phuket and some of the reputed surfing schools in the region.
When Is the Best Time for Surfing in Phuket?
The surfing season in Phuket is from April to mid October. This period is the low season of travel in Thailand. As the weather changes, wind direction switches from east to west around April and the west coast sea starts to see waves perfect for Surfing. Although the waves are not high (within three meters high), there are few good spots where the waves offer enough thrill to lure tourists to come and visit Phuket at the low season.
Here Are the Best Beaches to Surf in Phuket
1. Bang Tao Beach
Bang Tao Beach is one of the longest beaches in Thailand. With a beautiful stretch of soft sand, Bang Tao is one of the best places to start surfing for beginners because of its calmer waves. The beach is mostly protected from high winds and has smaller waves. Further north along the beach, the wind gets higher, resulting in three meters high waves which are preferred by more experienced divers.
2. Kata Noi Beach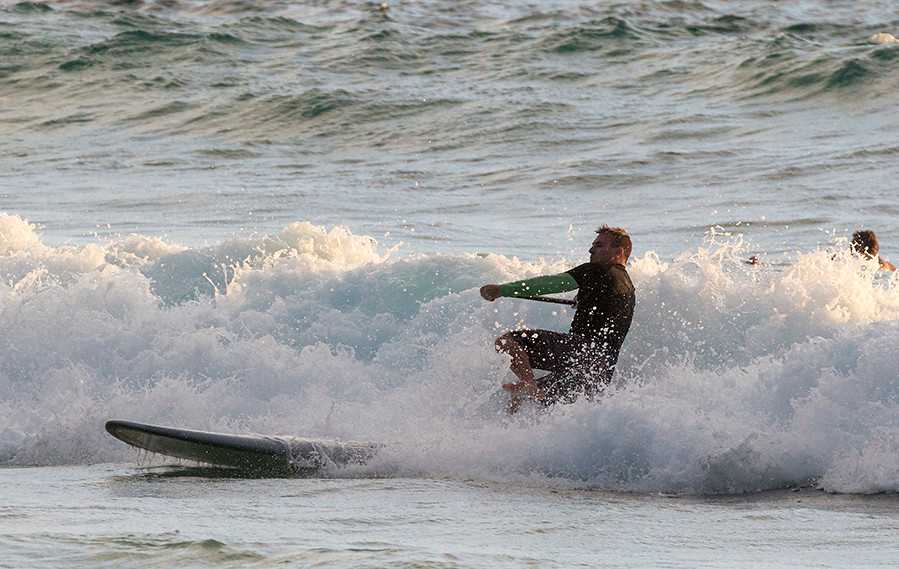 Kata Noi is a beautiful small bay near Kata Beach. And it's well known for its good surfing conditions in the northern part. The waves here are strong and quick, giving the thrill and fun surfers are usually seeking.
One thing to notice is there are no surf schools here, and one has to go to Kata for surfboard rentals or surf lessons.
3. Nai Harn Beach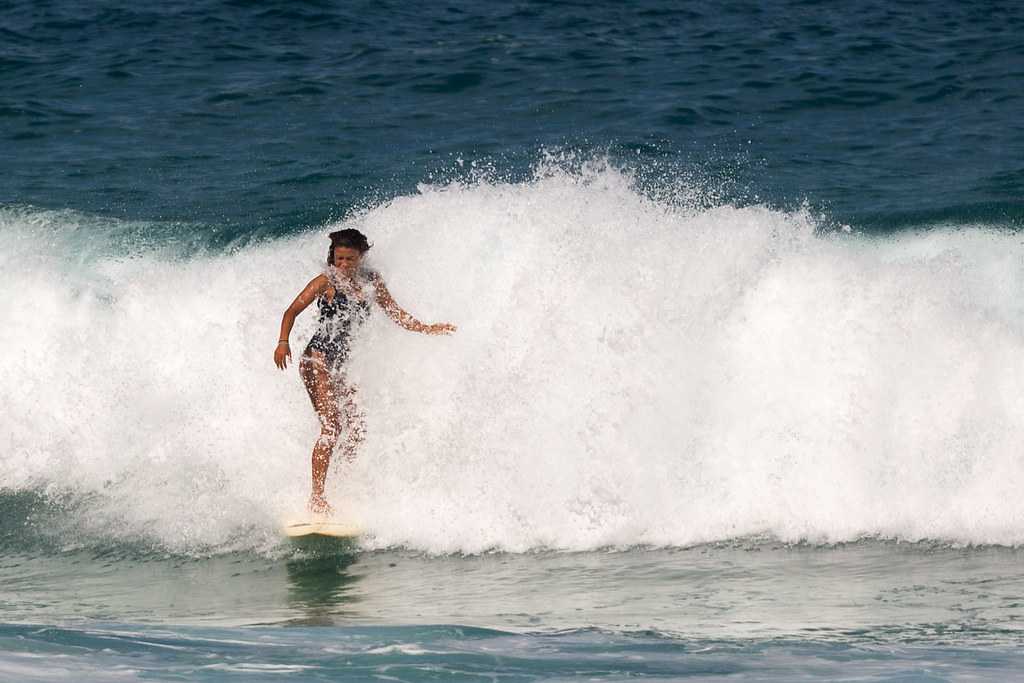 With decent waves ranging from two meters to three meters, Nai Harn attracts many surfers on its beach.
The Nai Harn Beach offers a Reef break and a beach on the northern end and a beach break on the southern end resulting in completely different surfing experiences at both ends. At the north end, reef breaks make the big waves. In the southern end, beach breaks make for small yet quick and long waves.
Surfing here is best suited for Beginners and intermediate surfers. Keep in mind there are no surfboard rentals or lessons available nearby.
4. Kata Beach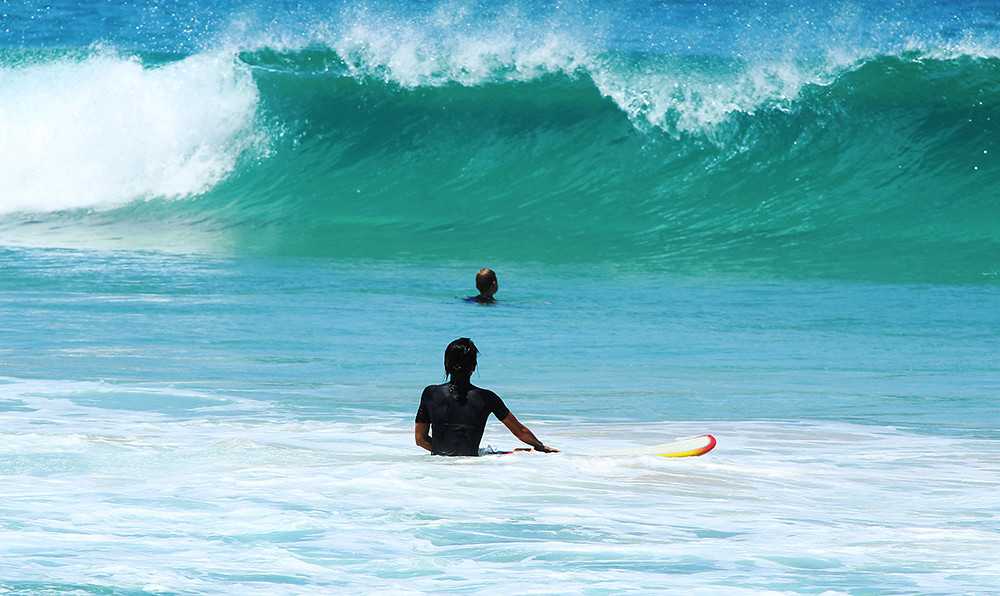 Kata Beach is famous for being among the top spots for Surfing in Phuket. Most wave riding action takes place on the southern side of the beach. With waves ranging from two meters to three meters, it's ideal for intermediate to advanced surfers.
Because of its popularity, Kata beach is always packed with tourists but not overcrowded. There are also surf shops to buy surfboards or rent one or take surfing lessons.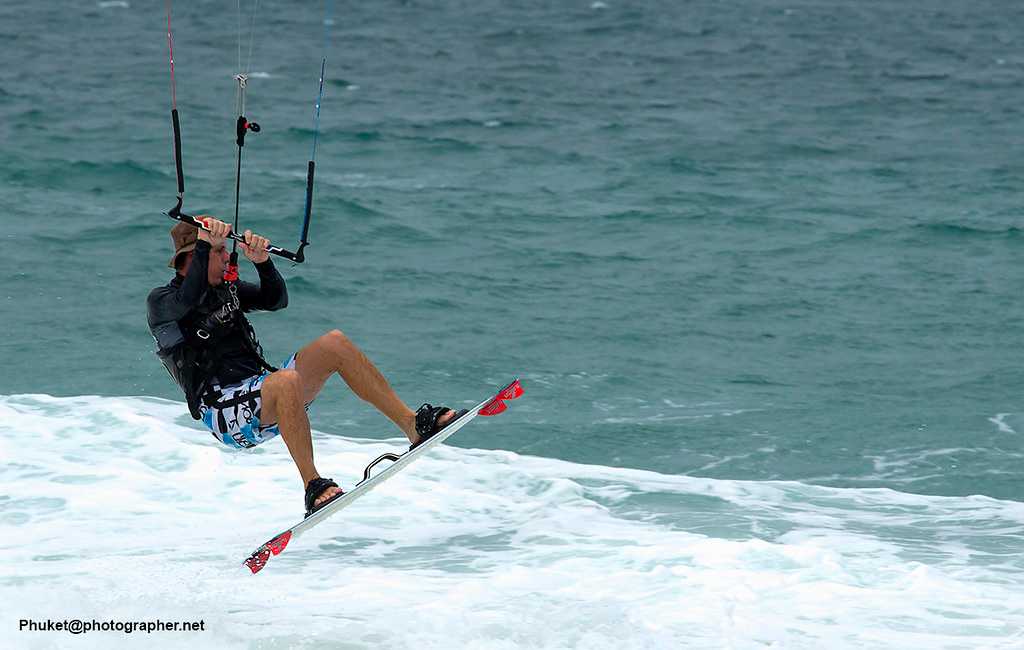 Kalim Beach is one of the best surfing spots for hardcore surfers. Located north of Patong Beach, Kalim Beach is certainly not for beginners.
During low tide, Kalim Beach is difficult to surf because of exposed rocks on shallow coral reefs. So it's best to go during high tide. With wave up to 3 meters high, shallow coral reef breaks offer long 50-100 meters ride.
Surfing contests are hosted on Kalim Beach every year.
6. Kamala Beach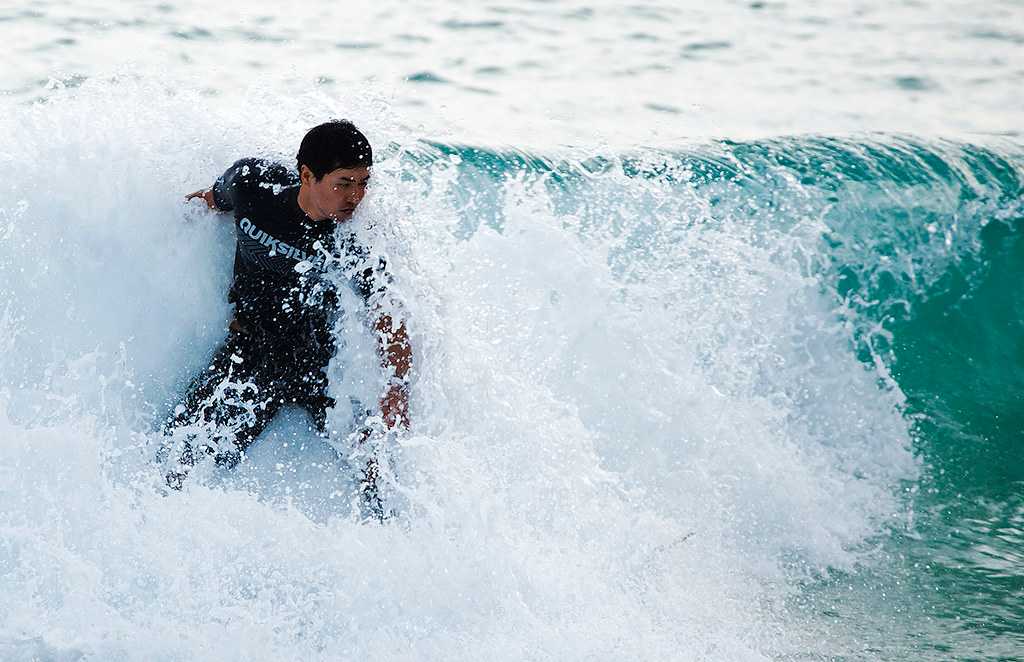 Kamala Beach offers great surfing experience for all level surfers. The beach has mainly three main spots.
The southern part, which offers a low gentle swell is suited for beginners to learn surfing. The centre part offers high waves over three meters, making this great for thrill-seekers and advanced surfers. The northern end is a tiny reef point break, making it a tricky yet enjoyable surfing experience.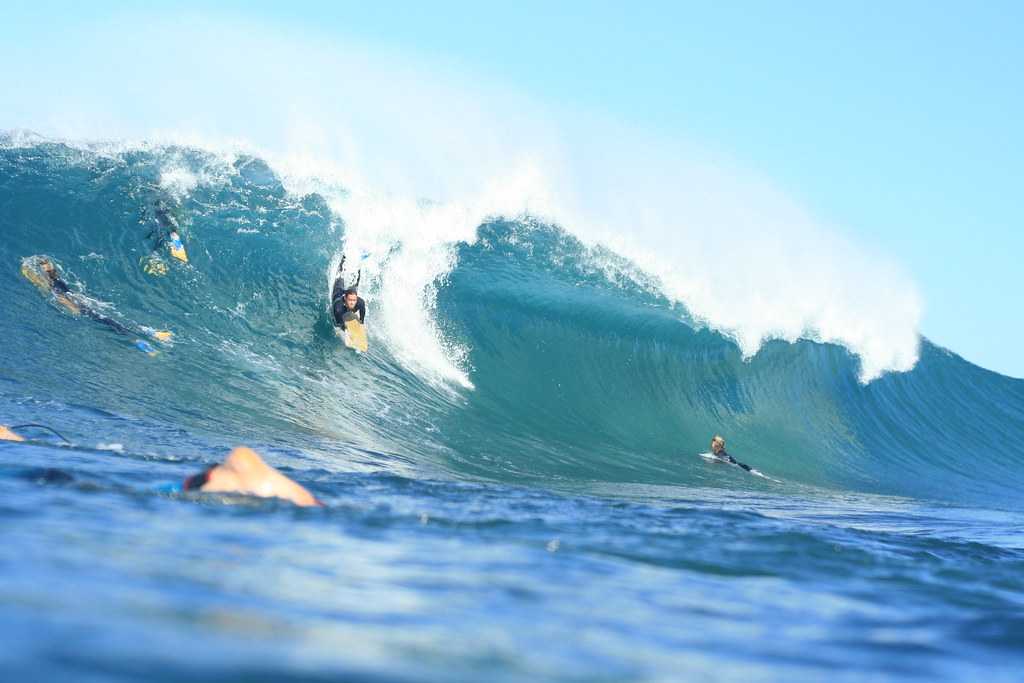 If you are in search of some barrel waves, Surin Beach is the way to go. And its heavy waves and strong currents make it suitable for more experienced and advanced surfers. Both ends of the beach are good for surfing. Although it's advisable to only surf at high tide. Rock formations are visible at low tide in the shallow water,
The central part of the beach creates sandbanks resulting in fast and slow waves to ride, and the sandy bottom parts offer a safe and slow landing from the waves.
8. Nai Yang Beach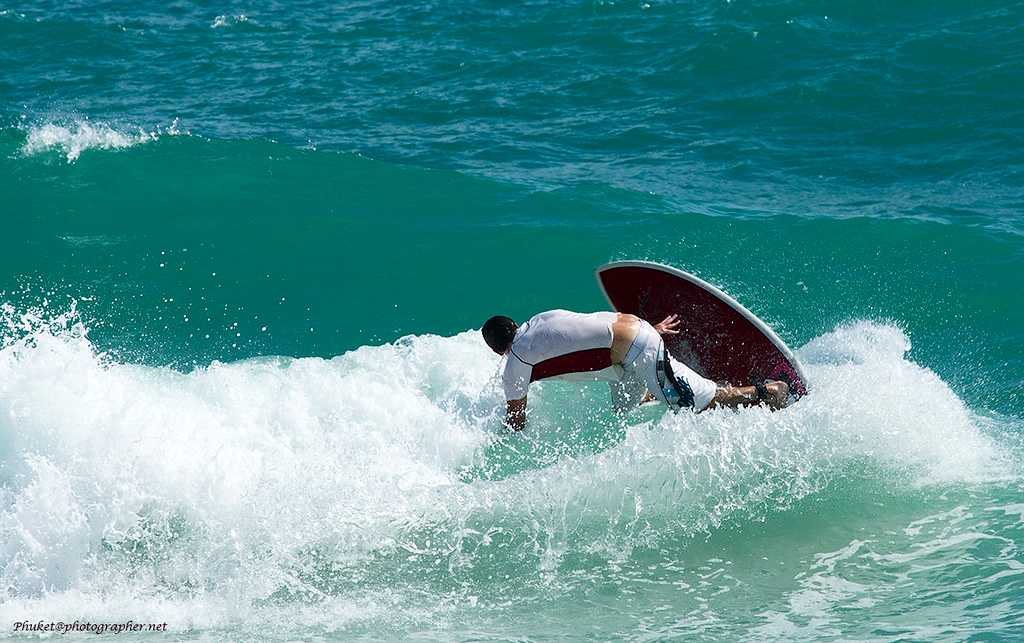 Located near to the Phuket Airport, the Nai Yang Beach is a perfect place to kick off some good waves for surfing. The unexpected winds and an 800-meter paddle offshore can offer quality waves but makes it best suited for advanced surfers.
The reef is square in shape and has many starting spots. The shallow water makes it difficult to surf as little banks and peaks appear on the surface.
The reef has no place for surfboard rental or lessons. So you have to bring your own surfboard.
Karon Beach has 3 kilometres of sandbanks that shift constantly. But when the winds stop and swells are smaller the spot is ideal for surfing. It is also a favourite spot for learning surfing in Phuket, with several surf schools around the area. The northern end has nice left and right waves to surf and a little further is a small headland with some more surf.
10. Nai Thon Beach
Nai Thon is undoubtedly the most beautiful beach on the island and is considerably less crowded than any other beach. The deep waters and exposed reef breaks offer a consistent surf with powerful waves. The centre of the beach and far south end have great surfable waves. Friendly training staff and easy board rental shops make Nai Thon beach a great spot to learn surfing in Phuket.
A secluded beach with sandbanks that are around 250 meters long, Pansea Beach is not an easily accessible spot. The beach is owned by Surin Resort and Amanpuri Hotel. To get access to the beach you can book a room in these hotels or will need to take a long walk to get to it. Great for experienced surfers it is one of the best beaches for surfing in Phuket. It is not crowded and has a rocky reef about 50 meters from the shore.
The surf is inconsistent but it works well on some days. The coral reef break on the northern headland where the waves become fat. It is best to surf on low to mid tides and the surf comes mostly from wind swells.
12. Patong Beach
The main entertainment and nightlife spot of the island, Patong Beach is not as good as the other spots for surfing in Phuket. The waves are surfable only once in a while and are good for beginners to practice their skills. Waves are fast and created by a mix of groundswells and wind swells. The northern end gets a few good waves as it is a bit rocky. You can take surfing lessons in this area and practice freely as it is not crowded.
13. Relax Beach
Relax Beach is also known as Karon Noi Beach and is one of the most expensive places for surfing in Phuket. The 350 meters long beach is a part of the property of Le Meridien Phuket Beach Resort. The exposed reef break provides a consistent surf at all stages of the tide. Being a private beach so it is rarely crowded but to get access to the beach you must book a room at the Le Meridien Resort.
Here Are the Best Surfing Schools in Phuket
1. SSS Phuket Dive & Surf Center
Location:
40/14 Kata Road, Kata Beach
Phone:
089 586 9920
Website:
www.sssphuket.com
2. Phuket Surf

Location:
186/11 Koktanod Road, Kata Beach
Phone:
093 582 2987
Website:
www.phuketsurf.com
3. Baan Andaman Sea & Surf School

Location:
21 Soi Phabaramee Soi 3, Phabaramee Road, Patong Beach (surf school is on the beachfront)
Phone:
089 973 2161
Website:
www.andamanseasurf.com
4. Skyla's Surf & SUP Club

Location:
202/88 Moo 2, Cherng Talay, Bang Tao Beach (near Catch Beach Club)
Phone:
082 519 3282
Website:
www.surf-sup.asia
5. Saltwater Dreaming

Location:
108/3 Moo 3, Cherng Talay, Bang Tao Beach
Phone:
076 390 664
Website:
www.saltwater-dreaming.com
Tips for Surfing in Phuket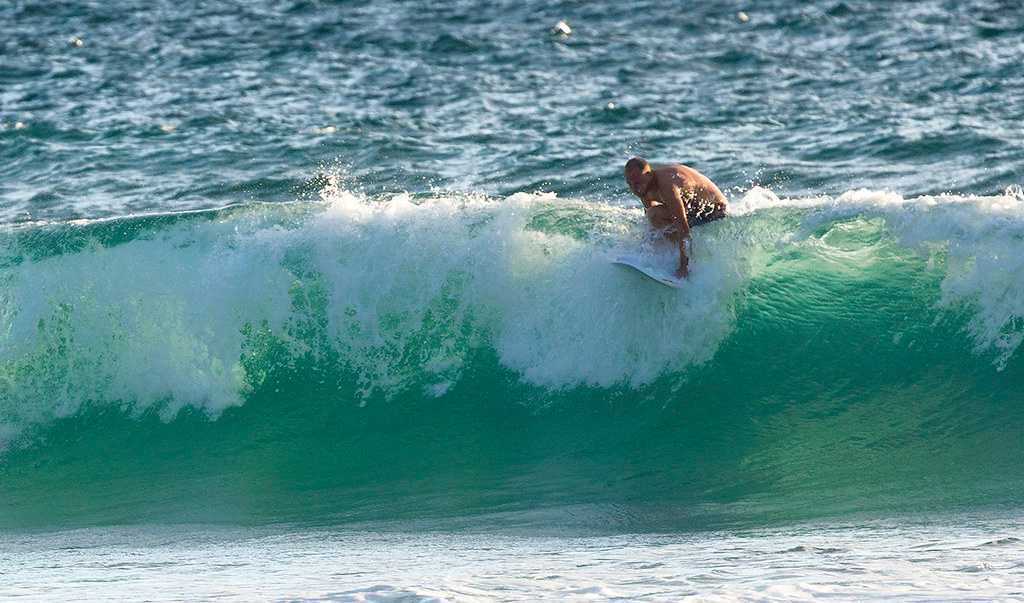 If you are a beginner, it is recommended to hire a guide to get you going.
Always use a surf leash.
As a beginner, use a large surfboard.
Use sunscreen to protect your skin from sunburn.
Some places have no board rental shops. Be sure to carry your own.


Next time you plan a trip to Thailand, be sure to try a bit of surfing in Phuket. We guarantee it is an experience to last you a lifetime. Let us know in the comments below which spot you enjoyed the best.