Snorkelling in Phuket is one of the best ways to witness its majestic wonders of marine life in the underwater world. It is usually done in shallow waters, and one does not even need to know how to swim! The water sport involves the use of a diving mask, a snorkel and swim fins. It allows you to catch a glimpse of rare sights of the underwater world without much physical effort.  Provided you have the right equipment and an adventurous spirit; snorkelling is just the water sport for you.
Why go snorkelling?
Indeed one of a kind experience, snorkelling attracts many adventurers all over the world. It is often considered as the 'younger brother' of scuba-diving, as it is usually done from the surface of the water and ensures a clearer sight of the aquatic creatures, without any bubbles blocking the view. It also does not require oxygen cylinders, as needed for scuba-diving.
Snorkelling can be done without any qualifications - one can explore the waters at their own pace. It is also not too expensive, besides the initial investment in the equipment, as it can be done at a public beach. The water-sport is also suitable for people of almost any age, making it a fun-filled family activity!
What makes snorkelling in Phuket perfect?
The island of Phuket is one of the most famous tourist destinations for snorkelling, with its beautiful beaches, clear waters as well as plentiful coral reefs and marine life. Perfect for both adventure lovers and water sports enthusiasts, snorkelling in Phuket is at the top of the must-do list for tourists.
Known as the Pearl of the Andaman Sea', Phuket is the largest island in Thailand and is an ideal destination for snorkelling. It has a multitude of beaches that present excellent opportunities for snorkelling, with an abundance of coral reefs. The island is also known for its abundance of unique aquatic species, including eel and clownfish.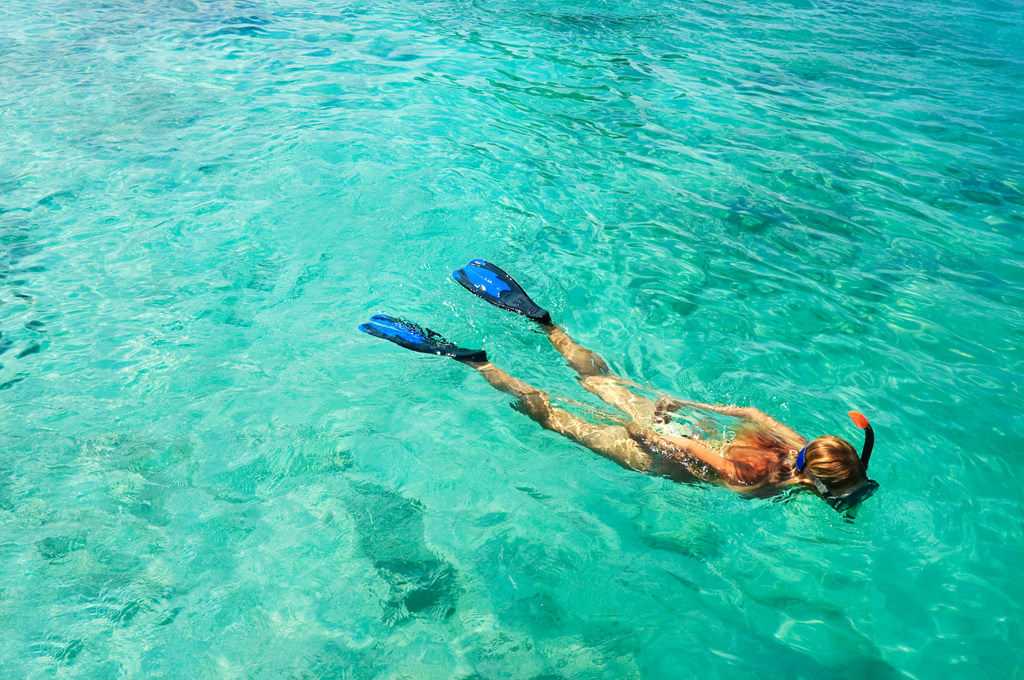 Best Time to go Snorkelling in Phuket
It is recommended to go snorkelling when the tide is in, as one will be able to have a better view of Phuket's colourful aquatic life. Although snorkelling can be done all through the year, the best time is the post-monsoon season. This lasts from November to April and is when the sea is at its calmest.
Best Locations for Snorkelling in Phuket
With the right equipment and knowledge of the technique, it is possible to go snorkelling for free at one of the many beaches of Phuket. Some of the most famous beaches for snorkelling include:
1. Freedom Beach
One of the top locations for snorkelling in Phuket is the south end of the Freedom Beach. This stretch of white sand has plenty of rocks and corals ideal for snorkelling.
How to get there:
One can get here by trekking a route over private land, by a steep dirt road starting past the Avista Resort in Patong till Karon Beach. One can also take a longtail boat from Patong beach, for approximately 1000-1500 THB. Another option is to take a boat from Karon beach or Tri Trang Beach. Although this will be cheaper, it takes a more extended amount of time as boats are not too frequent.
2. Laem Singh Beach
The Laem Singh Beach is a favourite among many locals and tourists for snorkelling in Phuket. This small beach is filled with palm trees and rocky formations. It is also home to many coral reefs and unique, colourful fish, making it ideal for shallow-water snorkelling. However, the beach does not have too many shops offering snorkelling equipment on rent.
How to get there:
Located in the west of the island, the Laem Sing Beach can be found between Kamala Beach and Surin beach. Direct access to the beach has been restricted in the past few years. However, one can take a boat from the southern end of Surin Beach, which costs approximately THB 100 per person for a round trip. You can also pay THB 400 for the entire boat. You may have to get your feet wet, as there is no pier when you reach your destination.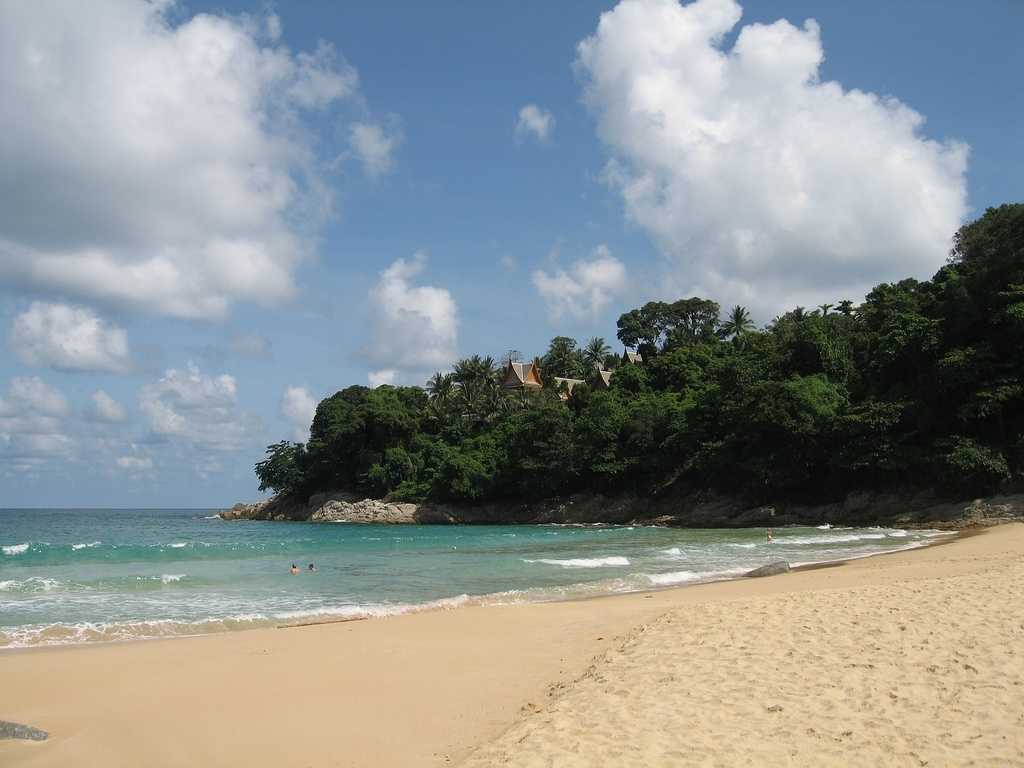 3. Ao Sane Beach
Consisting of a series of three sandy bays separated by rocky headlands, the Ao Sane Beach offers snorkelers a unique experience, complete with colourful fish, living corals, black sea urchins and occasionally, even a lobster! The rocky beach enjoys clear and calm water all through the year, and therefore is one of the most popular destinations for snorkelling in Phuket.
The eastern end of the beach towards the Nai Harn resort is an excellent spot for snorkelling. There are no shops at the beach that rent out snorkelling gear, so be sure to bring your own.
How to get there:
The Ao Sane Beach is located just a short drive away from Nai Harn Beach. One can access the beach through the Le Meridien Phuket Yacht Club parking lot, or through the road after the Nai Harn Resort.
4. Kata Beach
The Kata Beach is often referred to as Kata Yai (Big) beach, to avoid confusion with Kata Noi (Small) Beach. The Kata Yai beach easily charms beachgoers with its white sand, warm blue waters and scenic views.
The Boo Island (Crab Island) found at the north end of the Kata Beach is a perfect spot for snorkelling in Phuket. The island boasts a spectacular coral reef, with some unusual aquatic creatures. The south side of the island has a reef approximately 400 metres away, which one can swim to if they wish to. The beach also offers facilities to rent out snorkelling gear. 
How to get there:
The Kata Yai Beach is located on the west coast of Phuket and is about 20 kilometres away from the central Phuket town. It can be reached directly by road, as it is located around the Laem Sai headland, south of Karon beach.
5. Kata Noi Beach
Less developed than the Kata Yai Beach, this beautiful beach is also another favourite for snorkelling in Phuket. The south end of the beach provides spectacular views underwater, with its shallow waters, corals and fish species, such as angelfish, parrotfish and anemone fish. Occasionally, you may even spot stingrays or sharks. Ensure to visit this beach during the high season only, as it can get dangerous at other times of the year.
How to get there:
The Kata Noi Beach can be found south of the Kata Yai Beach. The main road runs all the way to Kata Noi beach so that road can access it. One can also walk to the Kata Noi Beach from the Kata Yai Beach, but this walk involves climbing a number of steep stairs.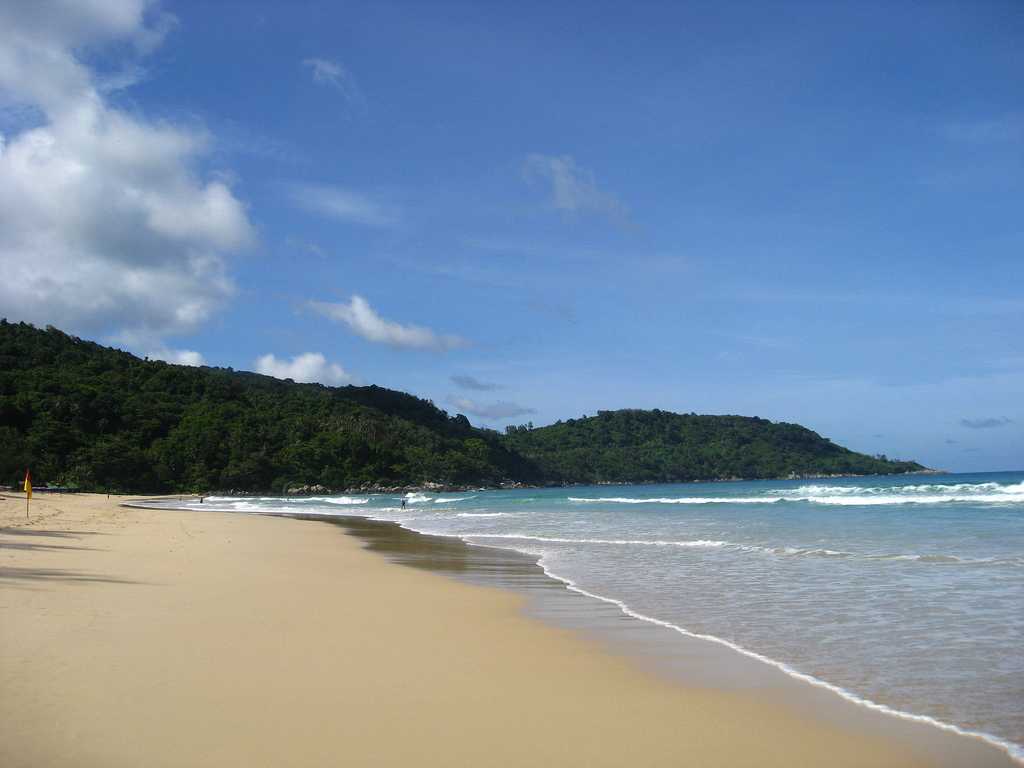 6. Paradise Beach
The Paradise Beach is among the top-rated sites for snorkelling in Phuket. The beautiful beach is surrounded by palm trees, rocks and clear waters. Although one may witness some flattened or dead coral due to the effect of the tsunami, the beach offers live corals along with plenty of vibrant sea-life, including little turtles and crabs.
One will have to pay an entry fee of THB 200 per person for admission.
How to get there:
The Paradise Beach is located on a peninsula on Phuket Island, just south of the Patong Beach. Head south on the Patong Beach Road to Amari Phuket and go left, passing Baan Yin Dee, Tri Trang Resort and Merlin Beach Resort on the way. Following the road to Emerald Bay, there is a steep road going to the paradise Beach car park. One can also choose to reach here by renting a boat from the south end of the Patong beach, for approximately THB 1000.
7. Banana Beach
Relatively isolated and a bit tricky to find, the Banana Beach will be worth it once you get there. Known as a 'secret beach', due to its hidden location, this beach is famous for snorkelling in Phuket. It boasts a larget stretch of white sand, clear and shallow waters as well as plenty of colourful and tropical fish, including a tiny shark sometimes! One can rent snorkelling equipment from the restaurant on the beach, and enjoy their food there afterwards.
How to get there:
The Banana Rock Beach, as it is sometimes referred to, is located north of the Phuket island, near the Sirinat National Park. Banana Beach is situated between the Bang Tao and Nai Thon beaches, some 500 metres north of Trisara Resort. To get here by road, follow the route as you would to Naithon beach, and pass the Andaman White Beach Resort. Keep an eye on the right-hand side, and if you are lucky, you will spot a line of vehicles parked near a sign for the Banana Beach. If you are coming from the south (Bang Tao?), you will have to pass Trisara Resort and slow down when the road dips, where you will spot an open barbed wire fence and the sign for the beach. If you choose to park here, you will have to walk down a hill to reach the beach.
If you wish to go to the northern end of the beach, you can choose to follow the sign that says 'To Nai Thon' close to the parking area and cross the river, following the trail till the end. A number of people also access the beach by renting a longtail boat from other beaches.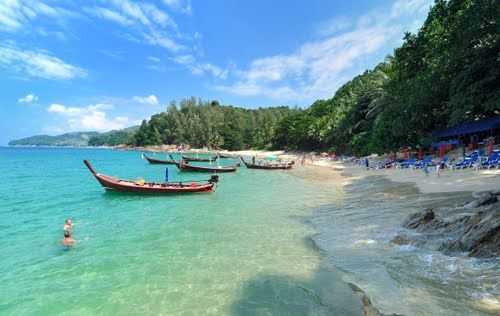 8. Nai Thon Beach
The Nai Thon beach is a quiet spot where one can get away from crowds in the central Phuket area. The beach is divided into two regions by a rocky formation. It offers a great escape from the hustle and bustle outside and does not have any watersports like jet skiing or parasailing. Snorkellers here can take advantage of the abundance of underwater life such as batfish, eels, turtles and barracuda. There is also a dive shop on the Beach Road.
How to get there:
The easiest way here is to follow the signs on the road, as you drive towards the airport. Turn left at the intersection just before reaching the airport, and after a few kilometres, turn right at the signs for Andaman White Beach Resort and Trisara Resort. The beach can be found approximately 3 kilometres from Banana Beach.
9. Ya Nui Beach
Found in a south-western corner of Phuket, the Ya Nui Beach contains bays, coral reefs and caves, filled with plenty of marine life. The beach can be found near two of Phuket's famous viewpoints, the Laem Phrom Thep and the large white windmill. It is also renowned for kayaking, fishing and is a popular pre-wedding photoshoot location.
Head here with your snorkelling gear to discover some of the most exotic fishes in the clear waters of Ya Nui. Snorkelling gear can be hired on the beach. Many choose to go to the nearby island Koh Keyao Noi, which is often considered even better for snorkelling.
How to get there:
You can reach the Ya Nui Beach by road, by driving south over the hill from Nai Harn. You will pass the windmill viewpoint and drive downwards onto the beach.
If you are coming from Rawai, you can drive straight along the main road and go left when the Rawai-Phrom Thep road turns left, eventually leading to the beach.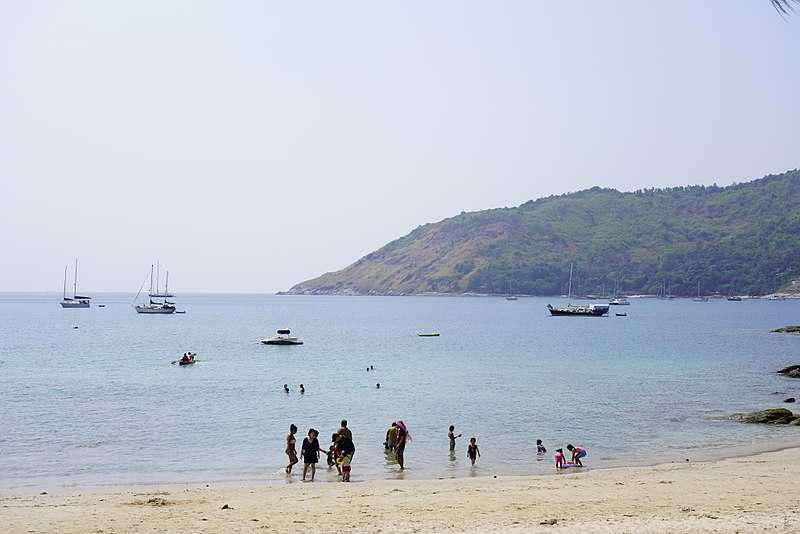 10. Laem Ka Beach
The Laem Ka Beach can be found in the south of the Phuket Island and enjoys a secluded existence. It is a great picnic spot, with its shallow, calm waters and shady areas. The surrounding islands like the Coral Island, provide stunning views at the beach.
This small, rocky beach is an extremely popular destination for snorkelling in Phuket at high tide, due to the clear visibility of marine life in the waters. It is also a habitat for many sea creatures, including many species of crabs.
How to get there:
To access the Laem Ka beach, you can head to Rawai, and you will find a 7-Eleven store on the main road, opposite the temple. Follow the small road heading east and drive around one kilometre past a checkpoint and through a coconut plantation. Go right from here, leading you straight into the car park of the Laem Ka Beach.
Training for Snorkelling in Phuket
If one would prefer to have some instruction and training by a guide, there are some available tours for snorkelling in Phuket. Some of them are:
1. Eco Divers Phuket
Eco Divers Phuket offers guests with some SSI courses for snorkelling, such as the Freediver course, which includes the theory of snorkelling, breathing techniques and dynamic free-diving. They even offer specialities like underwater photography and fish identification.
Cost:
This course is available for THB 3,200. The other certified diving and snorkelling courses vary, depending on activities, duration and cost.
2. Raya Divers
Raya Divers offers courses specialising in scuba diving and snorkelling in locations all over Thailand, including Phuket. It offers island tours and beginner level courses for snorkelling such as Raya Paradise, Phi Phi Islands Snorkelling Day-trip, Snorkelling Safari and more.
Cost:
The tours, lasting from 6 to 10 hours, start at THB 2,500 per person. They include hotel pick-up, food and non-alcoholic beverages, equipment and national park fees, if applicable.
3. SSS Phuket
The SSS Phuket Dive Center offers beginner and professional level certified courses, in scuba diving, snorkelling and surfing. The one-day long snorkelling tours include three destinations in Phuket, namely Koh Phi Phi Island, Similan Islands and Racha Yai Island. The tour consists of an experienced tour guide, renting of the snorkelling equipment, breakfast, lunch and snacks as well as beverages all day.
Cost:
The tours start at THB 2,500 per person and THB 1,900 for children from 4 to 10 years of age. You can even rent an underwater camera for THB 1,000 to save the memories you make while snorkelling.
It is possible to arrange for private snorkelling tours, starting at THB 17,000 for the entire boat allowing ten people, or stay overnight at one of the destinations starting at THB 5,800.
4. Easy Day Phuket
Easy Day Phuket organises a variety of snorkelling tours, including day trips and overnight tours, to Racha Island, Phi Phi Island, Coral Island, Surin Island and a private tour of Phuket Island too.
Cost:
These tours start at THB 1,900 per person, and THB 1,200 for a child between 3 to 12 years. They include all snorkelling equipment, lunch and an experienced tour guide.  
5. Aloha Diving
Explore the island of Phuket and its surrounding islands with one of the tours offered by Aloha Diving Centre in Phuket. They have many sight-seeing and snorkelling tours by different tour operators in locations like Phi Phi Islands, Phang Nga National Park, Surin Islands, Koh Kam, Similan Islands and more! The unique tours feature different options, from lunch in a jungle, to a private boat charter with only your loved ones and the captain and crew on board.
Cost:
The tours offered start at THB 3,500 per person, and THB 2,200 for children between 5 to 11 years.
6. Offspray Leisure
Offspray Leisure offers diving, snorkelling and sightseeing tours in small groups to the 
Phi Phi Islands and beyond. It provides tours going to Racha Yai Island and Phi Phi Island, complete with an experienced guide, hotel transfers, snacks and refreshments, lunch, snorkelling gear and national park entrance fee.
Cost:
The tours start at THB 3,500 per person, and at THB 2,400 per child between the ages of 4 and 11 years.
Tips and Tricks for first-time snorkelers
Ensure that you wear comfortable clothes that protect you from the sun.
Be careful to not touch the coral reefs or the sea creatures - it can be dangerous for you and them.
If you choose to purchase snorkelling gear, focus on its quality rather than its cost alone. Make sure to try it on before purchasing.
Make sure that you are aware of basic snorkelling dangers and hazards, as well as the ocean conditions before going snorkelling.
Remember to swim slowly and calmly, so as not to waste all of your energy in the beginning.
Spend some time practising breathing in shallow water with your snorkelling gear.
Enquire about the possibility of jet-skis in the waters.
Do not forget to defog your mask before putting it on, to avoid foggy vision.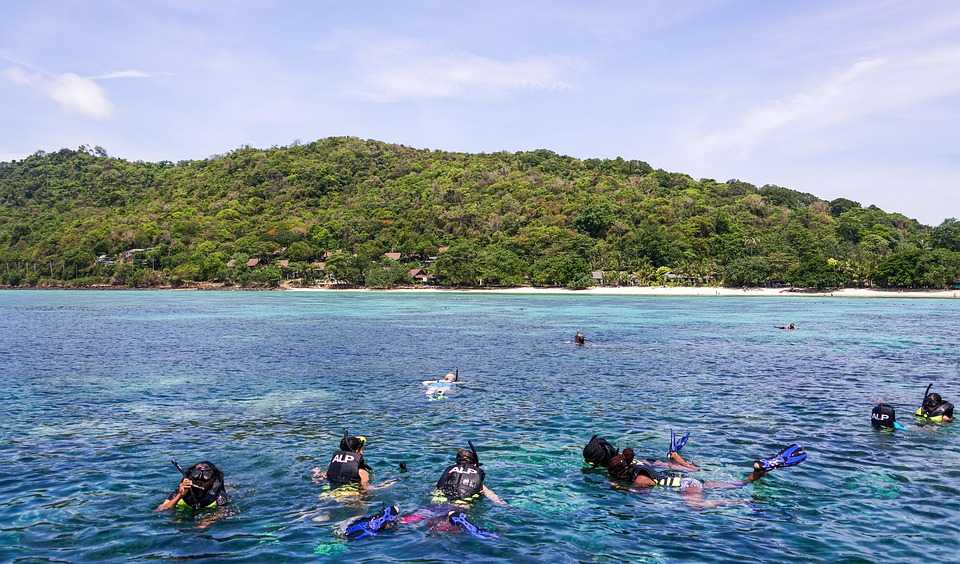 As one of the top visited areas of Thailand, the Phuket Island is memorable for its temples, restaurants, nightlife and more. However, its marine life is no less - the island's magnificent beaches, vast oceans and rich corals make it a paradise for any water sports lover. So find your flippers and grab your snorkelling gear, and head onwards to Phuket to explore its colourful marine scene.