Phuket
's picturesque beaches, cultural and historical sites as well as many tourist attractions make for a great vacation spot for all kinds of people. The 'Pearl of the Andaman,' as it is often called, offers travellers a perfect escape from the hustle and bustle of city life. The beautiful island has a variety to offer, and one of the best ways to explore is by renting a bike in Phuket!
The process of renting a motorbike may seem overwhelming, but it is pretty easy if you are well informed about what you will require and what to keep in mind. It is essential for you to pay attention to a few details. From choosing the type of bike for you to the cost and documentation required, this guide will provide you with all the information needed to rent yourself a bike in Phuket,
Thailand
.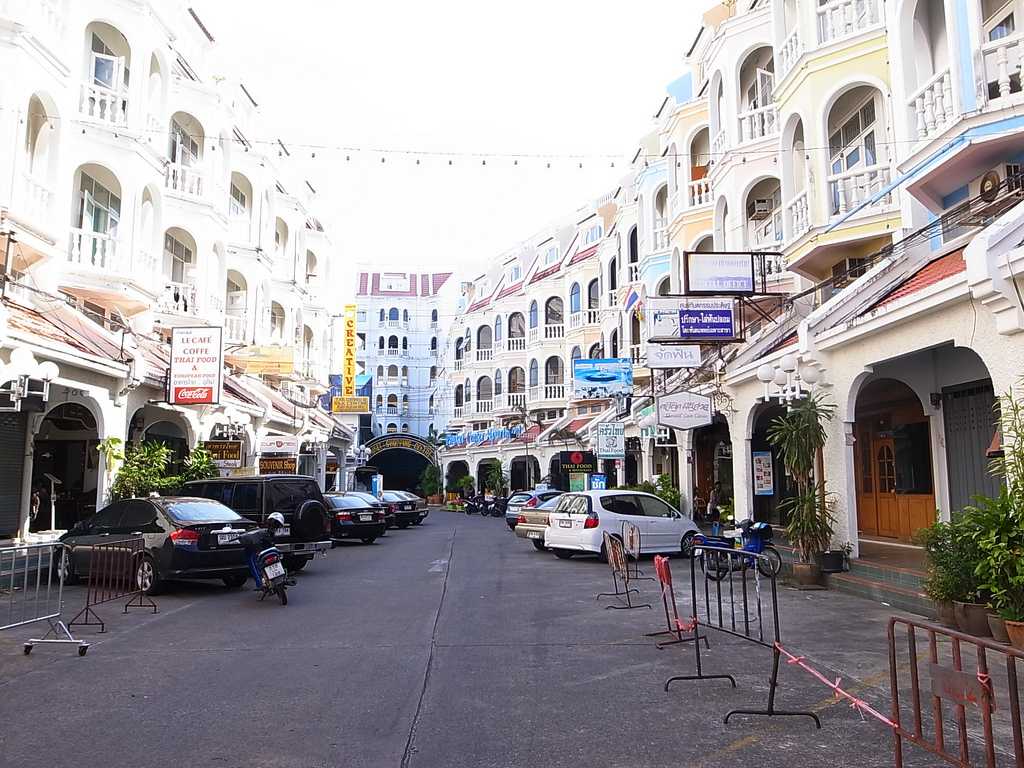 Why Should you Rent a Motorbike in Phuket?
Renting a motorbike is one of the simplest ways to explore the island of Phuket. With ample parking spaces available everywhere, the bikes are extremely convenient for sightseeing. This adventurous way of getting around the city is also a great way to beat the city traffic. Starting at prices as low as THB 200 per day, they are also extremely affordable and accessible to operate.  Renting a bike allows you to go sightseeing whenever and wherever you wish to, without having to rely on public transport.
How to Find Bike Rental Operators in Phuket?
There are some bike rental shops in Phuket, both online and offline. They are easy to find in resort towns like Patong and Kamala. Some hotels and guesthouses in Phuket allow you to rent motorbikes, as well. If this is not available, you can also ask at the hotel information desks for recommendations, as they usually have the most accurate information about the nearest shops. You can even research online to find the best shop in your area.
Choose a well-established rental shop, preferably one with more customers and better reviews online, to avoid scams. It is best to choose a rental shop that has well-maintained vehicles, with insurance coverage available.
Type of Bikes Available for Rent
The most common bike given to customers in Phuket is the Honda Click, a 125cc twist-and-go scooter, which is simple and easy to operate. The price for this vehicle usually starts at THB 200 per day. This fare may increase slightly during the high season (November to April). You will be required to pay the cost of rental for one day as a security deposit, which will be returned to you when you return the vehicle (as long as there is no damage caused).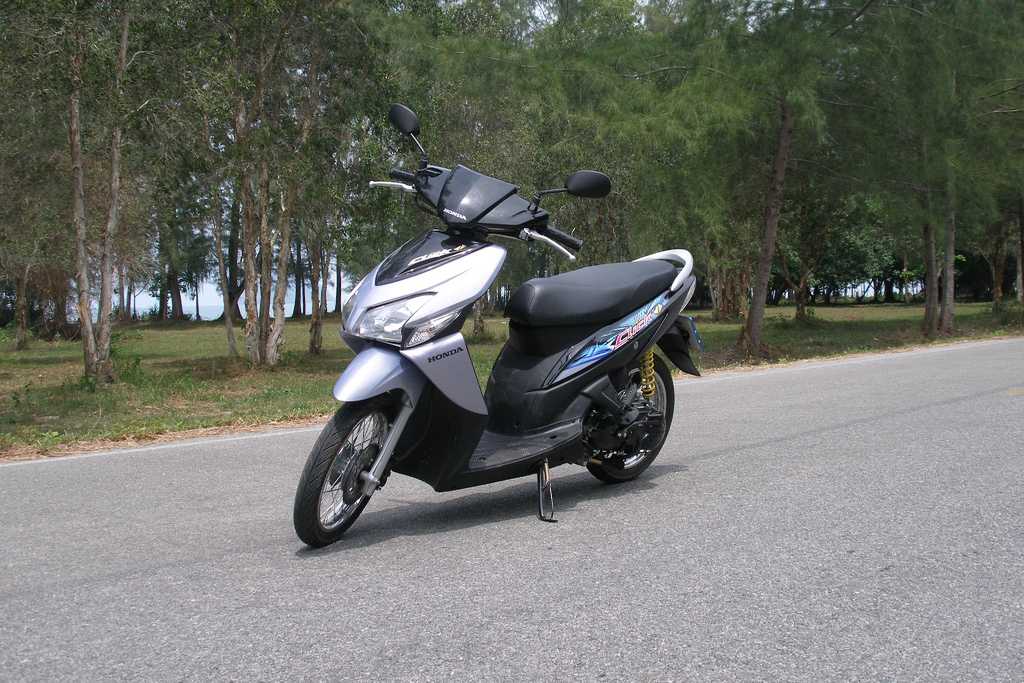 If you prefer a motorbike with more power, there is also the Honda PCX with a 150cc engine. This is better for longer trips, as it has wider wheels and more comfortable seating. Yamaha bikes are also often seen in Phuket, with engines of varying capacity. These options, although attractive, are available for higher prices than the Honda Click.
The average cost of renting a bike is usually THB 200-300 per day, but this depends on several factors like the model of the bike, its physical condition and the rental term chosen by the customer. Shops will have different types of larger bikes available, but it is best to avoid these. Even if you are comfortable enough to ride them, they are usually more unsafe, more costly and less fuel-efficient.
Inclusions:
Most bike rental shops provide you with at least one helmet, for a small additional fee. Some rental shops also offer a free map and advice regarding the best tourist spots and bike routes on the island.
Exclusions:
Bike rentals do not include the cost of petrol. Most bikes in Phuket use the '91' octane level of gasoline. The cost of any damage or repairs while the motorbike is hired is also not included.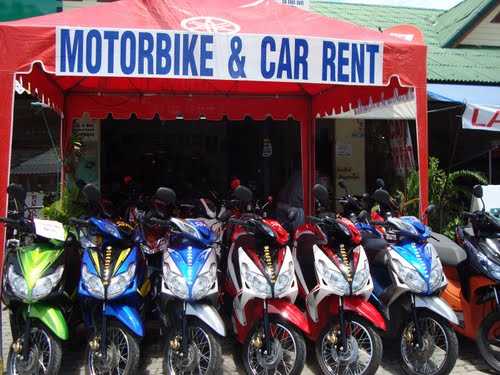 Major Bike Rental Players  
There are a large number of specialised bike rental companies in Phuket that can be found very easily, especially in beach resort areas like Patong and Karon on busy streets or along beachfront roads. Motorbike rental services are also offered by several budgets and luxury hotels, as well as guesthouses. The contact information for some prominent rental players is given below:
Offline Rentals
Motorbike Rental Phuket or "Cheap as Chips' Rental Services
Address: 195/7 Soi Phrabaramee, Patong Phuket 83150
Contact: +66 087 188 9047
Nina's Cars
Address:  40/19 Soi Sukee, Chalong Bay, Phuket, 83130, Thailand
Contact: +66 089 648 0499
Beach Edition Rentals
Address: 75/59 Patak Road, Chalong, Phuket, Thailand
Contact: +66 091 094 6054
2 Sisters Bike and Car Rental
Address: Soi Tai-Ed, near Jomthong Courtyard, Chalong, Mueang Phuket District, Phuket 83000, Thailand
Contact: +66 080 522 2565 
Rayaan Motorbike Rental
Address: Outside Rayaan Guest House, 141/8-9 Rat-U-Thid 200 Pee Rd., Kathu, Phuket, 83150 Patong Beach, Thailand 
Contact: + 66 763 440 90 
Rental Motors Patong
Address: 158 / 101 Nanai Road, Tambon Patong, Kathu Chang Wat Phuket 83150, Thailand
Contact: +66 92 341 2564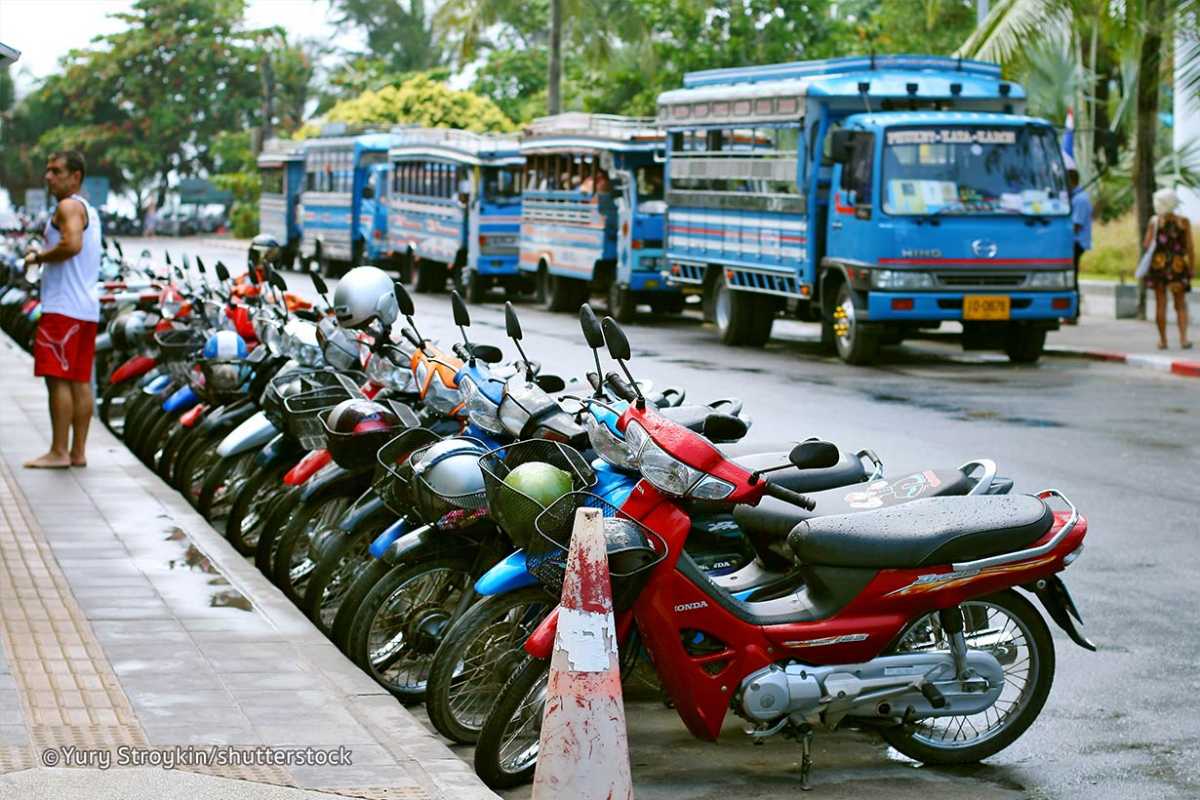 Online Rentals
It is also possible to rent a motorbike online in Phuket, using services like
Bikesbooking
. The international company delivers the motorcycle of your choice directly to your hotel, and you can leave the motorcycle at a selected location at the end of your rental period. They require a cash deposit, starting at THB 1,000. Customers also have the convenience of managing the booking online, including changing the rental date. The vehicles provided by Bikesbooking have insurance against damage, and you can even request for full coverage at an extra cost. You need to pay only a small part of the fee online, and the remaining fee can be paid later.
Another online booking service you can use is
Turtla
, which offers you a choice of various motorbikes and motorcycles in Phuket. The cost for a Honda Click 125l starts at THB 400 per day for a rental period of 2 to 4 days and includes two free helmets as well as free delivery to all hotels in Phuket town. The rental amount reduces as the rental period increases. The motorbikes are covered with free medical insurance, which includes all road accident victims including the driver, passenger, a third party who suffered bodily injury, health harm, and death. However, it will not cover the whole cost of treatment of severe injuries.
The online India-based service
Wheelstreet
also offers motorbike rental services in Phuket, which can be done on their website or via their smartphone app. You can choose from a variety of bikes such as Honda, Activa, Fascino, Royal Enfield, Harley Davidson and Yamaha. With thousands of vendors in the city, the bikes are easily accessible to customers. You also receive a toolkit for emergencies and can contact for queries about routes, food and accommodations in Phuket. The prices start at THB 11 per hour.  
Documentation Required
For the process of renting your motorbike, you will require to present any form of ID proof, which is usually one's passport, and a valid Thai or international driving license. Some bike owners may expect to take a photocopy, while others may just need it to note your details, in case of any damage or theft of the vehicle. Ensure that you do not hand over your original passport to the rental shop - this is illegal and can cause many issues for you later.
If you are given any forms to fill or a rental contract to sign, always read it thoroughly before signing it.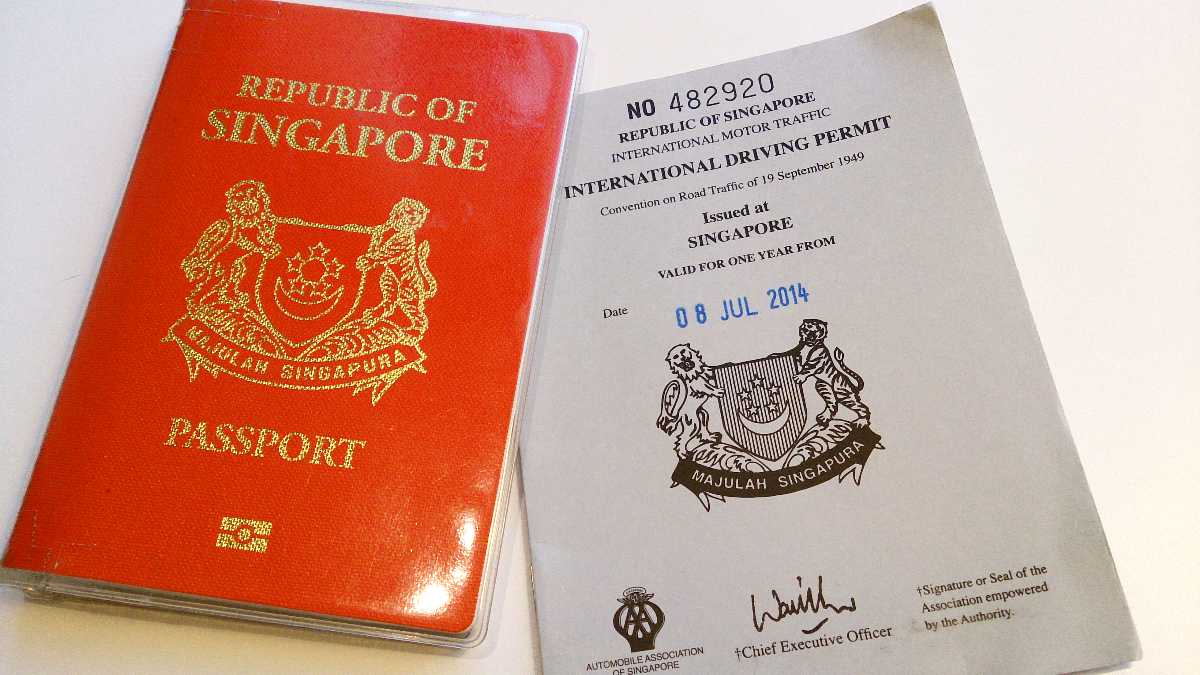 Insurance policy
Most bike rental services provide you with the most basic form of insurance, produced by the government. This will only cover minimal medical costs up to THB 15,000 and does not include damages to the vehicle if any. However, more reputed shops provide more comprehensive insurance.
Make sure to ask about the insurance policy offered before renting the bike. It is best to pay a little more for insurance coverage up front, rather than suffer from the heavy repair expenses later on, in case of any damage. Often, compensation payment for loss of earnings on the part of the Thai national (in the case of an accident) is also charged.  
Recovery policy
This includes a set of terms and conditions for riders in case of any damage to the vehicle or any road accidents. Although this policy varies from dealer to dealer, there are a few basic pointers for every policy:
1. A refundable security deposit (deductions are made from this amount in case of any damages to the vehicle).
2. When you return the bike, you are required to return it with a full tank or with as much petrol as when you hired it.
3. Drop off the bike at the designated drop-off point at the specific date and time, as mentioned.
4. The driver is responsible for the condition of the bike, so in case of any damage to the vehicle or theft, you will bear the full price.
Safety Conditions
Motorbike accidents are quite common in Phuket, and driving safely is the best way to avoid any accidents or injuries. If you are not used to Thailand's laws or ways of driving, driving here can be a bit intimidating. The roads here are sometimes congested, slippery or old, and are often full of potholes, so it is recommended to pay careful attention to the traffic and the roads while driving.
Remember to be aware of your surroundings at all times, and be prepared for vehicles to overtake you at any point in time. When the traffic light turns green, make sure to check all sides of the road before driving, for any incoming vehicles.
A valid driving license and a helmet for the driver and the passenger on a motorbike is a must. Remember that driving without a helmet warrant for being pulled over by the police and being fined, so it is recommended to wear a helmet at all times while driving. The fine for driving without a helmet is THB 300. Be cautious and do not drive under the influence of alcohol or narcotics.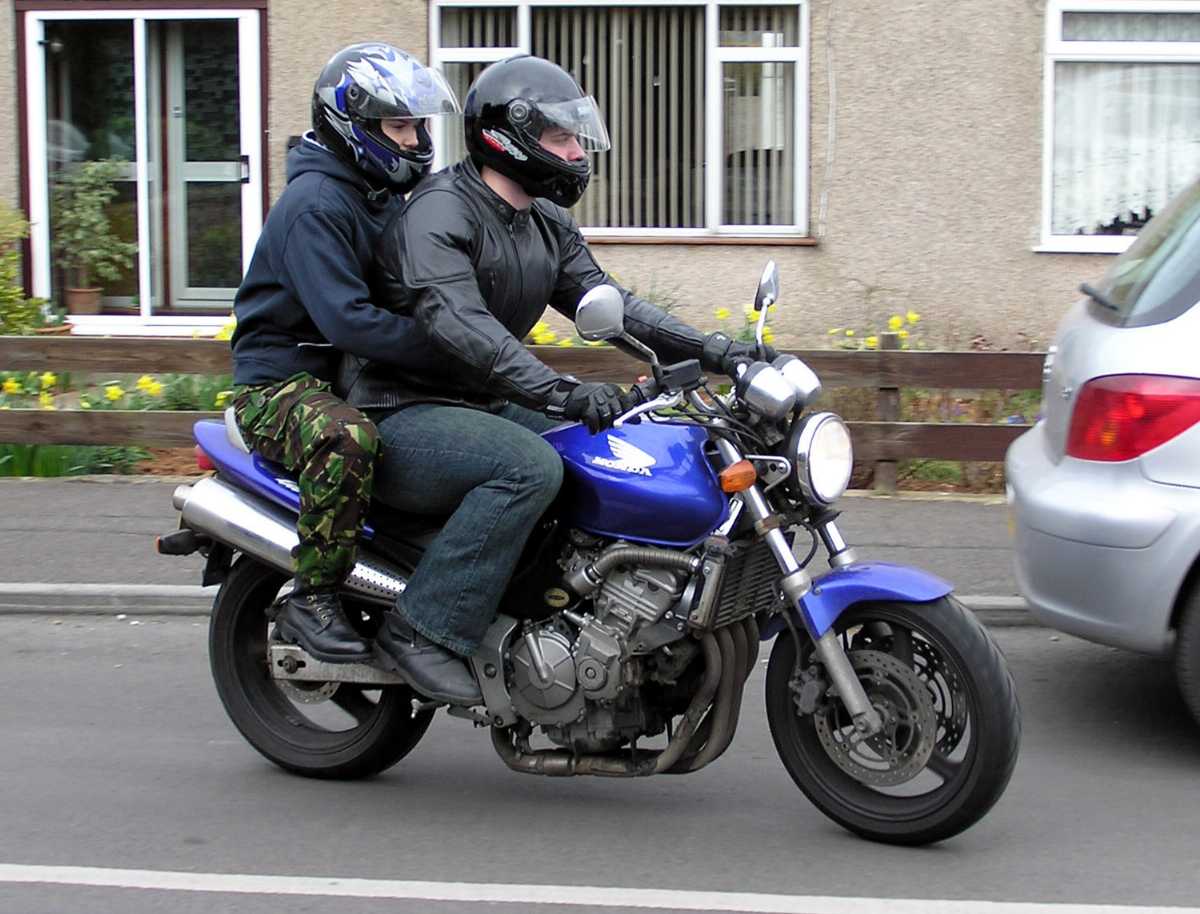 Things to Keep in Mind
Test the condition of the motorbike before renting it. Ensure that the bike dealer inspects the bike before you leave the shop with it, for any pre-existing body or mechanical damage. This is to avoid being blamed for any damage to the vehicle that you did not cause.
If you wish to, you can take pictures or a video of the bike for proof, in case of any pre-existing scratches or damage.
If you intend to stay in Phuket for long enough, you can consider renting a bike on a weekly or even a monthly basis, as this will prove to be cheaper than paying the daily rental cost.
Make sure that the bike you rent has a license plate fixed on it, has valid insurance and has a road tax disk, or you can be fined.
If you get into any argument or accident due to the motorbike, be sure to have the police present to inspect the situation. You may have to pay a fine, if necessary.
Make sure to get the name, address and contact number of the dealer in case of any emergencies or issues.
When it comes to buying fuel for the bikes, you can choose between Gasohol 91 and Gasohol 95. Gasohol 91 is most common, but both can be used. Note that the cost of fuel in bottles sold at roadside stalls is much more than its value at gas stations.
Renting a motorbike is a great way to get to know the island inside out, and even add some uniqueness to your vacation. Allowing you to navigate the roads easily and independently, the positives of this mode of transportation outweigh its potential negatives. Although renting a vehicle may have some risks, do not miss out on this opportunity for adventure and exploration. With a little bit of guidance and attention, you can avoid all the hassles that may arise with driving a motorbike. As long as you follow the law and drive safely, you're good to go!