If you're looking for adventure and water sports is your type of ideal vacation, then
Phuket
has got you covered.  Phuket is one of the top destinations for water sports in South East Asia. Parasailing is the most popular water activity that will give you an extreme adrenaline rush. You'll find parasailing in Phuket on most beaches, but the most attractive centre is
Patong Beach
.
Popular Sites for Parasailing in Phuket: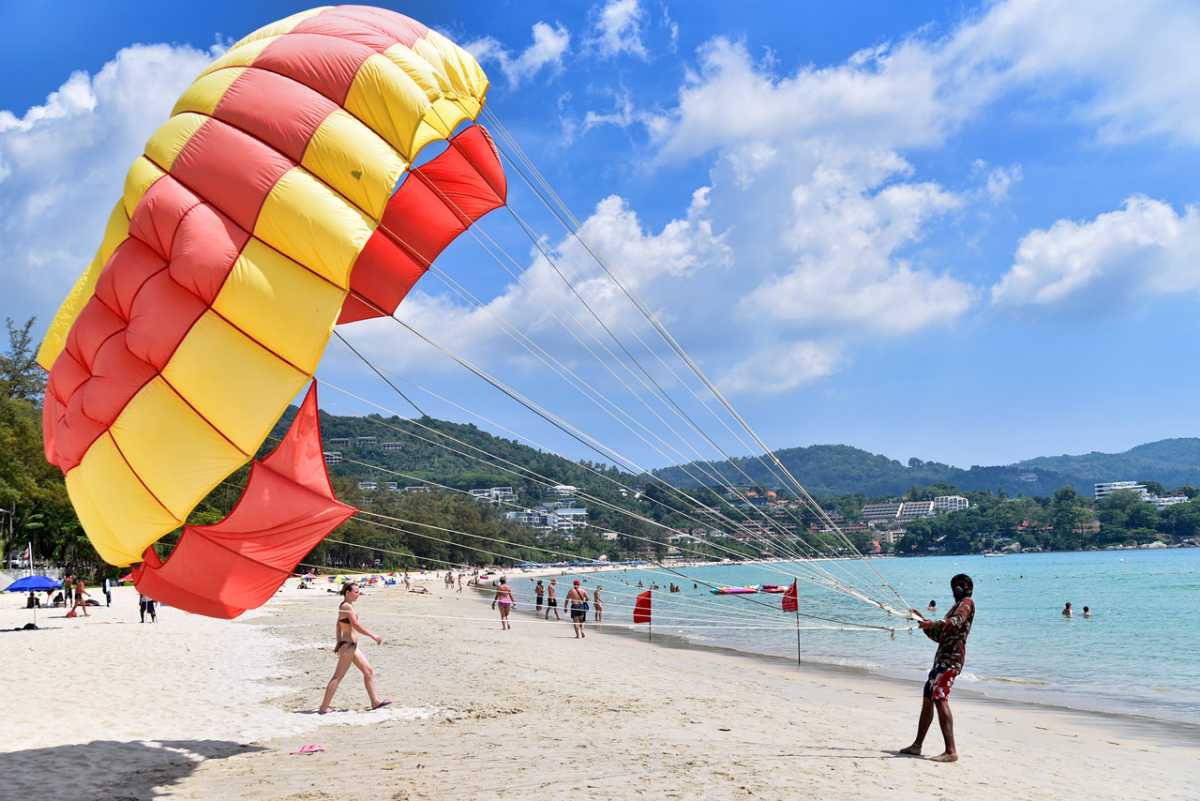 Kata Beach is as tourists call it a beach with shade. It has crystal clear water and beautiful scenery. There are many trees around the beach throwing some shade. Activities like parasailing, jet skis, banana boat are available through local operators. Weekdays are calm and less crowded while weekends observe a sudden rush of tourists and locals. It is also prevalent for swimming and surfing, and you'll find delicious street Thai food at the beach.
Karon beach is one of the famous beaches of Phuket that draws thousands of tourists every season. It has white sand and is clean all-round the year. It can get crowded at times, but there are enough spots to sit alone and enjoy the weather and waves. Late afternoon is the most beautiful time of the day to relax or indulge in water sport activities. Apart from parasailing, the other popular water sport is Jet Ski. There are many restaurants, and local beachwear shops to keep you entertained. You can also book a beach lounge chair for TBH 200 for sunbathing and relaxing.
Average Cost for two:
THB 500
If you're on a long vacation to Phuket and want to explore at its best, then definitely visit Racha and Coral Island, a one day trip from Phuket. Both are beautiful tropical islands with crystal blue water and a tranquil environment. Most operators have one-day tour packages that include pick up and drop facility from hotel to the island and water sports activities like parasailing and snorkelling.
Average Cost (per person) for a One Day Trip:
THB 2200
4. Patong Beach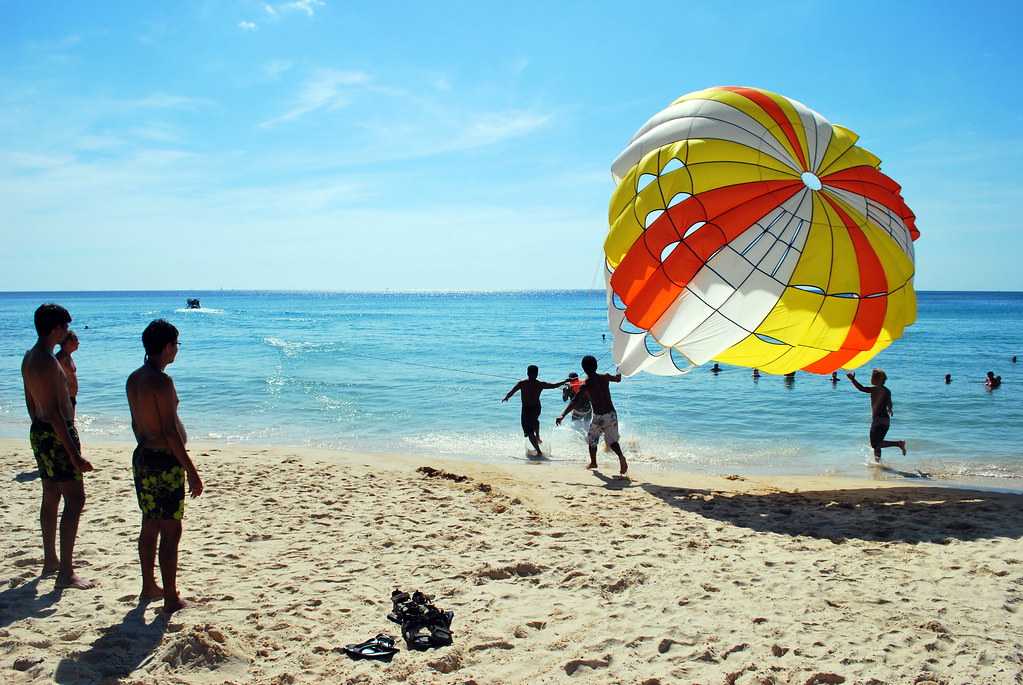 Patong Beach is the centre point for parasailing in Phuket. Many tourists try parasailing here for their first experience. The beach has become crowded over the years, and there are more local operators selling water sports to tourists than other beaches in Phuket. The beach is quieter in the early hours, so it's recommended to be there by 6 or 7 and get a decent spot for sunbathing and relaxing. Bargaining is common for water activities, so don't accept the price offered at once. The beach is easily accessible by public transport and tuk-tuk.  
Average Cost for two:
 THB 1500 
Best Season to Parasail in Phuket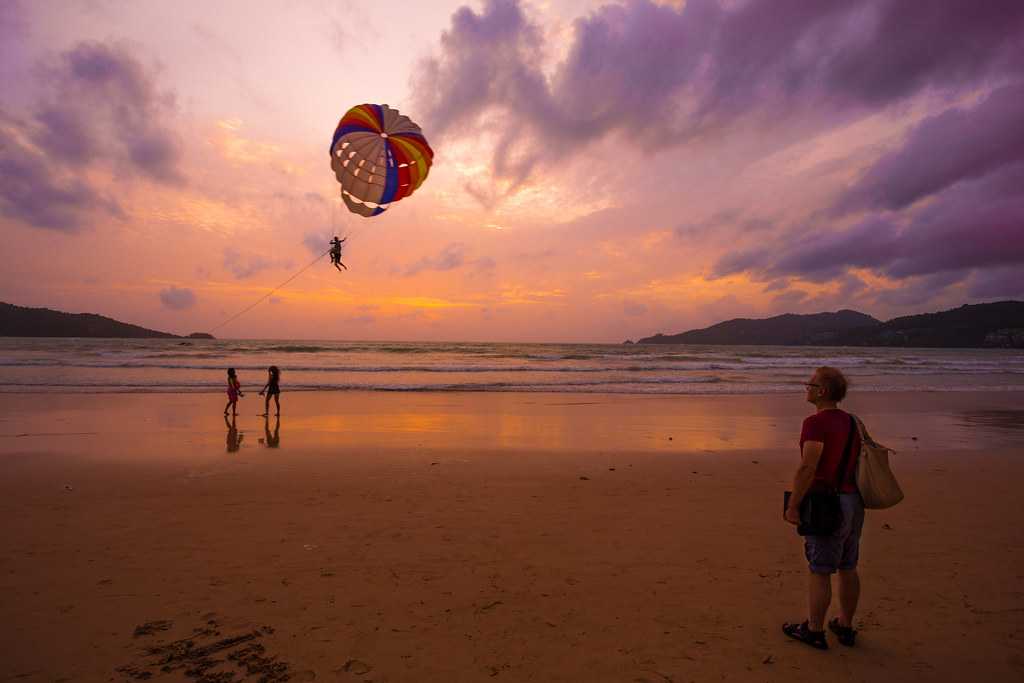 Parasailing in Phuket is usually done all year round but the best season lasts from May – October. The ocean is calm, and the weather is sunny. The wind current and direction is also ideal during this time. During monsoon, it is not advisable to try parasailing as it can be dangerous and there can be some particular days which are windy, on such days parasailing should be avoided too.
Major Operators Offering Parasailing in Phuket
Most of the operators are locals that own a boat and parasailing equipment. Different beaches have different operators, and you won't find them listed on the internet or websites. Bargaining is a necessary act, so make sure you negotiate a little before agreeing upon a final price. On weekends or peak tourist season you might have to wait for your turn as there will be a lot of tourists trying out water sports activities.
Address: 55 Pisitkoraneee Rd, Tambon Patong, Amphoe Kathu, Chang Wat Phuket
Timings: 7:00 AM – 10:00 PM
Website: phuketsrctravel.com
Cost of One Adult Pass: THB 2,150 (includes a day visit to Coral Island)
Address: Pa Tong, Kathu District, Phuket
Timings: 10:00 AM – 6:00 PM
Website: phuket.com
Cost of One Adult Pass: THB 800 - THB 1500 (Negotiable)
Quick Tips on Parasailing in Phuket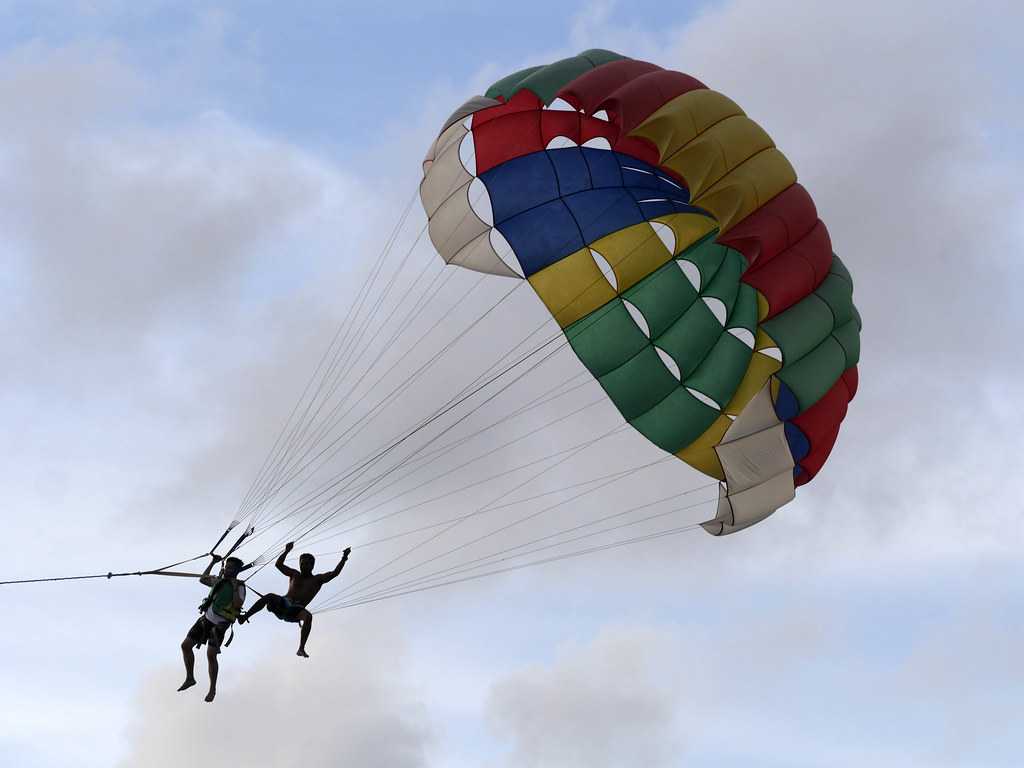 Identifying the right kind of parasailing operator is essential. For first-timers, you rely on the operator and its equipment, so your safety is entirely in their hands. Don't compromise your security for companies offering low prices. Enquire things like for how long they've been in business and their quality of equipment.
The quality of the equipment is a must to ensure your safety. There's no harm in checking the strength of the rope and harness before tying them around your body. If anything looks worn out or suspicious to you, point it out to the operator.
You need to be aware of the weather conditions suitable for parasailing. For a smooth and safe experience, the weather should be sunny with little and consistent wind. Cloudy and windy days are not the best conditions for parasailing. Sometimes the tour operator might insist that it's safe, but you need to be cautious.
Most parasailing activities in Phuket are carried out by local operators, and it lasts for 3-6 minutes. They usually brief you up about the procedure and put you up high in the sky. It's crucial to listen to all instructions and communicate with them in case of any trouble when you're up there.
If you're scared to go alone, there's always room for two people to up in the sky together. So you can either ask any of your friends or family member to accompany you or any of the professionals from the tour operator itself.
Are you ready to hit the ocean and soar high up in the sky? Try parasailing in Phuket for an unforgettable beach vacation!