What's the first thing that comes to mind when you think of
Goa
? Is it the lovely beaches, beer and bikinis, or the heritage sites of the Portuguese colonial era or is it the lit nightlife?
Well if that's it, then wait up. We are about to add another point to one's 'to do' list for Goa.
One aspect to explore is the versatile range of street foods in Goa. Cheap and delicious, street food of a place, is the best way to satisfy one's taste buds in a pocket-friendly way. Street food also tells a lot about the prominent flavours and spices used in a place. Thus street food of Goa is a quintessential cultural experience. While Chinese food, patties, chats and samosas are in every city in
India
, Goa alongside these, has its range of street food. The use of intense flavours, spices, a plethora of non-vegetarian dishes like beef, pork and seafood, and the Portuguese influence is the speciality of Goan food. Most Goan street foods have essential elements like sweetness, sourness and fiery spices. Drooling already? Let's begin.
1. Pork Vindaloo: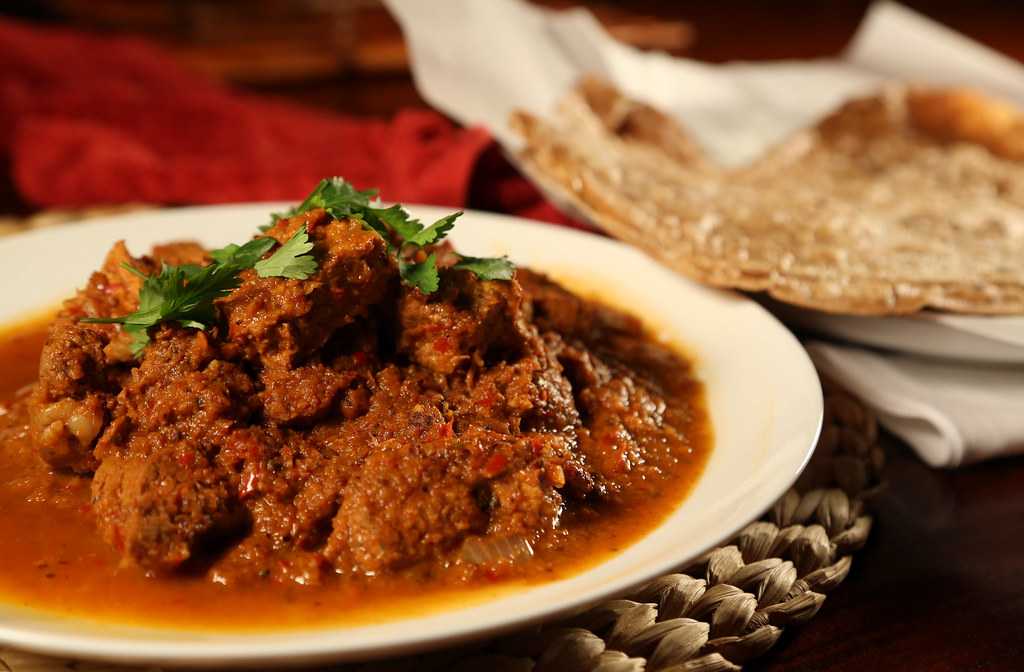 This flavourful and spicy dish called Pork Vindaloo is a result of Indian spices put in a local Christian recipe, which leaves one's taste buds tingling for more. It is prepared when boneless pork and potatoes are cooked in Indian condiments like cloves, cumin, Kashmiri pepper and to enrich all that, with a generous amount of vinegar.
One will find several food stalls lined up in the streets of Goa, find the most crowded one, run and take your place in the queue, and it's worth it.
2. Ras Omelette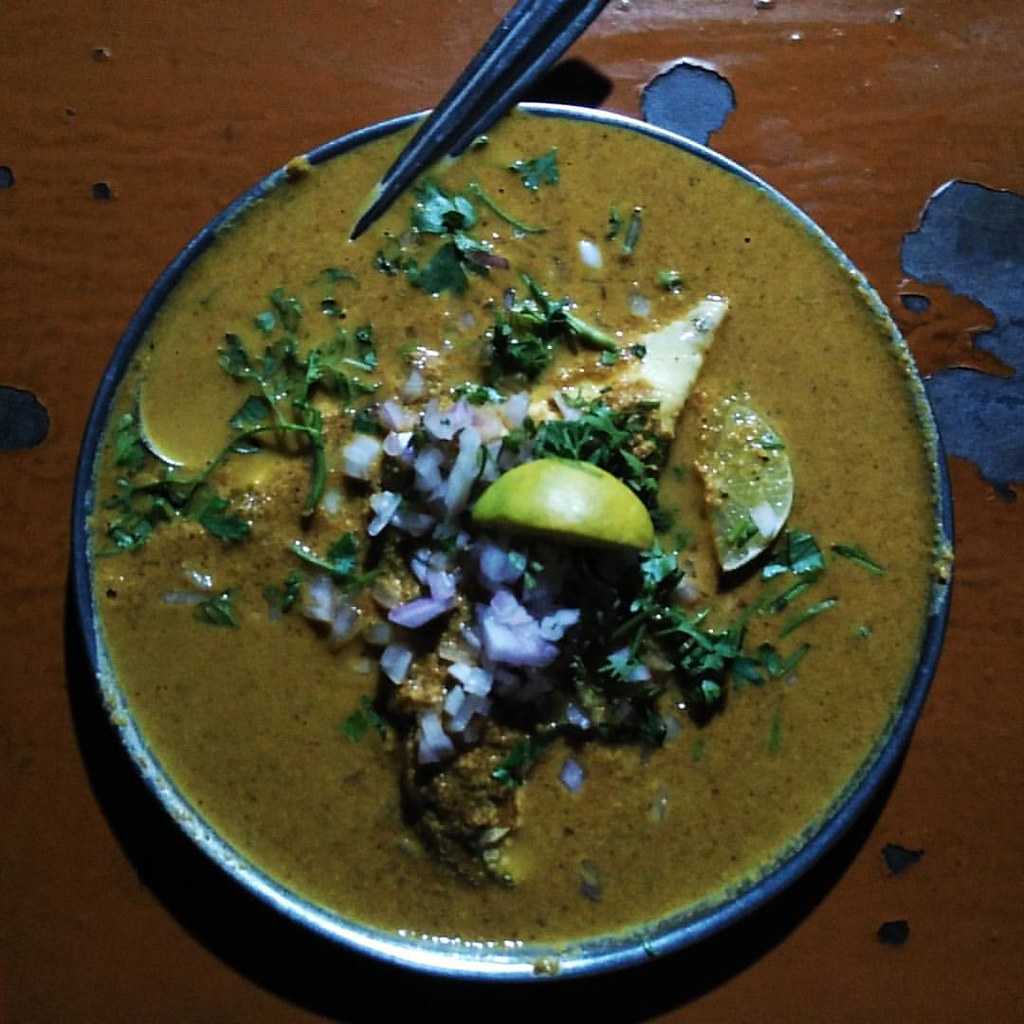 Any discussion on Goan Street food is incomplete without the delicious and famous Ras omelette. A regular egg served chicken gravy is a burst of flavour in the mouth, leaving you craving for more. While Ras omelette is available at most places in Goa the one served in Ravi Ras Omelette in Panjim is quite famous.
3. Gadbad Ice Cream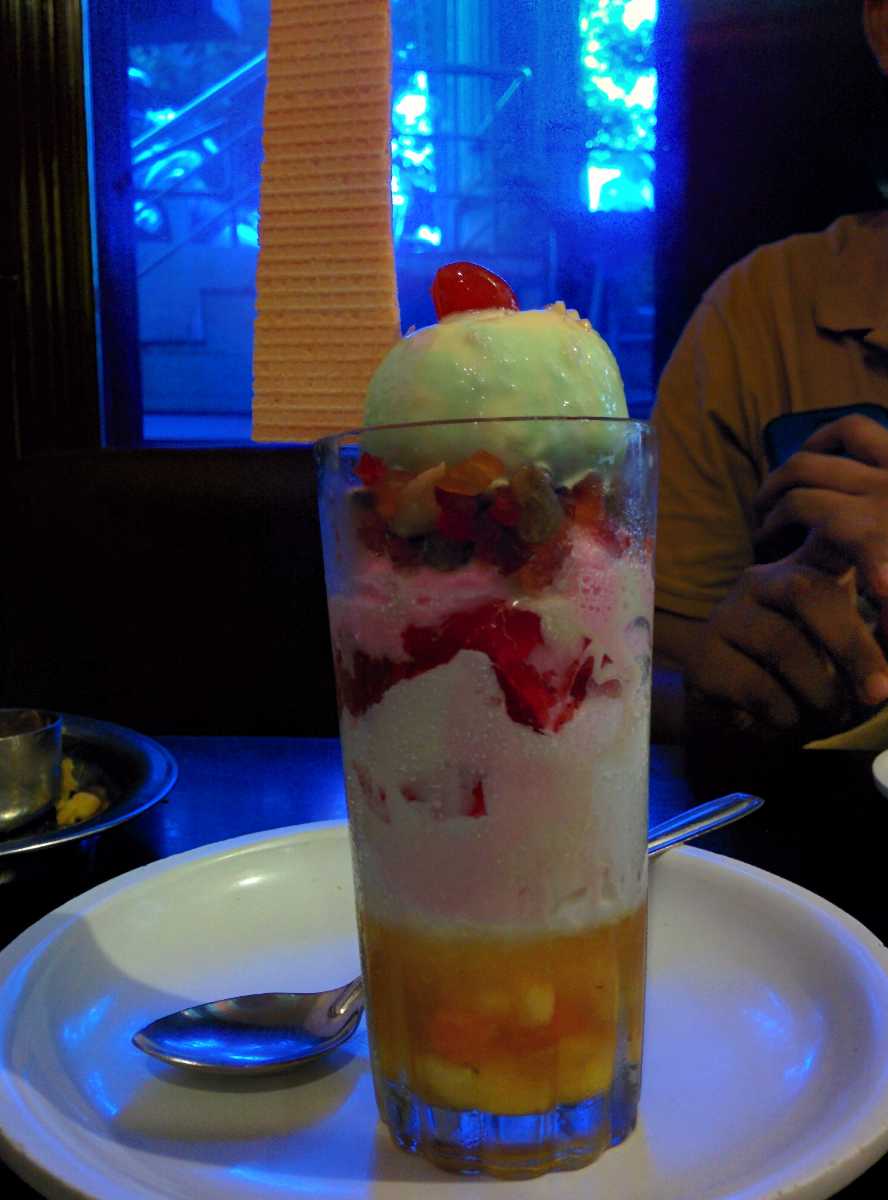 Gadbad Ice cream makes it to the list of things, without trying which, one shouldn't leave Goa. It is a combination of two or three different ice creams topped with falooda vermicelli, jelly or jam and served in a tall glass. It is a summer special to satisfy a significant sweet tooth. It is readily available in Navtara Veg Restaurant in Mapusa and Cream Centre in Panjim.
4.Choris (Goan Sausages)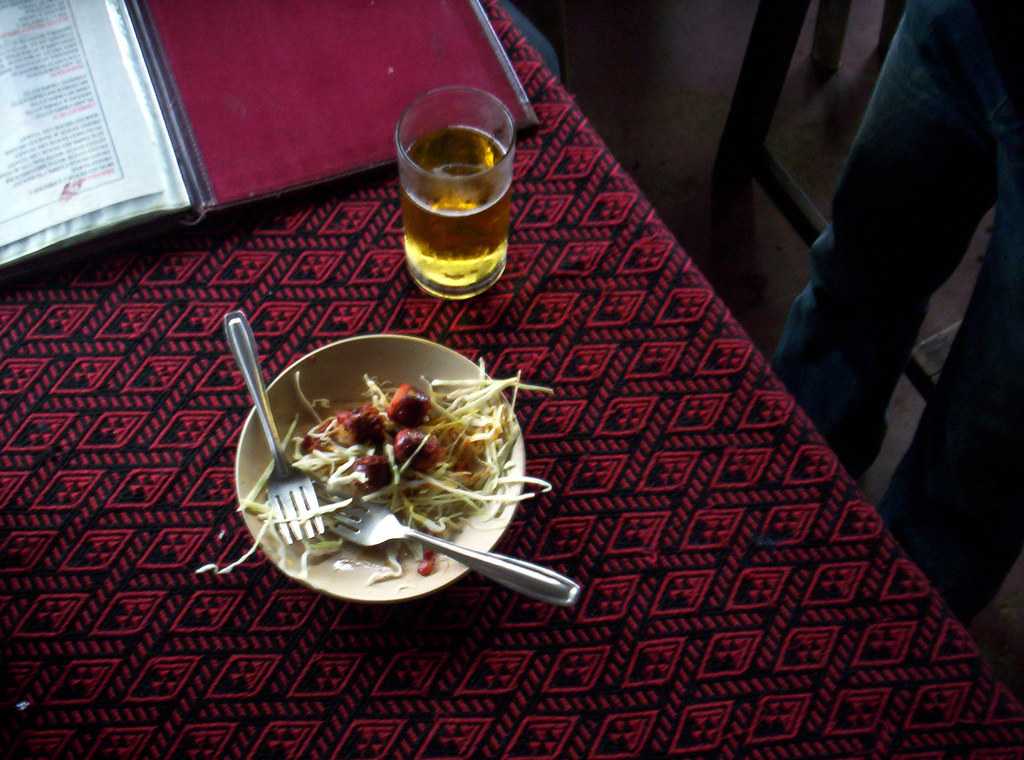 Famous among locals as a breakfast item or evening snack, one will find many vendors on cycles early in the morning, carrying big baskets of these spicy pork meat sausages flavoured with spices and onions/potatoes. Choris are eaten with bread and are readily available.
5. Misal Pav

It can be called as a healthier and wholesome alternative to Pav Bhaji, which mainly consists of mashed potatoes and veggies. Missal is a nutritious and spicy curry made with lentils, mixed sprouts, and moth beans served alongside pav. Tasty, affordable and healthy, this is one of the top street food choices in Goa.
6. Shawarma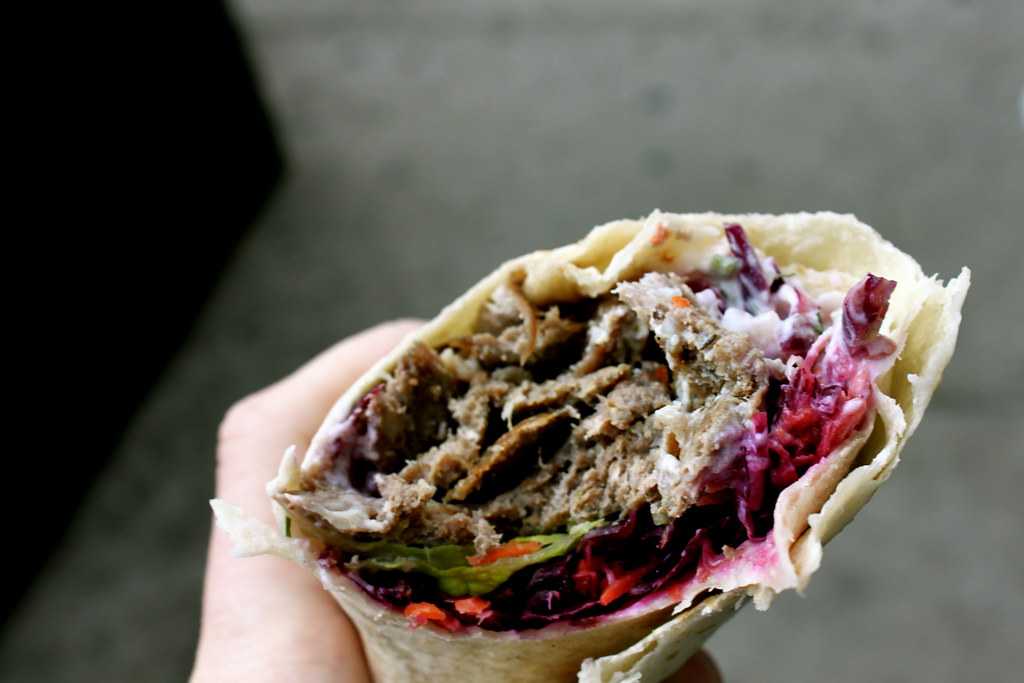 Shawarma is a foreign delicacy found in the Goan street food stalls. It has mildly spiced slow cooked and smoked meat and crunchy lettuce and veggies stacked up in a flatbread. One shawarma is enough for a person and is filling and tasty.
Shawarma King in Panjim and Haji Ali Restaurant are popular places to grab shawarma.
Popular Places For Street Food in Goa:
1. Dom Pedros, Margao, Goa
Dom Pedros serves freshly made Goan snacks however out of all the most famous are Prawns Rissois(a Portuguese meal with a creamy prawn filling inside deep-fried batter) costing just Rs. 12, pork sausage, Beef Samosas for Rs. 15, Doughnuts etc.
Address
: Opposite Bank Of India, Margao.
They have a branch in Vasco Da Gama as well.
2. Sundha Bhel Puri Centre, Vasco da gama, Goa
Located in Jose(pronounced ?u?z?) Vaz Road of Vasco Da gama, Sundha Bhel Puri centre is a place to be while venturing in the area. This place serves some delicious Butter Pav bhaji at Rs. 50 and Bhelpuri for Rs. 25. Cheap, clean and serving good food, this place can be given a shot.
Address
: D.E. Jose Vaz Road, Vasco, Goa.
3. Teixeira's, Ribandar, Goa
It is one of the places in Goa where one finds the most sought after and juicy beef and pork. A perfect place for staunch meat lovers, this small business was set up by a guy named George Texeira, and he cooks the famous Beef chilly and Pork Chops. One of the best places to enjoy meat at an affordable price.
Address: Remedios Chapel, Ribandar, Goa.
4. Sandeep's Vada Pav in Ponda
It's not just
Mumbai
where one gets the mouthwatering vada pav. Sandeep's Vada Pav stall located in Farmagudi is 'world-famous' in Goa. It was opened in the 1980s and ever since then hasn't seen a competitor standing a chance when it comes to serving the best Vada pav in the area. Just ask any student from the nearby PES college, what's their favourite alternative to the boring mess food, 'Sandeep's Vada pav' it is. Vada Pav alongside Limbu Soda is the famous combination served here. Vada pav is a deep-fried potato dumpling between a soft piece of bun, topped with green chutney and fried chilli. A filling, economical way to start your day or indulge in spicy goodness in the evening.
Address: Near the Ganesh Temple, Farmagudi, Ponda, Goa.
5. Tandoor Matka Tea
Tea lovers say yay! This place located in Panjim, Goa was established on October 18, 2018, and is one of the only places like
Pune
and
Colombo
where Tandoor Matka tea is served. This tea is unique because of the unique cooking technique and patience required to cook it. It is prepared for 50 minutes and then again boiled in the Matka, giving it a delicious earthy and smoky flavour.
All for INR 20.
6. Simonia Stores
Located in Mapusa, Simona stores is the ideal place for sweet lovers. Bibona, Perad, Dos and Bath cake are some of the famous sweets served here.
Popular Street Food Trucks in Goa


Anjuna, Panjim, Assagao,
Dona Paula
,
Candolim beach
and Bandoda are the hotspots for finding food trucks in Goa. Some popular food trucks in Goa are Maruti's Food truck and Joseph Noronha in Anjuna, Jerry's Food Truck in Bambolim, The Goan Food Truck in Cansaulim, Pinto's in Ponda, Costa Fast Food in Santa Cruz, Antojitos in Panjim, Michael Lobo's Center in Candolim beach and Umao Fast Food in Santa Cruz. The trucks start at about 5 in the evening and keep serving customers till midnight. Some of the main dishes served on food trucks of Goa are Beef cutlet, Pork burger, Bonda, Pork Chops, prawns, fried fish, Vindaloo, Sorpotel, Sausages and Beef Steak.
Famous Areas for Street Food in Goa


Candolim market, Panjim market and
Miramar beach
are the one-stop solutions for all food cravings. Candolim is renowned for authentic Goan cuisine, prawn, egg chops, vada pav and chicken lollipops and stalls like Michael Lobo's centre and King Kane. Panjim market is famous for its range of seafood delicacies like kingfish, Pomfret, squid, mackerel, mussels, oysters, crabs and tiger prawns. While Anjuna Flea Market, Mapusa Market and Calangute Market Square are the top choices of shopaholics, the food lovers enjoy the plethora of street food stalls present here. Anjana flea market is mainly known for restaurants serving fish thali, a meal consisting of Goan fish curry, rice, pickles and fried fish. A must-try for tourists visiting Goa.