Resorts World Sentosa (RWS), a key attraction in various Singapore tour packages, is an amazing destination for those who are looking for thrill and adventure. Packed with memorable activities from getting up close to the Minions to getting in bed with the manta rays, here is a curated list of seven experiences that you'll not want to miss at Resorts World Sentosa:
1. Walk the 'sea floor', and Scuba Amongst Sharks and Manta Rays in an Aquarium
If you aren't a diver but still wish to get up close to marine animals, the Sea Trek Adventure is perfect for you. Don a special suit to breathe underwater as you explore the seabed of the S.E.A. Aquarium and get close to manta rays and many species of fish. With no diving license required, this is a great first step into the mysterious world of marine life.
2. Get up Close With Dolphins
Get up close and learn more about dolphins with the Dolphin Interaction programmes. From a beside-the- pool interaction to a fully-submerged dive into the pool, you'll have a choice of options of how to connect with these aquatic mammals. However you choose, one thing's for certain – you'll be leaving Dolphin Island with a deeper understanding and appreciation of these animals.
3. Have a Date With 1,00,000 Marine Animals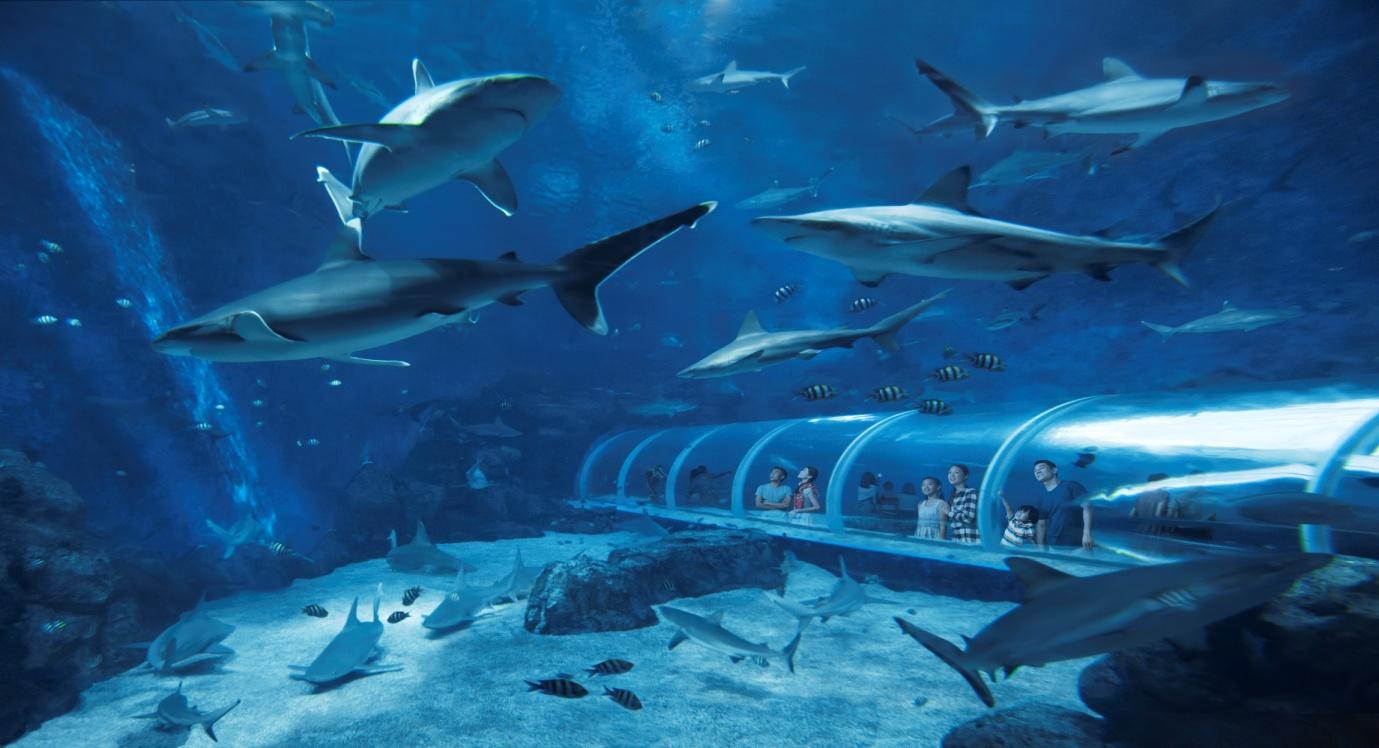 As one of the world's largest aquariums, S.E.A. Aquarium lets you in on the mysterious underwater world of over 100,000 marine animals from 1,000 species. Witness and learn about the rare ornate eagle ray, imposing hammerhead sharks, mesmerizing sea jellies, and more in their expansive habitats – and step out with a richer knowledge of our planet's diverse nature.
4. Go to Sleep Underwater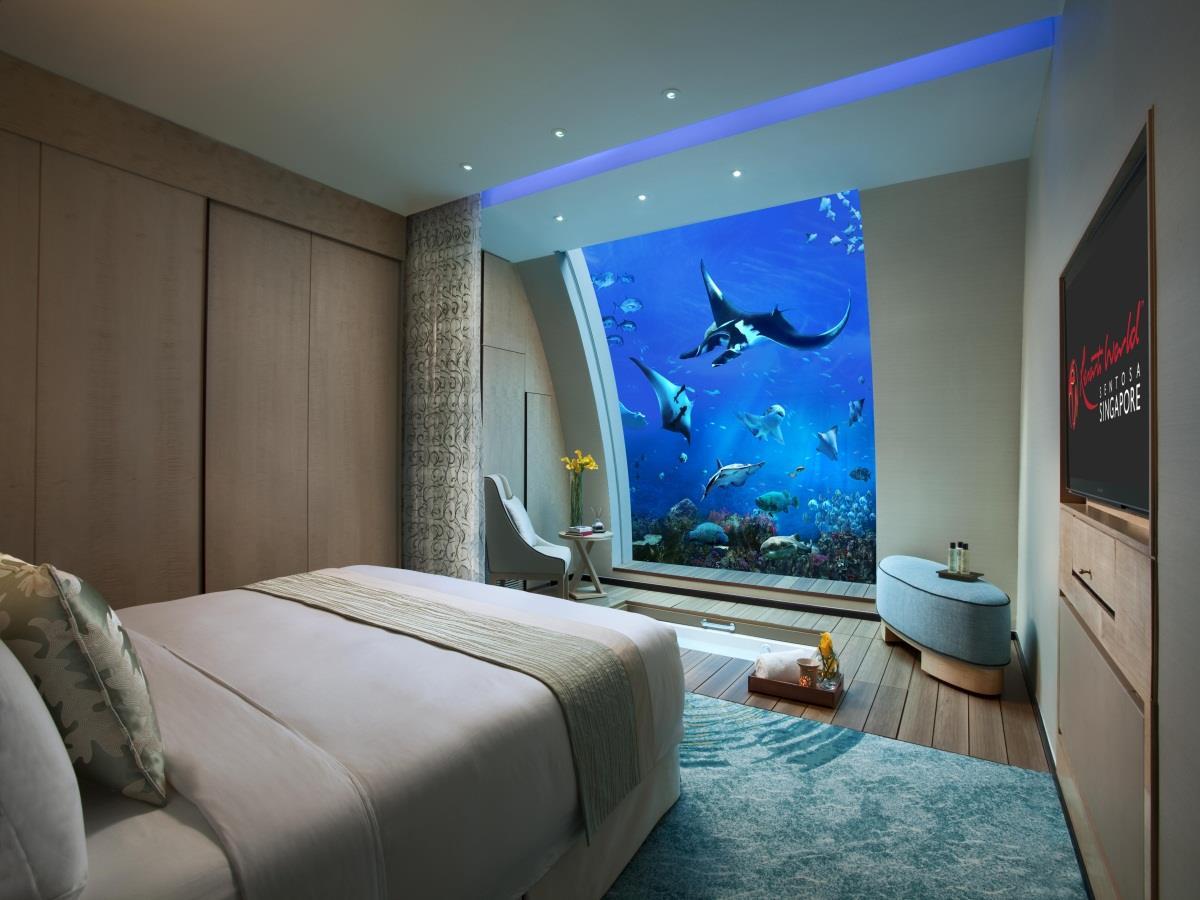 At the resort's 11 exclusive Ocean Suites, you'll enjoy all the pampered luxury of a top hotel stay combined with the unique experience of going to sleep with the sight of marine animals swimming past. Each a two-storey unit, built with the lower level looking right into the S.E.A. Aquarium, the suite comes with a pre-installed 'sea view' tub and a private Jacuzzi, as well as a personalised butler service for an unmatched out-of-this-world stay.
5. Dine in an Underwater Restaurant
Take dining to a different level, as you feast your eyes on the sight of fishes, rays and sharks swimming past even as you savour the freshest Mediterranean-Californian cuisine from the recipes of America's first lady iron chef Cat Cora. At Ocean Restaurant, the ambience of its setting plays an unforgettable part in the dining experience, as much as the food itself, making it one the prerequisites of many travellers looking for Singapore tour.
6. Snorkel With 20,000 Tropical Fishes at Adventure Cove Waterpark
Enjoy up-close encounters with myriads of tropical fish as they dart amongst the reef in the Rainbow Reef, one of many experiences within Adventure Cove Waterpark. Here a single admission ticket also grants you access to a slew of water slides and obstacle courses, catering to both families and thrill-seekers, for a wild, wet day out in the sun.
7. Live on Trees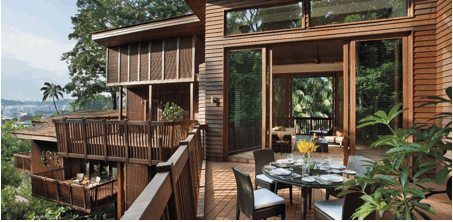 Stay in one of two Tree Top Lofts tucked away in a canopy of trees 12 meters above ground. Merely minutes away from the action and attractions in the resort, the lofts provide you exclusive privacy and convenience, without sacrificing the trappings of modern luxury. From a walk-in wardrobe to a spacious living room and a personalized butler service, this nature lover's hideaway treats you to luxurious comforts, even as you indulge your inner dreams of living it up amongst the trees.