Thailand
is a unique blend of
amazing food
, tropical climate, beautiful lakes and
beaches
, breathtaking sightseeing and
wonderful culture
. A very important part of Thailand is its religion too. There is no official religion in Thailand. The people of the country are free to enjoy the freedom of worship and other religious freedoms.
Although Thailand doesn't have an official religion, the majority of Thailand's population, ie. 95% of it deeply follows the Theravada religion. The second-largest religion of Thailand is Islam, constituting nearly 4.6% of the remaining population. The other religions constitute a very minor part of the distribution, Christianity consisting of 0.7% and Hinduism, Sikh, Jew etc. all together consisting just 1%.
1. Buddhism in Thailand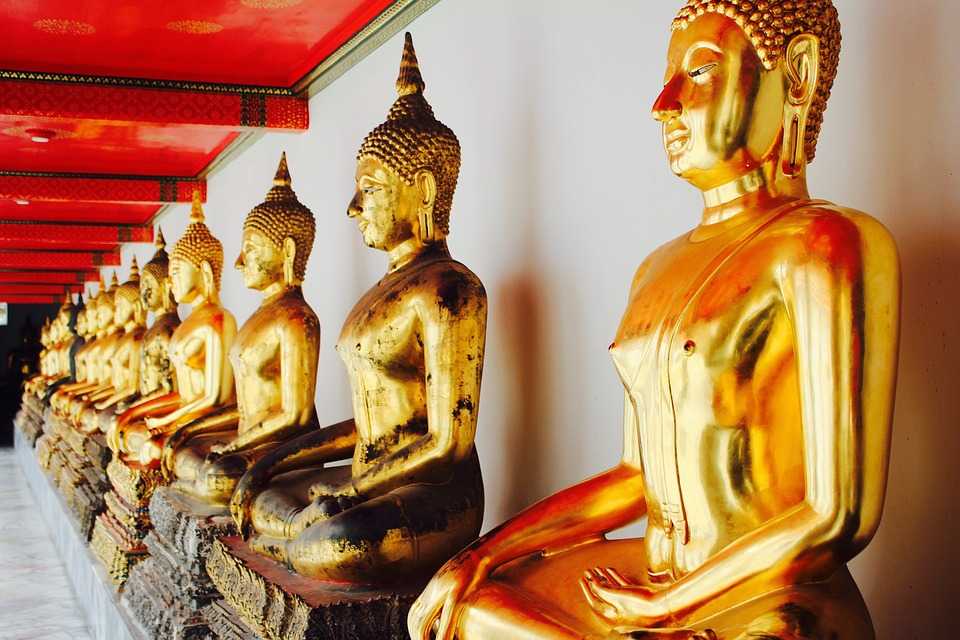 Buddhism is the dominant religion in Thailand consisting of 95% of the total population. Buddhism was first introduced in Thailand as early as 250 BCE and has been a big part of Thailand ever since along with the Thai Chinese Buddhist religion. The belief of this religion is based on the teachings of Gautam Buddha. The first form of Buddhism introduced to Thailand was that of Theravada (The Doctrine of the Elders) school and it was propagated by Emperor Ashoka. 
For those who want relief from the chaos, the Buddhist temples and monasteries in Thailand are a place to go. Monasteries like Wat Sriboonruang in Sansai, Wat Marp Jan in Rayong, Wat Suan Mokkh,
Wat Mahathat
etc. are the 'Temple of Relics', where one can learn principles of Buddhism, Vipassana and explore the life of a monk
2. Monks in Thailand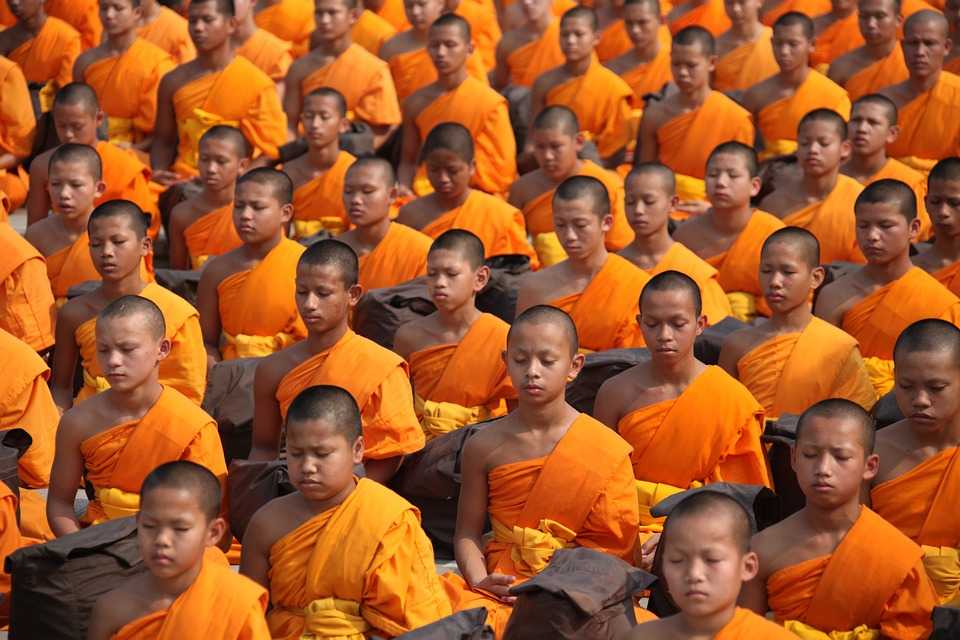 In Thailand, there are about 200,000 monks and 85,000 novices, that means a newcomer who has entered the religious order, at most times in a year. One can remain a monk for as long as they wish, even for a day or for their whole lifetime. There are over 29,000 temples in Thailand where the monks follow their daily routines. The Supreme Patriarch of Thailand or Sangharaja, the head of the order of Buddhist monk is the highest Buddhist dignitary of the kingdom, chosen by the king, in consultation with the government.
The monkhood demonstrates extreme dedication in their social work and spiritual work. When a monk is ordained, it is believed that he is reborn into a new life and his past no longer counts. Every man in Thailand is required to become a monk for a period of time before the age of 20 in order to receive good karma.
3. Islam in Thailand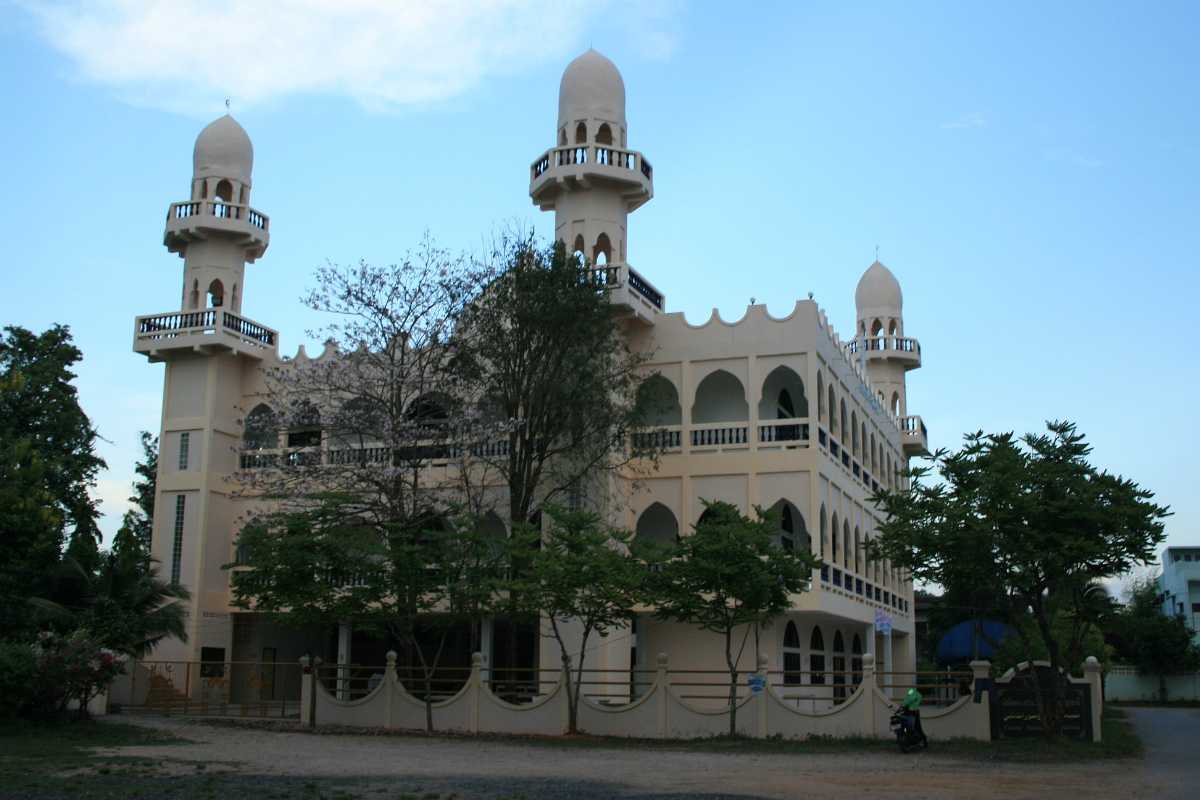 Islam is the second most dominant religion in Thailand with a population of about 4%, that is around 6 million people and the largest religious minority practised in Thailand. The Muslim population is extremely diverse in Thailand with followers from
China
,
Cambodia
,
Malaysia
,
Indonesia
and Bangladesh. Most of the population are ethnically Malay and Thai-Malay who have accepted the language and culture of Thai and have intermarried with Thais. 99% of the Muslims belong to the Sunni group and occupy provinces of Yala, Pattani and Narathiwat whereas the remaining 1% belongs to the Shi'i Islamic group. There is also Central Islamic Council of Thailand consisting of at least 5 councillors appointed by the king.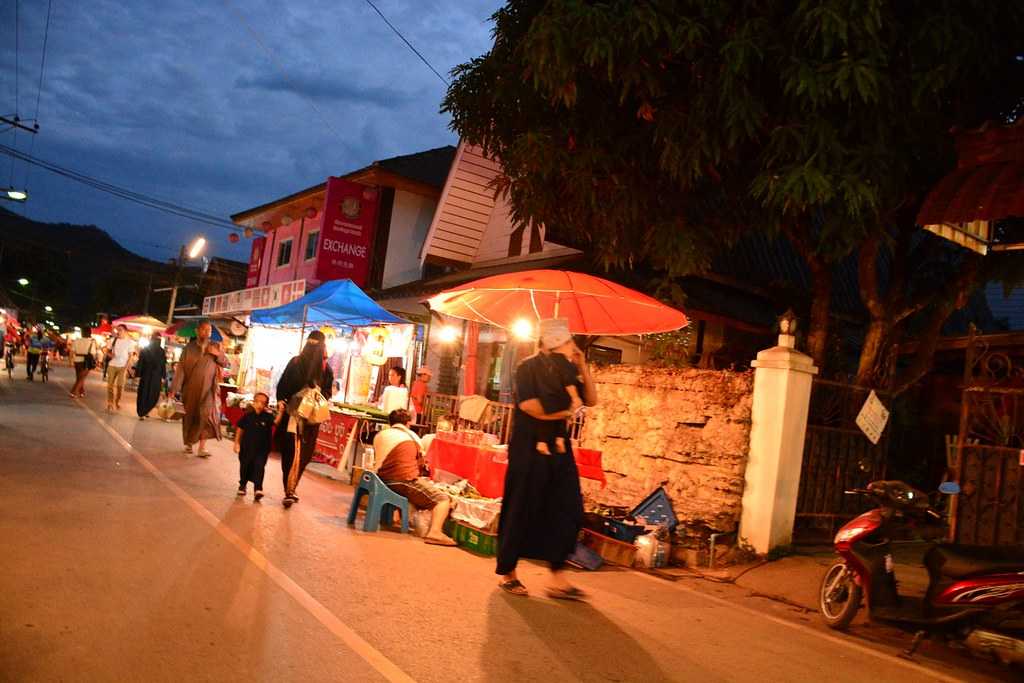 The Islamic faith follows Sufi belief, just like it is followed in other Asian countries. Thailand has over 3000 mosques and famous ones are 300 Years Mosque in Narathiwat, Al-Falah Mosque in
Lampang
, Al-Isra Mosque in
Mae Hong Son
, Attaqwa Mosque in
Chiang Mai
etc. The central mosque of Yala province is the most magnificent in Thailand. There are also several Islamic schools, banks, shops and other institutions. The Thai government provides financial assistance to Islamic education centres, construction of mosques and sending the pilgrimages to Mecca.
4. Christianity in Thailand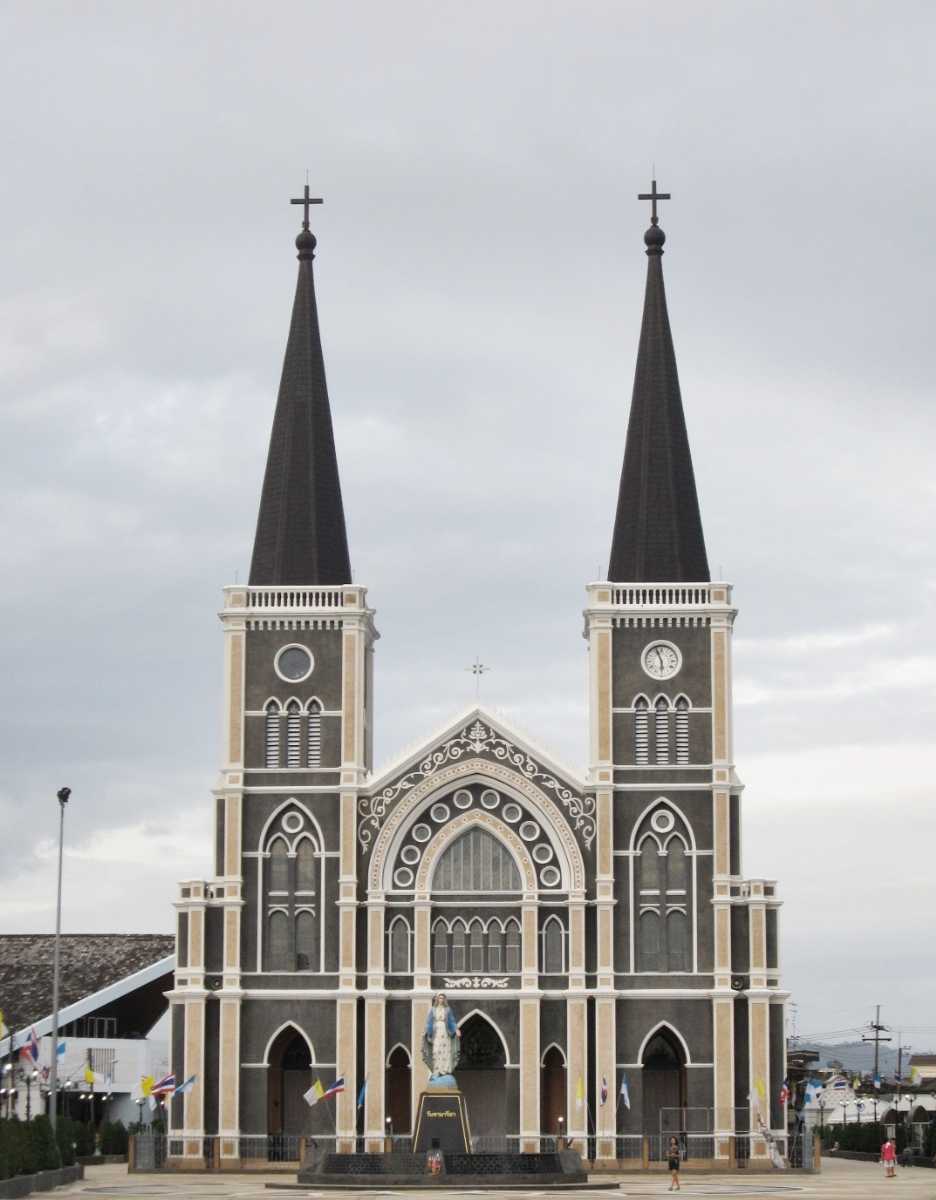 The Catholic Christians represent around 1% of the total population in Thailand. With Christianity as a religion in Thailand introduced first by the European Missionaries in the 16th century, they are presently heavily concentrated in Northern Thailand. A high percentage of the Christian community was Chinese along with several Lao and Vietnamese Roman Catholic communities.
The major Christian group in Thailand consists of Roman Catholicism which was more than half of the Christian population in Thailand, apart from Protestantism and Orthodoxy. Christianity has played an important role in modernization of the country by offering good education to Thai children. More than half of the total Christian population lives in the centre, while the others living in the part of North or North-East.
Important Christian religious houses in Thailand is Christ Church which is an Anglican Church in
Bangkok
,
Cathedral of Immaculate Conception
in
Chanthaburi
which is one of the biggest Catholic churches in the country, St. Joseph's church which is one of the oldest churches, Santa Cruz church etc.
5. Hinduism in Thailand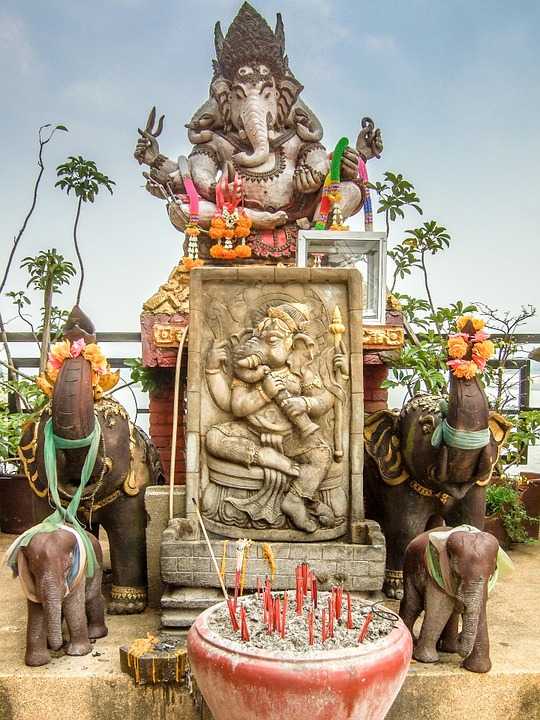 The importance of Hinduism as a religion in Thailand cannot be denied, even though the main religion practised is Buddhism, there are more than 52,000 Hindus living in the country, contributing a lot to the religion. In the beginning, Thailand was ruled by the Khmer empire, which was a strong Hindu empire. Hence the influence of Hinduism with high on the people of Thailand.
The population of Hindu and Sikh are mostly located in Bangkok. Many people of Thailand worship Hindu deities like Shiva, Indra and Ganesh. In recent decades Thai Buddhists have increasingly converted into Hindu deities.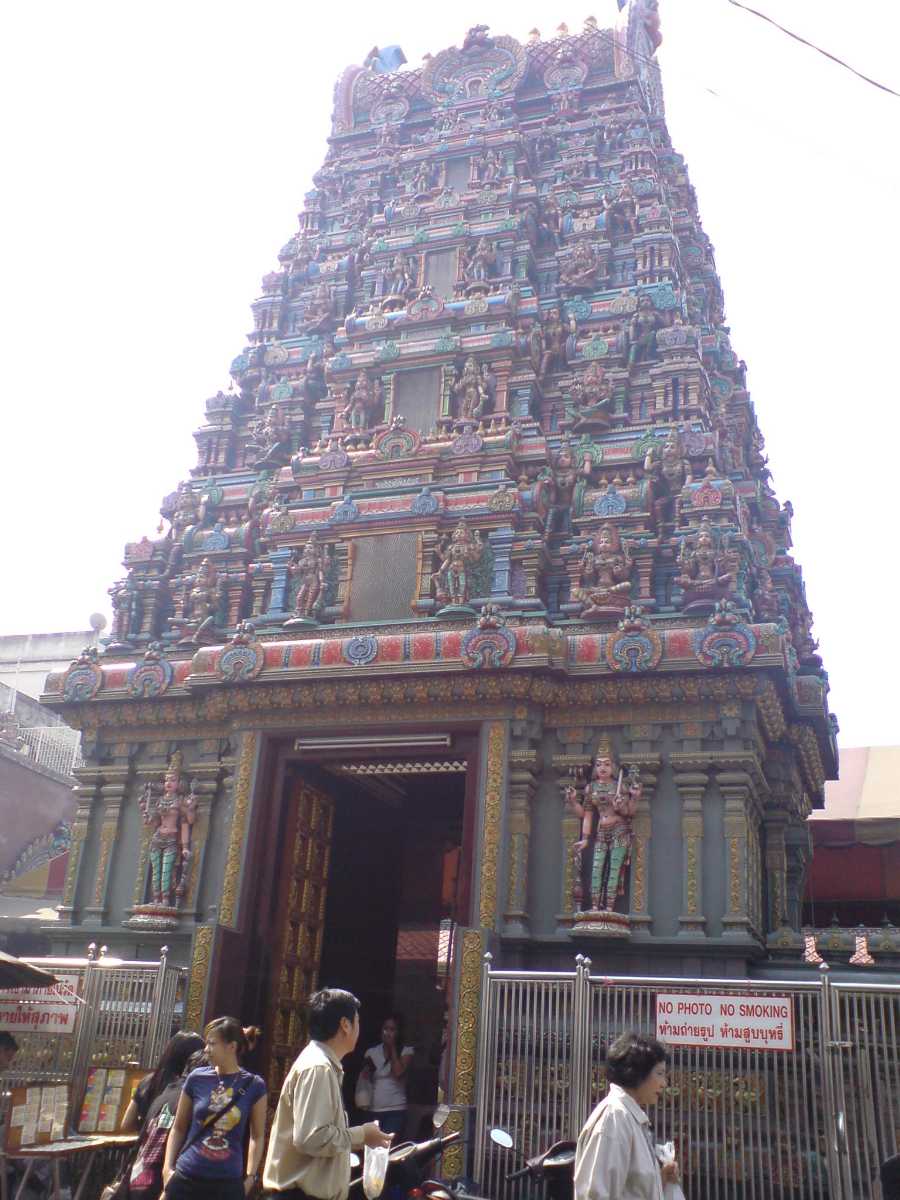 The most popular Hindu temples which refer Hindu culture in Thailand are Sri Maha Mariamman, also known as 'Wat Khaek', Wat Vishnu Temple or Wat Witsanu Temple in Sathon etc. These temples are made by the ethnic Thai Buddhists to pay devotion to Hindu Gods. The Brahma statue at Erawan Shrine is also very popular. Other important shrines are Lakshmi Shrine, Trimurti Shrine, Narayan Shrine and Ganesh Shrine.
Thailand uses Hindu God 'Garuda', also known as 'Krut' as its national emblem. He was half-man, half-bird, the vehicle of Lord Vishnu.

Thailand, a multi-religious country, offering religious freedom to everyone hence is ethnically, culturally and religiously homogeneous nation. Other minor religions in Thailand are Judaism, Taoism, Confucianism etc. which are generally practised by those living in Bangkok which is a multicultural city.