Thailand
, a dreamy beachside paradise, is a country that has managed to retain its cultural integrity in spite of being a significant tourist destination. You can find everything here - from
pristine beaches
to dense forests, from ancient
monasteries
to coral reefs, from Buddhist monks to
floating markets
and the fragrant and plentiful
food
to treat your taste buds. Moreover, Thai people are among the most hospitable people in the world, which only adds to the overall charm of this place.
A country goes through different stages in the course of its history. It undergoes political, economic and social changes. What doesn't come to mind is the gradual change that occurs in the attire of a country due to the factors mentioned above.

Let's take a walk through the Thai culture list of traditional dresses in Thailand. 
1. Chut Thai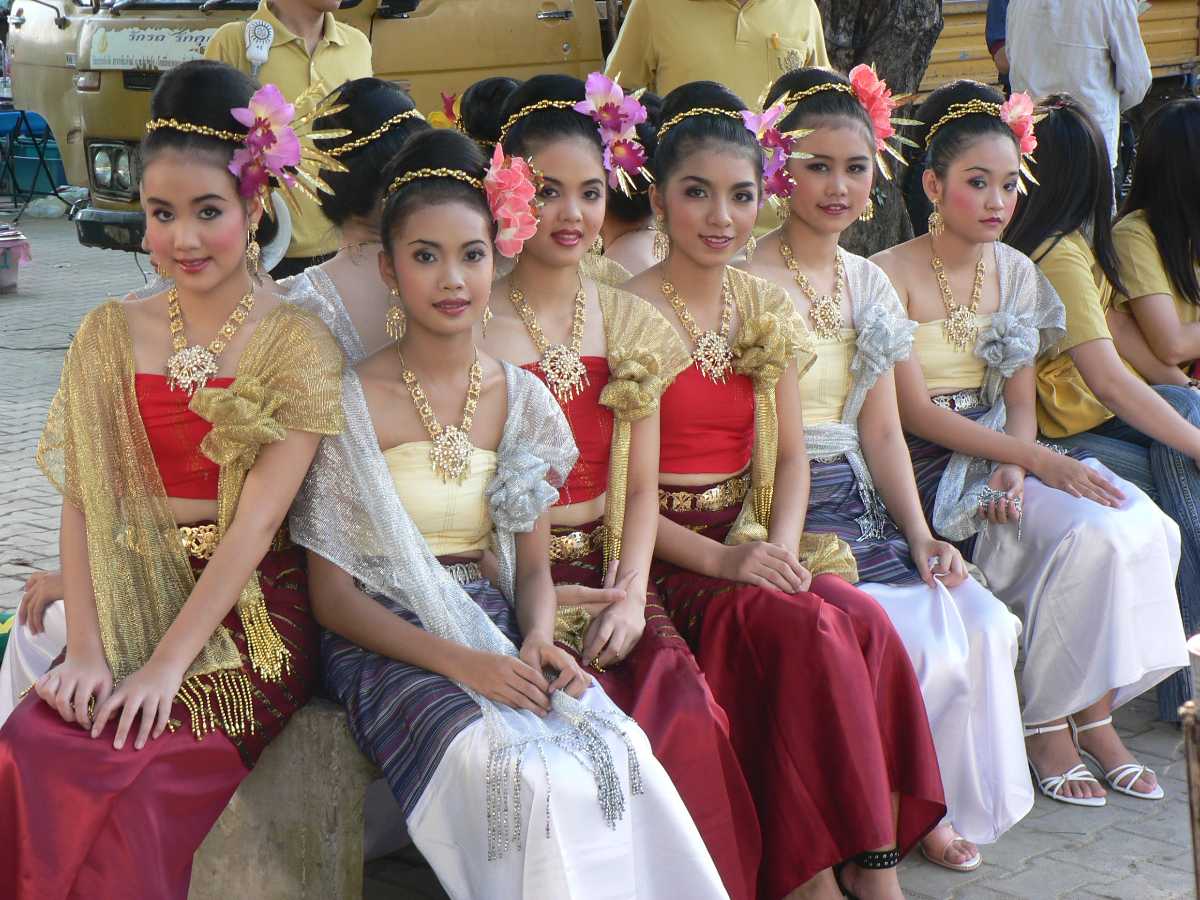 The traditional dress of Thailand, Chut Thai, has come to know many variations over the centuries. Its literal meaning is "Thai Outfit". Typically bright, delicate and modest, different ethnic groups of Thailand use their fabrics and intricate patterns. Many traditional dresses are worn during various festivals, wedding ceremonies, etc.
2. Suea Phraratchathan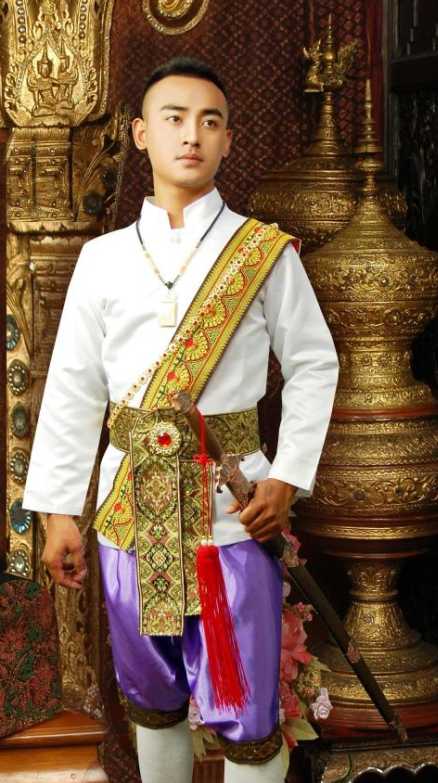 For men, the traditional dress of Thailand is called Suea Phraratchathan ("royalty-bestowed shirt"). It is a button-up shirt, with an extended collar, long sleeves and a sash for formal occasions. The Pakama, a large rectangular piece of fabric, is often worn by men by wrapping around the waist. The shirt worn by men is very similar to the raj pattern jacket, which itself takes inspiration from the Nehru jacket.  
3. Ruean Ton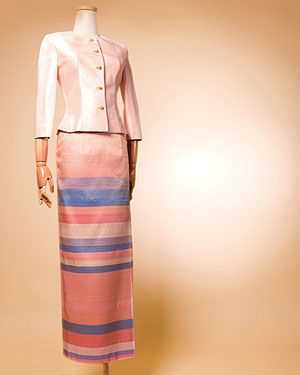 Ruean Ton is one of the most casual and straightforward outfits out of all the women's dresses amongst traditional dresses of Thailand. It consists of a tube-like skirt worn with a collarless blouse. The blouse has a row of buttons at the front and elbow-length sleeves and is tucked into the skirt. The skirt may be plain or embroidered with regional designs. This outfit is usually worn during non-official functions.
4. Chakkri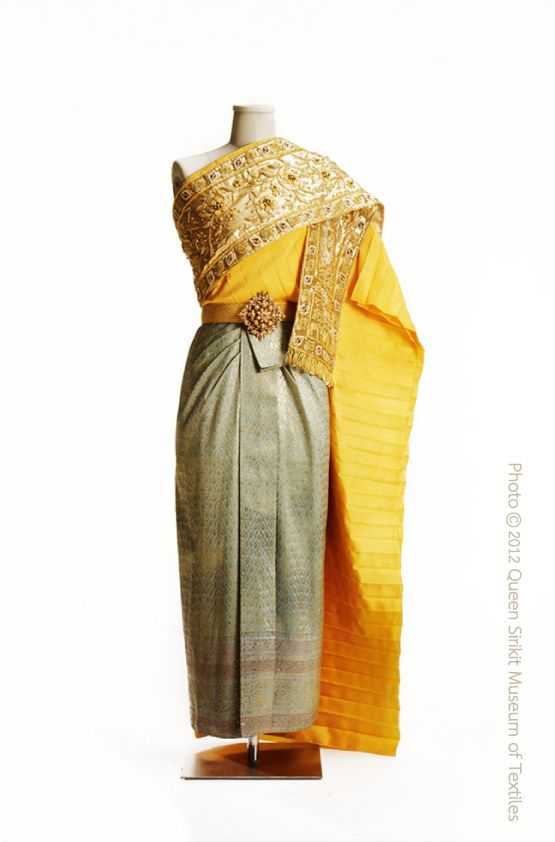 One of the most famous and commonly worn traditional dresses of Thailand, Chakkri is considered elegant and formal attire. It consists of a long tube skirt with two front pleats. Sabai, the upper garment, wraps around the upper body and trails to the ground. A top made of silk is further worn underneath the Sabai. Women often accessorise it with gold jewellery to make it look grander.
5. Siwalai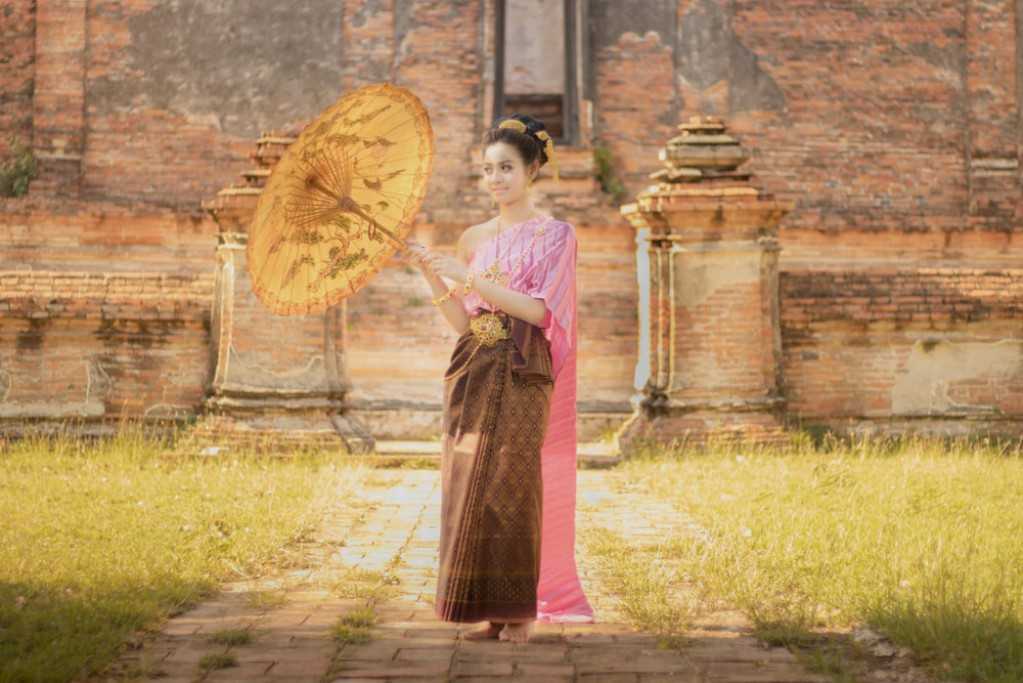 Mainly worn during royal functions and formal events, Siwalai is a one-piece garment made by stitching two pieces together. It has a long tube skirt with pleats at the front and a button up blouse with elbow-length sleeves sewn together. A Sabai over the part completes the look and gives it an elegant and chic vibe.  
6. Boromphiman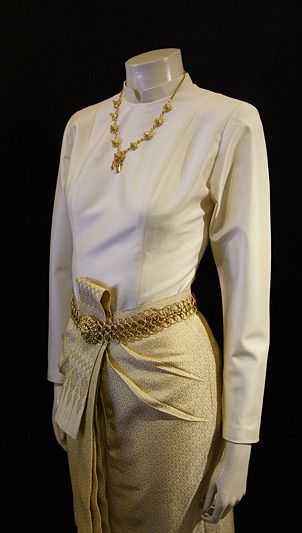 This evening attire is fit to be worn to formal and semi-formal functions. Similar to Siwalai, it too has a skirt and a blouse sewn together. The shirt traditionally has a round neck and long sleeves and is generally tucked beneath the sarong. The fabric is brocaded, which gives it an elegant and luxurious look. This traditional dress in Thailand is beautiful and can be seen worn by women at semi-formal functions in Thailand. 
7. Chitlada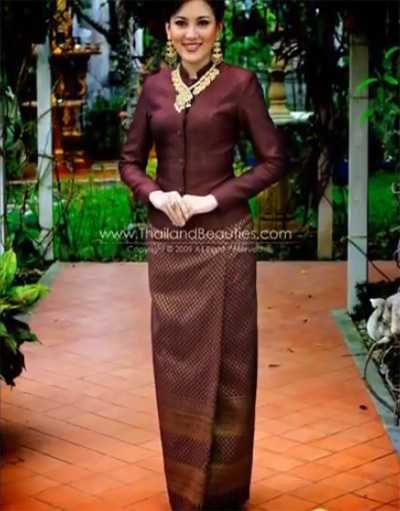 Fit for daytime ceremonies, Chitlada comprises of a long Sinh (sarong), worn with a blouse with five golden buttons at the front. The brocade embroidery at the hem of the sarong adds on to the beauty of the dress. This is one of the traditional dresses of Thailand is worn by women for more formal or official events. 
8. Amarin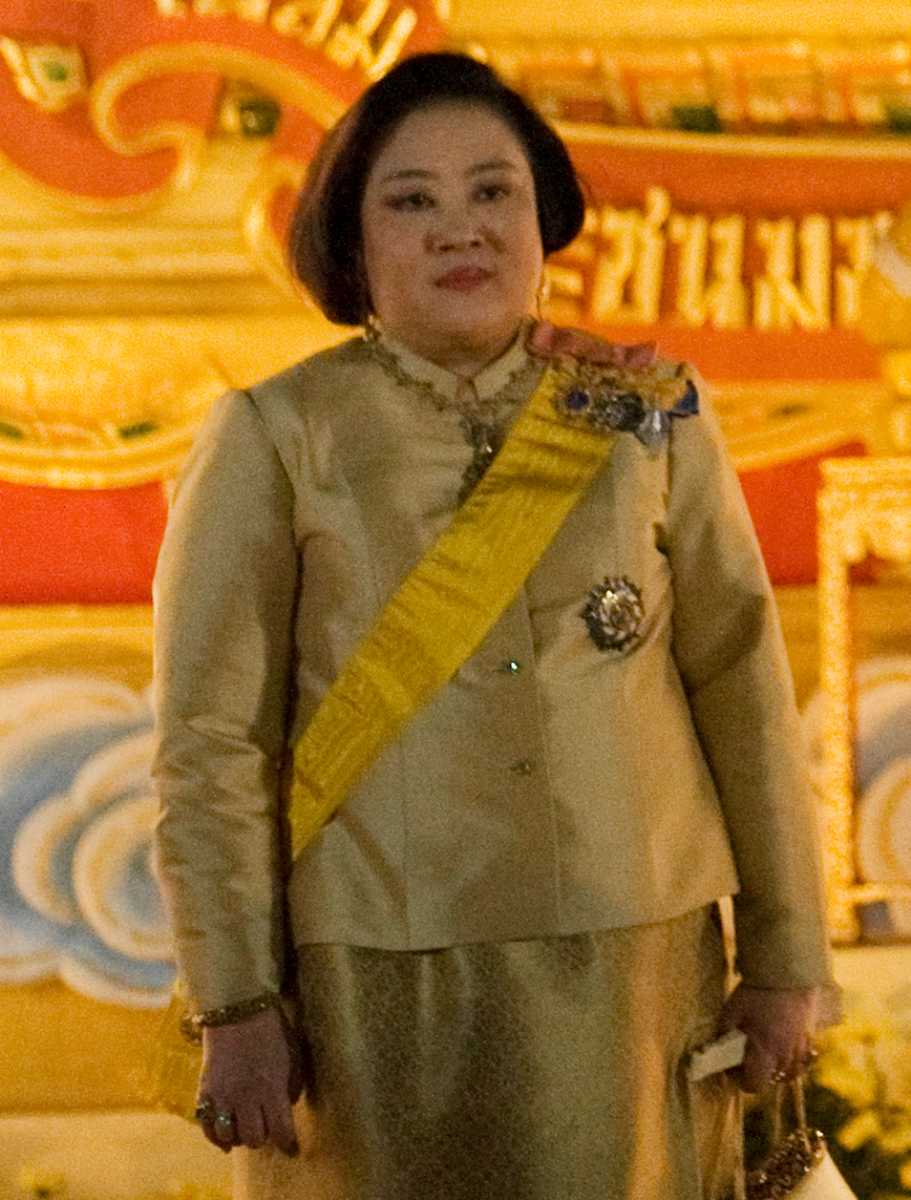 This evening attire is made up of brocaded fabric. The long-sleeved blouse is usually broad and has a round neck. Known for its textiles and accessories, this traditional dress in Thailand does not require a belt to be worn with it. It can be worn during royal events with the necessary royal ornaments.  
9. Chakkraphat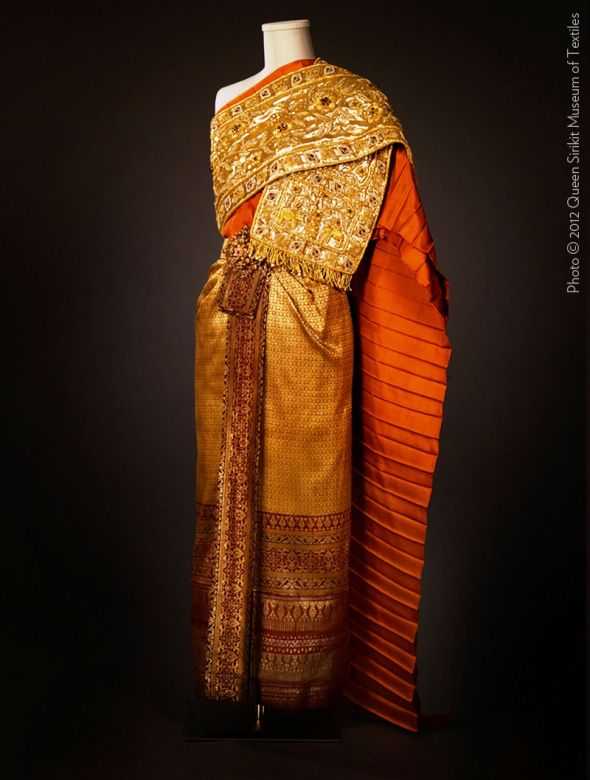 Chakkraphat is considered very formal and worn mostly during royal ceremonies. The name means "emperor", further adding on to the solemn undertones of the dress. It features a long tube-like skirt and a top. The upper garment also consists of a luxurious shawl wrapped in such a way as to leave one shoulder bare. It is embroidered with intricate patterns and made with beautiful fabric.
10. Dusit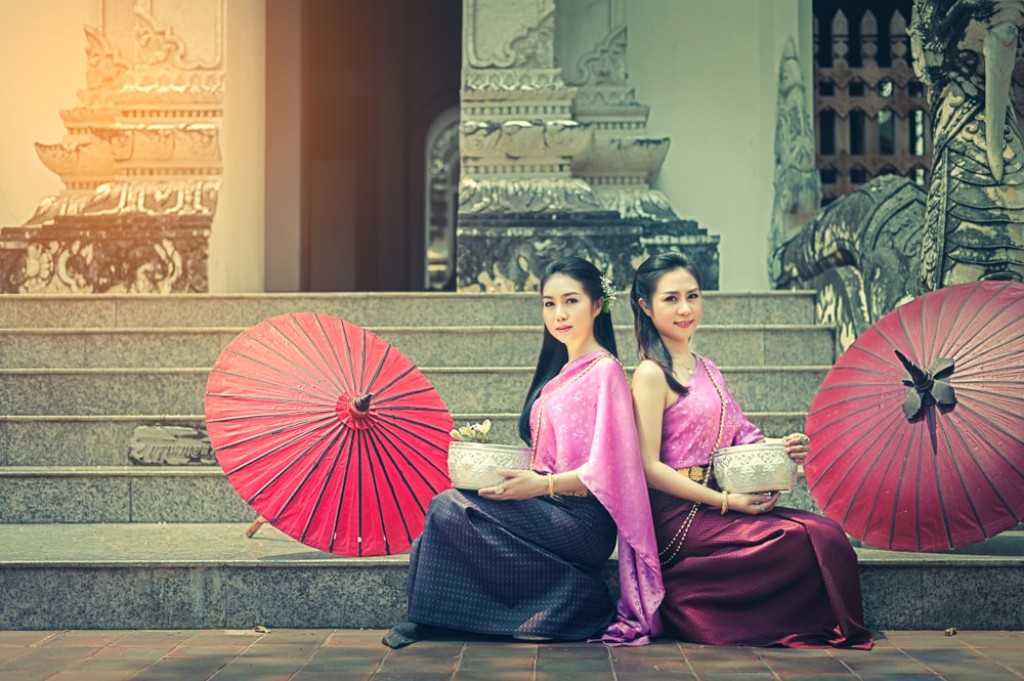 Dusit is a more westernised form of traditional Thai dress and is worn during less-formal evening events. The silk sleeveless dress has a round neck and is generally worn with a belt. It can be one piece with the skirt and blouse sewn together or two separate pieces as well.
These traditional dresses of Thailand are mostly worn during festival celebrations or other formal events. People might wear a variation of their traditional and national dress on their wedding day.