However much brand conscious you might be, the thrill of getting a good bargain for a cheap, unbranded product at a street market is unmatchable. Singapore boasts of amazing nightlife. Streets bustling with crowds waiting to get into clubs, foodies eating Hainanese chicken rice at Hawker centre at 1:00 in the morning and Oniomaniacs with their saccadic eye movements looking for a hard bargain at Singapore's busy night markets are a common sight in the City of Lions.
Singapore's famed Pasar Malams (night markets – as they are called in the local language), are the ideal places to shop, eat, and have an authentic local experience. Scroll below to read more about the best night markets in Singapore that you shouldn't miss being a part of.
1. Bugis Street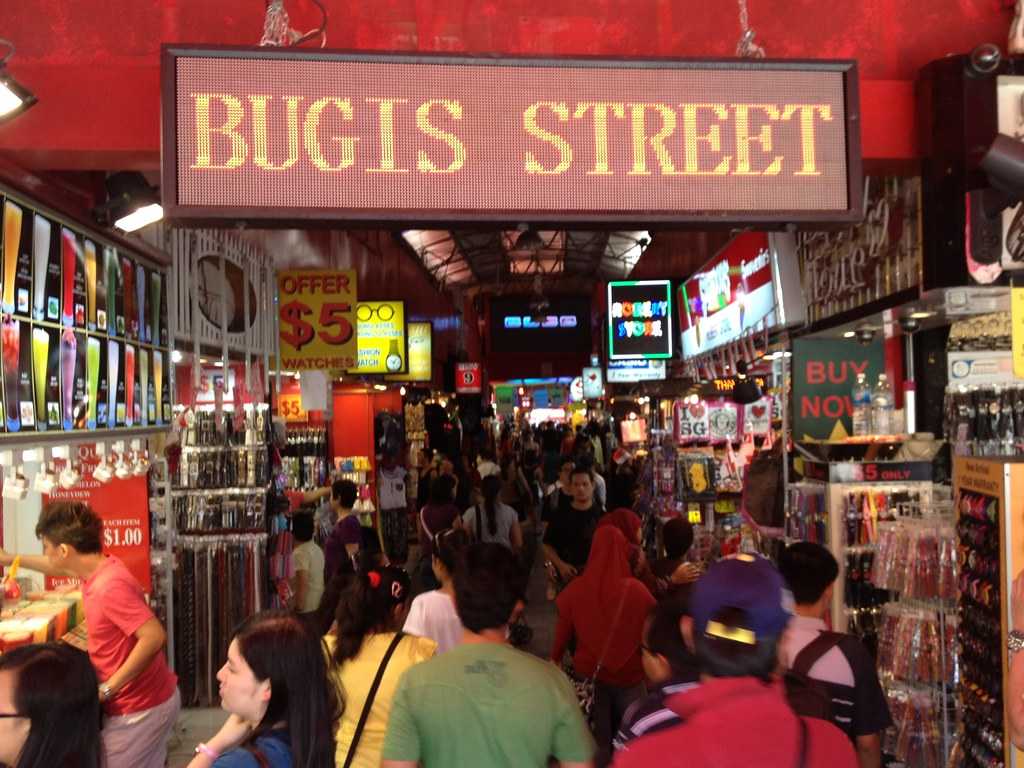 Bargain hunters' paradise. Bugis Street is where you'll find anything and everything at the price of dirt. There are over 800 shops crammed in a compact space selling all types of products. Shirts, t-shirts, ladies tops, jeans, watches, perfumes, footwear, bags, souvenirs, phone covers, stationery, home decor, and more. You could get products for as low as SGD 1, just that you will have to up your bargain game. All the shopping is bound to make you hungry. Don't worry, the market has got you covered. Restaurants and food vendors are spread all over the market, selling fresh juices, fried snacks, authentic Singaporean cuisine, and more. Located at the back of the market, head over to Albert Center, a large cafeteria selling full-fledged meals from SGD 3. If you are looking for something sophisticated, there are fine dining restaurants and cafes open till late just outside the market in Bugis.
Timings: 10:00 AM to 12:00 AM
Location: 3 New Bugis Street, Singapore
2. Chinatown Street Market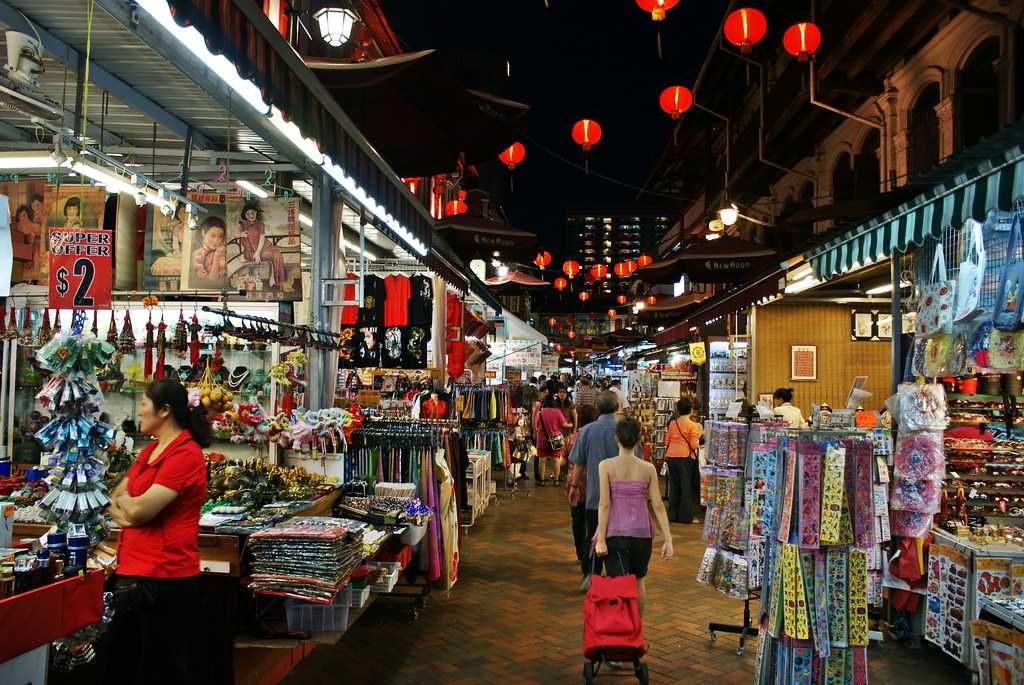 Chinatown areas all over the world house something unique for locals and tourists. In Singapore, it is the Chinatown street market. Though this is one of the few night markets in Singapore that are open through the day, the best time to visit the market is after dusk. The incredibly bright lights make the place both alluring and Instagram worthy. You will find all kinds of Chinese goods at this place, from authentic Chinese art to second-hand Chinese cell phones. There's only one rule to follow: haggle all you can.
When at the market, don't forget to grab the mouthwatering crispy duck or hog on freshly prepared dim sums, the speciality of the market. There's a designated food street on Smith Street for all kinds of eateries. Even if you don't wish to purchase anything, just a stroll in the market during the night time would be worth the experience.
Timings: 8:30 AM to midnight. The shops might close around 9:00 PM but the food stalls are open till late.
Location: Terengganu Street, Outram, Singapore
3. Lau Pa Sat

Why cook ready-to-eat noodles to satiate your midnight hunger when you can head over to Lau Pa Sat, a 24/7 food night market for all kinds of cuisines to hog on. Located amidst the tallest skyscrapers in the centre of the city, this market sets the right mood for midnight munchies when in the city. Choose from a wide range of dishes available at reasonable prices such as chilli crabs, odd noodles, Hainanese chicken and rice. Different stalls have different opening and closing timings, but you are sure to catch many open at any time of the day.
Notable food stalls are Power Puffs (for several varieties of puffs), Kopitiam (for desserts), Mohamed Restaurant (for lip-smacking roti prata). This is the place to be for one of the best nightlife experience of Singapore, with great food, chilled beers, and sublime views.
Timings: Open 24/7
Location: 18 Raffles Quay, Singapore
4. Geylang Serai Ramadan Bazaar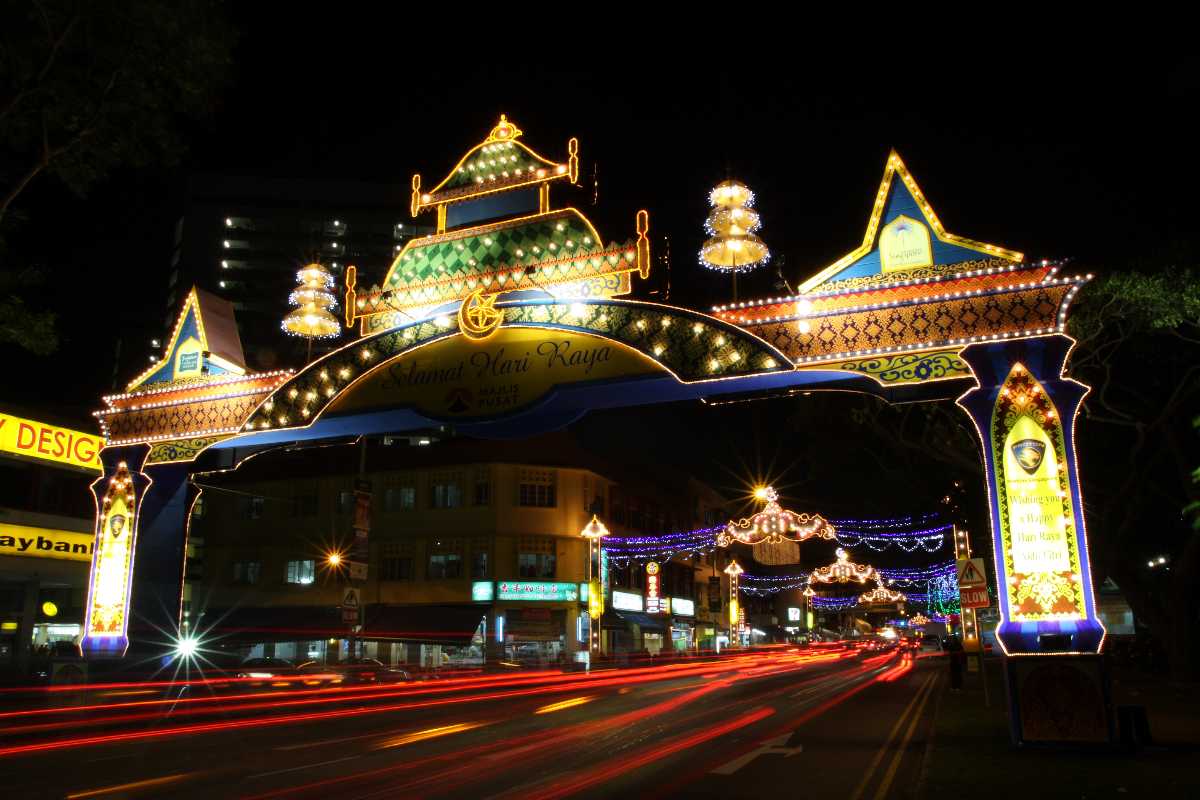 Open only during the holy month of Ramadan, Geylang Serai is a traditional market selling goods and food related to Malay and Hari Raya culture. The night market in Singapore is filled with authentic Muslim and Indian delicacies, the best in the town. There are young entrepreneurs selling unique products such as flaming ice cream. When compared to the 1990s the market in the present time is said to be all commercialized and selling modern products. Hence, Wisma Geylang Serai, the cultural hub which sets up the market will make sure that 2019's market would sell only authentic and traditional Halal certified goods. If you have a knack for Mughlai cuisines and Halal goods, head over to Geylang Serai during the period of Ramadan this year. Trying reaching a bit early as the market tends to get crowded as night falls.
Timings: 6:00 AM to 10:00 PM (May 3 to June 5, 2019)
Location: 1 Geylang Serai, Geylang, Singapore
5. Little India Arcade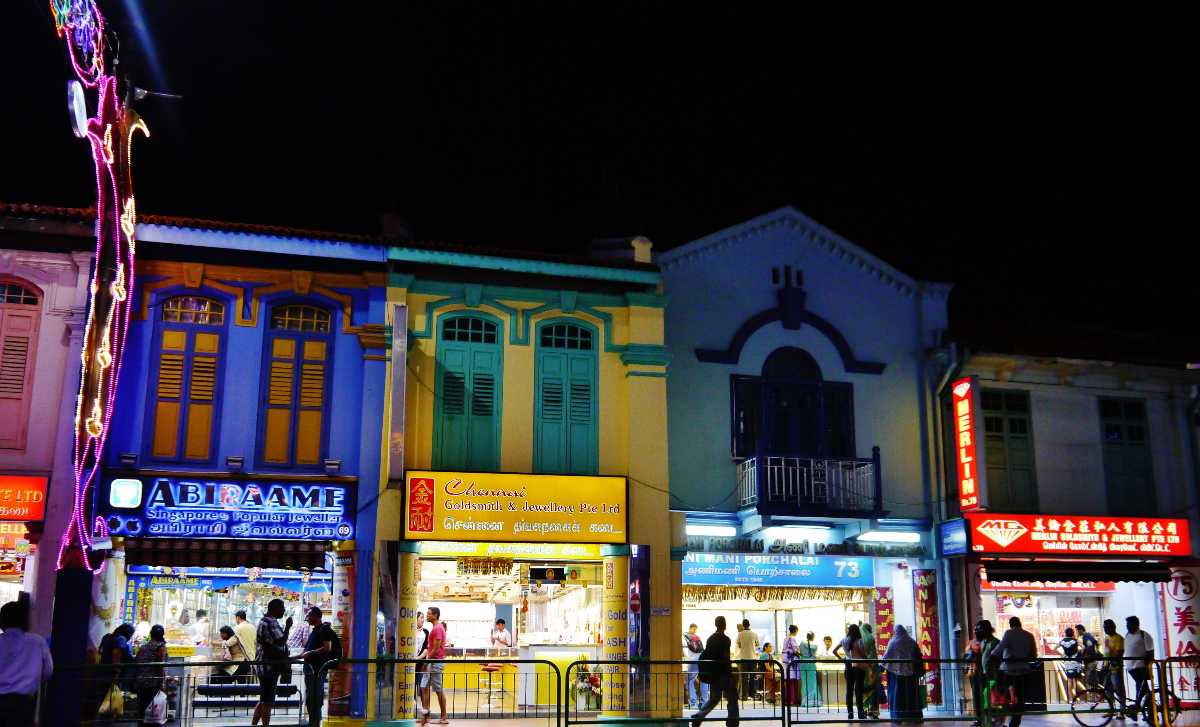 Like a home away from home, Little India is an area in the heart of Singapore. As the word suggests, Little India is like a mini version of India. This is where you'll see a lot of Indians residing and working. From authentic Indian restaurants, hotels, temples, and mosques to markets selling authentic Indian goods, Little India has it all. Little India Arcade is one such market where you would find traditional Indian wear, herbs, authentic Indian cuisine, spices from India, and henna tattoo parlours. This is perfect cross-cultural patronage that Singapore offers.
Timings: 9:00 AM to 10:00 PM
Location: Number 02-07, 48 Serangoon Road, Rochor, Singapore
6. Tekka Center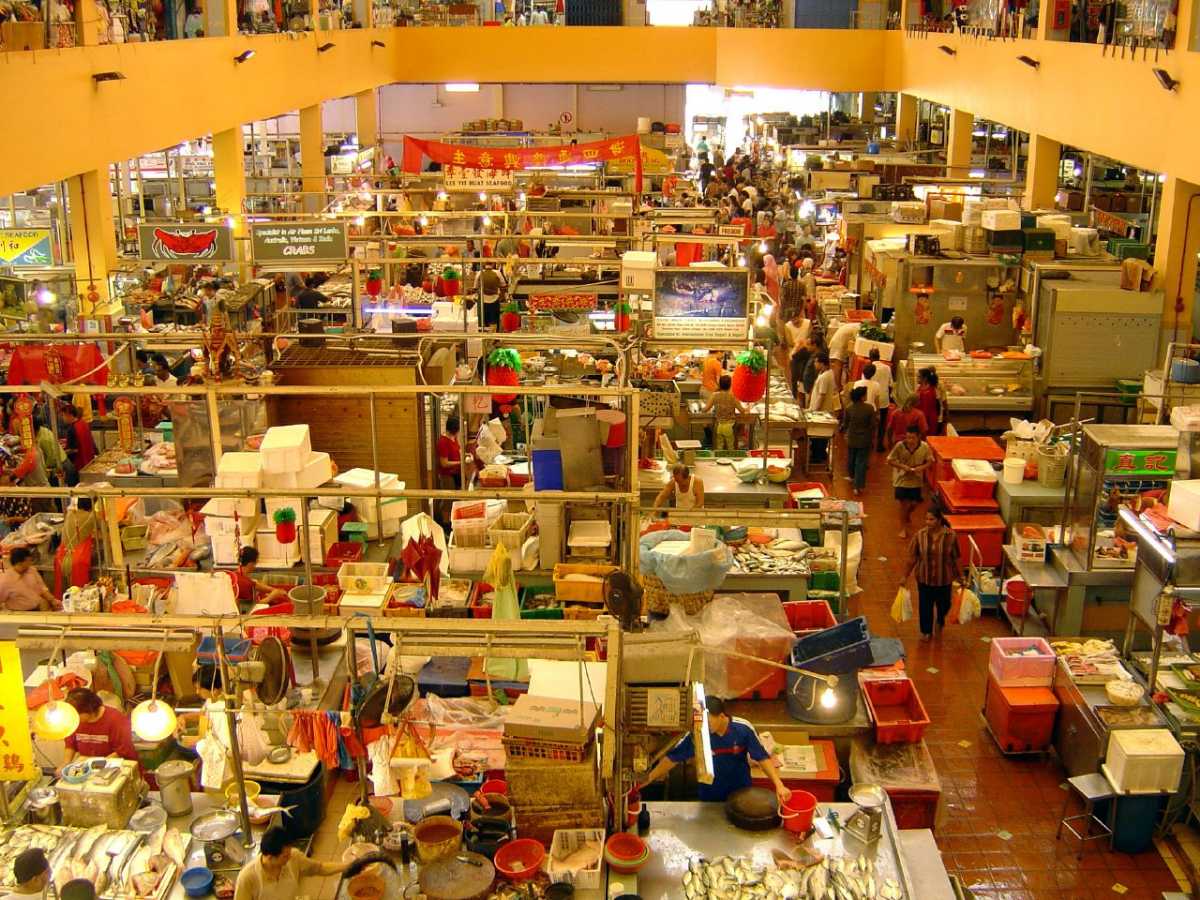 Formerly known as the "Tekka Pasar", this night market in Singapore was initiated in the year 1915. Today, Tekka Center has become the landmark of Little India, with its multi-cultural varieties of food, clothing, accessories and more. The plaza would invite you with an array of stalls hawking jewellery, accessories, precious stones and the like. After which, you would enter the dining area on the ground floor, soaking in aromas of traditional Indian, Chinese, Malay and Sri Lankan cuisines including seafood. The first floor is the wet market selling a massive variety of seafood, fruits and vegetables. Further on, the second floor is the central shopping zone, with collections of Indian and traditional vogues on sale.
Timings: 6:30 AM to 9:00 PM
Location: Bukit Timah Road, Singapore
7. China Square Central Flea Market

This Sunday shopping attraction gravitates shopaholics and tourists with its various items like vintage souvenirs, clothing, eatables to toys, accessories and as the name suggests, loads of Chinaware. Although budgeted prices, it is advisable to bargain and purchase with much more finesse, especially if you are a tourist. Engulfing the flea market are other fascinating places you could drop by, such as the Buddha Tooth Relic, Sri Mariamman Temple and the Thian Hong Kend Temple.
Timings: 10:00 AM to 10:00 PM, Sunday
Location: 18 Cross Street, Singapore
8. 409 AMK Market And Food Centre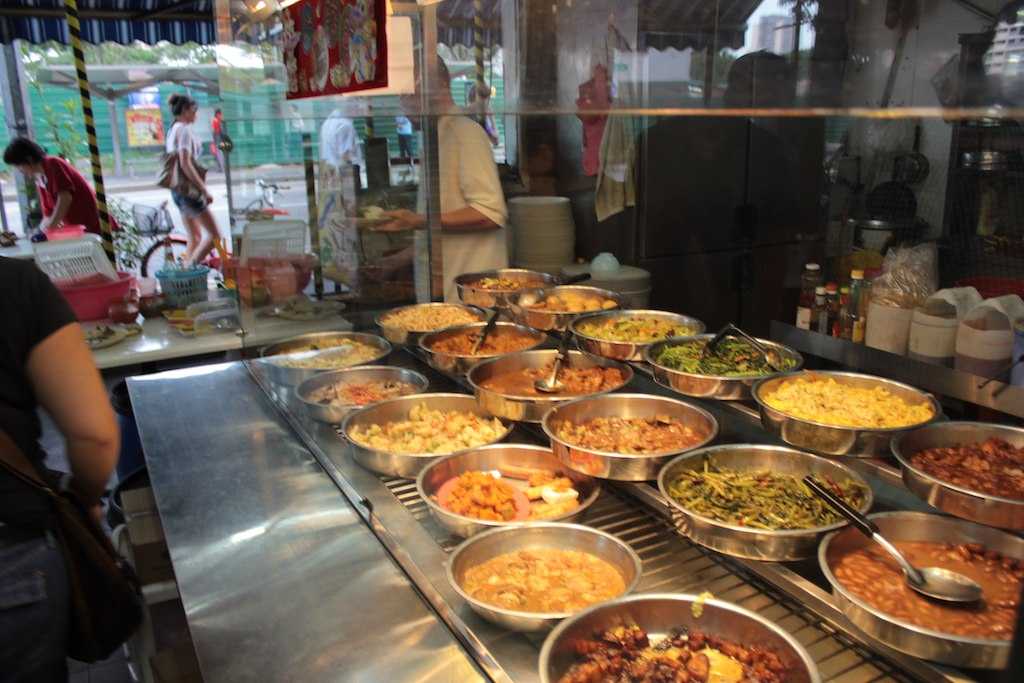 This night market in Singapore looks like a mall, but a lot more reasonable. 409 Ang Mo Kio is a shopping complex as well as a food hub for many foodies in the city. With a range of sizzling local and national cuisines, 409 AMK is a definite list if you want to take a bite from the Singaporean food culture. Although food is the main attraction here, there are several stalls and stores with collections of attires on sale.
Timings: 3:00 PM to 10:00 PM
Location: 409 Ang Mo Kio (AMK) Avenue 10
9. The Shoppes at Marina Bay Sands

One of the top luxury focal points of Singapore, Marina Bay Sands houses dozens of stores for your perfect late-night shopping spree. From rich collections of international and local brands to affordable yet chic collections spread across five levels, The Shoppes at Marina Bay Sands hosts them all! Most stores here function close to midnight, some of which are; Armani, Chanel, Charles and Keith, G-Shock, Polo, Tiffany and Co., Gucci, Venchi and lots more. The Shoppes at Marina Bay Sands also encloses tons of eateries on almost every level, that would undoubtedly seal the deal!
Timings:
Sunday to Thursday - 10:30 AM to 11:00 PM
Friday and Saturday - 10:30 AM to 11:30 PM
Locations: 10 Bayfront Avenue, Singapore
10. Bazaar Karat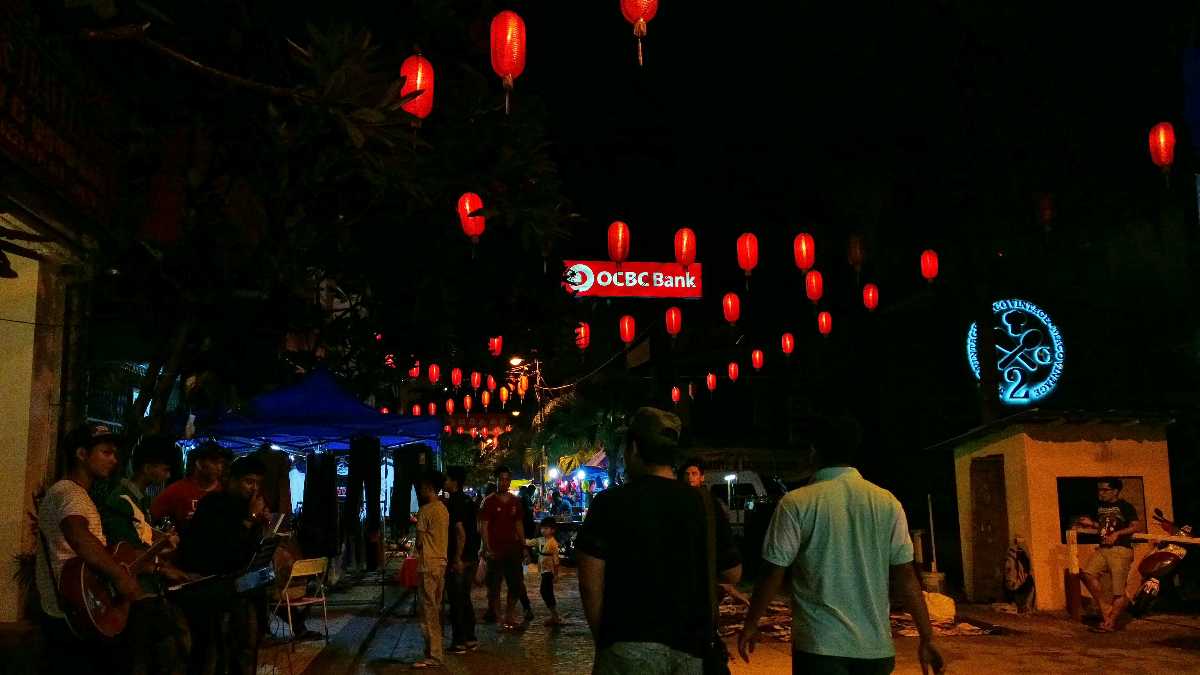 Bazaar Karat is an open-air shopping joint, with numerous clothing, accessories and eating stalls and is just 20 kms from Singapore. This night market is situated within the streets of Jalan Segget, can appear to be tiring and not so conducive under changing weathers. However, it does gravitate tons of shopaholics longing for the street-shopping vibe, with its pocket-friendly prices and exciting products on display that may not be available at a typical mall atmosphere.
Timings:
Monday to Friday - 6:00 PM to 12:00 AM
Thursday to Sunday - 7:30 PM to 12:00 AM
Location: 26, 20, Jalan Segget, Bandar Johor Bahru, 80000 Johor Bahru, Johor, Malaysia
Have a night time slot vacant in your itinerary? Go on a shopping spree at these night markets in Singapore.