Only have four days to spend in Bangkok? Fret not! We've got you covered with this 4-day itinerary which will help you plan your mini-vacay to Bangkok perfectly! Bangkok, Thailand's capital city, has a never-ending list of things to do! From budget-friendly shopping to magnificent temples and floating markets, there's a lot to do and see!
So get prepared to be astonished by all the sightseeing and shopping you can do with this 4 Days Bangkok Itinerary!
| | |
| --- | --- |
| Day 1 | The Grand Palace, Wat Arun, Wat Pho, Khao San Road |
| Day 2 | Wat Suthat, Lumpini Park, Jim Thompson House, Octave Rooftop Bar and Restaurant |
| Day 3 | Wat Traimit, Yaowarat Road (Chinatown) |
| Day 4 | Floating Markets in Bangkok, Bangkok National Museum, Siam Paragon Mall, Asiatiaque the Riverfront |
Day 1 in Bangkok
The Grand Palace - a Spectacular Tourist Spot that You Shouldn't Miss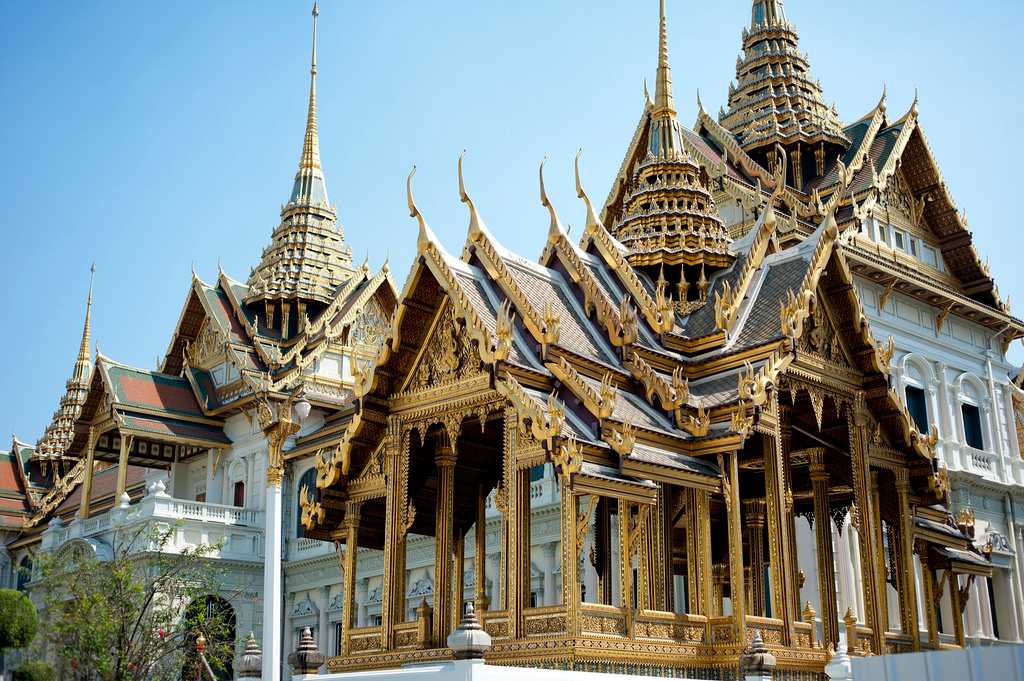 A visit to Bangkok would be incomplete without the Grand Palace, the most visited tourist attraction of Bangkok. THB 500 is charged for entry, which includes access to Wat Phra Kaeo, the most sacred Buddhist temple in
Thailand
, The Royal Thai Decorations & Coins Pavilion, Queen Sirikit Museum of Textile and Vimanmek Mansion Museum. You can take the Chao Phraya Express Boat until Tha Chan, from where you can walk to the Grand Palace.
Opening hours:
8:30 AM to 15:30 PM
Wat Pho - Temple of the Reclining Buddha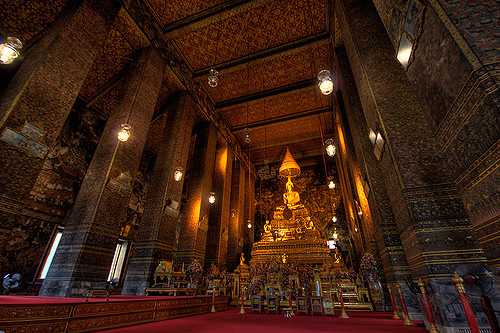 After you've visited the Grand Palace, head to Wat Pho, which is walking distance from the Grand Palace. It is famous for its giant reclining Buddha which is 46 metres long and 15 metres tall! It was also the first public university in Thailand and is considered the best leading school of massage. This is the perfect place to sit back, relax and get a traditional Thai massage. The entry fee for Wat Pho is 100 THB per person.
Opening hours:
8:00 AM to 17:00 PM
Wat Arun - Temple of Dawn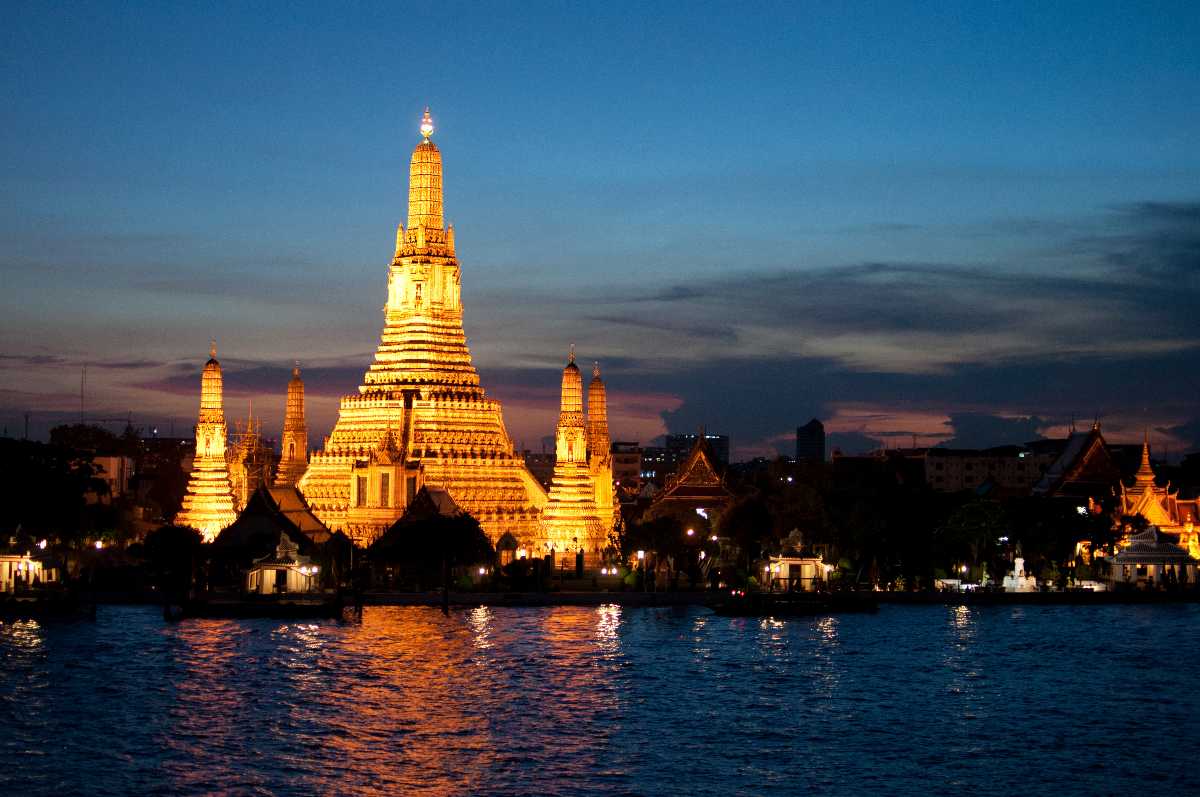 You can also visit Wat Arun, which is a quick boat ride from Wat Pho and will cost you around 10-20 THB one way. It is named after the Indian god of dawn - Aruna. It requires you to climb a steep flight of stairs to reach the top. But don't worry; the view is worth it! The best aspect of this temple can be enjoyed from the east of the river Chao Prayah as the sun drowns in the horizon.

Opening hours
: 8:30 AM to 17:30 PM
Important Note:
All of the above places follow a strict dress code. Make sure you wear clothes that cover your shoulders and legs. It is considered disrespectful to wear revealing clothes. You also have the option to rent clothes if required.
Khao San Road - a Perfect Streetfood Hotspot

The famous Khao San Road is every shopper's paradise and the perfect place to spend your evening if you want to eat street food and do some shopping! It is one of the most famous night markets in Bangkok. You will find tie-dye hippie outfits, sunglasses, shoes, souvenirs and a lot of other stuff here. Don't forget to bargain! If you're brave of heart, you can also try fried insects at one of the street food stalls! Make sure you try Pad Thai, one of Thailand's national dishes and fried banana pancake (Roti Gluay), the most craved street food of Bangkok!
Day 2 in Bangkok
Wat Suthat - a Magnificient Architecture of Bangkok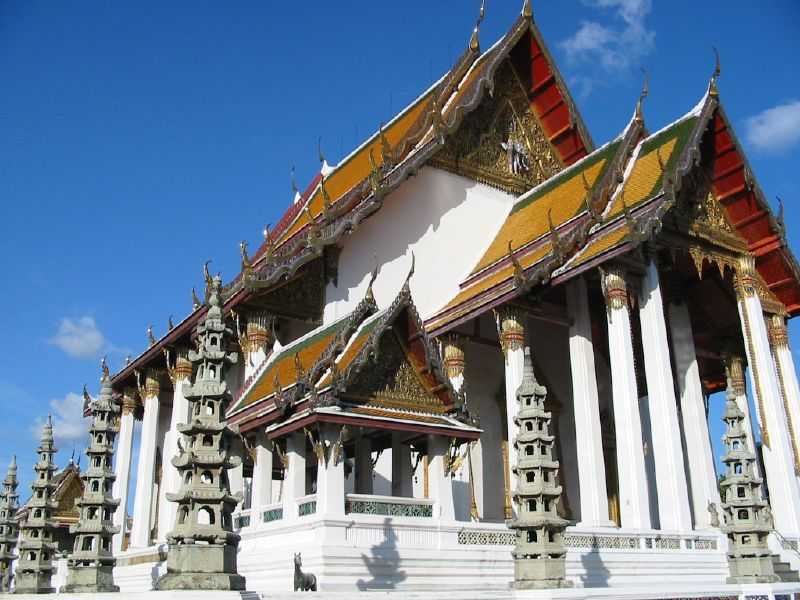 Wat Suthat is known for its giant red swing which towers at the height of 21.15 metres and was historically used in Brahmin swing ceremonies to thank Shiva. It's exciting architecture, and Chinese stone structure makes it popular amongst tourists. The walls of this temple are detailed with 24 incarnations of Lord Buddha and 156 images of Lord Buddha along its outer wall. 20 THB is charged for entry. You can take a Chao Phraya Express Boat to Ta Chang Pier from Saphan Taksin station. From the pier, you can either take a taxi or tuk-tuk to Wat Suthat.
Opening hours:
8:30 AM to 21:00 PM
Lumphini Park - Take a Lazy Stroll in the Evening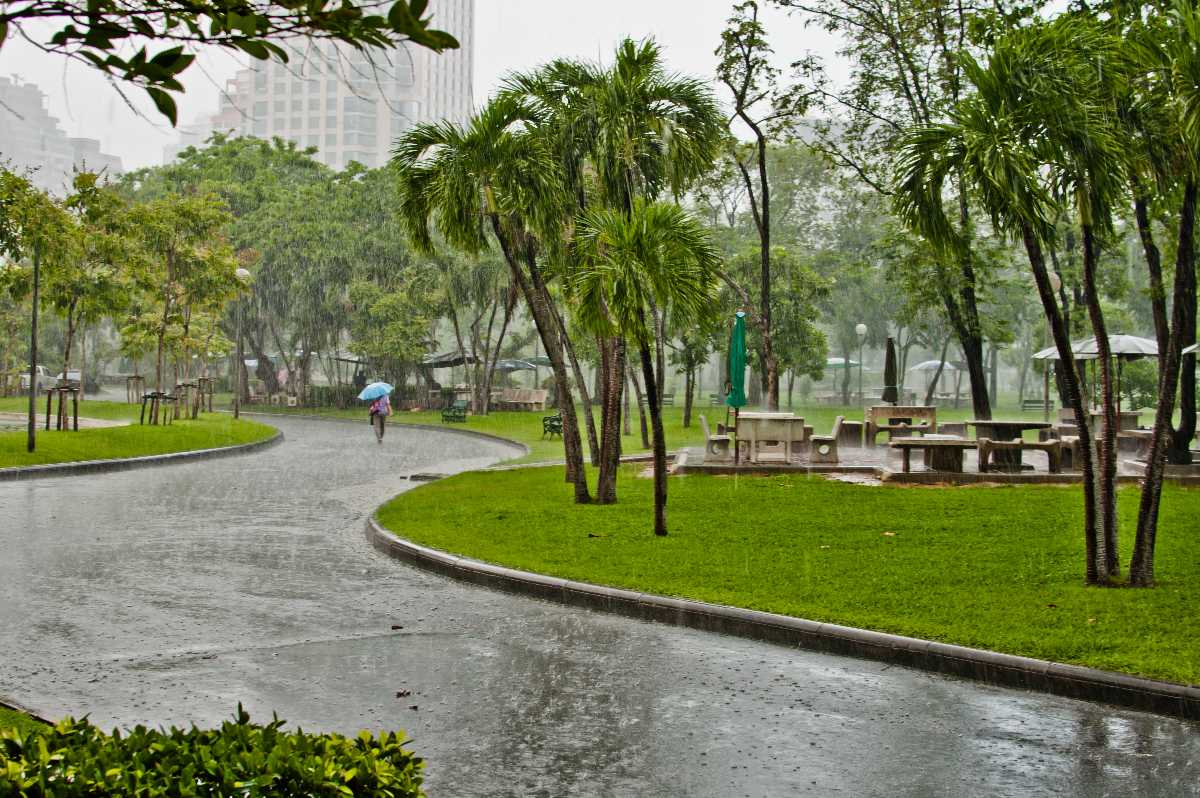 If you want to connect with nature, there is no better place than Lumphini Park! Take a stroll at the Lumphini Park to get away from the hustle bustle of the city. Witness the locals doing Tai Chi early in the morning at this lush green oasis. It also has an outdoor gym, basketball courts as well as activities such as rowing!
Opening hours:
4:30 AM to 21:00 PM
Jim Thompson House - A Visual Treat Showcasing Incredible Asian Art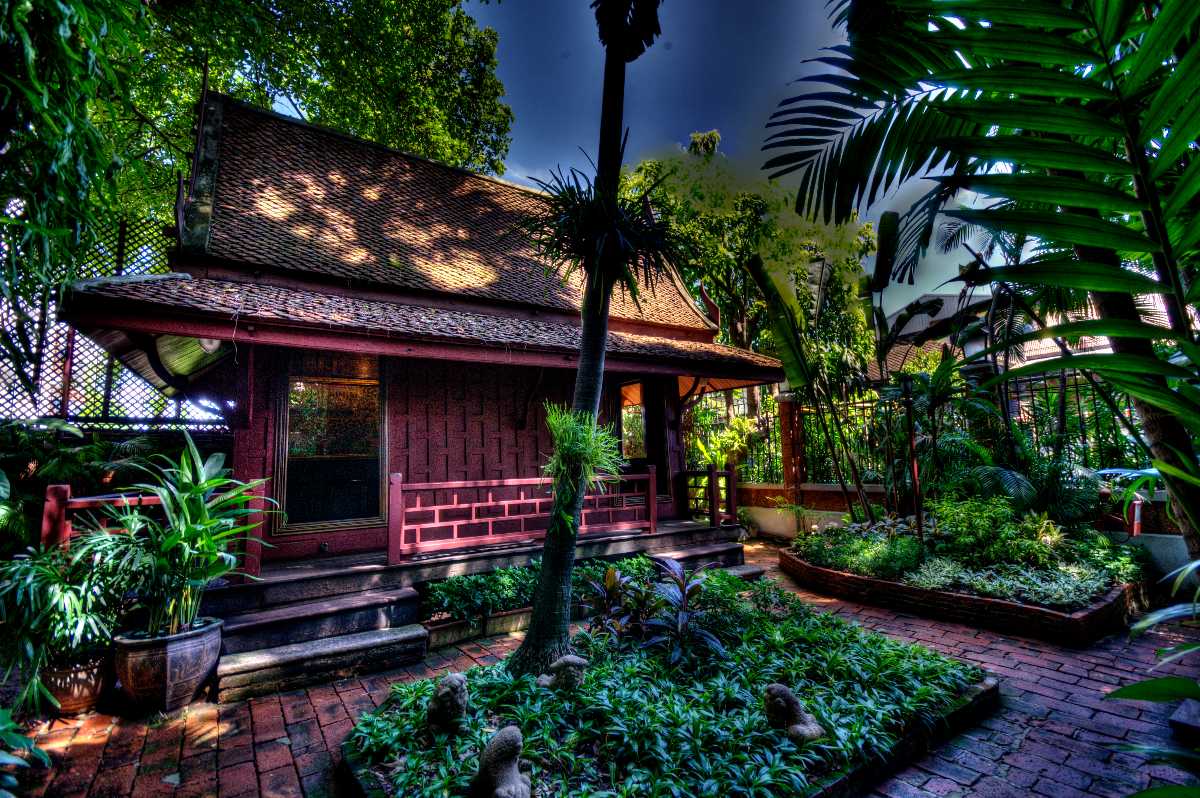 The Jim Thompson House, named after a middle-aged American man, is a museum which showcases an incredible collection of Asian art and other unique items. Although you're not allowed to click any pictures inside the house, you can click as many photos as you like outside the home, in the courtyard. You'll find dancers and locals extracting silk from a cocoon in the yard. The house is beautifully decorated with antiques from all over Southeast Asia.
Opening hours:
9:00 AM to 18:00 PM
Octave Rooftop Bar - A Perfect Evening with a Perfect View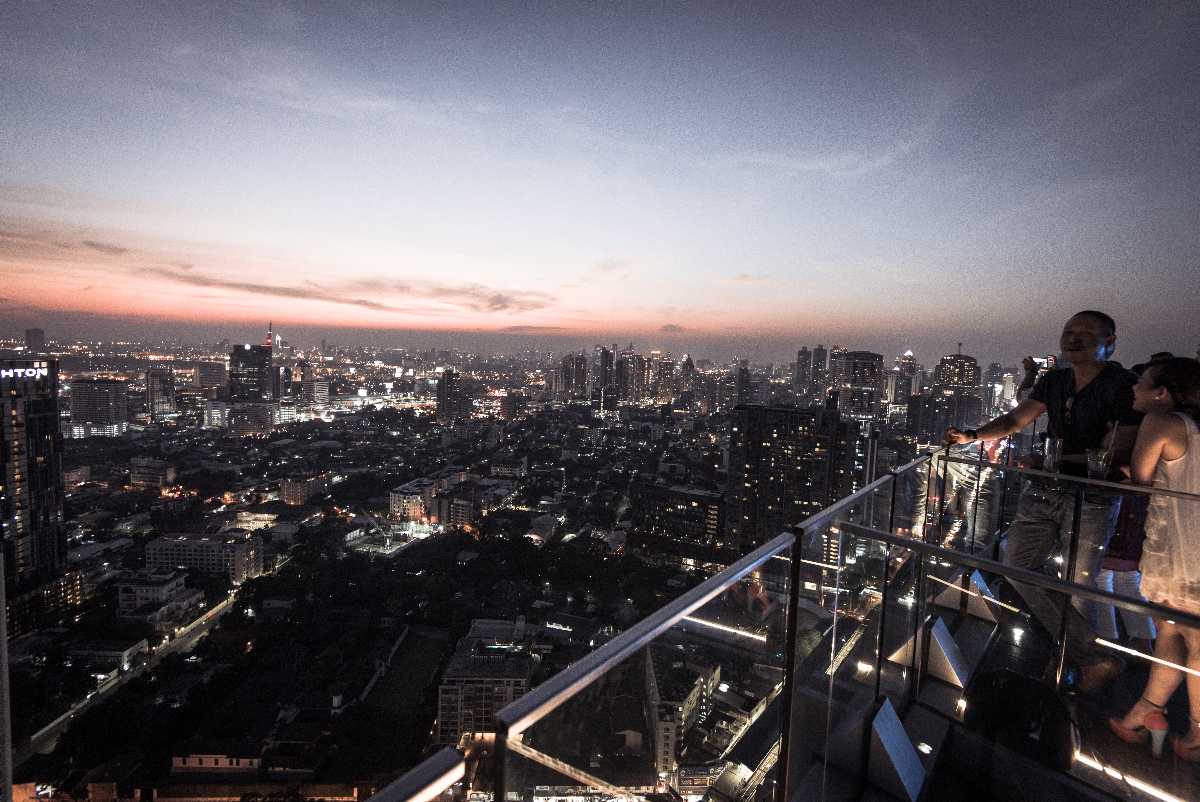 End your trip by dining at Bangkok's rooftop bars. You can enjoy your evening at one of Bangkok's most famous rooftop bar- Octave Bar, overlooking the glittering cityscape. Located on the 45th floor of the Marriott Hotel, this bar gives you the perfect view to admire the sunset. You can enjoy the tantalising signature Octave cocktails with your better half as the sun drowns in the horizon. You can either choose to relax while listening to the music or dance at the upbeat, groovy songs. Vertigo, Sky Bar, Park Society, Three Sixty are some of the other favourite rooftop bars you can visit!
Day 3 in Bangkok
Wat Traimit - The Temple of Golden Buddha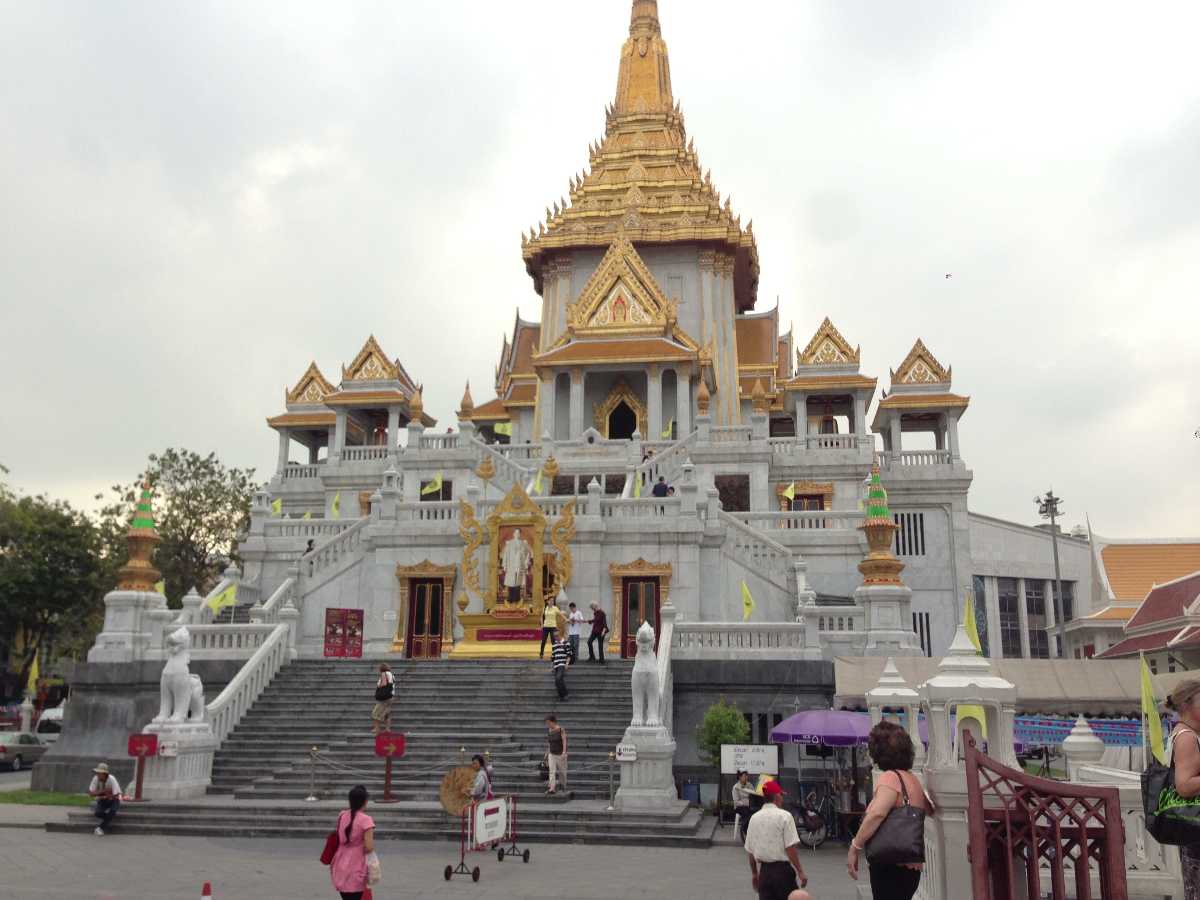 Located in the
Chinatown
area of Bangkok, Wat Traimit is famously known as 'The temple of gold Buddha', because of the largest solid gold Buddha image it has. It is the world's most massive gold seated Buddha which measures around five meters in height and weighs five and a half tons!
Opening hours:
9:00 AM to 17:00 PM
Yaowarat Road of Chinatown - A Vibrant Street that's Every Food Lovers Paradise!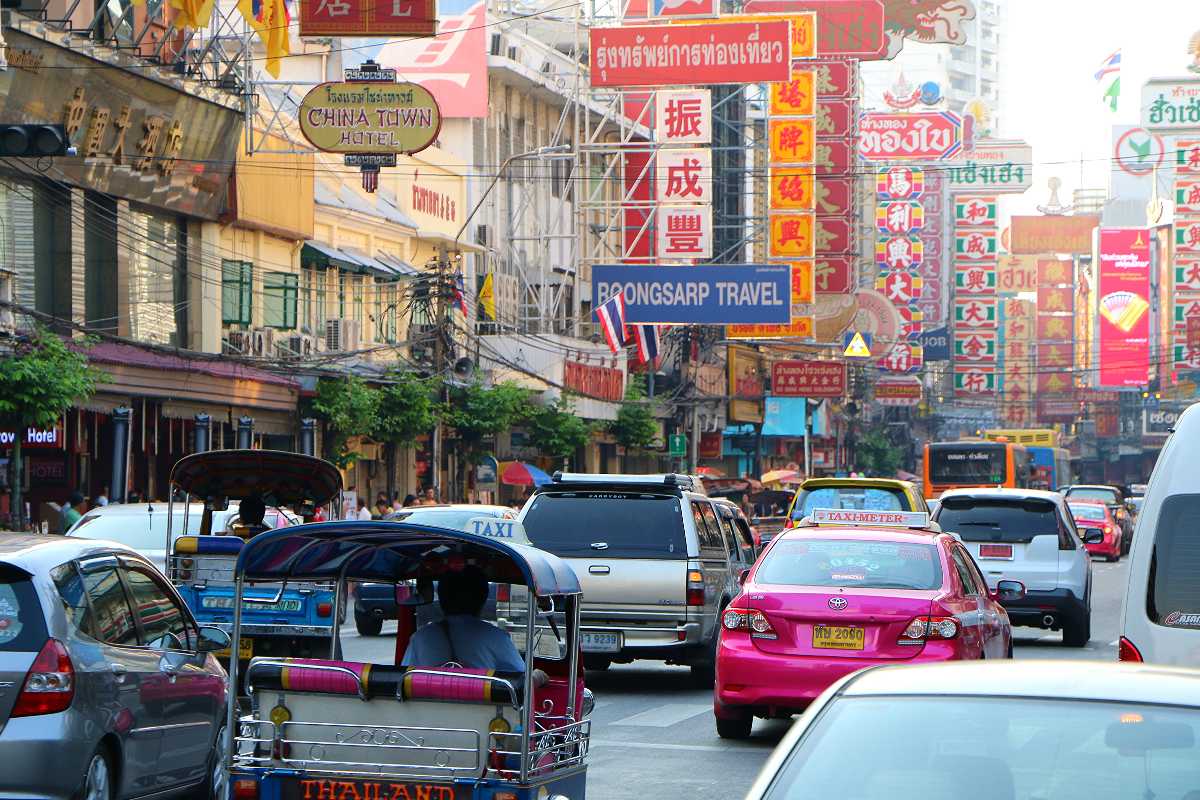 After visiting Wat Traimit, you can enjoy the vibrant life of Bangkok at Chinatown on the Yaowarat Road. This place is every food lovers paradise! The Yaowarat toasted bread is famous amongst locals as well as tourists. If you love seafood, the best restaurant to visit is the T&K restaurant which is flooded with people all day long! Grilled squid, Pad Thai, Mussel omelette and wanton noodles are some of the other must-try street foods here!
Day 4 in Bangkok
Bangkok National Museum - Impressive Murals, Artefacts, Antiques and a Lot More!

Explore Thailand's history and culture at the largest museum in Southeast Asia - The Bangkok National Museum. It houses impressive murals, galleries of traditional musical instruments, artefacts, clothing, prehistoric art, antiques and much more! Free guided tours of the museum are also available in English on Wednesdays. The entry fee is 200 THB per person. You can take a Chao Phraya River Express boat from BTS Saphan Taksin station to Ta Phrachan Pier from where you can walk till the museum.
Opening hours:
Wednesdays to Sundays, 9:00 AM to 16:00 PM
Siam Paragon Mall - Shopping, Movies and Luxury Goods At Your Expense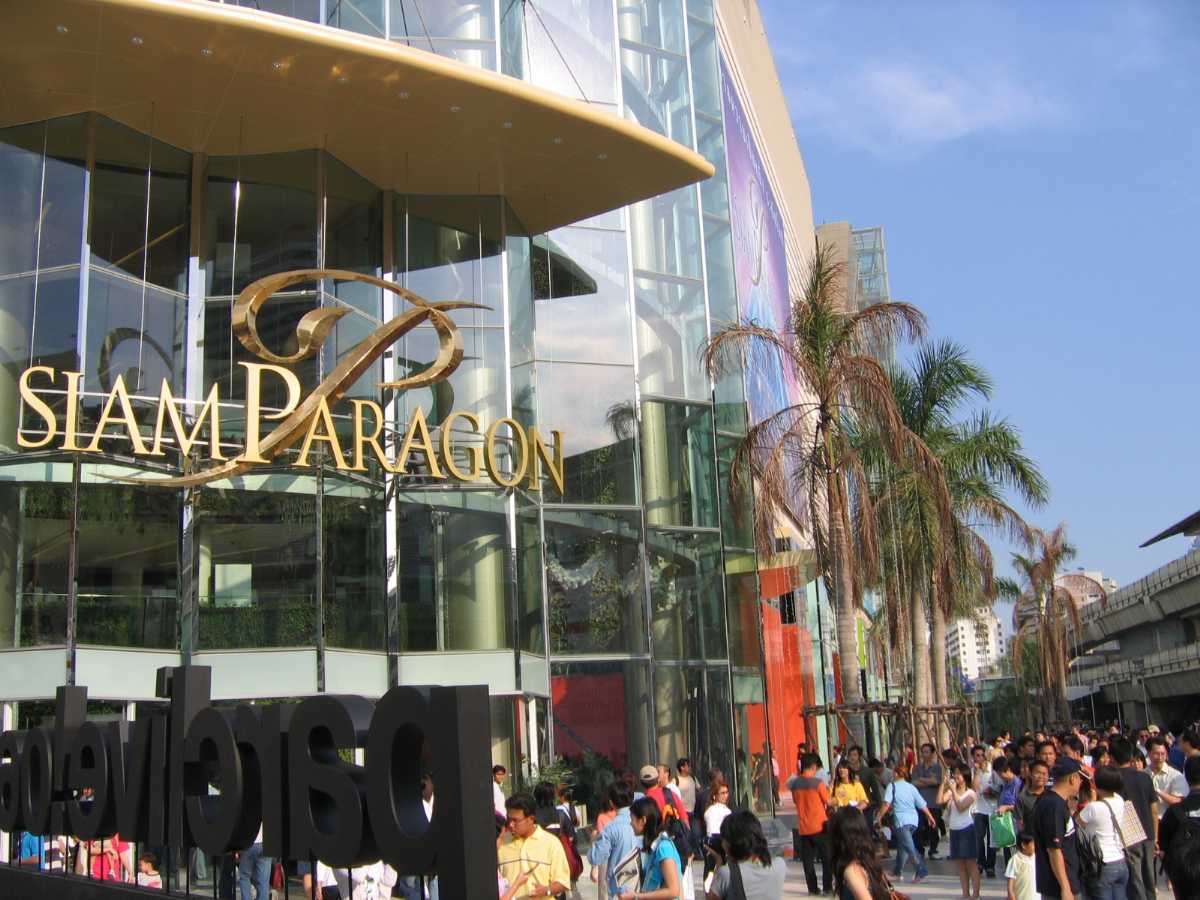 Siam Paragon, also known as Bangkok's pride, is home to Southeast Asia's largest aquarium, 16-screen Cineplex and high-end brands. This mall has over 250 shops and is mainly known for luxury items. From Jimmy Choo, Louis Vuitton, Rolex to Prada, Pucci and Mont Blanc, you'll find all the international brands here! Don't forget to take your credit card along as you'll see some of the most expensive products here.
Opening hours:
10:00 AM to 22:00 PM
Asiatique The Riverfront - An Evening in Open-Air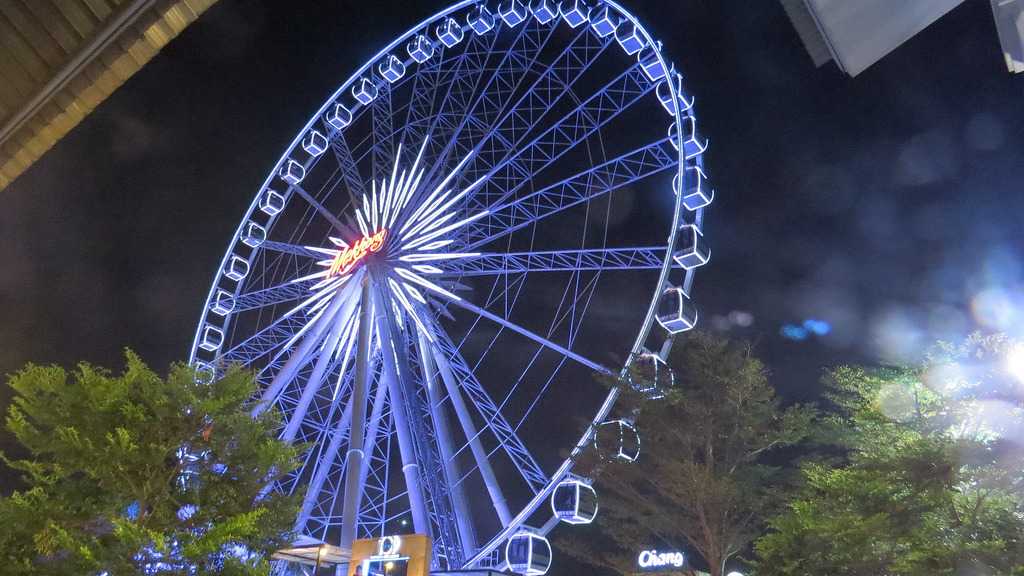 You can also choose to spend your evening at the popular open-air shopping mall and night bazaar- Asiatique The Riverfront. With over 1,500 boutiques and 40 restaurants, you'll surely have a memorable time here! Make sure you grab a map as the market is divided into ten giant warehouses, each having their shops and restaurants! From spices, herbs, flowers and plants to handicraft-type goods, this mall is an absolute shoppers delight. Apart from shopping, you can also take a ride on the Ferris wheel and watch the impressive view or buy a ticket to Bangkok's famous ladyboy shows!
Opening hours:
16:00 PM to 24:00 PM
Floating Markets - Explore the Traditional Long-Tail Boat Shopping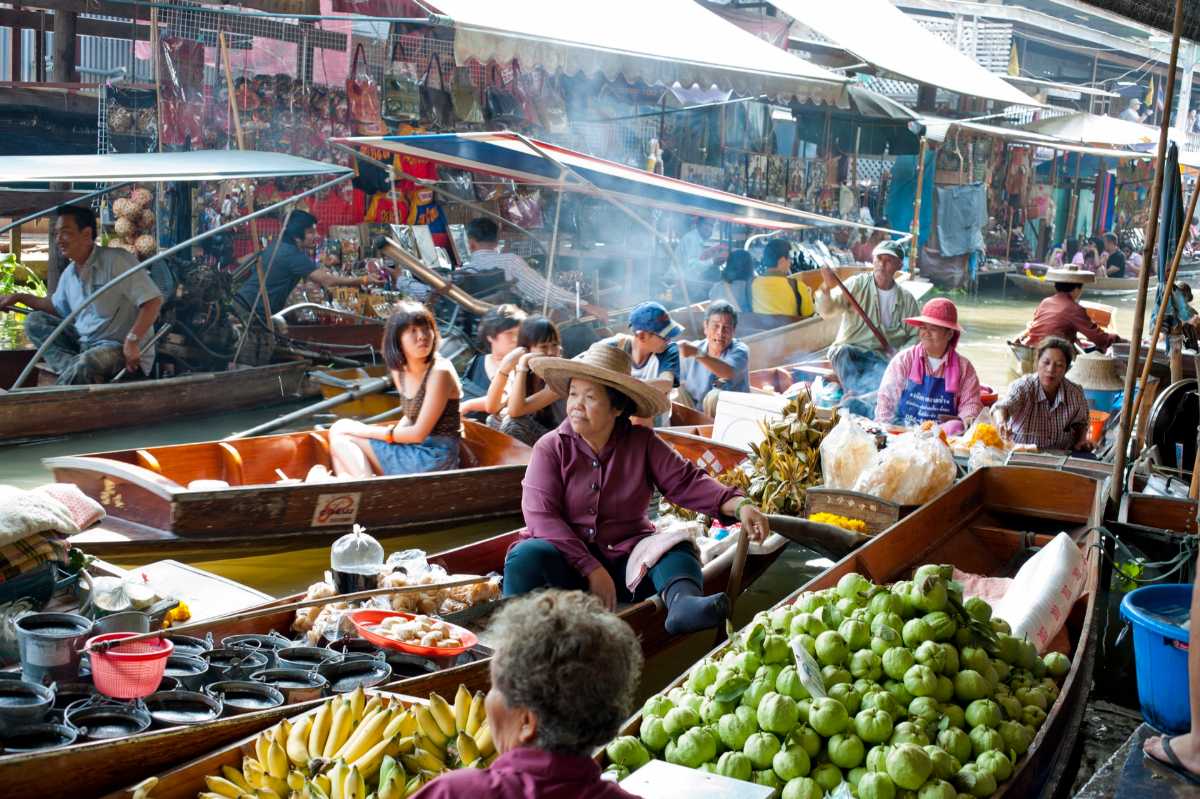 Enjoy a shopping experience at the floating markets in the traditional long-tail boat of Thailand! Damnoen Saduak floating market is about 109 km south of Bangkok. You will find yourself surrounded by sellers on wooden boats selling piles of fruits and vegetables grown at their orchards, souvenirs, clothes, and handicrafts. Make sure you try the delicious sticky mango rice, coconut ice-cream and pork skewers being sold here. This loud and picturesque floating market will make shopping an unforgettable experience!
You can book a one-day trip to the Damnoen Saduak floating market. Pick-up for this trip can be arranged if your hotel is centrally located in Bangkok. With knowledgeable guides, this trip will be a learning experience. Learn about the process of making coconut sugar as you make a stop by a coconut farm. Delve into the lifestyle of local Thai vendors and enjoy!
Ancient Ruins of Ayutthaya - Enjoy a Day Out from Bangkok City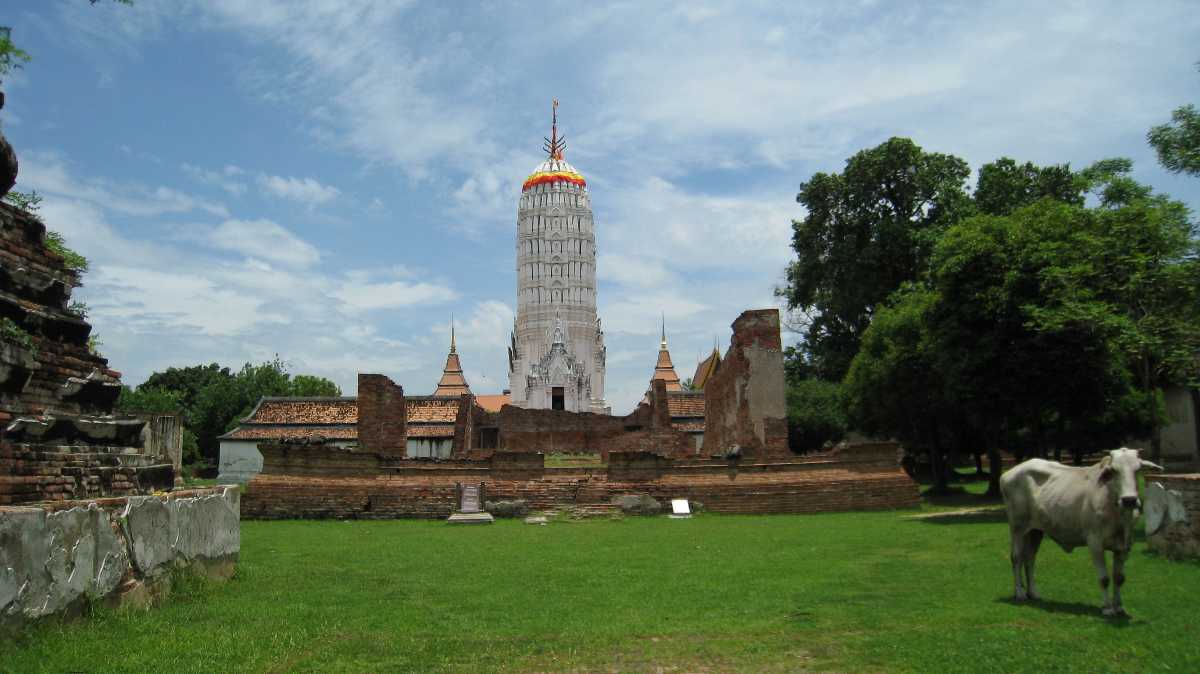 If you love history, a visit to the ancient ruins of Ayutthaya is a must! This place is also great if you want to enjoy a day away from the hustle bustle of the city. It is the ancient capital of Bangkok and was declared as a UNESCO world heritage site in 1991. Just a one hour train ride from Bangkok, Ayutthaya has plenty of attractions. Mahathat, Wat Naphramane and Wat Lokayasutharam are some of the many attractions at these ruins. Around 20 to 50 THB is charged to visit each attraction. You can explore the rich history of Ayutthaya on bithe ke, foot or even a boat!
Enjoy your four days in Bangkok like never before and ever after!