Bangkok
's vibrant nightlife attracts thousands of tourists to
Thailand
every year. From
night markets
, clubs, theatrical shows to rooftop bars with a breath-taking 360-degree view of the city, Bangkok will surely keep you up all night. Bangkok nightlife is dazzling enough to keep you on your toes all night right until the sun comes up on a new day. From cabaret shows to luxury cruise boats, this city has something to tickle everyone's fancy!
Read on to find out about the best clubs, must-visit pubs and bars and night markets for an amazing Bangkok Nightlife:
1. Saxophone Pub - Experience the Thump of Jazz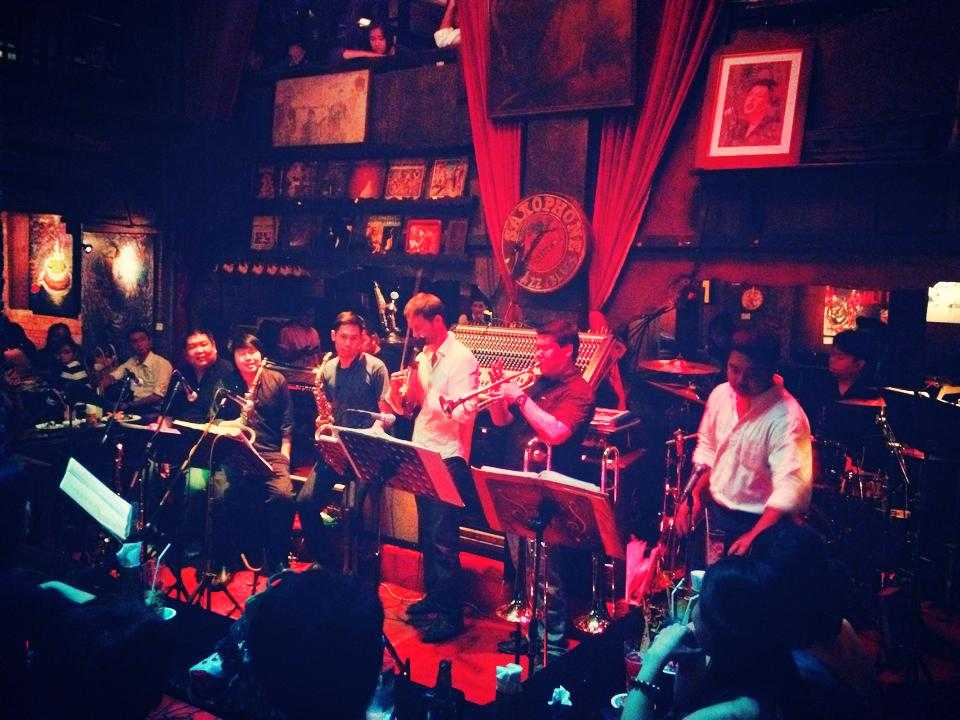 Saxophone, Bangkok's premier live music venue will win your heart with its high quality of live bands playing jazz, reggae, rock and blues. It is one of the oldest jazz clubs in the city and ranks amongst the top ten. You will find Thailand's famous artists such as Koh Mr Saxman, T-Bone Band, JRP Little Band and The Emergency performing here. In addition to good music, you can also savour some unique dishes such as steamed shrimp in coconut, sea bass with sour sauce, grilled pork with lime and cocktails like Saxophone dropper and Mai Tai.
Timings:
18:00 PM to 1:30 AM  
2. The Rock Pub - The Best Place for Rock and Metal Music Lovers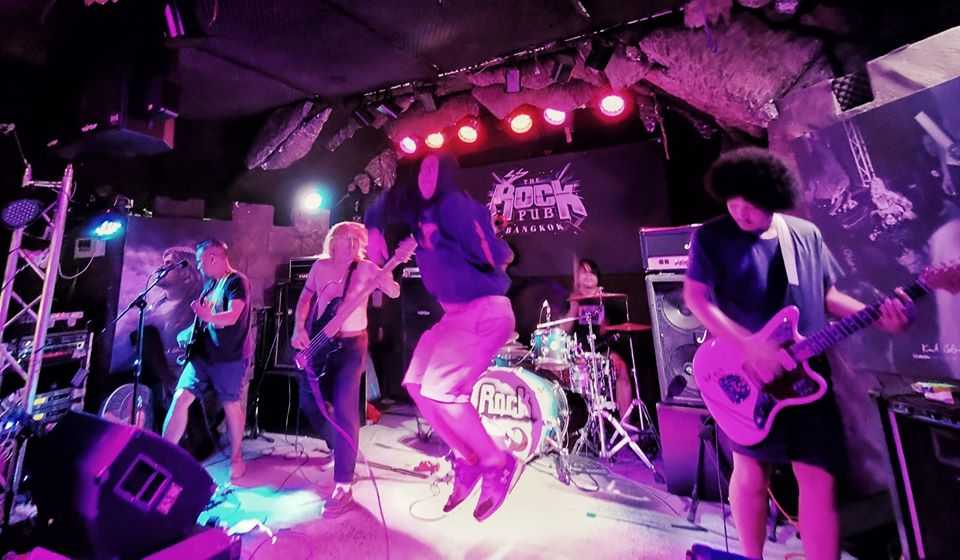 The Rock Pub is the best place for rock and metal music lovers in Bangkok and has been running for over 23 years and has been a mainstay of Bangkok nightlife. It covers a vast range of genres from grunge to thrash. You can also catch the best Thai guitarists Olarn, Lam Morrison, and Pop the Sun performing here. The exterior of the Rock Pub is a castle themed with artwork, posters and guitars hanging from the walls, whereas the interior is sleek and modern. There's no official dress code, although it would be best to dress in black.  
Timings:
19:30 PM to 1:30 AM
3. Ladyboy shows at Asiatique - Attend this Remarkable Show With Artistic Performers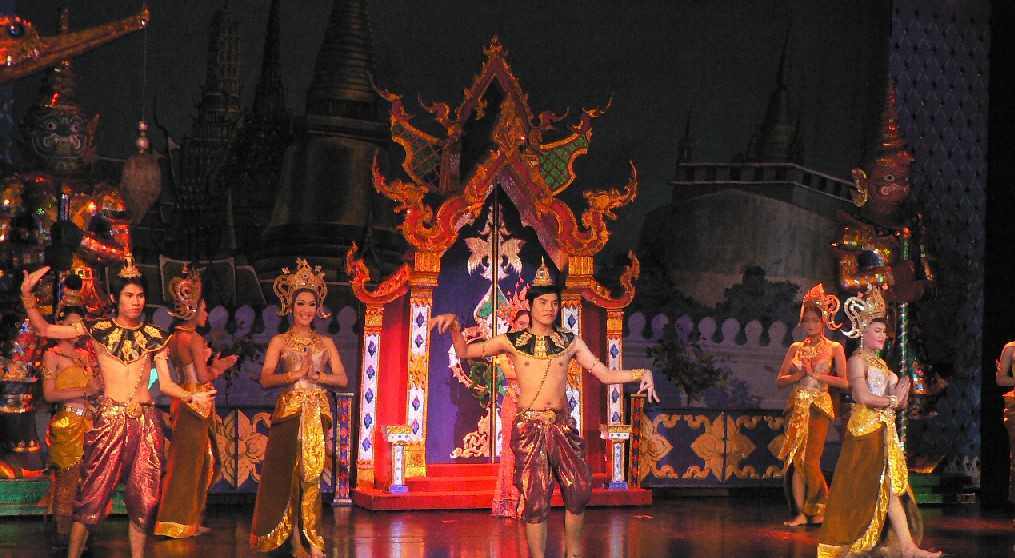 Enjoy the remarkable beauty of Thai transgender artists singing, performing mime, and doing acrobatics. Get ready to be impressed by the outstanding choreography and the flamboyant costumes of these artistic performers. You can enjoy the cabaret ladyboy show at
Asiatique The Riverfront
, which is a large open-air mall. After the show, you can also click pictures with the performers, although you'll be charged for that.
Prices:
THB 900 (normal), THB 1500 (including dinner) 
4. Sukhumvit Street Market - Shop Till You Drop at This Night Shoppers Paradise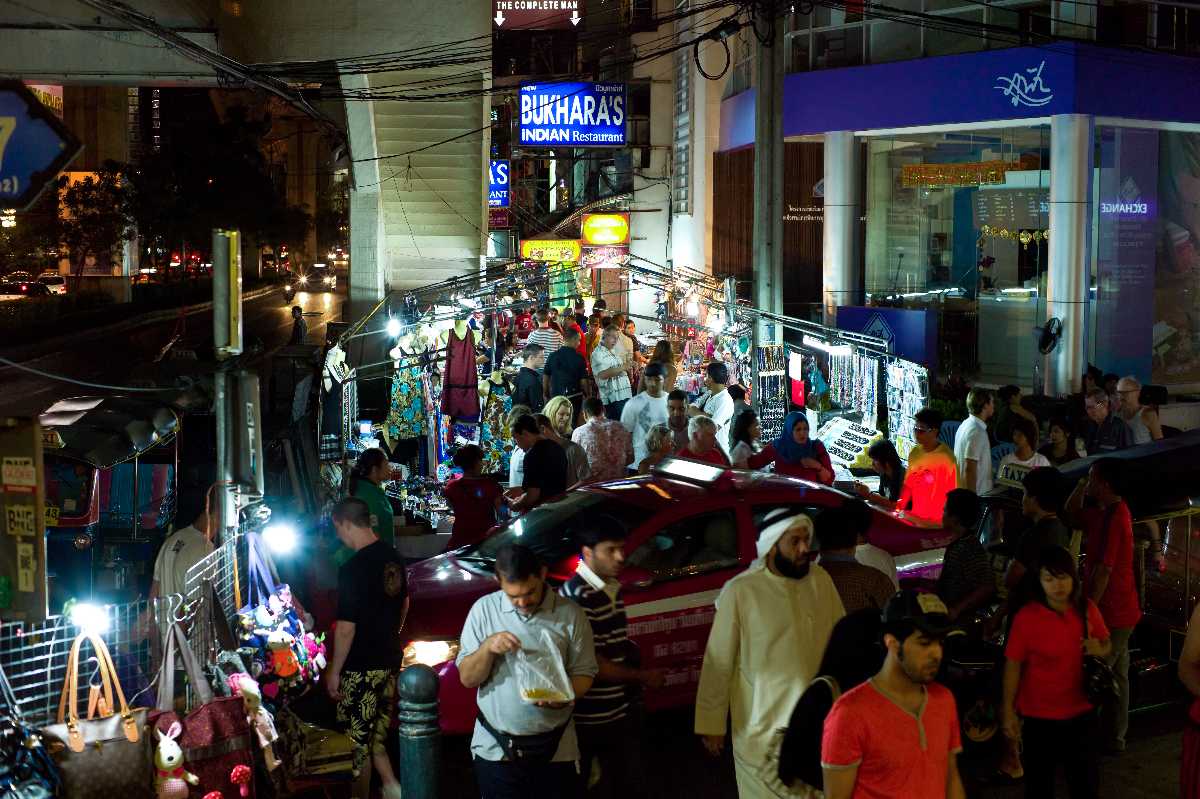 You can go on a night shopping spree at the Sukhumvit street market which is a 1km stretch full of clothes, DVDs, cheap souvenirs, watches and much more!  If you do not wish to shop, you can also visit massage parlours, restaurants and bars which are lined up on the opposite side of the street.
Timings
: The vendors start setting up their shops around 17:00 and the market is open till 24:00.
5. Khao San Road - Bump into Random Strangers at this Busy Street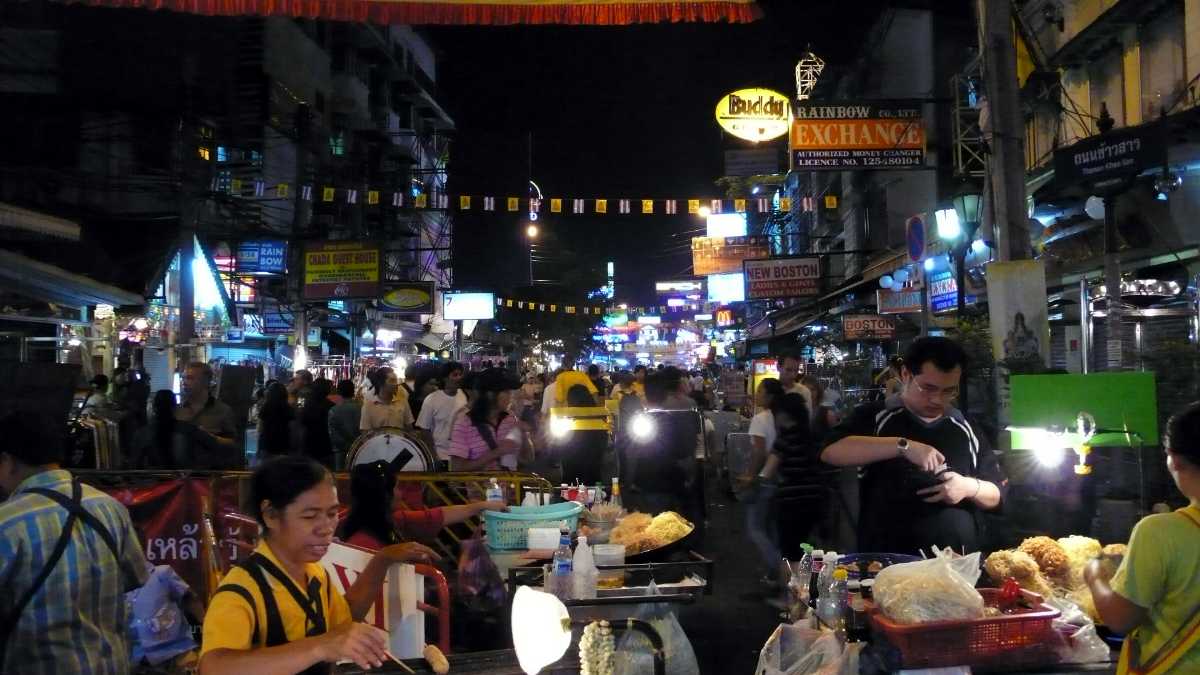 The Khao San Road transforms into a shopper's paradise as the sun sets down. You will find a lot of tourists and locals shopping and enjoying the street food here. You can buy tie-dye hippie outfits, sunglasses and a lot of other stuff. Since it is a famous tourist destination, it is overcrowded, and you should be aware of pickpockets.
Timings
: The market is open from 19:00 to 24:00 every day.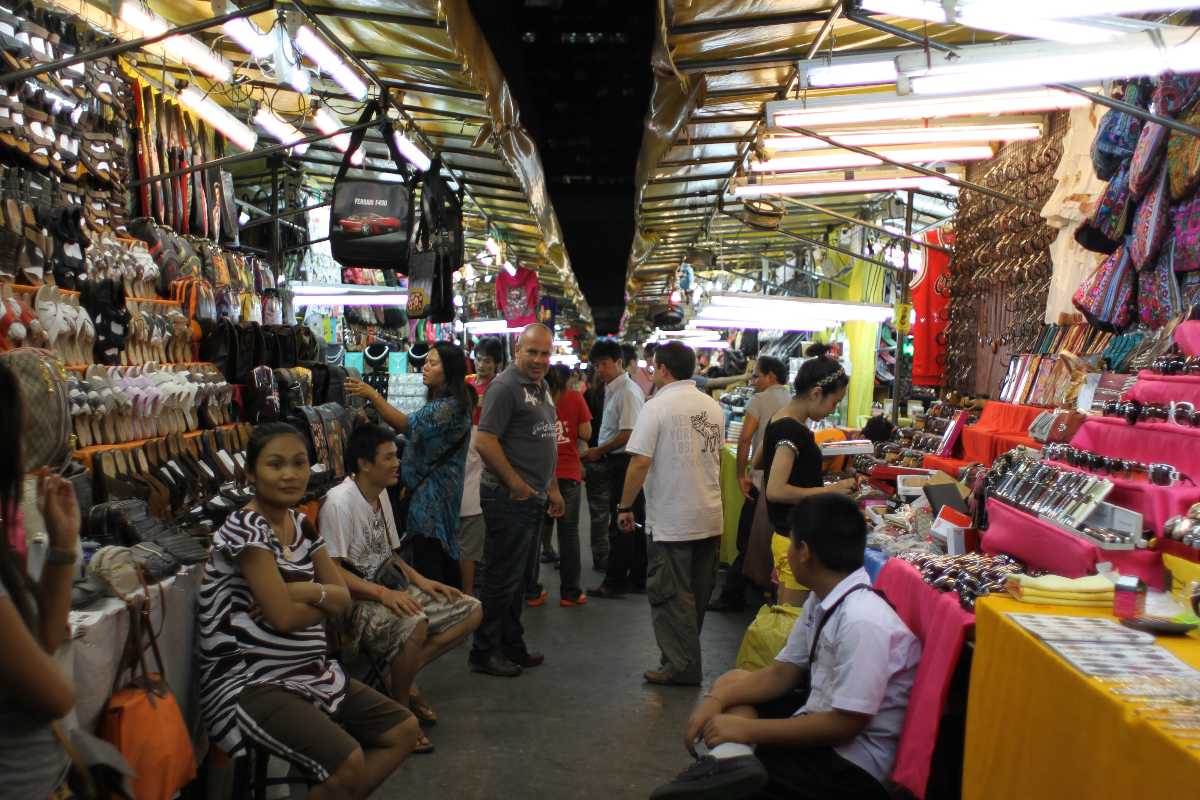 Bangkok's lively Patpong night market is a great place to shop for souvenirs and famous for the fake Supreme, Gucci and Louis Vuitton products which are on sale! Your bargaining skills will come in handy here as the products are overly-priced for tourists, so make sure you haggle!
Timings:
This market is open from 18:00 to 1:00 every day.
7. Ce La Vi - Go Clubbing At Ku De Ta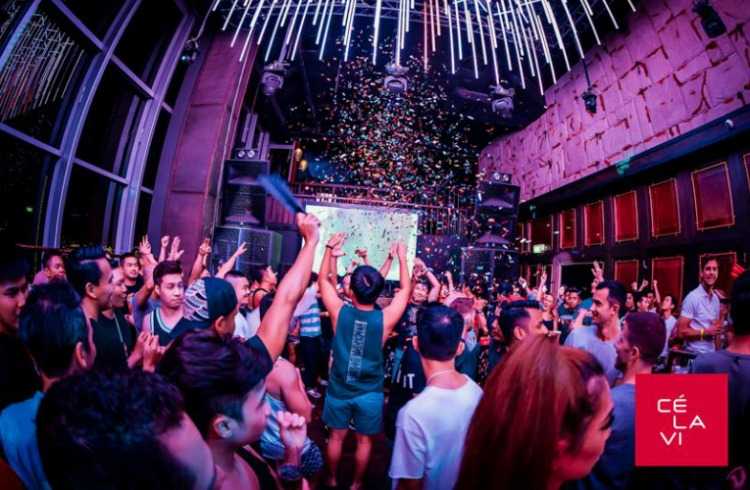 Formerly known as Ku De Ta, this bar is one of the most happening places in the city and is one Bangkok nightlife's most famous venues. It consists of multiple bars, three restaurants and two clubs. This place is the ideal to socialise over drinks and food while admiring the spectacular skyline of Bangkok. The entrance is lit with candles which leads to a dance podium. Moreover, ladies can get free entry and wine every Wednesday as it is a ladies night!
Price
: THB 500 per person
8. Onyx - Get On The Dance Floor!
Bangkok nightlife is famed all around the world and Onyx Club is another example of it. Onyx will put all the other nightclubs to shame with its international DJs, fantastic laser shows and confetti bombs. It is renowned for its central dance floor and exciting atmosphere. If you love EDM and R&B, this is the perfect place for you as the DJs are specialised in that. You can also opt for VIP balcony which comes with an excellent view of the DJ booth, staff to cater you and your private restroom.
Cost
: THB 300 per person; THB 17,000- 80,000 for VIP
9. Octave Bar - Enjoy the Mesmerising Sunset from a Rooftop Bar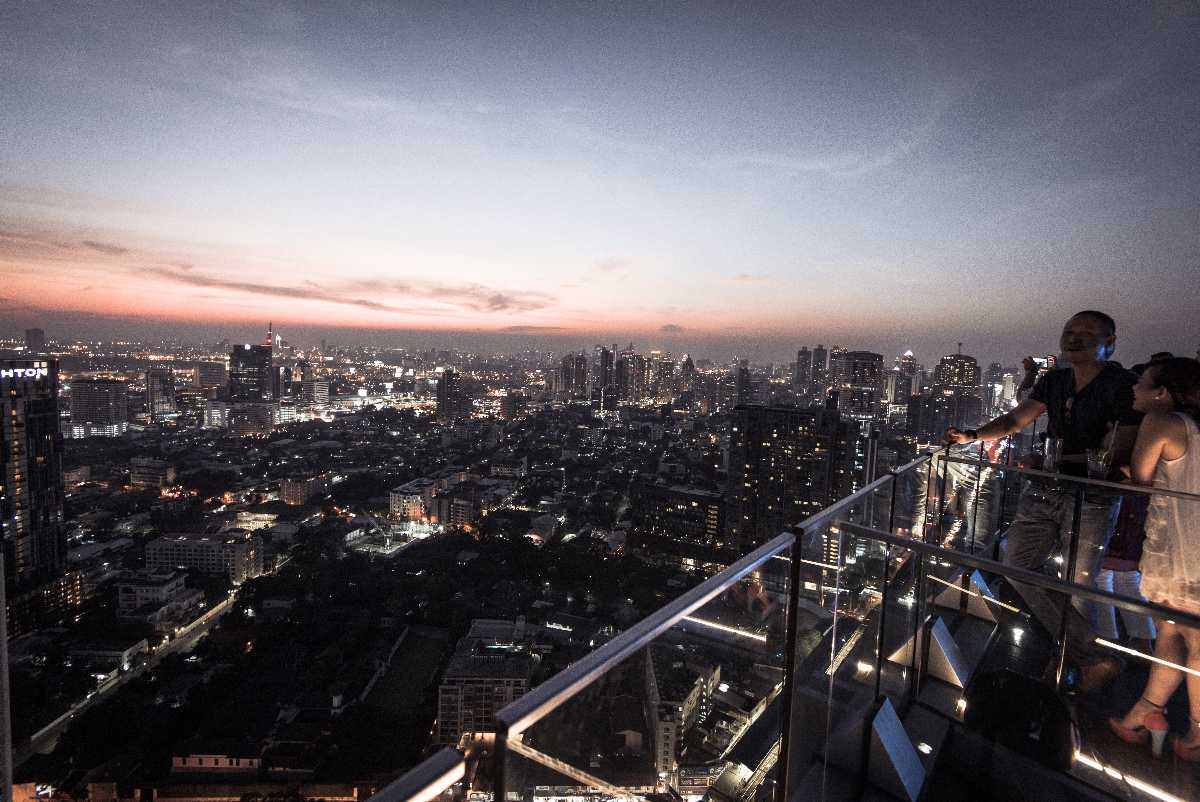 Enjoy a romantic dinner at Bangkok's most famous rooftop bar- Octave Bar, overlooking the glittering cityscape. Located on the 45th floor of the Marriott Hotel, this bar gives you the perfect view to admire the sunset. You can enjoy the tantalising signature Octave cocktails with your better half as the sun drowns in the horizon. You can either choose to relax while listening to the music or dance at the upbeat, groovy songs.
Cost
: THB 2500 for two
10. Dinner Cruise - Embark on a Luxurious Dinner Cruise at the Chao Phraya River
Hop onto the luxurious Chaophraya River dinner cruise boat for a romantic evening with your significant other. Sail past the illuminated historical landmarks along the Chao Phraya River while authentic Thai cuisine is being served to you as you enjoy live music. Dining on the cruise with the warm evening breeze will surely make your visit an evening to remember!
Cost
: THB 1364 per person
11. Explore the City at Night on a Bike - Pedal through the town at night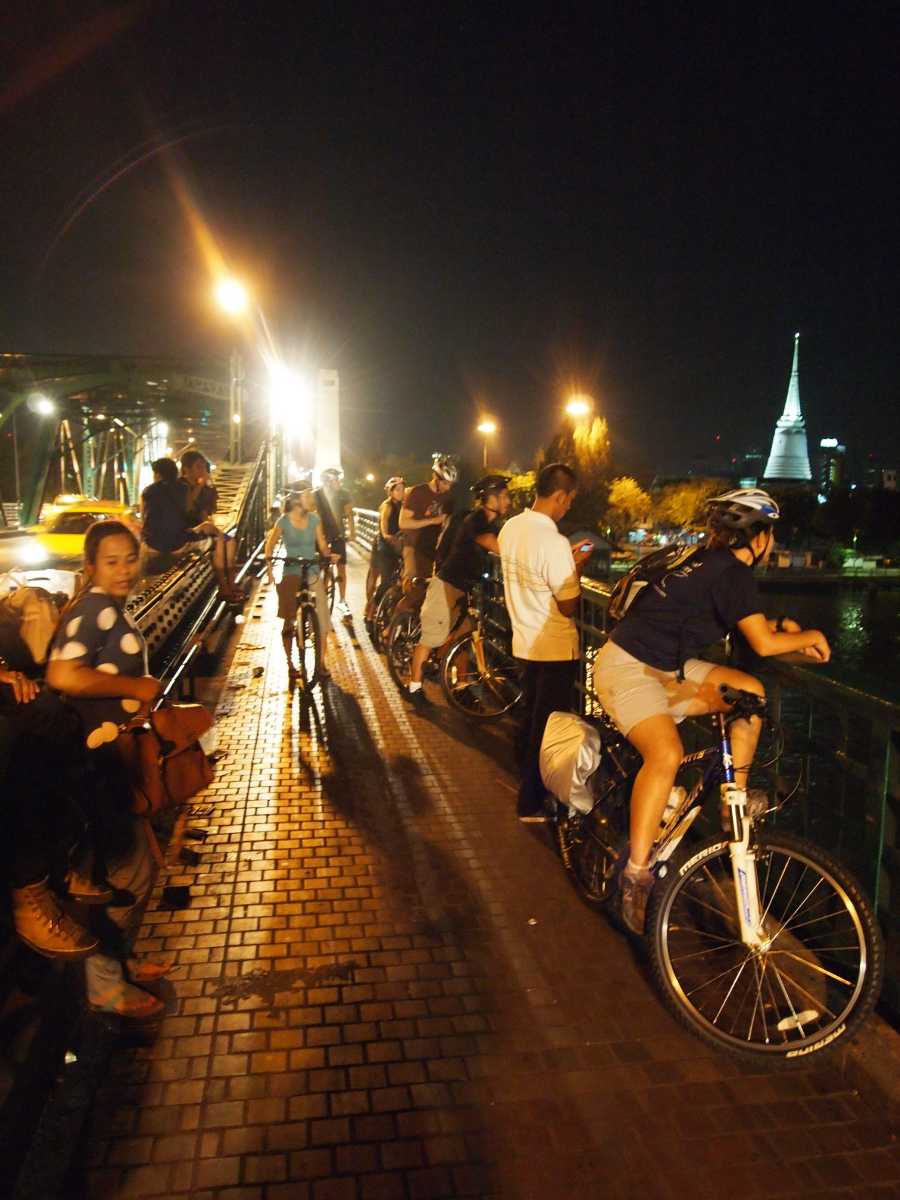 With Grasshopper Adventure's Bangkok Night Tour, you can explore the city like a local with top-notch tour guides who will tell you about the history and significance of each place you visit. Pedalling through the backstreets of Bangkok, gazing at the skyscrapers, small villages and secluded places is an experience you'll never forget. You can visit the Buddhist temples of
Wat Arun
and
Wat Pho
at night when it is all quiet and peaceful instead of visiting it during the daytime when it is flooded with thousands of people. Bangkok on two wheels at night offers a truly unique perspective on Bangkok nightlife. 
Cost
: THB 1153 per person
12. Enjoy a Street Food Tasting Tour and a Tuk-Tuk Adventure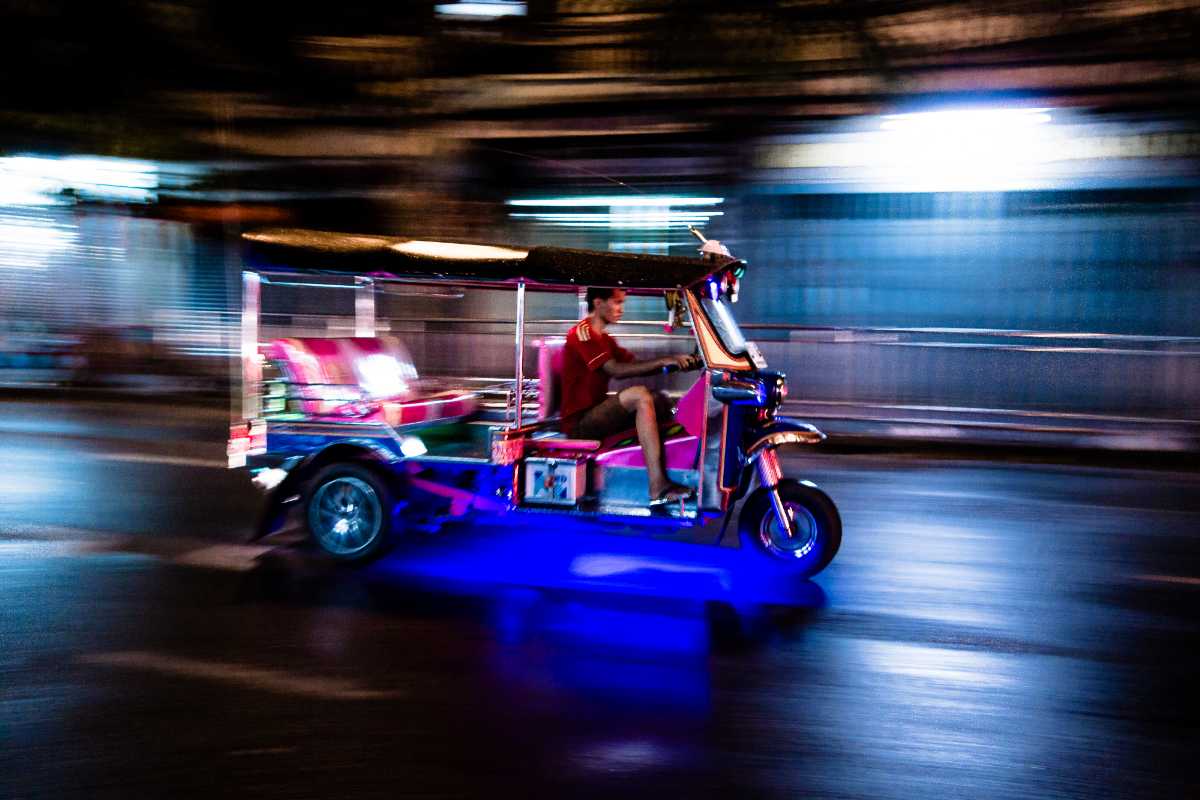 Experience Bangkok's vibrant street food along with other tourists and a guide on a tuk-tuk tour. This four hour night tour of Bangkok introduces you to local food like sesame dumplings, ginger soup and pork satay. Visit
Chinatown
and taste different types of sweets along with refreshing soft drinks and beer. The tour ends in Chinatown where you can choose to spend some time by yourself or make your way back to the hotel.
Cost
: THB 2336 per person
Bangkok's Exquisite Nightlife is sure to keep you up all night!