Aside from its sightseeing and
shopping
adventures,
Bangkok
is notorious for its go-go bars once the sun goes down. The most famous gogo bars in Bangkok are located at three of the city's most famous red light districts - Soi Cowboy, Nana Plaza and Patpong.
What are Go Go Bars in Bangkok?
Almost like a strip club, these go-go bars in Bangkok are raunchier versions of regular bars because of the many girls performing around you as you enjoy your drink. These bars typically open at 8 PM and don't close till the early hours of the morning. Most of these bars are designed with centre stages and poles, and many have choreographed shows by the women. Understandably, cameras are prohibited inside, and the bouncers are particularly strict. Go-go bars in Bangkok also have the concept of 'bar-fines' which means you can take the lady with you for the night at a specific fee.
Here Are Some of the Most Iconic Go-go Bars in Bangkok -

A. Go-Go Bars in Soi Cowboy District
Soi Cowboy is a 150-metre stretch of road with dozens of go-go bars on each side, along with massage shops and regular beer bars. It is located between Sukhumvit Soi 23 and Asoke and can be accessed by public transport at Asoke Station.
1. Baccara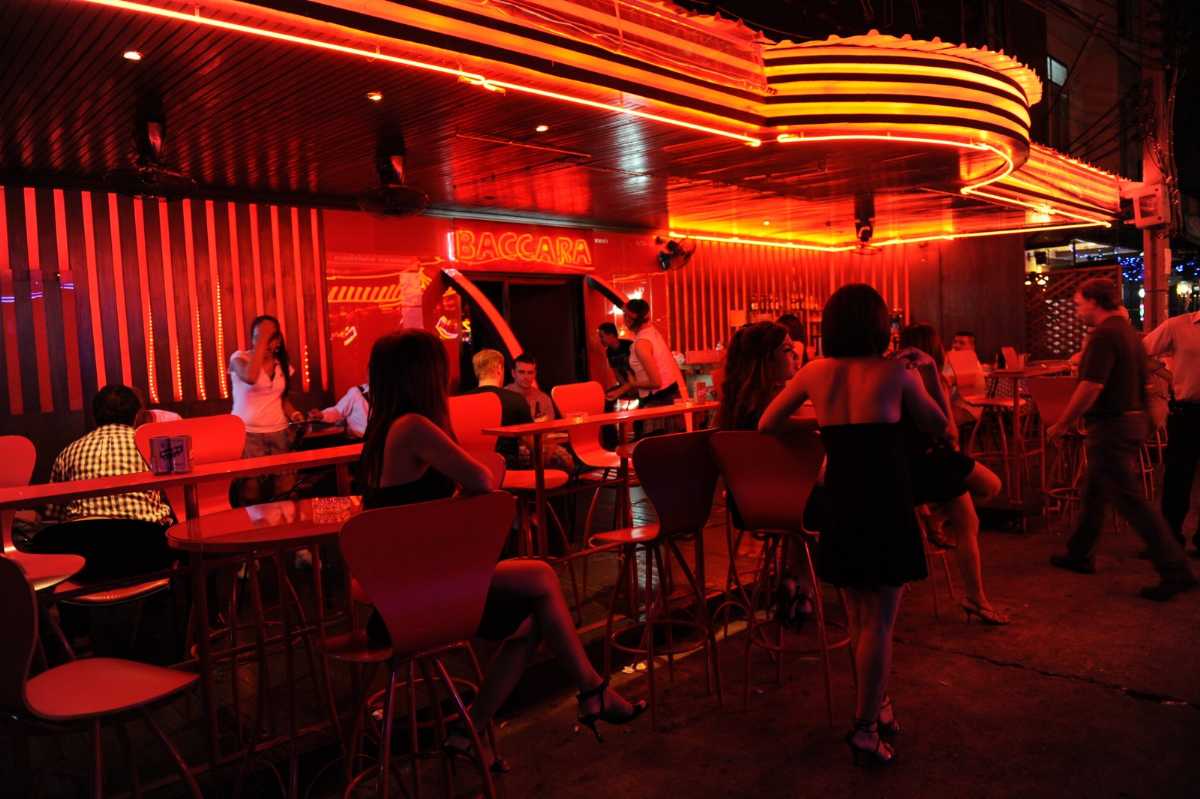 If you're looking for a bar with endless energy, this is the place to go! Baccara is located right at the end of the Soi Cowboy street. With an enticing glass dancefloor and elite entry (the bouncers are known to be picky about who they let inside), you can certainly understand why the bar is one of the busiest in the area. It's known for the disco ball and neon light aesthetic, its Japanese clientele, and three floors of raunchy dancing, including an outdoor patio with a stunning view of the street.
Timings: 5:00 PM to 3:00 AM
Cost for two: THB 370
2. Shark

Located right next to Baccara, Shark follows a similar aesthetic of large central stages and two-floor couch seating. The raised dancefloor assures a great view of performances from all angles of the bar, and unlike most places, Shark plays a variety of genres such as techno music too. The ceiling here is transparent, so aside from the enchanting girls, you've also got a fantastic view of the night sky. If you'd like to enjoy your drinks, be sure to catch their happy hours that end at 8:00 PM.
Timings: 5:00 PM to 2:00 AM
Cost for two: THB 330
3. Crazy House

As one of the more recent establishments in the area, Crazy House attracts a younger crowd. It's known for its heart-thumping loud music and an 8-shaped stage to provide everyone in the bar with a great view of the performance. Upstairs, the glass floors host private shows that include applying oil and sprinkling hot wax. It's considered one of the more youthful, value-for-money go-go bars in Bangkok.
Timings: 7:00 PM to 3:00 AM
Cost for two: THB 350
4. Tilac Bar

Forever immortalised in the movie Hangover 2, Tilac has slowly become one of the trendiest go-go bars in Bangkok. It follows a metal and neon aesthetic, although the presence of mirrors everywhere can make long hours here slightly disconcerting. Tilac has not one big stage but six small stages spread across the room which means that there are performances taking place all the time. It has gained a loyal male fan following not just for the girls who pour drinks and dance, but the giant TV screens against the walls that showcase sports match too.
Timings: 7:00 PM to 1:30 AM
Cost for two: THB 350
B. Go-Go Bars in Nana Plaza District
Nana Plaza is Bangkok's largest red-light district located at Sukhumvit Soi 4. Because of its popularity, it has some of the highest prices in the city. It can be reached through the Sky Train System (BTS). The most popular bars here are Rainbow 5, Spanky's, Bangkok Bunnies, Angelwitch, and Billboard.
5. Rainbow 5

Formerly known as Rainbow 4 and R&B Bar, Rainbow 5 can be found on the middle floor of Nana Plaza. Contrary to first impressions, the bar is more significant than it looks with a small dance floor that hosts nearly 30 dancers. Because of the small size of the dancefloor, Rainbow 5 is more of a location to meet and interact with girls than to watch them perform. Understandably, couples are rarely given entry here. This bar is considered a great hangout spot to enjoy a drink on bar stools and take in the excellent music.
Timings: 7:00 PM to 2:00 AM
Cost for two: THB 340
6. Spanky's

As the name suggests, this go-go bar in Bangkok is whip-themed. You'll find them all over the bar, and if you get your hands on one, you can even use it! It's a smaller bar compared to its competitors, but Spanky's boasts of a cosy vibe and exceptional service. It's quite tourist-friendly although most of the crowd are regulars. They have professional quality choreographed shows of 15-minute each across the night, but the main attraction here is their booth shaped like a shower cubicle.
Timings: 7:30 PM to 2:00 AM
Cost for two: THB 310
7. Bangkok Bunnies

This is one of the biggest bars in the area, located on the left-hand side on the ground floor of Nana Plaza. The décor is chic and elegant, but the bar's size has its drawbacks. On days when crowds are limited, the ambience of the bar gets lost in its vast, empty spaces. However, when this super-sized bar is packed, it's quite an exciting time! The music is always energetic, and the girls are pleasant, many of whom will enjoy a dance with you. Bangkok Bunnies is known to have more dancers than its competitors in the area.
Timings: 7:00 PM to 3:00 AM
Cost for two: THB 320
8. Angelwitch

This go-go bar features a rock and metal theme - you can even hear rock classics blaring from their speakers from down the road! All the girls here wear black lingerie or black leather outfits to suit the theme, especially during their choreographed performances. Angelwitch is notorious for their oil massage show and Thai dance where the girls perform in traditional Thai headdresses. You'll enjoy your drink and the shows as you sit down on their burgundy leather couches and black marble floors, a trademark décor that remains constant in their other branches across Bangkok.
Timings: 8:00 PM to 2:00 AM
Cost for two: THB 310
9. Billboard

This bar boasts of a retro ambience that'll make you feel nostalgic for a previous era from the second you enter the premises. Because of its location on the top floor, Billboard's got a fantastic view of Nana Plaza. The main attraction is the foam bath and Jacuzzi where you can lay back and relax with the girls. If you're more interested in busting a move, the lower floor has a revolving dancefloor that promises a fun time. They've even got choreographed shows on the hour.
Timings: 7:00 PM to 2:00 AM
Cost for two: THB 360
C. Go-Go Bars in Patpong District
Finally, the district of Patpong is the oldest red-light area in Bangkok with a famous night market selling souvenirs and other goods. It can be reached from the subway line at Silom station. Because of its legacy, there's a higher risk of scams here. The iconic go-go bars here are Bada Bing and Pink Panther.
10. Bada Bing

Spread over two floors, this go-go bar features a large stage, plush seating and VIP rooms with adorned glass ceilings. It's considered one of the friendliest bars in the city with the unique twist of theme nights such as burlesque night or doctor and nurse roleplay night. When you enter, expect the girls to be dressed in different intricate outfits each night. But keep in mind that due to its popularity in the area, Bada Bing gets pretty crowded.
Timings: 8:00 PM to 3:00 AM
Cost for two: THB 300
11. Pink Panther

Pink Panther offers quite the strip-club experience with its many small, round tables where girls perform for small groups. They have large TVs around the bar that screen sports matches, and surprisingly enough, they host Muay Thai fights every night in their ring in the bar! For those who would like to groove, Pink Panther hosts DJ nights on the weekends where you can join the girls in dancing.
Timings: 6:00 PM to 2:00 AM
Cost: THB 310
12. King's Corner

This go-go bar is considered one of the original go-go establishments in Bangkok. It has a smaller dance podium than most bars, but it has a loyal following who avail of the bar's separate sections for their private performances. It's a particular favourite amongst its Japanese clientele. The music is quite loud, so it isn't recommended for those who don't enjoy speakers blaring all around them. The establishment is also known for hosting ladyboys, so it's advised to be wary while spending time here.
Timings: 6:00 PM to 2:00 AM
Cost for two: THB 300
Although these go-go bars in Bangkok are regulated in
Thailand
, it's a good idea to stay aware of your surroundings. If a place seems suspicious to you, especially with small winding entryways, then it's best to avoid them. When ordering a drink, do ask for the price and check your bill on leaving as these bars are notorious for overpricing customers. Sometimes, customers are charged extra for shows that are usually free. As long as you keep these basic tips in mind while visiting go-go bars in Bangkok, it should be quite a memorable experience!