Planning on a solo trip to
Bangkok
or are you taking over the beach paradise on a tight budget? Save on accommodation prices of overpriced hotels by living in extremely pocket-friendly hostels in Bangkok, offering the basic required facilities. If you want to know some of the cleanest hostels of Bangkok which don't put a hole in your pocket, take a look at the list below.
1. Bangkok Commune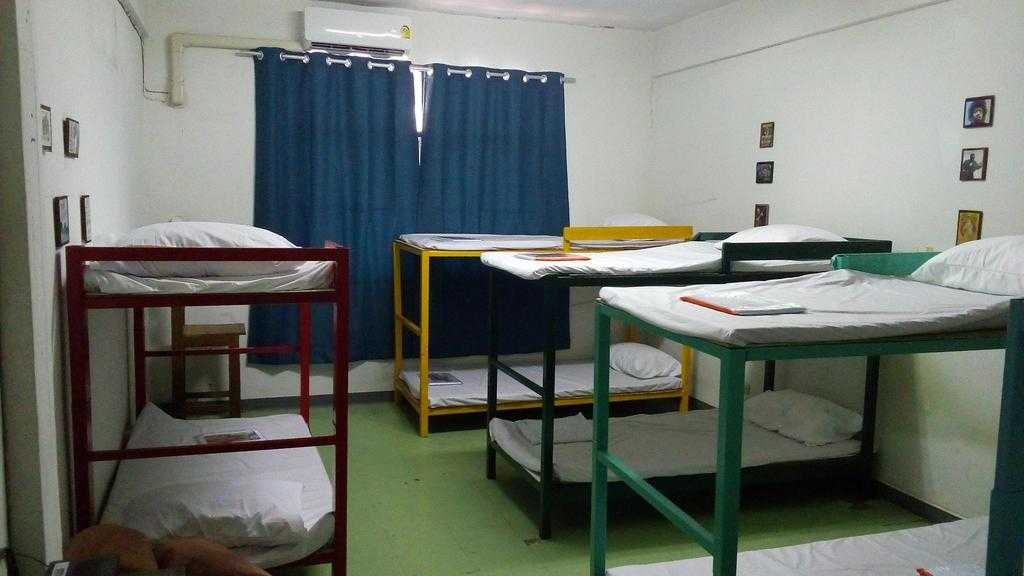 Bangkok Commune is a spic and span hostel that is centrally located. It has all the basic amenities that one needs in a hostel. No creased beds, a garden area, and some entertainment facilities are offered by the hostel. The rooms are air-conditioned, which is quite essential in tropical weather. Each room has a patio which is again a refreshing element. There is an attached lavatory to each room, which is very well maintained.
Address: 2713 Soi Su Lao Rd, Suan Luang, Bangkok 10250, Thailand
Cost for one night: INR 312 per night
Facilities: WiFi, Garden area, snooker table and X Box for recreation
Distance: Commune is located at a distance of 7 kilometers from Central Embassy, Emporium Shopping Mall, CentralWorld.
2. Mint Hostel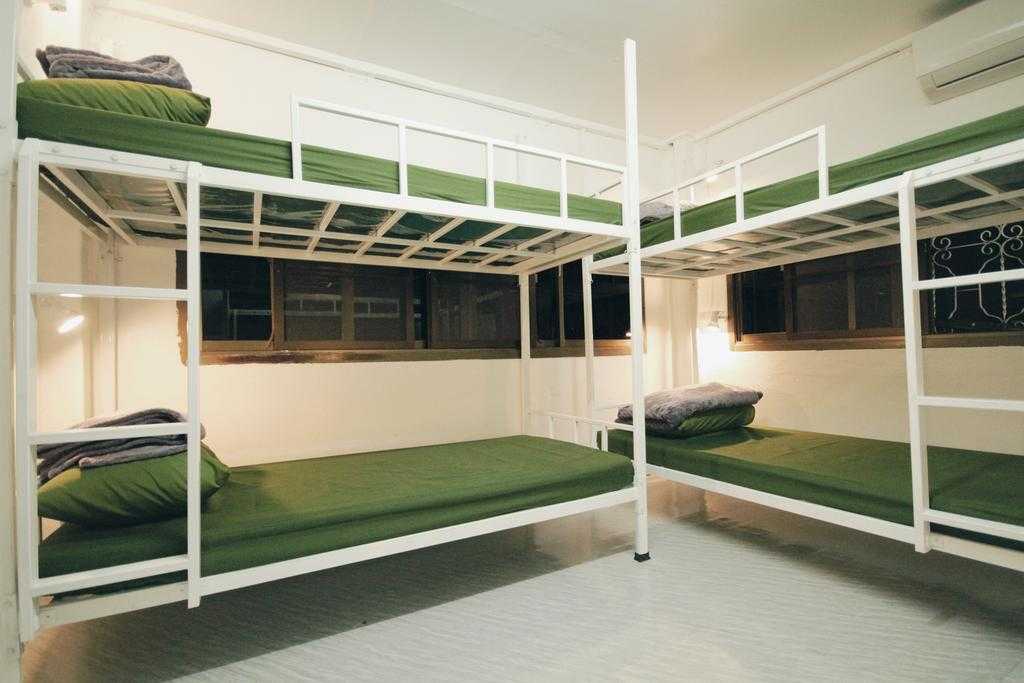 A neat and tidy hostel with personal reading lights attached to beds, curtains for privacy and electric sockets which make living pretty comfortable here. Guests get an assigned locker for their valuables too. There is a common picturesque area and a terrace to hang out in. The hostel has a shared bathroom for its guests. It is well located and has a lot of nearby attractions.
Address: 316/1 Prachathipat Road, Ban Phan Thom, Phra Nakhon, Bangkok 10200, Thailand
Cost for one night: INR 312 per night.
Facilities: WiFi, luggage storage area, ticket service
Distance: There are a few attractions located nearby like the bars and live music at Khao San Road and Phra Athit Road which is just a 10 minute walk from the hostel.
3. S7 Hostel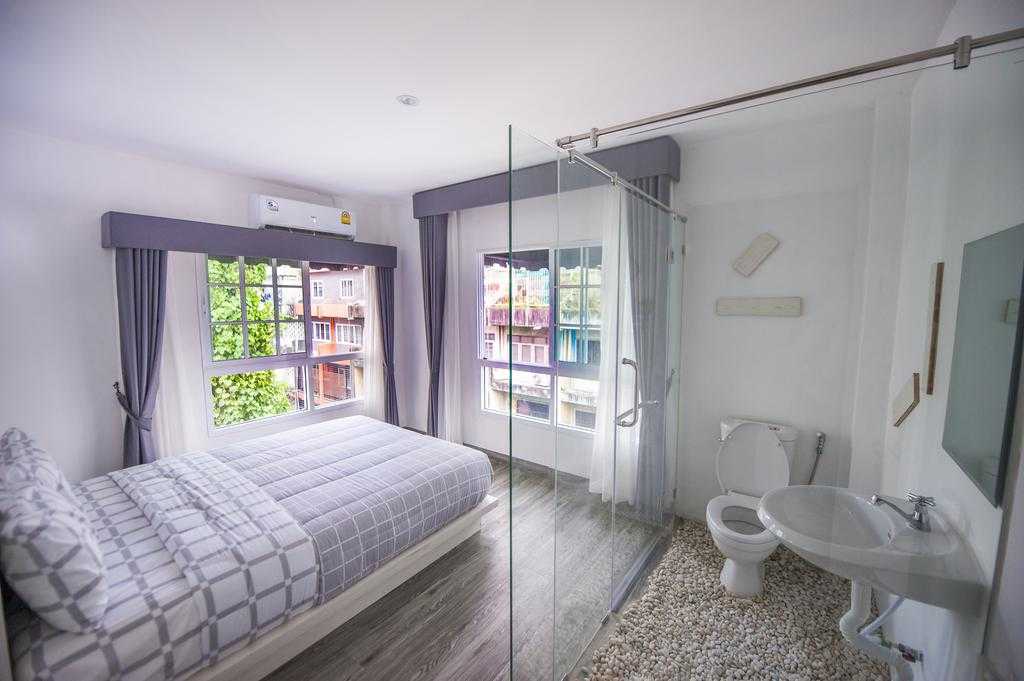 If you want a pretty and serene hostel, S7 is just the place for you. It's extremely clean, it has a pleasant vibe to it and ensures complete privacy for each guest. There are rolling curtains, it's air-conditioned and it also has power sockets for the guests' convenience. If you prefer reading at night, they also have personal lamps attached to each bunk. It is exceptionally white and positive. The staff has been well appreciated for its promptness and helpful attitude.
Address: PRIDI BANOMYONG SOI 1, SUKHUMVIT, SOI 71 BANGKOK, Wattana, Bangkok 10110, Thailand
Cost for one night: INR 468 per night
Facilities: WiFi, parking, garden access
Distance: At a distance of 5 kilometers,there is an EmQuartier Department Store and The Emporium Shopping Mall. Sukhumvit Hospital is at a distance of 800m.
4. Pillow Land Onnut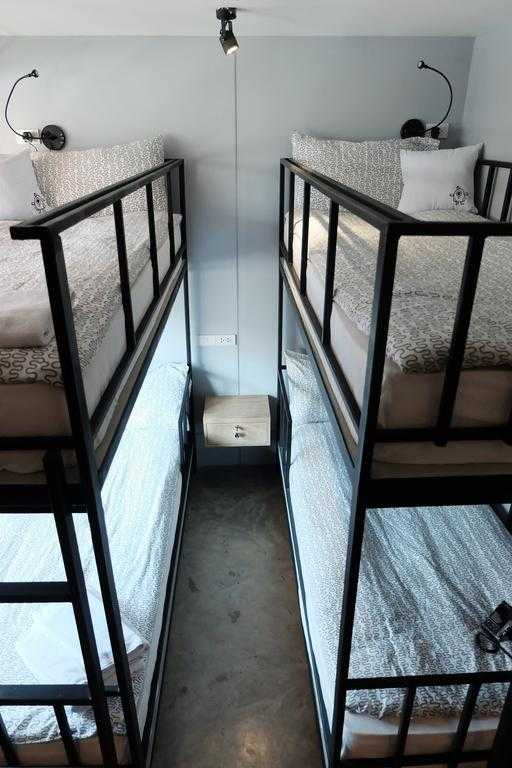 Pillow Land has been reviewed specifically for its extremely comfortable beds and clean bedspreads. With a massage parlor just opposite the hostel, who wouldn't like to opt for this stay. It's super clean, air-conditioned and it offers games and books for entertainment. The rooms may be a little small but the place is way better than other hostels. There are reading lights, spacious beds, and an attached common washroom. There are family rooms available too.
Address: 829, 81 Suan Luang, Bangkok 10250, Thailand
Cost for one night: INR 390 per night for a singly bunk.
Facilities: WiFi, entertainment facilities like books, board games and a common tv lounge.
Distance: it lies at a distance of 8 kilometers away from Emporium Shopping Mall, Arab Street, and Central Embassy.
5. Thai Love Cafe and Hostel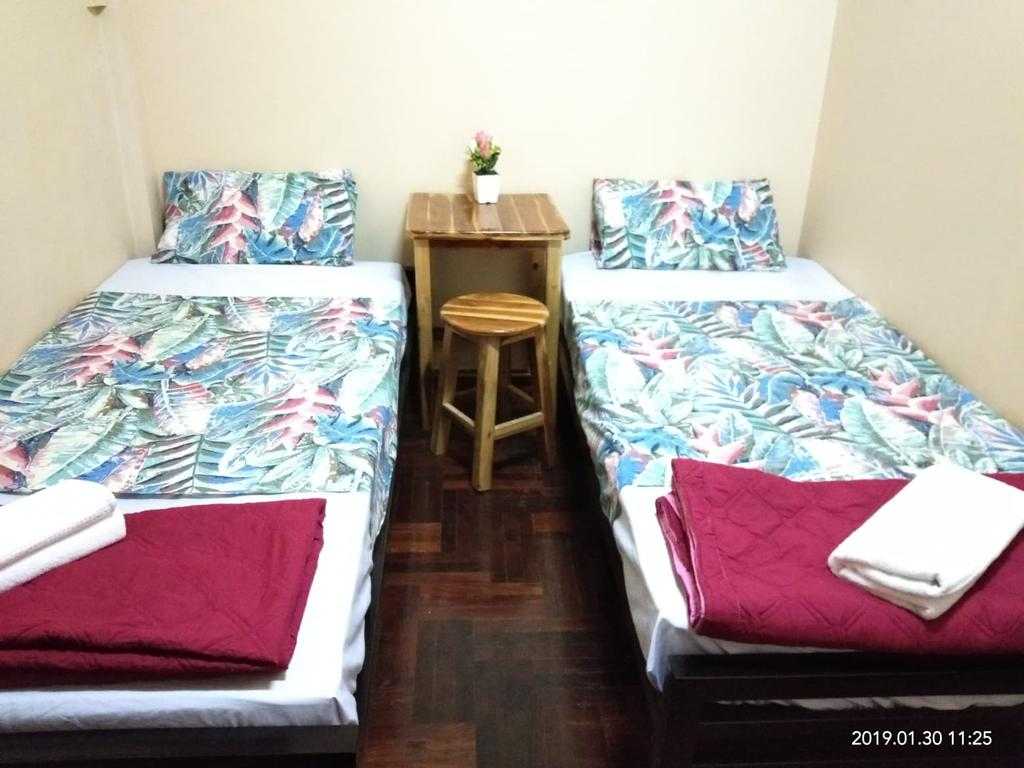 Another neat and clean hostel, Thai Love Cafe and Hostel is a two-in-one accommodation. It is air-conditioned and offers a common terrace for the hostel area. There are different rooms for your preference here and it has great attractions nearby.
Address: 32/4 Ratchaprarop Rd, Makkasan, Ratchathewi, Bangkok 10400, Thailand
Cost for one night: INR 390 for a bunk bed accommodation.
Facilities: WiFi, terrace access, common tv lounge area, shared kitchen area.
Distance: It is 2 kilometers away from Siam Paragon Mall. It is 1 km from CentralWorld, a 12-minute walk from Gaysorn Shopping Mall and 1.8 km from Central Embassy.
6. Arun Old Town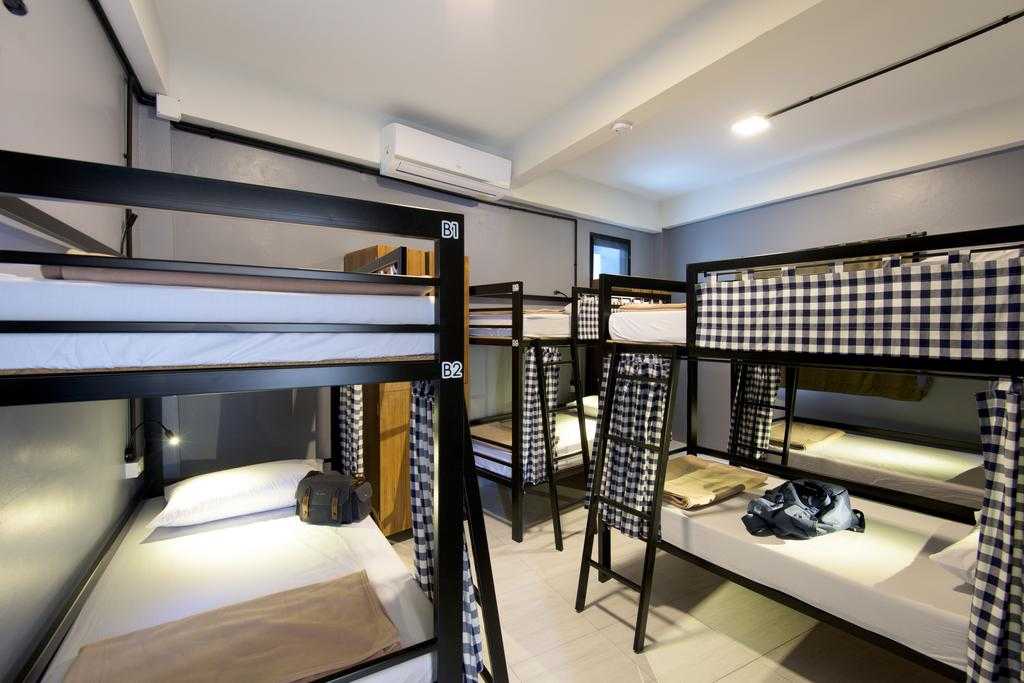 Notable for its comfortable beds, polite and helpful staff and it's breakfast facilities, Arun Old Town is an exceptional Hostel. It's centrally located, offers an open terrace with a beautiful cityscape, a common area to sit and interact as well as a ticket service. It offers an ala-carte breakfast for its guests. It has a great and pleasant vibe to it.
Address: 260/16,Itsaraphap Wat Arun, Bangkokyai., Bangkok Yai, Bangkok
Cost for one night: INR 624 per night
Facilities: Terrace area, WiFi, Parking, bicycle hires, garden and a shared lounge
Distance: At a distance of 1.5 kilometers, Wat Pho is a good attraction to visit, while Temple of the Emerald Buddha is 5.3 km away.
7. The Chatbox Silom Hostel


Located in the business hub of Bangkok, this hostel offers comfortable rooms with attached bathrooms. The bunks are extremely private, the hostel is safe and secured with a key card access system along with CCTVs. The hostel is extremely clean and fresh. There is a regular cleaning service appointed. The hostel has a cozy ambiance and some rooms have an attached balcony to enjoy the tranquil view outside.
Address: 38/8 Soi Naradhiwas Rajanagarindra 2, Bangrak, Bang Rak, Bangkok
Cost for one night: INR 624 Per night
Facilities: WiFi, terrace, balcony, housekeeping, common workspace area, American breakfast options
Distance: MBK Shopping Mall is 2.3 km from The Chatbox Silom Hostel, and Bangkok Art & Culture Centre is 2.6 km from the hostel.
8. Kinnon Deluxe Hostel Coworking Cafe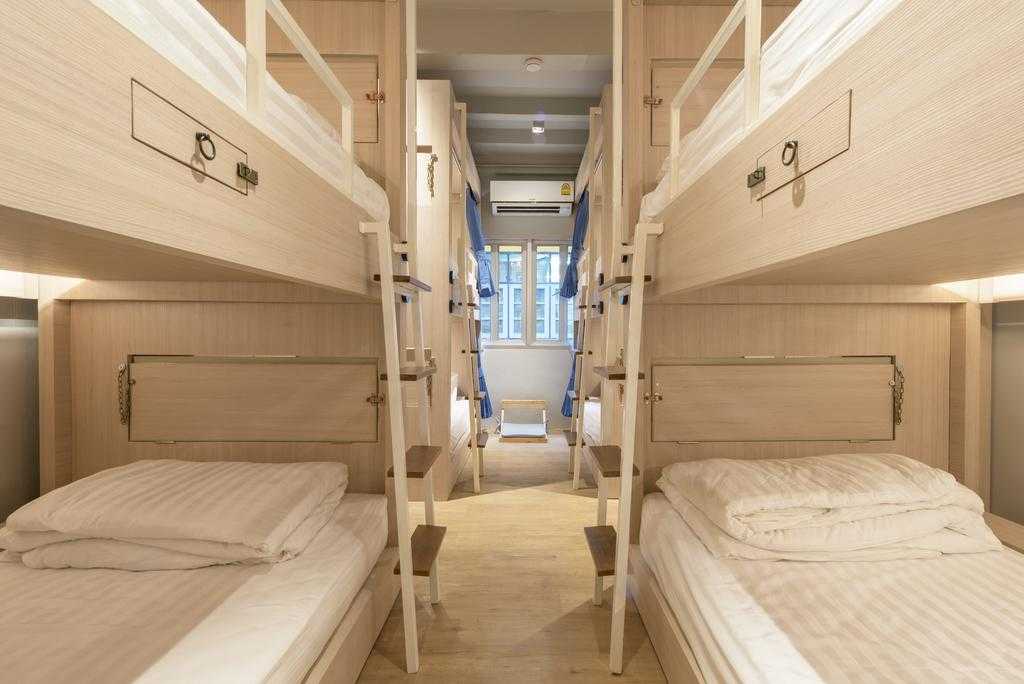 This hostel is quite a luxurious one. The beds are pretty spacious, made private with curtains, the rooms have wardrobes and an attached bathroom. The bed linens are kept exceptionally clean and the vibe is pretty cool here. The fun part about this hostel is that there is a free snack bar offering free tea and coffee. There is a rooftop garden and a bar which the guests can access. Where do you get such facilities at hostels? It's comfort and luxury under one roof yet inexpensive.
Address: 39/22-24 Silom Soi 6 Silom Road, Suriyawong, Bangrak, Bang Rak, Bangkok
Cost for one night: INR 780 per night
Facilities: WiFi, garden, terrace, bar, workspace area.
Distance: It is in good proximity to a great number of restaurants. It is a 10-minute walk from Sala Daeng BTS Skytrain Station and Silom MRT station.
9. Rich8 Hostel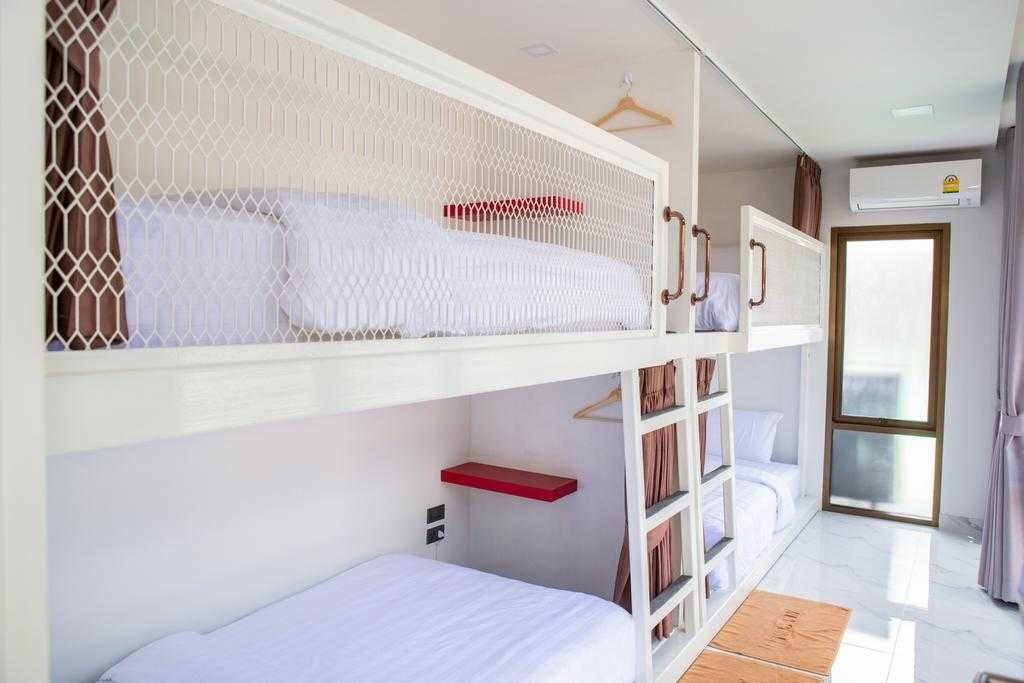 The Hostel is also a tad bit fancy but still light on your pocket. It's well lit with large and comfortable beds. The linens are absolutely clean. There is a luggage storage area, a shared kitchen and workspaces all around the hostel. You can chill by the garden area or dining area. Each room has a TV attached to it. It is notable for its cleanliness, well-maintained rooms, and toilets.
Address: 102 Soi Wora Phong (??????6) ?????????????????? ?????????????, Bangkok
Cost for one night: INR 702
Facilities: pick-up facility, WiFi, garden area, TV
Distance: You can walk to Dusit Palace which is 2.3 km from the accommodation, while Grand Palace is at a distance of 2.5 kilometers.
10. Zhleter Bkk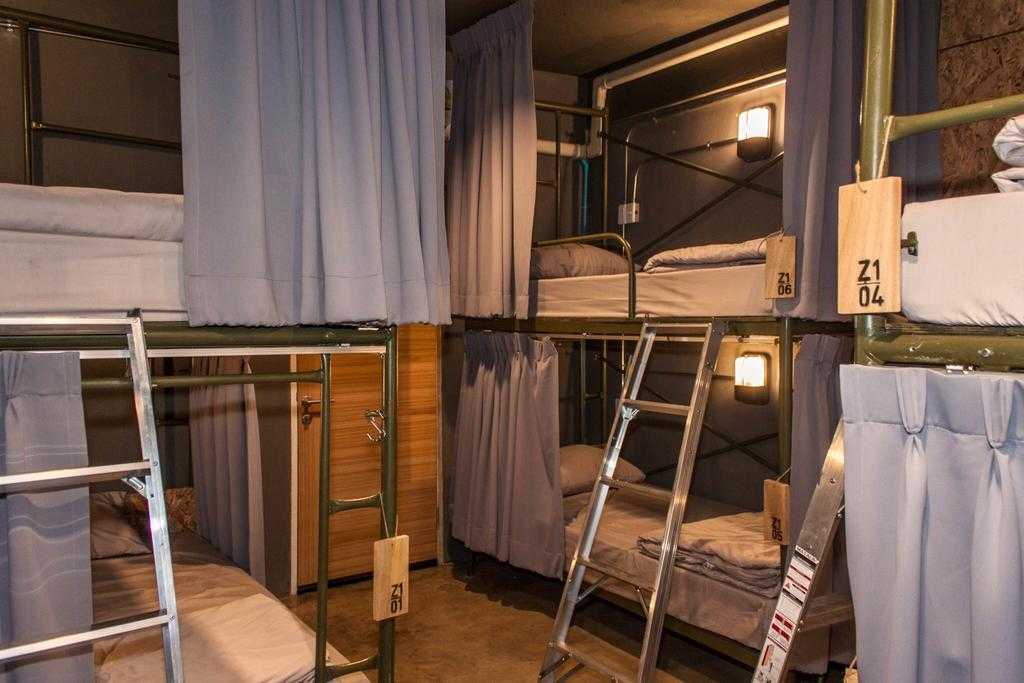 This one's a fun and quirky looking hostel with cozy bunk beds and good privacy. The staff is courteous and extremely helpful. It has an attached bar and a common seating area. You can also indulge in a game of darts at this hostel. It is well-reviewed for its spacious beds, and tasteful design.
Address: Charoen Krung Road 64 Soi Charoen Krung 42/1 Wat Suan Phlu Bangrak, Bang Rak, Bangkok
Cost for one night: INR 780 Per bunk bed.
Facilities: Bar, WiFi, Terrace, Housekeeping
Distance: You can head to Sea Life Bangkok Ocean World as well as Siam Paragon Mall which are 5 km away from the hostel.
So now you know where to accommodate yourself if you have a limited budget or you want a safe space while traveling solo. The hostels are noted for its cleanliness so you can be rest assured.
When are you heading to Bangkok? Will you be opting for any of these hostels? Let us know in the comments below!