Bangkok
may be known for its skyscrapers and massive malls, but this urban sprawl has plenty of parks scattered around. These landscaped areas are not only a breath of fresh air (literally!) in the bustle of city life, but they have now become essential spaces for gatherings, exercise, and leisure. Most Parks in Bangkok are public which means that there is no entry fee, although there are some nominal fees to use certain facilities.
Here are 14 Parks in Bangkok to spend a day in the midst of nature:
1. Benjakitti Park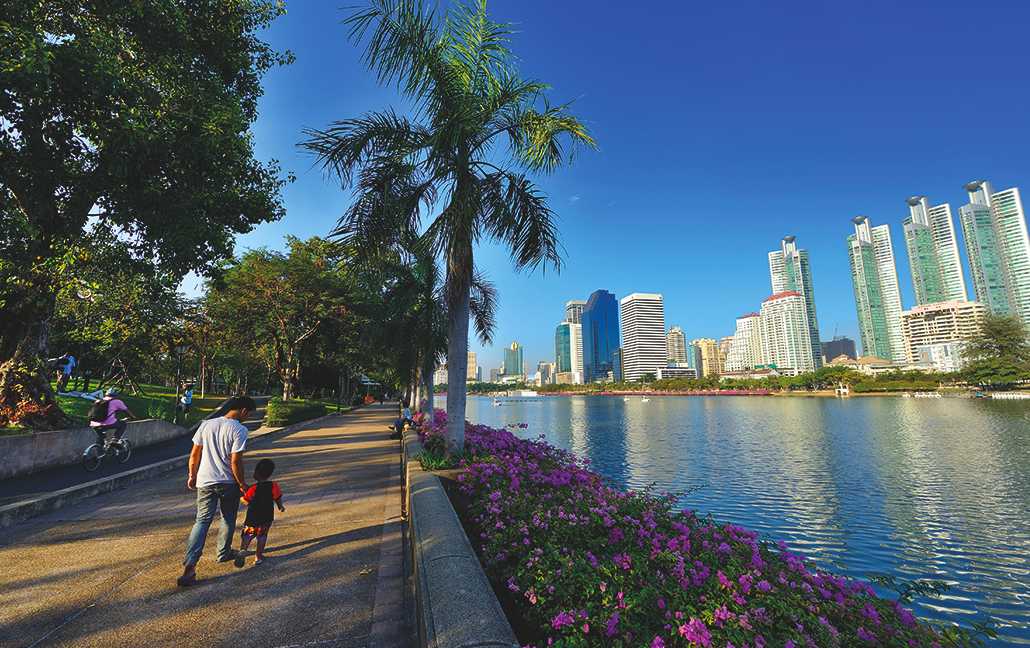 This park spans a whopping 208,000 square metres in the Asoke district of Bangkok. It is located opposite the Queen Sirikit National Conventional Centre and is built around Lake Ratchada. Whether it's utilising the jogging track, the bicycle track where you can rent a bike for THB 50 per hour or the swan peddle-boats on the lake, this is an excellent spot for exercising. Children enjoy the ramps in the skate park and the many fountains. The large courtyard, too, is ideal for family picnics and romantic meals.
Timings: 5:00 AM to 9:00 PM
Location: Ratchadaphisek Rd, Khlong Toei, Bangkok - 10110
How to Reach the Park: If taking the MRT, one should walk towards Asok-Montri for about 5 minutes. Else from BTS (exit 4), one can walk for 5 minutes towards Queen Sirikit National Convention Centre.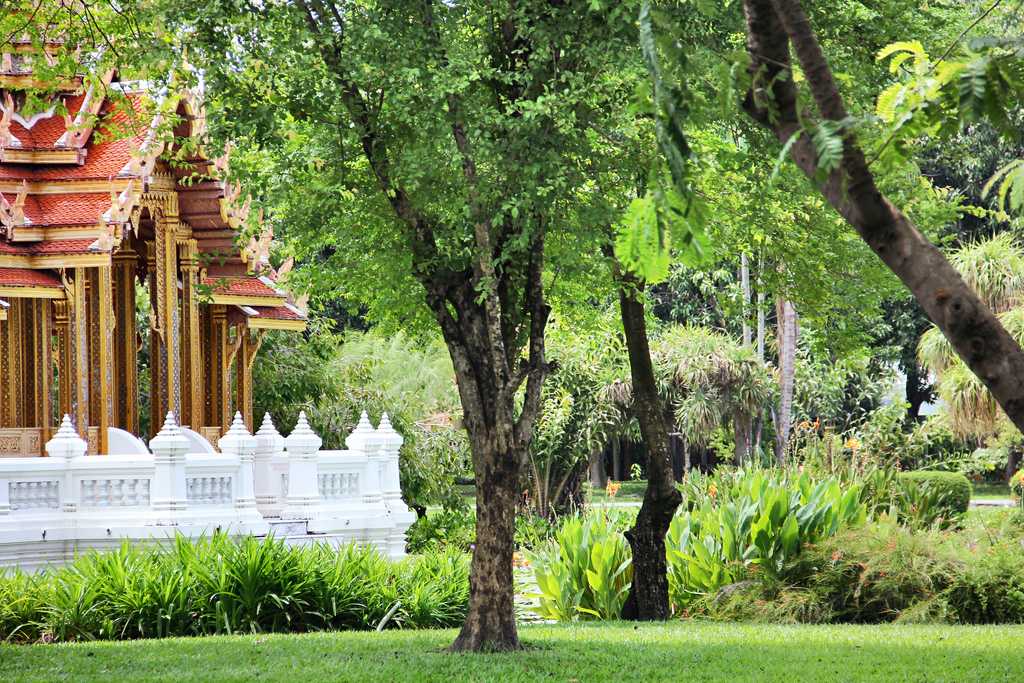 Rama IX Park is considered the largest park in the region. Located 15 kilometres from the city centre, it spans almost 200 acres. In fact, there is a small shuttle train that visitors that take from the entry gate to their desired location in the park. It has a large garden that houses flora from around the world, including a Chinese and an Italian garden. There is a fee of THB 10 to enter the park.
Timings: 5:00 AM to 7:00 PM
Location: Sukhumvit 103 Road, Nong Bon, Prawet, Bangkok - 10250
How to Reach the Park: One can take the BTS to Udom Suk. After that, a taxi can be hired for THB 70 to reach the gates of the park. Traversing the entire distance by a cab is likely to take 30 minutes and will cost about THB 150.
3. Benjasiri Park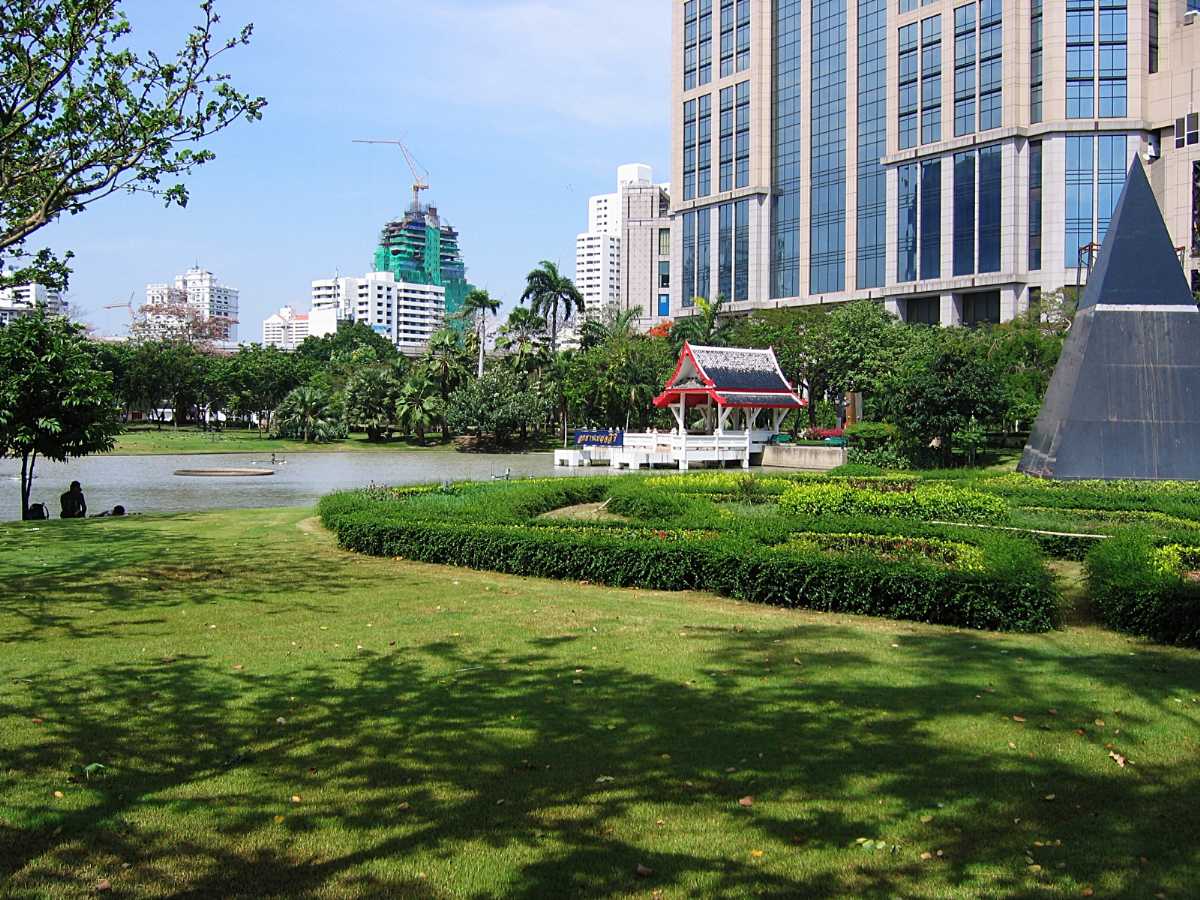 Located in the Phrom Phong area, Benjasiri Park is famous for its many modern art sculptures that showcase a confluence of Thai and western aesthetics. The centrepiece fountain has a sculpture specially made by renowned sculptor Mesim Yipinsoy. The park also has skateboard ramps, a basketball court, a running track and a calming lake. There are food kiosks available to grab a bite as well.
Timings: 5:00 AM to 9:00 PM
Location: Next to the Emporium Shopping Centre, Sukhumvit 23
How to Reach the Park: One should take exit 6 from the BTS Skytrain Phrom Phong Station.
As the name suggests, this park was named after the birthplace of Lord Buddha in Nepal. It spans 142 acres, including many displays of Thai crafts and a favourite outdoor gym. This space is often used for Tai Chi and yoga, and you can rent yoga mats for THB 30 for an hour. This park houses rare indigenous flora and fauna like the water monitor lizard. On the weekends, Lumpini Park sees local jazz musicians who perform for free and a weekly farmer's market.
Timings: 4:30 AM to 9:00 PM
Location: Rama IV Rd, Lumphini, Pathum Wan District, Bangkok - 10330
How to Reach the Park: The best way to reach Lumpini Park is via MRT or BTS. If you are choosing BTS, then Sala Daeng Station on the Silom Line is closest to the park and by MRT, Lumphini and Si Lom stations on the Blue Line are the closest to here. A tuk-tuk can be taken after deboarding to reach Lumpini Park. A lot of buses also go via this route, like Rama IV Road buses, Witthayu Road buses and Sarasin Road Buses.
5. Queen Sirikit Park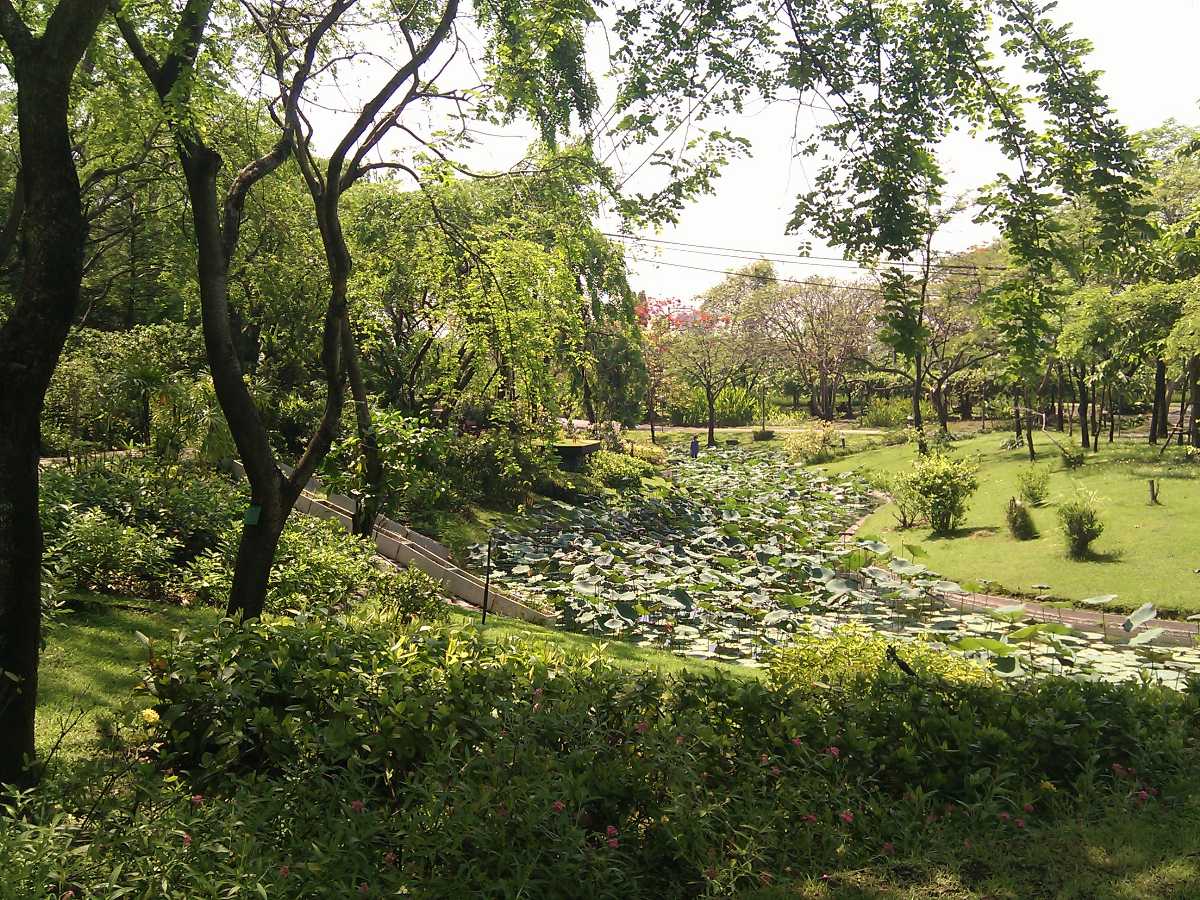 This park was built in tribute to Queen Sirikit of Thailand. It is over 22 hectares and has lovely additions like a sculpted pond, a lotus and water lily yard and most popularly, a tree garden. This garden seeks to represent trees from all of Thailand's regions. Beside Queen Sirikit Park is the Children's Discovery Museum with fun activities like an archaeological site to dig up dinosaur bones.
Timings: 5:00 AM to 6:30 PM
Location: 200/1 Kamphaeng Phet 2 Rd, Chatuchak, Bangkok - 10900
How to Reach the Park: From BTS or MRT (Chatuchak Park), walk towards Chatuchak Weekend Market, then take a right turn at Kampangphet 3 Rd., and finally keep walking until you reach Children's Discovery Museum (the park is located in the same area).
6. Chatuchak Park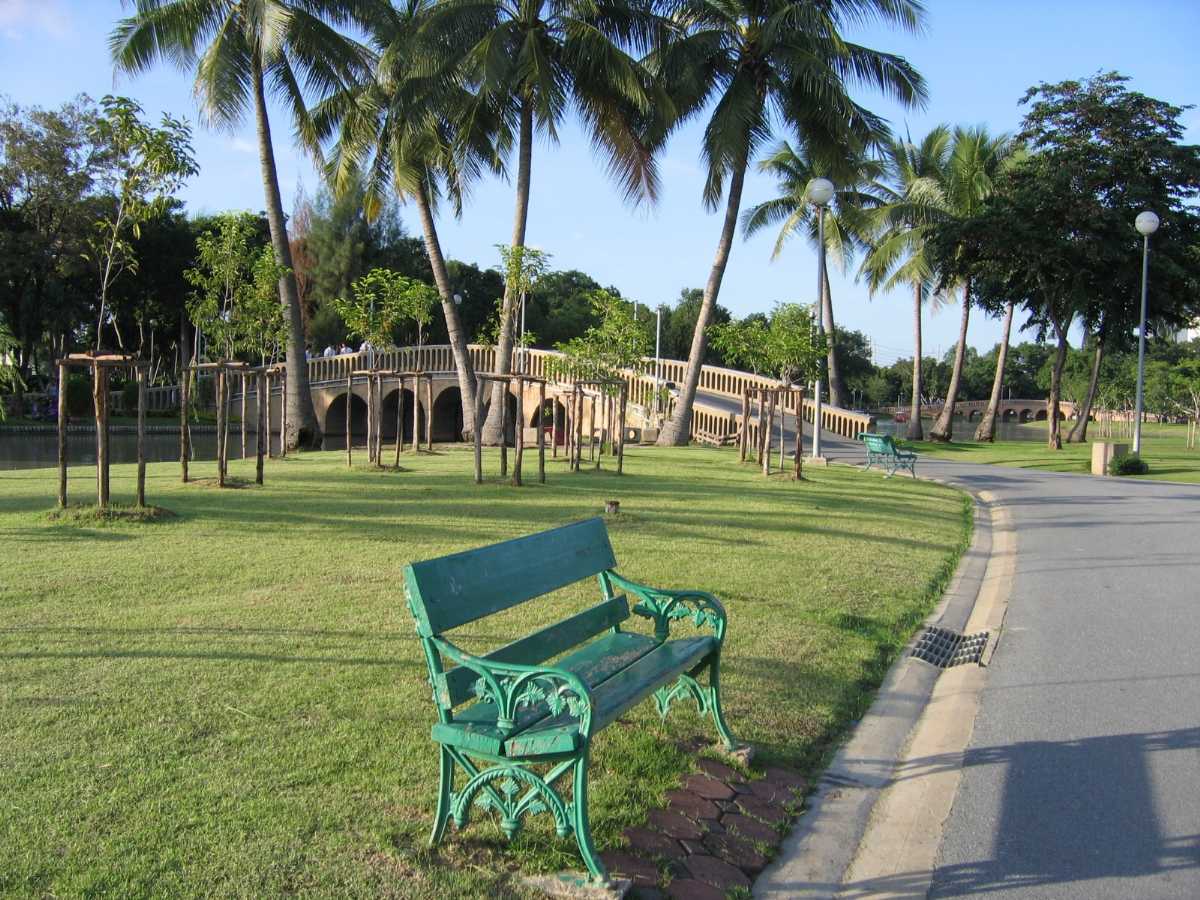 This park gains its name from the historic Chatuchak Market adjacent to it. It's quite a sporty park with tennis courts, soccer fields and other amenities for everyone to break a sweat. It's located close to the Thai Literature and Herb Garden which houses botany from Thai literary classics such as Lilit Phra Lo. The herb garden has plants used in traditional Thai medicines. Chatuchak Park was also home to the locomotive museum, though this has now changed ownership and its future remains ambiguous.
Timings: 4:30 AM to 9:00 PM
Location: Kampaengphet 1 Road,Ladphyao Sub-district,Chatuchak District
How to Reach the Park: One can take the MRT or BTS and get down right infront of the park
7. Romaneenart Park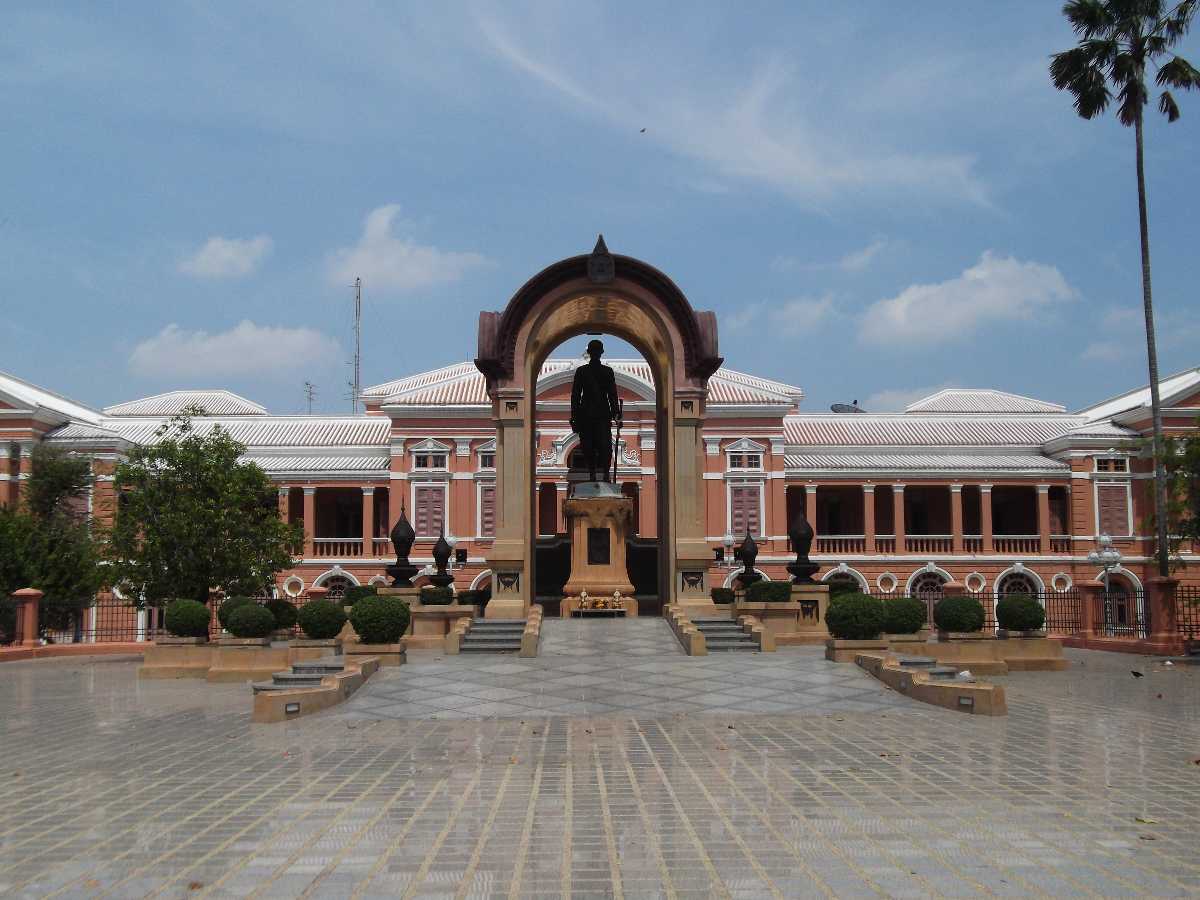 One of the only non-ceremonial Parks in Bangkok, Romaneenart Park was built on the site of the old city jail. It is located on Mahachai Road and has a Corrections Museum that displays the history of law enforcement in Thailand. Nearby is Wat Suthat, a Buddhist temple that was commissioned by King Rama I. It has previously been considered as a World Heritage Site by UNESCO.
Timings: 5:00 AM to 9:00 PM
Location: 649- 665 Maha Chai Rd, Samran Rat, Phra Nakhon, Bangkok - 10200
How to Reach the Park: One can take the Charo Phraya Express Boat to Memorial Bridge pier, then walk up Chakraphet Road where the park is.
8. Phutta Monthon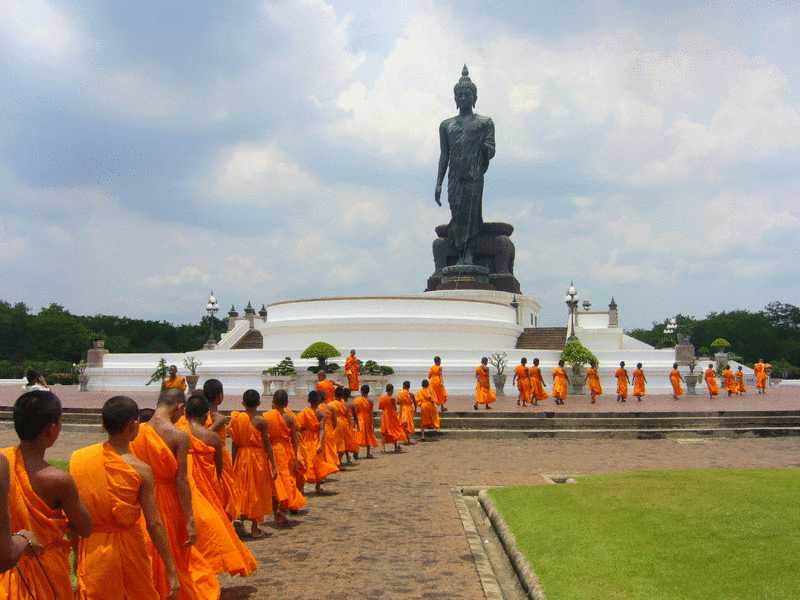 Although this park is located 45 minutes outside the city centre, it is notable for the 52-foot statue of Lord Buddha in its premises. The park symbolises the life of Buddha, especially the four main events of his life: birth, enlightenment under the Bodhi tree, first sermon at Sarnath, and death. This park has tree-lined pavements and a pretty pond, along with bike rental services.
Timings: 5:00 AM to 6:30 PM
Location: 6 25/25 Phutthamonthon Sai 4 Rd, Salaya, Phutthamonthon District, Nakhon Pathom - 73170
How to Reach the Park: One can reach the Phutthamonthon park from Bangkok by taking buses 539 or 170. These buses pass by the main entrance (takes about more than one hour).
9. Rot Fai Park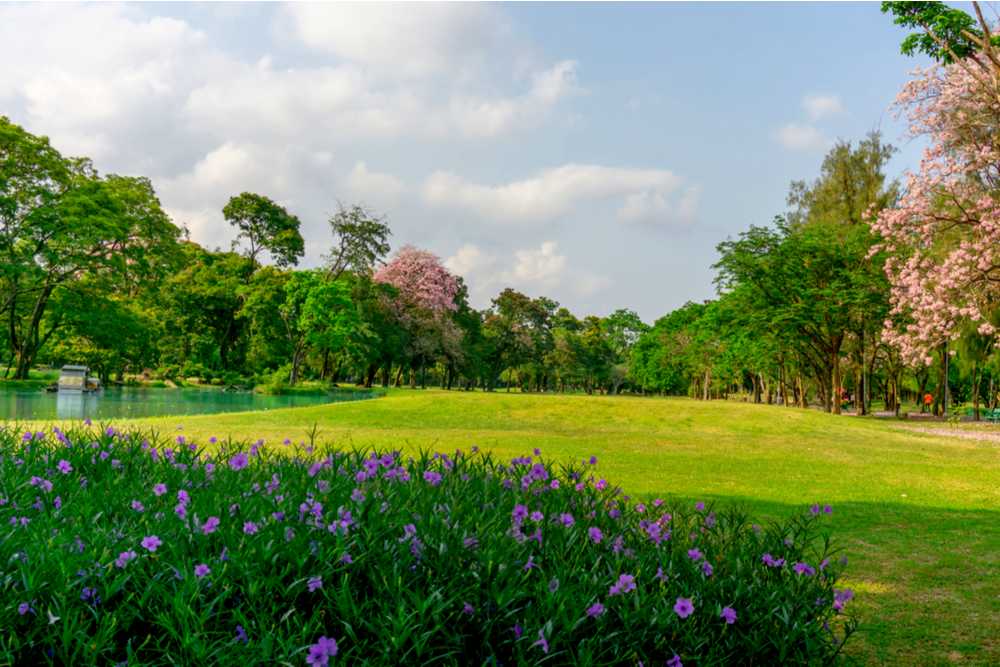 Although its official name is Suan Wachira Benjathat Park, it gained the nickname 'Rot Fai' for the abandoned train carriages that can be found near the park entrance. It is a former 148-acre golf course, and this can be still seen in its sprawling lawns. The large pond in Rot Fai Park has kayaks and paddle boats that can be rented for THB 40 for half an hour. Close to the park is the Chatuchak Weekend Market and the multi-layered Bangkok Butterfly Garden.

Timings: 4:30 AM to 9:00 PM
Location: Kampaeng Phet 3 Road, Chatuchak
How to Reach the Park: One can take the BTS or MRT and head towards Chatuchak Weekend Market. After that take a right tunr at Kampangphet 3 Rd, and keep walking past Queen Sirikit Park until you almost reach the end.
10. Sanam Luang Park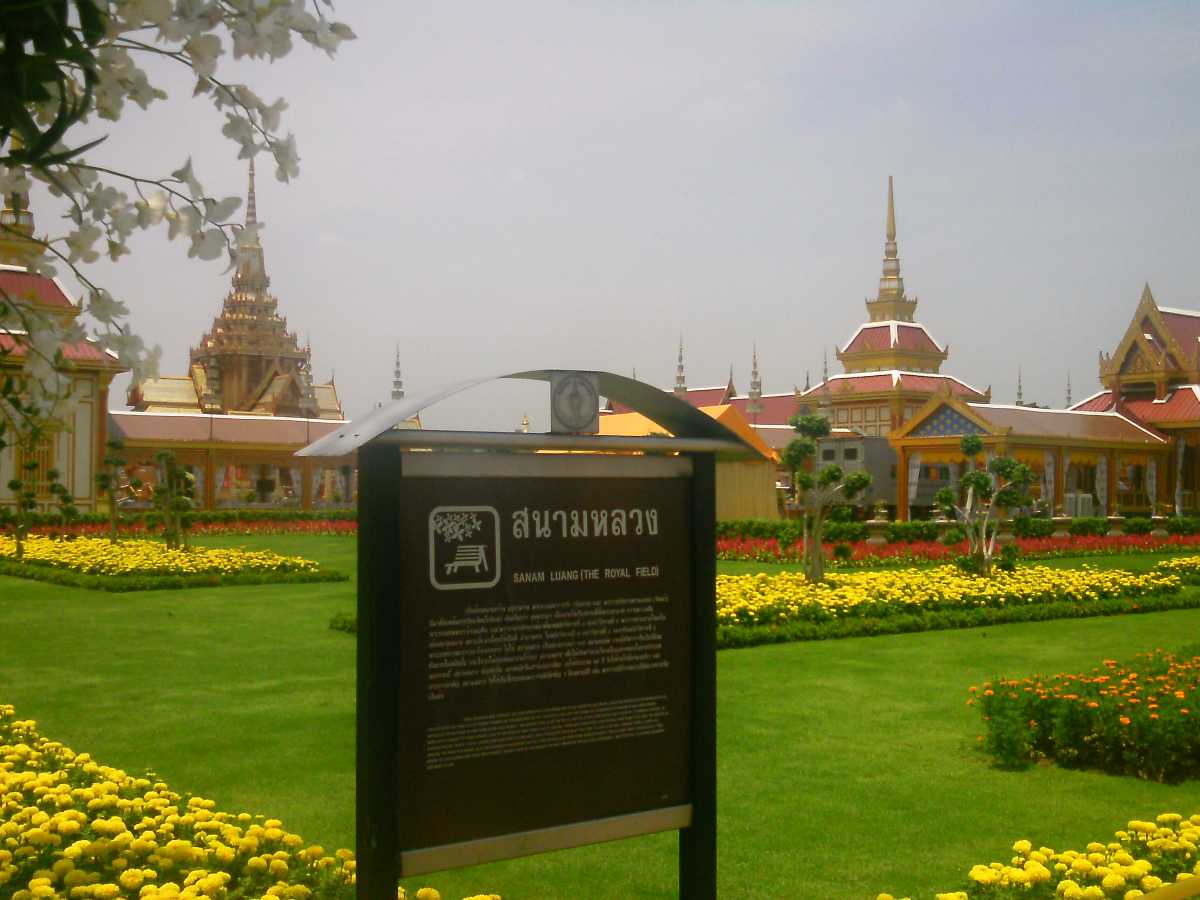 This is one of the oldest Parks in Bangkok that has existed since the founding of the city in 1782. It is also known as the Royal Field as it was once the royal cremation ground. It is surrounded by famous attractions like the National Gallery, the Supreme Court and the Temple of the Emerald Buddha. This park is an important congregation ground for the king's birthday celebrations and the Royal Ploughing Ceremony every May to mark a new planting season.
Timings: 5:00 AM to 10:00 PM
Location: Ratchadamnoen Avenue, Phra Borom Maha Ratchawang, Phra Nakhon, Bangkok - 10200
How to Reach the Park: One can take the Chao Phraya Express Boat to Maharaj or Chang Pier.
11. Santichaiprakarn Park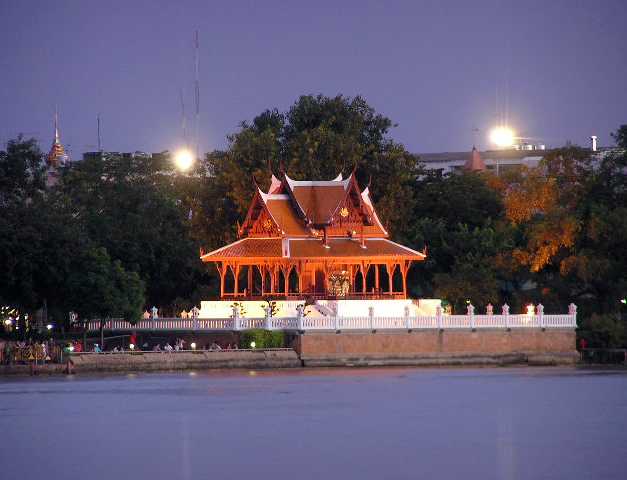 Located beside Chao Phraya River in the Bang Lamphu area, this park is a favourite picnic spot. It's full of street artists who busk during the day and provide entertainment for all visitors of the park. It can be found near the famous Khao San Road which has countless guesthouses, cafes, bookshops, bars and hotels. Another notable attraction is Phra Artit Road that has plenty of eateries and bars, making it a youth hotspot.
Timings: 5:00 AM to 10:00 PM
Location: Ratchadamnoen Avenue, Phra Borom Maha Ratchawang, Phra Nakhon, Bangkok - 10200
How to Reach the Park: One can take the Embark the Chao Phraya Express Boat upto Phra Athit Pier (N13).
12. Santiphap Park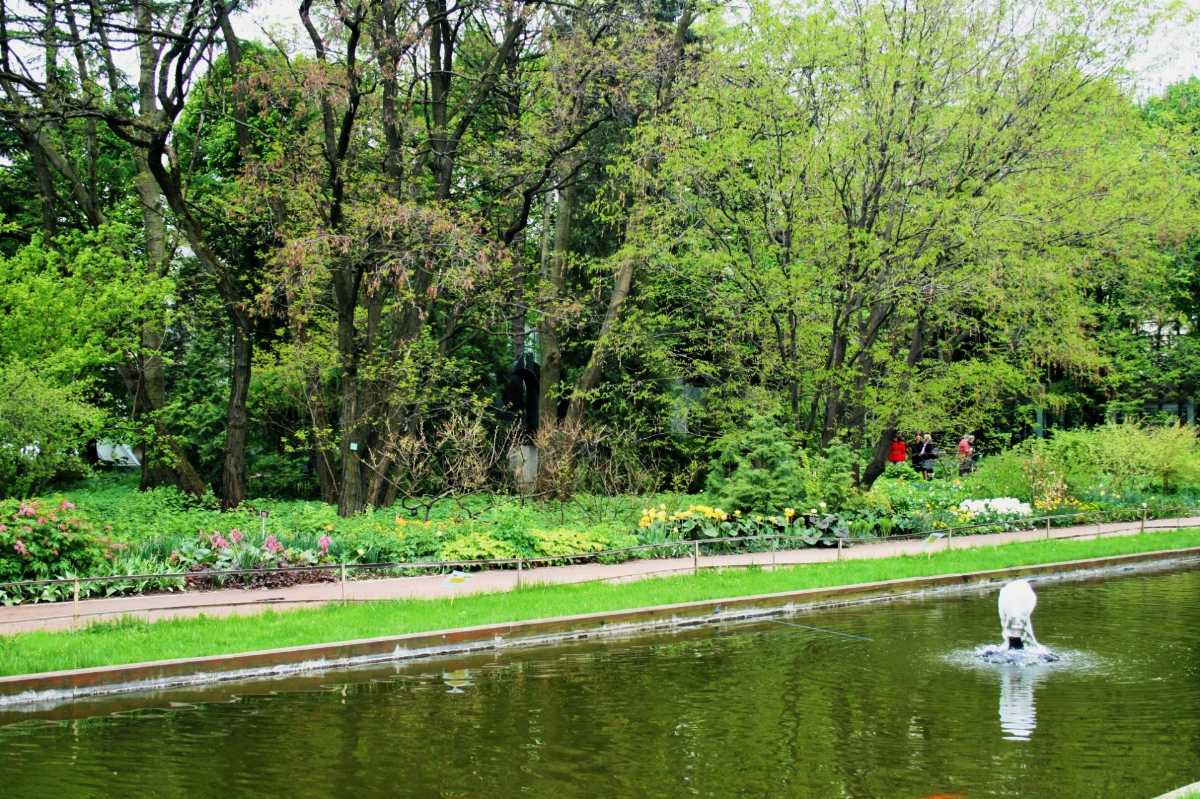 Although this is one of the smaller Parks in Bangkok, Santiphap Park has a youthful vibe. It's not uncommon to see live jazz performances in the evenings when the sun sets between the trees. Located in the Ratchathewi area, Santiphap Park earns its name from the Thai word for peace as it was opened on the 53rd anniversary of the end of World War II. It is a favourite spot for birdwatchers who have sighted species unusual to Bangkok like the orange-headed thrush and the laced woodpecker.
Timings: 5:00 AM to 9:00 PM
Location: Ratchawithi Rd, Thanon Phaya Thai, Ratchathewi, Bangkok - 10400
How to Reach the Park: One can take the BTS Skytrain to Victory Monument Station (Exit 4). From the exit turn right at the Victory Monument and keep walking for about five minutes and the park is on your right.
13. Saranrom Park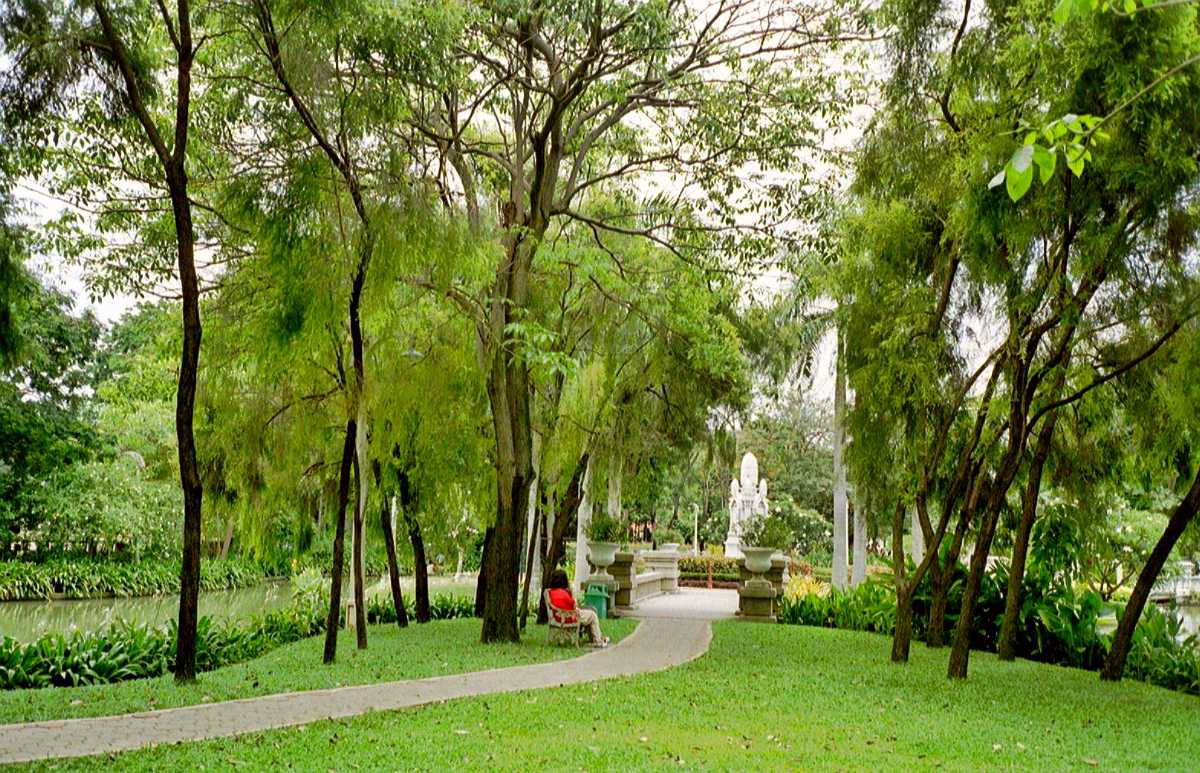 Located in Rattanakosin area, this park was once a royal garden east of the Grand Palace. It still has majestic gazebos, monuments dedicated to the Queen and princess, lush flower gardens and banyan trees that speak of a specific era. In fact, it was once exclusively a park for nobles. Today, it boasts of a tranquil atmosphere where people love to meditate, perform Tai Chi and enjoy the silence of the gardens.
Timings: 4:30 AM to 9:00 PM
Location: Between the intersection of New Road and Rajini Road Phra Nakhon, Bangkok
How to Reach the Park: The most convenient way to get to Saranrom Park is by taking a boat. One should take the Chaophraya River Express to the Tha Thien pier, then walk through the market and up the short street. Across the intersection, to the right is Wat Po.
14. Princess Mother Park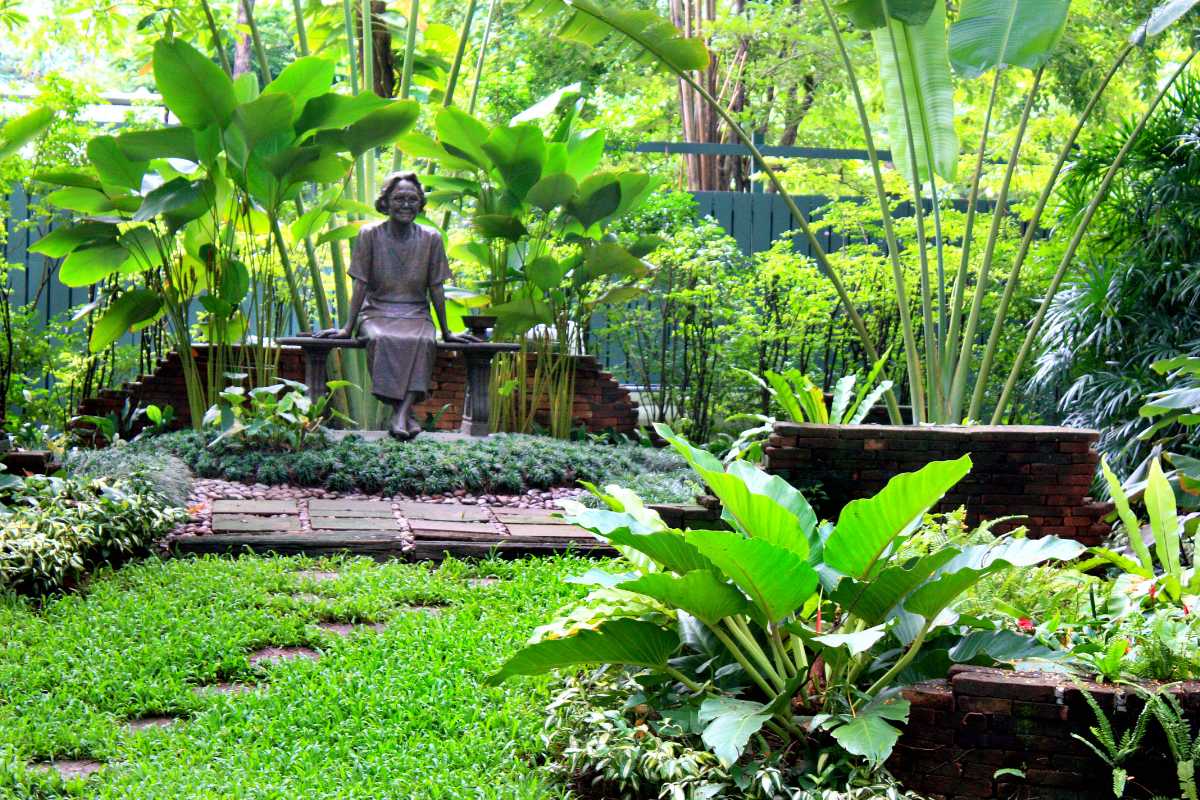 Called Suan Somdet Ya in Thai, this park can be found in Thonburi. It was established as a memorial of King Bhumibol's mother. It has a shrine to the Princess mother on the actual place that she was raised, along with a small museum in her honour. The park has plenty of benches to sit down and enjoy the serenity near Memorial Bridge and multiple fountains that assure cool breeze all day long. There are ancient spirit trees in these gardens that are said to bring good luck.
Timings: 6:00 AM to 6:00 PM
Location: 3 Soi Somdet Chao Phraya 17, Khlong San, Bangkok - 10600
How to Reach the Park: One can go to Stop 7 and take the local ferry across. The road under the Klao brige can be followed and the sign of the park will be visible on the main road.
Thailand's capital city of Bangkok has made great leaps of development with looming towers and state-of-the-art facilities available to all, but it continues to provide small escapes from the energy of the city through its dozens of gardens. Here, you can sit down, take a deep breath, and enjoy the beauty of serenity while taking in a slice of Thai history.