Bangkok
is a city teeming with life. It is also a city of contrast. It is here where you will find the most modern of buildings, being built around heritage sites and monuments - but being surrounded by religious houses, huge statues and the most gorgeous parks. The architecture in Bangkok is very interesting because it has influences from around the world - like European and Chinese! A lot of the architecture here is somehow connected to Buddhism - but that is usually limited to temples. However, as time has moved on, other styles have been incorporated - leading up to the modern styles that are around the capital of
Thailand
.
Here is a list of ten examples of the beautiful architecture in Bangkok, an exquisitie blend of traditional and contemporary:
1. Jim Thompson House - Traditional Thai Architecture in Bangkok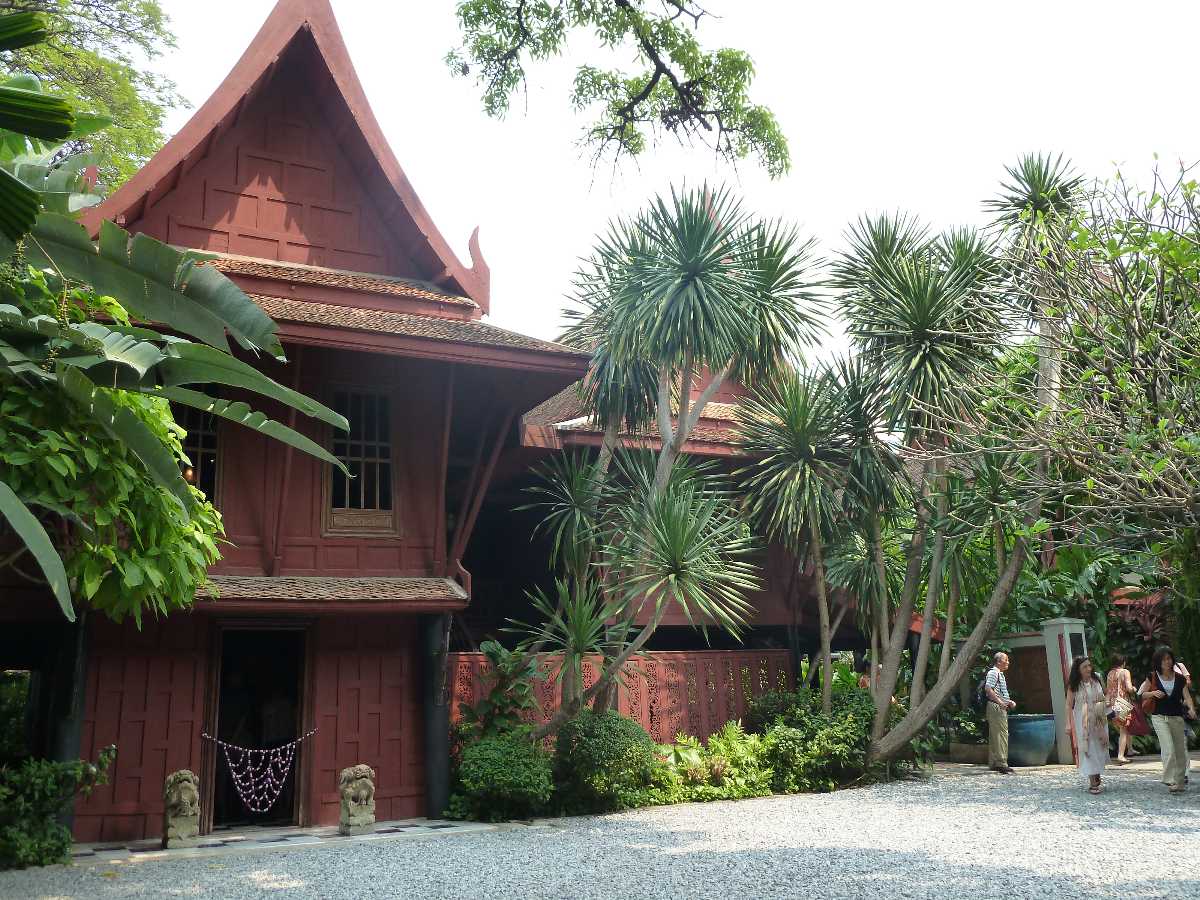 The Jim Thompson House is a beautiful example of a heritage building, displaying traditional Thai architecture in Bangkok. It was formerly the house of an American architect and silk producer. In 1967, while he was simply going for a walk, Jim Thompson disappeared in the Cameron Highlands of Malaysia - and to this day - has never been found! He constructed this house in the Thai style - but with a twist! olThis property is made up of many different buildings, including a spirit and a silk house!
2. Old Customs House - 19th Century Western Architecture in Bangkok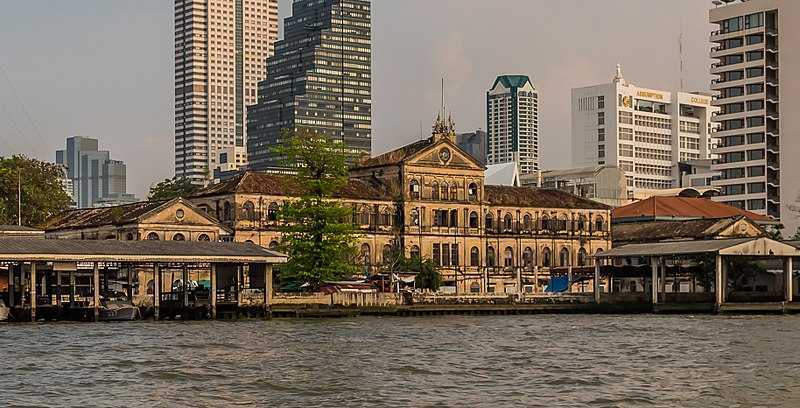 The Old Customs House was once known as the gateway to Thailand. It was built in 1888 and was an office where taxes were collected from traders who were entering and leaving the country. After a while, it was converted to a fire station. But now, it is abandoned and empty. While people are not allowed to go inside, you can take in the magnificence of the building from the outside. Or, you can do as the locals do - use it as a beautiful photo-op for weddings! This building is one of the major example of western architecture in Bangkok in the 19th century, constructed at the time when Thailand was getting more attention from the West for the goods it had to offer.
3. Siam Commercial Bank - Italian Architecture in Bangkok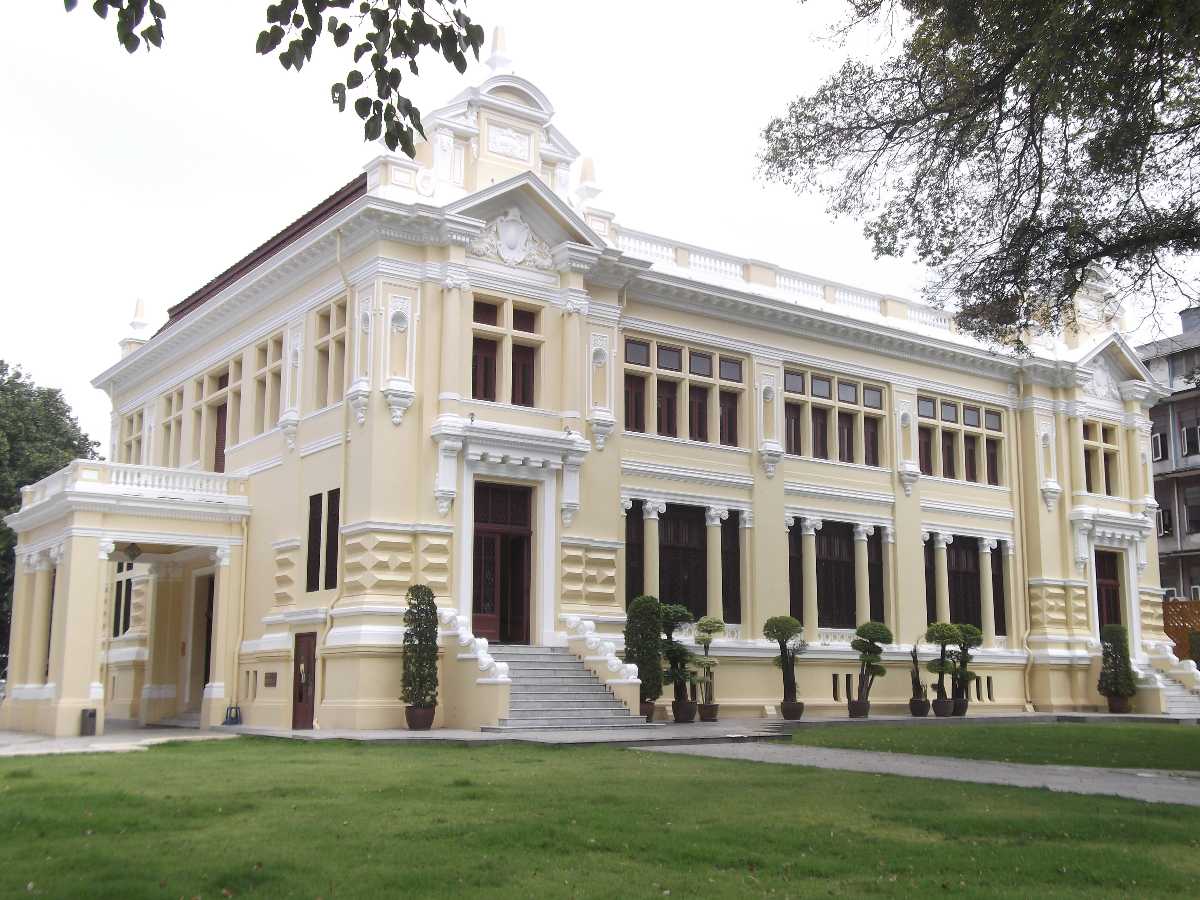 Built in 1904, the Siam Commercial Bank is an interesting Italian style art-deco architecture in Bangkok. This branch of the Siam Commercial Bank, located in the Talat Noi neighbourhood, is also the oldest bank branch in the entire country, and continues to be of major importance as the fourth largest bank in Thailand! Almost hidden from view, this building was the headquarters of the bank until 1971. Around 1983 it was converted to the home of the Thai Bank Museum.
4. Lhong 1919 - Mixed Use Space with Chinese Architecture in Bangkok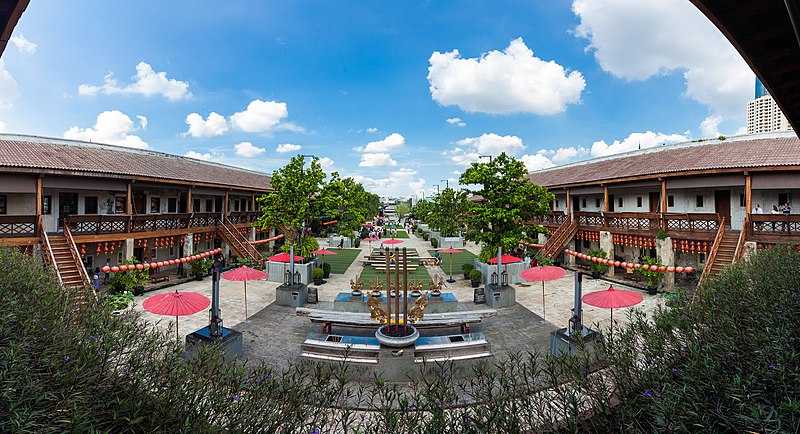 The Lhong 1919 venue actually dates its history all the way back to King Rama IV reign during the 19th century, used by various Chinese settlers entering the Kingdom of Siam. Lhong 1919 gets its unusual name from - a now unused - pier by the name of Huay Jung Long. And 1919? Well, that stands for the year when the name of this pier changed from Huay Jung Long to Wanglee Pier. Today, it is an outdoor space - Chinese style heritage building that really combines the essence of the two countries into one beautiful location, and one of the more well-preserved examples of Chinese architecture in Bangkok. 
5. MahaNakhon - Tetris Building and Contemporary Architecure in Bangkok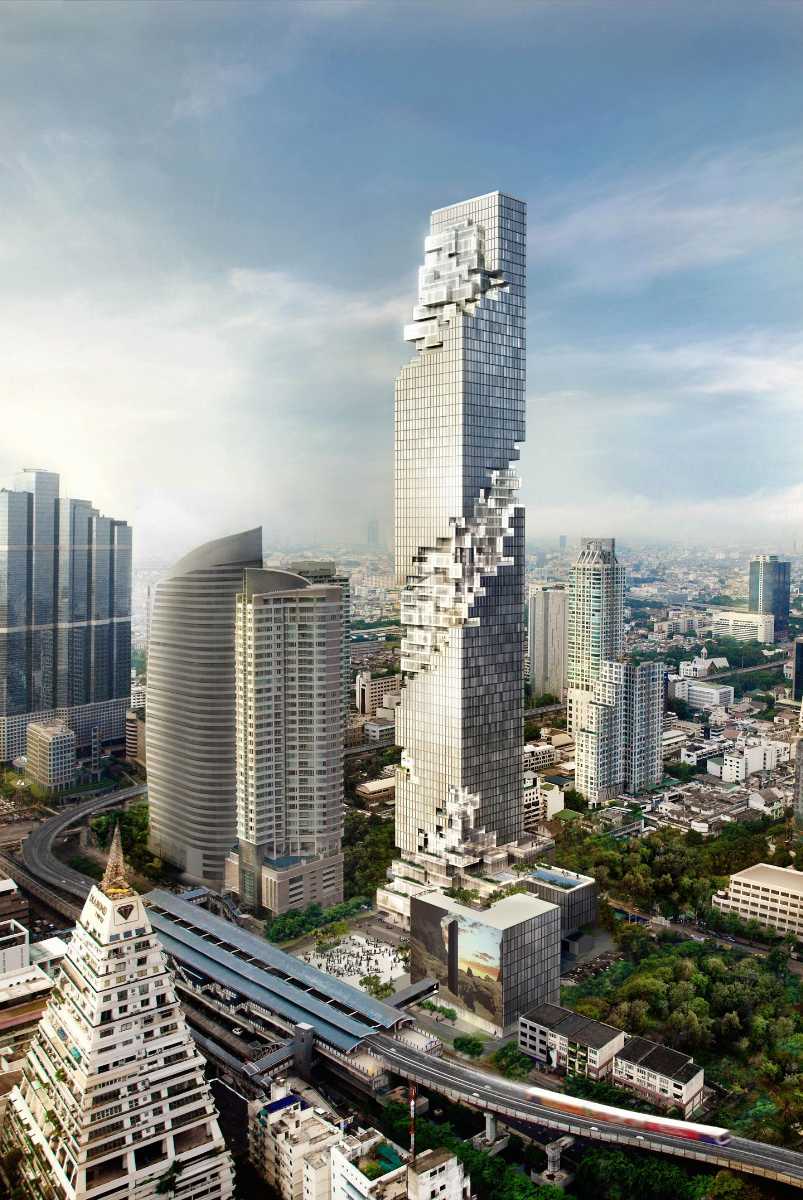 Bangkok is also home to the tallest tower in Thailand - MahaNakhon or the Tetris Building as it is more fondly known. It is an amazing example of the modern architecture in Bangkok's cityscape. Standing at over 1000 feet high, this building is built in such a way - that it seems to have a spiralling pixel-like effect on its glass facade! People say that it seems as if the building is dissolving downwards!
6. The Grand Palace - The Best of Traditional Architecture in Bangkok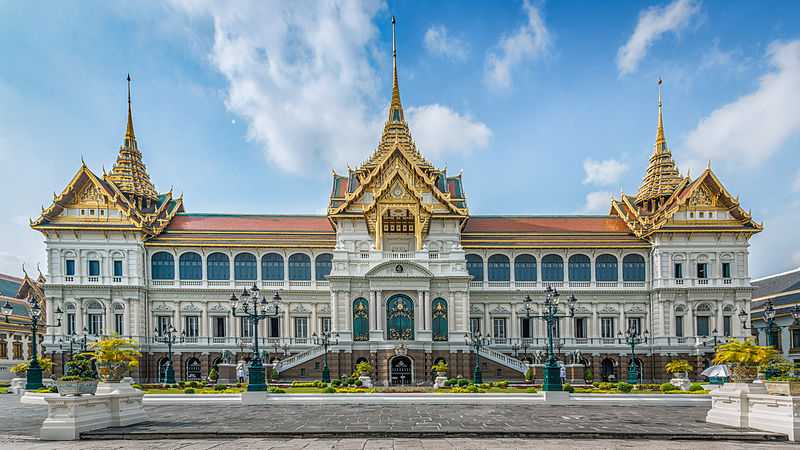 Built in the 18th century, the
Grand Palace
is one of Bangkok's biggest tourist attractions. It is a collection of many buildings and monuments exhibiting grand and beautiful traditional Thai architecture in Bangkok, all along the
Chao Phraya river
. It was once the centre of political, royal and religious activity in Thailand. It is also home to the
Wat Phra Kaew - or the Temple of the Emerald Buddha
. This temple houses the famous Emerald Buddha (though it is actually made up of jade).
7. Wat Pho - Ancient Architecture in Bangkok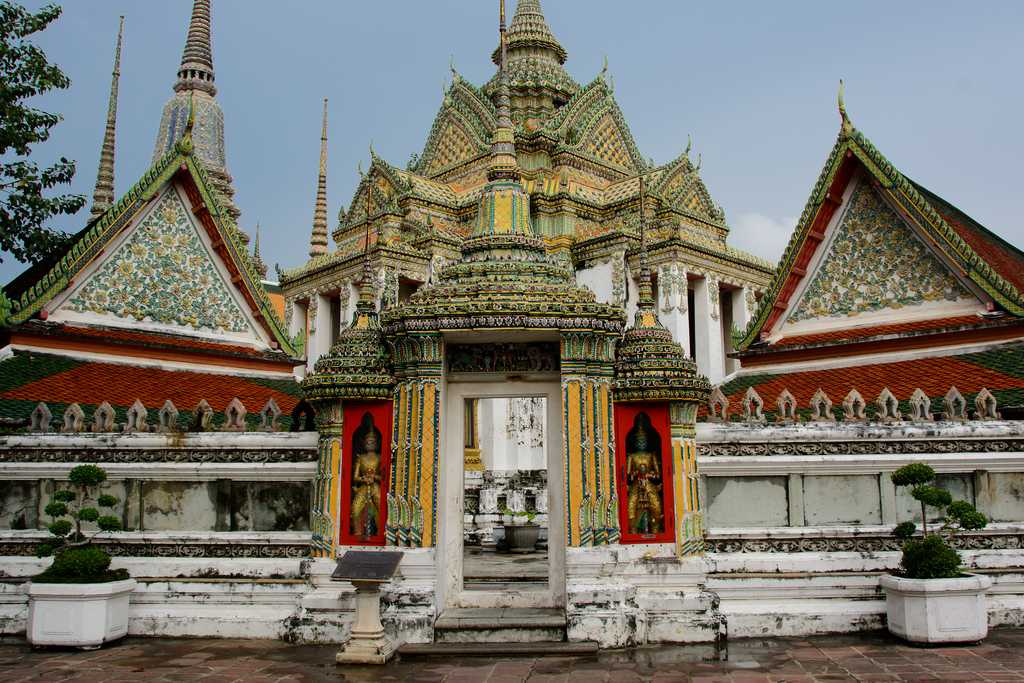 Located very close to the Grand Palace,
Wat Pho or the Temple of the Reclining Buddha
gets its name from the massive reclining Buddha in its chapel. This statue is always covered in gold - and on the soles of the feet are some beautiful - intricate - designs and symbols of Buddhism. The collection of buildings and layout of the temple all display aspects of traditional Thai architecture in Bangkok, as well as other ancient architectural styles popular at the time.
8. Baan Huay Sarn Yaw - Earthquake-Resistant Modern Architecture in Bangkok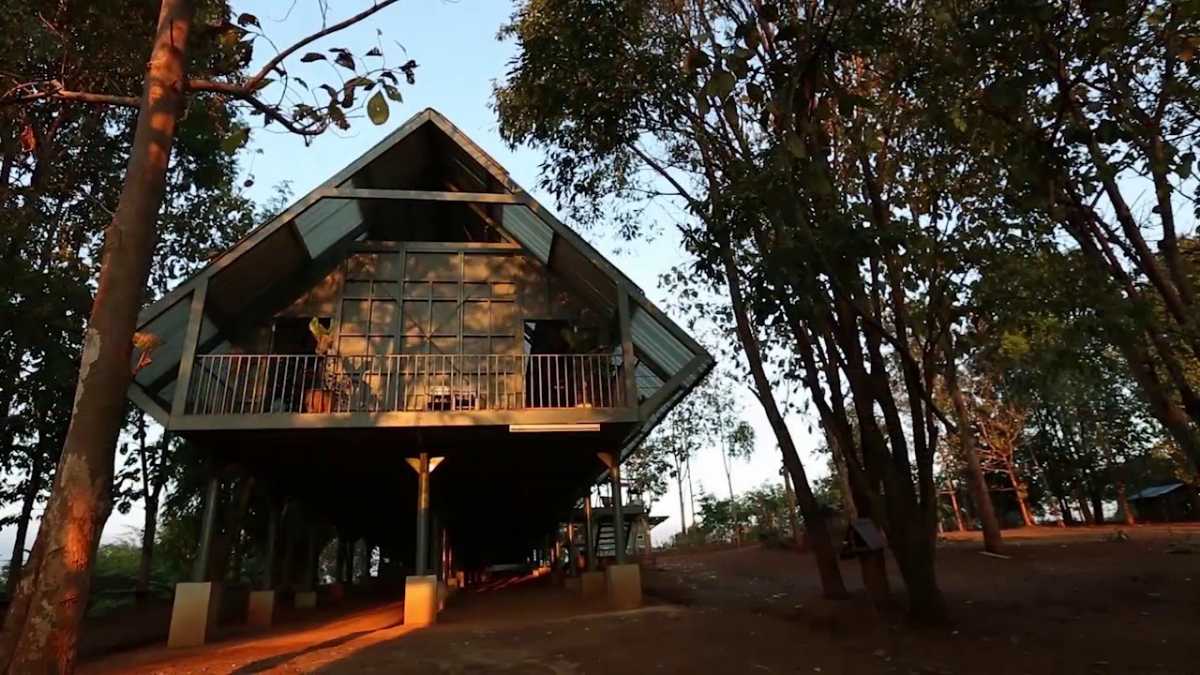 Baan Huay Sarn Yaw is also known as the Post Disaster School. It is an initiative created by the D4D - or Design for Disasters. Teamed up with around 9 Thai architects, they constructued this unique architectural design in Bangkok as an earthquake-resistant school, the first of its kind, a fine example of modern architecture in Bangkok. It is built of bamboo sheets and metal - and sits on raised stilts!
9. Ghost Tower - Unfinished Famous Architecture in Bangkok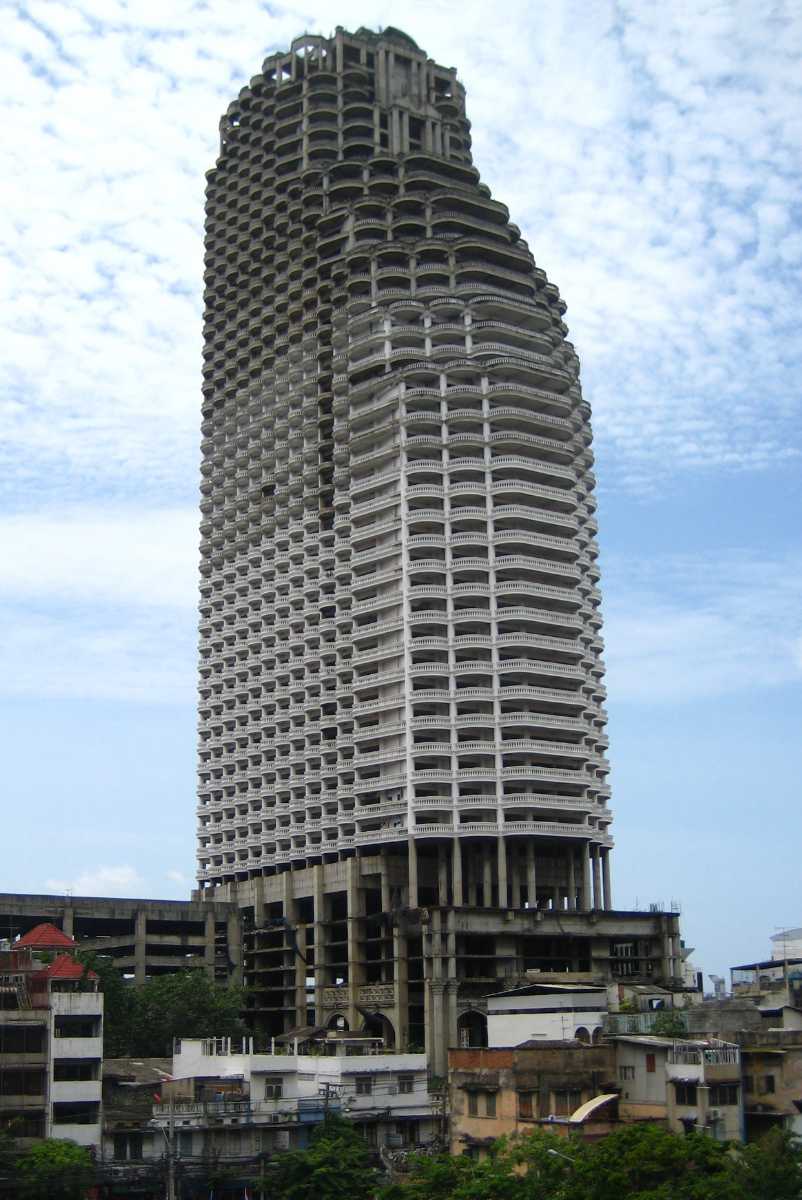 The Ghost Tower - otherwise known as the Sathorn Unique Tower is a construction project that was halted in 1997 - during the Asian Financial Crisis. It was slated to become a luxury high rise building with state of the art facilities and decor. However, construction had to be halted - but it was never started again. Today, this famous piece of architecture in Bangkok is a looming and abandoned figure - with a decomposing exterior filled with graffiti. It has become the site for many horror stories in the city
10. Elephant Building - Modern Architecture in Bangkok Honouring the Nation's Favourite Animal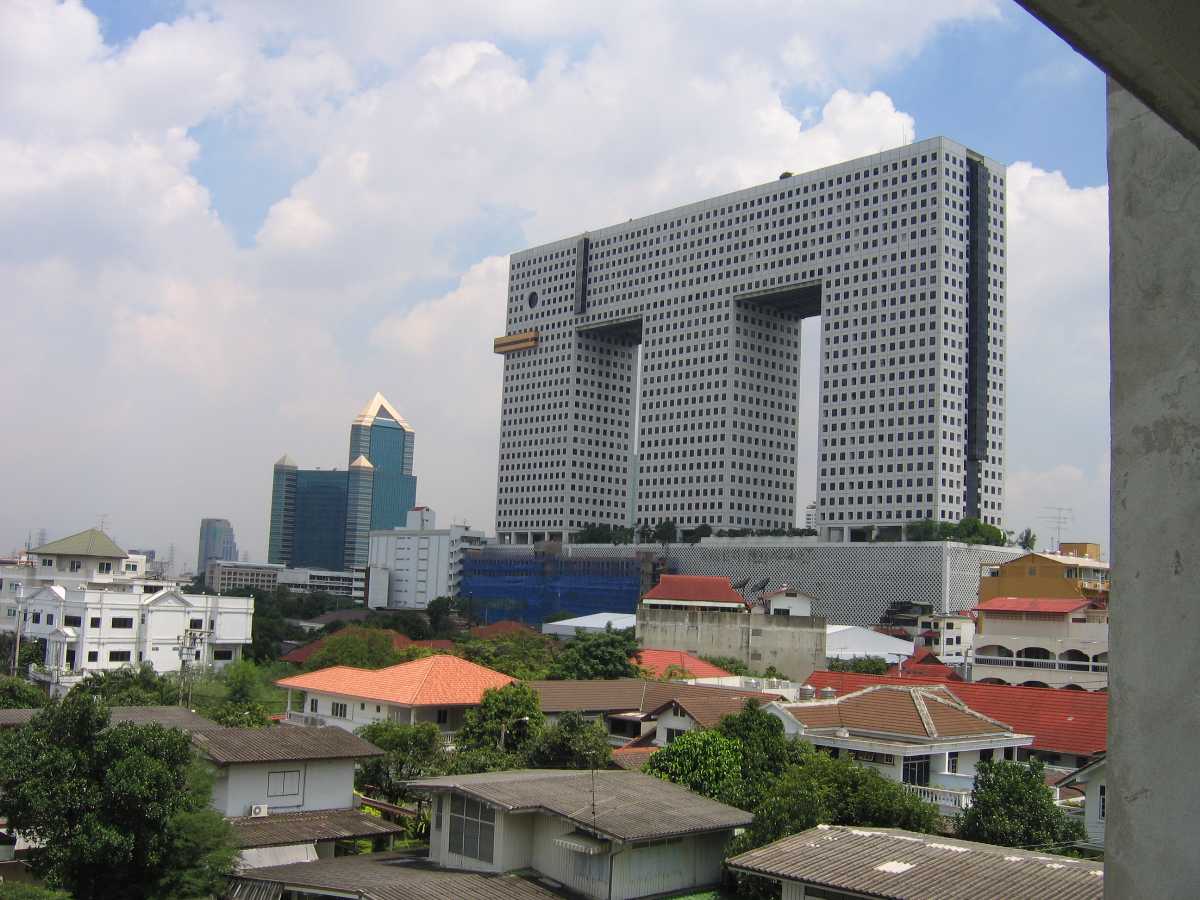 Contemporary architecture in Bangkok is constantly evolving, and has thus created is one of the most unique buildings in Thailand. The Elephant Building, as the name suggests, was built to look exactly like an elephant - and is home to many apartments, offices and even shops! What makes it all the more interesting is that people either love it - or absolutely hate it! In fact, in 2011 - it was even described as one of the ugliest skyscrapers!
Now, this list is by all means not complete. There are so many beautiful monuments, statues, buildings and other pieces of architecture in Bangkok, and all over the country as well. This city should definitely be on your "Must Visit" list for 2019!