India has been recently building on the fact that pets are family too. There are a couple of new eateries across the country, welcoming our furry friends. These restaurants encourage pet-lovers and owners to bond with their pet kids and are a great way to relax during the weekends. Here are some of the great dog cafes in Bangalore that you need to visit if you are a dog lover.
1. TherPUP Cafe, Whitefield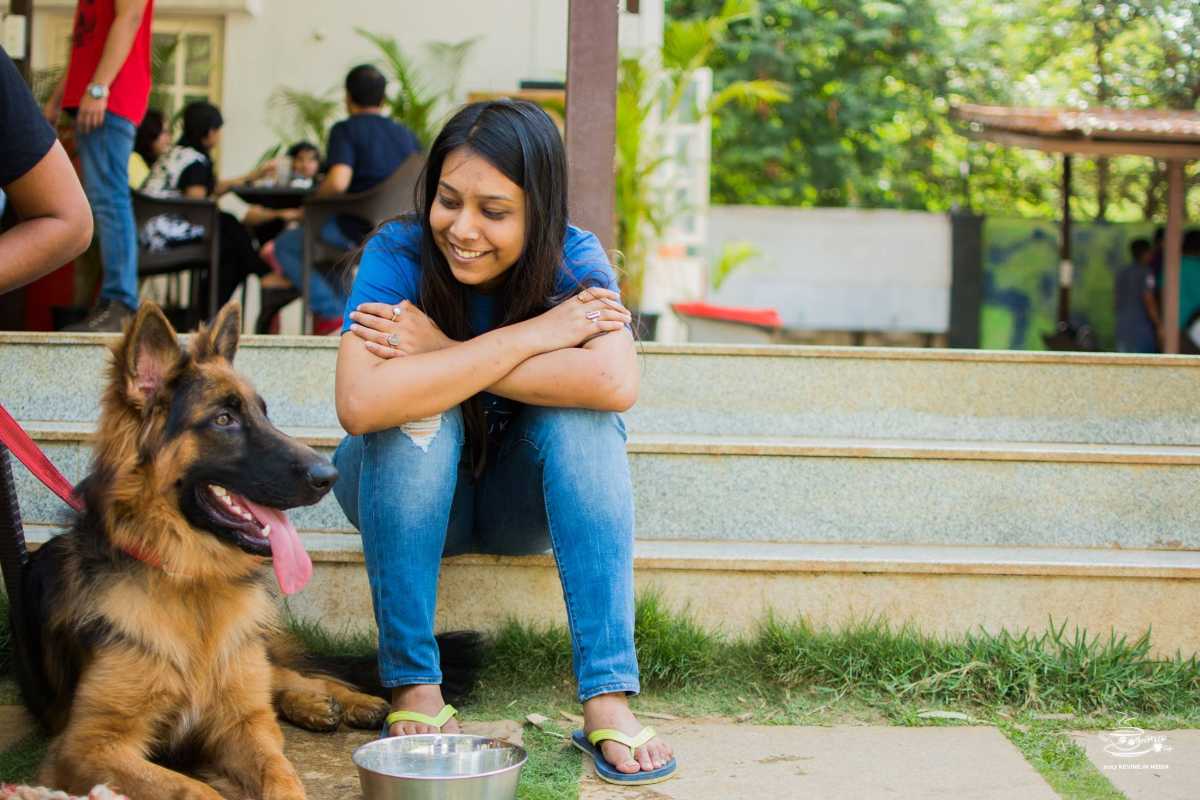 TherPUP Cafe is the perfect place to refresh with good food and the most lovable dogs around. All you need to do is buy a cover charge ticket to hang out with these fur buddies. Along with a cosy atmosphere and an open pool over the weekends, TherPUP would host a pleasant experience at affordable rates. The friendly staff here is an added experience to a nice day with dogs.
Address: 1269/243/113, White Rose, Whitefield

Contact: +91 8951411459

Cost for Two: INR 700

Recommended Dishes: Bombay Sandwich, Nachos, Garlic Bread
2. Raasta Cafe, Mysore Road

Raasta Cafe will welcome you with a comfortable ambience designed within the structure of a shack along with lush greenery around the cafe for your pets to run around on. In addition to chilling with the furry friends, visitors could also bond over a cup of joe with your friends or a date. This dog cafe in Bangalore is also a great hub for hookah lovers.
Address: Mayaganahalli, Ramanagaram, Bangalore-Mysore Road, Mysore Road

Contact: +91 9900072782

Cost for Two: INR 1,000

Recommended Dishes: Burgers, Raasta Cafe, Peri Peri Fries
3. Toit, Indiranagar

Toit is a popular place for people who want to hit the pub during the weekend. So, if you want to enjoy good beer along with your pet pal for a change, this cosy dog-friendly pub in Bangalore is the place for you. In addition to serving craft beer, the restaurant also provides modern ambience and great live music.
Address: 298, 100 Feet Road, Namma Metro Pillar 62, Indiranagar

Contact: +91 9019713388

Cost for Two: INR 2,000

Recommended Dishes: Mai Thai, Pesto Pizza, Chicken Wings
4. Snoopy Paws Cafe, Yelahanka

Started by an ardent dog lover himself, Snoopy Paws Cafe is a recent addition to the list. Serving a humble continental menu, this dog cafe in Bangalore brings in a bright theme along with surrounding greenery for you and your furry friend.
Address: Survey 4/2, 4/4, Yarappanahalli Main Road, Kannur Village, Yelahanka

Contact: +91 9148123888

Cost for Two: INR 600

Recommended Dishes: The Bombay Green Chutney Sandwich, Mexican Crispy Chicken, Thai Pai Salad
5. Bohemians The Social House, Indiranagar

The Bohemians The Social House is bound to give the typical boho-vibe with its bright interiors. The lighting makes it all the more appealing along with its Middle Eastern and European cuisine. Take your dogs along with you to have a nice time. Bohemians The Social House is a vegan-friendly eatery too.
Address: 966, 12th Main Road, Indiranagar

Contact: 080 71967529

Cost for Two: INR 2,100

Recommended Dishes: Pepperoni Pizza, Coconut Rice, Massaman Curry
6. Eddy's Cafe, Indiranagar

Eddy's cafe is a small food joint serving delectable All-Day-Breakfast options. A great restaurant to spend with your dog, Eddy's Cafe has indoor seating as well as outdoor seating options in addition to a smoking area. This cute dog-friendly cafe is perfect for a nice Sunday brunch scene with your pet.
Address: 314, 6th Main, Defence Colony, 2nd Stage, Indiranagar

Contact: +91 6361292968

Cost for Two: INR 800

Recommended Dishes: Pancakes, Omelette, Nachos
7. Hungry Buffalo, Jayanagar

Hungry Buffalo is a place to visit with your furry friend for some healthy and nutritional food. Although a small, rusty cafe, Hungry Buffalo does have quite a bit of interesting knick-knacks around the cafe. With an impressive food presentation, Hungry Buffalo has a quite friendly staff as well.
Address: 43, 1st Block, Mountain Street, Jayanagar

Contact: 00 98700001652

Cost for Two: INR 1,000

Recommended Dishes: Buddha Bowl, Biksha Bowl, Rotti Meal
8. Pin Me Down, Koramangala

Pin Me Down is a popular youth eatery. With a comfortable seating arrangement, the restaurant has an upper level where you can order alcohol. An LGBTQIA+ welcoming eatery, Pin Me Down has Karaoke and dance nights too. This dog cafe in Bangalore is perfect for a nice evening full of fun with your pets and your friends.
Address: 29, Tavarekere Main Road, Behind Forum Mall, Koramangala 7th Block

Contact: +91 9108416101

Cost for Two: INR 800

Recommended Dishes: Pasta, Pizza, Chilli Garlic Noodles
9. Zoey's, Sarjapur Road

Zoey's is a pet-friendly and kid-friendly place, hence, makes for the perfect wholesome weekend family brunch outing. Housed in a peaceful location, Zoey's Cafe provides board games too! Visit this eatery to be greeted by some warm and amicable staff.
Address: Survey 104/1, Opposite St Patrick's Academy, Kodathi Gate, Sarjapur Road

Contact: +91 9739646233

Cost for Two: INR 600

Recommended Dishes: Waffles, Pancakes, Burgers
10. RoundUp Cafe, Koramangala

With some of the most romantic ambience in addition to their pet-friendly atmosphere, RoundUp Cafe is quite the ideal day out with your fur buddy. Great music is always on their charts along with engaging interiors. However, we recommend you to take a rooftop seat for the best experience.
Address: 20, Sai Nivas, 1st A Main Road, KHB Colony, Koramangala 5th Block

Contact: 080 47483113

Cost for Two: INR 800

Recommended Dishes: Pasta, Pizza, Nachos
If you are up for a gastronomical adventure with your furry friends, then visit these dog cafes in Bangalore that we have mentioned above. Have you been to these restaurants before? Have we left out on any? Let us know in the comments below!