From magnificent skyscrapers to super cool architectural styles, Singapore has it all. However, there's a height restriction for every building constructed, i.e. 280m which the owners, as well as the architects, have to abide by due to the proximity of Singapore Changi Airport. This listicle describes some of the iconic, must visit buildings that Singapore has in the bag for its every guest.
1. Tanjong Pagar Centre
Tanjong Pagar Centre, alternatively known as Guoco Tower, located in 'Tanjong Pagar', is currently the tallest of the skyscrapers in Singapore. The height of the building, i.e. 290m, exceeds the height limit for buildings in Singapore but was exempted from the restriction by the government due to its location which does not interfere in flight paths. The construction for the same started in 2013 and got completed in 2016 breaking the record which was held jointly by UOB Plaza, One Raffles Place and Republic Plaza for being the tallest skyscrapers with a height of 280m for over 20 years.
No. of floors:
64 (3 below ground level)
Location:
1 Wallich Street, Singapore 078881
Nearest MRT:
Tanjong Pagar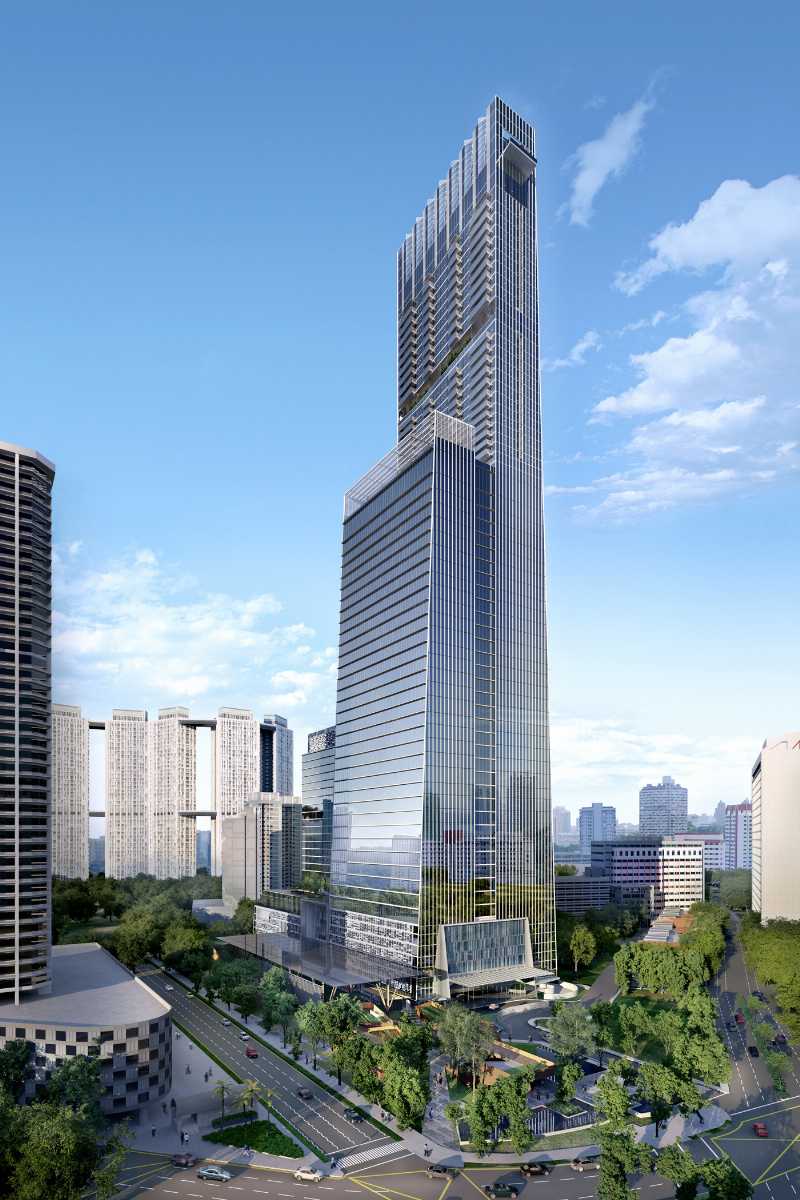 Nothing in Singapore so far can give Marina Bay Sands a tough competition regarding its design and location, as it fronts Marina Bay and everything this world-class integrated resort has got to offer. The architectural design seems to be inspired by decks of cards with three main towers, broader at base linked by a continuous lobby. Sands SkyPark, with a 150m infinity swimming pool, gardens and jogging paths on the top of the complex makes it one of the distinctive features of the Hotel. The architects were considerate of various elements that could affect the majestic design of Marina Bay Sands and made the necessary arrangements for the same like installation of custom Jack legs to ensure the infinity edge of the pool continues to function properly. From the world's largest atrium casino, Shoppes at Marina Bay Sands mall to two large theatres and an ArtScience Museum, this place has something in store for every guest.

No. of floors: 55

Location: 10 Bayfront Avenue, Downtown Core, Singapore 018956

Nearest MRT: Bayfront MRT Station

3. 8 Shenton Way - AXA Tower

World's tallest cylindrical building in the commercial district, this skyscraper, with a height of about 235m and 16 Double Decker elevators, is known to offer a 360-degree bird's eye view. The structure of this commercial complex consists of steel beams cantilevered from a cylindrical concrete core, and it took nearly four years for its construction. It was sold to MPGA by Capital Land in 2007 for about S$1.04 billion.

No. of floors: 52

Location: 8 Shenton Way, Downtown core, Singapore 068811

Nearest MRT: Tanjong Pagar MRT Station

4. Capital Tower

Capital Tower, the fourth tallest skyscraper in Singapore, has a floor count of 52 with the top floor occupied by the China club featuring a bar, restaurant along with private dining rooms and meeting rooms. This 254m high skyscraper is served by five shuttle double-deck elevators and stands out visually during night time when some parts of the building undergo a transition in lighting once in every few seconds. It was named after the company 'Capital Land' once it got approved as the company's flagship building.

No. of floors: 52

Location: 168 Robinson Road, Downtown Core, Singapore 068912

Nearest MRT: Tanjong Pagar

5. Ocean Financial Centre

An epicentre of numerous financial corporations in the city, Ocean Financial Center promotes the use of sustainable energy (Solar Energy) featuring a vast 'solar array' which is the need of the hour. Standing 245m tall, this skyscraper is the eighth-tallest building in the city-state and took about three years for its construction. The building was constructed replacing Ocean Building which got demolished lately in 2007.

No. of floors: 43

Location: 10 Collyer Quay, Raffles Place, Downtown core, Singapore 049315

Nearest MRT: Raffles Place MRT Station

6. Pearl Bank

Known as the Death Star amongst architecture students, Pearl Bank is recognised as one of the greatest works by the pioneering architects during the mid-twentieth century with a sense of purpose. The exterior hides all its complexities and one cannot figure out the interlocking of split-level units across each floor by simply looking at it. With a height of about 113 meters, this was known to be the tallest and densest residential building in Singapore when established back in 1976. The key concept was to design the complex such that the facade area exposed to the direct sunlight was reduced significantly.

No. of floors: 38

Location: 1 Pearl Bank, Chinatown, Outram, Singapore 169016

Nearest MRT: Outram Park MRT Station


7. The Interlace
Despite its small height, i.e. around 90m, this is one of the coolest complex buildings in Singapore with over 1000 apartments on a floor count of 25 with about 43 elevators, designed by OMA and Ole Scheeren. Attractive for its contemporary style architectural design resembling 31 bricks irregularly stacked upon each other, like Jenga blocks, the complex is fully equipped with facilities like swimming pools, gymnasium, tennis and basketball courts, karaoke rooms and playgrounds for children, providing ease to the residents. This is one of the most ambitious residential developments in the city-state with a unique housing ideology and took about six years for its completion.
No. of floors:
25
Location:
180 Depot Road, Singapore 109684
Nearest MRT:
Labrador Park MRT (Circle Line)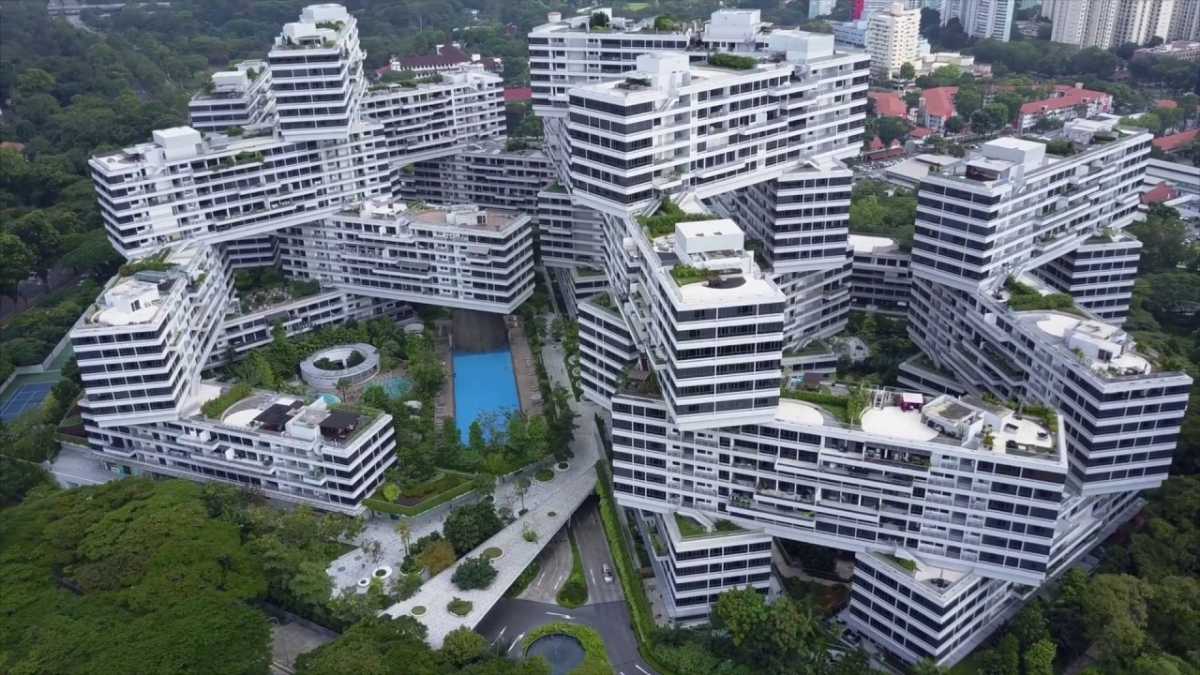 8. Tree House, Bukit Timah

World's largest vertical garden, Tree House is an eco-friendly condominium which got a place in Guinness World Records 2014 for its uniquely designed, sheer sized structure. The vertical garden incredibly reduces the estate's carbon footprint and hence global warming, as it lowers the energy needed to cool indoor spaces and is equipped with other modern facilities such as heat-reducing windows, proximity sensors (for lights) in public areas for the same. Apart from the recreational swimming pool, Tree House even has Rain spa and an Aqua-gym which certainly makes it one of the super-cool buildings in Singapore.
No. of floors:
24
Location:
60 Chestnut Avenue, Singapore 679493 ? (District 23)
Nearest MRT:
Farrer Road or Bukit Panjang MRT Stations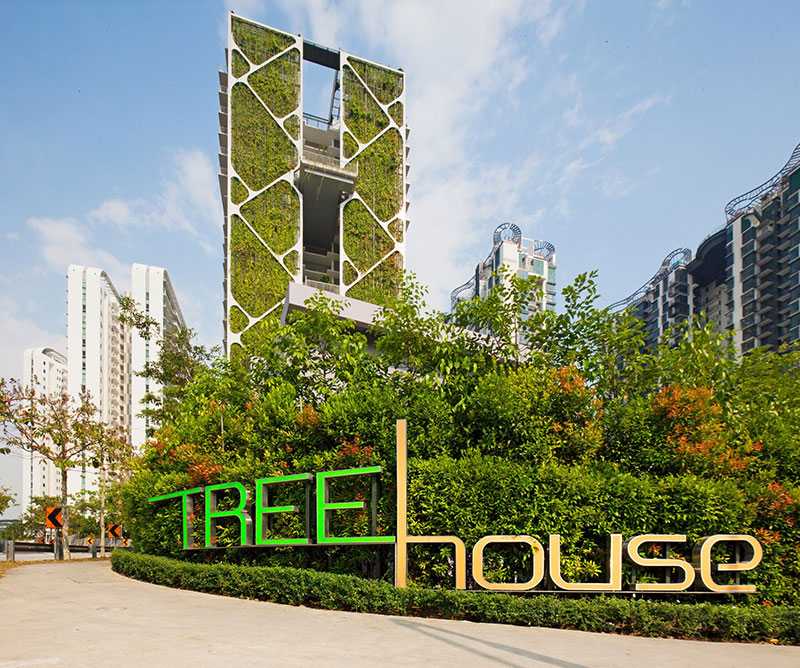 9. Golden Mile Complex
During its rapid modernisation, Singapore seemed to be an ideal place to experiment with European urban planning solutions to architects for higher density living. With an expression of 'streets in the sky', the building Golden Mile was completed in 1973 and is a unique site in Singapore today, for various reasons. Golden Mile has also become a Thai centre - from grocery stores to food stalls and discos including Karaoke - and is often referred to as Singapore's Little Thailand.
No. of floors:
16
Location:
5001 Beach Road, Singapore 199588
Nearest MRT:
Nicoll Highway MRT Station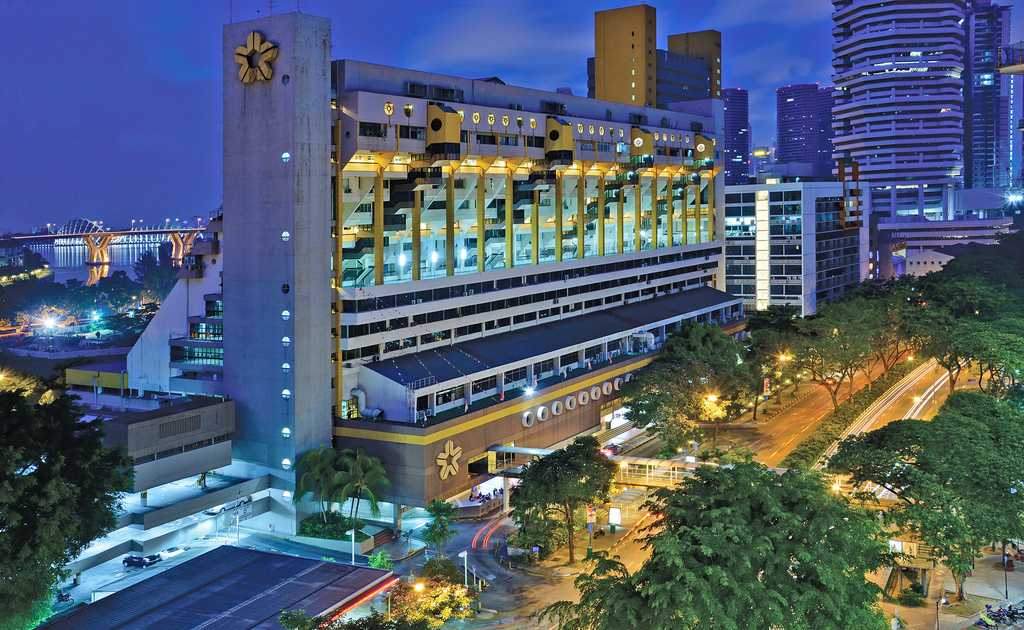 With architectural style highlighting the modern architecture, the Esplanade is a performing arts centre located near the mouth of the Singapore River. After planning, construction for the same started in 1996, and it took nearly six years before the inauguration finally took place. The building consists of 4 floors; performance venues include-a concert hall with a seating capacity of about 1600, a theatre with a seating capacity of 2000 for the performing arts, recital studio and theatre studio with the Esplanade's in-house programming team responsible for over 14 festivals and numerous ongoing series throughout the year. The building also facilitates a public library located on the 3rd floor, devoted to the performing arts.

No. of floors: 4

Location: 1 Esplanade Drive, Singapore 038981

Nearest MRT: Esplanade MRT Station/ City Hall MRT Station


Come and witness the charm of some of the tallest buildings in the world as well as some stunning architectural designs littered around the city-state which certainly complement this tiny island.