Situated in the Indian Ocean,
Mauritius
is home to a variety of marine species and coral reefs and underwater caves. Scuba diving in Mauritius provides a gorgeous view of shallow ocean waters. You can look not only at the coral reefs and an enormous number of fishes but also at shipwrecks which led to the creation of artificial reefs. The world's coral reefs have been affected by bleaching and increasing temperatures, but the reefs of Mauritius stand out as an exception. Completely encircled by barrier coral reef, the island's waters are home to a variety of beautiful and rare creatures, providing a magnificent show for the divers. Mauritius is ranked as one of the best destinations to make scuba diving an enjoyable experience. There are over 100 dive spots to explore in Mauritius.
Best Time to Dive in Mauritius
Mauritius has excellent diving throughout the year. But slight sea temperature variations affect the visibility inside the water. Diving from October to December and March to April is believed to be the ideal time for an overall underwater experience. During the summer, due to warm water temperatures, fish come closer to these reefs, and one can easily catch the sight of various marine species like sweetlips, angelfish, trumpets, crayfish and other exotic marine creatures.
Cost for Scuba Diving in Mauritius
1 Dive = USD 60 = MUR 2,200
Best Sites For Scuba Diving in Mauritius
1. Coral Garden - Belle Mare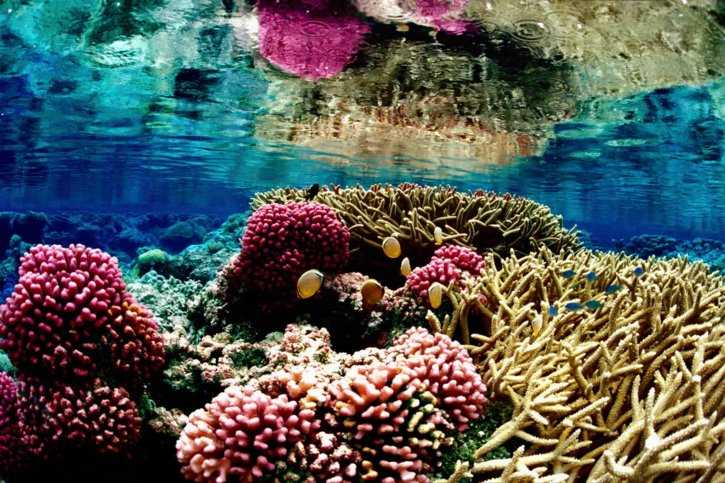 Coral Garden offers a great view of both soft and hard corals, as suggested by the name. This site for scuba diving in Mauritius also offers stingrays (cartilaginous fish related to sharks) and green turtles which often nest behind the hard and soft corals. Night diving on this site gives you a view of exotic marine life like lionfish, wrasses, moray eels and lobsters. Other aquatic species that can be seen here include crayfish, sergeant majors, clown fish, groupers, parrot fish, sea anemones and trumpets.
Depth: 20 m / 67 ft

Approximate Cost: Starting from INR 4,248
2. Hoi Siong No 6 - Le Morne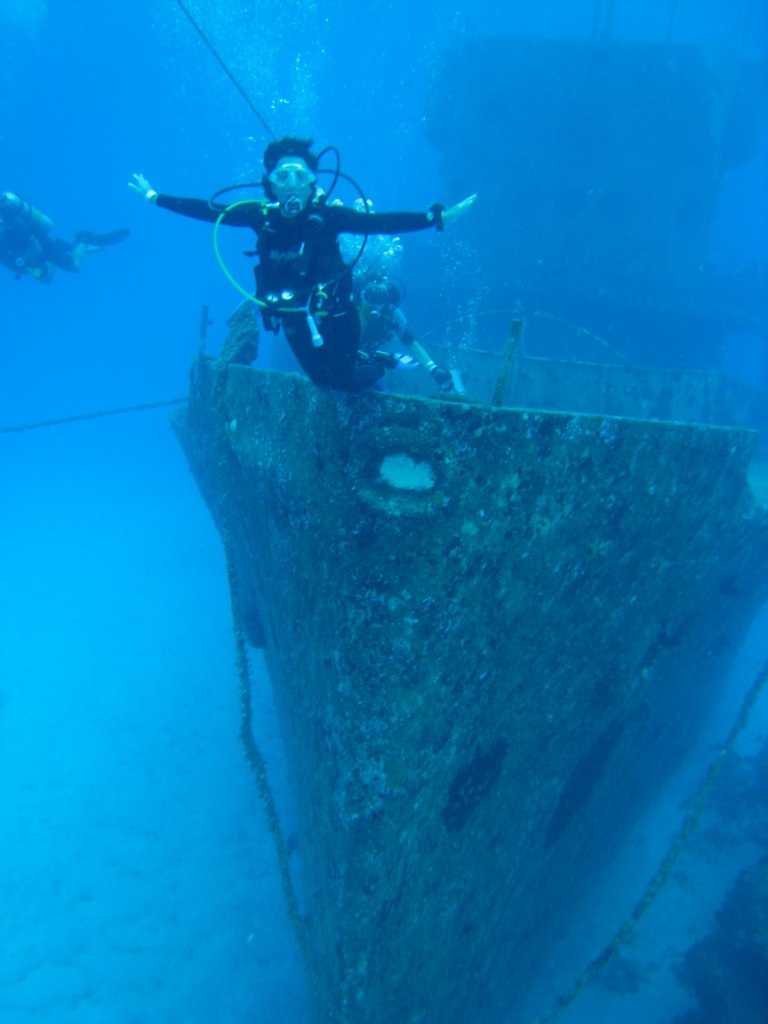 If you want to look at a fascinating wreck, Hoi Siong No 6 is the ideal site. Hoi Siong No 6 wreck can be found at a depth of around 29 metres. It has also created an artificial reef over the years. This site is ideal for divers of all levels, from beginners to experts. The artificial reef attracts a variety of marine species such as Barracuda, Tuna, Lionfish and Butterflyfish among others. The dramatic sunken wreck is every underwater photographer's dream.
Depth: 16-29 metres
Approximate Cost: INR 3,150
3. St. Jacques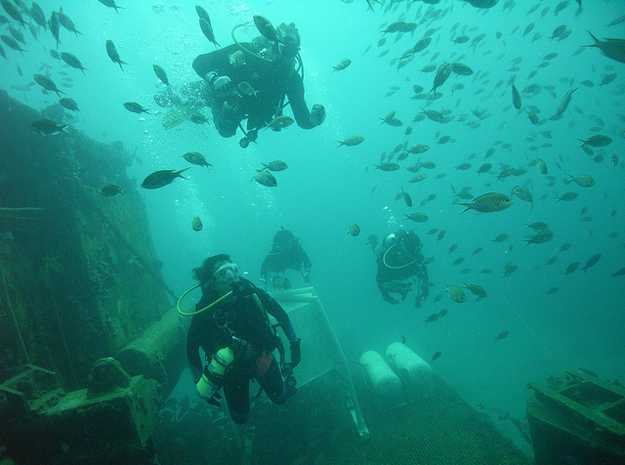 St. Jacques is one of the most popular sites for scuba diving in Mauritius. The diving trip starts in the lagoon, which is less than 5 metres deep. The water currents then take the divers away to the coral walls and underwater caves. Rock pinnacles will also be visible in these waters. The maximum depth is about 30 metres where the drift drive ends. In these waters, one can come across eagle rays, stingrays, turtles, reef sharks and few other large species. This dive is not suitable for beginners due to strong currents. The best time for diving here is the period between November and May. Blue gorgonian fans, hard and soft corals, sharks, schools of trevallies, and Tuna can also be seen.
Depth: 5 metres/ 16ft- 30 metres/98 ft
Approximate Cost: INR 5,900

An ideal site for photography enthusiasts, the Cathedral has excellent topography. With grand caverns, caves and arches, these waters give an incredible sight. To experience the sandy ocean floor, one has to dive to a depth of 30 metres, which is also the deepest point of the Cathedral. Many different marine species like angel fish, wrasse, clownfish and groupers can be found in these waters. One has to keep an eye on moray eels and few crustaceans, which often hide in the coral crevices.
Depth: 15-30 metres
Approximate Cost: INR 12,000 (with a certified escort and including other travel costs)
5. Grand Bay Aquarium - Grand Bay

With an abundance of fish and coral life, Grand Bay Aquarium contains a large reef that is divided by a sand gully. This created a gap between the reef with walls as high as 3 metres on the sides. Due to the crystal clear water, you can have a good sight of a variety of marine life. The sandy white ocean floor is a delight to your eyes as it radiated light into the water. The site offers a good view of underwater photography and video. It looks like an oasis which illuminated a medley of Fauna. One special feature of this site for scuba diving in Mauritius is a giant moray eel, named Henry that is an adorable addition to the experience!
Depth: 14 metres
Approximate Cost: INR 4,000 (for less than four dives)
6. Whale Rock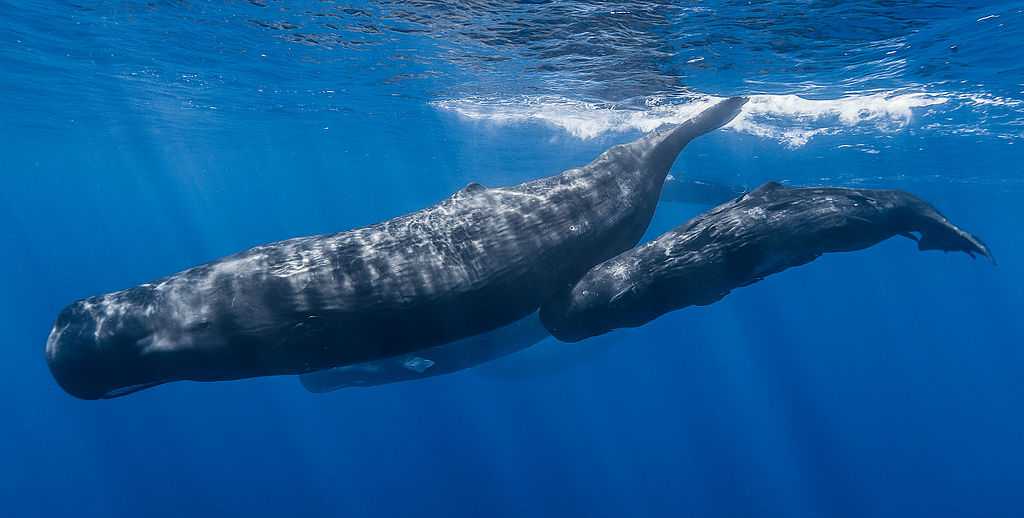 Whale Rock dive site takes divers to varying depths, and therefore it is ideal for intermediate to expert divers. Within a 20 metre zone, this dive site offers a variety of Fauna and Flora. Large marine creatures like swordfish and hammerheads are occasionally seen during the summer. Triggerfish, butterfly fish, parrot fish and labrets among others can be found in the Whale Rock dive site.
Depth: 25 metres
Approximate Cost: INR 4,248
7. Stella Maru - Trou aux Biches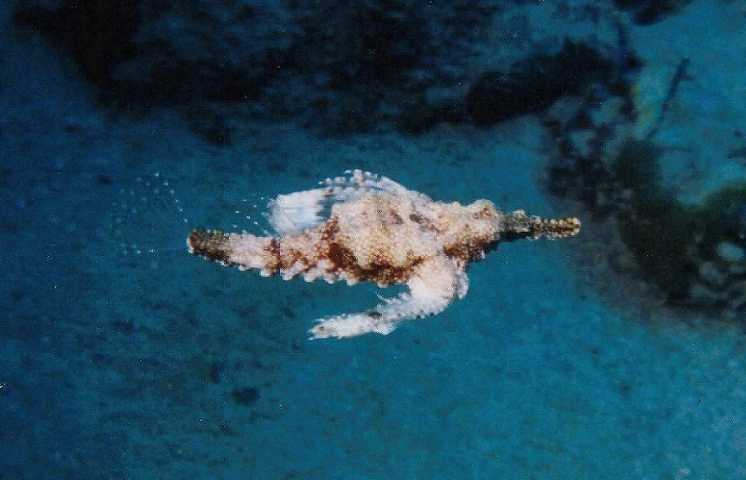 Stella Maru is an old Japanese trawler that sunk into the waters in 1987. This wreck attracted marine wildlife after leading to it being declared as an artificial reef. The series of reefs are colonised by a variety of aquatic species like butterfly fish, damsels, bannerfish, lionfish, surgeonfish and many more. The dive site is also home to two giant moray eels, one of which lives in the chimneys of the wreck. Octopuses, barracuda, leaf scorpionfish, shellfish and domino damsels are also found in this site. The speciality of this site, the wreck, has so much for in store for the visitors. The site will be every underwater photographer's dream.
Depth: 18 to 24 metres
Approximate Cost: starting from INR 8, 400
8. Coin de Mire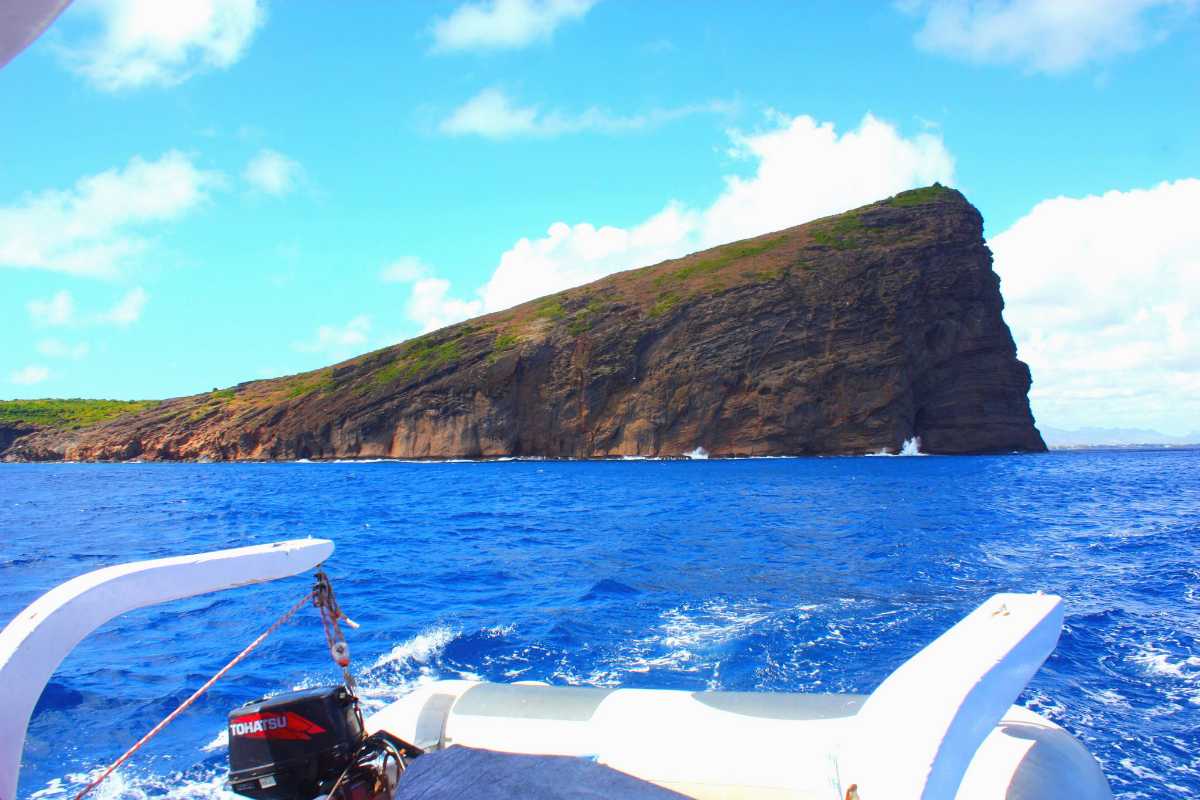 Situated near the wreck site of Djabeda, Coin de Mire provides a gorgeous view for people who want to go scuba diving in Mauritius. The ocean floor covered with pinkish coral reefs, seabeds and rocks are truly a breathtaking sight for the divers. Though the site is one of the most popular sites for underwater photography, it is better to stay on the shallower part of the reef to avoid drifting away due to strong currents. Many species like eagle rays, dog-tooth tunas and turtles can be observed on the reef.
Depth: 25 metres/80 ft.
Approximate Cost: INR 3,500
9. Pigeon's Rock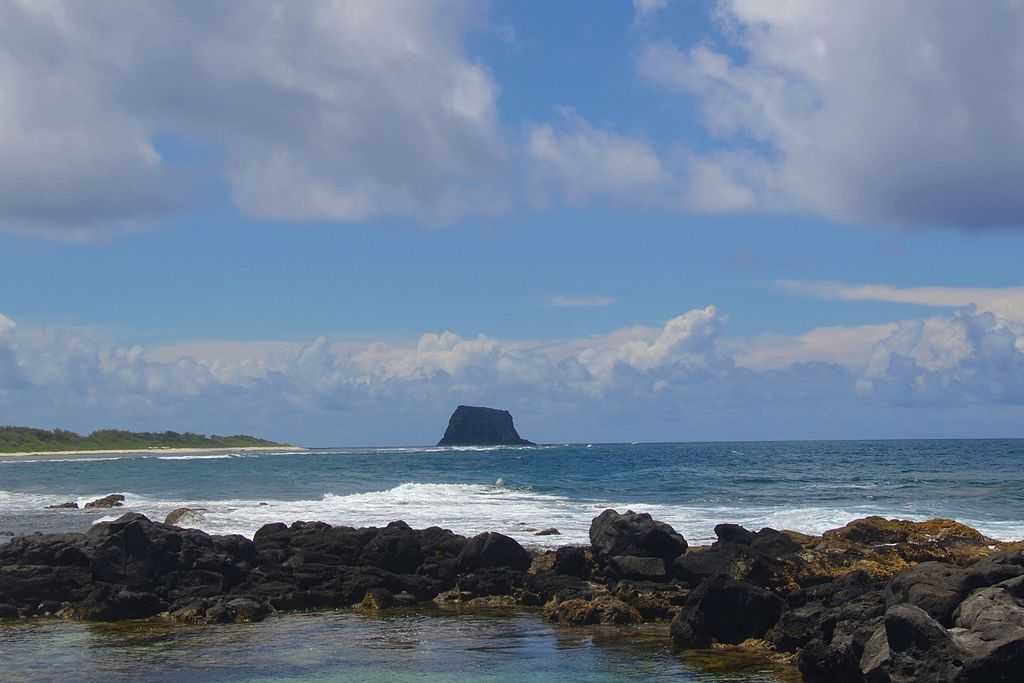 Located off the coast of Rocher aux Pigeons, Pigeon's Rock is undoubtedly one of the most famous sites for scuba diving in Mauritius. In the shark pit, one can see sharks coming in groups of about 4 to 40! These sharks come here to enjoy the oxygenated water. However, the number of sharks in these waters have gone down. The dive site attracts a large number of tourists due to underwater exploration at the end of the Shark Pit.
Depth: 25 metres
Approximate Cost: INR 4,200
10. Caravelle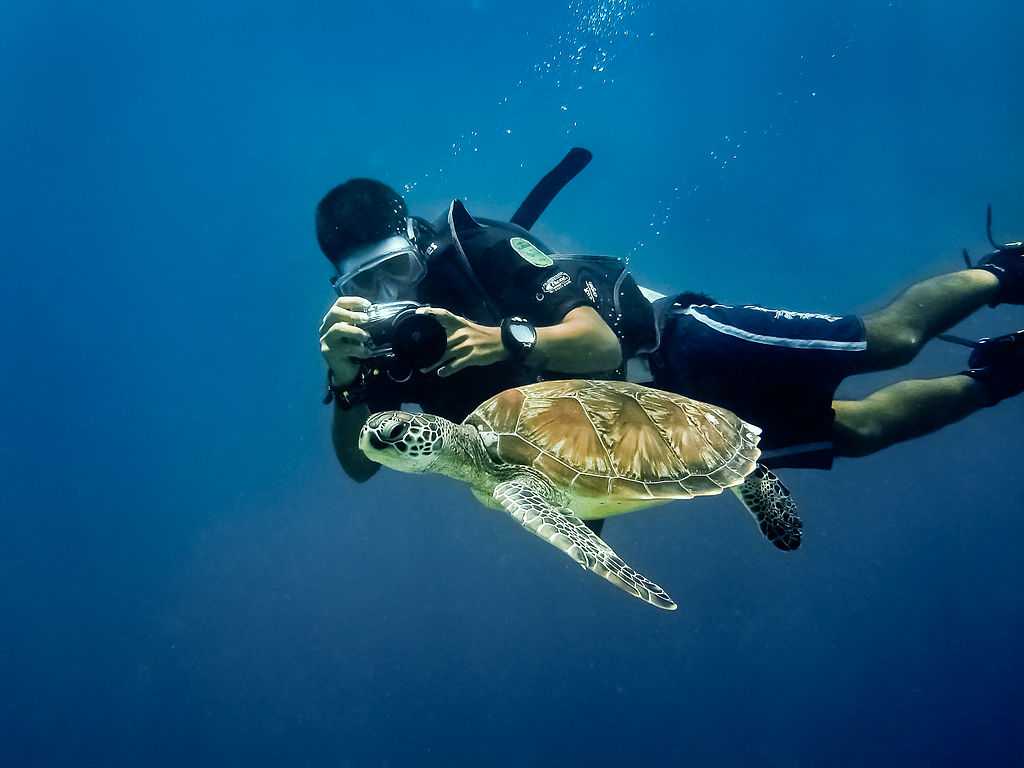 Having a northern plateau descending in stages from 13 metres to 20 metres, Caravelle is a fantastic dive site with a large population of Batfish. With a depth of 30 metres, this dive site is subject to strong ocean currents at times. These water currents often carry dense shoals of barracuda and trevallies. Many types of angelfish can be found in these waters. Under the days' rays, young sharks and turtles can also be seen. Divers of all levels can enjoy the Caravelle site, provided that they are comfortable with strong water currents.
Depth: 30 metres
Approximate Cost: INR 19,000
11. Turtle House Reef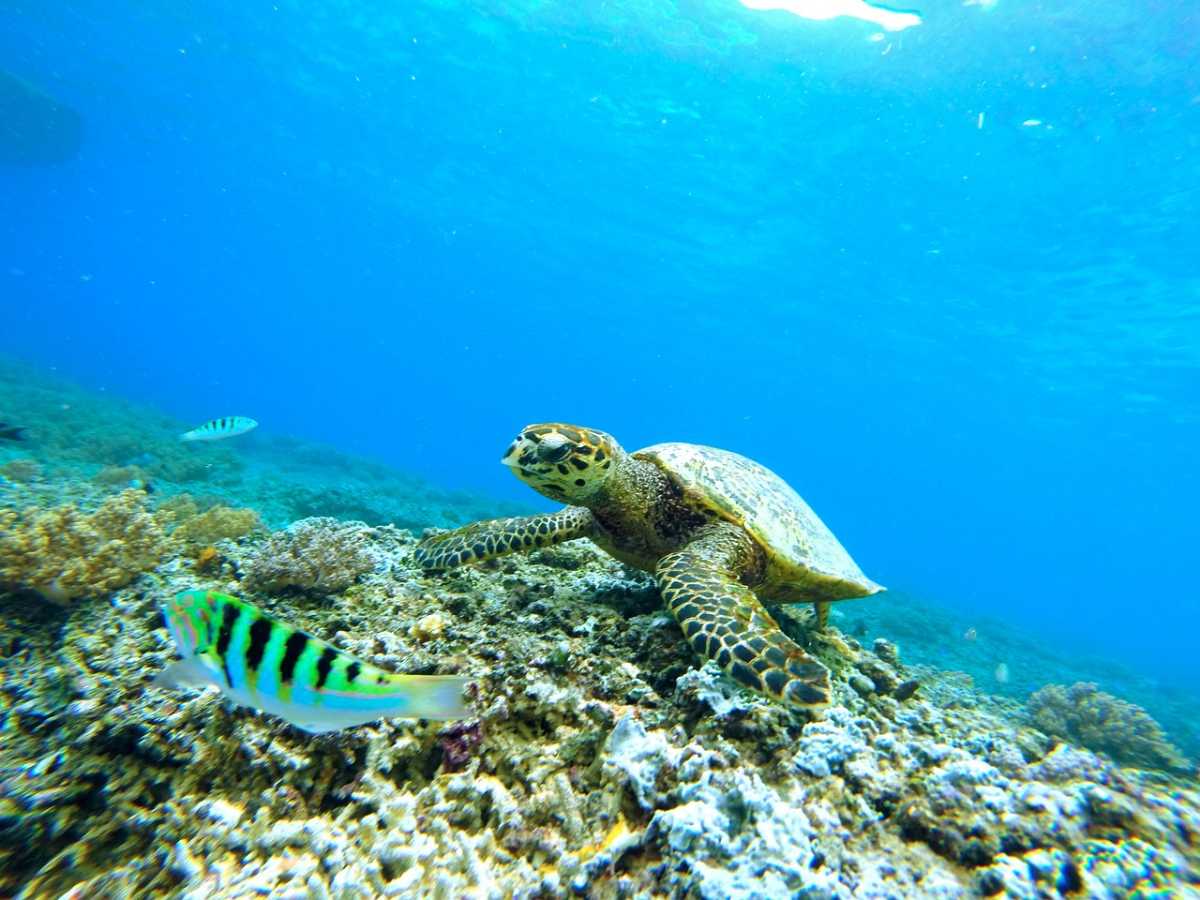 With depths between 10 and 26 metres, Turtle House Reef dive site is scattered with a series of coral reefs. Turtles of various types can be found in these waters. Green turtles and hawksbill turtles, two of the rare turtle species can be found here in abundance. These turtles of awesome sites often settle under large rocks in these waters.
Depth: 22 metres
Approximate Cost: INR 6,000
12. Water Lily and Emily Wrecks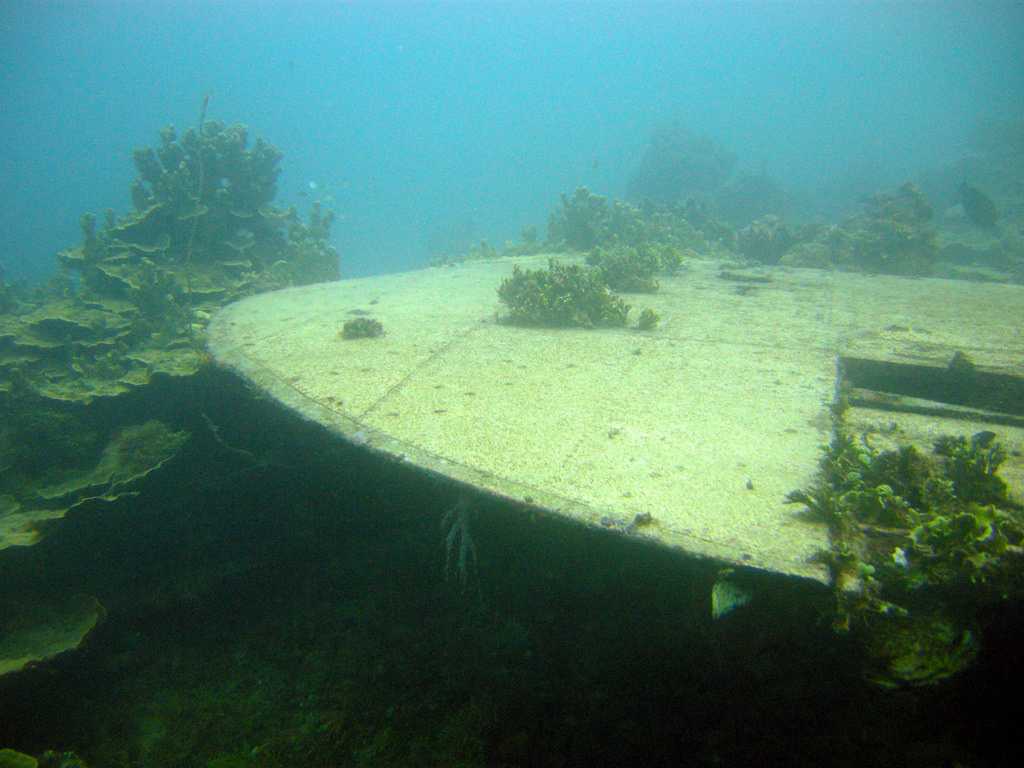 As suggested by the names, these sites for scuba diving in Mauritius are famous for the old shipwrecks. Two barges sunk in the waters of Water Lily and Emily in 1981 and 1982 respectively. The white sandy ocean floor is luminous, which makes the site attractive for the divers regardless of the surface water conditions. These two wrecks have been colonised by a large population of wildlife. Bengal snappers, surgeonfish, butterfly fish and yellow mouth morays can be found around the artificial reefs. Fish in these sites are said to be relaxed, which makes it attractive for the divers to observe them curiously. Photographers will equally like Water Lily and Emily wrecks due to their vintage looks.
Depth: 20 to 25 metres
Approximate Cost: INR 16,000
13. Moray Reef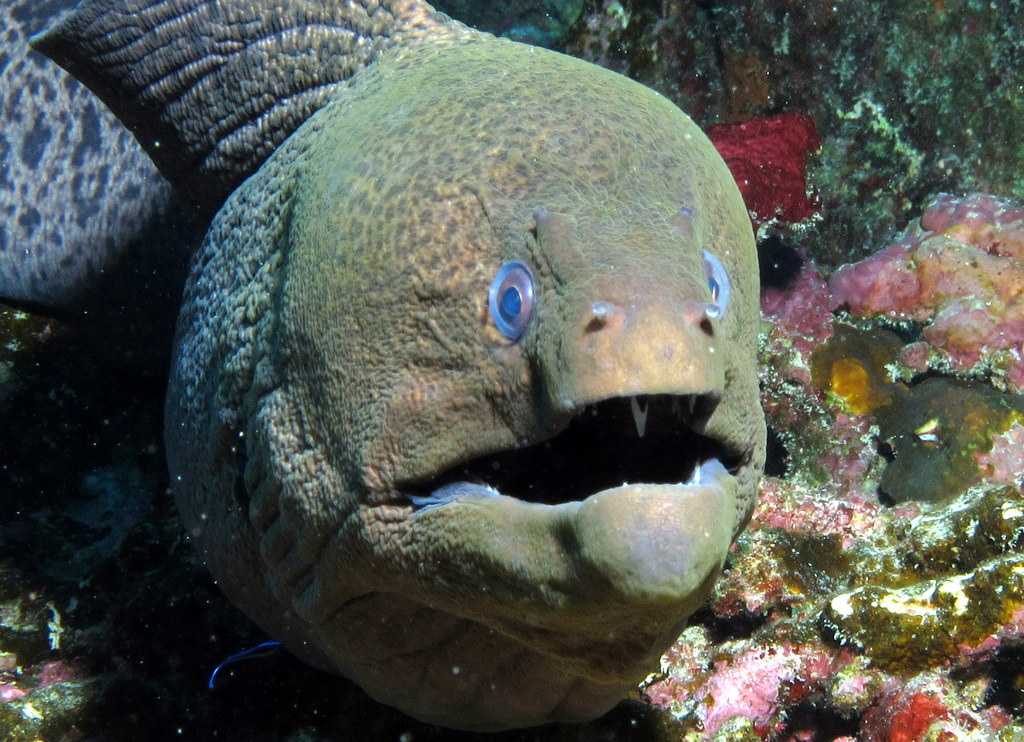 With an excellent turquoise hue, the waters of Moray Reef makes it an ideal site for scuba diving in Mauritius. There are some scattered coral reefs on the white sandy ocean floor. Rare megamouth morays can be found in large numbers in this site. Other exotic species include young octopuses, scorpion fish, stone fish, lion fish and juvenile fish can also be found in Moray Reef dive site. This site is much appreciated by photographers due to its calm waters and is ideal for beginners. Experts can also dive and relax in these waters.
Depth: 11 to 13 metres
Approximate Cost: INR 4,248
14. Holt's Rock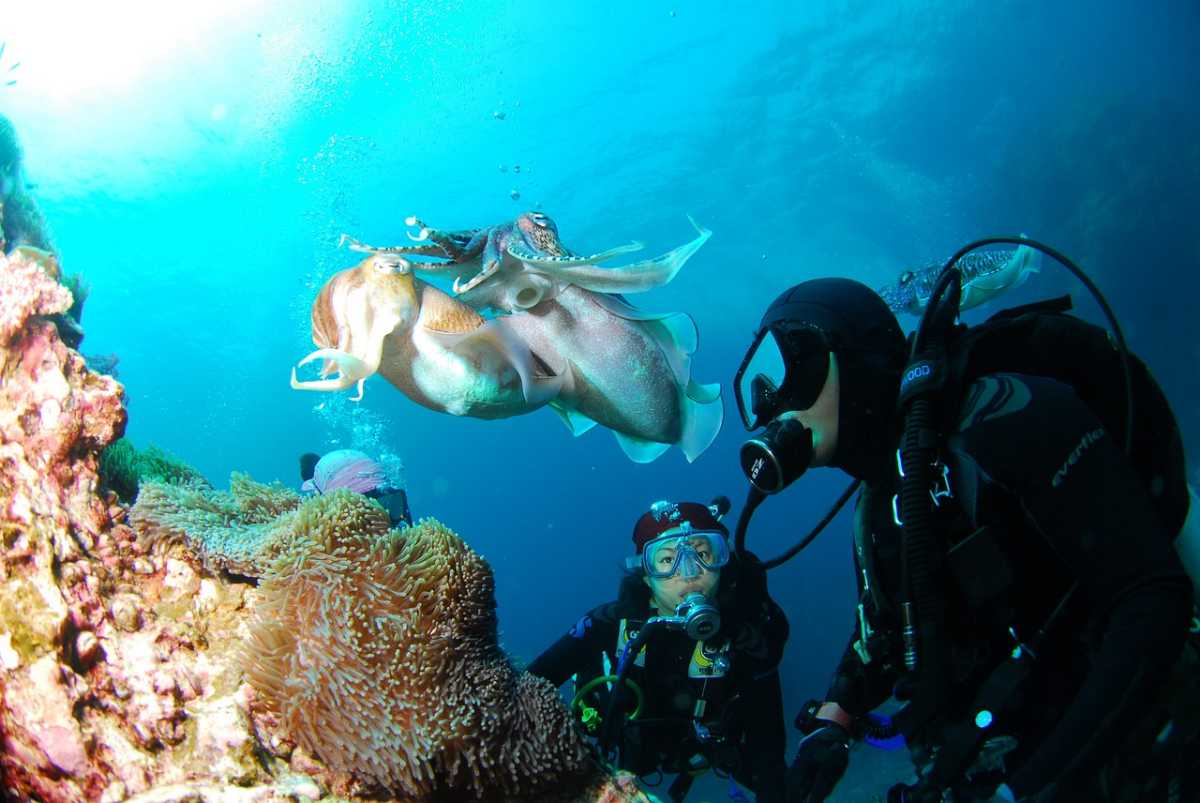 Holt's Rock contains an enormous number of granite rocks that are surrounded by coral reefs. The coral reefs are home to a variety of biodiversities like titan triggerfish, wrasses, angel fish, parrot fish, butterfly fish, and yellowmouth edge lyretails and anemones. Divers can come across schools of snappers, scorpion fish, and also encounter giant morays. These giant morays are at least two metres long. You can catch a glimpse of the stunning parrot fish here.
Depth: 16 to 18 metres
Approximate Cost: INR 5,000
15. Water Lily Reef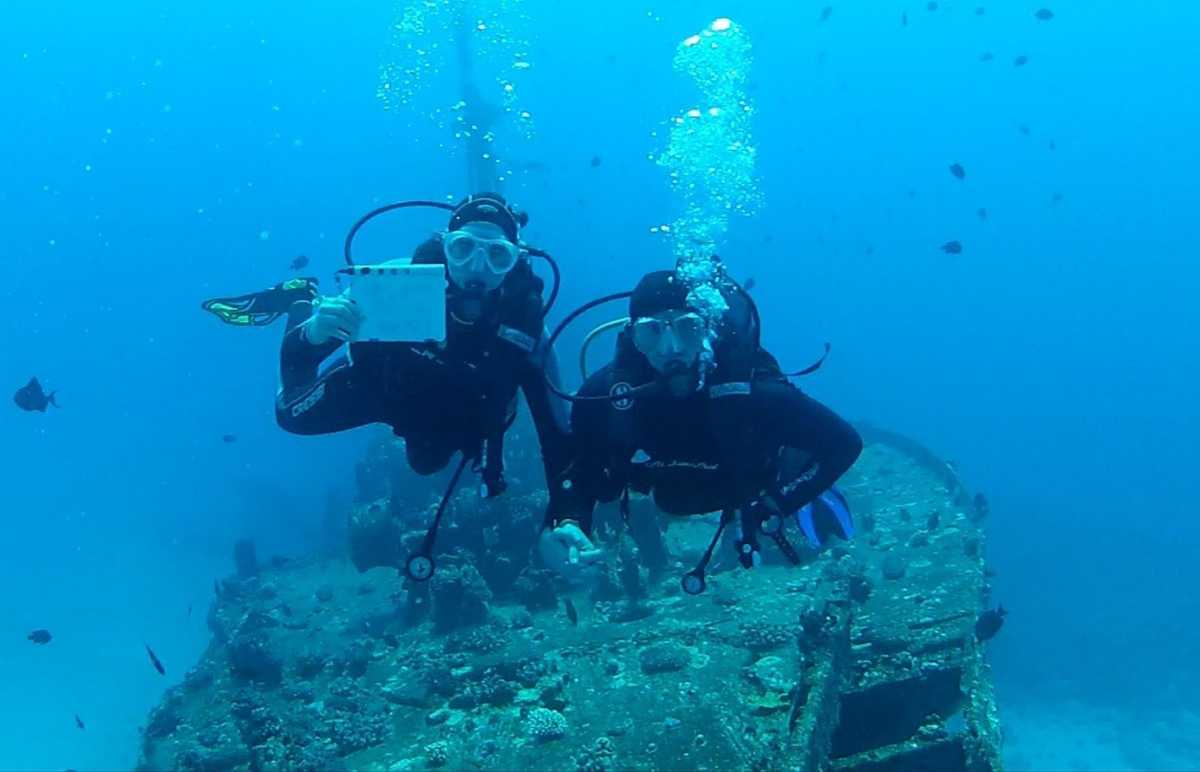 With abundant coral reefs, Water Lily Reef dive site is rich macro marine species. Exotic life like reel fish, nudibranchs, yellow edge lyretails, angelfish, butterfly fish, surgeonfish, wrasses and many more are a delight to your eyes. The site offers a favourite dive for the photographers. It is very ideal for beginners.
Depth: 11 to 20 metres
Approximate Cost: INR 6,000
Other Sites for Scuba Diving in Mauritius
16. Lobster Cave

17. Rempart Canon

18. Sirius wreck

19. La Passe De Belle Mare

20. Pointe Vascus

21. Ti Corail

22. Merville Patches

23. Livingstone Wreck

Top Scuba Diving Operators in Mauritius
1. G C Plongee, Le Morne

2. Abyss Plongee, Le Morne

3. Euro Divers club, Flic en Flac

4. Diving World, Pointe aux Piments

5. Atlantis Diving Centre, Trou aux Biches

6. Orca Dive Club, Pereybere

7. Blues Diving Centre, Belle Mare

8. Xtreme Divers Co Limited, Balaclava

One can experience many types of diving in Mauritius- Wreck dive, Photography dive, Reef dive, Boat dive, Beach dive and Drift dive among others. Apart from enjoying the beautiful underwater world, you can also become a certified diver. Some diving centres in Mauritius offer diving courses whereby you can become either a drift diver or an enriched air diver and many more. Why wait for long? Pack your backpacks now to experience the best of diving!