Mauritius is the perfect destination for a romantic honeymoon with breathtaking beauty, idyllic beaches, adventure activities and luxury hotels. There are many leisure and adventure activities for couples in Mauritius like catamaran cruise, sunset dinner on a beach, dolphin watching, relaxing spa, private island trips and more. For the more adventure-loving couples, there are many adventure sports in Mauritius. These include zip lining, skydiving, quad biking, hiking, trekking, snorkelling, kayaking, and glass-bottom boat ride.
Here is a list of the top things to do on Mauritius honeymoon:
1. Swimming With the Dolphins at Tamarin Bay

Exploring the serene waters of Tamarin Bay is one of the best honeymoon experiences in Mauritius. Swimming alongside dolphins and whales for almost 2 hours is a startling encounter. This has become possible because of the large school of dolphins that have made the west coast their natural habitat. You can also witness the migrating whale's acrobatic skills at the Bay. Make sure to click tons of pictures for the gram (but without causing harm to the dolphins).
Location: Tamarin Bay is a village on the western coast of Mauritius that falls under the Riviere Noire District.
Cost: The cost of the whole expedition is only MUR 1680.
2. Scuba Diving at Grand Baie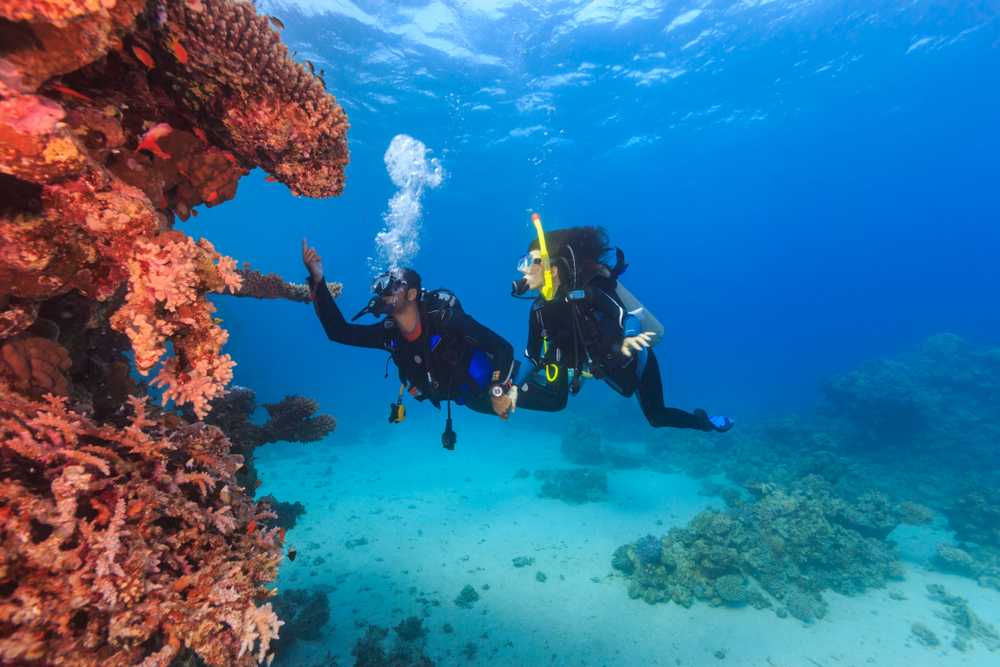 Which is the Indian Ocean's best diving zone? You guessed it right, it's Mauritius. The vast coastal area of the region offers tourists several diving options and ample interesting activities for diving fanatics to explore beyond swimming with whales and dolphins. Even though regions in the north and west of Mauritius are ideal for beginners, the reefs encircling the entire island make it ideal for newbies. Grand Baie, also known as Grand Bay, is the perfect destination for open water divers.
Location: Grand Bay is in the north of the island in the district of Riviere du Rempart. On the west coast, Tamarin is the most popular location to swim with the dolphins.
Cost: Prices start as low as MUR 1400.
3. Catamaran Cruising at Sunset

This out-of-the-world cruising experience is sure to leave you in absolute awe. Relish a sunset on this romantic cruise with your partner and slither along the sun's descent into the ocean's horizon. The sunset trips that Catamaran takes starting from Grand Bay allow tourists to savour the pure bliss of the tranquil ocean, with a school of dolphins jumping around occasionally.
Best Time: The Catamaran Cruise is only conducted in summers from September through April on Wednesdays.
Price: The cost of the cruise is MUR 1,000 per head.
4. Underwater Scooter Ride at Trou aux Biches

In Trou aux Biches, a town in northwest Mauritius, an underwater scooter ride is an exciting activity popular amongst tourists. You can experience underwater aquatic life on this scooter like never before. Some tourist packages include some other thrilling activities like underwater weddings, underwater lunches, etc.
Location: Trou aux Biches is a town in the north in the district of Pamplemousses.
Cost: The cost for 2 adults MUR 6,600
5. Underwater Waterfall from Helicopter Ride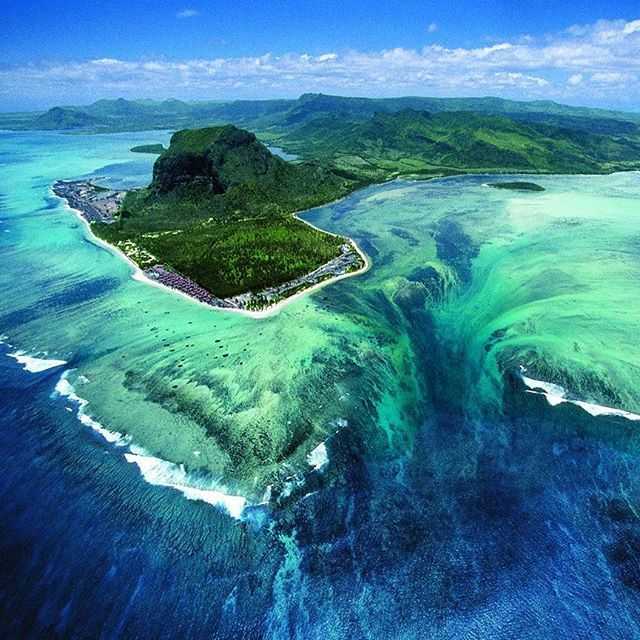 Regarded as the most captivating activity in Mauritius, this helicopter ride will enable you to witness an underwater waterfall. The scene is an illusion, created by sand and silt on the ocean floor, that runs off in a way as if the water is pouring down. It also looks as if the entire island is being sucked down a massive drain. Though the waters look beautiful from the shore, seeing this view requires a helicopter ride. It is definitely one of the most romantic experiences in Mauritius.
Location: This waterfall is close to the Le Morne Brabant, that is 57 Km away from the International airport.
Cost: The higher cost of a helicopter starts from MUR 31,601.
6. Skydiving

What can be more exhilarating than an adventure sport that brings your partner closer to you? Skydiving in Mauritius is considered one of the most romantic activities as it allows couples to dive into the clear skies and take a view of the breathtaking island. You can experience views of enormous lagoons, mangroves and reefs in the sugar fields of Mon Loisir.
Location: Mon Loisir is a famous town in the Port Louis District.
Cost: The cost of the hour-long sport is MUR 2,000 per person of which 25 minutes consists of a flight to 10,000 feet.
7. Stay at a Bubble Lodge

The Bubble Lodge are glass domes nestled in the middle of lush nature at the pristine locations of Bois Chéri and Ile aux Cerfs. These are eco-friendly domes, resembling a giant zorbing ball or an igloo, specially designed for couples and families for an immersive natural experience, away from the city. It is the perfect place for a romantic night with your partner. You can also go for a tour of the Bois Cheri Tea Plantation and relax at the private Beach of the Ile Aux Cerfs Golf Club. A romantic dinner on the beach is also available on request.
Location: Domaine de Bois Cheri, Bois Cheri
Ile aux Cerfs, Trou d'Eau Douce
8. Visit Le Morne Brabant

Le Morne mountain of Mauritius is the top honeymoon destination for couples trying to seek some private time away from the crowded shores. Located in the southernmost region of the main island, this rugged mountain range covers an area of over 12 hectares. The view from the mountaintop is the most romantic sight to behold.
Location: Le Morne Brabant is 58 Km away from the international airport.
Cost: The entry to the area is MUR 1000 per head.
9. Bathe In Chamarel Waterfall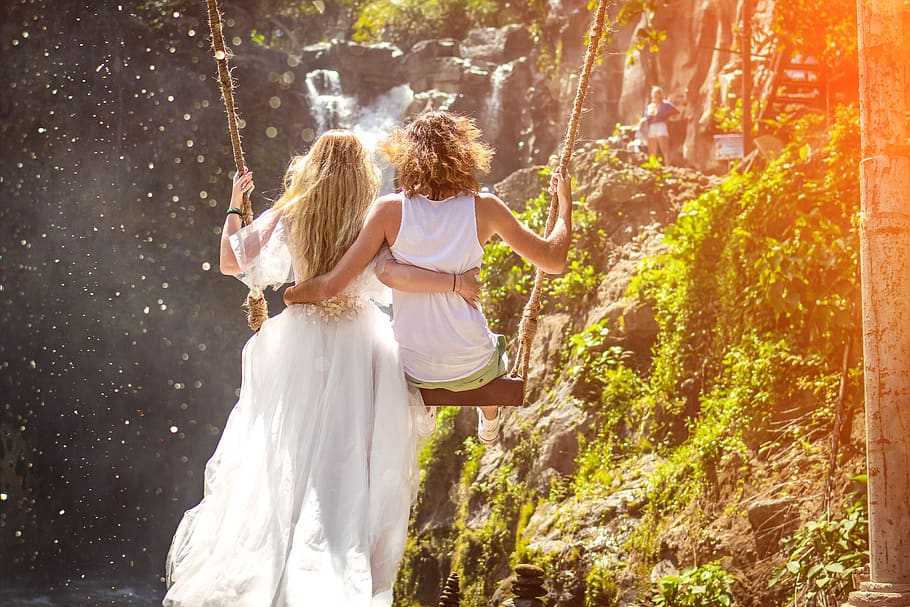 The magnificent Chamarel Waterfall, also known as the Natural Pool of Mauritius is formed by the St-Denis River. Located at 100mt, it is a sight pleasing to the eyes and will surely leave you mesmerised. It might be difficult to see the waterfall up close since it is surrounded by dense forests and canyons but you can take pictures of the majestic falls from a few meters away. Couples can encounter a romantic experience by heading down to the shallow pool at the bottom of the Chamarel waterfalls with lush greenery in the surroundings. Taking a dip here is pure bliss!
Location: Chamarel Waterfall is located 45 Km away from the International airport. It is a part of the Seven Coloured Earths attraction in the Riviere Noire District.
10. Spend a Day at the Coloured Earth Of Chamarel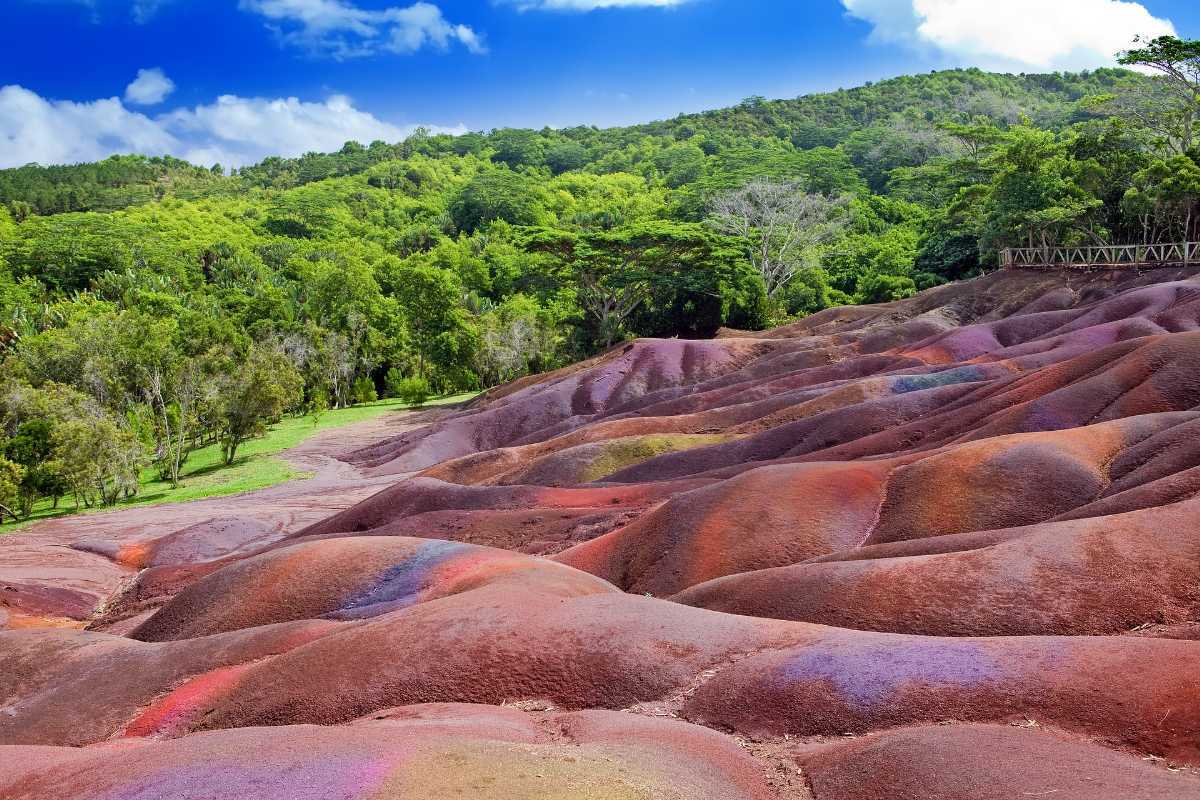 Mauritius had a few active volcanoes until recent years. The Seven Coloured Earth is one such unique natural phenomenon resulting in rainbow-coloured sand dunes all over the Chamarel Plain of Riviere Noire District. The seven discrete colours in this formation are red, yellow, brown, green, blue, purple and violet. Spread across 7500 square meters, this place is one of the most iconic attractions of Mauritius.
11. Visit Grand Bassin Lake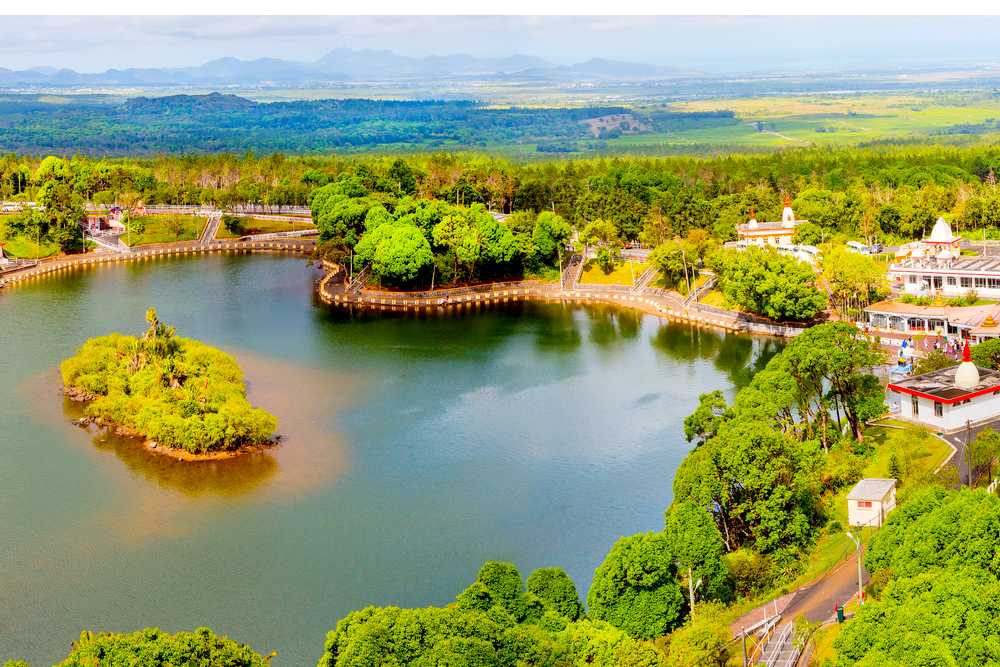 Within the majestic mountains of the south is situated the Grand Bassin Lake. It is also known as Ganga Talao since it is said to be connected with the Ganga River of India. This lake is one of the most famous attractions on the island. Adjacent to Grand Bassin is the gargantuan statues of Lord Shiva, Lord Hanuman and Goddess Durga. Tranquillity surrounds the area. Religious or not, this should be on your list of places to visit.
Location: Grand Bassin Lake is situated in the Savanne district, nearly 27 Km away from the Airport.
Cost: There are no entry fees to visit this lake.
12. Walk Around Port Louis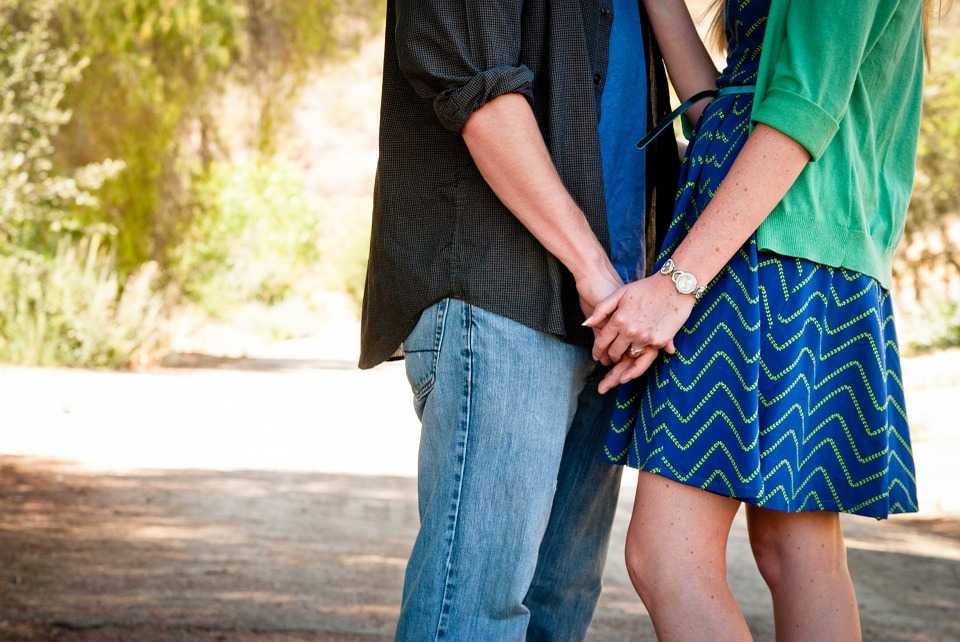 Port Louis, the capital city of Mauritius, is a culturally amusing and historically rich place. Best known for its French architecture and great museums like the Blue Penny Museum and Mauritius Postal Museum, the capital has exceptional things to see. Visit the Apravasi Ghat, the most popular beach in the city and Champ de Mars, a remarkable horse racing track. Moreover, the Caudan waterfront is a lovely place to dine and shop. Vendors in this area sell stunning local handicrafts at the Central Market. You can never be bored when you're in Port Louis!
13. Horse Riding at Domaine de L'Etoile

The extensive landscapes, breathtaking mountain range and beautiful islets have made horse riding expeditions a popular thing amongst tourists in Mauritius. You can undertake the best riding excursions at Domaine de L'Etoile with the South African horses. At L'Etoile, all rides are supervised by professional riders. You can spend a fabulous day in the countryside engaging yourself in tons of recreational activities and enjoy an intimate candlelight dinner with your spouse.
Location: Domaine de L'Etoile is situated in the eastern part of the island between the Montagne Blanche village and Kewal Nagar Belle Rive.
Cost: A ride for 2 – 3 hours costs around MUR 2400 – MUR 2600.
14. Kayaking at Ile D'ambre Island

Kayaking is a great sport for a honeymoon couple looking for some adventure and especially if the surrounding area is as striking and enthralling as Ile D'ambre Island. It is the region's most famous islet with white sand beaches, sparkling blue water and exotic water life. Scared of water? Worry not, as all activities here are done under expert supervision. Get, set, adventure!
Location: Ile d'Ambre Island
Cost: Kayaking in the region costs MUR 3160 per head
15. Spend a Romantic Evening at Cap Malheureux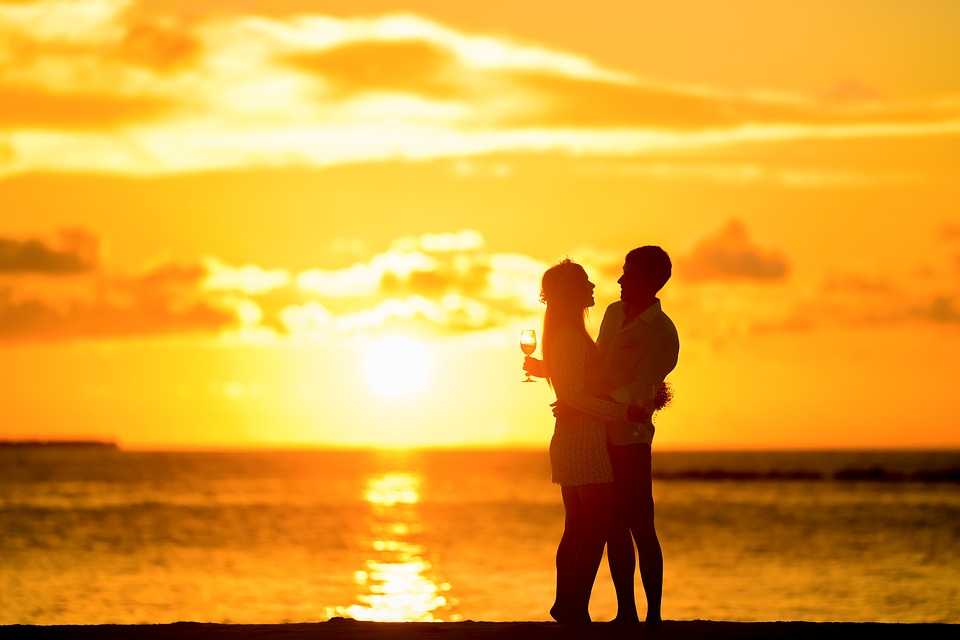 Cap Malheureux, located to the north of Grand Baie, close to a small fishing hamlet is the most desirable place to spend a romantic evening. Surrounded by other beguiling islands like Ile Plate, Ile Ronde and Coin de Mire makes this beach the perfect honeymoon location. Stroll through the beautiful village with your partner and enjoy the picturesque view of the sunset while relaxing on a picnic mat. You can also explore the Notre Dame church which stands out due to its quaint red roof.
16. Underwater Walk with Your Partner
The underwater walk is considered the most fun activity in Mauritius. It is a one-in-a-lifetime opportunity that can be experienced in the Grand Bay. The region is ideal for such an activity owing to its shallow and clear waters. You can enjoy the beautiful fauna and coral reefs on the underwater walk.
Location: Grand Bay
Cost: The cost per adult is MUR 1480. The price also includes protective gear that is required on the walk.
17. Sunset View At Riambel Beach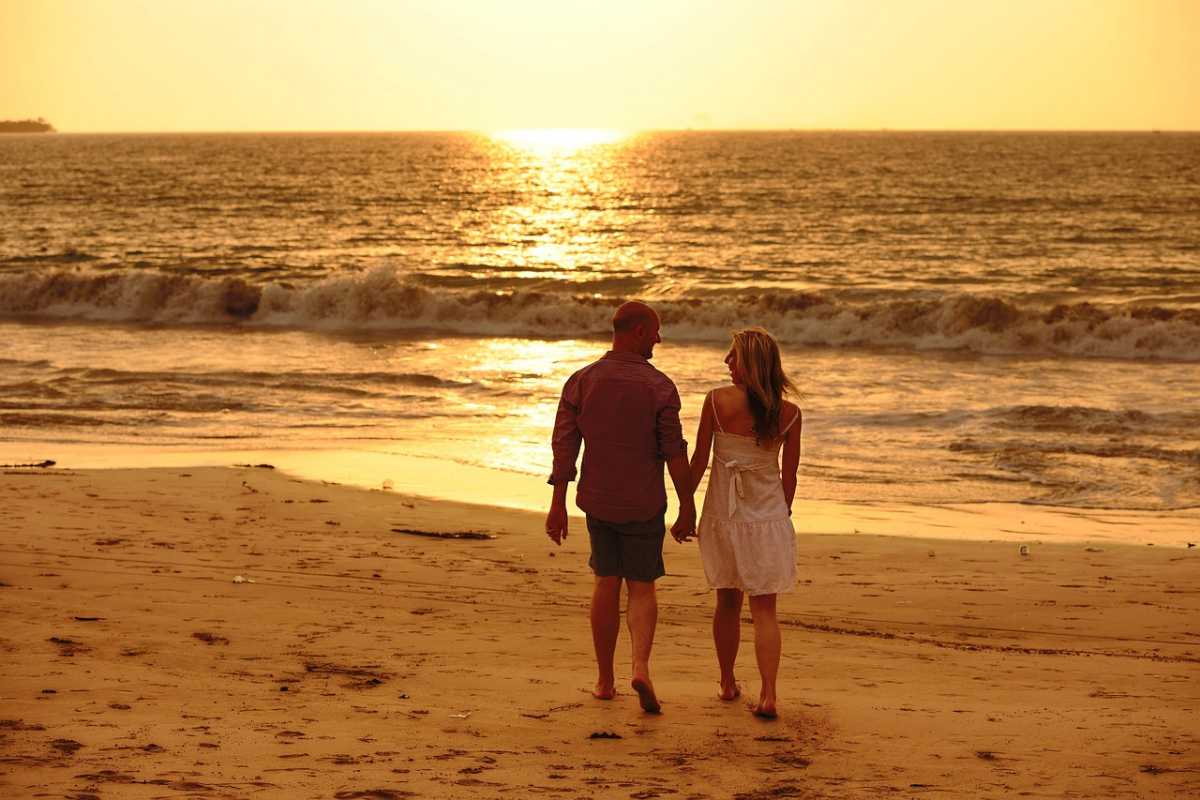 Ranked as one of the best Southern Coast Beaches, Riambel beach also known as Pointe aux Roches is a paradise to watch a stunning sunset with your partner. Peacefully ride a horse alongside your partner while exploring the scenic village or take a long romantic walk on the shore. The beach is isolated and hasn't been discovered by tourists yet so the ambience of the place is still unexploited. All you will require is your swimwear, sunscreen and a lounge chair to enjoy the open blue waters.
Location: Riambel Beach is located in the Riambel village situated in the Savanne district.
18. Sega Dancing With Your Spouse

When at an exotic location like Mauritius on a honeymoon, indulging in local dancing and music is a wonderful way to spend your time. Swirling to the rhythmic tunes and tapping your feet all around the dance floor to the romantic beats of Sega music is a unique experience in itself. Many resorts arrange musical nights wherein they call professional Sega dancers who readily assist couples not familiar with the dance form. Also remember, to ace this dance form, don't forget to wear comfortable clothes. Men can opt for shirts and loose trousers and women can never go wrong with long flowy dresses. Ladies you might want to ditch that short dress/ skirt and the stilettos.
19. Pamper Your Partner at a Mauritian Spa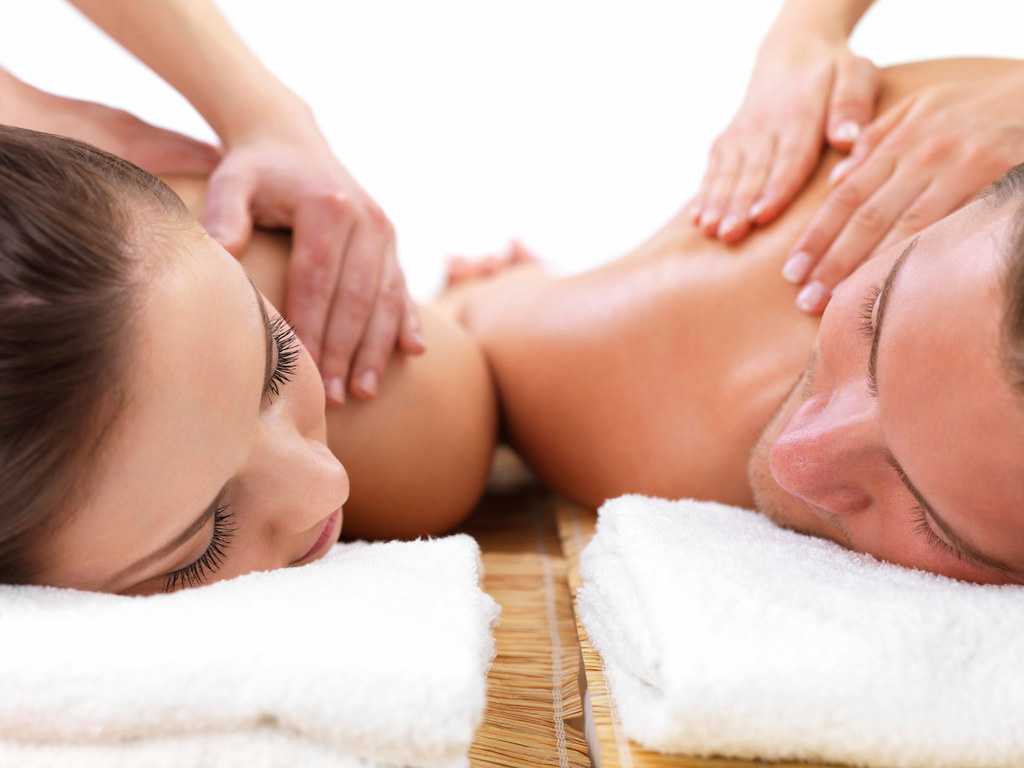 When you arrive in a nation as flamboyant and extravagant as Mauritius, rest assured, you can surely find a hotel suiting your requirements and budget. Be it a utilitarian guest house or a full-fledged all bells and whistles including a luxury hotel; you are bound to find an accommodation of your liking. Relax with your partner in the state-of-the-art spas in these hotels that promise to truly awaken your senses and engage you in an in-depth tête-à-tête with nature. Skilled masseurs and masseuses drive all your worries away as birds chirp in the background with the gentle breezes tickling your soul and the exotic fragrances refreshing you and your beloved from the inside.
Read more about the
top 50 Honeymoon Resorts in Mauritius
20. Romantic Drives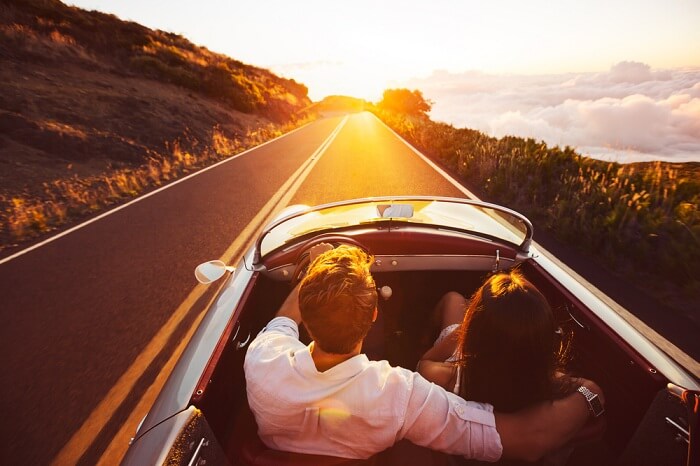 Few things in the world are perfect for that romantic honeymoon in Mauritius like driving down a road by the beach in a convertible car with the roof down, the wind in your hair and your partner beside you. Mauritius offers some of the finest roads in the world with equally stunning views along the way where you and your lover can build some eternal memories. Discover the hidden treasures of this beautiful island in your personal hired vehicle. Mauritius has a well-established car rental industry that offers a wide variety of vehicles for all purposes.
Best Drives:

From Bel Ombre to Baie du Cap and pass through Macondo and Le Morne for breathtaking views of the lagoon and fresh, luscious Mauritian fruits await you.
Drive along the Western part of the island which is covered with sugarcane fields that turn golden at sunset, perfectly complementing the teal and turquoise water of the beaches.
You can also
rent a car in Mauritius.
21. Go Island Hopping
Île aux Cerfs - (Deer Island)
Spread across the largest lagoon in Mauritius, the Île aux Cerfs one of the top attractions of the place. Indulged in expansive white sands, immersive turquoise water and greenery, the Île aux Cerfs is undoubtedly a paradise within the heaven of Mauritius. The island houses numerous eateries and a golf course in addition to an array of both land and water activities and games.
Timings: 9:00 AM to 6:00 PM
How to reach: You could either take a jetty from Point Maurice or a Catamaran from South East Mauritius or Trou D'eau Douce.
Prices:
Jetty:Approx MUR 400 to MUR 500 (INR 779.73 to INR 974.67)
Catamaran:
Free for infants
Adults MUR 2557.03 INR 4980.05
Children MUR 1558.19 INR 3034.72
Isla De Ambre - (Amber Island)
Isla De Ambre or Île d'Ambre is another Mauritian archipelago absorbed in paradisiacal facets of nature. The island welcomes kayaking, snorkelling, surfing, hiking and other adventures to complete your perfect Mauritian honeymoon!
How to reach: There are plenty of boating, kayaking or hiking options you could choose to reach the island.
Visit the following websites to know more:
Explore Mauritius, Mauritius Traveller and Yemaya Adventures
Île des Deux Cocos - (Island of two cocos)
A snorkelling and scuba diving hub of Mauritius, the Île des Deux Cocos offers resort amenities as well. The island supports all your private events, be it weddings, birthdays or anniversaries, they have it all covered. The island houses a 1920s British and Moroccan-styled villa, conserved until today to boost your perfect wedding or honeymoon moments. You would also get your hands on your private speedboat along with the villa! The island of cocos is yet another choice for your perfect honeymoon!
22. Experience Candle-Lit Dinners and Scrumptious Food

They say that the way to the heart passes through the stomach. If there's even an ounce of truth in this saying then boy, is Mauritius gonna reach your heart and make your honeymoon in Mauritius a wholesome one! From the streets to the finest kitchens in the most upmarket hotels, the food of Mauritius is bound to tickle your taste buds and leave them craving for more. Bond over some finger-licking food at these highly rated restaurants:
1. Le Flamboyant: With its unique circular design overlooking an indoor pool and the jade lagoon, this restaurant delights both visually and gastronomically.
2. La Plage Beach Club Restaurant: Have some seafood at this restaurant that is literally on the beach's sand. This one is light on the pocket too!
3. Château Mon Désir: Trust us, the food is as extravagant as the name. Renowned as the excellent dining hub of the island, this one has a reputed wine cellar making for some lovely romantic dining experiences.
4. The Stars Restaurant in the Shanti Maurice is widely reputed as one of the most romantic eateries in town. Grab a bite of the best of the Indian Ocean cuisine with a unique twang of Mauritian flavours while you bask under the radiance of the stars above.
Contact: (+230) 698 9800/ 698 2727

If you wish to gift your partner something that would remind them of this vacation for years to come, the markets of Mauritius may have something for you. Many of these markets are bargaining friendly so make sure you score the best deal possible! Here is a list of what to buy and where to buy it from.
Textiles: Market at Arsenal in Pamplemousses district and Quatre Bornes (on every Thursday and Sunday
Homemade Oils: Central Market at Port Louis
Diamonds: Floreal Square in the district of Plaines Wilhelms has a diamond-cutting workshop where you can get high-quality diamonds directly from the manufacturers
Miniature Boats: Curepipe in the Plaines Wilhelms District is the hotspot of artisans specialising in building model ships allowing you to choose from a wide variety of models
Luxury Fashion: Bagatelle Mall in Moka is where you'll find the most comprehensive range of luxury brands like Armani or Calvin Klein or Aldo
24. Activities That Are Better Done Together

Make sure you visit these places of attraction with your partner to build memories from your honeymoon in Mauritius that you'll cherish for the rest of your lives.
Sir Seewoosagur Ramgoolam Botanical Garden in Pamplemousses It has the rarest indigenous and exotic plant species, the giant lily pads.
La Roche Qui Pleure and Gris Gris Beach A secluded beach with black porous volcanic rocks that breathe with each giant wave crashing on the shore. The place is perfect for some solitary relaxation with your loved one.
The Champ de Mars Racetrack in Port Louis Arrive in your finest attire and place a bet on a horse (a reasonable amount). Who knows how much you might take back home!
25. Visit Religious Places

What better way to commence your married life than seeking the blessings of the divine in Mauritius. Home to several ethnic groups, the religious landscape of Mauritius is diverse and tolerant. Hindus form the majority of the population of Mauritius, and consequently, you can find magnificent temples devoted to Hindu deities on the island. Visit some of the best places in Mauritius that have religious importance to start a beautiful relationship on a peaceful and spiritual note.
The Maheswarnath Mandir in Pamplepousness devoted to the gods Shiva, Krishna, Brahma, Vishnu, Muruga, and GaneshaThe Ganga Talao A deep crater lake in the Savanne District is the most sacred religious site for Hindus in Mauritius.
The Jummah Masjid in Port Louis is a spiritual and architectural masterpiece with towering white facades and gorgeous sculptures.
The Chapel of Cap Malheureux in the North who's Sunday Church services and melodious religious hymns coupled with the flaming red roof against the deep blue sky make it a treat for the senses.
Read More on Temples in Mauritius
Your first trip as a couple is a momentous occasion for you and your partner. It is the beginning of a new chapter in your lives that paves the way for more exciting and joyous things to come. Thus a honeymoon in Mauritius is only befitting to host this amazing journey. We hope you have an amazing experience on the island and wish you a great life together!