Golf is a game of class and elegance and what could be a better place than
Mauritius
to enjoy this sophisticated sport while savouring the scenic beauty. Golf has been a part of Mauritius due to its long history of British colonisation and has been played in the island since the beginning of the 20th century. Over the years, many new golf courses have been designed and constructed in different parts of the island. Each golf course has unique characteristics, settings and awesome backdrop that amplify the pleasantness of the game. Let's have a look at some of the best golf courses in Mauritius spread out all over the island for enjoying golf at its best:
1. Anahita Golf Course - Four Seasons
The Anahita golf course at the Four Seasons resort was designed back in 2008 by the South African professional golfer Theodore Ernie Els. It is a par-72, 18-hole championship golf course spreading out over an area of 7372 yards featuring five sets of tees and large fairways.
The golf course has difficult deep bunkers, numerous naturally located water hazards, 6 holes with great ocean views and 5 sets of tees. The finishing holes 16, 17 and 18 are blessed with a spectacular view of the ocean making them one of the most beautiful finishing holes in the world.
Golf Academy

The Four Seasons Golf Academy program covers all aspects of the game starting from the full swing, the short game, practice techniques, course management, golf fitness and even mental training.
Club House
The Mauritian styled clubhouse of the Anahita golf course can be found near the 18th hole which includes a fitness centre, a driving range, a golf academy and a golf shop where you can find all the professional level equipment. The Clubhouse restaurant offers delicious breakfast and lunch and provides a relaxing place after a long game of golf from where you can enjoy the panoramic views of lagoons and greeneries while enjoying your meal.
Important Information
1. The players should wear proper golf apparels and maintain the dress code while playing at the golf course
2. Practice balls and the golf cart are all inclusive in the green fee.
3. If you are a guest at the Anahita Resort or the Four Seasons Resort, then the green fee is free and unlimited for you. Additional benefits are free golf balls, golf cart and GPS system.
Opening timings - 7.30 AM to 7.30 PM
Green Fee - USD 193 per person
Location - Beau Champ, Grande Riviere
2. Ile Aux Cerfs Golf Club

The Ile Aux Cerfs golf course covers an area of 38 hectares, making it the second largest in Mauritius featuring holes scattered up and down the island and has gained its reputation as one of the best golf courses in the world.
In 2003, the German professional golfer Bernhard Langer designed this fascinating golf courses surrounded by stretches of white sands and breathtaking views of the Indian Ocean. It found its place as the 10th best golf course in the world as per the Middle East Golf Magazine and Golf World Magazine of United Kingdom and is ranked as 19th in the Golf Journal of Germany. The golf course has a minimum of 4 tee decks for each hole - the Langer tees, tournament tees, championship tees and forward tees.
Golf Academy
The David Leadbetter Golf Academy includes an indoor swing studio incorporated with latest computers loaded with swing analysis software to facilitate both group and individual tuitions. Other facilities like a clubhouse, on-course refreshments, restaurant, locker rooms, driving range, bag storage, and clubs and shoe rental services can also be found in the premises of the golf course.
Important Information
1. Proper golf attire comprising of golf shoes with soft spikes, collared shirts, Bermuda shorts or tailored trousers is mandatory. Outfits like denim, tennis wear, beachwear and training shoes are strictly not permitted at any time on the golf course.
2. The rack rates include the golf cart, transportation to and from Ile aux Cerfs, some Tees and a bottle of water.
3. Golf shuttles leave every 20 minutes to and from Ile aux Cerfs between 6:40 AM and 8:00 PM
Opening timings - 7:30 AM to 6:00 PM
Green fee/Rack rate - USD 175 per person
Location - Ile aux Cerfs island across Trou D'eau Douce, a Mauritian city in the east coast. It is situated near the Le Touessrok resort.
3. Legend Golf Course
Hosting the 'Johnnie Walker Classic' and other Mauritius Open championship tournaments, the Legend Golf Course located in Belle Mare is a one-of-a-kind golf course in Mauritius. This par-72 18-hole championship golf course was designed back in the year 1994 by the South African golfing champion Hugh Baiocchi and become a world-class golf course over the years along with being a popular golf holiday destination.
The 18 holes of the course have distinctive characteristics nestled with excellent fairways in the heart of the forest and vast ranges of velvet green grass as per the USPGA regulations.
Club House
You can enjoy the outstanding views of the golf course from the clubhouse of the Legend. It also features a restaurant with an excellent ambience and serves buffet breakfast, lunch and dinner. Other facilities that can found in the vicinity of the Legend golf course include a golf academy with video swing analysis, a pro shop, rental clubs, golf carts and caddies and a driving range.
Important Information
Since the Legend golf course is only exclusive to the guests of the Le Prince Maurice and the Belle Mare Plage hotel, no extra green fees are required for them.
Location - Belle Mare Plage hotel, east coast of Mauritius.
4. Links Golf Course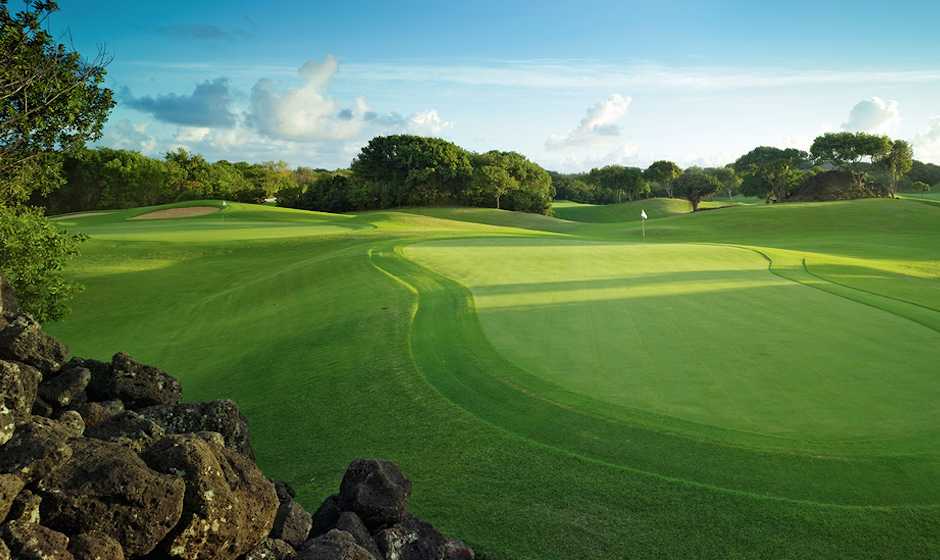 The 18-hole par-72 international standard golf course was designed in 2002 by English professional golfers Peter Allis and Rodney Wright. The Links golf course is like a twin to the Legend golf course and expands up to 6498 yards and has qualified and professional instructors in its golf academy.
The setting, of course, is dominated by firm greens and beautiful fairways, wide open spaces, water hazards near six holes which are quite challenging. The 10th hole has the longest put at a distance of 566 yards, and the 18th hole is a signature styled turquoise sided hole. Pyramid styled layers of volcanic rocks are the unique feature of the Links golf course.
Club House
The clubhouse enjoys a unique location above the course with views of mountains, oceans and the setting sun is just a cherry on the cake. The clubhouse restaurant offers snacks like sandwiches and salad and is open for lunch as well.
Important Information
1. The guests of the Prince Maurice hotel and the Belle Mare Plage hotel don't need to pay any green fee.
2. The golf course is accessible to the public through free shuttle services.
3. Facilities like golf academy with coaching and lessons, GPS enabled golf carts, golf club rentals are also available on the golf course.
Opening timings - 7:00 AM to 6:00 PM
Green Fees - USD 170 per person
Location - Belle Mare Plage hotel, east coast of Mauritius
5. Le Saint Geran Golf Course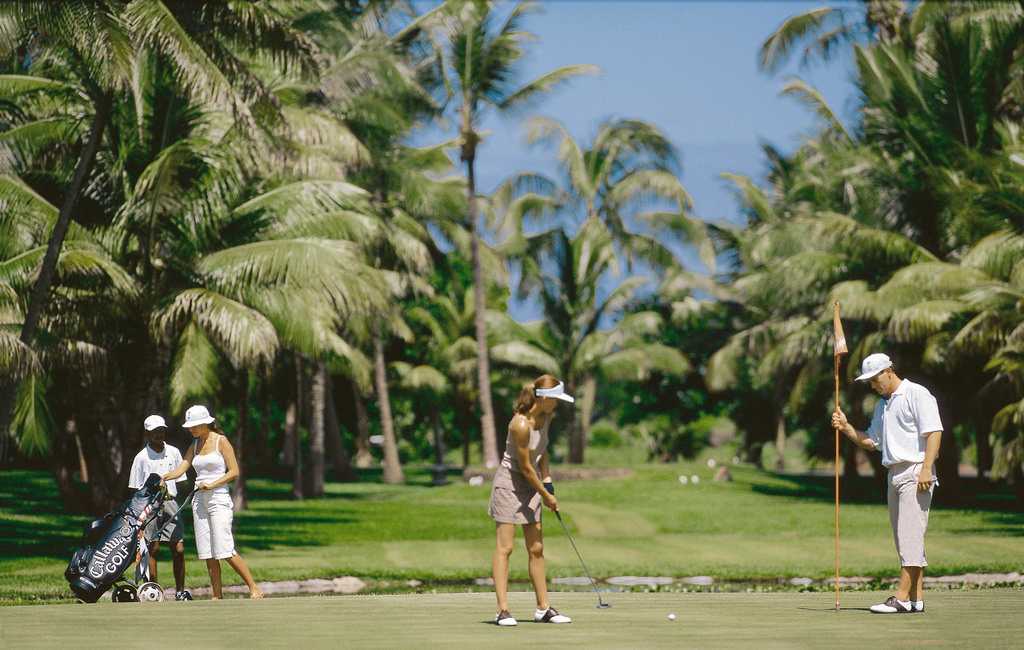 Designed in 1970 following the USGA standards by the South African professional golfer Gary Player, the Le Saint Geran golf course in the second oldest in Mauritius. The beautiful 33-par 9-hole golf course features lines of coconut trees along the greens and fairways and stretches out over an area of 2778 yards between the Belle Mare lagoon and the Indian ocean. The Le Saint Geran golf course offers a relaxing and friendly environment which is suitable for a beginner who wants to improve their game and also for professionals to challenge themselves with the numerous water hazards which can be tough and tricky.
Golf Academy

A professional David Leadbetter trainer provides intensive training coupled with video analysis, a practice range to fine tune the game and a 9-hole game with the professionals.
Club House
It features an in-house restaurant and bar along with a changing room and locker rooms and is situated in the middle of the golf course. It is open all day long so that the players can relax while playing and enjoy a bite or two.
Important Information
1. Other golf facilities and amenities include a pro shop, rentals for balls, caddy and electro-cart, and practice putting green
2. Free and unlimited green fees for the guests at Le Saint Geran hotel
3. Location - Le Saint Geran hotel, Poste de Flacq, east coast of Mauritius
6. Gymkhana Club Golf Course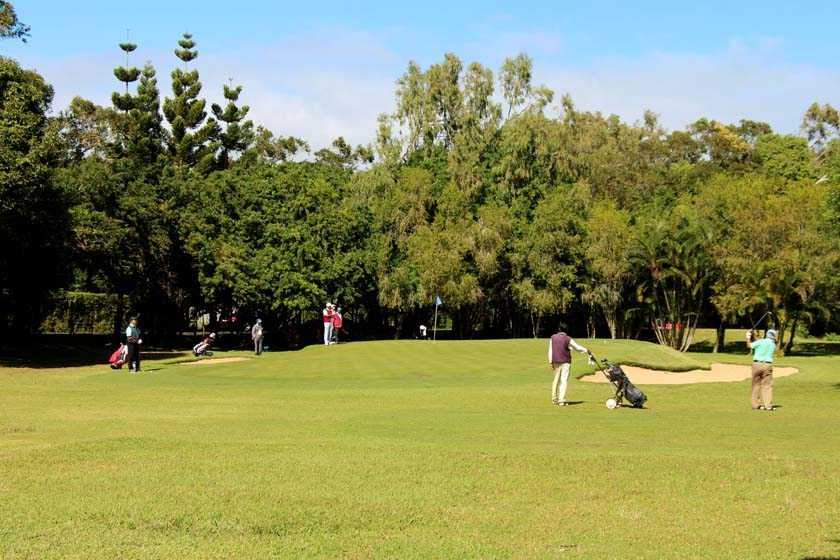 The Gymkhana Club golf course has a historical significance of its own as it was the first golf club of Mauritius that was constructed back in 1902 by the British Royal Navy Army. Being a colony of the British Empire, Mauritius had witnessed the practice of gold since this club was founded. It is an 18-hole par-68 golf course and has an area of 4870 metres. Initially, it was a 9-hole golf course, and it was increased in 1950.
Since it's the first golf course in Mauritius, it doesn't have all the modern day complexities, but the management has maintained it well. It is open for visit by locals and tourists along with members. The visitors can also apply for a temporary membership.
The facilities inside the premises of the golf course include a restaurant and bar, recreational activities, swimming pool, library, squash and tennis courts, conference room and fitness centre as well.
Important Information
1. Dress code for men is collared shirts and tailored trousers. Tailored shorts with socks can also be worn. As for women, it is collared shirts with below knee length skirt, or tailored trousers or long shorts.
2. All access to the other sports and recreational facilities are included in the green fee.
3. You can hire clubs and trolleys.
Opening timings - Everyday from 6 AM to 7 PM
Green Fee
9-holes - USD 40 per person
18-holes - USD 57 per person
Additional
Trolleys (optional) - USD 8 per trolley
Golf set (optional) - USD 35 per set
Location - Suffolk Close, Vacoas, central Mauritius
7. Heritage Golf Club - Golf Course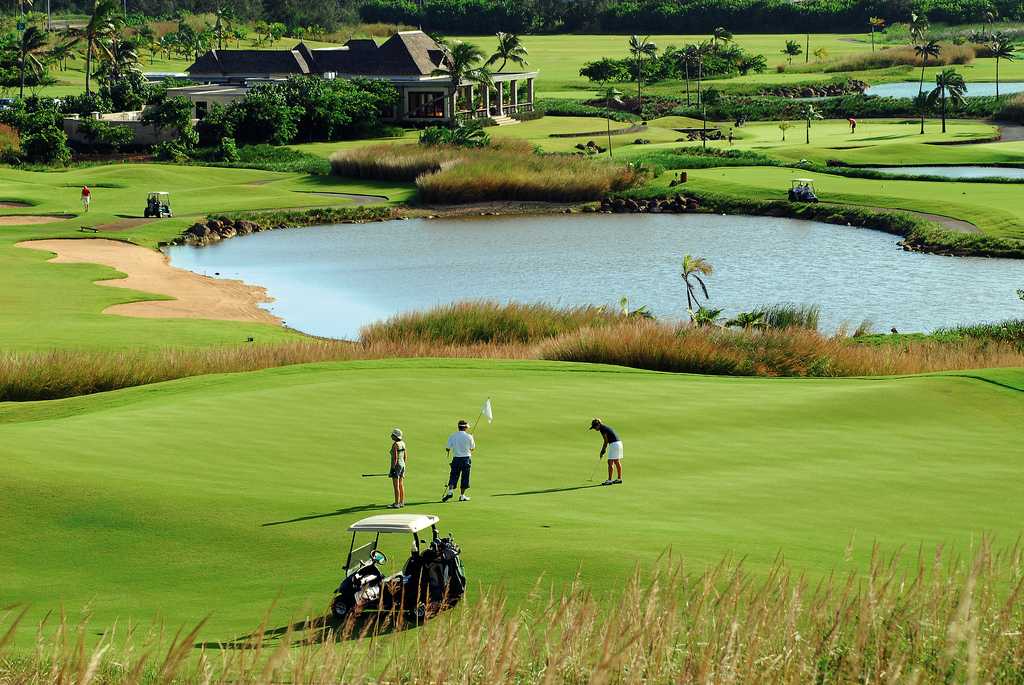 The Zimbabwean golfer Peter Matkovich designed this 7106-yard par-72 championship golf course with 18-holes in 2004. It boasts a terrific location with breathtaking views of oceans and volcanic mountains in the backdrop. This is a technically challenging course with the right balance and variation in the distance of the holes, the landscape interspersed with tropical trees, lakes and streams, difference in the width of fairways, bunkers placed strategically and large areas covered by tall and thick elephant grass ? all of which constitutes the crucial elements of a championship course.
The entire premise of the course is constructed in such a way that it can challenge the expert players with blind greens and tricky elevations surrounding some holes, and it can be enjoyed by the amateur players as well. There are two rivers in the vicinity of the course - St. Martin and Citronniers, which cross the fairways in unexpected places.
Golf Tuition
A PGA professional trainer offers lessons to groups and individuals through video analysis, playing lessons and private lessons as well. To avail the tuitions, booking should be made. There is a 9-hole par-3 course spread over an area of 60 to 135 metres where the beginner golfers can play a short game. Other facilities in the Heritage golf course are - a pro shop, driving range, bar and restaurant, hired golf carts and caddies, hired golf clubs, shuttle service from nearby hotels and locker rooms.
Important Information
1. All the players should wear proper golfing attire during their time in the course along with spiked shoes and socks. Swimwear or jeans is not allowed.
2. Guests staying at the Le Telfair Golf and Spa Resort don't have to pay any green fees, and they can have direct access to the golf course from the resort with the help of golf carts
Opening timing
Summer (October to April) - 7:00 AM to 6:00 PM
Winter (May to September) - 7:00 AM to 5:00 PM
Green fees - USD 180 per person
Location - Domaine Bel Ombre, Bel Ombre, south of Mauritius
8. Tamarina Golf Course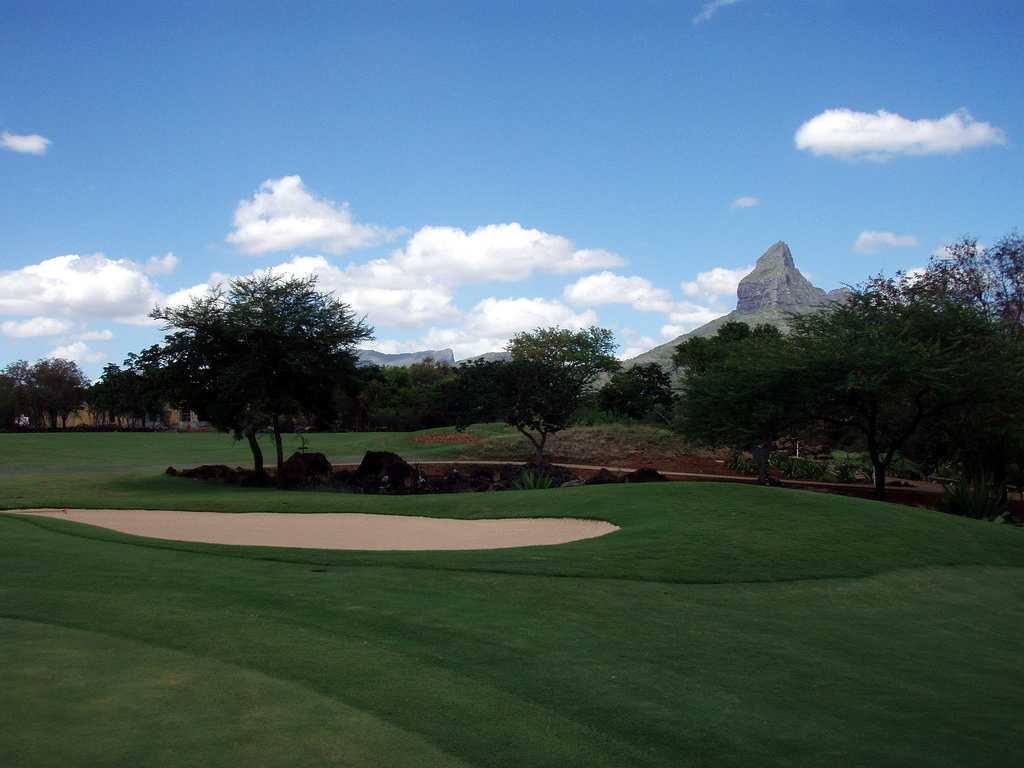 Surrounded by dense ranges of trees and crossed by the Rempart River, the Tamarina golf course was constructed in 2006 under the supervision of Wright Golf Design. It is a par-72 18-hole championship course spreading out to 7436 yards in the beautiful estate. The holes in the course are strategically designed and placed; some of them giving spectacular views of the mighty Mount Rempart while from some other locations of the hole you can enjoy the sight of the blue lagoon of the Tamarin Bay.
Players enjoy playing in this golf course because of the beautiful contrast between the smoothness of the greens and fairways and roughness of the surroundings complemented by the gentle breeze blowing across the estate. There are four Par 3s, four Par 5s and the rest as Par 4 that are laid throughout the course. The five teeing options are suited to all types of golfers - Championship, club, professional, senior championship and ladies tees.
Golf Academy
With PGA golf pro and the Assistant pro at your disposal, you can learn to play golf by taking individual lessons and a six-day course including video coaching and playing lessons. If you are an experienced player, you can choose to improve your game as well. Group and individual lessons are needed to be booked in advance.
Clubhouse
Enjoy relaxing meals in the Le Dix-Neuf clubhouse restaurant while enjoying the mesmerising views of the Tamarin Bay and the Rempart River and it is open all day serving light meals, breakfast and lunch as well.
Pro Shop
It displays a wide range of golfing equipment and accessories like clubs, balls, bags and souvenirs as well.
Important Information
1. Proper golf apparel along with spiked shoes and socks are allowed on the golf course. Swimming trunks and jeans are not allowed.
2. It is recommended to use golf carts. Trolleys are available for rent as well.
3. Equipment sets for men, ladies and juniors can be rented
Opening timing - 7.30 AM to 3 PM
Green fees - USD 140 per person
Location - Tamarin bay, near Tamarin village, west coast of Mauritius
9. Mont Choisy Golf Course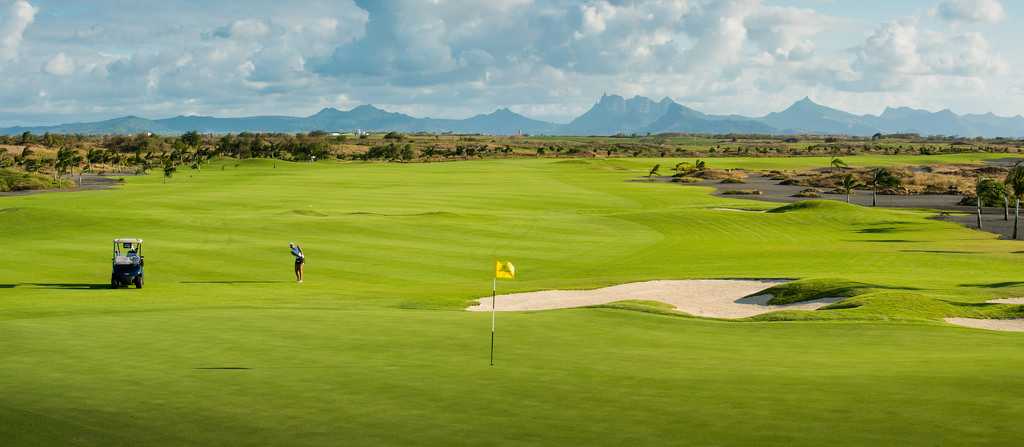 The 6829 yard Mont Choisy golf course is a new championship course showcasing its natural beauty of mountain views and historical significance of the place. It fulfils the criteria of world-class golf courses with a long list of facilities and services helping the players to improve their game. The par-72 18-hole golf course is ideal for professionals who aim at practising to win the next tournament, and it also suits casual golfers who want to spend some quality gaming time.
The clubhouse facilitates the guests with all the necessary conveniences like changing rooms, lockers, showers, bar and restaurant, golf bag store and pro shop as well. The golf academy is open to all, even to age groups as low as four years who can start practising and perfect their skills.Other practice facilities include chipping green, putting green and driving range.
Operating timings - Everyday from 6.30 AM to 7 PM during Summer (October - April) and from 7 AM to 7 PM during Winter (May ? September)
Green Fee
9- hole - USD 93 per person
18-hole - USD 145 per person
Location - Mont Choisy. north of Mauritius
10. Maritim Golf Course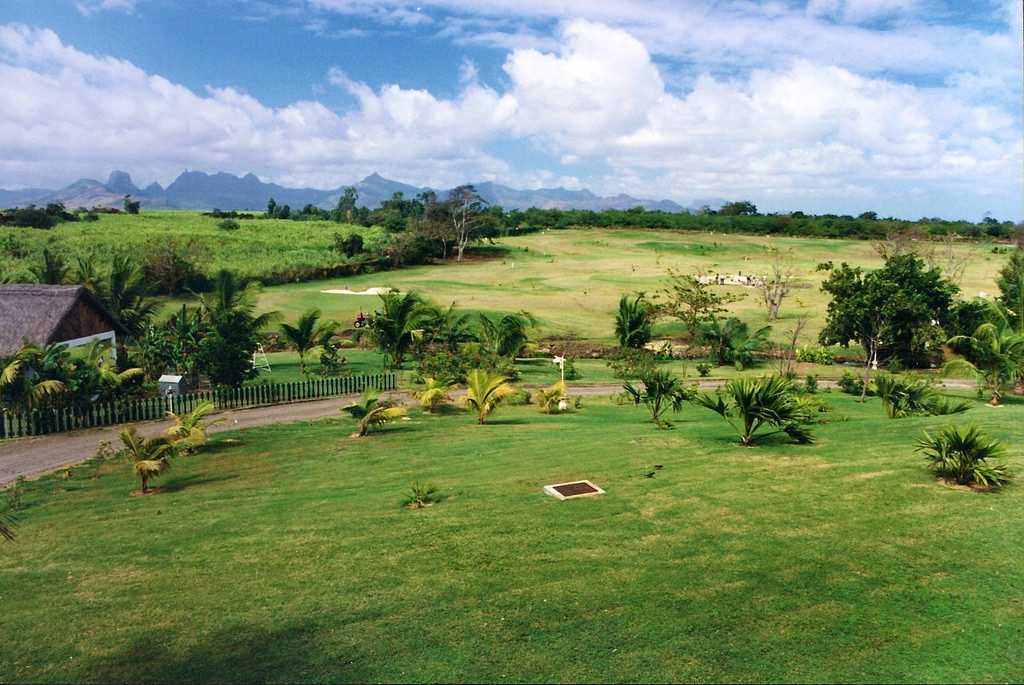 Designed by the Australian professional golfer Graham Marsh, the Maritim golf course ranges over 840 yards of land and exhibits a unique combination of 9 holes and par-29. It is a very well and strategically planned golf course which gives the golfer ample opportunity to practice various skills. The distance to the longest hole is 340 metres, and there are exceptional variations in angle and elevation throughout the course which help the golfer to perfect different shots that can be tricky and tough.
Individual beginner and advanced lessons by golf pro are also available on request. Other facilities include a driving net, golf shop and practice putting green. For the guests at the Maritim hotel, no green fee is required, and they can enjoy playing golf at free of cost.
Opening timings - Everyday from 8 AM to 5.30 PM
Location - Maritim Hotel, Balaclava, north-west part of Mauritius
So if you are a professional golf player and you have a big tournament coming up, but you also need to spend some holiday time with your family and friends, the golf courses in Mauritius make sure you do both at the same time. Even if you have no idea about the game, you can easily learn it in a matter of few days and take back a new skill of golf when you leave Mauritius!