There is something about train journeys that makes us look around the world whirling by with a sense of curiosity and charm of the everyday. Whether as children or adults, each one of us has had our experiences of travelling by trains, observing at the sights of fields, urban spaces, railway platforms and numerous people that abound these as we manage to snap out of the cares of the everyday pressures, even if for a little while. Now just imagine, if such a train journey is made 'royal' In every sense of the word - A plush cabin or a suite of your own, world-class bars and restaurant on wheels, relaxing lounges and the most exotic destinations of India - Well, all this and more comes royally packaged with the extraordinary journeys of the Maharajas Express, operated by the IRCTC, covering the most coveted of cultural and historic tourist cities of India.
The Maharajas Express has a variety of about seven journey trails across the length and breadth of India that start on specific dates from
New Delhi
and
Mumbai
.
Read on to know more about these tour circuits, onboard facilities and inclusions, and approximate costs:
Maharaja's Express Trails
1. The Indian Panorama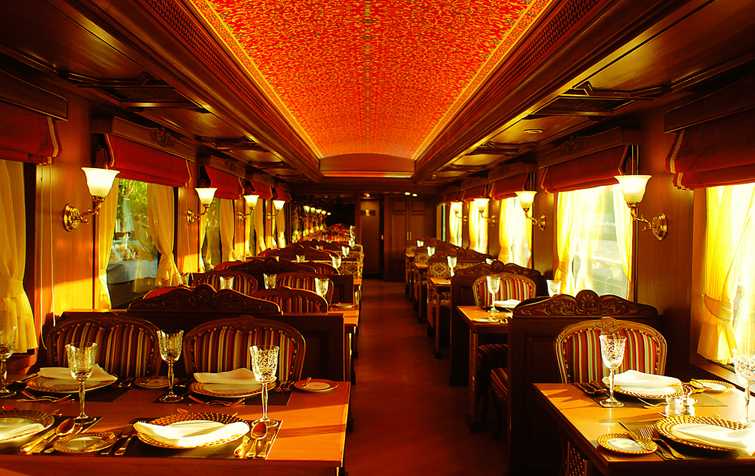 Express Route:
Delhi-
Jaipur
-
Ranthambore
-
Fatehpur Sikri
-
Agra
-
Gwalior
-
Khajuraho
-
Varanasi
-
Lucknow
-
Delhi
: (8 days/ 7 nights)
You can be sure of starting your journey from the capital city New Delhi, proceeding to the 'Pink City-Jaipur', where you would be taken to a tour around
Amber Fort
; exclusive elephant activities at
City Palace
or Jai Mahal; spa treatments at a 5-star hotel; visit Palace museum and private shopping tour before you head to the luxurious flora and fauna ambience of Sawai Madhopur. After enjoying the cultural vibrancy of Jaipur, you would head to the wild environs of Ranthambore to embark on an adventure trail amidst the plentiful wildlife of India followed by the Mughal splendour of Fatehpur Sikri and Agra - the city of the 
Taj Mahal
. Gear up to witness the regality and defiance of the bygone eras at Gwalior and soak yourself in the sensuousness and celebration of life at the temples of Khajuraho before you embark on the last leg of the trip that includes the holy city of Varanasi and the land of the nawabs- Lucknow. 
Things To Do: 
Guests can enjoy a champagne breakfast atop Taj Khema.
Avail of the spa facilities at Usha Kiran Palace Hotel at Gwalior.
Enjoy Sound and Light Show and Dances of India show at Khajuraho.
Visit Silk Weaving Centre at Varanasi.
Visit the Bara Imambara, Rumi Darwaza and the Residency at Lucknow.


Price: INR 3,97,620 - INR 15,75,830 per adult. (as per cabin choice)
Departure Dates: 21 October 2017; 18 November 2017; 16 December 2017; 13 January 2018; 10 February 2018; 10 March 2018; 7 April 2018.
2. The Indian Splendor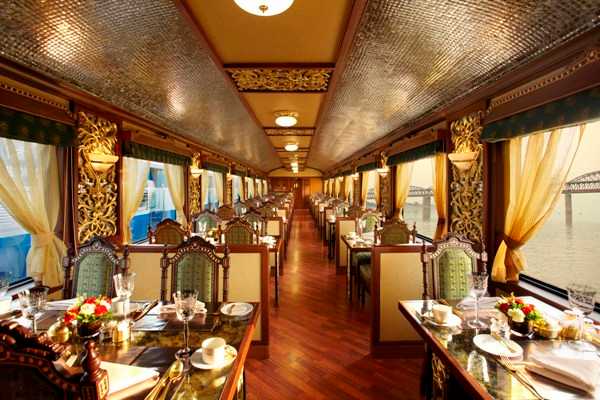 Express Route: Delhi - Agra - Ranthambore - Jaipur - Bikaner - Jodhpur - Udaipur - Balasinor - Mumbai (8 days/ 7 nights)
This tour is a slight revision of the 'Indian Panorama' package and enthrals you with the cultural opulence of Bikaner, Jodhpur and Udaipur and redefines luxury synonymous with Rajasthan.
Let yourself be taken over by the wealthy cuisines, colourful markets, magnificent forts and havelis before you head to Balasinor - another new stop in this fantastic package from the Maharajas Express. Your tour through Rajasthan, Agra and Gujarat comes to an end in the city of Bollywood - Mumbai.

Things To Do: Visit Lalgarh museum or Deshnok- the ancient rat temple at Bikaner.
Visit the famous Junagarh Fort and proceed to the magical sundowners at the dunes. Stop over for a tea break at Gajner Palace.
Go for an excursion to Umaid Bhawan Palace and Jaswant Thada. Take a walking tour of Old Clock Tower market in Jodhpur.
Enjoy a royal cocktail evening and puppet show at Hanwant Mahal in Jodhpur.
Visit Dinosaur Fossil Park in Balasinor and furthermore, be a part of the exclusive lunch hosted by the royal family of Balasinor.

Price: INR 3,97,620 - INR 15,75,830 per adult (depending on cabin types).Departure Dates: 28 October 2017; 25 November 2017; 23 December 2017; 20 January 2018; 17 February 2018; 17 March 2018.
3. The Heritage of India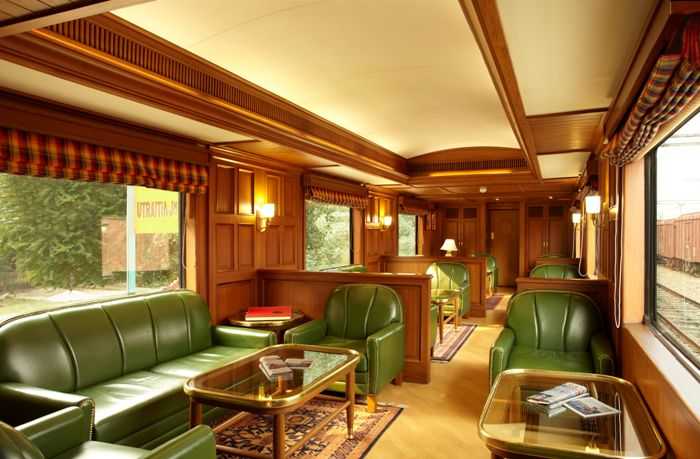 Package (8 days/ 7 nights) to swap Balasinor for Fatehpur Sikri and the UNESCO site Ajanta caves. The Buddhist rock monuments are dating back to 650 AD. 
Prices: INR 4,54,800 - INR 15,75,830 per adult
Departure Dates: 4 November 2017; 2 - 30 December 2017; 27 January 2018; 24 February 2018; 24 March 2018.
4. Gems of India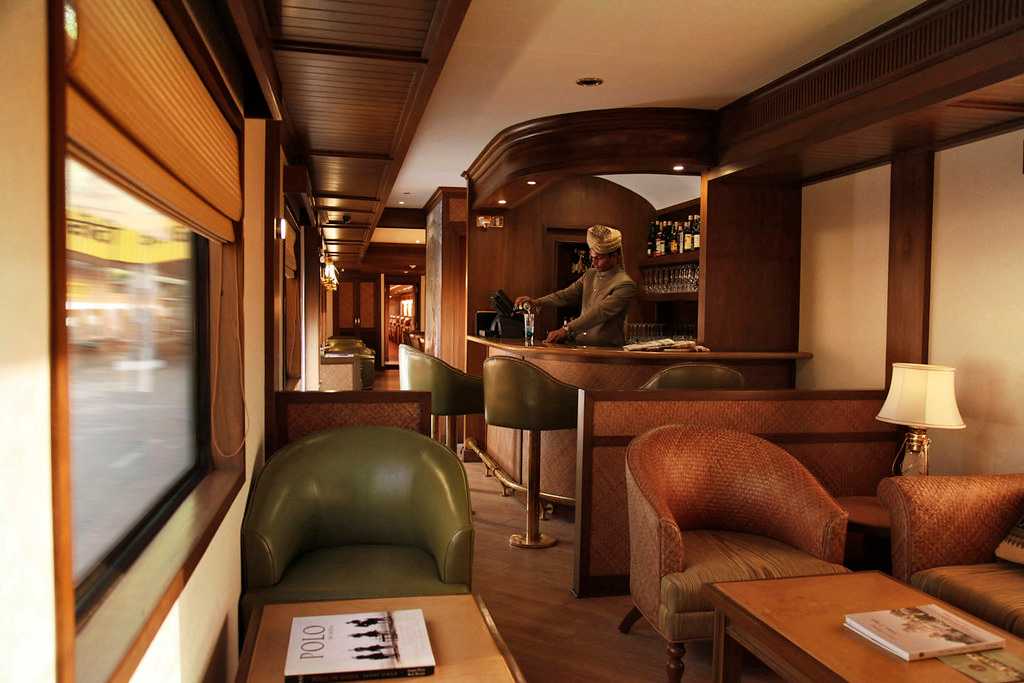 Express Route: Delhi - Agra - Ranthambore - Jaipur (3 nights and 4 days)
This Maharaja tour is another Golden Triangle sojourn wrapping across Delhi, Agra, Ranthambore and Jaipur. An affordable itinerary, gems of India would lead you across through most prominent spots throughout the three states. Some of which are the Taj Mahal, Agra Fort, Amber Fort, Sawai Madhopur and Ranthambore National Park. Brace up to enjoy a royal experience throughout the journey!

Things to do:
Golfing at Rambagh Golf Course
Shopping at different hubs
Spa sessions at top-notch hotels
Visit Jantar Mantar and City Palace
Other heritage sites such as Itimad-Ud-Daula.

Price: INR 255990 - INR 857730 per adult (Depending on the cabin type)
Departure dates: 18 October 2017; 15 November 2017; 13 December 2017; 10 January 2018; 7 February 2018; 7 March 2018; 4 April 2018.
5. Treasures of India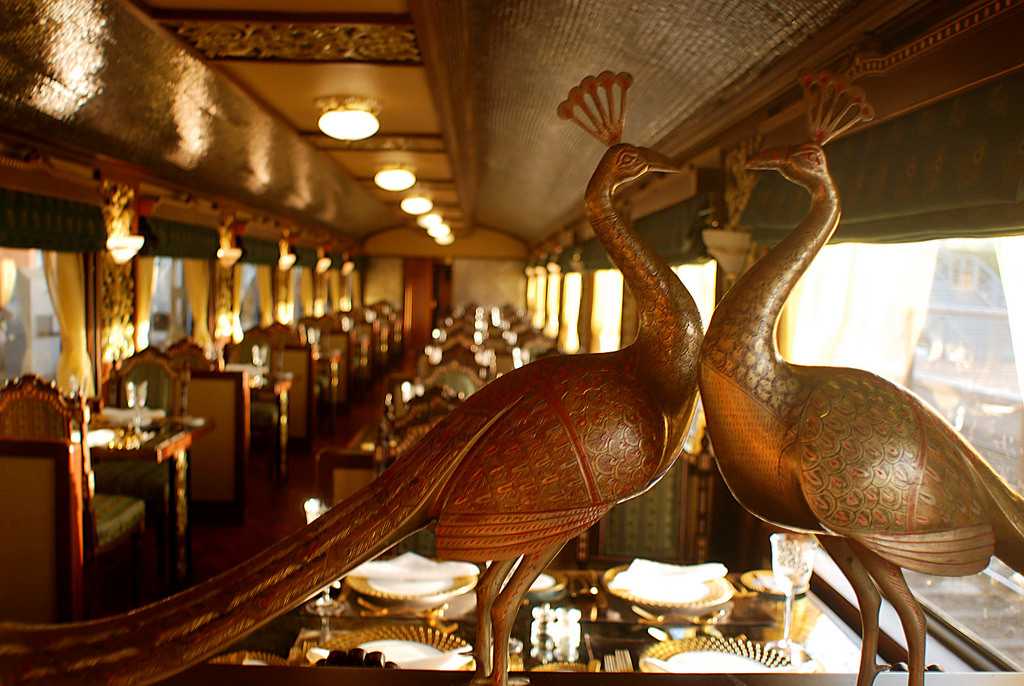 Express route: Delhi - Agra - Ranthambore - Jaipur - Delhi (3 nights and 4 days)
Treasures of India is a luxurious train expedition along the Golden Triangle; covering New Delhi, Agra and Jaipur. This exploration touches every significant World Heritage Site across these vastly different venues. The journey commences with a hands-down traditional manner at Delhi, and further reaches various important points at Agra and Jaipur. Some of which as the Agra Fort, The Taj Mahal, The Amber Fort and Ranthambore National Park. On the whole, the name "Treasures of India" suggests it all.

Things to do:
Spa sessions at any top 5-star Hotel in Agra.
Private shopping at different locations
Golf at Rambagh Golf Club
Jantar Mantar and City Palace visit
Witness the show "Mohabbat-e-Taj."
Pay a visit to Itimad-Ud-Daula

Price: INR 255990 - INR 857730 per adult (Depending on the cabin type)
Departure Dates: 15 October 2017; 12 November 2017; 10 December 2017; 7 January 2018; 4 February 2018; 4 March 2018; 1 April 2018.
6.The Southern Sojourn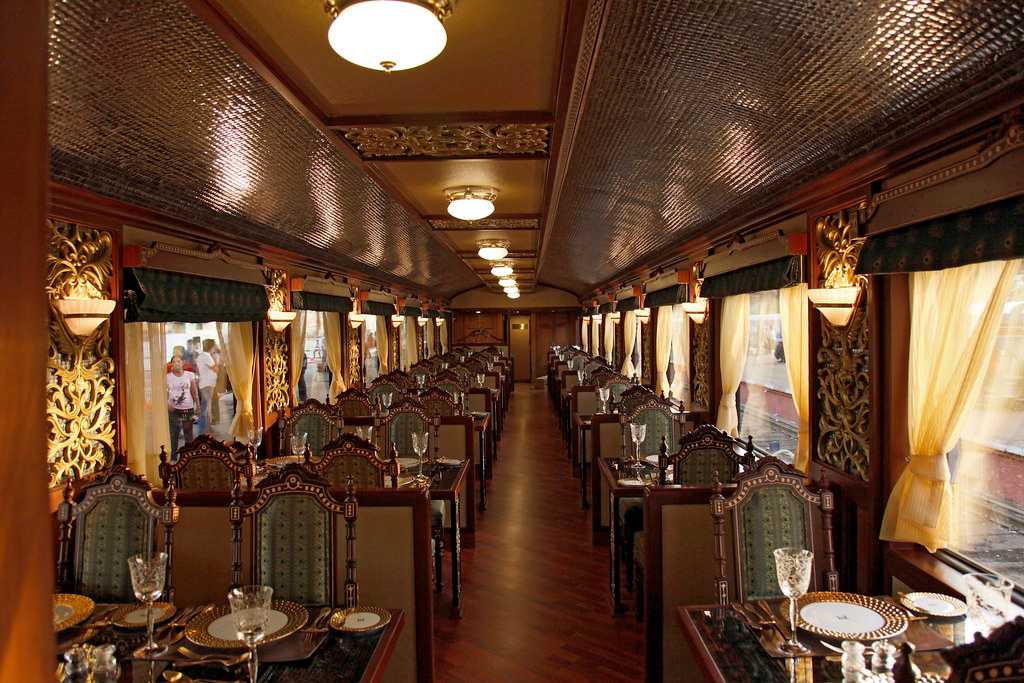 Express Route: Mumbai - Ratnagiri - Goa - Hampi - Mysore -Ernakulam - Kumarakom - Trivandrum
This journey on the Maharajas Express gives you the best of Southern and western India. Witness the remnants of Portuguese culture in one of the most relaxed beach destinations of India- Goa. Head to immerse yourself in the historical remains of Hampi which is a world-renowned UNESCO heritage site. Visit the magnificent Mysore Palace, shop and get a taste of coastal life at Cochin and spend a peaceful time canoeing through the tranquil backwaters of Kumarakom.

Things To Do: 
Visit the Ratnadurg Fort ruins, Govt Aquarium and Thibaw Palace at Ratnagiri.
Interact with the locals in the Anegudi village near Hampi, dating back to the Neolithic age.
Go for a sightseeing tour of the Hampi ruins that speak of the glory of Vijayanagara empire in stone, especially the elephant stables, Vittala temples, Virupaksha temples and the stone chariot.
Witness the famous Snake Boat race at Cochin and participate in the festivities.


Price: INR 9,22,268 (Deluxe Cabin on twin-sharing basis)
Departure Date: 15 September 2018.
7. The Southern Jewels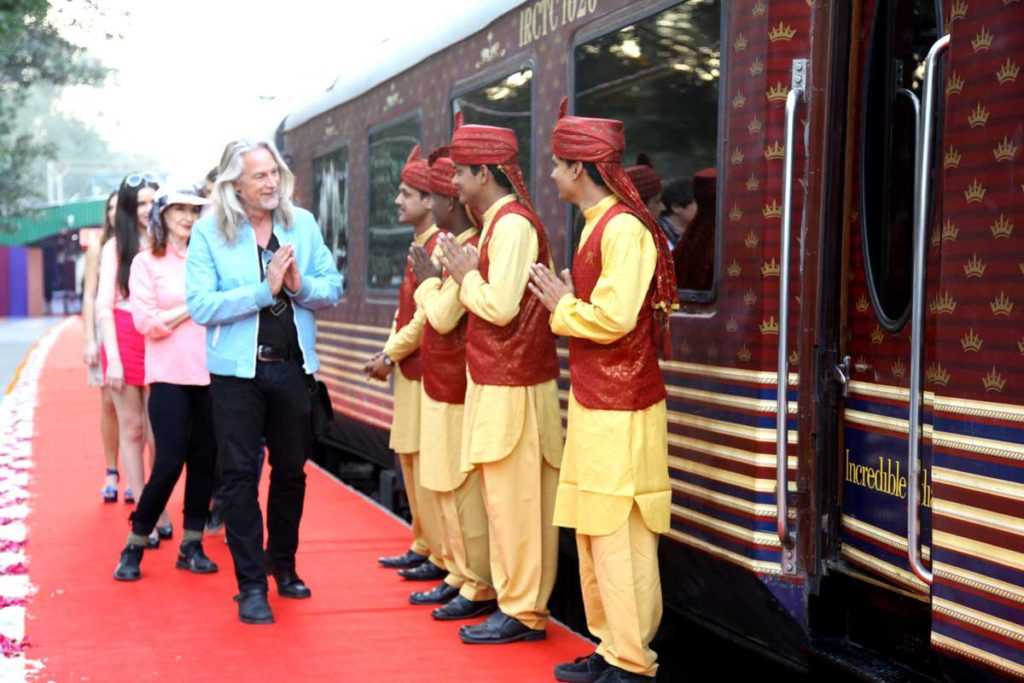 Express Route:
Trivandrum - Chettinad - Mahabalipuram - Mysore - Hampi - Goa - Ratnagiri - Mumbai ( 8 days/ 7 nights)
This sojourn covering eight destinations begins at Chettinad, which is soon going to be declared as the UNESCO world heritage site. Embark on sightseeing tours of famous monuments in the ancient temple city of Mahabalipuram. This package combines the rich history and culture of royal cities like Mysore and Hampi with the Portuguese and carnivalesque feel of Goan beaches. You would finally disembark at Mumbai after halting at Ratnagiri, another mesmerising destination famous for its ruins, forts and aquarium.

Things To Do:
Visit Chettinad Mansions and Athangudi Tile Factory.
Visit Chettinad Heritage Hotels for traditional activities such as saree draping/mundu draping and henna art.
Visit the Basilica of Bom Jesus at old Goa where the relics of Saint Francis Xavier are preserved.
Participate in a Walking Tour of old Goa houses to appreciate Goan architecture and way of living that presents a perfect blend of the Portuguese and Goan influences.
Visit the historic port town of Mahabalipuram, a UNESCO world heritage site and visit five rathas, Arjuna's Penance and Shore Temple.
Enjoy lunch at Lalitha Mahal Palace in Mysore.
Price: INR 9,22,268 onwards (Price for Deluxe cabin on twin-sharing basis)

Departure Date: 22 September 2018.
Some FAQs:
All prices are exclusive of applicable GST.
The Maharajas' Express features five carriages for Deluxe Cabins, six for Junior Suites, two for Suites and one for a grand Presidential Suite. Each cabin has ample windows designed to give panoramic views through the journey.
The Maharajas Express has two fine-dining restaurants and one exotic Safari bar with the choicest range of house brands of wine, beer, spirits and complimentary snacks. There is also a Rajah bar cum lounge where you can relax on comfortable armchairs and loungers.

There are two points of embarkation and disembarkation: Safdarjung Railway Station, New Delhi for journeys starting Delhi and Chattarpati Shivaji Terminus and Lokmanya Tilak Terminus for trips starting/ending at Mumbai. Travellers are advised to read the itinerary carefully.
Inclusions:
Accommodation: Double/twin bedded cabins with en-suite bathrooms
Food: Soft beverages, beer, house brands of Indian wines, spirits, meals, butler services.
Guide: Off-train excursions that are inclusive of entrance fees, transport, still camera fee, and services of a guide. 
Complimentary: Mineral water, tea, and coffee on board, porterage at stations.
Exclusions:
Optional tours as mentioned in the itinerary, insurance, taxes, gratuities, laundry, telephone calls, alcoholic beverages (apart from spirits, wines, beer served in the restaurants and bar), film, video, and professional still camera fees. Domestic and international air tickets, arrival and departure transfers, any tour extensions, pre and post tour accommodation, are not included unless specifically mentioned as part of the journeys.

Child Policy: Children below five years shall be allowed free, subject to sharing of a double bed with parents. This is subject to availability of a double bed at the time of booking.
Single child (5 years - 12 years) - 50% of the adult fare, subject to sharing of a double bed with parents. This is subject to availability of a double bed at the time of booking.

It is quite impossible not to feel tempted to embark on this once-in-a-lifetime experience of the Indian royalty, literally on wheels. The journey on the Maharajas Express is sure to spoil you and pamper you and leave you craving for more. Exquisitely crafted menus, plush accommodation, sophisticated train environment, exotic locations, an opportunity to immerse yourself in the history, culture and vibrancy of the best that India has got to offer 'what's not to love about this one' Give it a thought, plan and get set go!