Launching its very first Buddhist circuit, IRCTC would now take its tourists across famous Buddhist sites in
India
and
Nepal
. The trail is set to commence on October 19th, 2019 up until the 26th of October 2019. A 7-day and 8-night circuit, the train would halt at all the famous Buddhist destinations starting from Safdarjung Railway Station in New
Delhi
and ending at Safdarjung Railway station.
Destinations Covered

Since major Buddhist attractions and spots would be part of the trail, the Indian Railways justified the tour by stating: "The significance of these destinations can be seen in the Mahaparinirvana sutra, wherein Lord Buddha tells his followers that they can attain merit and a noble rebirth by going on pilgrimages to these places."
The following places would be part of the circuit:
Lumbini
- Buddha's Birthplace
Bodhgaya in Bihar
- The Spot of Enlightenment.
Sarnath in Varanasi
- Buddha's First Sermon to His Five Disciples.
Kushinagar in Nepal
- The Destination Where Buddha Attained Nirvana.
The All-Inclusive Package
The Buddhist tourist tour package covers lodging in luxury hotels, transport charges, air conditioner buses and AC Deluxe coaches for the Nepal tour. Along with boarding & lodging, food, tour manager, guide service, and travel insurance, the journey is also inclusive of the entrance charges to monuments and locations.
Additional Costs - Exclusive Prices
Travellers would have to incur the visa cost in addition to personal expenses, tips, laundry and other expenses for the Nepal circuit as this tour package does not include these charges.
Exclusive Features of the Buddhist Circuit Train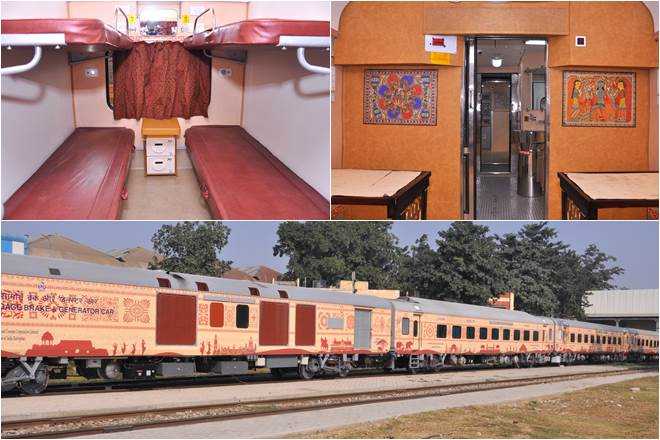 With global standards of service and experience, The IRCTC train arrangement also has special arrangements promising a super luxurious stay with added comforts such as:
The Second class AC compartment of the Buddhist circuit train would bear accommodation for 30 people, in addition to royal chairs for each passenger!
This train would have two dining cars, one kitchen car, one staff car, and two power cars.
The train coaches feature a small library for the passengers to read through the journey. The train also has installed massagers for an added relaxing trip.
A reading light is ensured in every compartment, along with an electronic locker for valuables.
The train has bio-toilet, in addition to the well-thought interior and a grand colour scheme.
Each coach is secured with an assigned security guard for passenger safety.
Package Cost
Cost for two:
First class AC Tickets - INR 1,23,900 (which covers a 50 percent discount)
AC Two-Tier - INR 1,01,430 (after 50 percent discount).
With excitement onboard along with Buddhist insights, the train would have a vinyl wrap in the promotion of tourism under the Incredible India Campaign. Take the train to visit the iconic Buddhist sites in the most luxurious way possible.
Have you signed up for the Buddhist circuit? Have you already been on this journey? Let us know your experiences in the comments below!