The architectural design of the tomb represents Persian influences on Islamic style of architecture. The same style then got adopted by many structures in Agra, even the famous Taj Mahal.
Tomb:
The prime element of the tomb, that is the dome is evident of the grand Persian architecture, with pietra dura style of decoration and usage of semi-precious stones. There are motifs of flora, geometric structures, trees along with inlaid stone works throughout the surface and interior of the structure. The tomb is made of white marble and placed on a large red sandstone platform, which can be accessed by four monumental gateways. The inner space of the tomb is divided among 9 Chambers, with the central chamber being the largest of all and accessible only from the southern side. There are cypress tree and other floral decorations on the wall, that give off an essence of the Persian architecture. The origin of lattice jali is from Gujarat and has been used extensively during the Mughal reign.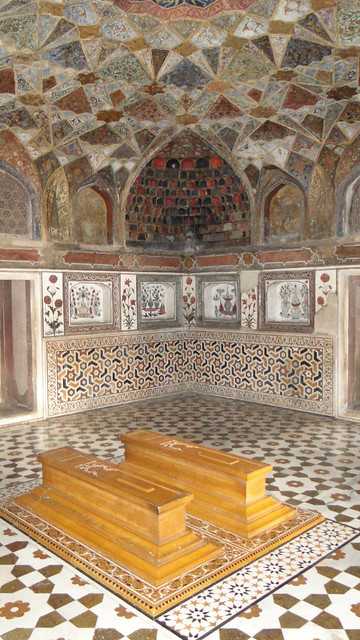 Gates:
The Eastern gate is the main entrance, the Western a waterfront pavilion and the Southern and Northern to just maintain symmetry. These gates are made with red sandstone and have geometric designs and chine khana designs on white marbles.
Chattris:
The square-shaped tomb has four turrets which are adorned with small domed kiosks known as Chattris. These Chattris, one on each corner rise from an octagonal base. There are jali works from the arched entrance of the tomb to the centre of the mausoleum.
Garden:
The garden around the tomb is square in shape and divided into 4 quadrants, with the tomb in between. The garden includes walkways and water channels. The garden is also symmetrically maintained and each of its quadrants represents each sea of paradise. The garden also comprises of 4 rectangular pools with fountains, which enhances the beauty of the overall area.