June is the Pride month
and we thought of dedicating a post to the LGBT travel community and enthusiasts. With the SCOTUS legalizing same-sex marriage across the United States, we are ever-hopeful that one day, even our country will see the Parliament bathed in rainbow colours.Despite the recent judgment by Indian Supreme Court criminalizing homosexuality and upholding a draconian law, the country is fast changing its stance on the 'queer' issue.
The Indian democracy is trying very hard to come out of the closet.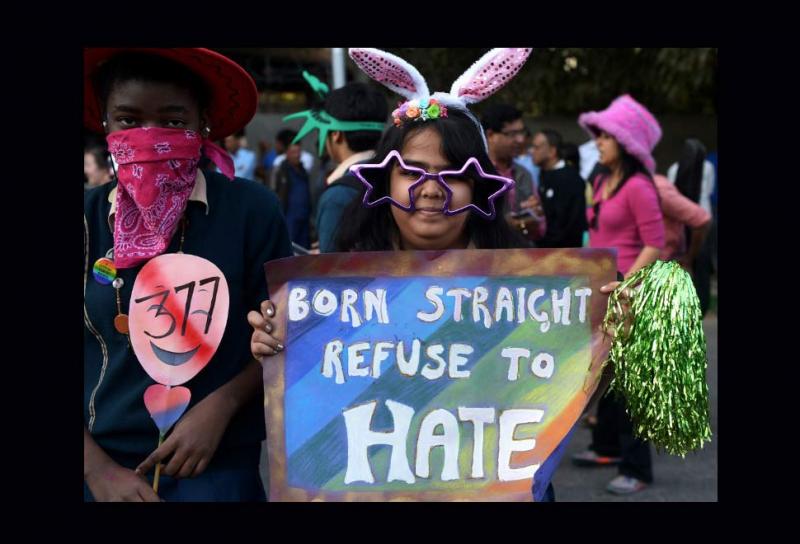 Pride parades, queer film festivals, special tour operators for the gay community and the ever growing LGBT populace are popular indicators of the fact that Indians have
more accepting
attitude towards the issue at hand. As a travel destination website, we want everyone to have a great holiday wherever they go, and so we came up with a list of
must-visit places for LGBT tourists
planning to explore India.
Here goes!
1. Mumbai
Mumbai can be safely termed as India's most progressive city. It is home to Bollywood and is the Financial Capital of the country. Mumbai attracts people from not just all over the country but from around the world too. Termed as the 'most chilled out place', it offers the best of everything.
Marine Drive, Gateway of India, and Worli Seaface are some of Mumbai's best romantic spots. For a detailed list of Mumbai's top attractions, check Top 10 Places to Visit in Mumbai. After spending your day at any of the above mentioned beautiful locations, proceed to tick-off 'nightlife in Mumbai' from your itinerary and unwind.
Mumbai has the country's best nightlife scenes. BlueFROG, Hard Rock Cafe, Toto's, He Said She Said are few of the best pubs and clubs. To know more about Mumbai's nightlife, check our post Nightlife in Mumbai.
The youth usually takes to the city roads for long drives on Mumbai's beautiful lanes after a night of partying hard. Ride along the Marine Drive to experience pure bliss.
Mumbai, as a city, is extremely supportive of the LGBT cause. The Mumbai Queer Film Festival is one such example of the city's solidarity. Dedicated to screening gay, lesbian, bisexual, transgender and queer films, it brings together the audience and the makers to help create social change. The 6th KASHISH Mumbai International Queer Film Festival was recently held from May 27th – 31st, 2015. It is officially South Asia's biggest LGBT film festival. To know more about the Mumbai Queer Film Festival, check their website here.
Every year, Pride parade or Queer Azaadi March is held in the city to protest the infamous Section 377 of Indian Penal Code, 1890. These parades are successful in in terms of participation but so far have not stirred the decision of the Indian judiciary. To know more about Mumbai Pride, visit their official blog.
For more details on Mumbai tourism, check our Mumbai travel guide.
2. Delhi
India's national capital has rich commercial, cultural, political and historic ties with the country.
Explore the ancient monuments, tombs and forts that will take you back to the medieval ages. These places make for romantic getaways from the city's daily hustle bustle. Visit the Red Fort, peek into Humayun's tomb or exercise your neck to capture the beauty of the Qutub Minar. Read our post on Delhi's famous historical places here.
With Mughlai to South Indian to Continental food and from Rajasthani Handicraft to Madhubani paintings to cheap Chinese electronics, Delhi has it all.
The Metro trains serve as lifeline of the city, serving as the primary mode of public transport. DMRC's Metros are convenient, cheap, efficient and speedy. Don't forget to download DMRC's Mobile App to figure out the routes.
When it comes to LGBT rights, Delhi took the first step in ensuring that millions of voices are heard. The rainbow community's prayers were answered when the Delhi High Court declared the controversial Section 377 as unconstitutional and violative of fundamental right to equality and freedom. Unfortunately, this decision was overruled by a recent judgment passed by the Indian Supreme Court (ironically based in Delhi).
First held in November 2007, the Queer Pride Parade in Delhi is a yearly procession to honor and celebrate lesbian, gay, bisexual, transgender, and their supporters. The parade usually starts from Barakhamba Road-Tolstoy Marg to Jantar Mantar.
For more details on Delhi tourism, check our Delhi travel guide.
3. Agra
Agra, home to the ever-majestic Taj Mahal, is one of the most popular tourist destination which attracts lakhs of visitors from all over the world every year.
Agra is always the top entry in any couples bucket list. With the biggest landmark in the world depicting love, Taj Mahal along with Agra Fort and Fatehpur Sikri, is a sneak peek into the architectural history of India, particularly the Mughals.
For the best romantic experience we suggest you visit Taj Mahal on a full moon night.
The Taj Mahotsav, a popular art and crafts fair, is held every year in the month of February. Thousands of tourists flock to the city and provide encouragement to underrated yet talented artisans.
Agra, also being very conveniently located near Delhi, makes it the top place near Delhi for any romantic couple. It has also been acknowledged as the most popular LGBT-friendly destination in India.
So what are you waiting for? Surprise your partner with a trip to one of the seven wonders of the world!
For more details on Agra tourism, check our Agra travel guide.
4. Jaipur
Jaipur, the 'Pink City', is one of the most royal, majestic and colourful cities of India with a very strong historical background and vibrant culture.
Literally translated into the City of Victory, Jaipur has always been one of the face of tourism of India. Popularly clubbed with Agra and New Delhi, they form the Golden Triangle of Indian Tourism and would be the most popular tour for any foreigner visiting India.
Gorgeous forts, enchanting palaces, ancient temples – even the streets of Jaipur bask in the history of this place. Amber Fort, Hawa Mahal, Jantar – Mantar are just few of the many places you could see in Jaipur.
Jaipur is just 4-5 hours from New Delhi and the trip's ideal duration is around 2-3 days. The Jaipur Metro has officially been inaugurated and will develop in the subsequent years.
For a romantic yet eventful stay, mark Chokhi Dhani, India's first artificial village-cum-resort, on your itinerary.
The main city is bustling with amazing cuisine options courtesy restaurants like On the House, Taruveda Bistro and 1135 AD.
Jaipur also has active nightlife scenes at 100% Rock, Blackout, Forresta, Ta Blu, Henry's and plenty more options.
When it comes to LGBT rights, Jaipur is slowly but surely making its voice heard. The city's first ever Pride Parade was held this year on 1st March.
For more details on Jaipur tourism, check our Jaipur travel guide.
5. Ladakh
Bound by two of the world's mightiest mountain ranges, the Great Himalaya and the Karakoram, Ladakh is mystical in all the spheres it covers, from nature, geography, sceneries to the modest cultures that it fosters.
Take a road trip along the Kardungla-Pass; DO NOT leave your vehicle at the base of the Magnetic Hill – it will move uphill on its own; take a romantic walk along the Pangong Lake; and gaze away all starry-eyed at the Milky Way with your loved one in the night. Sums up a perfect vacation, doesn't it?
Here are 26 Things To Do in Ladakh.
If you're planning a summer trip, make sure you include the Hemis Festival on your itinerary. Apart from the celebrations that go on for 2 days, shopkeepers and hawkers set up their stalls outside the monastery selling wares – souvenirs and gift items especially for the tourists that come here.
Traditional items such as garbs, hats, masks, good luck charms, etc. are some of the popular things sold here at this time. As it is held in the peak season of summer, this festival attracts a lot of visitors from within and outside India.
Purple Dragon, a travel agency that has pioneered and supported LGBT travel in India, provides attractive and customized packages for those planning to visit an offbeat destination like Ladakh.
Leh-Ladakh is for the adventure and the nature lovers. Discover it to experience pure bliss.
For more details on Ladakh tourism, check our detailed guide to Ladkah.
6. Chennai
Chennai, the sixth largest city of India, is convoluted with temples, churches and beaches. The city is the secondary financial hub in the country, after Mumbai.
Chennai is home to many museums, galleries, and other institutions, many of which are free of admission charges and are major tourist attractions. The Government Museum and the National Art Gallery are must-visits for the history buffs.
If you are looking to buy something special for your paramour, don't forget to pay a visit to Chennai's gold markets – the best in the country.
That Madras Place, Madhatter's Tea Garden, Murugan's Idli Shop and Habanero are some of the best restaurants in the city which you must try out if you are planning a visit to Chennai.
Despite having strict rules when it comes to partying till late night, you can take your date out for drinks to 10 Downing Street, Social, Chill and Grill, and the Tapas Bar.
Chennai cultures are diverse with respect to socio-economic class, gender, and degree of visibility and politicisation. The Chennai International Queer Film Festival (also referred to as 'Reel Desires') started in 2004 which includes panel discussions on the theme of LGBTQI inclusion, interfaces with film makers, photography/art exhibits and other performances.
The Tamil Nadu High Court in a recent judgment provided transgender welfare policies. This made Tamil Nadu the first state in India to recognize transgender rights.
Chennai also witnesses annual pride parades every June under the banner of Tamil Nadu Rainbow Collation.
For more details on Chennai tourism, check our travel guide to Chennai.
7. Pune
Known as the Oxford of East, Pune is the youngest city of India in terms of population. With a large student crowd, it has a happening nightlife, amazing restaurants and a happy atmosphere.
It is one of the fastest growing cities of India and is becoming the next IT hub.
The nightlife in Pune is something which you will barely get to see anywhere else. JW Marriott's Miami, One Lounge, High Spirits, Hidden Place, Euriska, the newly opened BlueFROG, and Kiva are the most popular go-to places for party lovers.
Pune's pubs, clubs and restaurants thrive in Koregaon Park (KP) which also houses the famous Osho Ashram.
Take a stroll in KP and never will you have to think of a romantic place to take your loved one out as you will be spoiled with unending options. Malaka Spice, Capetown Bistro, Terttulia, Arthur's Theme, Beetroot Bistro, and Mad House Grill are some of the best restaurants in the city.
For the adventure lovers, there are scores of options. Pune offers the best one-day treks, best one being the climb to the Sinhaghad Fort. GoKarting and Paintball are also a couple of options for those who love to experience fun with an adrenaline rush.
Pune has a growing LGBT community. Quite a few institutes have support clubs for the LGBT youth.
Pune's first ever pride parade was held in 2011. Although low on participants, it succeeded in propagating the message of equality across the city and since then, the support in Pune for the LGBT community has swelled.
For more details on Pune tourism, check our travel guide to Pune.
8. Bangalore
The Garden City of India and the country's Silicon Valley, Bangalore or Bengaluru is definitely one of the top most progressive cities of India. One of the most scenic and pristine destinations of the country, there are a myriad of things to do in the city.
Ulsoor Lake, Butterfly Park, Pyramid Valley, and Brigade Road are generally frequented by locals as well as tourists. Do fun things in this fun city – check out our post on Fun Things to do in Bangalore.
For night scenes, Toit, Vapour, Black Rabbit, Arbor, and Socials Offline are some of the popular places.
Due to the advent of IT, Bangalore has an openness towards the LGBT community which hasn't been prominent in any other city in India. LGBT friendly work environment make this city a safe haven for anyone looking for support or companionship.
The first ever Lesbian Dykes on Bikes procession took in the Bangalore Pride of 2013. The city also boasts of having an annual film festival as well called the Bangalore Queer Film Festival. With its inception in 2008, it celebrates cinema on lesbian, gay, bisexual, transgender, intersex (LGBTI) and other sexual and gender minorities in India.
For more details on Bangalore tourism, check our travel guide to Bangalore.
9. Goa
Goa is the state associated most with touristy beaches, happening nightlife and over 300-year old Portuguese architecture.
Visibly different from the rest of the country, Goa has characteristic colorful houses, lush green fields and a soothing languidness in atmosphere.
The charming villages of Goa are ideal for a laid back morning walk or an aimless evening stroll.
North and South regions of the place are strikingly different – the former is a cultural hub with traditional eateries and markets, while the latter is a luxurious side of it with 5-star hotels, private beaches and a mix of white sand and clean blue water.
Don't forget to visit Thalassa near Vagator for a romantic dinner with your paramour!
Goa has a booming business in gay tourism, a number of gay friendly clubs and beaches, and an overall attitude of openness not often seen in other states. It is one of India's friendliest LGBT destinations. Privately organized tea-dances, hang-outs and open-air parties at Arambol , Vagator and Palolem are the major attractions for LGBTQ tourists.
For more information on Goa tourism, check our travel guide to Goa.
10. Kolkata
Kolkata, the principal commercial, riverine, cultural and educational capital of Eastern India, is special for its many facets and is especially famous for making people fall in love with it.
This cultural capital of India has structures and shrines of many faiths peacefully coexisting within this city; you can find temples, churches, mosques and even synagogues. The British particularly loved this city, a proof of which you can see in the beautiful structures they left behind.
Victoria Memorial, Tagore House, and Park Street are some of the famous places to visit in the city. Check our detailed post on Sightseeing in Kolkata for more information.
Kolkata is not only rich in culture and history but also has some of the best places to unwind and let your hair down. Someplace Else, Tantra, and Underground are some of the famous haunts for party lovers. Find out in detail about Kolkata's nightlife here.
When it comes to the LGBT community, Kolkata is one of the most forward thinking cities of India. When the Indian Supreme Court re-criminalized homosexuality, hundreds took to the streets to participate in the Kolkata Rainbow Pride Walk in 2014.
Kolkata also claims to host India's oldest LGBT Film & Video Festival every year. Launched in 2007 as an annual cultural event in the city, it screens diverse films and videos covering different genres and aspects.
For more details on Kolkata tourism, check our travel guide to Kolkata.
Have any other LGBT-friendly destinations in mind? Leave your suggestions in the comments below and let us know!