Kerala's Kozhikode airport is shut and all flights have been diverted to Kannur and Cochin International Airport. This was done after an Air India Express flight travelling from Dubai to Calicut overshot the tabletop runway and crashed at Kozhikode Airport. From 190 passngers on board, at least 20 were declared killed in the crash along with the pilots.
As per latest reports (January 2023) daytime flights are to be rescheduled as the runway will be closed from 10:00 a.m. to 6:00 p.m. for six months.
Kerala is known as the "God's own country" and rightly so, owing to its equable climate, lush greens, scintillating backwaters and golden beaches. If such enticing features invigorate you to fly into the National Geographic Traveller's one of the thirteen paradises in the world, then here's all the information about where to land in Kerala and which destinations to head to from thereon!
There are three operational international airports in Kerala, located in the major cities of the state. These are well connected with the rest of the country and the world. Also, these Kerala Airports are aptly situated as far as the connectivity of tourist destinations in the city are concerned.
Trivandrum International Airport
Cochin International Airport
Calicut International Airport
Kannur International Airport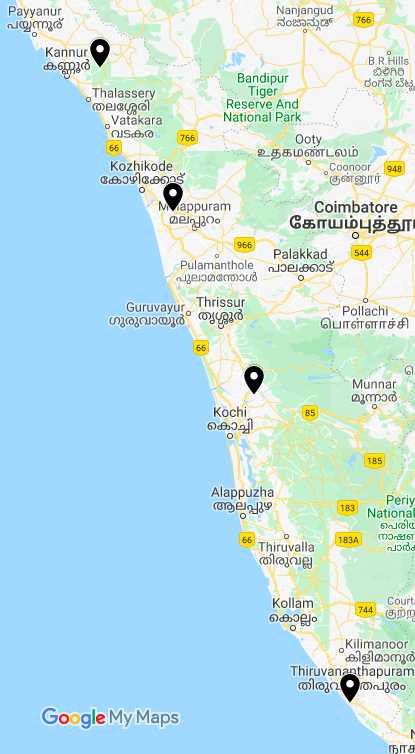 1. Trivandrum International Airport


This was the first airport built in Kerala and fifth in India. Located 3.7 km west of the city centre, Trivandrum airport serves numerous important destinations like Kollam, Nagercoil, Pathanamthitta, Tirunelveli and Kanyakumari other than Trivandrum city. In addition to serving various important domestic destinations such as Mumbai, Hyderabad, Delhi, Chennai, Goa, Kochi, Kozhikode (Calicut) and Bangalore among others; it also has services that fly internationally. The international destinations serviced by the airport include the Middle Eastern Countries such as Sharjah, Muscat, Bahrain, Oman, Riyadh, Dubai, Kuala Lumpur, Singapore, Mahe, and Colombo. Once you fly into the airport, there are many tourist destinations that can be reached. These include the following.

Kovalam Beach
This beach is also very near to Trivandrum Airport thus giving a perfect destination to visit before or after a flight. Located at a distance of 13 km, this place consists of a shallow beach with two-three other crescent beaches studded with palm and coconut trees.
Varkala Beach
Also known as Papanasam Beach, this cliffside shore has the heart of every tourist. Located at an approximate distance of 45 km from the Trivandrum International Airport and can easily be reached by using the local transport or via a hired cab from the airport itself.
Accessibility from the Airport: The cab from the airport should ideally cost you around INR 1000- INR 1300.

Ponmudi
A pristine hill station about 58 km from the Trivandrum International Airport, Ponmudi literally translates to the Golden Peak. Locals swear by the beauty of this gorgeous mist-covered destination that well justifies the drive from the city. Once here, you can explore the area on foot as there are a number of camping options, if you prefer a more leisurely stay, a number of hotels and cottages are also available.
Accessibility from the Airport: You can hire a cab from the airport or take a bus from the local bus station at Nedumangad, which is about 20 km away from the airport. The local bus will cost you approximately INR 100.

Shangumukham Beach
If you want to spend a good time in a peaceful place before catching a flight, this beach is perfect. Located 10 minutes away, just behind the airport, this beautiful beach has a 35 feet mermaid statue and a children's park beside it.
Accessibility from the Airport: You can go walking or take a cab which wouldn't cost you more than INR 200.

Kanyakumari
It lies at a distance of approximately 95 km from this airport, but it's worth a visit. Sleeping merrily at the southernmost tip of peninsular India, continuously washed by the blue waters and decorated with paddy fields and coconut trees, the place also rejoices some elevated cliffs and majestic hills along with plains and valleys. The district ranks first in literacy in the state of Tamil Nadu.

Accessibility from the Airport: A lot of taxi services are available for Kanyakumari. Cabs can be taken just outside the arrival point. A cab to Kanyakumari will cost around INR 3000.


2. Cochin International Airport

Cochin International Airport is located in Nedumbassery, about 25 km from the city centre. The airport was crowd-funded by 10,000 NRIs and was developed under public-private partnership. Cochin airport serves about 63.86% of the total air travel of Kerala making it the busiest in Kerala.
On an average, the airport handles 170 flight movements in one day and in 2016, the airport served nearly 8.9 million passengers. It is a fully solar-powered airport and has a dedicated solar plant.

Cochin Airport has 3 Terminals and operates both international and domestic flights. It is well connected to international destinations like Abu Dhabi Dubai, Doha, Jeddah, Dammam, Muscat, Kuala Lumpur, Singapore, Colombo, and Riyadh among others. The domestic destinations serviced by the airport include almost all the major metros as well as other important cities such Pune, Hyderabad, Jaipur, and Vishakhapatnam. Following is a list of destinations that lie close to the Cochin International Airport.

Fort Kochi
It is situated 43 km away from the airport and is whole another world on its own. Enriched with historical attractions, it has multiple spots for visiting and sightseeing such as Parade Ground, Dutch Cemetry, Bastion Bungalow, Vasco da Gama Square, etc.
Accessibility from the airport: You can hire a cab or a taxi from the airport, which would cost you around INR 1,250.
Athirapally Falls
The scene of numerous dreamy sequences from movies from all over the world including the film industry in India, Athirapally Falls are often dubbed as 'The Niagara of India'. The falls cascade from a height of almost 390 ft. and are surreal in their beauty. Located a distance of approximately 40 km from the Cochin Airport, the falls can easily be reached via a network of winding roads and picturesque landscapes.
Accessibility from the Airport: The cab fare from the airport to the falls should fall between INR 1,250 to INR 1,500.

Cherai Beach
26 km away from Cochin International Airport lies the Cherai Beach which is visited by the tourists around the year for swimming and relaxing. On the North end of Vypeen Island, this beach is a beautiful amalgamation of sea and backwaters.
Accessibility from the Airport: The cab from the airport is likely to cost between INR 350 to INR 400.

Willingdon Island
This largest artificial island in India lies at a distance of approximately 40 km by road from Cochin Airport. It was built to develop a new port in Kochi and has since then seen the building of an airport (which is now shifted to Nedumbassery), military base, hotels, business centres and numerous other activities.
Accessibility from the Airport: The cab fare from the airport of Cochin to is between INR 700 to INR 900.

Backwaters of Kochi
If you're going to Kerala, going to Kerala backwaters should and must be a part of the plan. And Kochi backwaters are the best to give you an experience of the lifetime with a merge of traditional and modern fiesta on the houseboats. At a distance of 44 km from the airport, these scintillating backwaters are a popular tourist attraction.
Accessibility from the Airport: The fare from the airport of Cochin to the backwaters is approximately INR 1,250.

Allepey or Alappuzha
Ask anyone, and they will tell you that a visit to Allepey should not be missed once you are in Kerala. The beautiful backwaters of this destination lie at a distance of mere 82km from Cochin Airport and can easily be accessed by a cab. Referred to as the 'Venice of the East' this beautiful getaway has winding lanes of backwaters through which the boats pass lined by coconut and palm trees. You can also stay in one of the houseboats that ply on the route.
Accessibility from the Airport: A round trip from the airport to Allepey and back costs around INR 1,300.
Kumarakom
Bordering the Vembanad Lakes is the charming little village called Kumarakom. A cosy hamlet, it boasts of the some of the most authentic and breathtaking landscapes in God's Own Country. While here, you can also visit the Kumarakom Backwaters, bird sanctuary, and the Kumarakom Beach. It lies at a distance of approximately 80 km from the airport.
Accessibility from the Airport: A cab from the airport to Kumarakom costs approximately INR 1,200.

Munnar
Rolling hills, endless expanses of tea plantations, gorgeous views, misty valleys, and green as far as the eyes can see. Munnar is one of Kerala's must-visit destinations and is a pure delight for every travel lover. Be it the Eravikulam National Park, Salim Ali Bird Sanctuary or the Madupetty Dam, each of the attractions in Munnar is a spectacle not to be missed.
Accessibility from the Airport: One can travel to Munnar from Cochin Airport with a fare of approximately INR 1,300.
3. Calicut International Airport
Calicut International Airport, also known as Karipur Airport, is located at a distance of 25 km from Malappuram and 28 km from Kozhikode. It has two terminals - domestic and international. It is well connected to a wide array of international destinations like Bahrain, Abu Dhabi, Doha, Dubai, Salalah, Muscat, Ras al-Khaimah, Kuwait, etc. Leading airlines like Qatar Airway, Bahrain Air, JetKonnect, Etihad Airways, Air Arabia, RAK Airways, Oman Air operate from this airport.

Kappad Beach
It is a highly renowned beach as it was here that Vasco da Gama landed on this beach in 1498 with his men and vessels. Since then, it has been a popular tourist destination. It is close to the airport, about an hour ride.
Accessibility from the Airport: INR 1500 for a round trip.

Beypore
It is a small port in Kozhikode district located at about 21 km from the airport. It is an ancient port town that finds references in some historical books. It is famous for its fishing harbour and shipbuilding yard.
Accessibility from the Airport: You can easily take the local transport to reach Beypore from the Kozhikode city centre.

Kadalundi
It is a coastal village near the Arabian Sea located 20 km away from Calicut Airport. It is famous for its bird sanctuary that spreads over many islands from where Kadalundipuzha River flows into the Arabian Sea.
Accessibility from the Airport: The fare from the airport is approximately INR 500

Thusharagiri Waterfalls
Ride for approximately 55-60 km from the international airport and witness the grandeur of Thusharagiri Waterfalls. You could hear the gurgle and burble and splash of the streaky water tumbling down, rolling the leaves and pebbles in the process. It is also known for its trekking trails!
Accessibility from the Airport: The falls can easily be visited from the airport by a cab or a taxi. However, the rates may vary.

Wayanad
Definitely, among the most beautiful destinations in Kerala, Wayanad is undoubtedly among the best places to visit near Calicut Airport. Although the drive is close to 100 km, it is well worth it as you witness the stunning sites of this hill station in Kerala. Replete with enchanting waterfalls, historical caves, comfortable resorts and homestays, this popular town is famous for its spice plantations and wildlife.
Accessibility from the Airport: The taxi from the airport of Calicut to Wayanad costs approximately INR 1,700.
4. Kannur International Airport
The latest addition to this list, Kannur International Airport became fully operational on the 9th of December, 2018. It is located 25 km towards the east of Kannur near Mattanur municipality. The airport has been designed with integrated national and international terminal, boasting a floor area of 1,040,000 sq ft. After Cochin International Airport, Kannur International Airport is the second greenfield airport in Kerala. A public-private consortium, Kannur International Airport Limited (KIAL), owns and manages the airport.

Aside from operating as a commercial airport, an aviation academy will be set up by the Rajiv Gandhi Aviation Academy and Technology. This institute will offer courses in aeronautics and flight training. Also, a manufacturing base for helicopters under Hindustan Aeronautics Limited (HAL) is estimated to be set up for manufacturing of helicopters and training helicopter pilots.

Thallasery
Also known at Tellicheri in olden days, Thalasery is located on the Malabar Coast off Kannur. Due to the impact of multiple colonisations such as the Portuguese and the British, it is a melting pot of cultures and influences. Mainly famous for its fragrant and lip-smacking cuisine, it is a real foodie's delight!
Accessibility from the Airport: Thallasery is located at a distance of 21km from Kannur.

Kasargod
Famous for the Bekal Fort that has been constructed in the shape of a keyhole, Kasargod is located at a distance of approximately 180 km from the Calicut Airport. The construction of the fort is a real spectacle, and it was an erstwhile watchtower and bastion in its heydays. Nestled in the lap of nature, it is a pure spectacle to behold. Once here, you can also explore the Pallikere Beach and the area around it.
Accessibility from the Airport: The taxi from the airport of Calicut to Kasargod costs approximately INR 1,700.

Coorg
Every nature lover's paradise, this beautiful hill station is accessible by an 81km drive from the airport. Due to this significant reduction in travel time from the airport, Coorg is now a viable weekend getaway from Kerala.
Accessibility from the Airport: One can hire a cab via a private operator and it is estimated to cost around INR 3,800.

Mysore
The royal town of Mysore is one of the most visited destinations in India. It is known for its rich heritage and culture. Mysore is now accessible from the airport by a drive approximately 160 km drive either by car or by bus.
Accessibility from the Airport: One can hire a cab from the airport via a private service and it costs approximately INR 4,000.
Upcoming Airports
Kottayam International Airport (Sabarigiri International Airport)
To facilitate even better connectivity to remaining parts of Kerala, the state keeps on devising new plans for new airports. Kottayam international airport is a proposed international airport project that is to be built in Manimala, approximately 5 km from Pathanamthitta in Kottayam district. It is made for the pilgrims of Sabarimala at Cheruvally estate. The International airport got its approval from the government with scope for further expansion and also because it takes minimal capital given strong topography. The Kottayam international airport is going to be the 5th International airport with a land area of 2263 acres.
Non-functional Airport
Quilon (Kollam) Aerodrome
The Quilon Aerodrome was earlier used as an Aerodrome during the British Raj. Chartered flights using Avo crafts would land and take off at the Aerodrome. It was also used for flying training which was stopped after a mishap that led to the loss of a pilot's life. The Aerodrome was still employed by the civilian aircraft. After the commisioning of Trivandrum airport, the Kollam Aerodrome went into disuse, and the government declined its functioning. With two massive helipads, the Aerodrome is now government property; most commonly known as Asramam Maidanam.
So there are plenty of reasons to fly into this majestic land of Kerala. Discover the magical paradise, feel the charming backwaters and have a glimpse of the most serene beaches in India. And all this within the proximity to your place of landing. Incredibly, a cherry on the cake!