Toddy Shop in Kerala
When in
Kerala
, it is hard to miss tiny rundown wooden shanties with a placard reading 'Toddy' tucked into corners encapsulated in greenery. 
These Toddy shanties (Commonly known as
Toddy Shops
) are a local wine shop of sorts and serve alcoholic and non-alcoholic versions of palm sap.
You will hear multiple names for Toddy in Kerala - Palm Wine, Palm Toddy and Kallu which are in essence all the product of different species of palm trees like Palmyra, coconut palms etc. 
What is Toddy?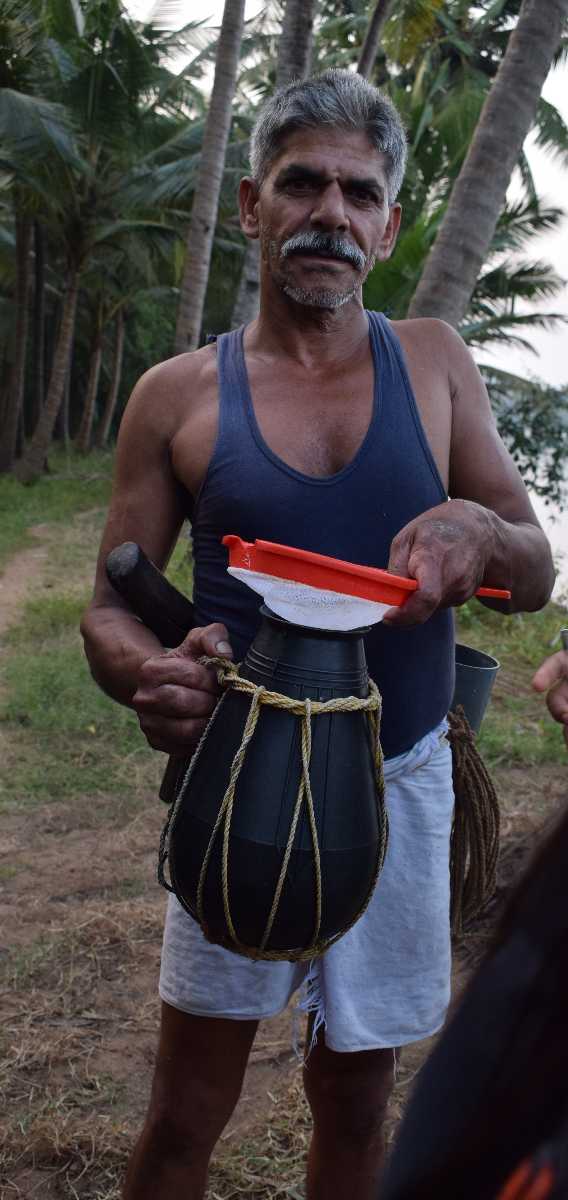 Coconut palm trees belong to the palm family biologically known as 'Arecaceae'. Coconut, derived from the Portuguese and Spanish term coco meaning 'head' or 'skull' from the indentations on a coconut that resembles a face. Coconut refers not only to the fruit but includes the palm and seed too. Highly maintained palm trees can produce 300 litres of toddy per year, and it is seen that as the tree gets older, it produces over 400 litres of palm toddy. 


Kallu, Neera and Toddy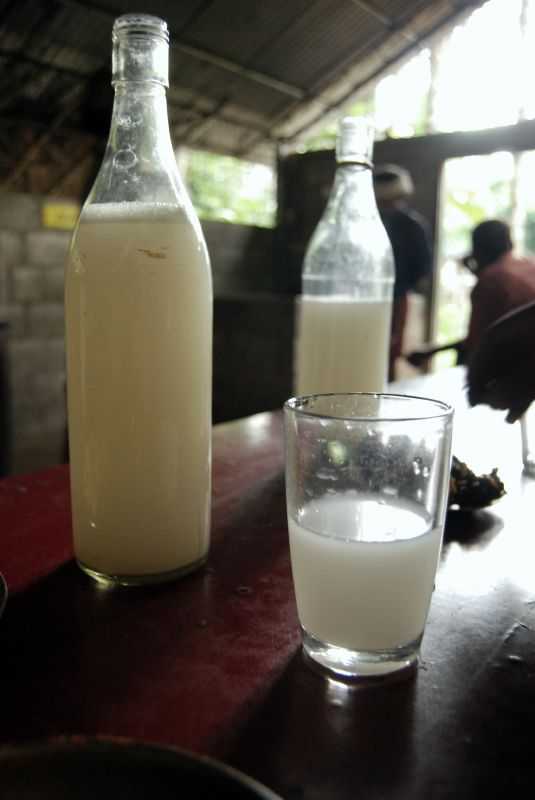 To explain the difference between neera and Kallu, let us take the example of milk and curd. Toddy, the liquid is often collected bunches into pots, and a separate pot is used for Kallu and a cleaner pot for neera. Because of the presence of sediments in the pot and a pinch of additives, the liquid ferments in one pot and becomes Toddy. Toddy is usually drunk after fermentation which requires a day or so and as its sourness and acidic-ness increases, it is considered tastier.

Neera, on the other hand, has a short shelf life and is to be consumed within a time frame before it becomes stale and inconsumable. In order to delay the fermentation of Neera, lime is added to fresh toddy which is said to help keep it fresh. If Toddy is left to nature after extraction, it becomes strong as wine. Though it requires distillation before consumption, it used to be consumed earlier in the form called arrack which was banned by the Kerala Government in 1996.
Toddy in Kerala is sold under a license issued by the excise department. It is a flourishing industry employing over 50,000 employees with a welfare board under the labour department. Funnily enough, Toddy is exempted even on dry days so. It is available year-round at your beck and call.
Toddy Tapping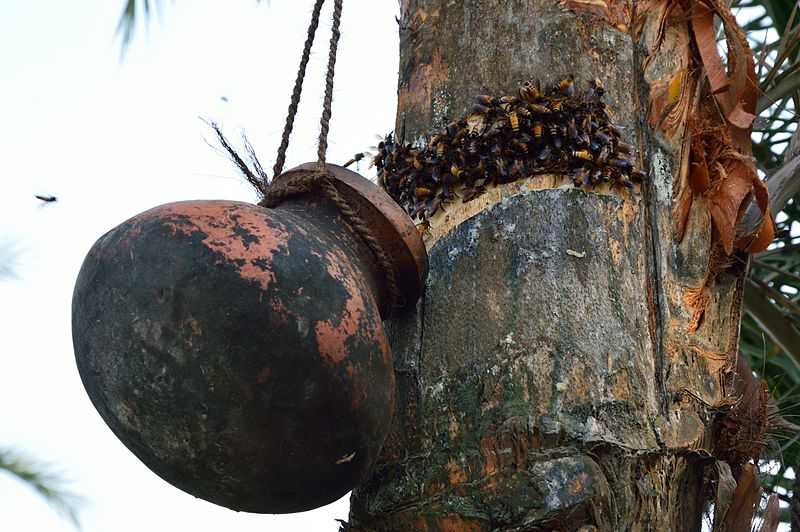 This agrarian task of climbing palm trees is performed by a particular sect of society. They are called as
Ezhava
or
Thiyya
and constitute about 40% of Kerala's population are the ones who have been undertaking this act for generations. 
Finding and Drinking Toddy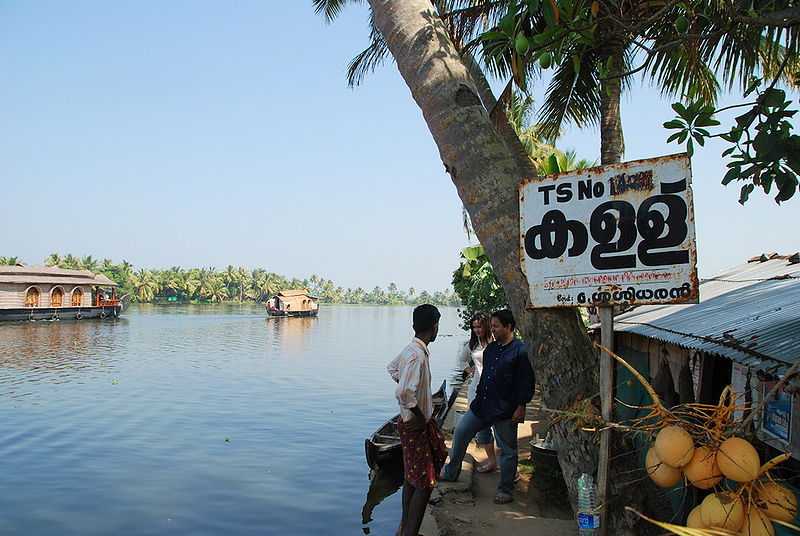 Finding a good place to find Toddy in Kerala can be a task if you're not from the surroundings. Asking locals around is the best way to go about it. Don't expect anything fancy as they are extremely basic and most often quite unclean. However, the food and toddy in good shops will have you blown enough to overlook everything else. If you happen to take a houseboat ride in Kerala, they are likely to shop in a toddy shop to get a taste of Kerala's local alcohol. Most of these shops are the fringes of backwaters and in cul de sacs enshrouded in greenery. Sometimes while driving around Kerala, you may spot a quaint Toddy shop. Have no doubts, drop by and indulge in some kallu.


Toddy shops in rural villages are a male-dominated arena. You are likely to see a dozen men sitting around old-fashioned benches playing cards, watching television and catching up after a day of work. Bottles of Toddy littered around steel plates with fiery semi-dry dishes, mostly fish and beef are found adorning these tables. 


Order yourself a glass of Toddy to start with, a
beef olthiyadu
to go with for a spicy touch and relish the experience. Make sure you stop at two glasses if you are a newbie as it may get you slightly high and unfortunately, as tasty as Toddy is, the hangover is not so nice. 
That's all you need to know about Toddy! Go ahead and grab a glass to experience it first hand.